So why I ask people looking for Manali-Shimla like fun, masti and mall roads is because there isn't any of those things there. In fact there are limited number of stay options and I didn't see a single functional restaurant.
This was one of those rare successful girl-trips that no one backed out on last minute. A short weekend getaway from Delhi with a friend who too was willing to get out of the city after a few stressful weeks in office and she is also my namesake (irrelevant information, I know but just another topic for our PJs).
The day we reached Gushaini after a bus journey involving a long distance Volvo followed by two rickety local buses, the kind of journeys that gets you dusty & tired just because of the duration of it, reached this pleasant place by a roaring river between two high green mountain peaks. From the bus stop, we saw this cute cottage by the river with not much man-made around it and instinctively started walking towards it. As lucky as we felt that day the lovely, with wood interiors, double storey Aditya Cottage was available for Rs. 1500 per night.
Took a warm shower and asked the sweet lady who owned the cottage for some gharka daal chawal (prepared with local produce) and we had nothing to do but to enjoy the best daal chawal I have ever had, by the window-with-a-view. That meal made one of my most favourite travel memory.
Later in the evening it was the local bread from the village shop dipped in chai before its relished. That's it, we didn't do much other than just enjoying the weather and the feeling of having a wood cottage by a mountain river, all to ourselves.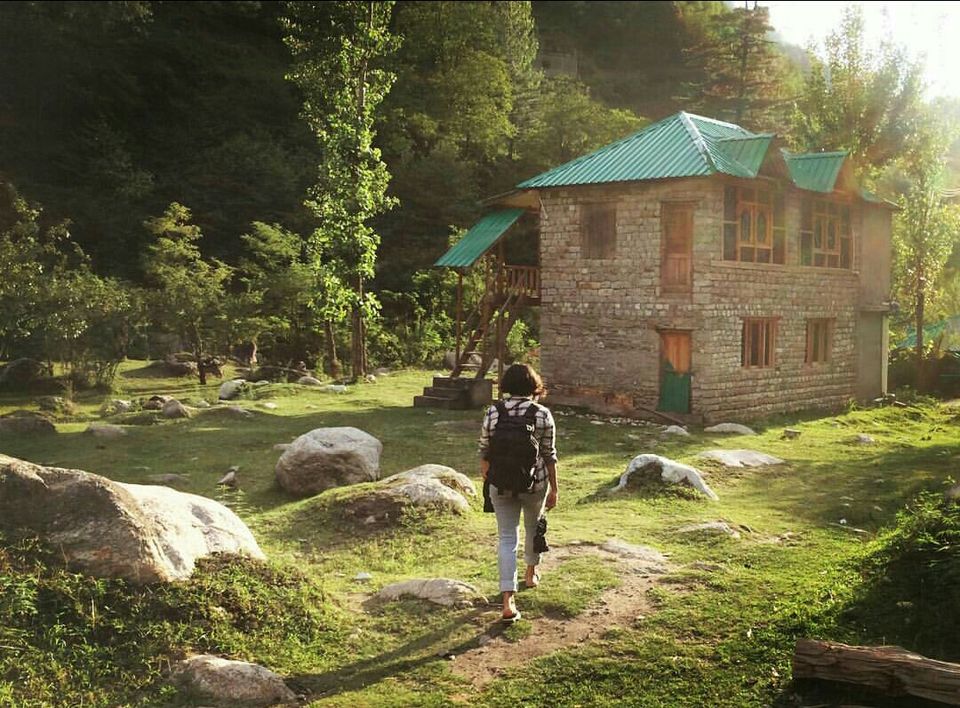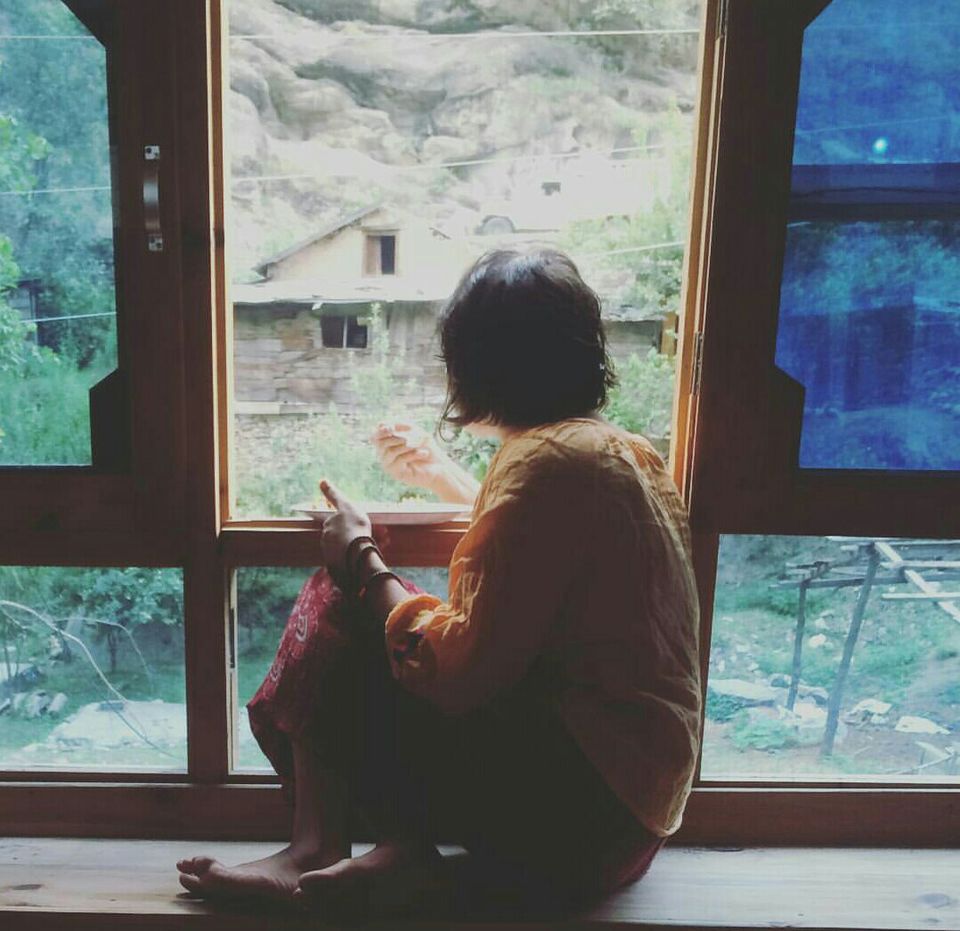 Instead of giving a day by day itenary I would just list down few activities that we indulged in here for you to have a general idea about the options this place has to offer.
1. Taking random strolls in the village, along the river or up the mountain, sitting on the shore of that roaring, chilling, scary mountain river.
2. Bribing with food, the furry and huge dog friends that we made during the strolls to come with us back to the cottage and play.
3. Enjoying the soothing sun in pleasant breeze outside in the balcony, while finishing the book that I was reading.
4. Lots of photography sessions.
5. Taking a rather risky (cause of the possible attacks by wild animals in the area) but most memorable late evening walk to the adjacent villages. While coming back, it was dark and we were witness to a Broadway-like performance of fireflies in the woods and the most magnificent night view of the river at a point where it first shows it's width after roaring miles in the hills. Under a full moon, while on a bridge crossing the river. Fantasy!
5. Hogging a wholesome breakfast at the Raju' Cottage (besides the home-stays and a small hotel, the only but awesome full service resort that offers rooms and cottages by the river). We didn't stay here because it was a little more expensive option and also the fully booked one.
6. Jugaadu-travel cooks can adventure making some simple meals to go with the wine (which you have to carry, cause we didn't see any alcohol shops in the area).
7. Our trip was a short one (barely 3 days) but we do know that for our next trip to Gushaini there is a monastery, a national park and some light adventure sports activities yet to be explored.