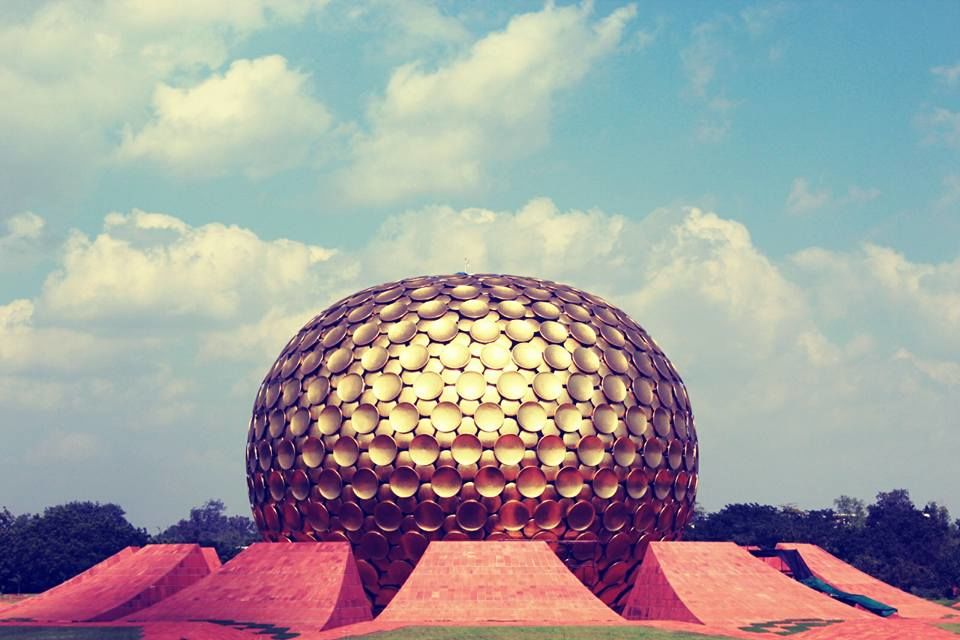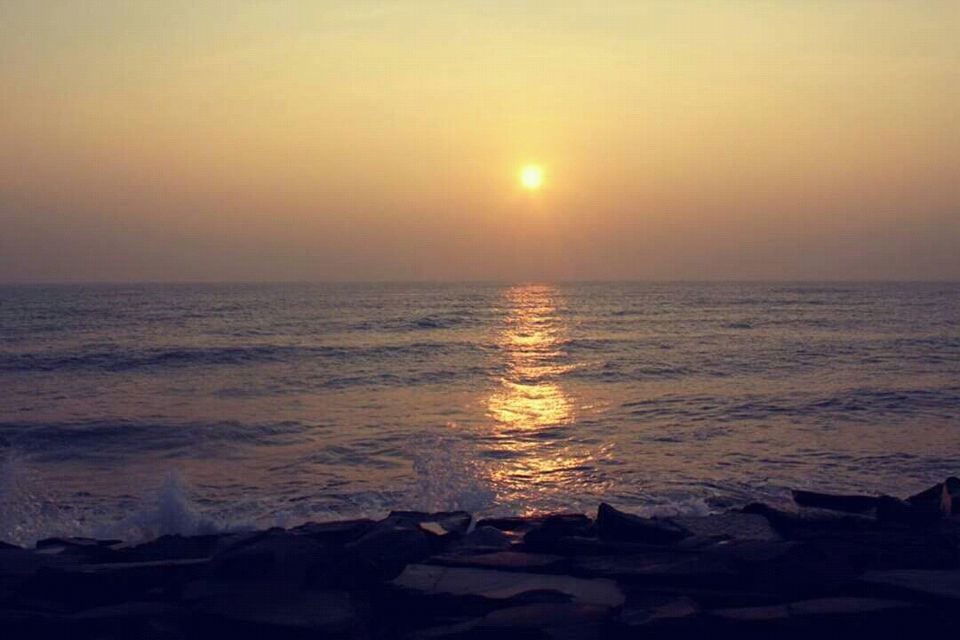 Pondicherry is the capital city and the largest city of the Indian union territory of Puducherry.
As I am not a morning person so whenever I go I always miss the Sunrise so that why this time I decided to see sunrise....
I reached their early morning around 5 o'clock we took an autoriksha from Railway station to Rock Beach to see the Sun Rise (one of my bucket list wish)... I directly go to the beach because I am sure that if I go to the hotel then I convince myself to see sunrise on some other day....
I reached there I thought I am the only one who will go this time on the Beach but when I reach there I saw so many people around there some are walking, some family play with each other, some doing exercises and yes some people Waiting for the Sun Rise.....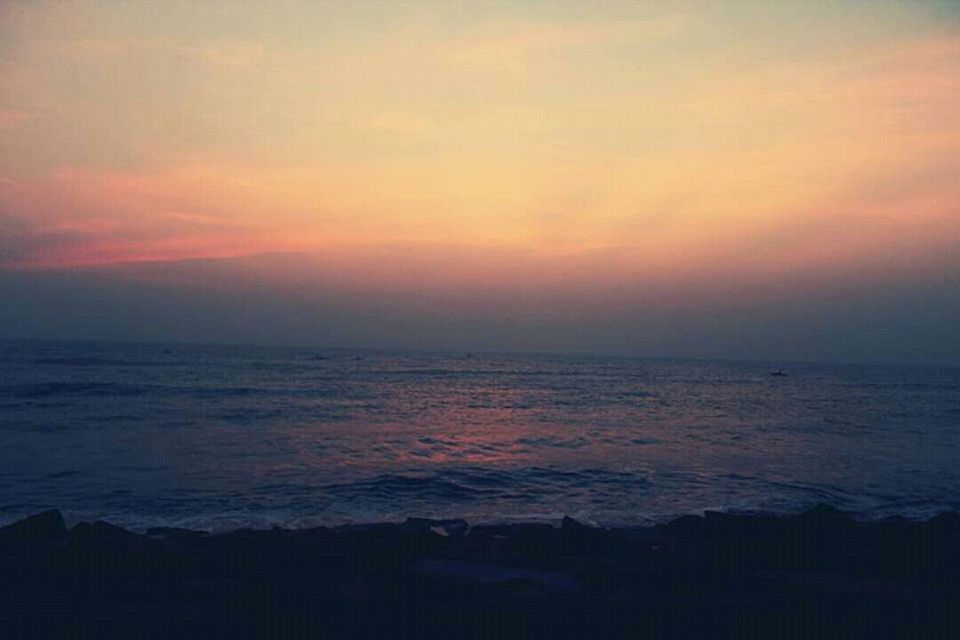 It was amazing feeling to sit on the shore of Beach and see lights coming from the horizon and sky change its colour (you can see in above Pic) It's worth to watch sunrise over your sleep and laziness....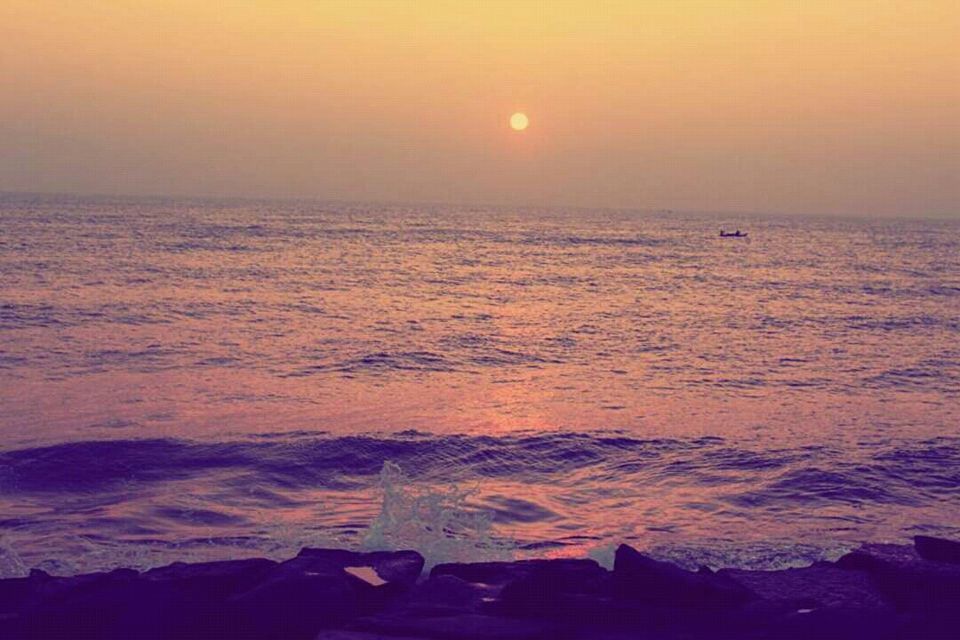 After Sunrise we go to Le Cafe and drink coffee and enjoy the morning view after I finish my coffee I took an autoriksha and go to my airbnb Homestay (I will recommend to book homestay instead of Hotels)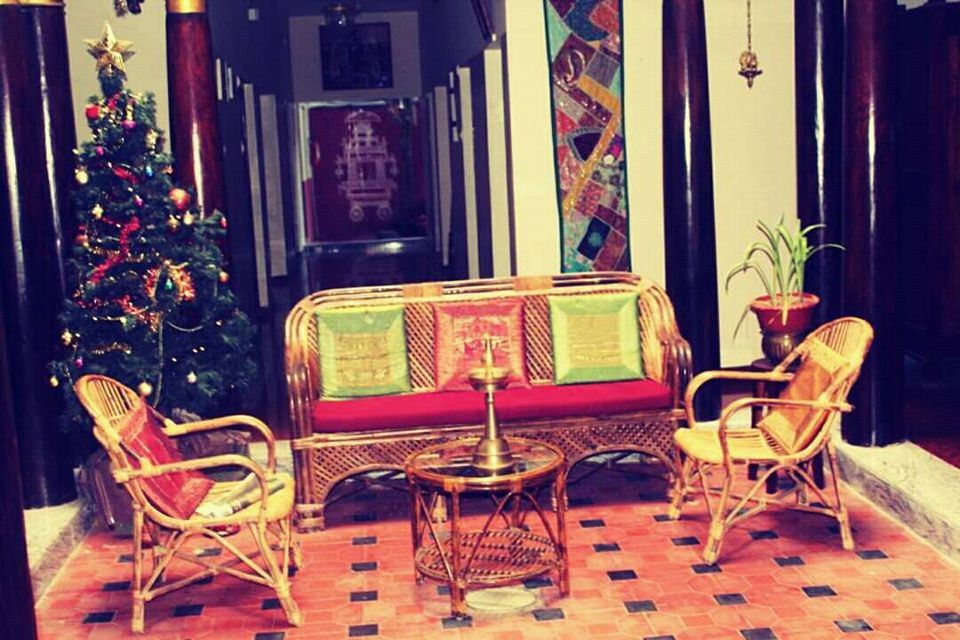 It's very peaceful place near french colony and everything easily available nearby...I reached there and freshen up I am tired and hungry but in excitement my sleep flew away.. so I decide to eat breakfast... but before that I ask the homestay owner about two wheeler and tell him to arrange for 2 days.... (on per day rent basis) He arranged Activa then next I searched on Google "best french breakfast in Pondicherry" Obvious if come to Pondy how you miss french food... As per google ranking and I when I am outside or unknown place I trust google more... I go to "Cafe des Arts" with the help of GPS... Its pure French Cafe Nice paintings on the wall they have book library also and a small shop... Apart from this they have different kind of sitting arrangement as well you can sit wherever you want...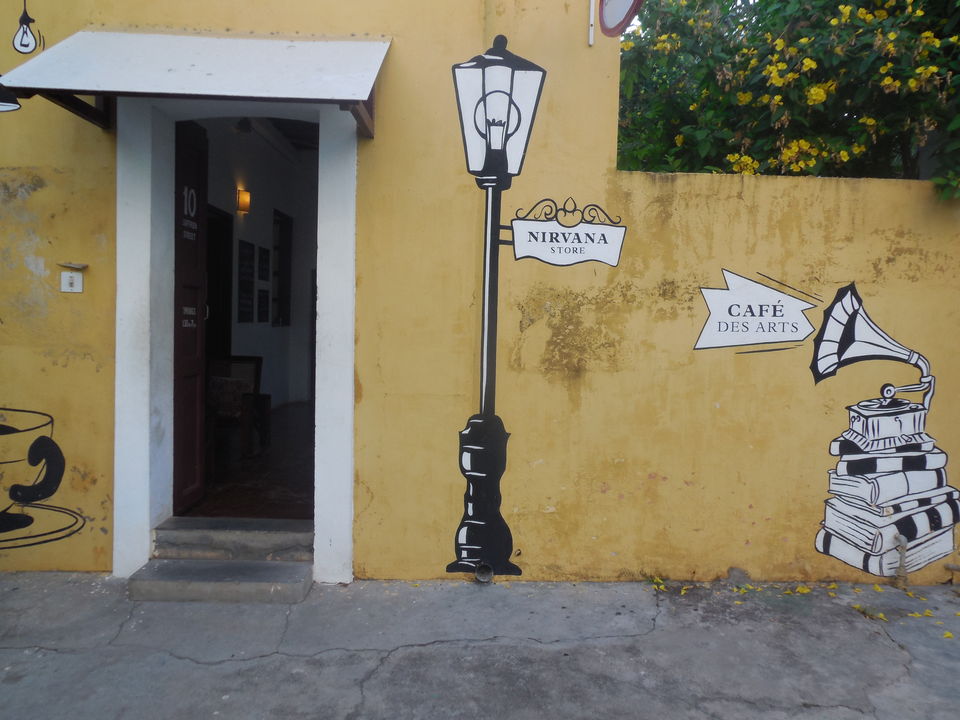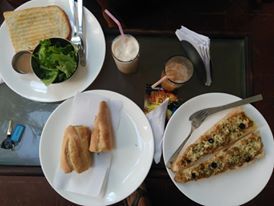 After Breakfast I went back to homestay to take rest because It's new year eve and I don't want to spoil it with my tiredness... I take a nap and gate ready for the Party.... There are so many places where the new year party organised... we go there eat so much because we skip lunch and dance whole night on hindi, english, punjabi and tamil songs.... I came back and sleep till 10 o'clock...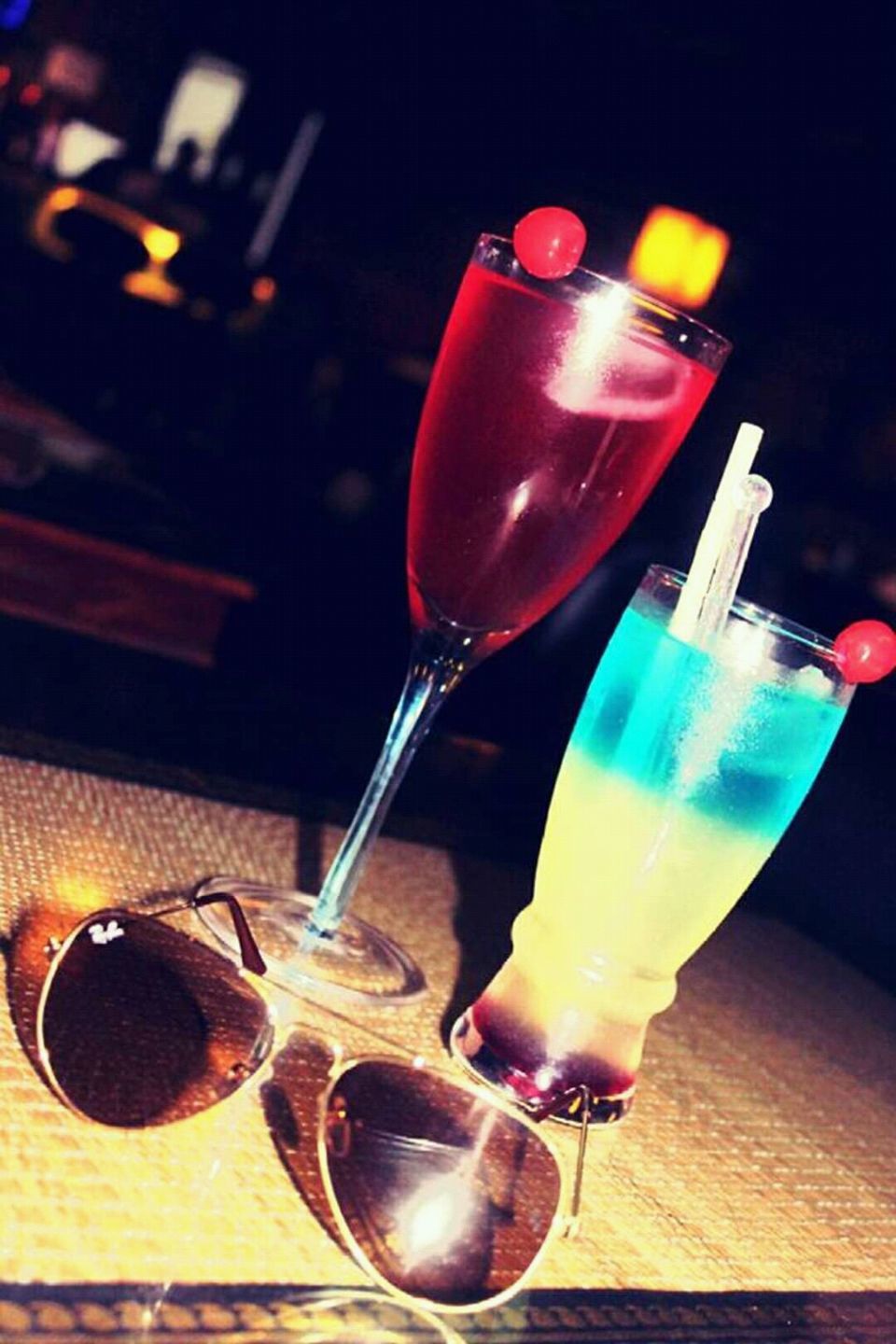 I woke up and had breakfast at homestay... I already made a plan to go "Paradise Beach"... Again with the help of GPS and Sign Board I reach from where I have to bought the tickets to go to the Paradise Beach....We go there by a Boat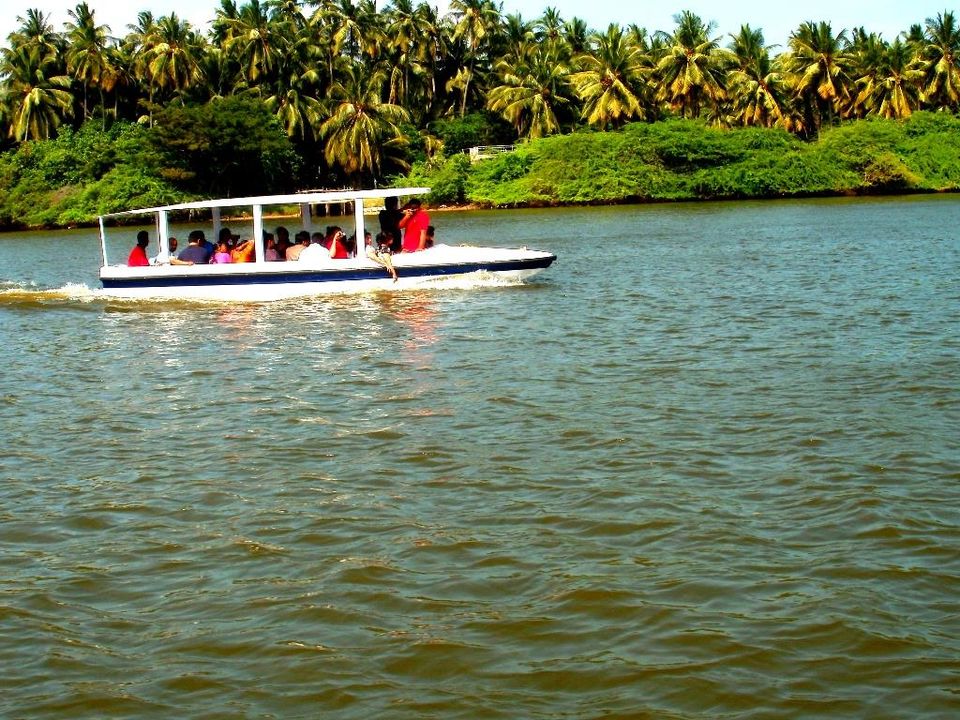 When I reach there I saw a clean and peaceful beach where families and other groups are playing with water, take bath, play with the waves I also enjoyed a lot there (There are separate changing room for men and women) I took a boat ride to come back where I park my scooty...
Took a scooty and go to search something to eat (After lunch time there are so tough to find lunch) I finally settle my hungriness with snacks item...After pet pooja go back to homestay and take a shower because sands are in our clothes and hair... I am a Tea Lover so after shower I will go to a small tea shop and sips tea.... In my whole south trip this tea shop made best tea (ginger tea with low sugar)....
I also asked him about local market that was nearby so I go there to roam around and see the market... Aa small good market from where my friend bought leather wallet and we bought " gajra and black bindi" to feel like that we are in south... Gajra wali aunty is so kind and sweet... we eat kulfi there from a very famous shop they had so many flavours of kulfi (But it's too sweet )....
We had dinner and go to the Rock Beach for a walk (because of new year there was so much different colour lights).... You can see Statue of Dupleix at rock Beach and also Statue of Gandhi ji..... Near Rock Beach there Are a lane in which you can enjoy Street food (M big Gol Gappe Lover so I tried wherever I go)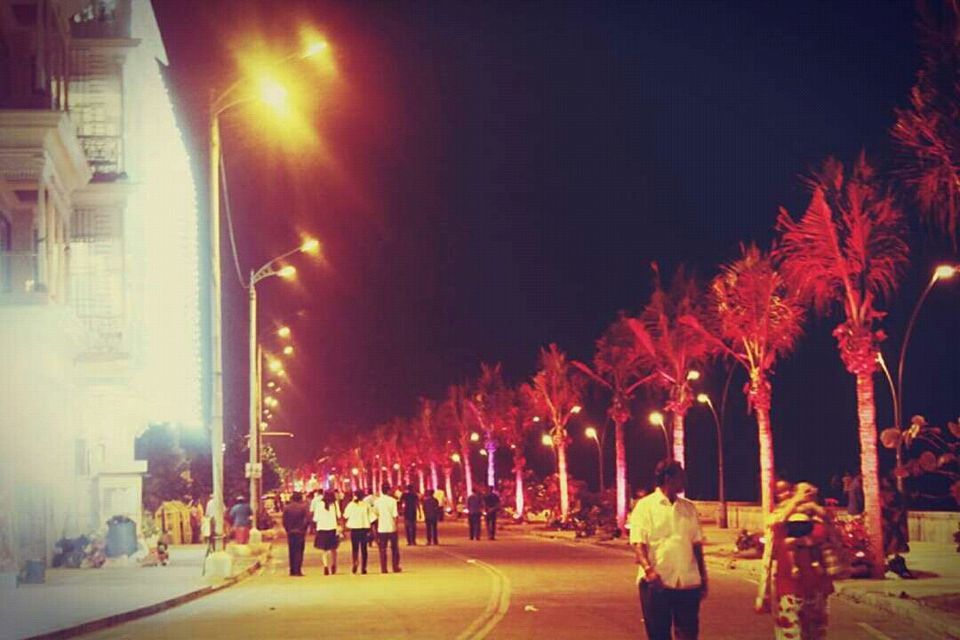 Third day we start from Auroville (Most famous place in pondicherry) in this place you can see people from different countries they come here and work together live together and find peace and happiness....It free of cost service and anybody who want to join come and join.. There are Maitri Mandir but its open only in visitor hour
The Visitors Centre and the Matrimandir Viewing Point will remain open as usual from 9 am to 5 pm, Sundays from 9 am to 1 pm only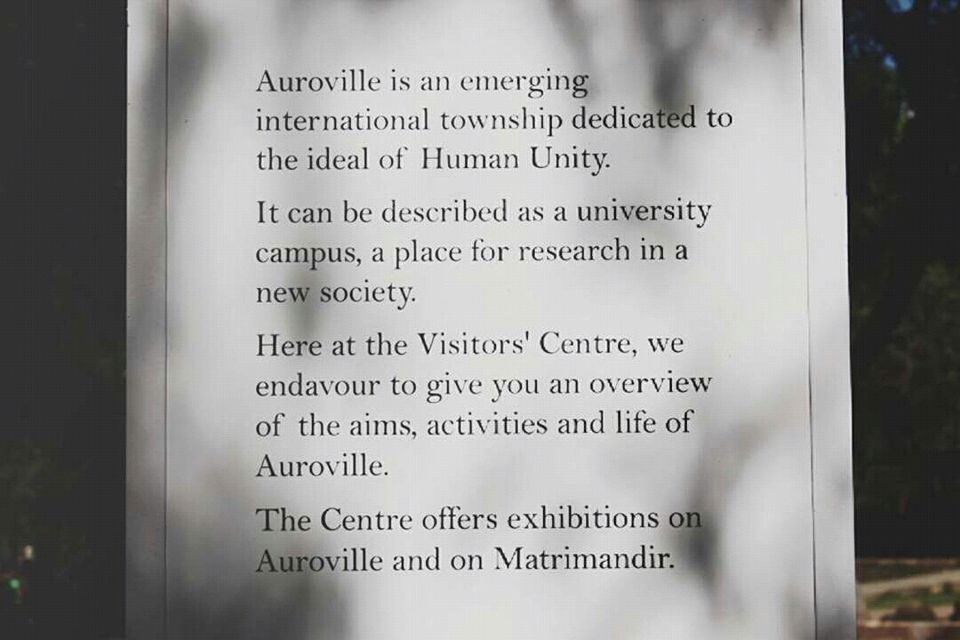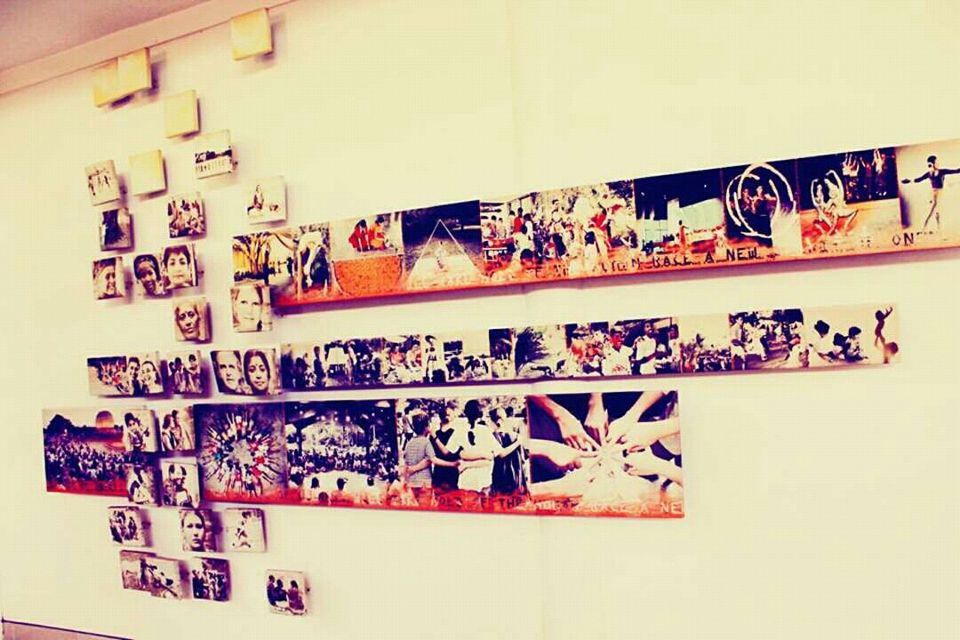 When we return from here we go to the Serenity Beach to see the Sunset... Finally this is my last evening in pondicherry i search a north indian food corner and had dinner... Go back to homestay pack my bag because I have to wake up early morning.... I booked a Cab from Pondicherry to Mahabalipuram..... (Road is awesome) and I headed to new destination.......