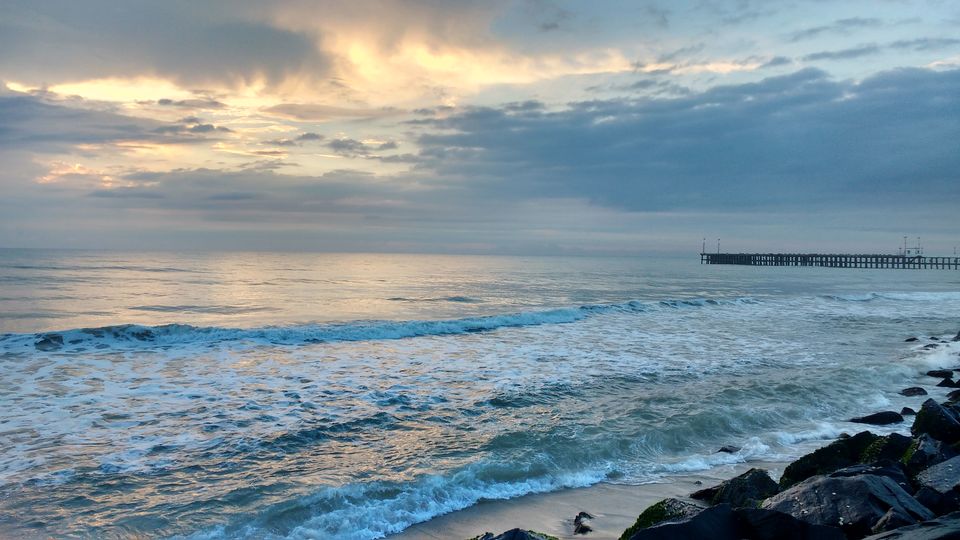 "Don't settle down and sit in one place. Make each day a new horizon. Just get out and do it. You will be very, very glad that you did."- Alex Mccandless in Into the Wild.
It doesn't take me long to get itchy feet. I take care that I don't sit around in the college for the weekend. Mostly, because of the fact that college robs my life of the freedom that I religiously cherish. Two weeks back, sitting at my table and fiddling with my pen, I was wondering about the next place I should see. There was no particular reason as to why Pondicherry came up. But it did. Without much thought, I booked my tickets to Chennai. My friend heard about the plan and decided to come along. Hence, we booked four sleeper tickets instead of two. The rest of the weeks were spent in desperate anticipation.
We boarded the train from Aluva railway station. I felt that I was back home. Sleeper trains are the most comfortable and cheapest way of travelling long routes. The added benefit is the view. I never miss an opportunity to travel in them. Trees, mountains, rivers, the setting sun and the rhythm of the wheels. Perfect evening. Dinner was the awesome egg biriyani at the Palakkad station. We drifted off to sleep with dreams about the next few days.
We were greeted in the morning by the Chennai sun. The train stopped at the Chennai Central station. I was so happy to see water vending machines at the station, something that all stations in India should inculcate. We took a bus to the Marina beach area, roamed around aimlessly and had breakfast at some random hotel. Oh the idli-sambhar in Chennai! It was a fantastic meal. We went to a friend's place near Thiruvanmiyur to freshen up and were grateful for the Rasam-rice they served us. The home-made achaar was lip-smacking. We left their place and headed towards a nearby bus stop. We climbed a bus at 2:30 pm that took us through the East Coast Road route. Ensure that you travel through this route. You will see some mesmerizing views of swaying trees, backwaters, the oceans and vast areas where salt production is done through evaporation method.
We reached Pondicherry in the evening at around 5:00 pm. What we found was a rainy little crowded tamil town contrary to our expectation of a completely french town at first. But later, once the eyes started adjusting to the milieu, we realized that there was a perfect blend of french-tamil heritage with neither overpowering the other. We stayed at the hotel that we booked then and didn't go for the one we had reserved earlier. The place gave an archaic feeling with long, wooden pillars and a patio. The place was filled with daylight pouring off the clear roofing. It was a reasonably good place and the staff was extremely friendly and cooperative. They gave us a fair idea about the places to see and a map to keep handy.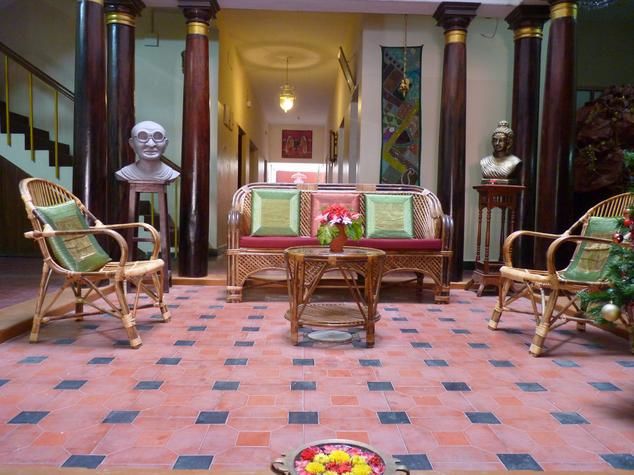 We headed off to Promenade at 7 in the evening. It was unusually crowded because it was a weekend. We found a fairly secluded area, grabbed an ice-cream and sat there on the rocks. It was calm and peaceful. After moments of contemplation, we started walking towards the end and we reached the larger-than-life Gandhi statue. We saw children playing around it. Finding joy in the small things in life is something that you learn from them. We grow up and start wanting too much from life. We walked around and landed upon this chaat and panipuri street. We helped ourselves with the masala puri there. The shopkeeper and his wife were very warm people and their hospitality seemed better than most of the good restaurants I have been to. They seemed content in their small world. We roamed around a little more and found a restaurant named Cafe Xtasi. The pizzas there are worth a visit.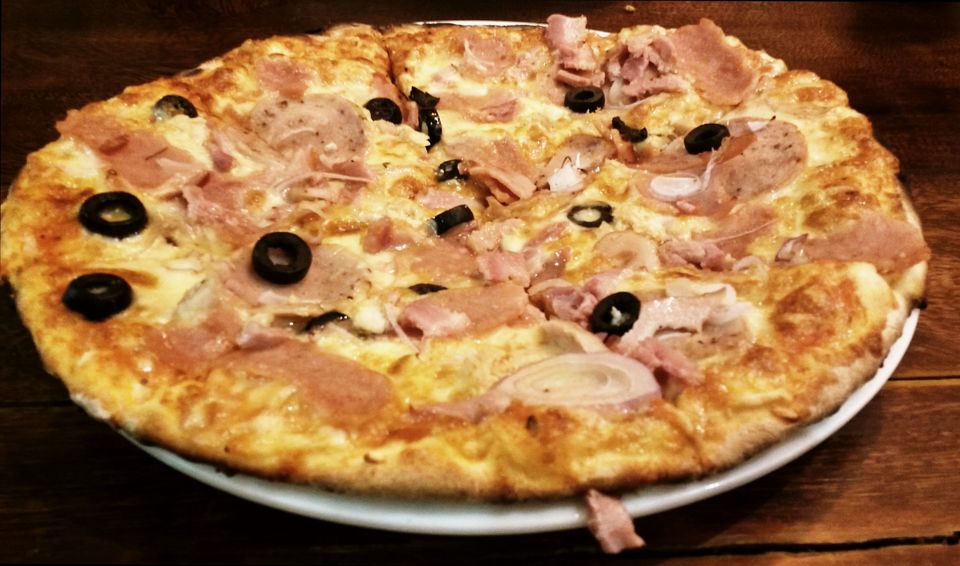 The next morning, we took a scooter on rent. A red Vespa was our soulmate for the next two days.
Pondicherry is famous for its French quarters, of colors such as sun burnt yellow, peach, ash or just white, the ornate balconies, sprawling courtyards and arched gates lined with bougainvillea. The perpendicular roads which still retain their French names will make you apply your brakes every now and then, just so that you see the architecture around you.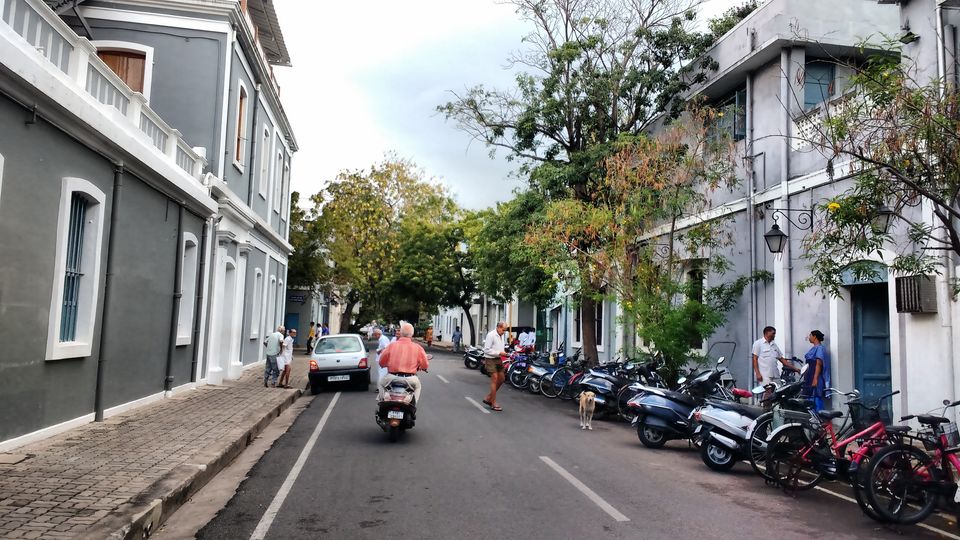 We went to the dining hall of Sri Aurobindo Ashram and had an organic breakfast that comprised bananas, milk, sprout, brown bread and Broken wheat kheer. There is no adulteration of food in the Ashram and it's completely worth it. For those who are unaware, Sri Aurobindo was an Indian nationalist, philosopher, yogi and poet. A part of the Indian movement for independence and a spiritual reformer, Sri Aurobindo was nominated for the prestigious Nobel prize twice.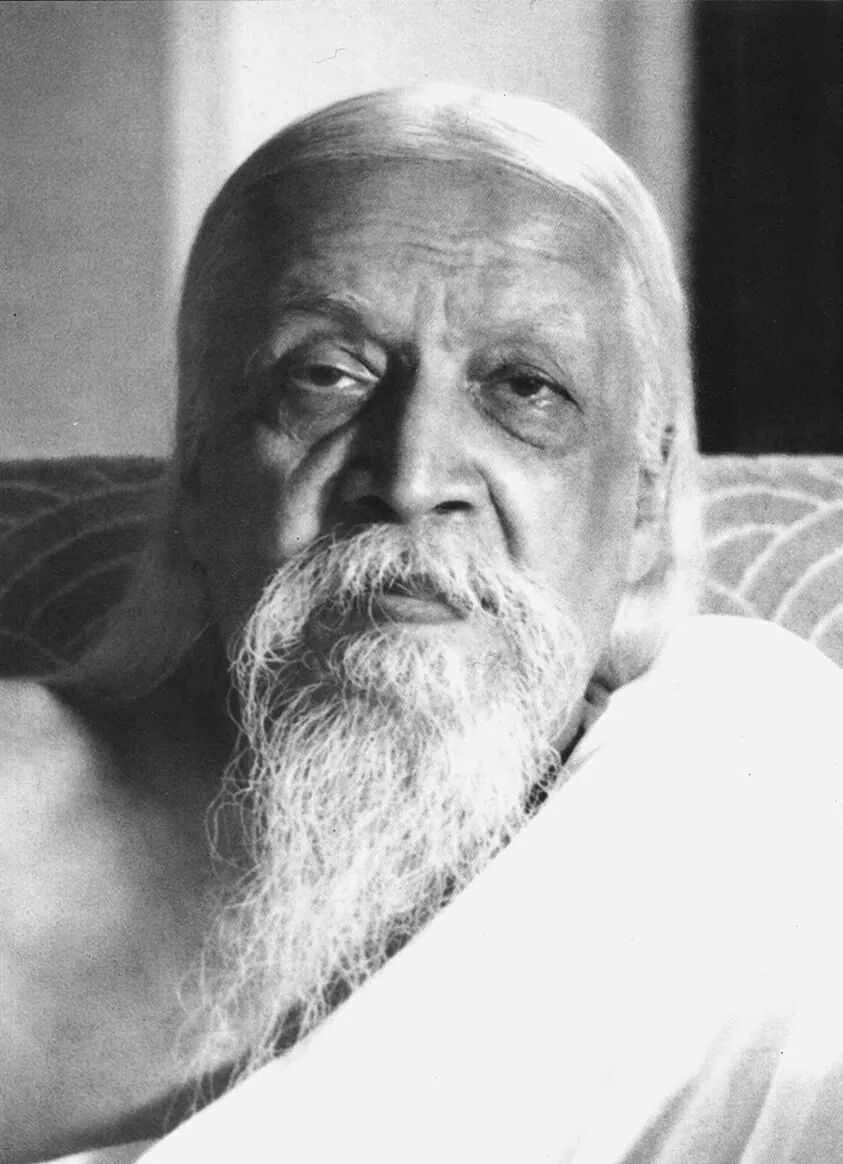 After breakfast, while we were standing at the road side operating the GPS to find the route, a jovial old man came in and started chatting with us. He asked us to head straight to Auroville. He made us send a mail requesting slots for meditation at the Matri Mandir and told us that if we were lucky enough, we would get through. We thanked him profusely and headed towards Auroville. It started raining on the way to Auroville. But we didn't stop. To let go is sometimes a lot of fun.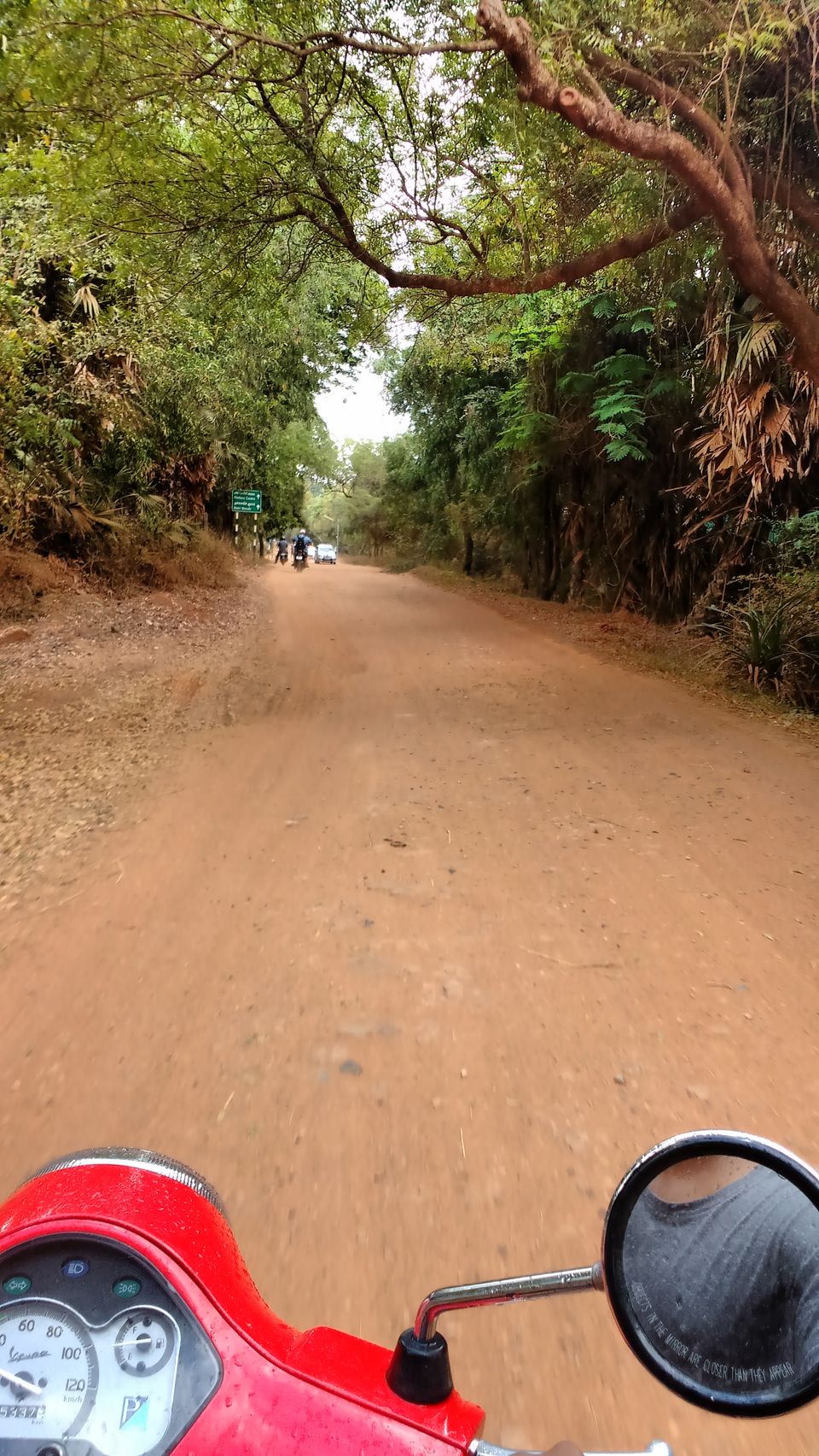 After a 12 km ride, we reached Auroville. It is an experimental township designed by architect Roger Anger. It was the dream of Mirra Alfassa (known as "the Mother"). The place was not like any other usual place. It seemed like an ideal world. Auroville is a universal town where men and women of all countries live in peace and progressive harmony. It's purpose is human unity. We were greeted by a wind chime hanging from a tree with its occasional music. It was a serene place filled with trees. From organic food to renewable energy usage, we saw everything we had wanted to see together at one place.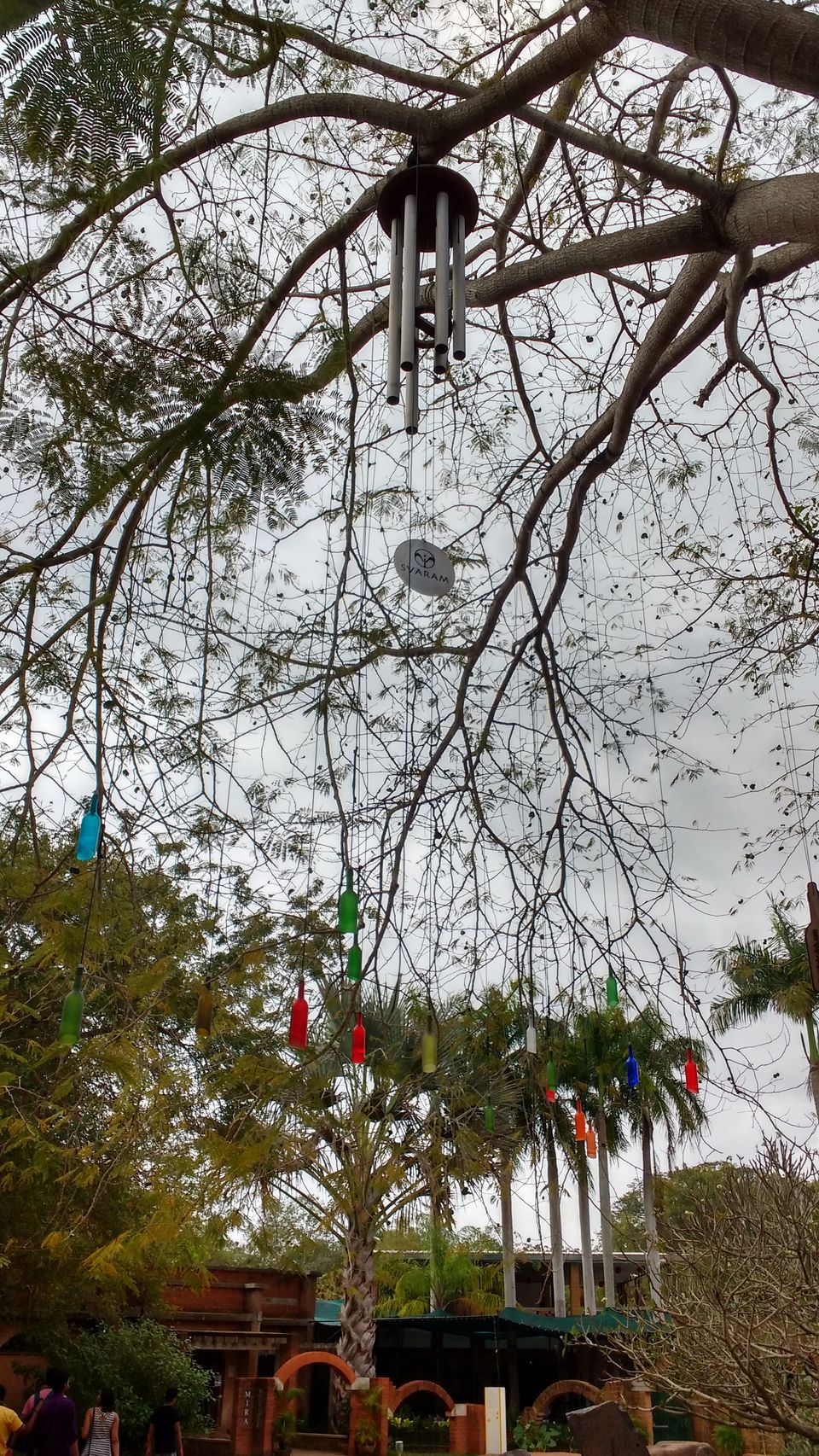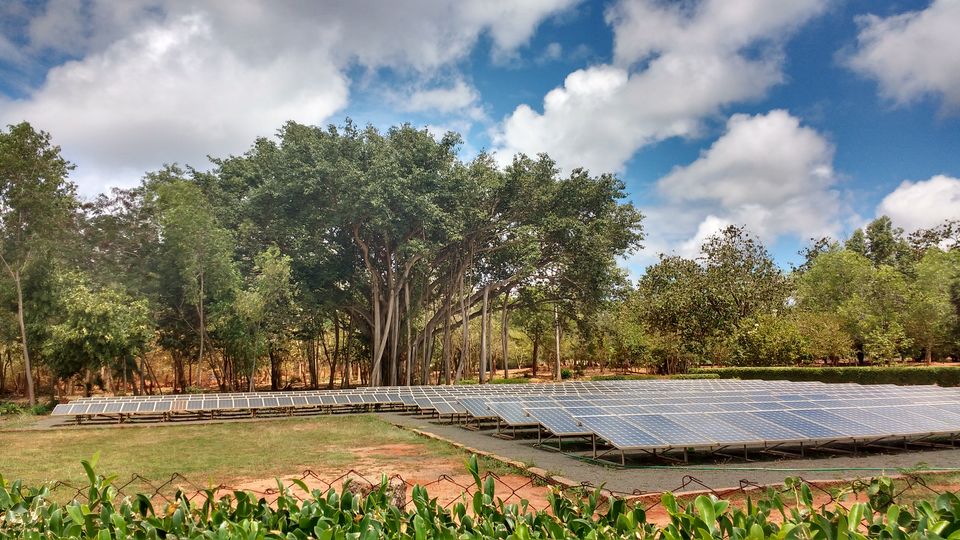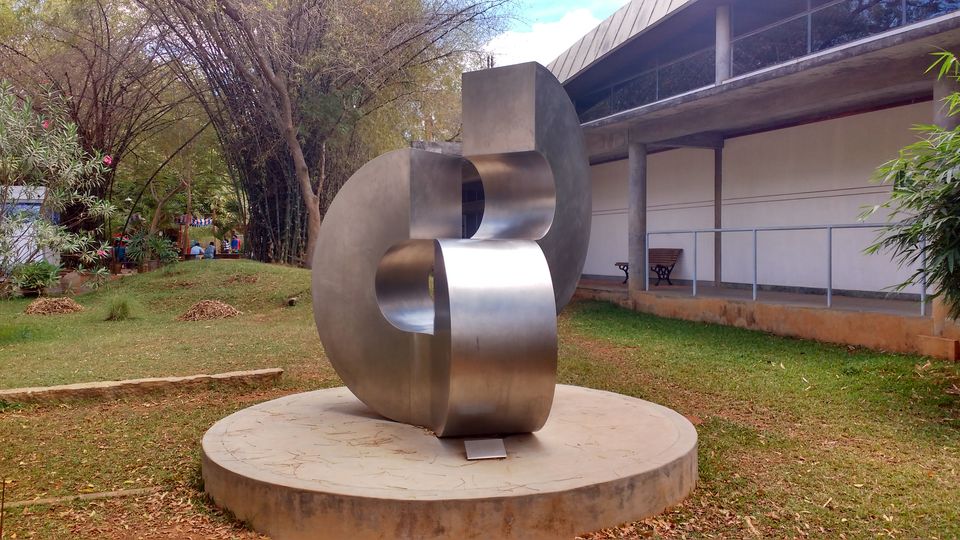 We took a visitor's pass and got to see the Matri Mandir from a distance. Spending a little time there healed our souls.
Next, we headed to the Auroville beach. The only thing that made the visit worthwhile was the freshly cooked, succulent prawn fry. I would suggest against going there otherwise.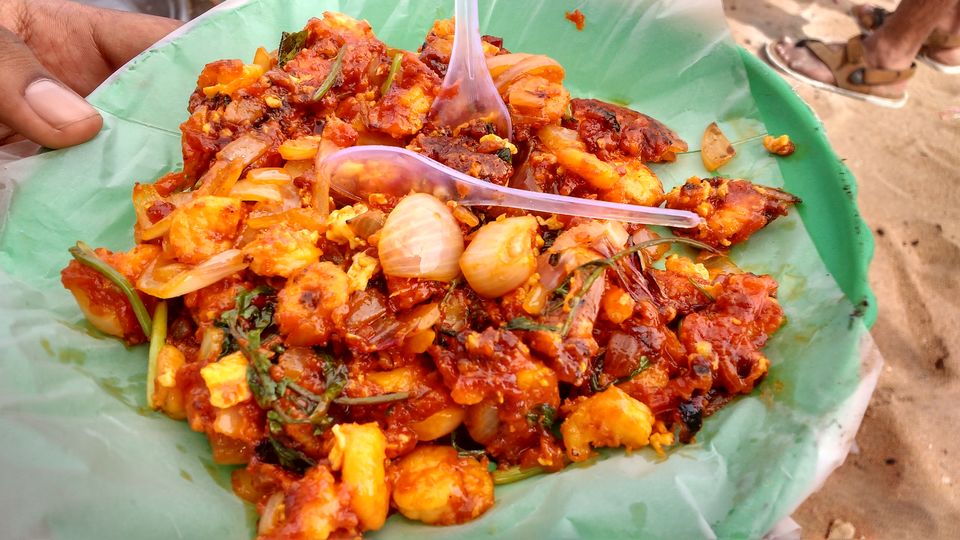 Next, we headed towards Paradise Beach. We relied on the google maps for reaching there. On our left, we saw a big board that read 'Paradise Beach' and the site was filled with vehicles and people. The google maps showed that the paradise beach was further ahead. We chose to trust in google and kept going until we reached narrow by-lanes of the countryside. We kept going and found the roads ahead being extremely crowded because of a temple festival. We found women cleaning the roads and decorating them with white-colored sand making beautiful patterns. It was a beautiful sight and we had to scuttle our way through the rest of the crowd until we reached our destination. We walked to the beach and it seemed like any other beach with aligned boats and fishing nets. We started walking along the beach until we noticed a lake on the left. It was a long beach and we halted to collect sea shells that the sea offered to us. In no time, the sea changed its color, from the light tint of grayish blue to a ferocious black with the horizon standing out with all its might. It was indeed paradisiacal at that moment.
We headed back and met a friend at Promenade who took us to a pasta place which served Pink pasta, a combination of Red and white ones. We headed back to our room. To our surprise, we received a mail approving our request about the visit to Matri Mandir. Lady luck couldn't have been more generous.
Next morning, we woke up at 5:45 am to see the sun rise. Yes, it was difficult but living on the other side of the country, my friend wanted to see the sunrise from above the waters which she never had the privilege to see. To our misfortune though, the sky was cloud cast. Nevertheless, the day started early for us and the visit to Matri Mandir was enough to keep us hopeful.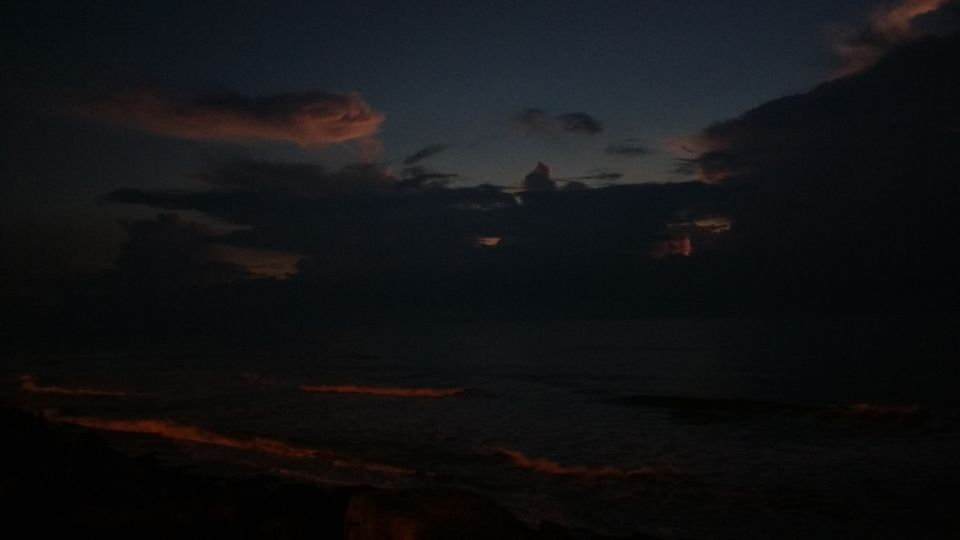 We started towards Auroville at 8:00 am and reached there by 8:30 am. After verification, we were shown a video presenting the ideas and objectives of The Mother as well as that behind Auroville. Later, we were taken to Matri Mandir in a bus. I won't be describing the Matri Mandir. Words can't capture it. It was ethereal. It was an out of the world experience and one has to feel it. I can only thank the universe for conspiring our visit there.
Returning to the town, we decided to indulge in the only luxury we had allowed ourselves on this trip which is the food at Cafe Rendezvous. It was a perfect end to the trip with delicious pork ribs and Coq au Vin. The food was exquisite and it's a must try when in Pondi if one is ready to splurge.
It was a perfect getaway from the everyday life. Every trip inspires me to make another one. Pondicherry, The Riviera of the East has beauty to it and I will go back to it once more to spend some more time at Auroville, amidst the surreal place for yet another sojourn.