It is only befitting to write about our first travel together as my first post on this blog !!
May 2015
One month had passed since we were engaged and there was a few more months left before we were to be united in the bonds of marriage. We were still discovering each other and enjoying our courtship. The first time we met he had told me about his passion for travel. So I was eagerly waiting for my first travel experience with him. And to add to the excitement, the occasion was my birthday weekend that we planned to celebrate together. Since he was visiting me in Chennai only for a couple of days, we decided to go for a short day trip to some place nearby. And the option that came to my mind immediately was Pondy.
Pondicherry, aka Pondy, is a small quaint city about 160 km from Chennai. It is a wonderful three hour drive along the coast. We initially planned to take a bike (he loves to ride !!) but decided against it because of the peak summer time. So we set out in a hired car, with his cousin of his and spouse for company. Our first stop on the way was a small place called the 'Tiger caves'; pretty obvious from the picture below. It was just sort of a pitstop where we halted and proceeded after clicking a few pictures.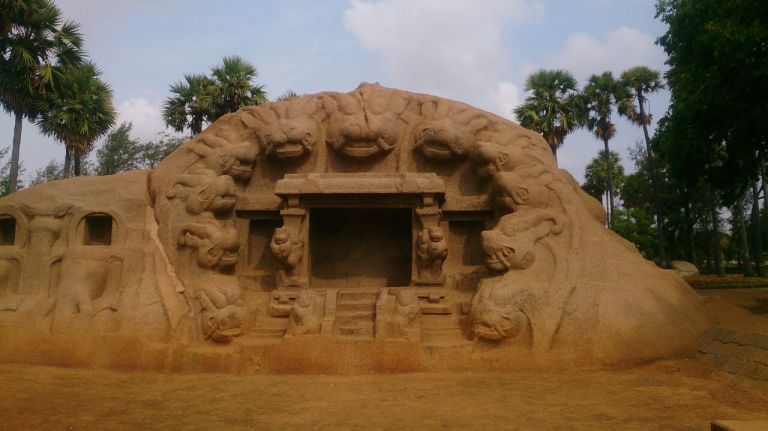 By the time we reached Pondy, it was time for lunch and we enjoyed sumptuous authentic Chettinad (famous in Tamil Nadu) cuisine. Later, we headed straight to Paradise beach, locally called as Chunnambar. It is kind of a small island that you reach by a 15 minute boat ride. So true to its name, it can give you the peaceful feeling of the paradise. We sat by the sand and enjoyed the cool splash of the sea waves. As the last boat back to the mainland leaves by around 6, we had to leave before the sunset.
From there we went to one of the most famous place of Pondy, the Promenade beach or the rocky beach. This is kind of a smaller version of the famous Marine drive in Mumbai in appearance, but nothing like it. There is the gentle sea waves' crashing on the rocks on one side and the beautiful cafeterias and hotels in French architecture style on the other. We strolled through the entire stretch and found a place at a sea facing café at the end of the walkway.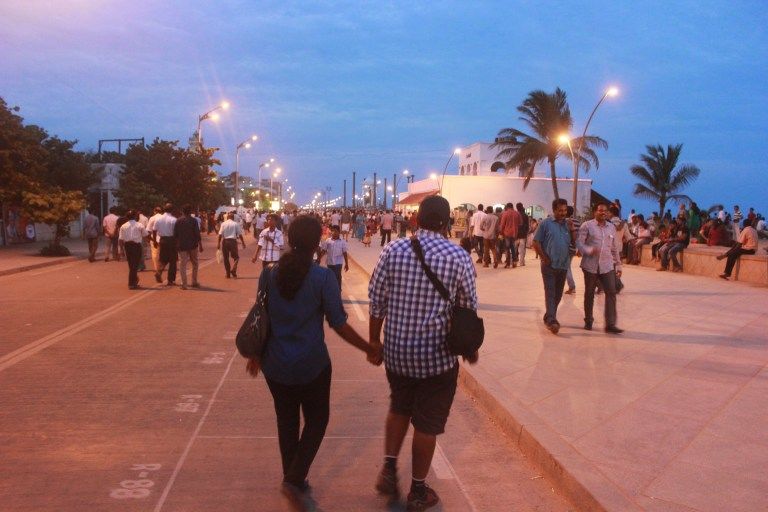 There ended our very short trip, as we returned back to Chennai almost close to midnight. I couldn't have asked a much better beginnining to my birthday !
This blog was originally published on 'SCRIBBLER AND SHUTTERBUG'