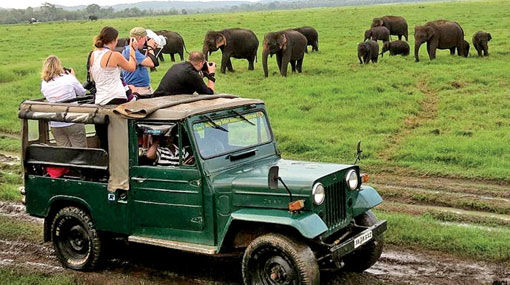 It is heartening to see Sri Lanka is on the path to being recognized as one of the best destinations for wildlife tourism outside of Africa. Sri Lanka Safari has always attracted wildlife enthusiasts from all over the world.
In a recently published article, Euromonitor Research Analyst Jocelyn Cheung is quoted as saying during the Cinnamon Future of Tourism Summit 2017, "Sri Lanka is very well-positioned to be an authentic destination for experiential travel, especially in wildlife tourism. Sri Lanka can be the best wildlife tourism destination outside Africa".
This is encouraging, for a tiny island paradise that delivers big on nature tourism. Those who know, visit often to appreciate the diverse wildlife that call the 26 available National parks home. Sri Lanka is one of the 35 biodiversity hotspots in the world, so it should really be no surprise that it is a haven for wildlife enthusiasts. According to Cheung 'travellers are becoming keen to explore destinations, which offer unique experiences, further away from Africa'.
Already there are many responsible Sri Lanka Safari providers, that provide visitors with a genuine wildlife experience. This is done with care and consideration for the animals and the surrounding nature, making great efforts to reduce any adverse impact. Visitors too have become more mindful of their impact with many preferring to holiday with likeminded establishments.
It is this sentiment that is echoed by Cheug, "But wildlife conservation and protection will become extremely crucial here. Instead of promoting animal sightings, you will also need to cultivate the experience for discovering and understanding wildlife habitats in travellers," she said. Increased understanding of a destination on the part of the tourist would contribute towards the destination's sustainability.
Though, there is much work to be done, there a growing awareness of the impact mass safaris are having on the animals. Wildlife experts and enthusiasts are working hard to make the necessary changes, to protect these animals. Hoteliers and a growing number of safari providers too are trying to regulate the process, to address the issues arising from unregulated safaris.
By choosing to experience Sri Lanka's amazing safari through a responsible hotelier like the Gal Oya Lodge, you can be assured that your visit will not have an adverse effect on the eco-system or animals. Today, there are many such hotels in Sri Lanka that have taken on the effort towards responsible tourism. This is the way forward for Sri Lanka's wildlife tourism future. It will pave the way for visitors to have a truly authentic experience.
Give yourself a treat this summer and visit Sri Lanka. Experience its abundant wildlife and explore its diverse terrain, from sunny inviting beaches, to dense rainforests, to breathtaking misty mountains. Stay in hotels that have made an effort towards preserving this island's rich natural beauty and enjoy a truly memorable holiday.