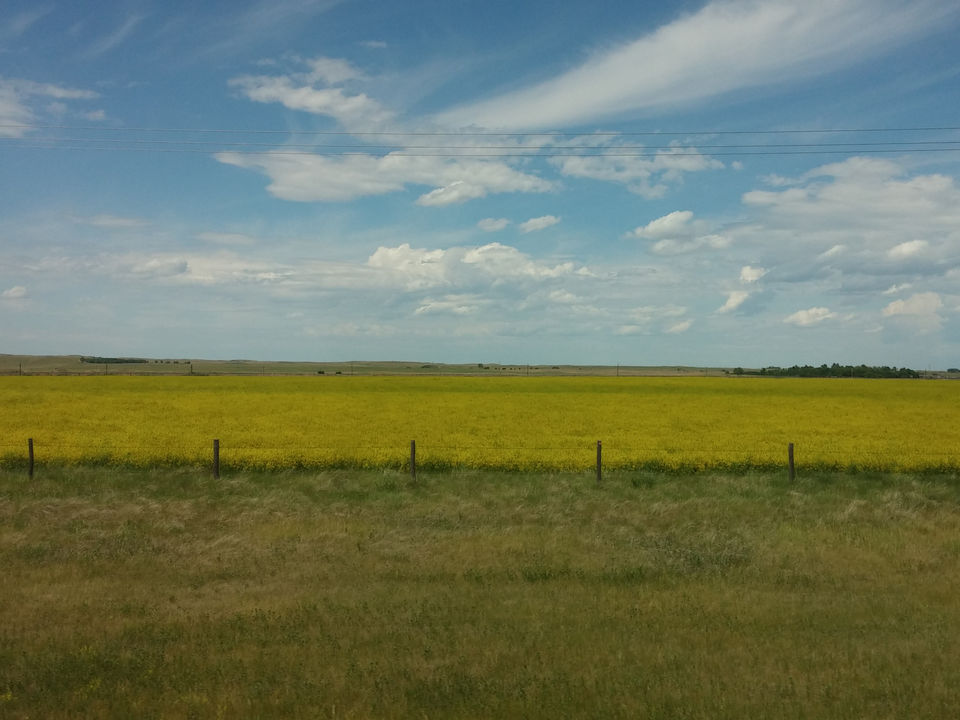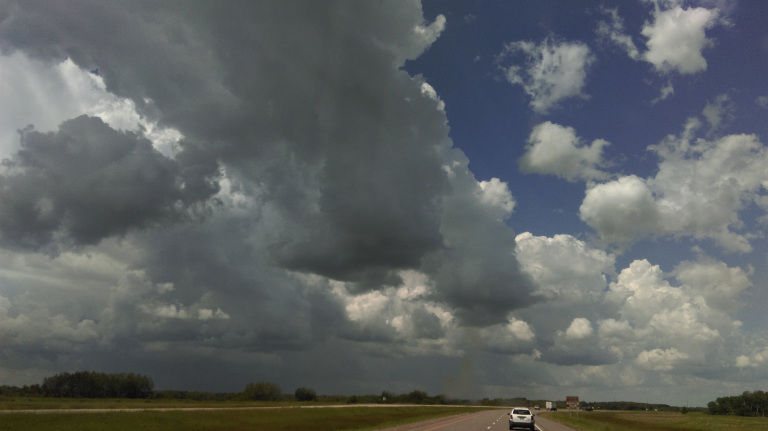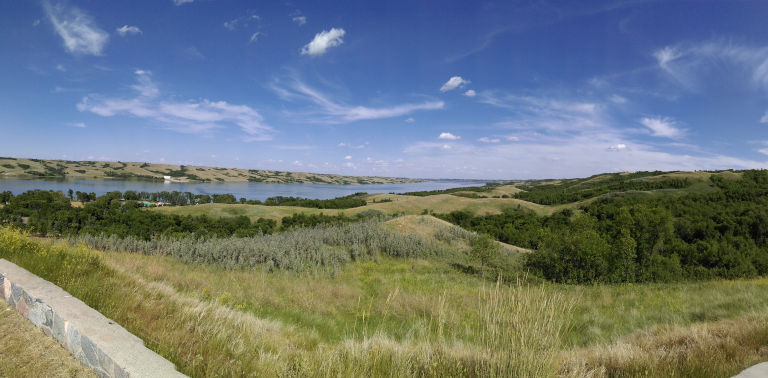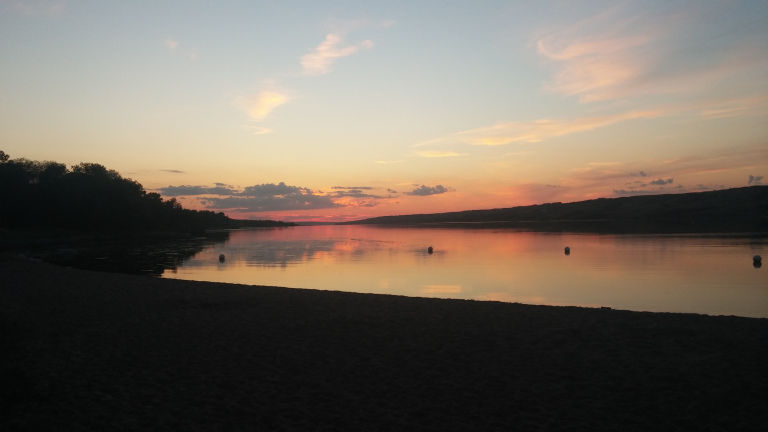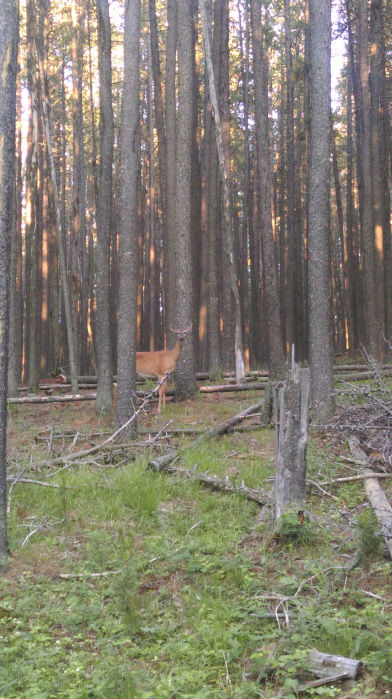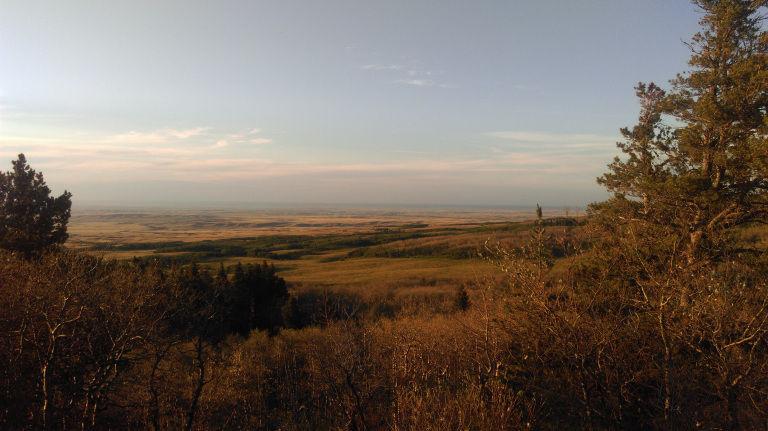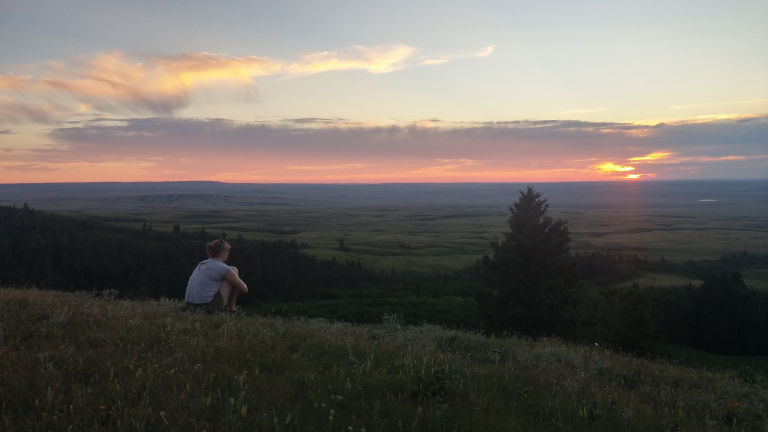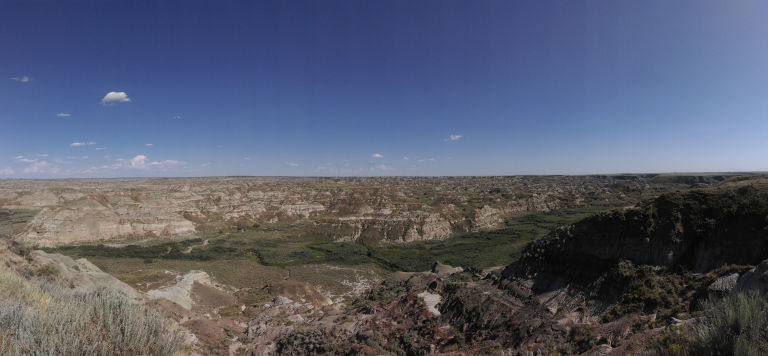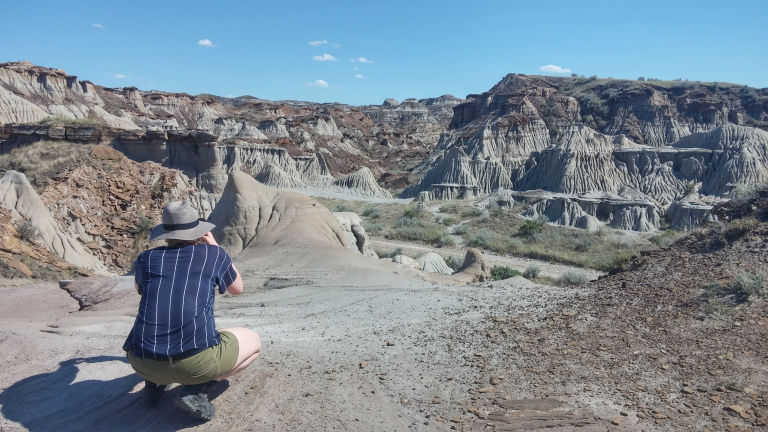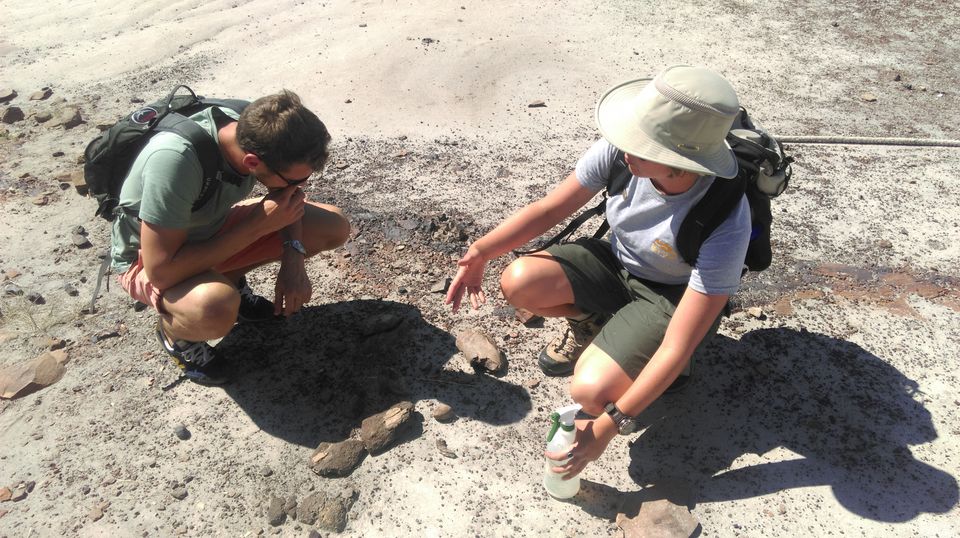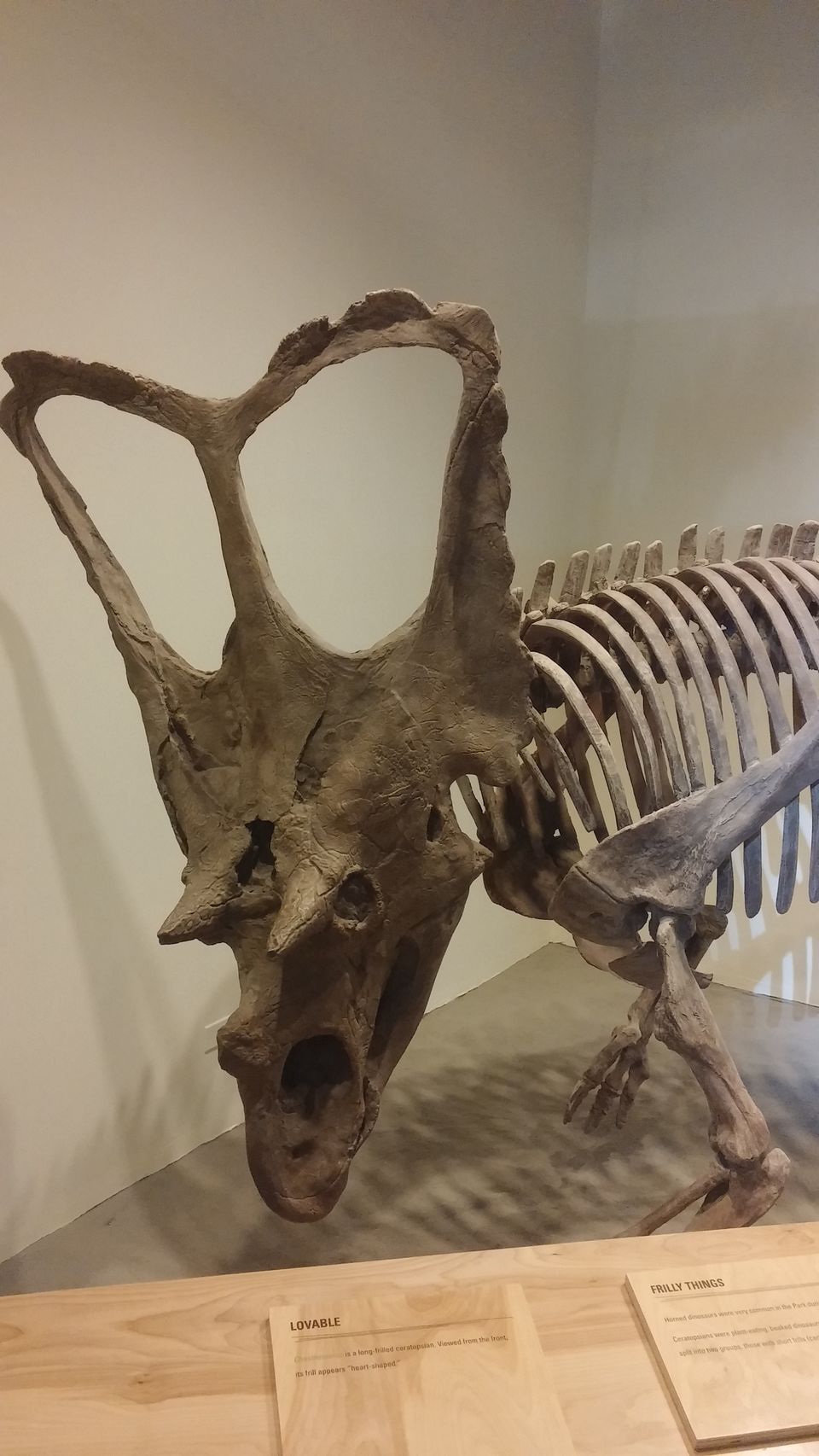 So the next stage of our journey was a dramatic change in landscape as expected. We'd traveled through nothing but dense trees, lakes and mosquito's since leaving Toronto but all of a sudden the expanse of the prairies appeared just before Winnipeg. The prairie provinces (Manitoba, Saskatchewan and eastern edge of Alberta) promised little from what we had read in preparation for this trip. People we met along the way had encouraged us to 'just power on through the prairies' to get to the good stuff either side. We had quite a different experience.
Yes there is a lot of flat farmland. You can spot a farm dozens of kilometers away and apart from the odd oil well there's little else to spot on land. It was the sky that was fantastic to see. Part of the fun of being in the passenger seat of the RV has been storm watching – the clouds seem to gather over the flat lands from late morning onwards as the air becomes so hot it creates low pressure with the moist air rising to become clouds. When there is little wind these clouds build up and up and up into supercell thunderstorms, huge and incredible dark clumps of cloud scattered across the horizon…which sometimes create tornados.
We hadn't thought about tornados or any dodgy weather at all on this trip. When we got to our one and only stop in Manitoba a huge thunderstorm started as soon as we got there. We sat it out in the van for a few hours – some yoga and some reading passing the time. Part of this was me perusing the Loney Planet guide which mentioned these prairies create huge storms and a few tornados touch down each year. This caught my attention (obviously it did, I'm the worrier on this trip) mainly because the incredibly dark sky, the pick up in the wind and the continuing rumblings of thunder around didn't feel quite right (my sister is a closet storm chasing fan, I've watched the film twister A LOT). The only thing I could do was turn the radio on and listen for any weather reports – much to Ali's ammusements…if it's not bears it's the weather – and immediately they were discussing a rare early summer tornado which had touched down nearby (here's the news story on it). There were other tornado warnings around and with the campground being almost empty, particularly of park staff, we set off to find any more info we could and a building just incase. We headed back out to the nearest town for a drink and to watch the clouds hanging over our campground disapate slowly – we did however hear that there had indeed been a warning out for Spruce Woods, the park we were in, and that the big sign of tornados around there is when a storm suddenly goes cold and you get some hail stones…which we had experienced a little earlier. We were a few rotational winds off being caught up in a real life twister, aggghrrr.
With a clearer evening ahead we headed out for a walk on the sand dunes left behind from ancient deltas which was nice, but we definitely had the feeling that apart from the tornado excitement Manitoba didn't have much to offer except farms and bad roads.
Having survived the near miss – obviously – we left the storms and under-maintained tarmac of Manitoba behind us for Saskatchewan. The weather was boiling, the petrol was cheaper, the roads were better and the campgrounds and parks in this province were brilliant. The first, Buffalo Pound Lake, was a combination of gentle grass hills, clusters of trees and a lake which came as a huge surprise given the drive there through nothing but ultra flat farmland. They have some wild pelicans, prairie dogs and a reserve of Bison but the best part was the sunset over the lake – pretty stunning particularly given the recent weather. We also took advantage of the sunshine to do some sunbathing by the lake and give Ali an opportunity to top his precious tan.
A moment after this photo was taken 4 pelican flew past in it creating what would have been a beautiful photo…had it not been for Ali's battery running out. Although I feel like you are supposed to experience the best bits just through your eyes and not through a lens.
The next place, which saw us stop for a couple of nights was Cypress Hills, a park that straddles Sasketchewan and Alberta close to the US border. This place was like a partially wild holiday camp – a huge site with loads of camp spots hidden in the trees around a lake but with the extra luxury of cafes, a grocery store, a swimming pool and a lot more. It was the first day of Canadian school holidays so families were out in force and we had to watch out for cycling kids as we manouvered the RV to our camp spot.
They have a treetop canopy activity centre there too and so we did some a zip line touraround the tops of the tall Lodgepole Pines. It was good fun complete with 200ft upside down zips and Ali spent the tour quizzing the guides about their jobs with an eye to his future outdoors career here. We spent the rest of the day in the sun – but the evening and the possibility of a sunset over the grasslands (Izzard is obsessed) saw us drive somewhat cross country to a few gorgeous viewpoints looking over 100km of rolling grassland showing the province off to it's very best.
The return journey took us via the Observatory run by a local amateur astronomer during the summer months. Our geeky sides truely came out while peering through the telescope at the moon and Saturn but although the area is one of Canada's dedicated Dark Sky preserves, the brightness of the moon and the late sunset meant there was not much of a star scattered sky – it was far too light.
Maybe some true star gazing will be something for us to go in search for later on in the year when the sky is a bit darker.
While Manitoba had not been much, we actually really enjoyed Sasketchwan. It's much more undulating and the mix of natural grassland, bright yellow canola fields and big blue skies are quite mesmerising. It also had by the far the best provincial parks for us to stay at (perhaps because they don't have so many to invest in) and we're both really glad we decided to stop for a couple of days and experience it more.
On our fifth day in the prairies (doesn't feel like that long since we last posted!) we crossed over into Alberta and the Canadian Badlands. We decided to take a little detour at Ali's behest to Dinosaur Provincial Park which as the name sounds is a provincial park, and UNESCO World Heritage site dedicated to dinosaurs and the amazing number of fossils found there. The park is exactly what you imagine from the term Badlands; an arid, rocky desert with dusty rocks, eroded sandstone columns, cacti and 38C heat.
Ali informed me that the dinosaurs found here are in fact from his favourite dinosaur period (a revelation in itself), the late Cretaceous, the age of T-Rex, Triceratops and Ankylosaurus to name but a few (I imagine Dan North should enjoy these references, if it's not Thunder Birds, it's dinosaurs). We hopped on a bus tour out into the natural preserve to learn about the pioneering fossil hunters. Apparently many of the fossils in the world's famous museums came from here.
We're now at our last camp ground in the prairies which is a just a stopover near Calgary before we finally reach the Rockies and the rumoured best bit of trip at Banff National Park tomorrow. I have to say though that we've actually really enjoyed this trek across the 'boring bits' of grassland and prairie. It's really different to anywhere else we've been and the skies more than make up for the never-ending straight flat roads.
This trip was originally published on The Loud Way Round.