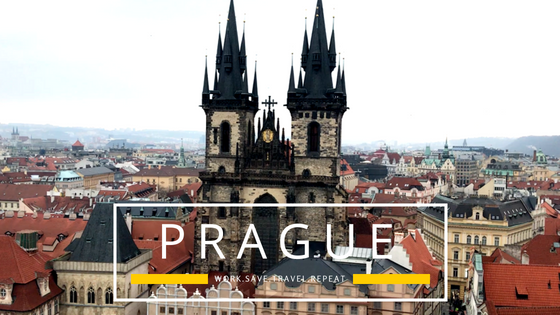 My top 5 things to do in Prague -
#1 Spend a few hours wandering around the gorgeous Prague Castle.
Try and be there for the changing of the guard's ceremony which occurs daily at noon local time. As impressive as the Prague Castle is during the day, it's magical under the lights. The lighting was purchased by none other than the Rolling Stones. Thats why locals like them more than Betals :)
#2. STROLL ACROSS THE CHARLES BRIDGE

The Charles Bridge has some rather mathematical significance. Former Czech king laid the first stone of the bridge at precisely 5.31am on July 9, 1357.
The king was so into astrology and numerology that he chose this date because of its written form: 1-3-5-7-9-7-5-3-1 (year, day, month, time).
#3. WATCH THE ASTRONOMICAL CLOCK

Catch the world's oldest operating astronomical clock.. well it wasn't operating when we visited :) and it seems to be a huge effort to get it functional again :)
#4. TAKE A SELFIE AT THE JOHN LENNON WALL
The John Lennon wall is filled with inspired graffiti and pieces of lyrics from Beatles' songs. The wall is continuously changing so it's one of the things to do in Prague on every visit because it looks slightly different every time. Its a good idea to carry spay paint and put your mark their, yeah its allowed !!
#5. VISIT THE OLD JEWISH CEMETERY IN PRAGUE
If you are like me, who like to clime towers or hills to get good view of city then Prague is a destination city for you ! There are many paid & free observatory sports all around !
Old Town Hall Tower (Paid)
Powder Tower (Paid)
Metronome on the Hill (free)
Castle Hill
Petrin Hill
Letna hill
Pick you best bet :)
#1. PETRIN LOOKOUT TOWER
There is a easy way via funicular 299 steps to the observation terrace.
#2. The city's famous Dancing House
There is no entrace fee, but you do have to buy something from bar to access an outdoor rooftop patio..
#3. CATCH THE VIEW FROM THE TOP OF OLD TOWN HALL TOWER
Last but not the least - Enjoy the humour behind some of the city's street art.
& treat your sweet tooth !
The Trdelník is a traditional pastry made from freshly-grilled dough covered with sugar and ground walnuts –
and what's not to like?
Do let me know your favorite things to do in Prague !
tak zatím ahoj ! that means Bye for now in Czech :)