This post is a part of my Dzüko Valley trek undertaken with Backpackwire. To read my adventures of Dzuko please click here.
The last 2 days have been like some dream that has come true. I was finally at Dzukou valley and nothing could steal its thunder for the next few days, weeks, and even months. The trek was fulfilling, the experiences etched in memoirs. We're back in our pretty homestay Hillfoot Camp & Homestay nestled in Zakhama (or Jakhama) and today is a day of nothingness. It's 530 am & I've just woken up to yet another stunning morning. Hard to recall when was the last time when I woke up to such endearing balmy mornings. Most of the folks of our group were still in deep slumber after quite an 'eventful' last night that was.
Our train departs from Dimapur to Guwahati at 1130 tonight. We had acres of time at our disposal. I quickly snugged back in my tent, collected my camera gear and set out exploring this gold-colored terrace farmlands of Zakhama. Lined up with ornate purple, white, pink flowers and with couple of green high mountains in the background this stepped farmland surely looked like a nicely curated one. Me, Manash, Priyanka, & Ratnadwip were all scattered around, basking in this glorious daybreak and trying to get that perfect, flawless shot. I just found myself a patch of flat ground that must have been harvested 1-2 days back, staring away to a view of Viswema village far up. I guess sometimes doing absolutely nothing has its own bliss. I look up at my watch and it's only 730 am. Dang, I can just laze around here all day long!
Slowly the rest of the squad wake up and relish the early morning sights. It starts drizzling for some time which forces us to huddle back under our dining roof made out of hay. In the meantime our morning dose of cuppa also arrives that we all were eagerly waiting for. Breakfast soon follows through, the hangover of last night slowly breaks away with every sip. You can not get tired of just looking outside of our dining tent this garden like village. Post breakfast it was time to venture out and explore Zakhama at length. We headed out, meandering through the make-shift paths of this farmland towards the main road. As we kept descending the exquisiteness of this place just kept unravelling. The entire stretch of this paddy field looks impeccable as well as meticulously drawn when you see the step-like layout, with those massive mountains standing guard at back.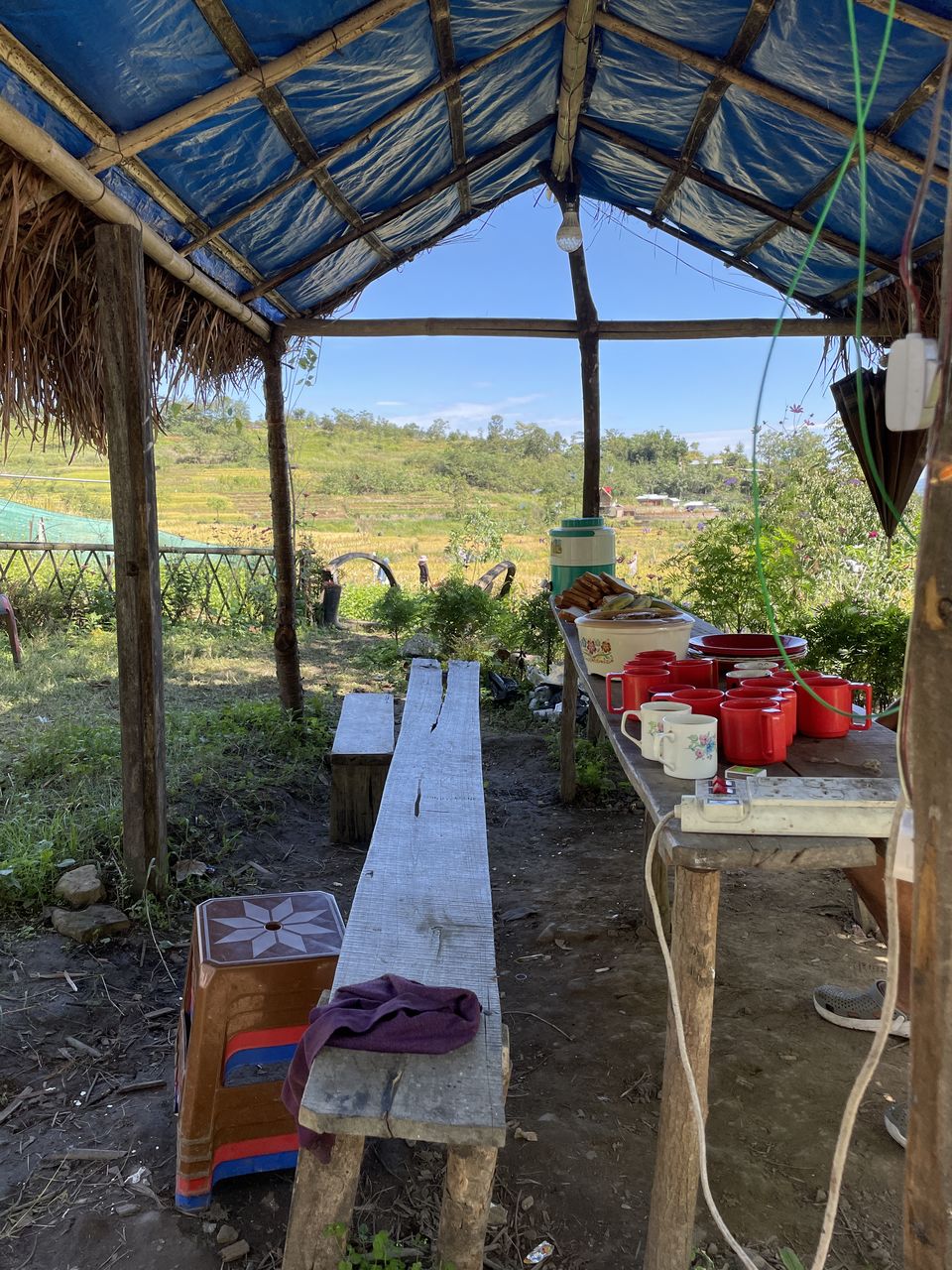 Breakfasting with a view!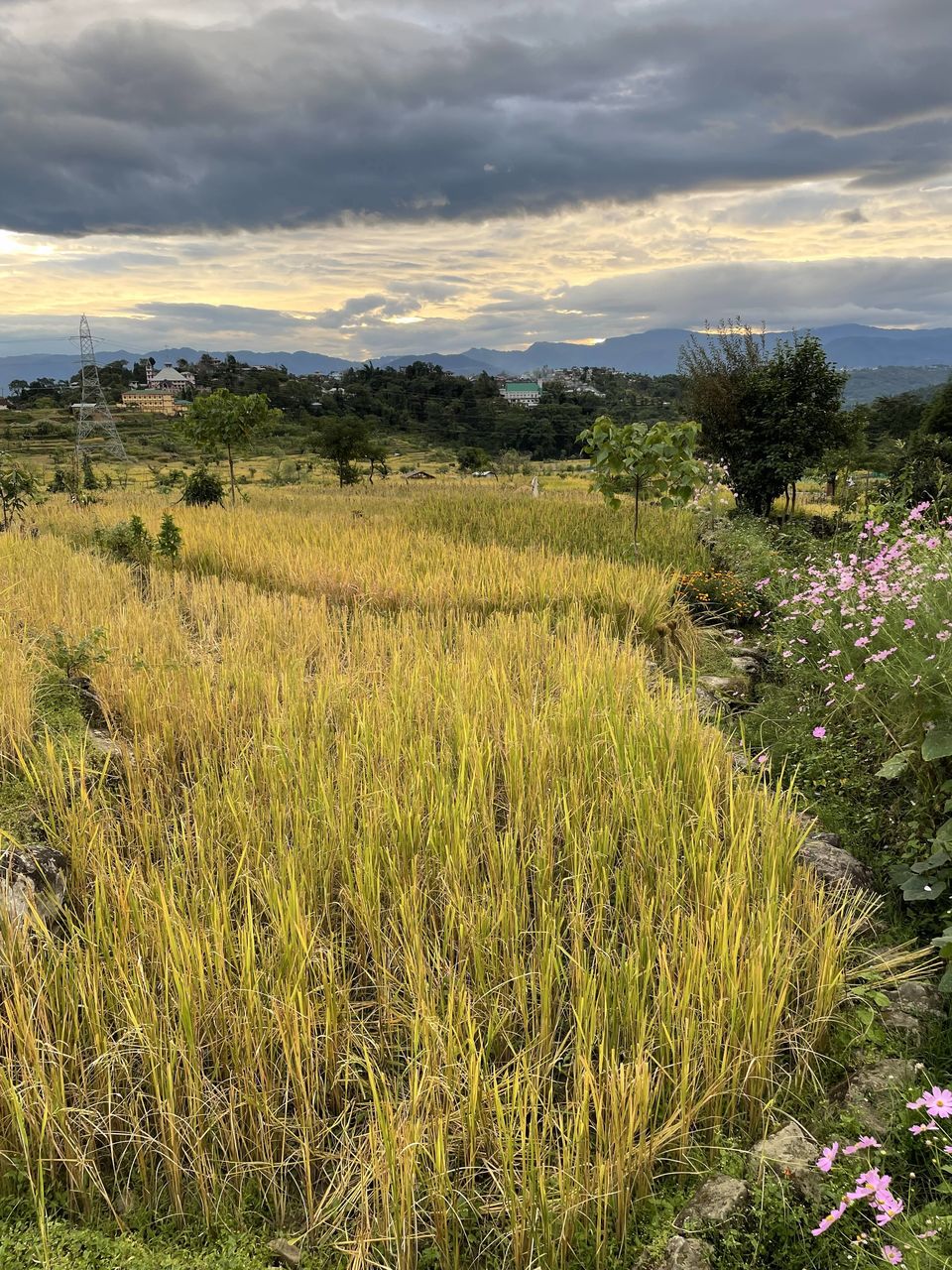 It's harvesting season here in Zakhama and lot of locals can be seen tending to their crop. We were literally the only non-Naga folks here casually strolling on an empty road here, enjoying a sunny morning. Its incredible to think what huge tourism opportunities these places and villages hold, yet gets overlooked and even never heard of. Most folks after completing their Dzukou trek continue towards either Kohima or Dimapur. Very few explore Zakhama or Viswema, and here we are, unwinding in this stunning setting. Viswema can be clearly seen right across the valley, perhaps next time when I come back would like to stay back and explore Viswema. Of course, during the Hornbill festival this village springs to life with tourists flocking in from all sections. Otherwise it's just us and few farmers harvesting their crops.
There is a church in the village, a school, few shops selling bare essentials and neatly tucked houses. We bought few packs of refreshments, few photoshoots later and then started walking back to our homestay passively. The sun was now crisp and blazing out. Yours truly hasn't taken a shower for past 3 days and plans to roll likewise till Guwahati (I mean I wasn't the only one though). Picked up a spot just near the homestay and lied down under shade on the freshly cut hay, staring into a clear blue sky. We couldn't have chosen a better place and day to loosen up. Anyways, picked ourselves after half an hour or so as lunch was called out. Aaaaaaaaaaaand what do we have here? Pork was cooked to our surprise and much delight! And that too cooked in bamboo shoot and bhoot jolokia. As much as my chapped lips were hurting & burning I was totally enjoying our last parting meal here.
Nothing much eventful after that hefty lunch that ensued. Most of us just packed our bags for departure, few playing cards and the rest few of us went back to the farmland just to sit there and watch the world pass by. Heart was reluctant to move out of here, I can very well settle down here. But then there's this chasm between wish and realities. Our cabs were here to pick us back by 430 pm. We thanked our host Ayie Khatso profusely before embarking back to Dimapur. Kohima was twinkling in the dusk and looked ever so beautiful. And in few hours we shall all part ways to continue on our individual journey of life.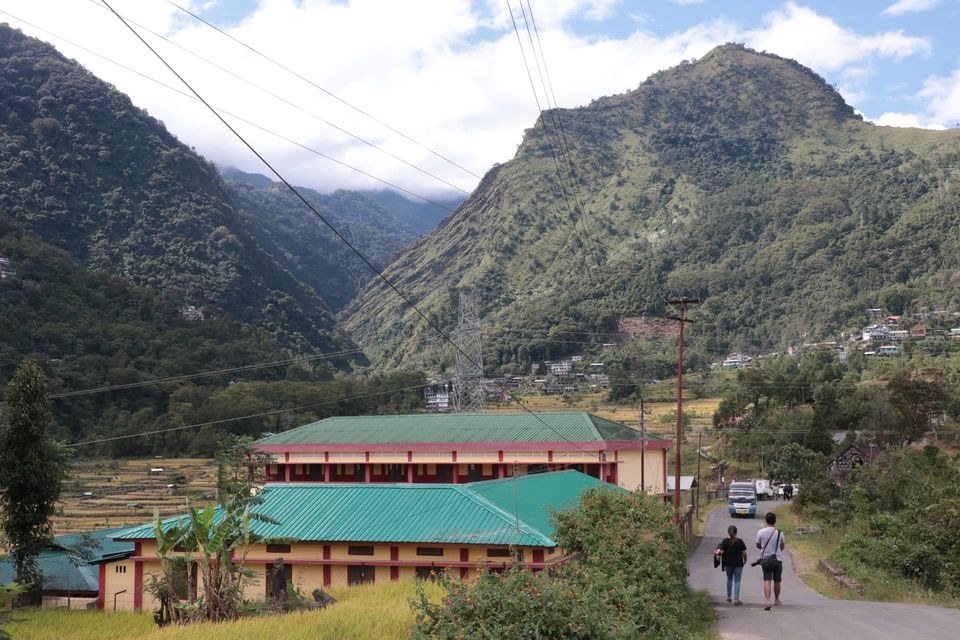 Walking around the village streets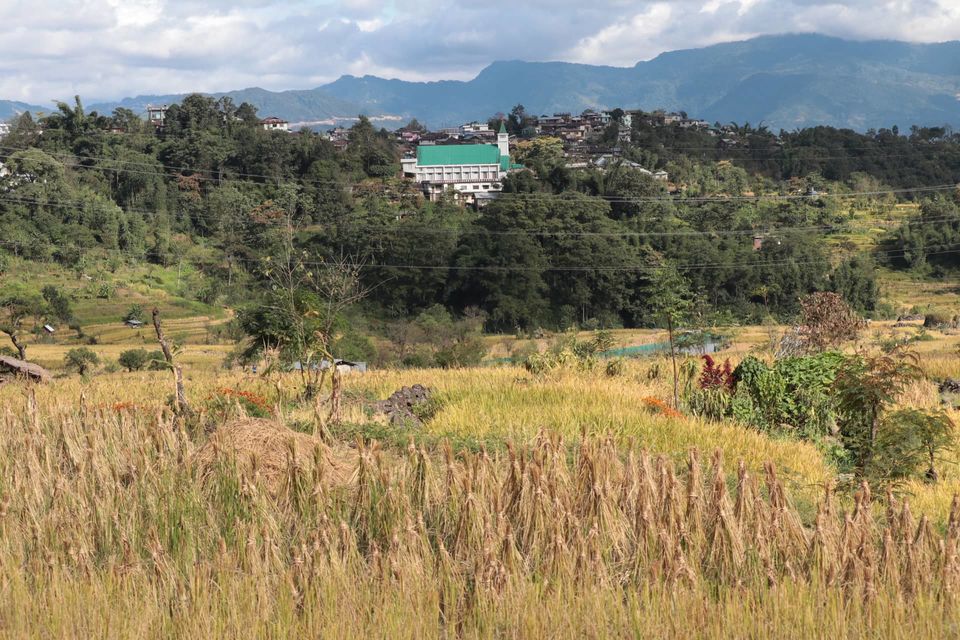 Zakhama village was more like a gift after my Dzuko Valley trek. After all we all deserve to take a step back and ponder at things we're doing. Zakhama really connected to my soul; seeing the locals live a content life, clean air all around, lying in that pile of chaff with an azure sky over my head, and a stunning landscape to give you company.
How to Reach?
Zakhama is near to Kohima. Ask any of those black & yellow cabs to drop you off at Zakhama or visit the Network Travels AOC counter for a shared ride. Once there you can book your stay with Hillfoot Camp & Homestay for a comfortable, homely stay. You can call up Ayie Khatso at 7085469496, 8257031781, 8257026437 to book your stay. A good time to stay here will be as part of your Dzuko itinerary or during Hornbill Festival. Don't forget to ask for some locally brewed rice beer and wine as well as chicken/pork made in bamboo-shoot and bhoot jolokiya!