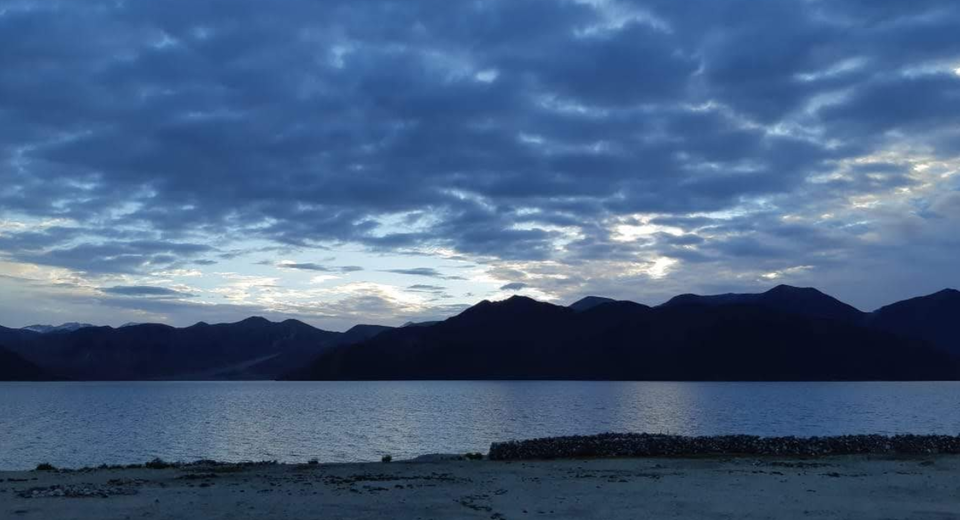 Pune to Leh – A journey which taught us some life lessons!
Till now, we did trips for Leisure only. I was never afraid of any trips prior to Leh-Ladakh because they were all relaxing, fun trips. Going to Leh, isn't. But I had heard so much about going to the height of Leh & all those passes where people get breathing issues & other problems & I am a specialist on panicking but somehow, it had to be ticked off mine & Shamik's 'To dos'
I don't think it is required to explain why Shamik wanted(always) to go to Leh. He said, it's on top of bucket list since many years. The sole purpose of buying a new car was that, so we bought S-cross – the shiny, strong (we'll get to that one later) & spacious piece of machine, to accommodate almost everything! Also, After much speculations whether I would get the leave for 2 long weeks or not, my boss approved the leaves & I was at the peak of endorphins, dopamine and serotonin (whatever applicable).
Our detailed & finalized plan at the start of Trip. Looking at this, you can now understand our enthusiasm.
PS: Never be 100% sure of the plan made. Man proposes, God disposes is the key thought here.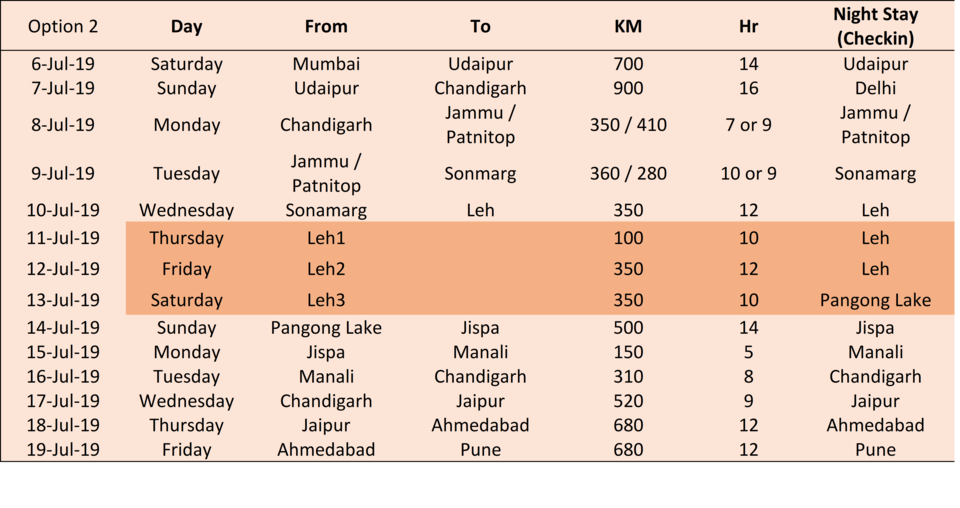 Then came the long awaited day – July 5th, 2019 on which the ship finally sailed, we took off on our brand new car for the 'Adventure of lifetime'.
Introductions: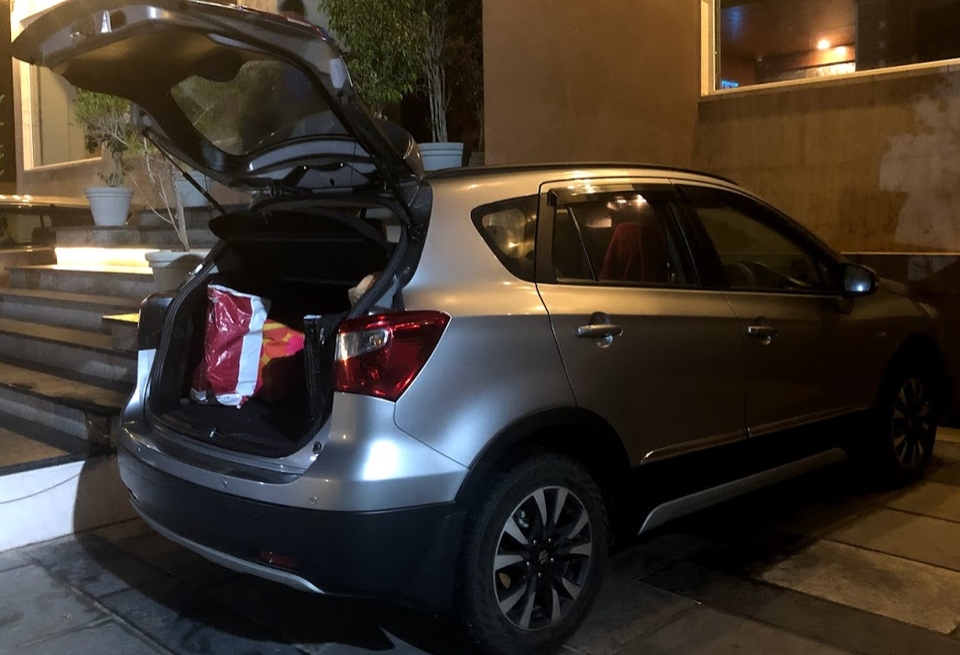 That the new shiny companion which saw the dream becoming reality.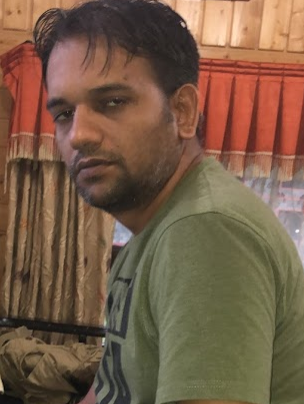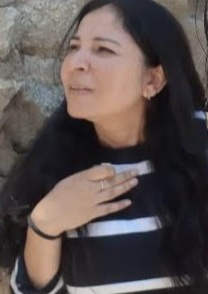 Day 1
Now because I had to attend a training in Bangalore, I reached back Pune on 5th evening & decided that we should leave in the evening & travel till Thane so that we can beat Mumbai traffic early morning & can cover our 1st target of reaching Udaipur & below is the route we decided to take.
We started at around 8 pm from Pune.
Gears for Journey:
1. Thermos & Sipper(Most used item throughout journey as it's best to use when driving)
2. Snacks (loads of it!!)
3. Warm clothes + wind cheaters + Umbrella
4. Safety gears: Torch, Stun gun, iron rod, Knife
5. Other gears: Scissors, empty can(for diesel), tyre inflator, puncture kit, window shades, multipurpose tool set, tow cable, jump start cable, battery water, engine oil, 2-3 pieces of old clothes for car cleaning purpose, a small dustbin(made out of an old jar), lot of used plastic bags, old newspaper.
Weather:
Raining throughout. It was delight to drive. And didn't hit much traffic when we entered Thane.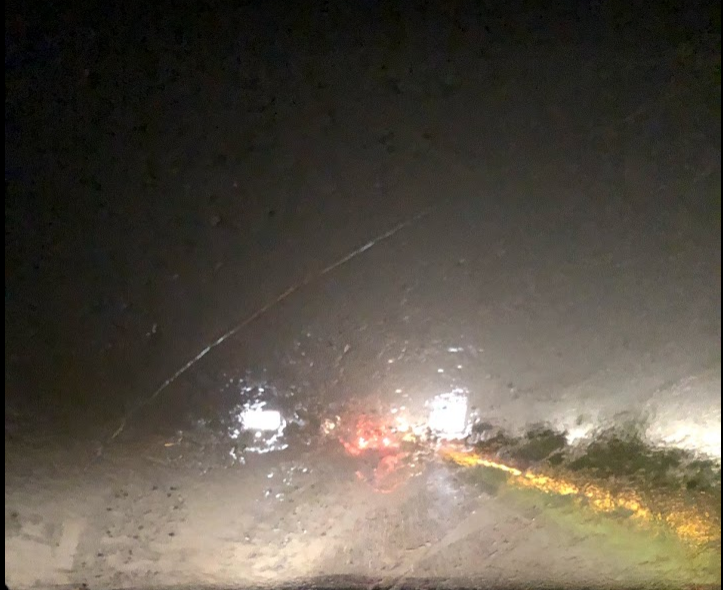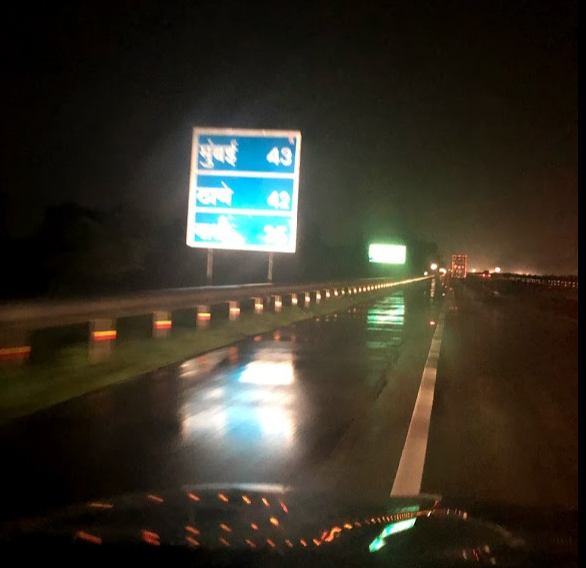 We reached thane around 11:30 pm & on the way itself, I booked a room at a service apartment through #Booking.com

Service Apartment: #London's Hyde Park
Cost : Rs. 2100 including taxes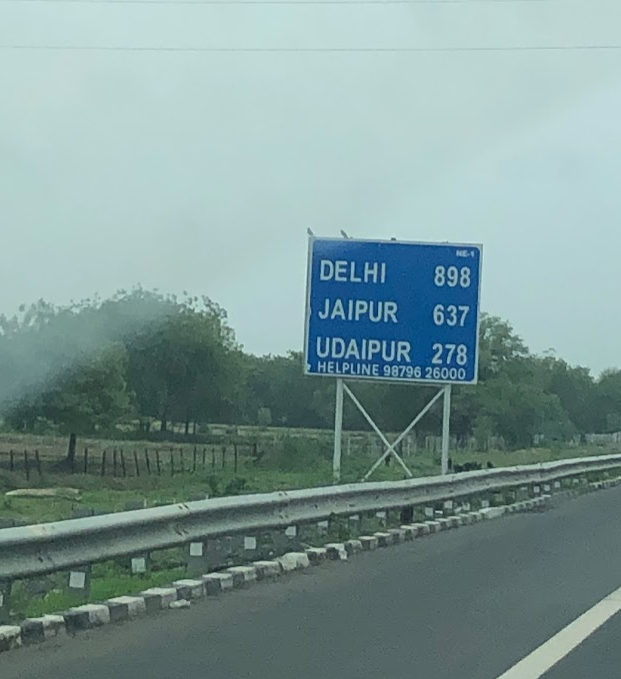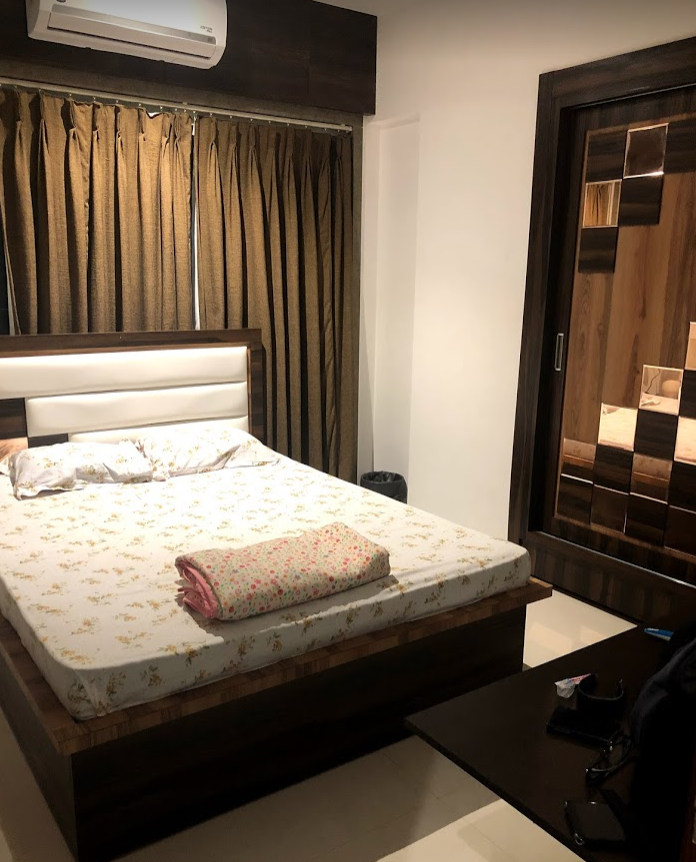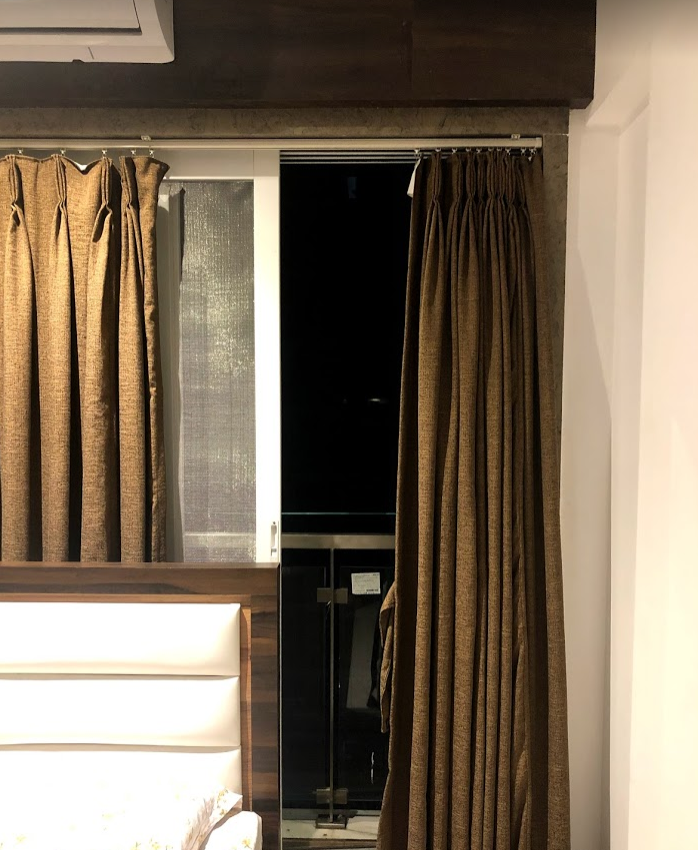 Review:
Pros: Quite similar to real picture on website. It was actually a 3 bedroom apartment taken care by a young man & his family. He was kind enough to came down from his building & guide us through the parking(within building premises). Room was small but comfortable, had a small balcony too.
Cons: Probably due to rain, the bed & linen had moisture & a damp smell. There were no separate soap for guests & only normal sized, used soaps in bathroom. No other utilities available.
I was tired by now, so slept almost immediately & we also had to wake up early in the morning so did not delay it any further.
Day 2:
Target: Thane – Udaipur (750 kms)
Route : NE 1 & NH 48. There is a small confusion which may happen & GPS may show to go from SH 188, but follow NE1 expressway only. Very good Road.
Thane-Vapi-Surat-Ahmadabad(bypass)-Himmatnagar-Zawar- Udaipur
We woke up at 5 am & did the morning routines. Target was to complete approx. 750 km for today.
PS: Shamik & I both are proficient drivers so we were confident that we could do it. We left by 5:30 am.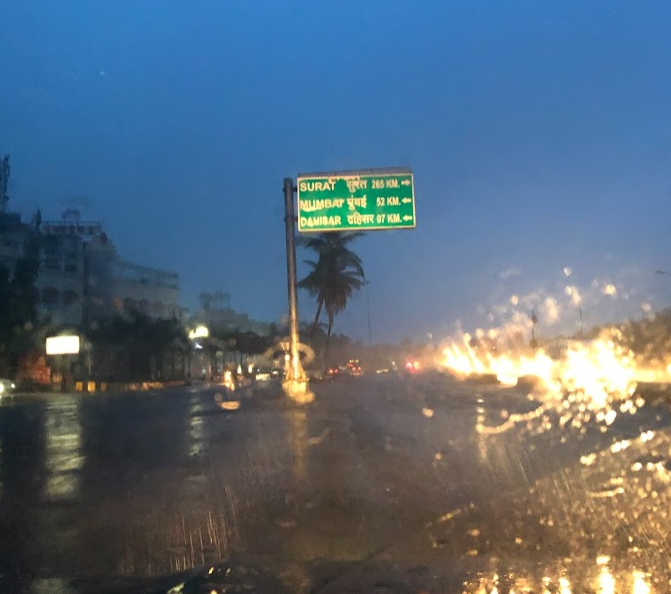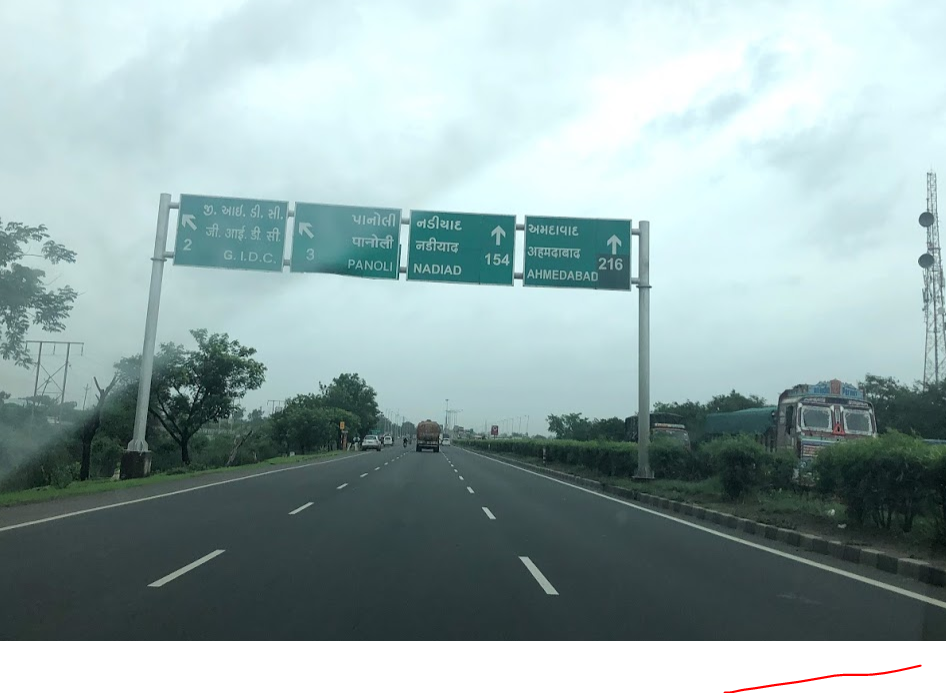 We stopped at around 8:30 am to had breakfast at a roadside dhaba after crossing Vapi. We had hot aalu parathas.
Once our tummies were full, we were back on the road again. The rain has also come to a halt, it was cloudy but pretty much dry. We didn't feel like making any more stops so kept on road. By around 1:30 pm we were crossing Ahmadabad but to my surprise, due to the flyover works most of the bypass road throughout Ahmadabad was a pain to cross & the traffic was making it worse so we delayed lunch plan & kept on going. However, even after crossing Ahmadabad, we were struggling to find any roadside dhaba/joint which had a loo & reasonably hygienic environment to eat. It was almost 3 pm & I was hungry. Thankfully we got a dhaba which wasn't though in the hygienic category but still manageable place to sit & have food. Surprisingly, the food was good (though extremely oily). As they say, 'jab bhookh lagi ho to sab acha lagta hai' proved to be right here. We hit the road again & it was still not the best road to catch up the speed due to all the work going on, we hit some jam too but after almost 1 hour past lunch, we touched the good road again. Now we were back to top speed. Amazing weather by the time we touched Rajasthan.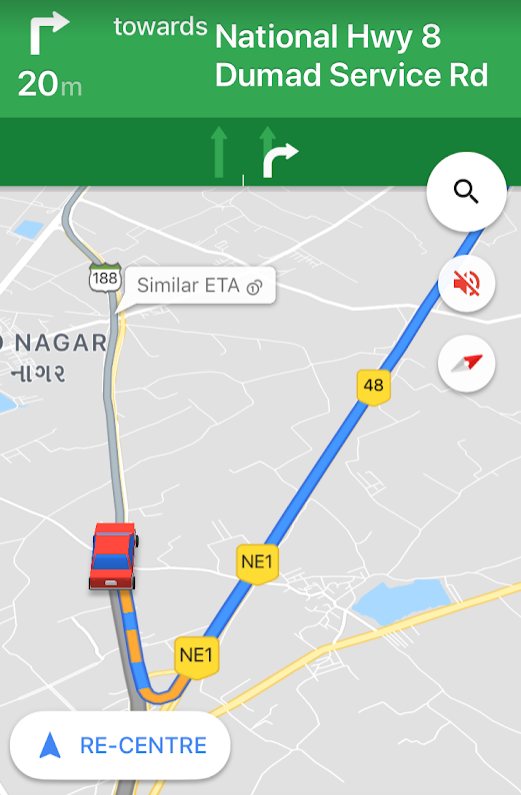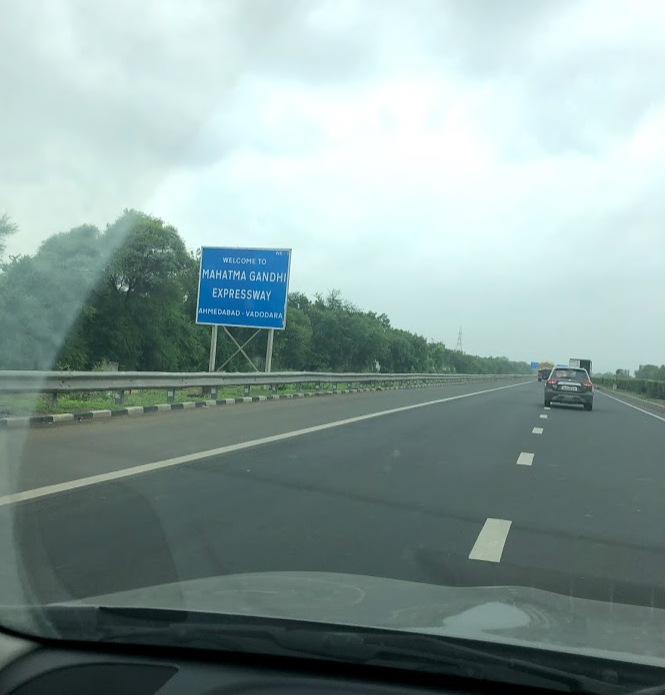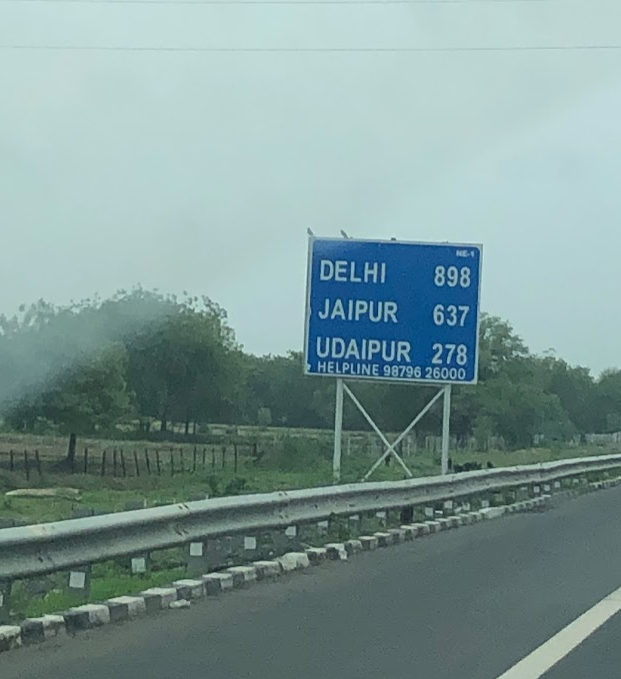 By 7 pm, we reached our hotel, which I booked when we left after Lunch through #booking.com. I could not understand the exact location of it while booking hence the distance from highway so when we reached, it was around 6-7 kms leaving the highway. But the best thing, it was an amazing deal.
Hotel: The Rising
Cost: 1800 including taxes
Review:
Pro: Very clean room & washroom. Linen & towels – Good. They have within premise parking & a facility to get car cleaning done too. Staff – Very nice, Food Quality & cost – Reasonable
Cons: Water quality, when I washed my face, it tasted salty, but we were told that it's like that throughout the region due to hard water. Also, it is around 6 kms inside after leaving highway.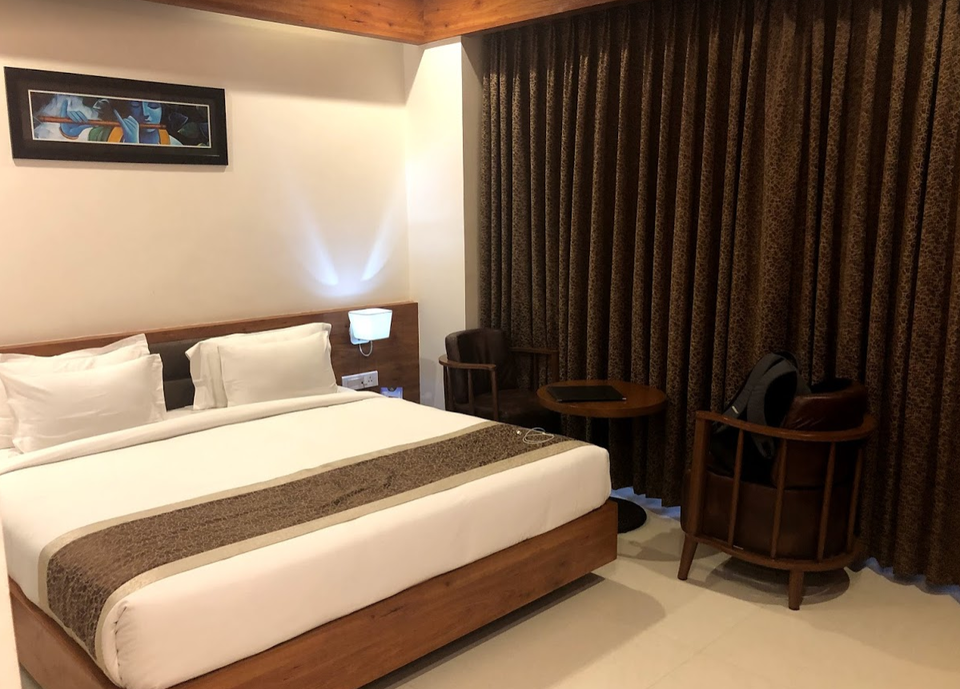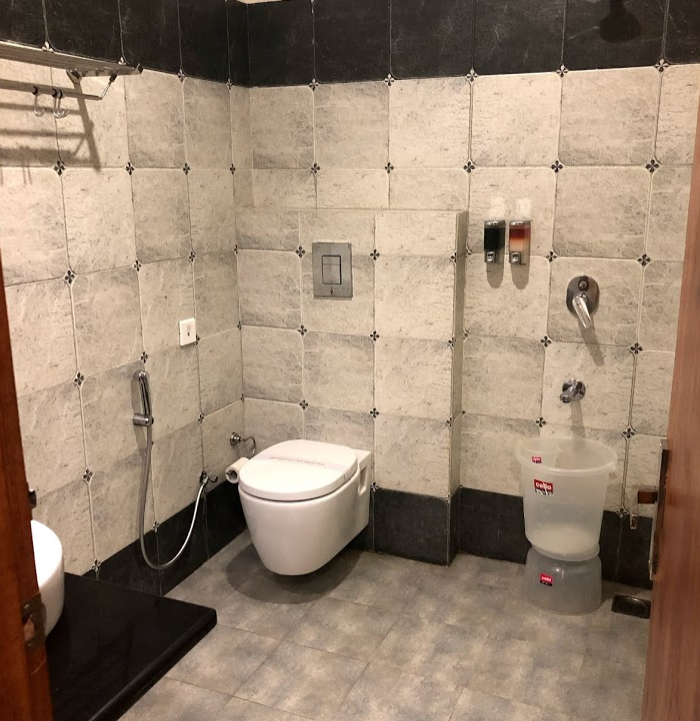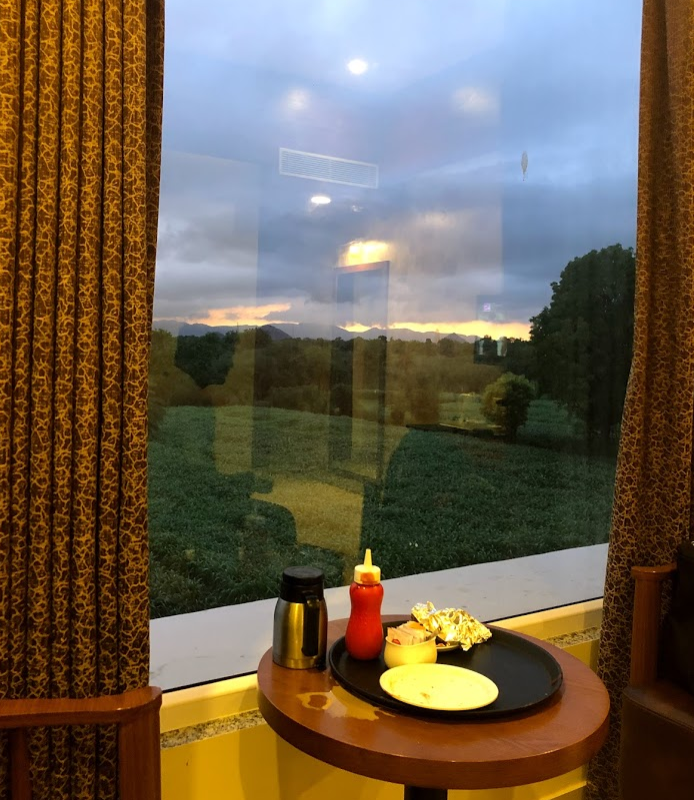 Weather: Awesome throughout, with some drizzles.
Take Away:
Start early so that one don't need to drive at night. Night driving is dangerous on highways because hardly anyone uses 'dipper' of their headlights.
Day 3
Target: Udaipur – Chandigarh (900 Kms)
Route : Udaipur-Rajasmand-Beawar-Ajmer-Jaipur-Bhiwadi-Sonepat(via western peripheral expwy)- Ambala- Chandigarh
We started early again & today's target was our longest target. We left by 5 am. It was pitch dark but road wasn't an issue so we could do it easily.We made our first stop for breakfast around 7:30 am. Had great Aalu parathas again on a highway dhaba. Hit some rain here & there but not much. Amazing weather throughout.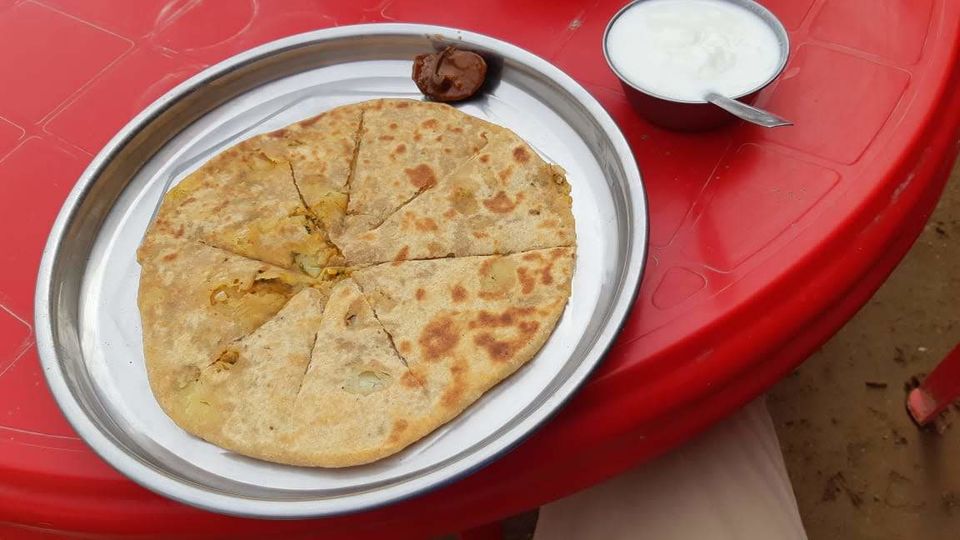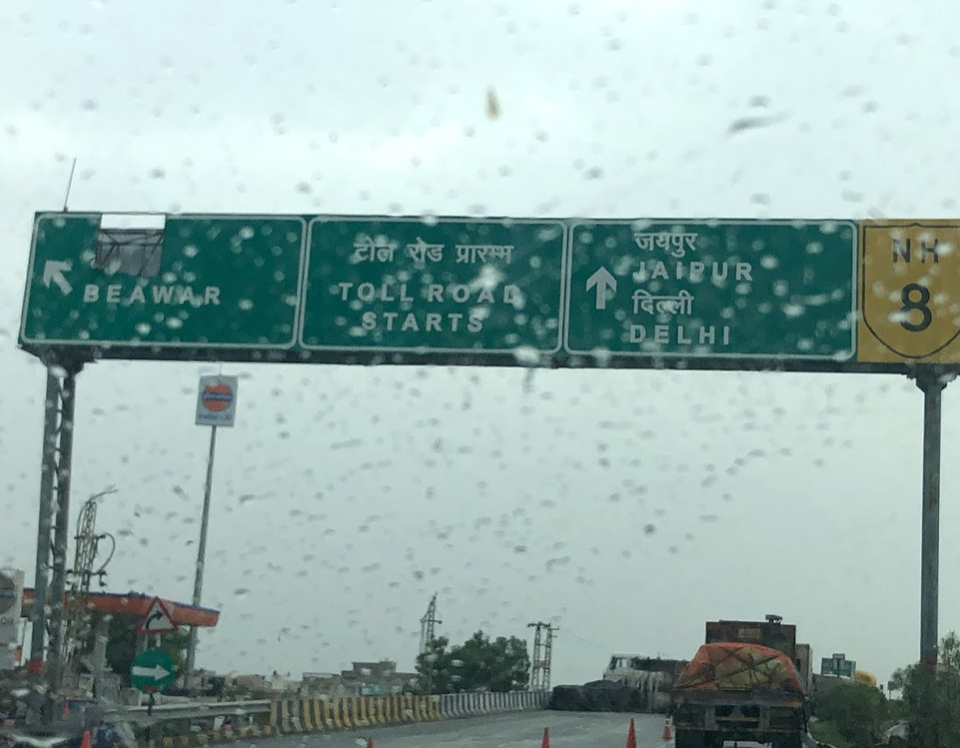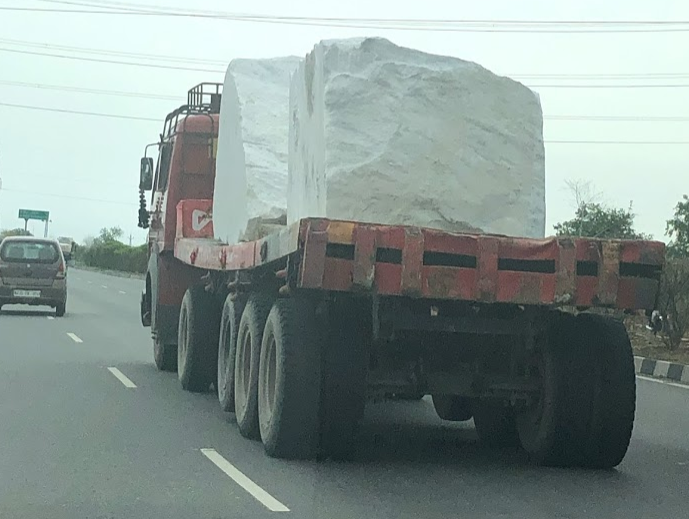 We crossed Jaipur around 12 pm. We were going real smooth & after lunch at about 1:30 pm in total 4 hours we hit western peripheral expressway. It came across to be the only road on which we put our car on 'Cruise' mode for almost 70 kms straight! Loved it!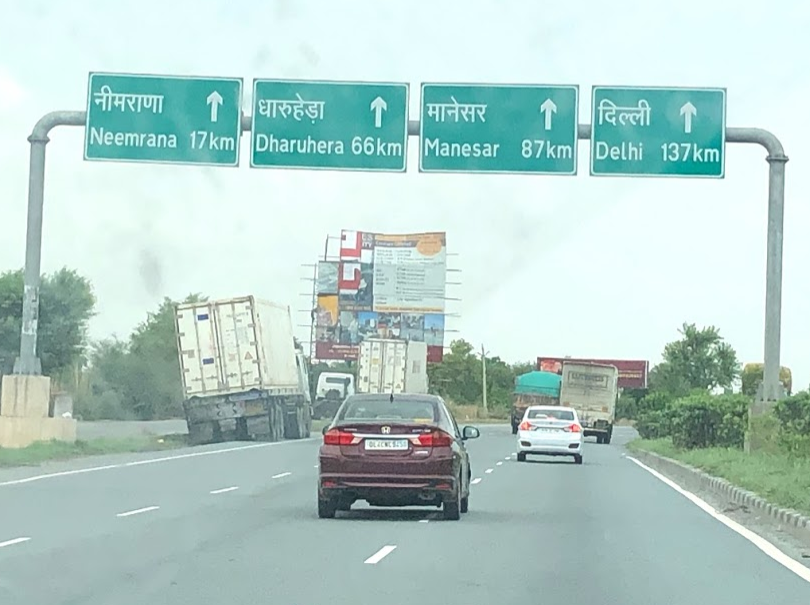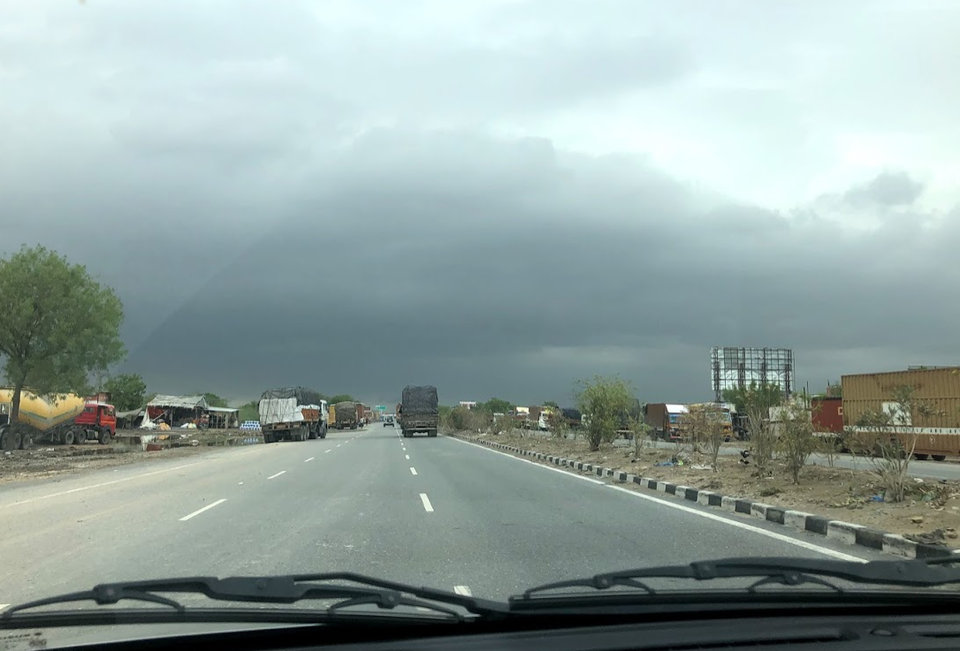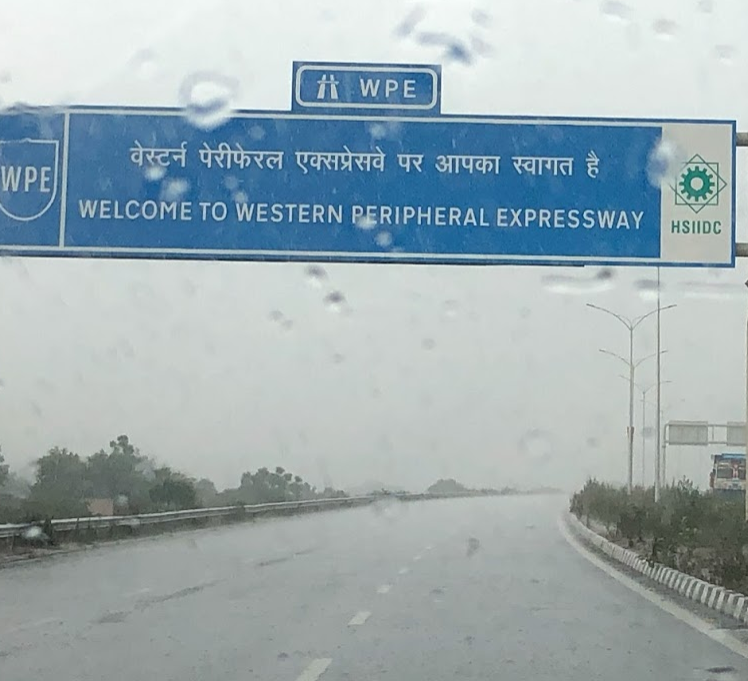 Around 5 pm, we were in Murthal. And we must follow the custom hence we stopped at 'Haveli' for snacking!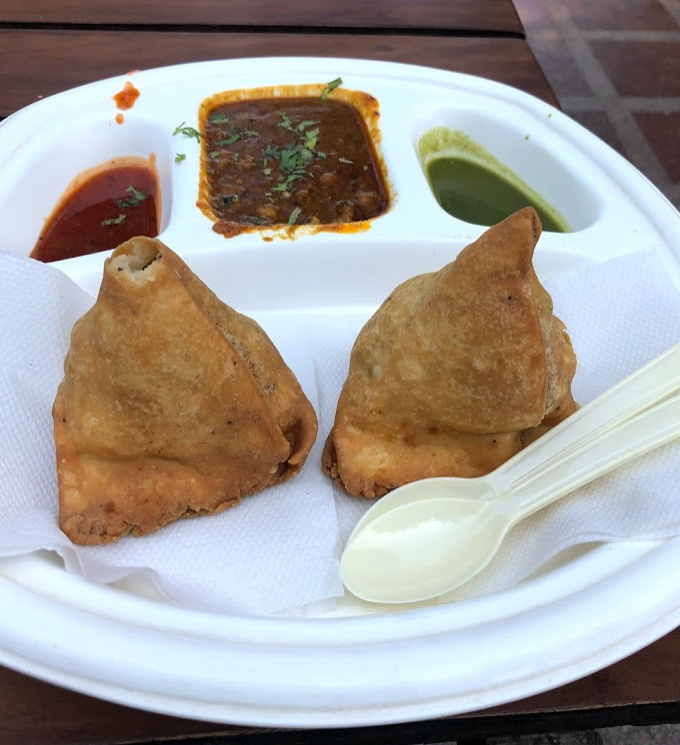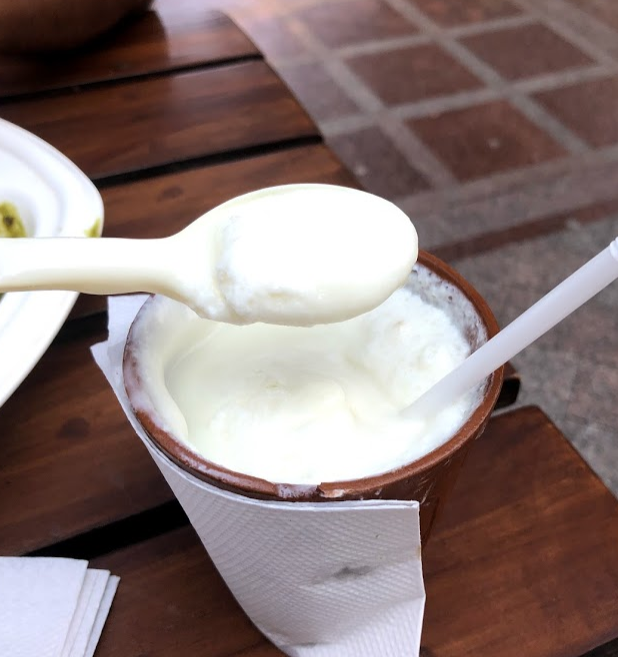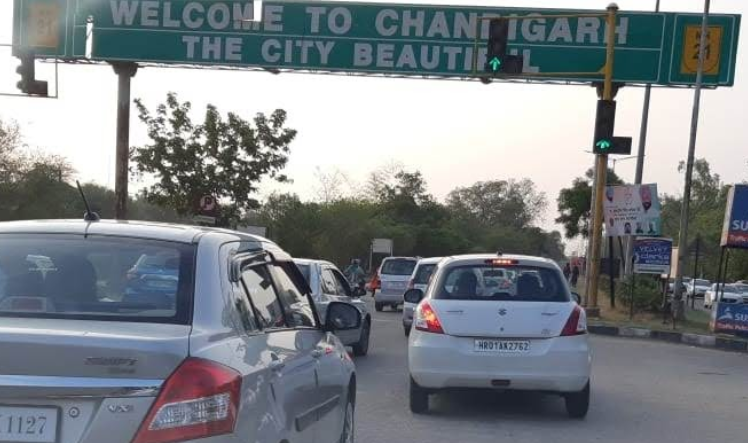 By 7 pm, we hit the place I call 'Love' – My home(mayka), my city beautiful, Chandigarh!!
Hotel: No Hotel today!
Reviews: Nothing better than home.
Weather: Amazing weather throughout, some rain on the way but nothing too heavy.
Road: Good condition!
Take Aways:
The roads & weather were smooth throughout. Didn't have any hassles!
Day 4
Target: Chandigarh – Patnitop(Approx. 410 kms)
Route: Mainly NH44
Chandigarh- Rupnagar-Garhshankar-Hoshiarpur-Pathankot-Kathua-Jammubypass-Udhampur-Patnitop
Today we were relaxed so left after having a heavy breakfast at around 8:30 am. Our expectation was to reach patnitop by max. 3 pm as it was just 400 kms(we thought!). Everything was very well till we hit Jammu. The roads were again cooperating except small patches here & there.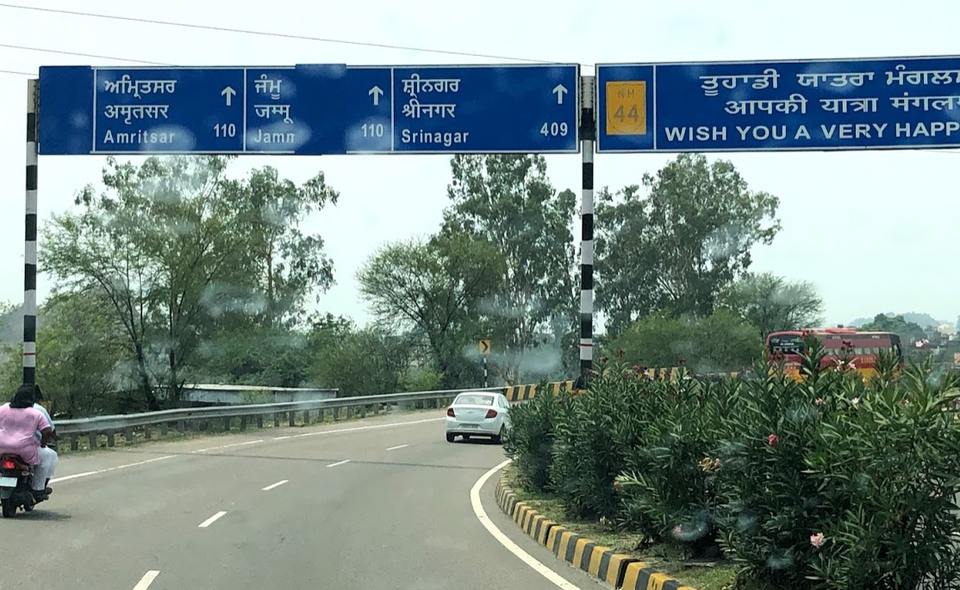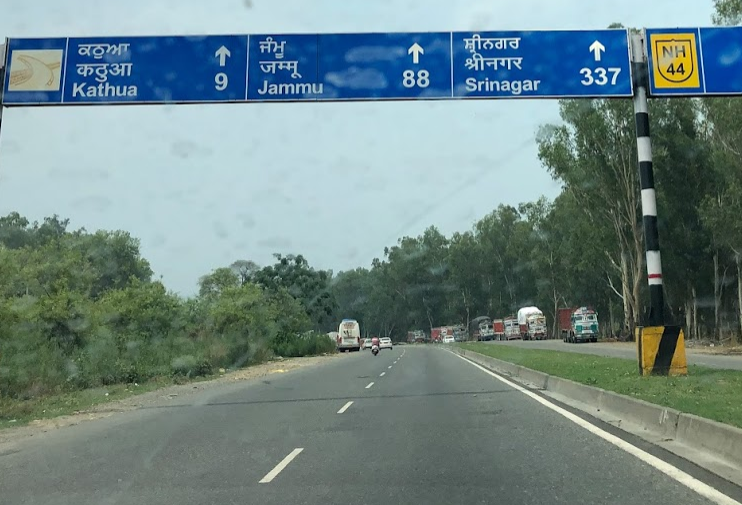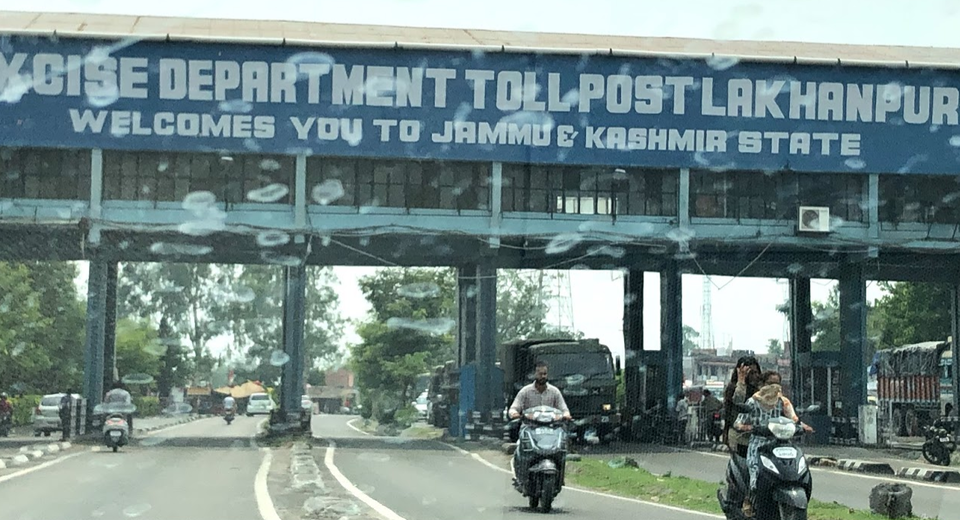 We were supposed bypass Jammu as per the plan & GPS baba. But we were reminded that we are in J & K and there is nothing which works here like the rest of India. First, our phones lost signal (mine is Idea & Shamik's Vodafone). Then, GPS baba took sanyas as we came across this board.
We were turned back by military personnel & asked to cross through Jammu only. As it was already 2:30 pm, we decided to stop by for Lunch at a roadside dhaba for Daal-chawal & homemade kathhal sabji.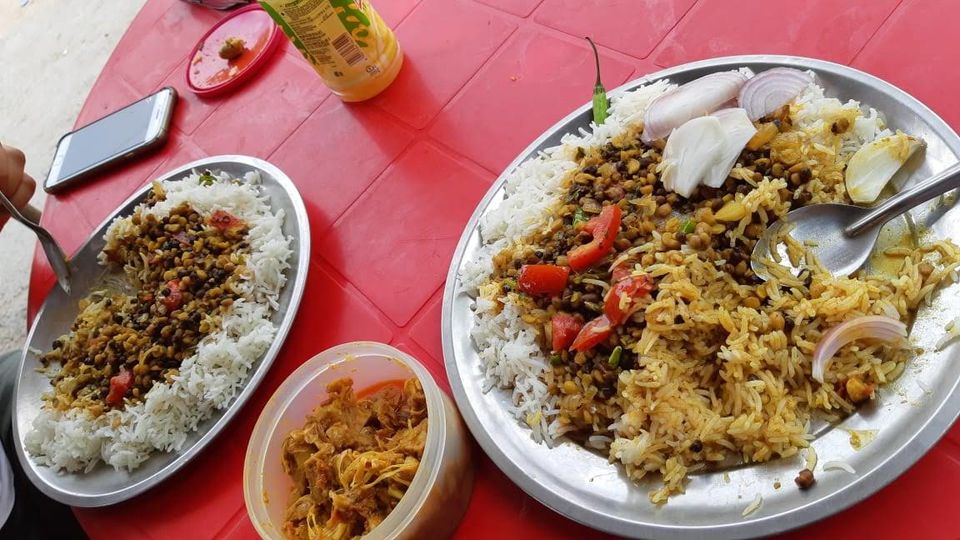 We were back on road in half an hour. It did not make much difference in the distance but that was not the end. We followed the route but then just before Sitni (somewhere around Nagrota), we hit a major Jam. And at that time, we realized that its the time of Amarnath Yatra too. And all the buses, tempo travelers & 90% of cars were for Amarnath Yatra & there was some specific time during the day when the travelers could cross. Everything just stopped. We waited for around 1.5 hours & then the traffic started to move.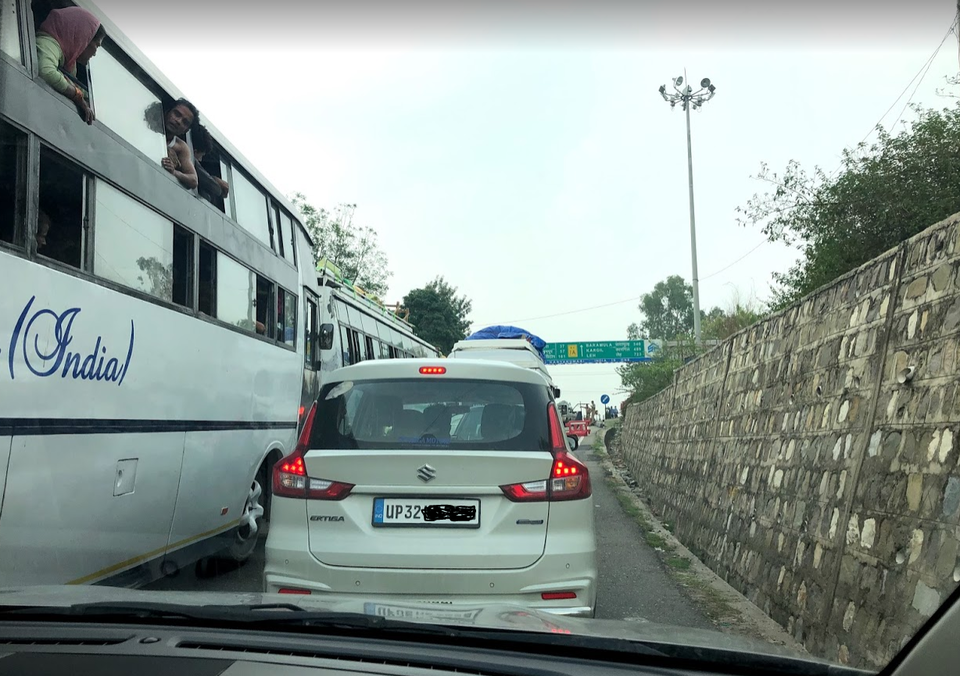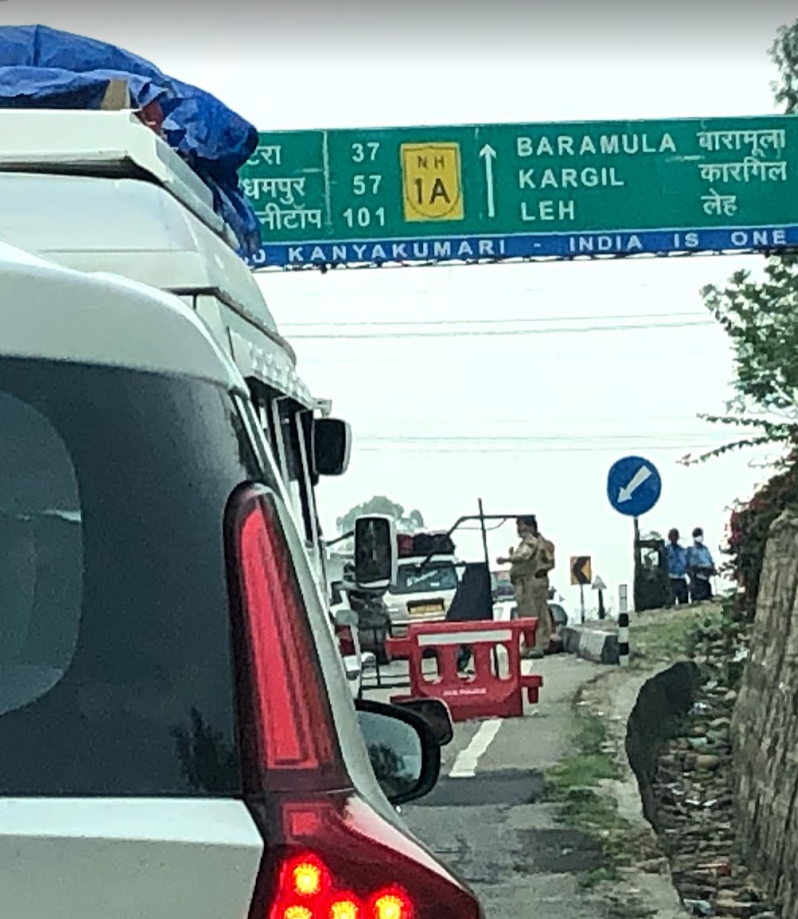 But that's not it. We were stopped by army personnel & asked about where we were heading to. On informing Patnitop, they said, we can't go. Just can't go.
My first Panic attack. ????????We were told to turn around. Now Shamik comes into action. He parked the car on side & started convincing these personnel about letting us go. Fortunately, we had the Hotel booking already done for Patnitop which they asked to confirm & he immediately showed it to them. After 15 mins. We could finally proceed with our plan. That's our first encounter with Army & J & K!
It was almost 5 pm & we were 80 kms away from Patnitop hence we thought max. 1 more hour. But again, that wasn't God's plan. We were stopped again before Chenani-Nashri tunnel because of the same reason for 'Amarnath Yatra' again.
Again waiting for almost 1.5 hours, the traffic was moved & we entered one of the longest tunnels of country – 9 kms. Amazing!
I was really tired & irritated by now & hoped to reach Patnitop without more hiccups. However, we hit the jam again just before the diversion for Patnitop after the tunnel. By around 8:30 pm we were able to take the diversion & drove for almost 1 hour to reach our hotel. It was dark already & to make it hard, there was fog which made it extremely difficult for us to drive. Somehow, by 9:30 pm, we reached our hotel.
I was so relieved finally to cover the shortest distance from past 3 days in the longest time. But my misery didn't end there. While checking in I realised, I had forgotten my handbag at the place where we had Lunch.
Panic attack 2. I immediately checked for my wallet which I kept in the handbag in the morning before leaving from Chandigarh. Thankfully, I took that out on the way & never kept back in the handbag. A little relief but still the biggest worry was my home keys, spare car key, a jacket & some other small things were lost now. It was a sad end to the day! Tired & sad, we called it a day.
Somehow, I remembered Shahrukh's dialogue from Om Shanti OM- If it is not a Happy Ending, then it isn't the end my friend. (explained at the end of article)
Hotel: The Samson
Cost: 3000 including taxes
Review:
Pro: The Rooms are very basic but clean. Food & cost of food is reasonable. Staff, quite humble. The view from hotel rooms are good but due to fog in the morning, we couldn't see much.
Cons: Approx. 5 Kms road to approach this hotel on a steep road is horrible.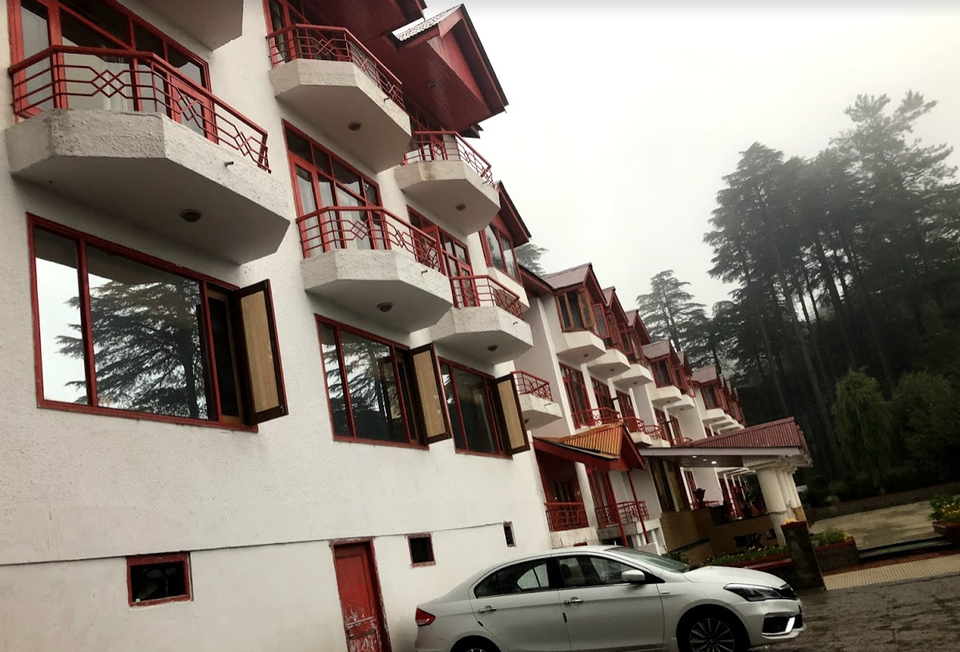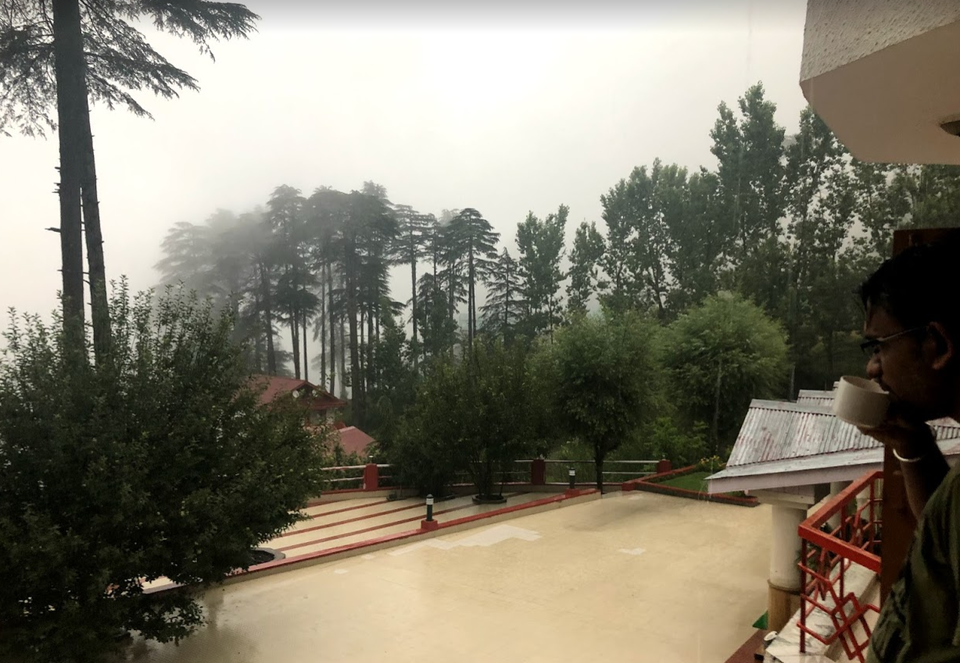 Roads: From Chandigarh till Udhampur – Mostly good, last some kms till Patnitop, patches of bad road
Weather: Pleasant with little drizzle here & there
Take Aways:
Check the schedule for J & K before making a plan. Once you're already there, it can ruin your plan big time if precautions are not taken.
Less Kms does not mean less time. Do not rely on GPS time at-least in J & K.
Remind your spouse/companion to check every-time you stop at some place before you leave.
Day 5:
Target: Patnitop to Sonamarg (290 kms)
Route: NH 44
Patnitop-Ramban(via chenani-Nashri Tunnel)-Jawahar Tunnel – Awantipora-Srinagar-Sonamarg
We woke up to fog & rain but had to leave early again as we learnt from previous day that we will find Amarnath Yatra crowd till Baltal(ahead of Sonamarg) so expected Jam too. We didn't want to get late till breakfast at hotel so we left by 7 am after having quick tea. Due to rain, we were going slow on narrow & bumpy road but in no time we hit the jam again as soon as we were back on highway. We didn't want to stop anywhere today so that we could hit Srinagar as soon as possible. So this became the day when we were totally dependent on the snacks we carried. We had our breakfast & Lunch in the car with biscuits, Kurkure & whatever we had. Till Jawahar tunnel, the traffic moved extremely slow not only due to jam but also land slides due to rain but still managed to capture some beauty.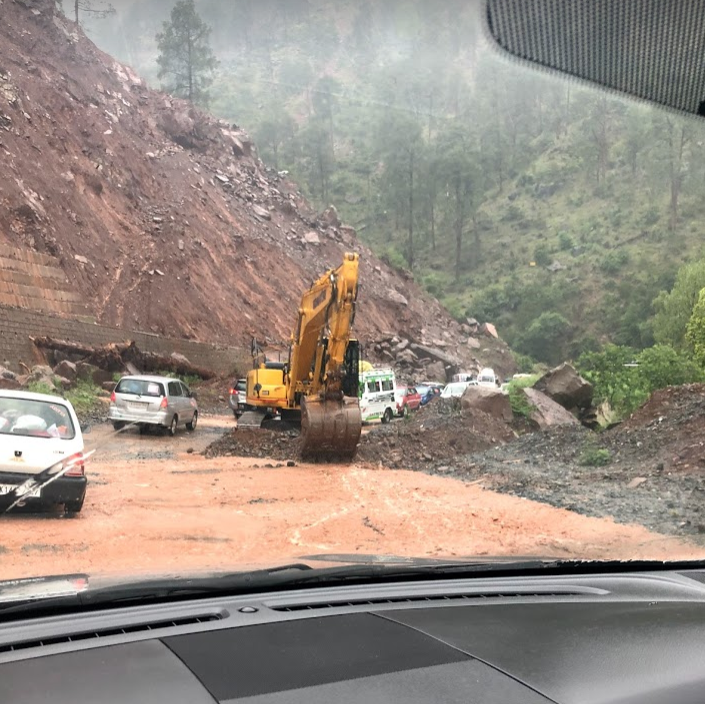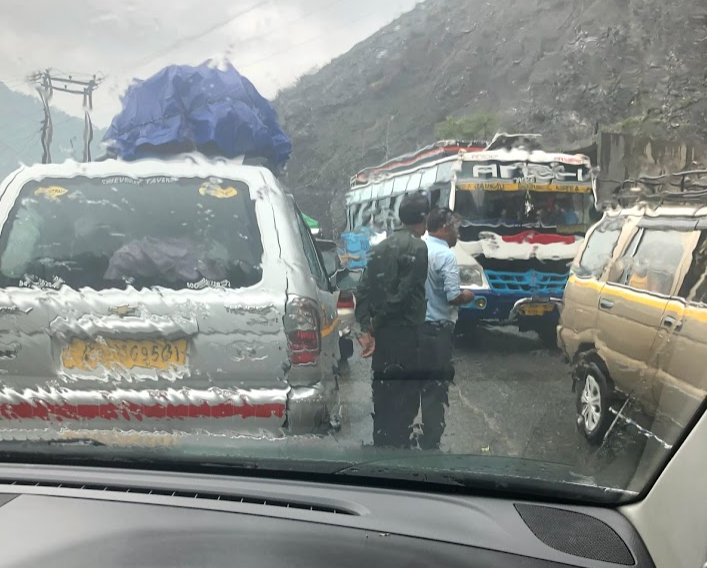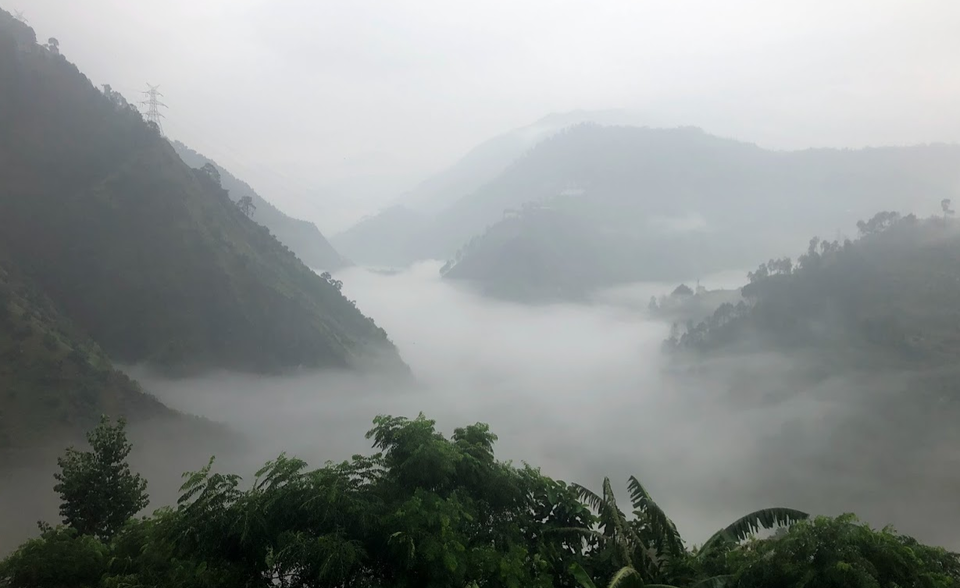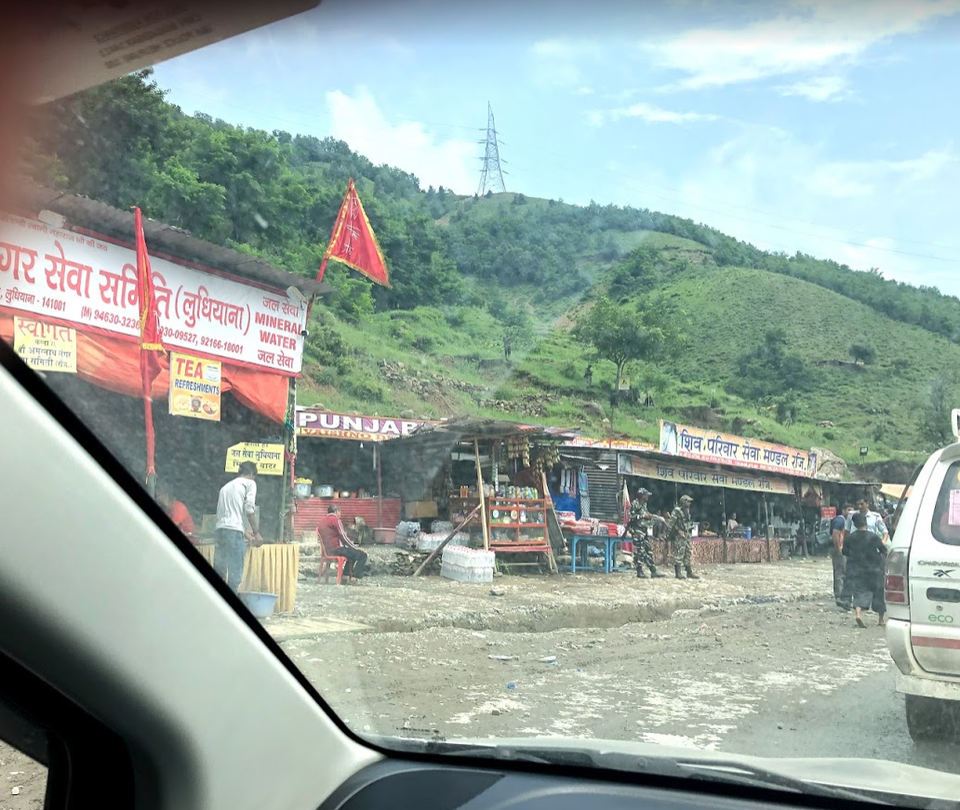 By only 3 pm, we were able to enter Srinagar with no stoppage anywhere. It took us almost 8 hours to cover 188 kms. So, we didn't stop for Lunch again & proceeded for Sonamarg. However, after Srinagar, we did not hit any Amarnath yatra jams but military personnel stopped traffic at many places which they kept on clearing every 10 -15 mins. We were stopped almost 20 times.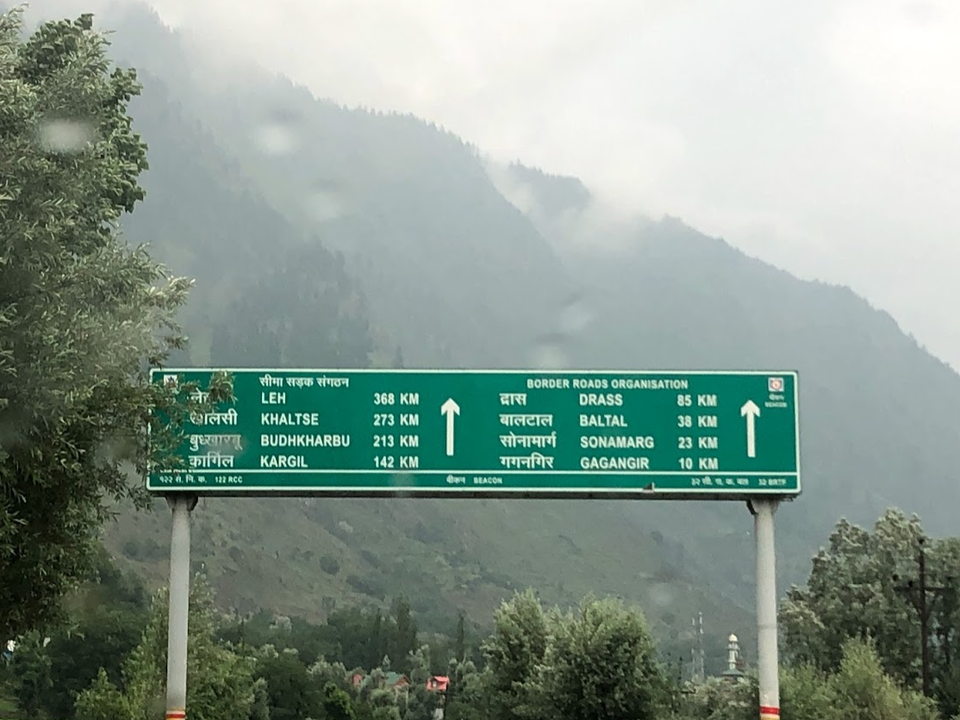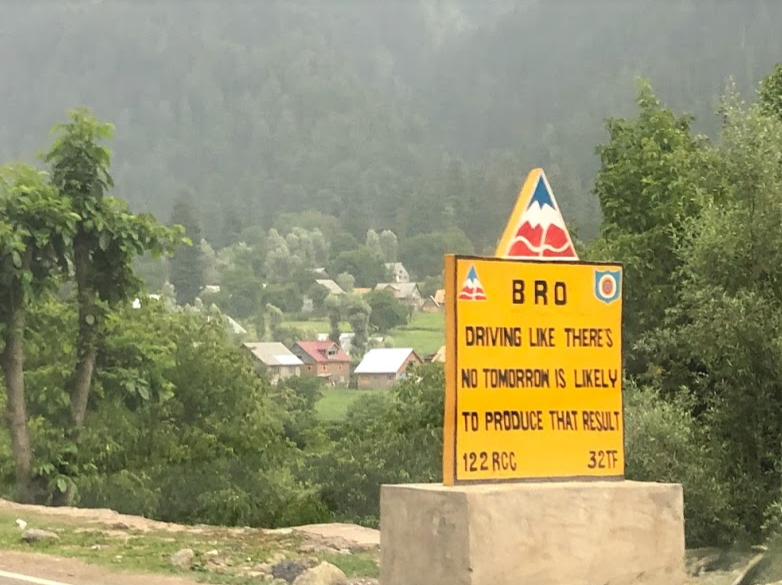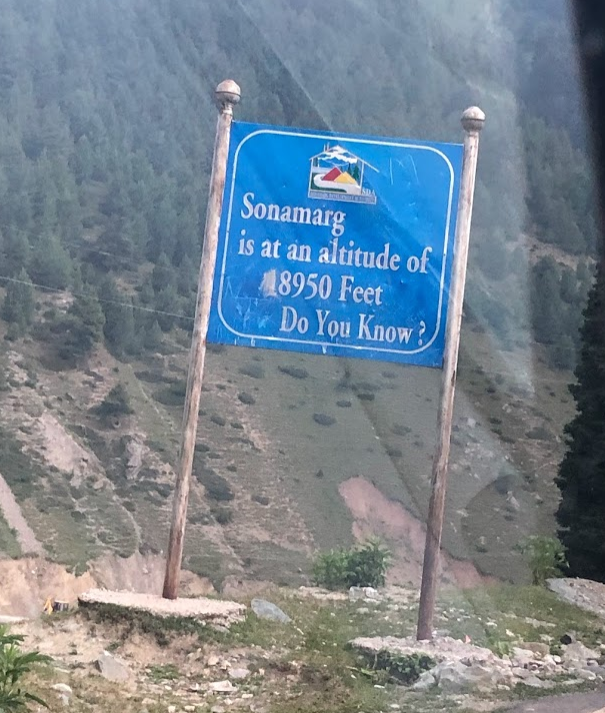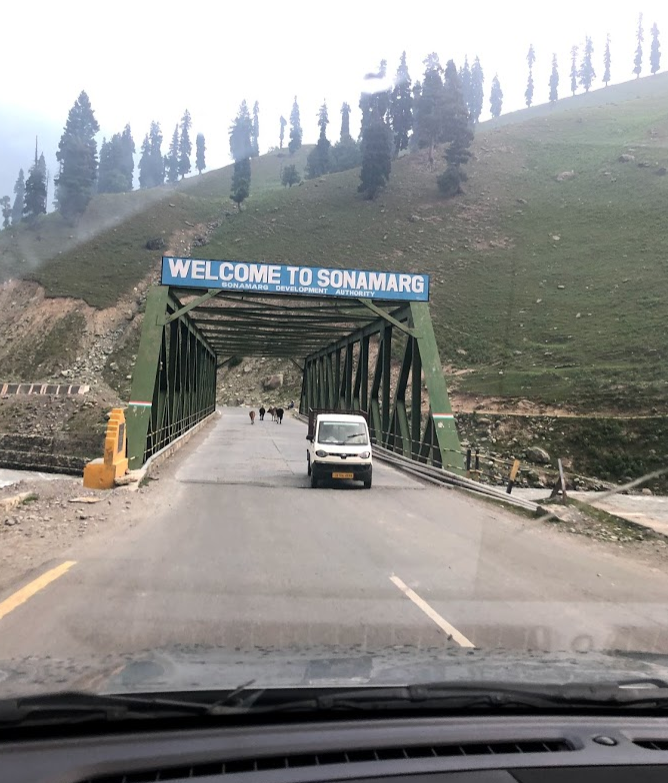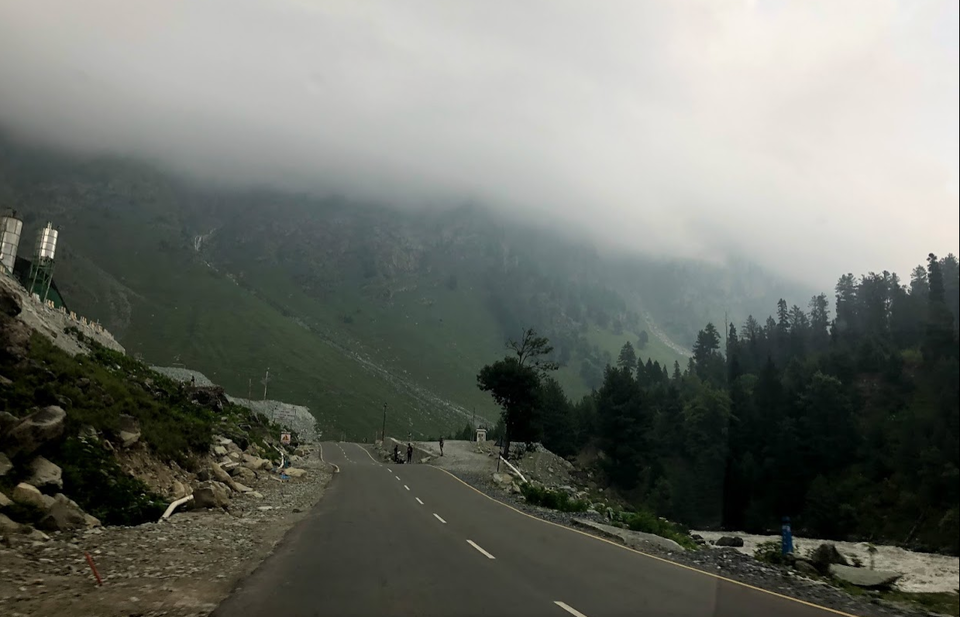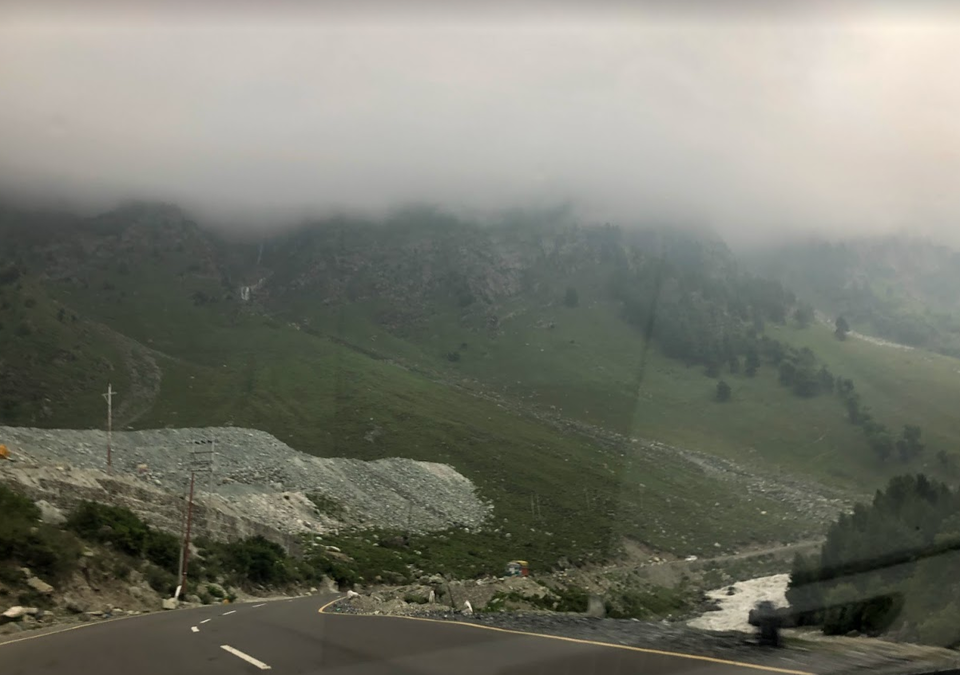 And by 7:15 pm, we reached our hotel.
Hotel: Thajwass Glacier
Cost: 3800 including taxes + Breakfast + Dinner
Review:
Pro: Rooms are more like cottages so pretty.. Food was good & reasonably priced. Hot water was available in bathrooms. View from room was mesmerising.
Cons: Bathroom was very basic with no utilities except towel & soap. Not very clean linen including blanket.
Staff was very humble but, there was one thing I would like to mention here. I booked this hotel much before leaving Pune & discussed the tariff on phone with Manager & he confirmed 2500 including taxes & Breakfast + Dinner. I requested him to send the confirmation of booking as well as tariff on mail but he said their Internet is down but I could take his word. I didn't inquire again till we reached there. But at the time of checkout, he said that the tariff he told was as Rs. 4500 & not Rs. 2500. That was disappointing for me. He then asked us to pay Rs. 3800 which we did without arguing further as we had no written confirmation to prove my point.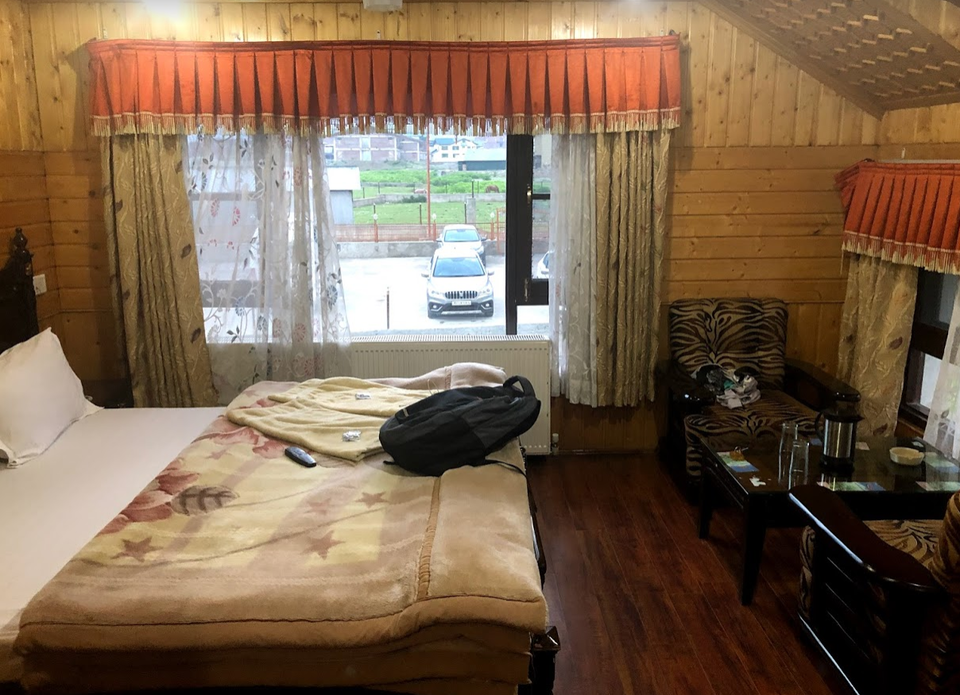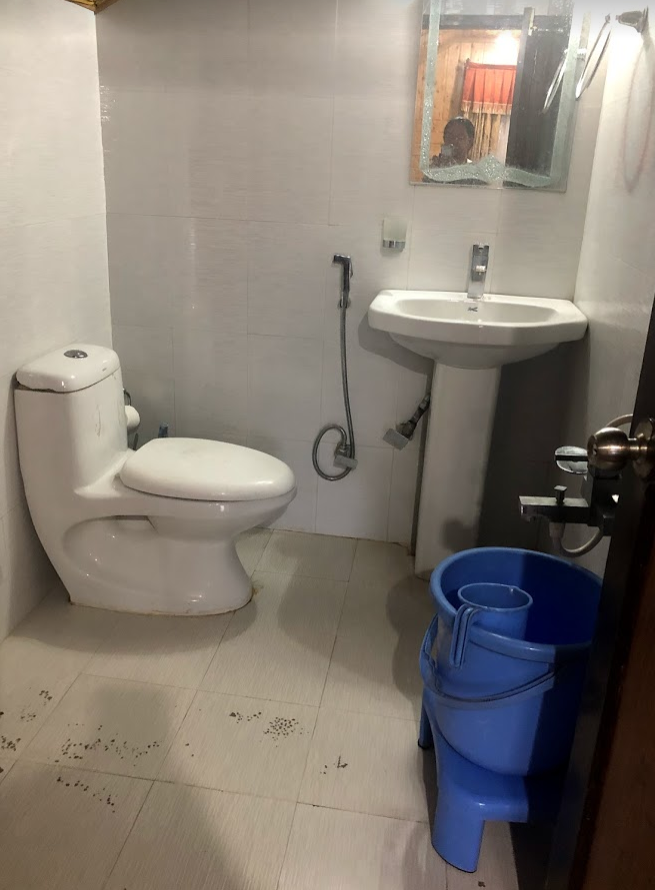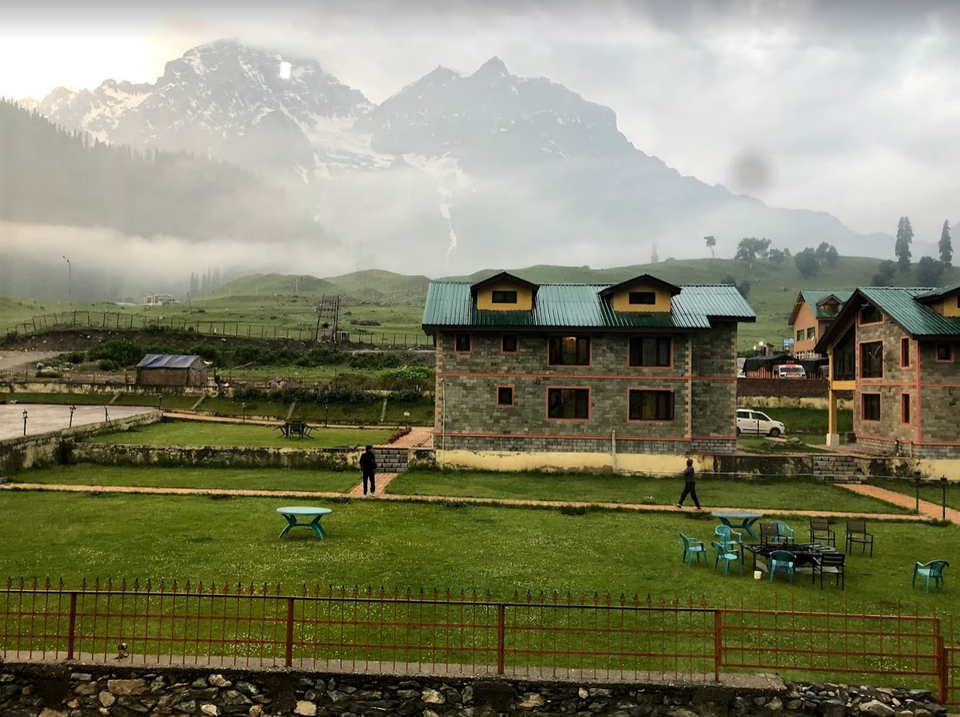 Take Aways:
Don't plan as per distance, to cover 300 kms it took us close to 12 hours
No network. Total dependency on hotel's wifi (if it works)
Get written confirmations on hotel booking including tariff.
In Kashmir, military can stop you anywhere for 'n' number of times & for any reasons, don't get frustrated, have patience as it's more difficult for them.
Day 6
Target – Sonamarg to Leh (340 kms)
Route:
Sonamarg-Baltal-Zozila pass-Dras-Kargil-Lamayuru-Nimmoo-Leh
Weather:
Cloudy morning but cleared out with the day. Temperature between 8 – 20°C.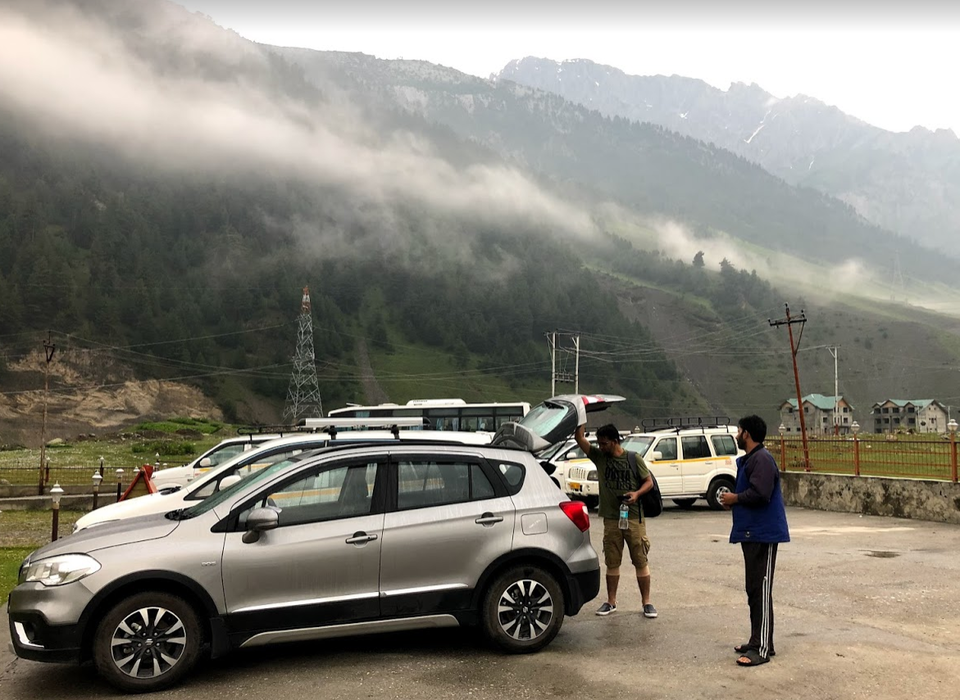 What a morning! Our bathed companion ready for the day
Road Condition
Excellent!! No better words for it. BRO(Border Roads Organisation) has done a tremendous job! No problems anywhere. Drive was extremely smooth throughout. Patches of narrow roads.
BUT, crossing Zozila pass was a struggle. I drove through it & it felt like a big achievement. I was so nervous that I didn't talk to Shamik throughout that pass.
PS: There's always repair work ongoing on that pass due to landslides every-time during/after rains. As we left early, there was no traffic.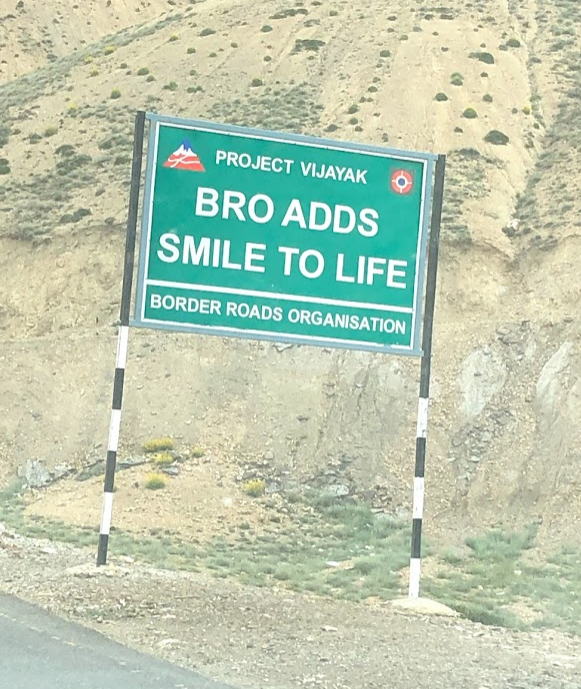 We had learnt our lesson from past 2 days so we actually sacrificed our breakfast again & left Sonamarg by 7 am. We had our breakfast at around 9:30 am at Dras. I had no idea on what was mentioned on the board below
Views – two eyes fall short, so marvelous. Drive from Sonamarg to Dras was full of snow covered mountains. And then the rocky mountains. I had never seen so many shades of mountains ever before in my life. Different shades of Green, Brown, yellow, purple & even black. It was like driving from the mountains, into the mountains to the mountains. Just amazing!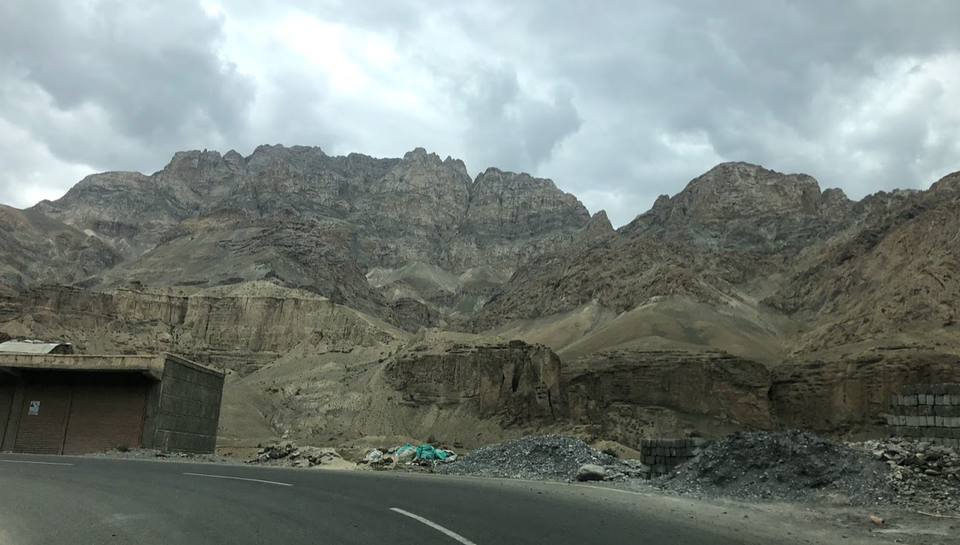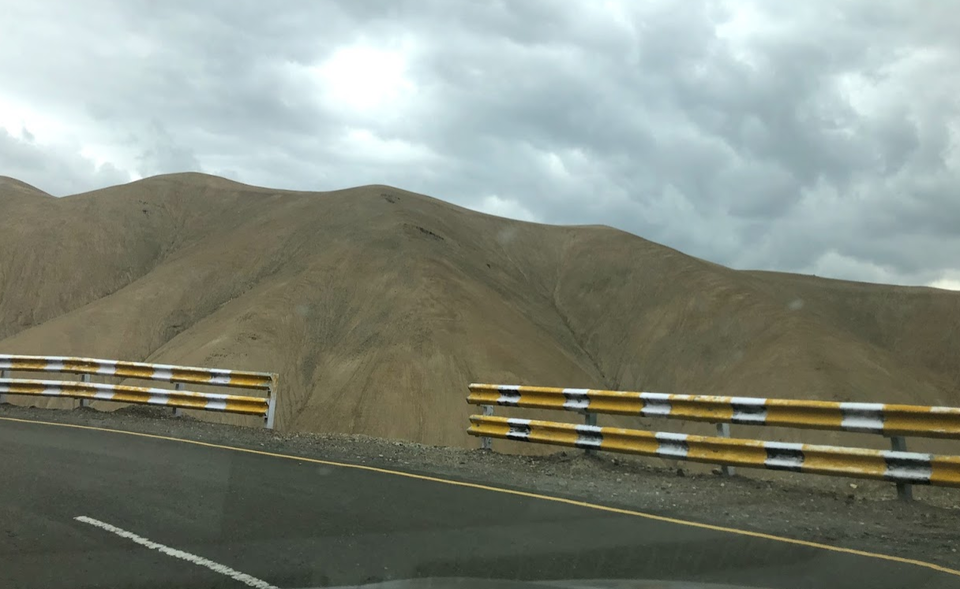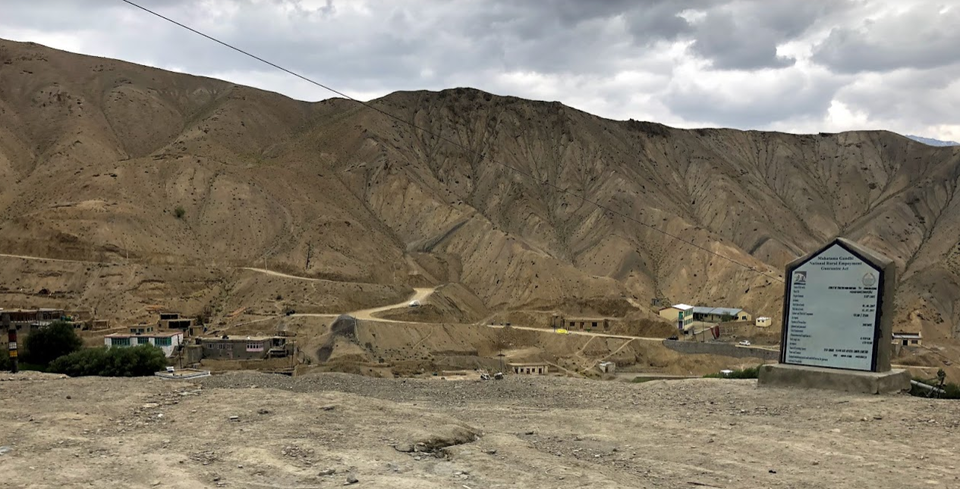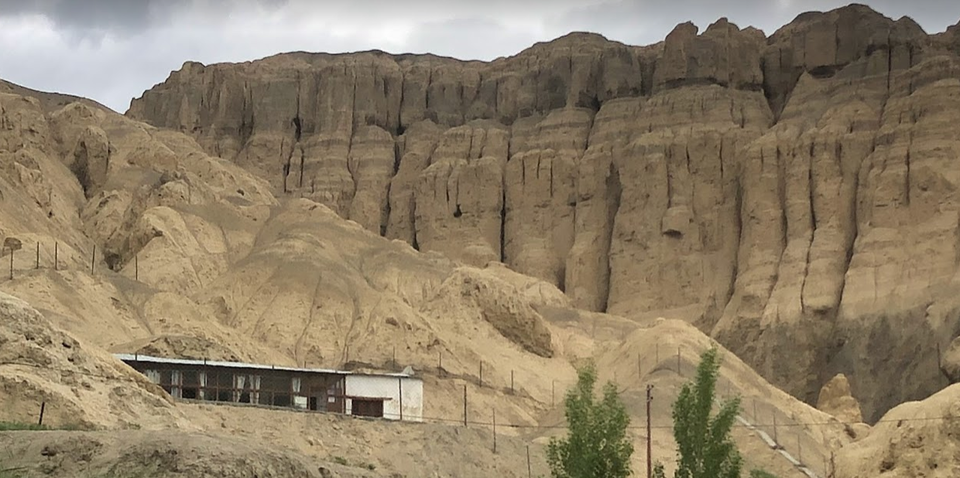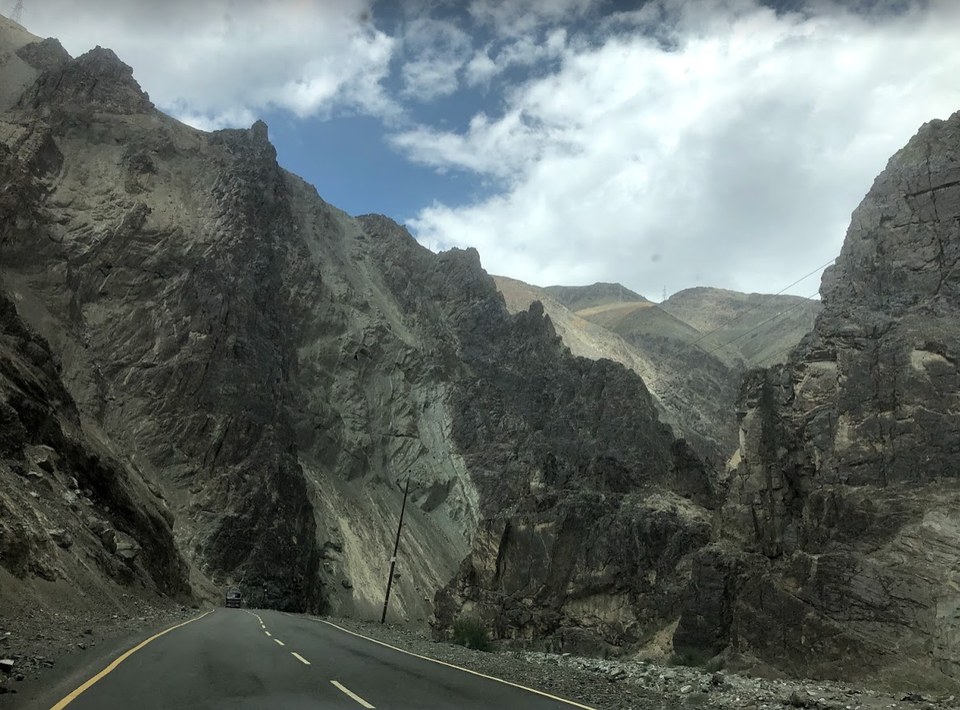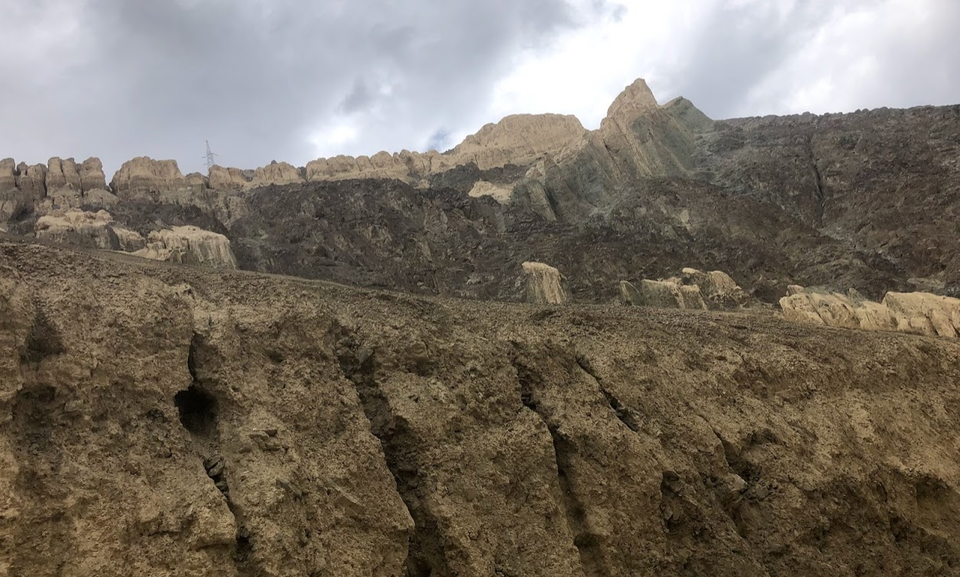 It seemed like some other world!
We reached Fatula Top by around 1 pm. That's where the altitude sickness hit me! Panic attack! I couldn't breathe when Shamik asked me to get out & get a picture clicked. But I just couldn't walk. It was difficult breathing for me so he suggested me to wait in the car while he got some pictures ☹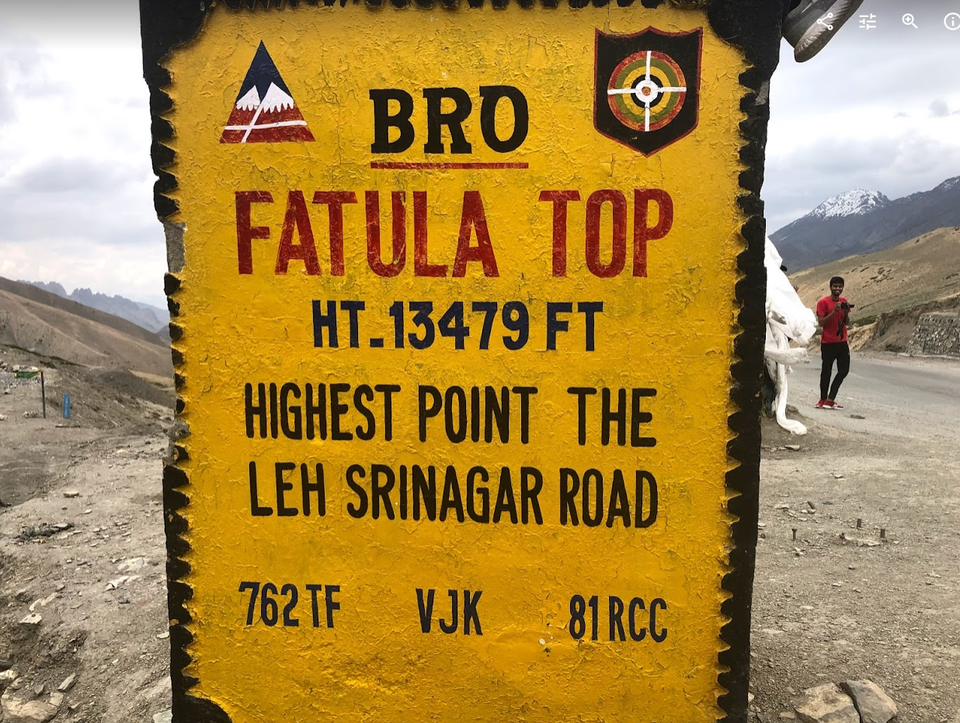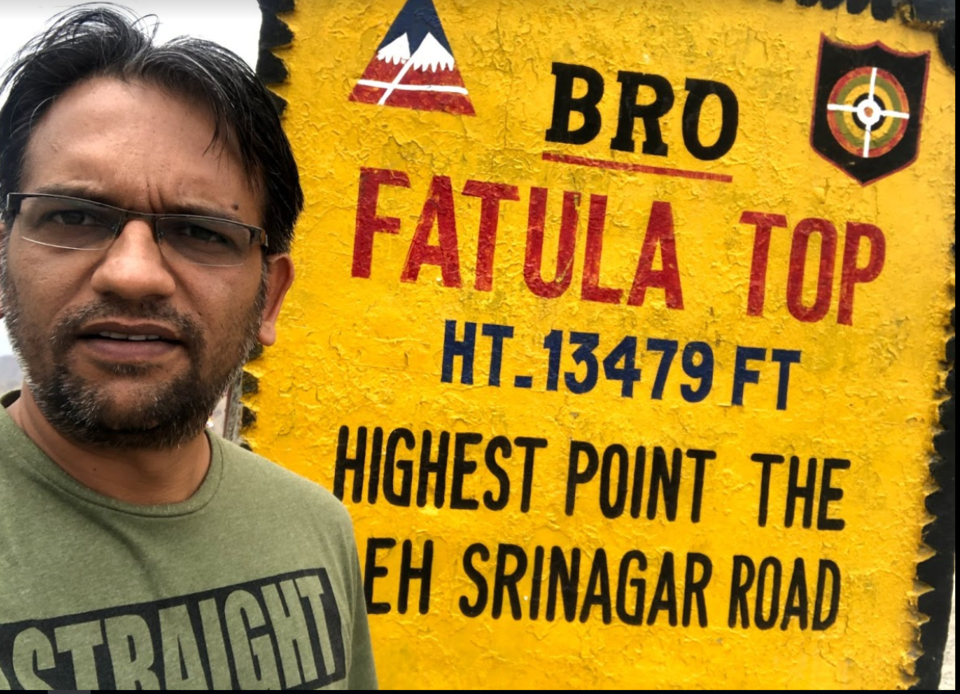 So we continued & reached Khaltse around 1:30 pm where we had quick snacks. The bathroom surprised me here. Much later only I got to know that it's the norm in the region! Hope it's clear from the picture what I want to point out here!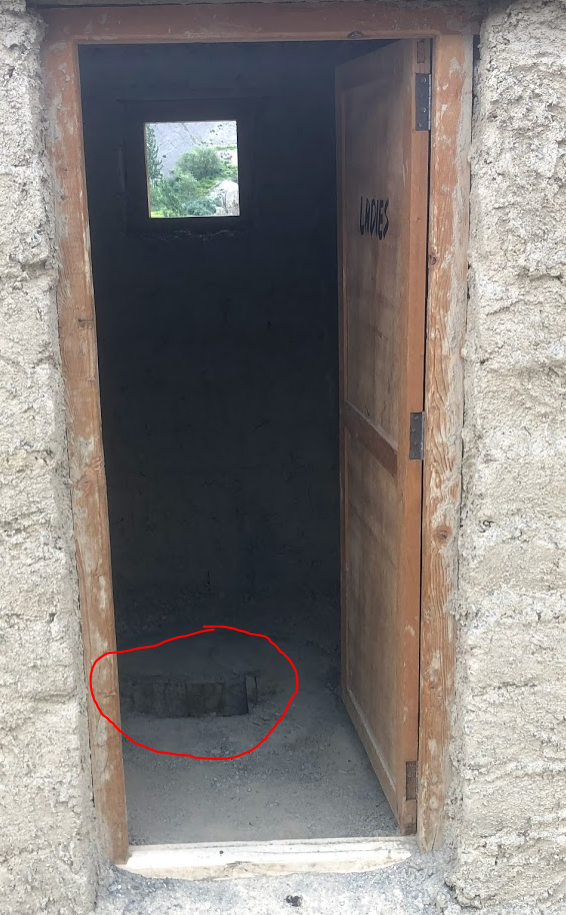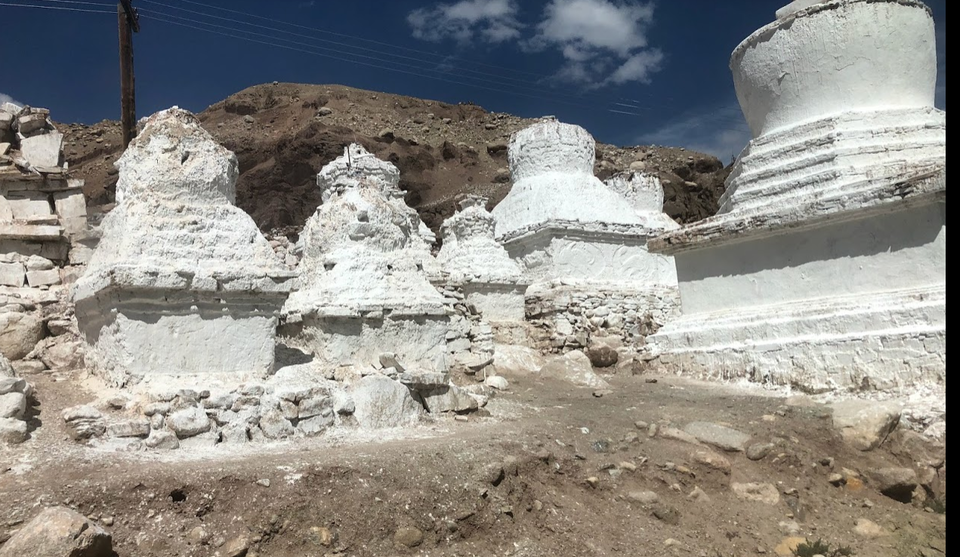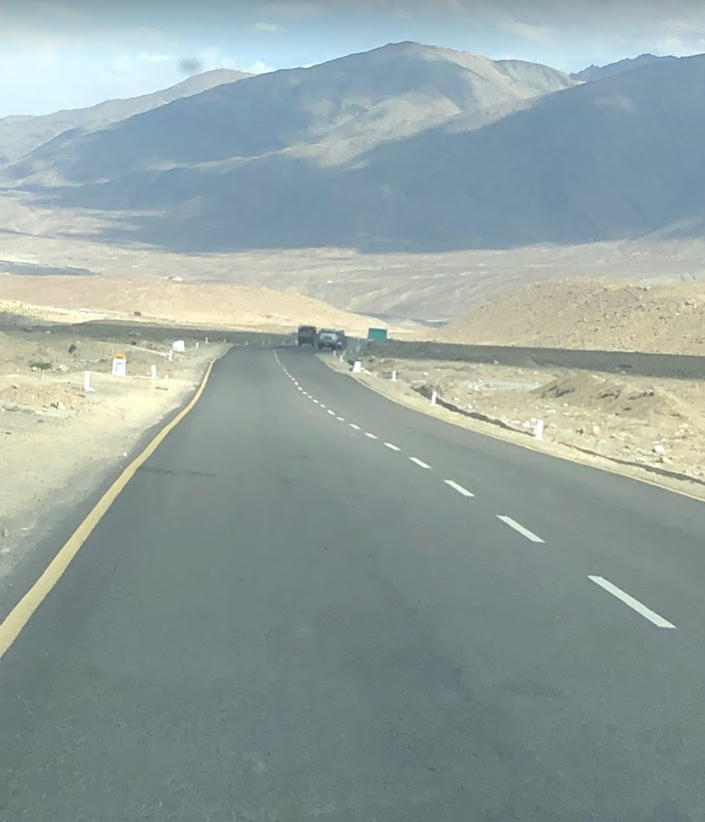 And we finally entered Leh by 3:30 pm. Finally a day without hiccups. We reached hotel in no time & checked in.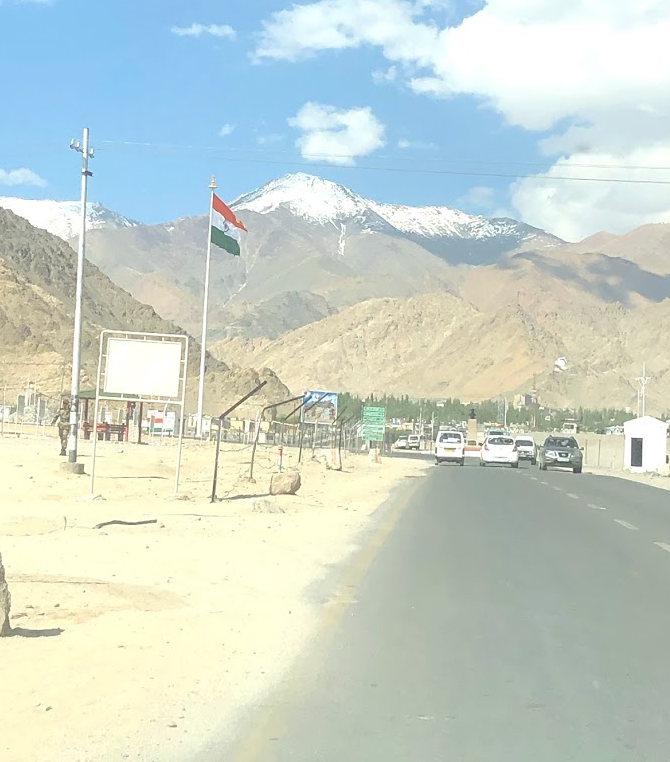 Breathing issue was continuous now. Although it wasn't like I couldn't breathe at all but of-course my mind was playing games with me. I was barely talking & walking. Walking for few meters was tiring. I got into the room & just slept after freshening up. Shamik went on to inquire about sim card. I slept throughout till late evening. Also, surprisingly, I stopped feeling hungry. Stomach was bloated.
Hotel: The Gomang Hotel booked through #booking.com
Cost: 7000/day including taxes. We stayed for 3 nights
Review:
Pro-Beautiful Hotel. Very clean room & bathroom. Little expensive but Good Food. Extremely nice staff.
Con– Expensive, no views, wifi wasn't so great.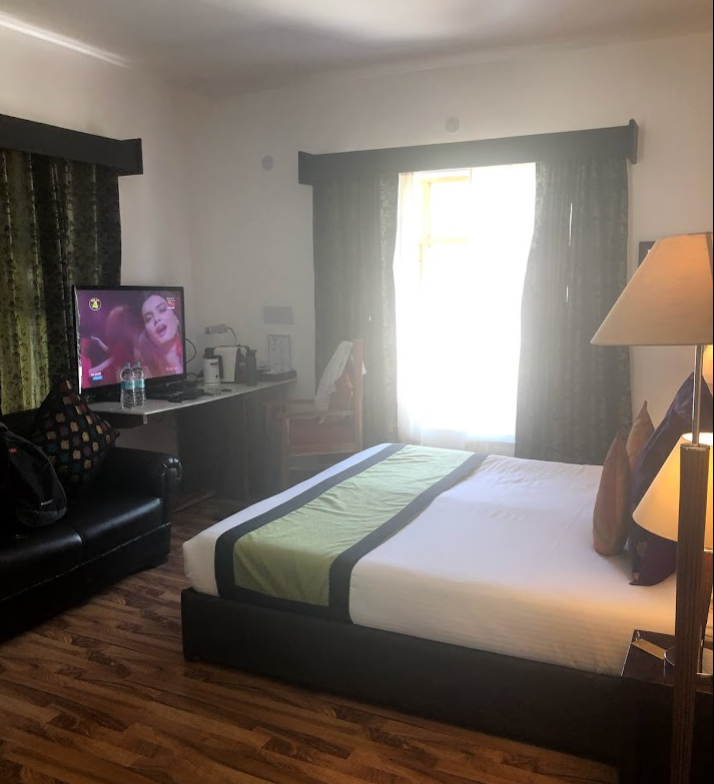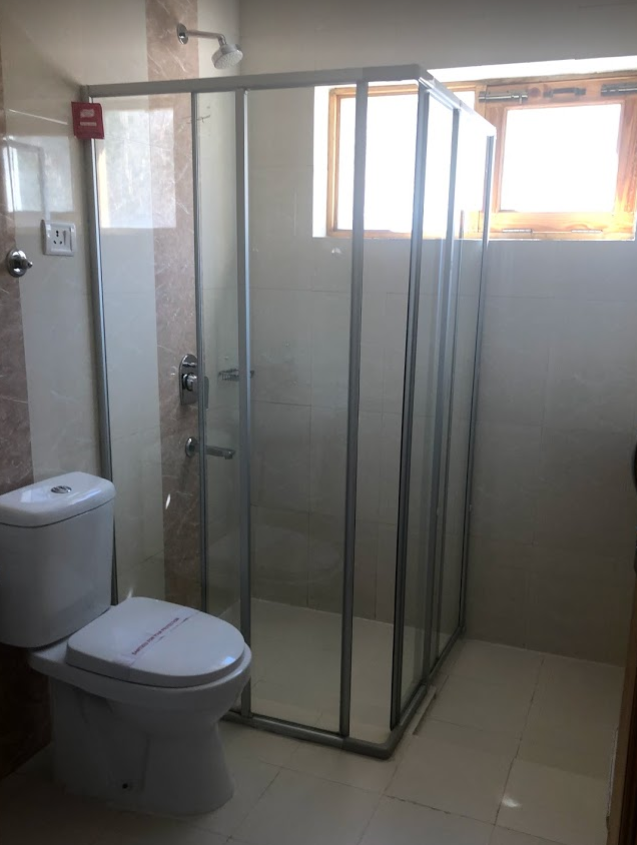 Take Aways:
Check on zozila pass as there is always something going on there
Keep camphor(Kapoor). Sniffing it helps amazingly for altitude sickness. Especially if you're not a fan of medicines like me.
Only Airtel, Jio & BSNL -POSTPAIDs from other part of country works here. Nothing else!
Day 7
Altitude sickness was still affecting me. Heavy breathing & heavy stomach. But we had the day planned. The foremost thing we had to do was to get our online permit stamped for entry into Khardungla/Nubra Valley & Pangong lake.
P.S. : There are different permits required to enter these place. It is highly recommended to get these permits online before you travel to Leh. The cost of permit is approx. Rs. 1200 The link for getting this permit is below:
http://lahdclehpermit.in/
We left hotel at around 8:30 am after having light breakfast.
Places visited:
– The permit office is in main market & opens at 10 am. We reached the office 15 mins before the officials arrived. There were 2 counters, 1 for permits by direct applicants & other for through agent. It took us around 20 mins in the line to get our permits stamped.
– Sim Card Shop – Once that was done, we headed for getting a 'sim card'. This was a big miss from our side that we didn't get Airtel or BSNL postpaid connection prior to coming here. Took us 1 hour & Voter's ID to get Jio's connection.
– Main Market – We went around the market which is beautiful & neat. We roamed around till Lunch. We went to a café which was immaculately designed. And most obviously I did some window shopping. Then we decided to go to
– Leh Palace. Two ways to go there, road or via inside city through stairs & sloped gullies.
– Central Asian Museum – It's in the main market. There are exhibits in it from 1800-1900 of pictures of leh & other old clothes, utensils etc. One interested in history would love it.
Fees Paid:
Online Permit – Rs. 1200, 
Sim card (with TT+data) – Rs. 550, 
Leh Palace – Rs 25 p.p., 
CAM – Rs. 50 p.p.
We then returned to hotel & rested till 6 pm.
In the evening we left for Shanti Stupa. It was around 700 meters walk from our hotel. But that wasn't it, as it just led us to the base of 500 stairs. I looked at Shamik in disappointment & requested him if we can just go by car via another route. His reaction was more disappointing so I decided to push myself. He climbed up & reached stupa for an amazing view while I gave up at after 240 stairs ☹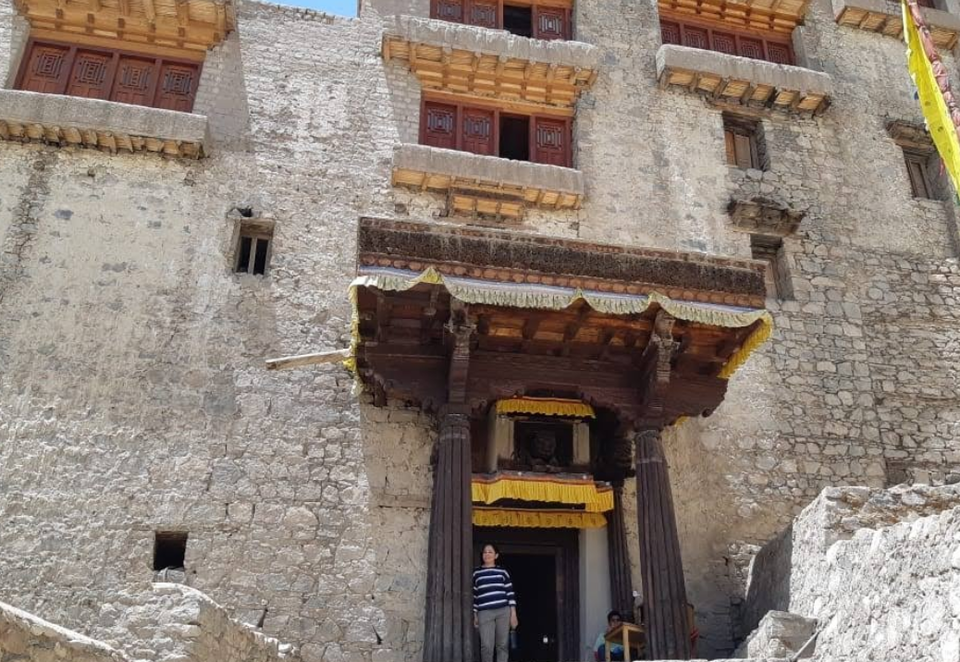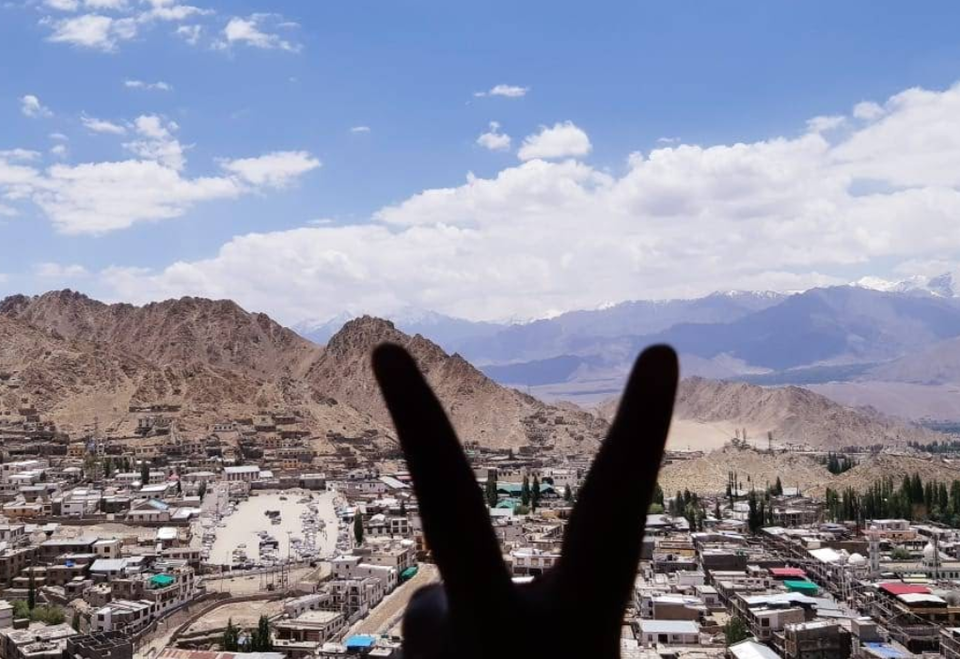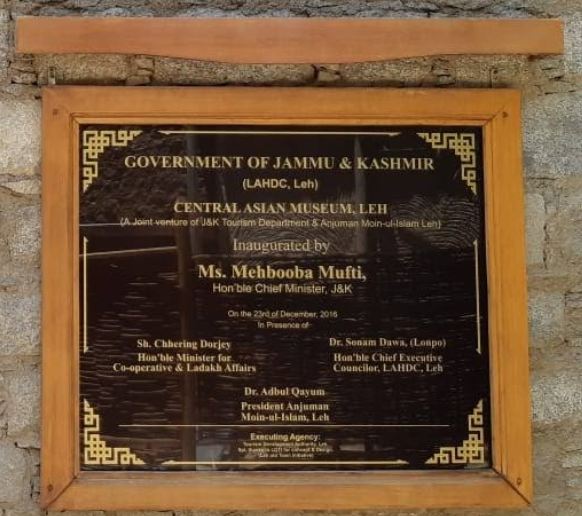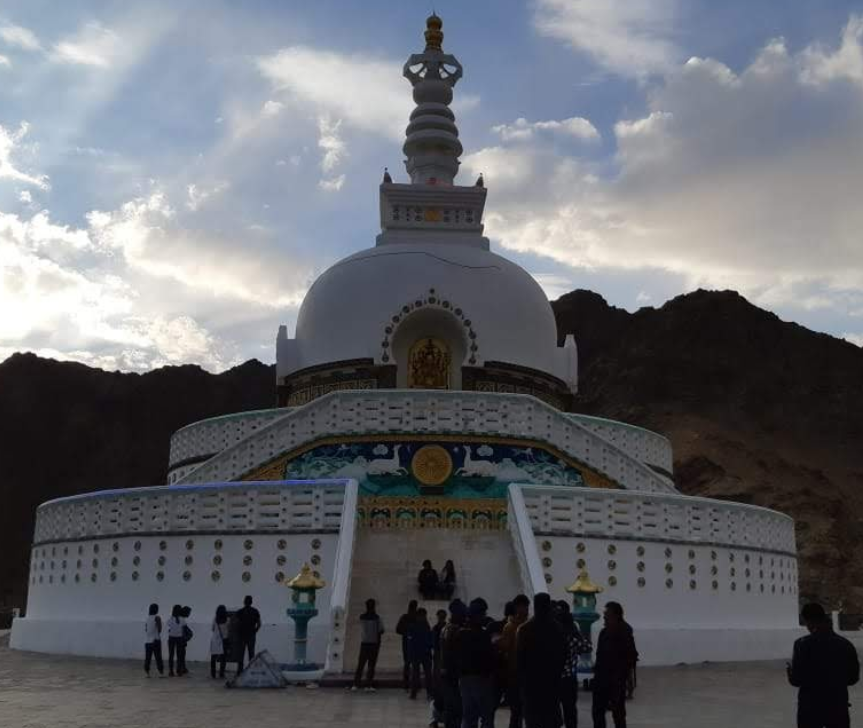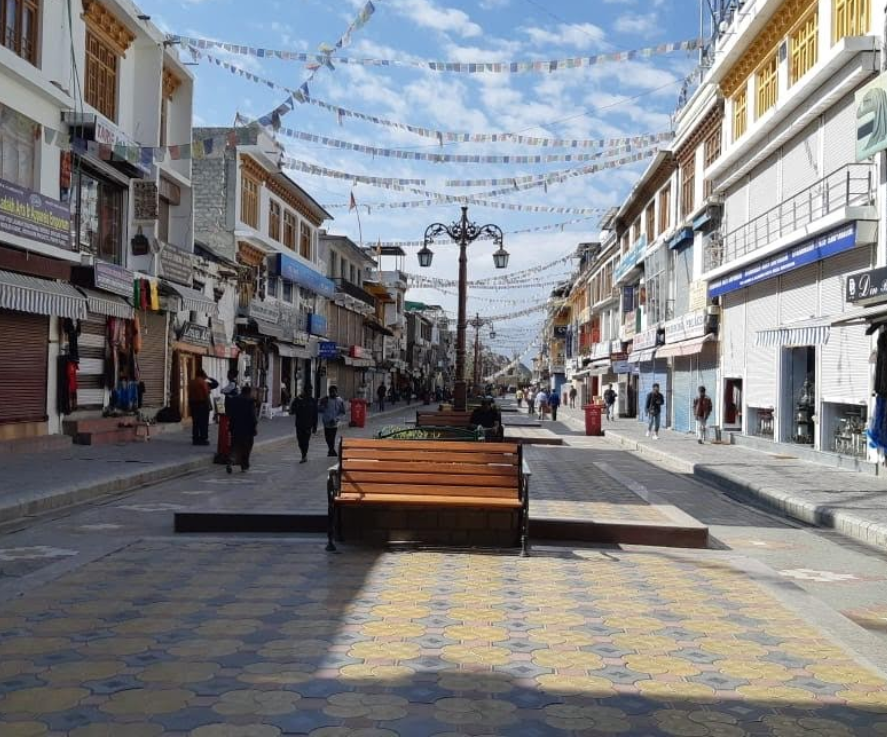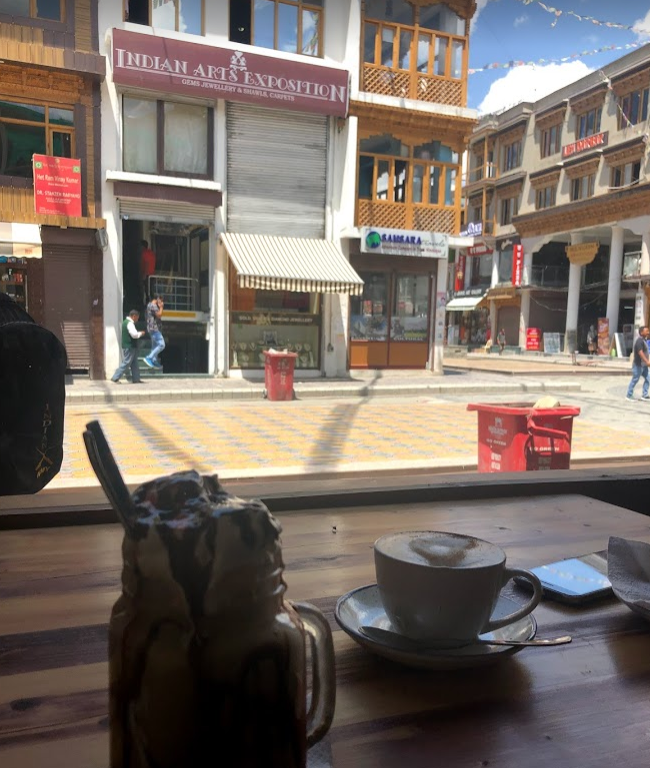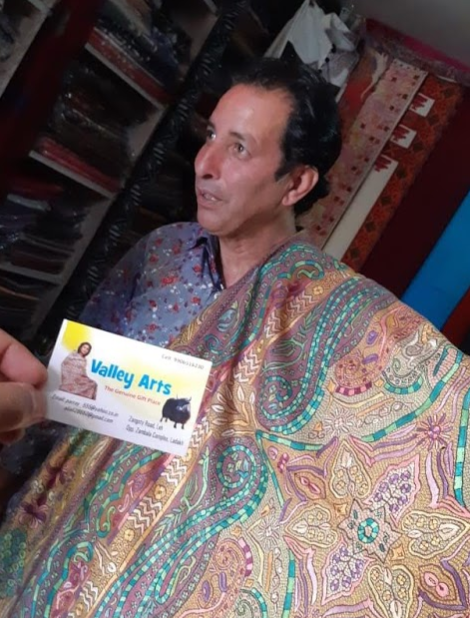 Take Aways:
Other connection from other states won't work here. Neither prepaid or postpaid. Even prepaid of Airtel, Jio or BSNL won't work. One need to have 'Postpaid' of either Airtel/BSNL/JIO.
Reach permit office early to avoid long queues. You can opt through agent too. Not sure of fees.
Check for medication requirement, if you feel uneasy, don't ignore. Go to hospital. It's in the main market.
Always give yourself a break of at-least a day to get acclimatized to altitude.
Never trust your husband while travelling. They behave totally different than home.
It's ok to give up at times, but learn from it. (Just like I learnt that I need to work on my stamina)
Day 8
We were all set for today. Waking up early has it great benefits & I again learned that today. After having a quick, very light breakfast at 6:15 am, we left our hotel at 6:40 am. As obvious based on past 2 days, I was scared for my breathlessness issue at that height so as a precaution, I took medication (Diamox)
Ride was smooth + bumpy. We reached peak in around 1 hour 50 mins. We stopped there for approx. 30 mins.
Weather:
Sunny with shades of clouds. Temperature around 18°C when we started from Leh. At Khardongla, around 2-3°C.
Road condition:
Total distance covered – 38 kms
Leh city to border of Leh – Bad patch of around 2 kms just before we hit the ascent.
Start of ascent to upto approx. 16 kms till South pullu, patches of narrow but fair condition road. Also this is where one's permit for entry for Nubra valley/Khardungla is checked.
Last 16 kms – Bad Road with patches of narrow spaces
Reactions:
Panic Attacks/Shouting on Shamik for slowing down the car – 2 ????
Scenery– breathtaking scenes of partially snow-covered mountains.
Breathlessness – Few moments especially when I got out for loo twice & had to walk. Shamik could feel the impact of height too, but he as usual didn't react much.
Being finally at Khardoungla – Awesome!!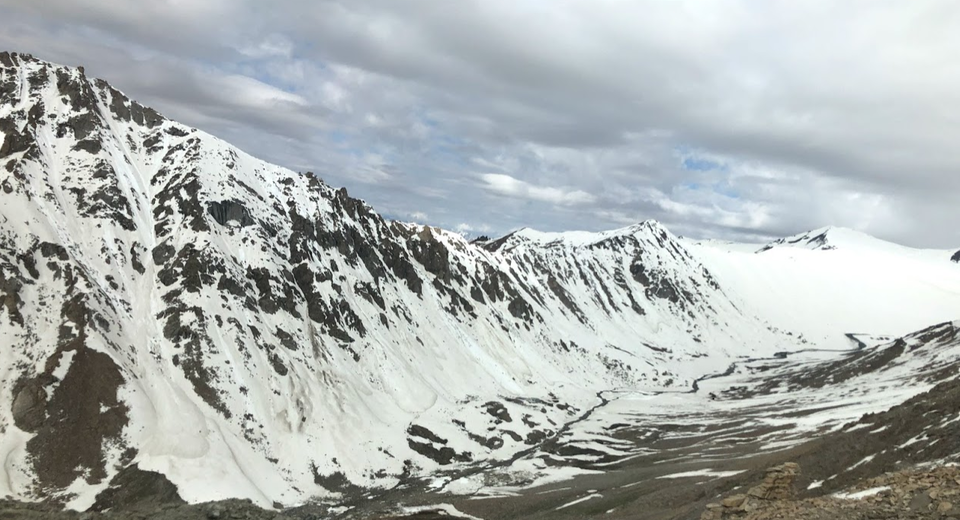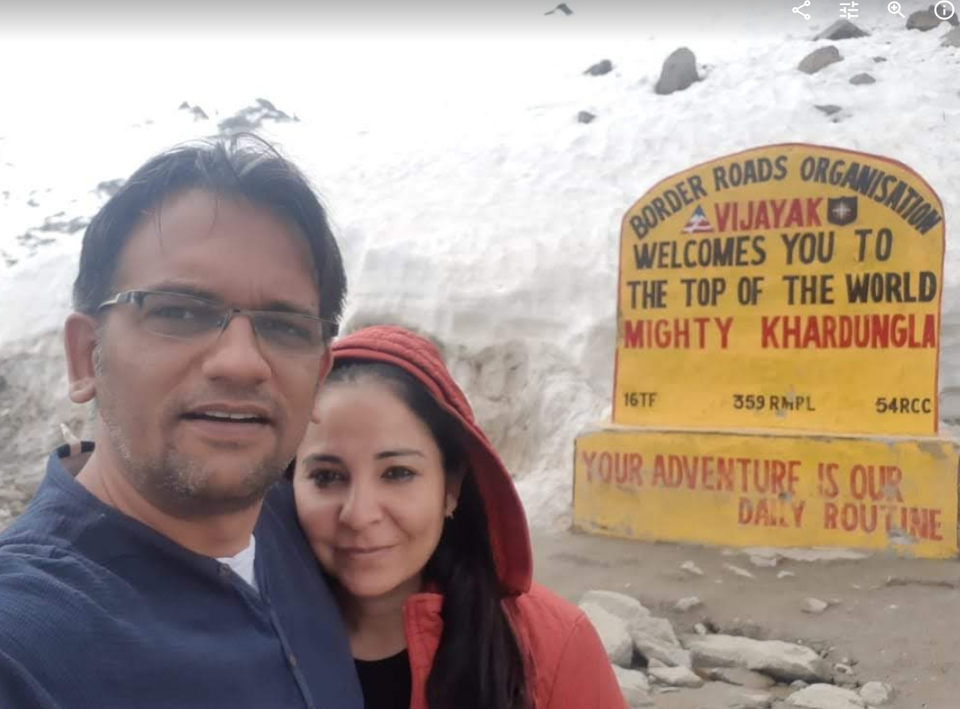 We were back by 10:30 am into the Leh city. We had nothing planned ahead for the day so we decided to go to 'Pathar Sahib' gurudwara. We actually had to go there when we were entering into the Leh 2 days before but we couldn't. And also, we had to get our car's food for our journey tomorrow.
This gurudwara has a very interesting history with Guru Nanak Dev ji's in it. It's worth a visit. The more interesting part was that we met some army jawans doing sewa & Shamik wanted to join them.
So we did it (peeling almost half a bucket of garlic) & listened to some of their stories. Such happy & courageous people. So happy just because they were all talking & making jokes. We didn't take any pictures as it is not allowed to take however as usual some annoying tourists still did that.
They asked us not to leave without having Langar so we had it. TASTY!
Its not allowed to click pictures of inside Gurudwara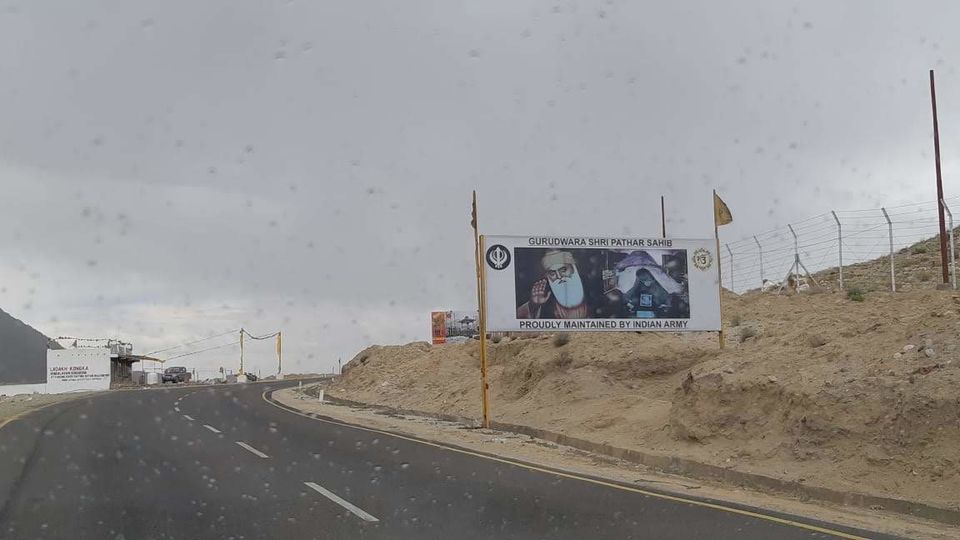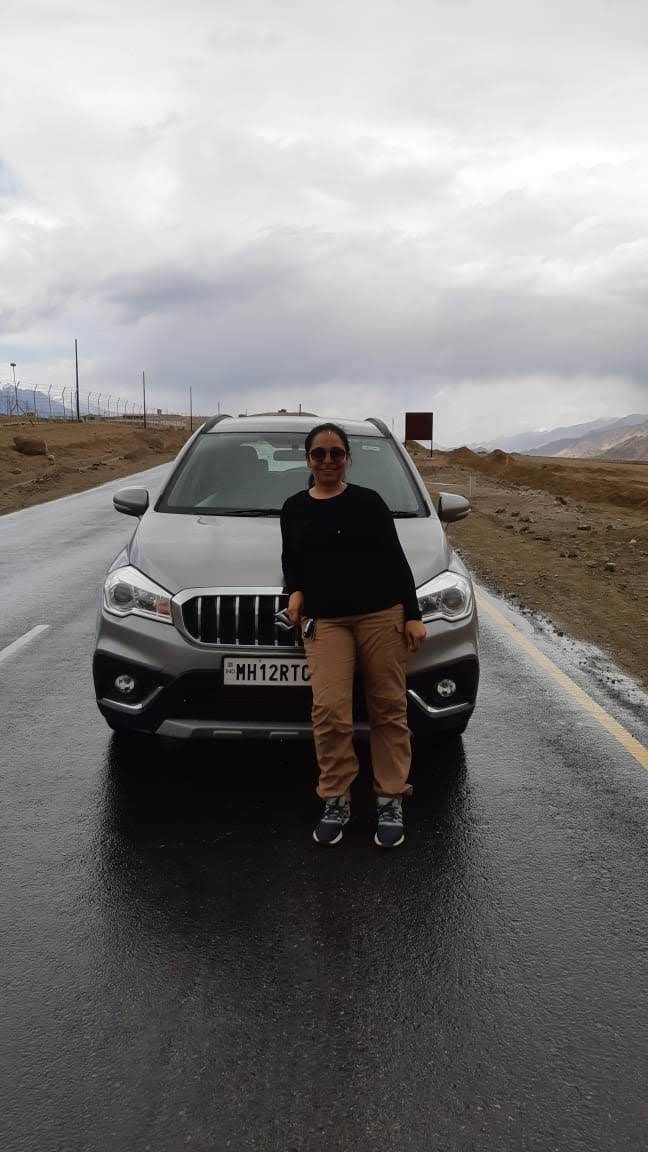 Then some swag????
Distance: 25 kms from Leh city
Back in Hotel by 2:30 & just watched some TV & slept. Plenty of time for my lazy ass to just lay around & watch some stars in the evning (which I totally miss in Pune)
Take aways:
Diamox helped. Even the saline solution for nose helped as it was a lot of dry nose.
Carry warm clothes for peak.
Sniffing Camphor – Helps!
Start early as we hardly saw any vehicle while going while returning there were just too many.
If going to 'Pather Sahib' – Sewa is a Must do thing. The smiles on those faces of Jawans will remain on my memory for a long time.
If you had gastric issue like I had since past 2 days, all of it was gone after that ride on bumpy road & I had full pet langar! ????????
Day 9
Today we had to check out of hotel.
Target: Leh city – Pangong Lake (156 kms)
Route:
There is just 1 route!
Weather:
Sunny with shades of clouds. Temperature around 23°C when we started from Leh.
We left hotel after having breakfast as we had the full day to reach Pangong lake so thought, no need to hurry. We also had our Tent (there are no hotels there) previously booked so that was sorted too. From Leh city to Karu was a very smooth ride.
PS: Karu has the last petrol pump. After that till Pangong & back (246 kms both ways), there's none.
We got our car topped up & tires checked for air. But then came the trouble. After around 10-12 kms, bad road started, actually the right word would be there was no road at all. And there comes the 1st trouble with our car. It got stopped at a slope & just wouldn't go up. I was driving, so I revved it up more & again but it just disagreed with me. Shamik got out & took the steering but it just won't move. We saw that just behind us, there was another swift which was struggling on the same issue. Then one Sardarji from that car walked upto us & we chatted on how to make our cars move. Then we saw 2 cars coming down from the top. People from one car(wagonR) advised us to go back as they said the road ahead is way more damaged & there water on the road because of which their car's clutch is broken too. After listening to their ordeals, I start to get restless too. I looked at Shamik & he gave me his patented Shamik look. However, the Sardarji's family decided to go back & not to pursue Pangong lake. Now, looking at my ordeal, Shamik decided to stop at the tea shop to reconsider. We met 3 kashmiri youth who asked us where we were headed & got to know that they were headed to Pangong lake too. They said they have been there before in their Ecosport & faced the same issue but this time they have got Alto 800 to go up as it is a better vehicle. Me & Shamik had the most confusing look on our face. Anyhow, Shamik was determined to go up but he was worried as why our car couldn't do a regular slope. So he decided to open up the bonnet & just checked the Engine Oil status. Surprisingly, it was really low. Now as we aren't the experts, he topped up the oil again & now ready to give it a try. These Kashmiri guys, offered to pay for our tea too as one of them said that we were their guests in Kashmir. (sweet, isn't it). Now they started to go along with us in their car so that if required they can help us on the way.
This time, our companion agreed to take our order & crossed the slope smoothly, so we assumed it was due to Engine Oil only.
However, that was just the onset of incoming battle. Road was bad throughout & it got worse before Chang-La pass. We stopped there for a while catch a breath. The road was not only in patches with gravels (big & small) but also had the water flowing due to melting of ice. There were some patches so bad that it felt like we were crossing an actual water stream with all the gravels. We hit the second set of issue, the car stopped in the middle of such stream & revving it at both 1st & 2nd gear wasn't helping. Shamik had to rev it so much that I could see some smoke coming out of the car now. Anyway, it got out after much struggle. We also had to stop a lot of times because of Army trucks convoy as at one time only one vehicle could cross on those road & army trucks convoy was never less than 50 trucks. So everyone had to stop till it completely passed through. There was another time when our car got struck in water & gravel area. It was certainly the most tiring drive of approx. 80 kms of our trip so far. Finally just before 60 kms before Pangong lake we hit some good road. Once we could see Pangong lake at a distance & the bad road hit again. We had our tent booked at Spangmik which was around 5 kms ahead from the start of Pangong lake. Throughout bad road.
Finally we spotted our Tents & by that time it was 6 pm. So, we covered 158 kms in 9 hours. That wisely explains our hardship of the day. But I was relieved that we finally were able to see the beautiful & famous Pangong Lake. Now was the time to relax but the temp. was around 5-6°C here so we had to do our jackets to view the beauty sitting outside our tent.
We finally had much awaited tea & iconic Maggi & spent the rest of the evening glancing at the beauty of place & listening to the stories of a really talkative but funny monk. With that we called it a day.
Oh, those Kashmiri boys, they stopped somewhere in between to have lunch & after that we lost them.
Tent Booked:
The Nature's Nest Pangong Camp, Spangmik. The Lake is 100 meters from the tents.
Cost: Rs. 6000/night with breakfast & Dinner.
Review: The beds & blanket/Quilts were clean. The electricity is only available between 7 pm – 10 pm. No phone networks as expected. The hot water is also available at a specific time in the morning. Food was OK. In staff, there were only two people, both humble.
PS: Take printout of your booking, as there is no Internet & they ask to specifically see the mail confirmation.
Take Away:
Get the car checked even if it's a brand new one before going to Khardungla/Changla & any other passes.
Keep car accessories handy
Carry warm clothes while travelling to Pangong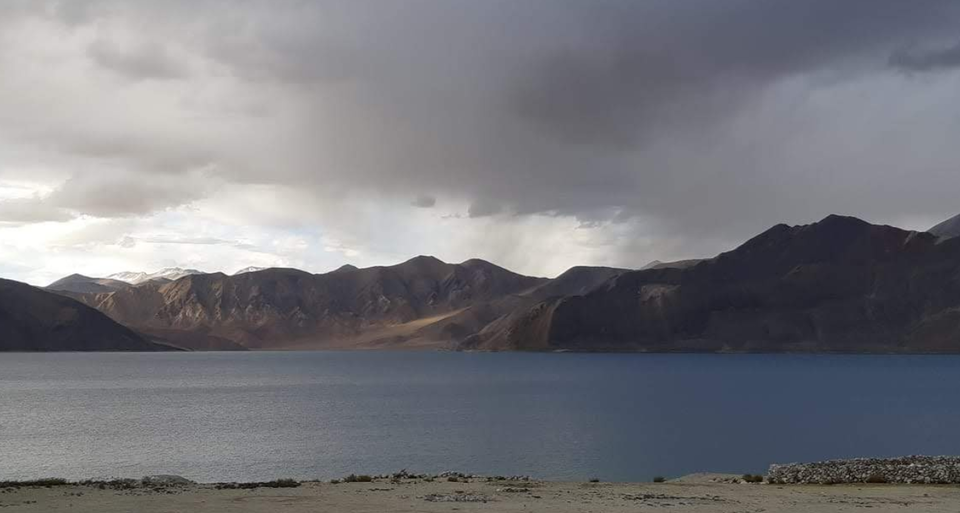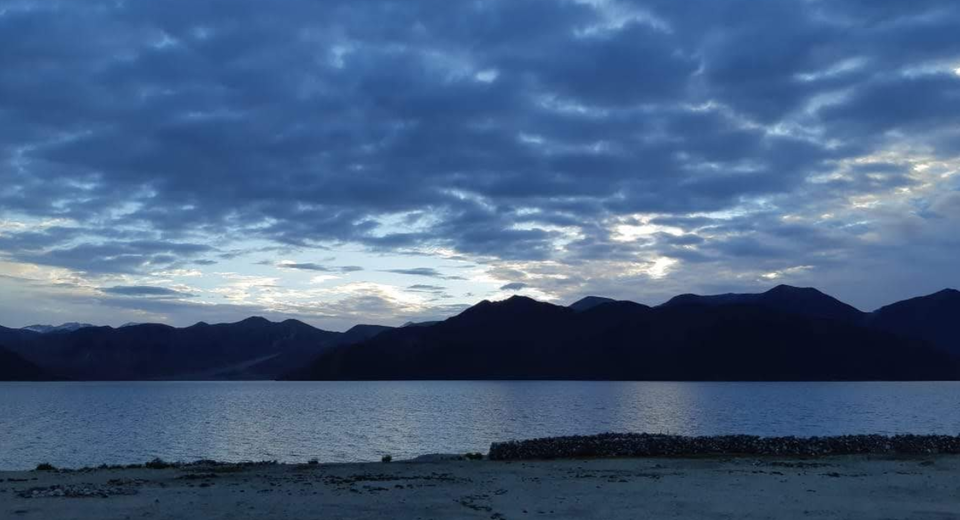 Day 10
Target: Pangong – Jispa(425 kms)
Route:
Same route where we came from till Karu .
PS: As there is no Petrol Pump from Karu to Jispa, we had to plan to get the car topped up at Karu.
Weather: Around 3-4°C
Today was the day when plans were going to get changed, time for God to prove yet again that Man proposes & he disposes.
We left really early, 5: 30am (without any bath & breakfast) as we had to cover a real long distance & given the feedback from a lot of people it was very difficult.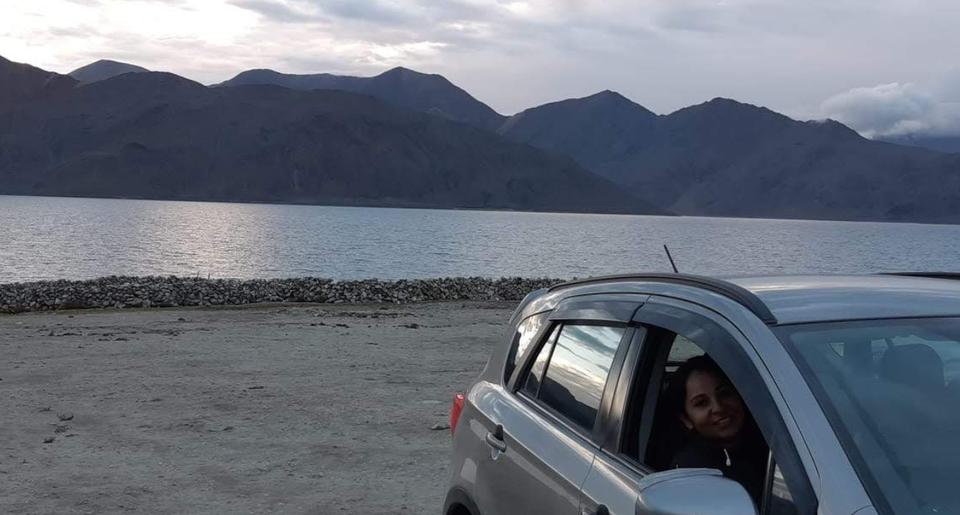 So we started with 'High Josh' & hit the bad road after 60 kms around 8 am. We wanted to cross Chang la by 9 am so that we wouldn't hit the jam due to other traffic & army convoys. But this time it was not us who were planning the journey ahead for us. At one of the gravels + water road, the car had to be revved again at full capacity. This time I was driving & continuously praying to god to get me out of that. So after a lot of revving, I got out but the car gave up once I hit the slope immediately after. The clutch wasn't working anymore & car got switched off. Now these new 'Strong' cars of today's time get started only with clutch & auto switch but when there is no clutch, car won't start, simple! I missed my Alto 800 at home.
Panic Attack! There was a convoy of army trucks just behind us. Standing like that on the slope wasn't enough to panic me at the top of my head, one army truck started honking. I lost it. I asked Shamik to take the wheel who thought I'm just panicking & due to which unable to start the car. Anyhow, we switched but obviously the car won't start. So the army truck driver, the soldier shut his vehicle & got down & came to us to understand what was wrong. After understanding that the car won't start, he helped us to get the car on side so that the other vehicles could pass. However, as he couldn't wait longer, he left after getting our car on the side with help of some other soldiers.
This is the time, when I understand why a balance in a marriage is so important. I was on top of my panic stage as what would we do now, Shamik was calm as ever.
By the time, the convoy passed, the last some light utility vehicles of army stopped to ask us on what's wrong. Some of them checked the car & we understood from them that the clutch plate is not working so it's most probably burned out. Now Shamik asked them on how could we get some help & they suggested us to wait till some truck would come over which could tow us. They also said that once they reach Changla peak, they would ask the local police to check on recovery vehicle if that can be sent. We were almost 3 kms behind Changla peak. One soldier even offered us juice & biscuits as they thought we might have not eaten.
There were many people, who stopped & asked us regarding the issue but somehow no one could actually help us. Everyone asked us to wait. We couldn't get signal to call road side assistance too. Somehow we knew that the closest help from Nexa was at Leh so calling them & get a tow truck would anyway take 5-6 hours. Then there was a car which had around 5 young boys who stopped & asked us about the issue. We got to know that they were actually car mechanic & were headed to Pangong to check some car which broke down. However, they did check the car but concluded that it cannot be repaired there & need to be towed only. Surprisingly, they just stayed with us to wait for any help to come although we didn't ask. It proved, Good people exist!
Anyway, I was almost crying now but Shamik tried to calm me down. Luckily after waiting for 2 hours, we got a empty truck which was driving towards Changla. Those boys explained him the situation & he agree to help us. However, he said that the car steering won't work smoothly as it couldn't be started so we need to get the car, On the truck. Now that was practically not possible so he said, he will tow the car slowly while we sit in the car to steer it in the best possible way. The steering was too hard to move but could be moved enough to steer the car. Finally, the car was tied up & we started towards Changla peak. We moved really slow & let all the vehicles to pass through. On reaching Changla pass after around 1 hour, this truck driver put the car on the truck in the most amazing way with the help of some army soldiers. He took his truck at a base lower than the ground & then moved the car from the ground into the truck. Unfortunately, I don't have the picture of it! He then tied it up in various possible ways so that it won't move while going further & even didn't get out from the back of truck as the size of car was longer that the storage size of truck (It was a medium size truck). It took him almost 1 hour to secure the car & that was the first time, I sat on the front seat of a truck! It was an experience. The more amazing part was with how much ease he was driving the truck on the pathetic road with almost 1.5 ton of weight at the back of his truck.
Now, obviously we couldn't go to Jispa so we headed towards Leh city again. We called Nexa, but it was a Sunday & they said, the garage isn't open on Sundays. Before calling Nexa that day, I had no idea that people in India don't know where Leh is. We talked to 2 different executives & both didn't know so we had explain in detail where exactly that is. Anyhow, we checked with our Truck Driver, Tenzing too if we could get any other garage but he told us that being a Sunday, everything would be closed. Nexa executives got us connected to local mechanic & he asked us to drop the car in front of Nexa showroom in Leh & then he will check it Monday morning. We reached Leh city & Nexa showroom by around 3 pm. With nothing else to do & wait, we checked the nearest available hotel & checked in into it.
We didn't have the energy to do anything else, so called it a day. I called the Jispa hotel too to request change in the date to a later one.
Hotel:
Holiday Home also called as Oyo 45716.
Cost:
3800/night
Review:
We couldn't find it on Internet that that hence had to go to desk to book it.
Pro – Clean Linen, humble staff. OK food.
Cons – It was very expensive against the facilities. Very basic room with road view. No toiletries except soap.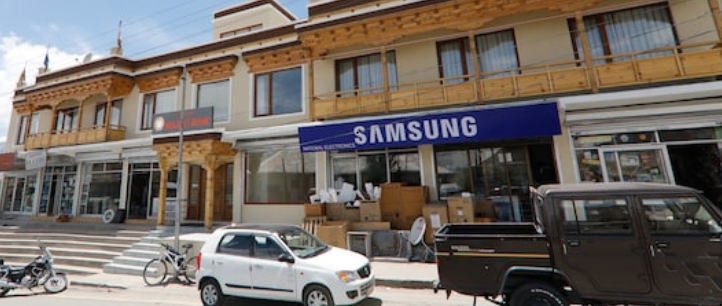 Take Away:
Never to too sure of plans hence don't make full payments at the hotels in advance, wherever possible
If you're a couple with totally opposite personalities, it's mostly a blessing.
Panic never helps. There's a solutions to every issue, you just need to wait. If you can't find it, it will come to you.
Day 10
Target: Get the car repaired asap & leave for Jispa.
We had the above target in mind but yet again, it wasn't what we wanted. It just took the whole day to get the clutch plate repaired. I couldn't believe my eyes what I saw of clutch plate. It was burned & broken! Much beyond the possibility of repair so got replaced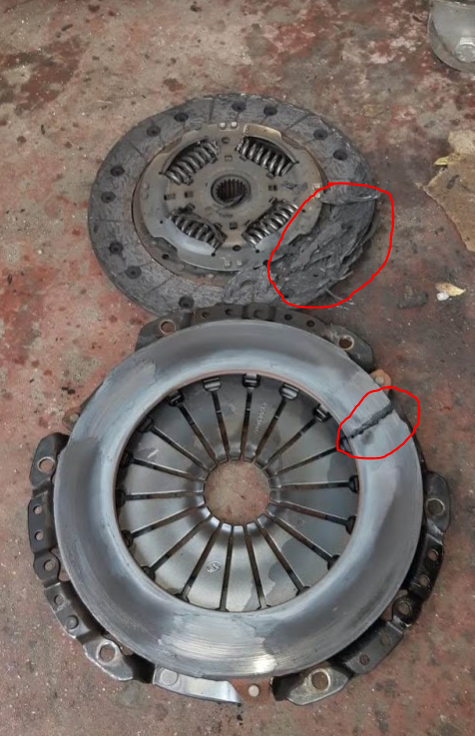 Funnily, we met 2 different set of people at the garage, 1 with Jeep(Nexa Mgr agreed to help them) & other ones with Baleno. Both the cars were in terrible condition from the same – Changla Pass route
The other funny thing I forgot to mention above was, we saw many Alto & Santro passing through Changla pass smoothly!
So yeah, Driver matters, less than the car!
Now, almost everybody at garage told us the stories about various macho cars coming to their garage after roughing up at changla pass. Also, many of them who have come from Manali/Jispa, they told us that due to heavy rains, the roads & much more dreaded 'Baralacha Pass' is in worse condition. I got really scared this time & somehow convinced Shamik to hire a driver to be on safe side as I was convinced that drivers from Ladakh could drive anywhere. But, unfortunately due to the peak season, I couldn't get a single driver who could drive us till Manali.
Towards the end of day, due to the recent updates from various people, weather conditions & uncertainty of our repaired car, we decided to go back through Srinagar. We were also short of time as we lost 2 days already, we had to go back to the 'Real life' in time too.
Next morning we left Leh city & headed home via Srinagar-Chandigarh-Udaipur-Pune.
Total Expense – Approx. Rs. 83000 (excluding repairs of car)
Diesel – Rs. 22000
Food – Rs. 6000
Hotel – Rs. 48000
Toll – Rs. 5200
Development fees – Kargil, Sonamarg, Patnitop, Pangong, Leh – Rs. 380
Permits – Rs. 1200(only for Khardungla & Pangong/Changla)
Total days – 14
Take Aways:
Bigger/New car(even Jeep failed) doesn't ensure hassle free journey. Learn few things about basic checks, it helps.
Make Hotel reservations in advance for J&K. You may be asked to produce documents.

Don't rely on GPS for time v/s kms.
Start early everyday if you're travelling on time constraints It helps avoid army convoys & even other traffic jams of tourists.
Keep lot of eatables, sometimes you may not have the luxury to stop in between.
Keep camphor & Diamox handy, it helped me a lot.
Get the car fueled up wherever you get chance. Also keep a can filled up.
Be prepared, Leh-Ladakh decides your plan, not you.
Respect Army! Imagine, adventure for us is their routine!
People in Leh are extremely nice. Help them back if required whenever you travel there. The public transport isn't good in the ladakh area so you'll see a lot of people including kids asking for 'lifts' . Do it, that's the minimum we can do.
The rest of the journey was smooth & no hiccups were faced except we were stopped again at the border of Srinagar to not leave the city because the time to leave the city was fixed between 6 am – 12 pm while we crossed it around 3 pm. So we had to stay the night in Srinagar.
This brings me to the end of our 'adventure trip to Leh'. The life lessons learnt were 
-to value Oxygen(never gave much thought about it before), 
-how life in Kashmir is so different & difficult for both people & army hence to value our rights, 
-importance of being fit, bigger & expensive in not always the best-skills work, 
-Ladakh people, how even after living in poverty & not much focus from the govt., still so humble & helpful to tourists. And they never tried to loot us anywhere with hiked up prices. Even the truck guy who helped asked a reasonable amount.
-Panic is not the solution, finding out the way is. And if you can't control, get a spouse who can do it better.
-And the best – remember from Day 4 above, when I forgot my handbag? Well, now because we had to return from the same route, we found out the dhaba where we stopped & tried our luck if the dhaba owner kept our bag. He did! everything intact in the bag. Happy Ending! So agar ending happy na ho, to picture abhi baki hai mere dost ????
Hope you enjoyed!