I always prefer to explore a really small town. That can be covered by foot, where culture speaks its way, and where the stress of tens of vehicles running around you can be left behind.
Pushkar is a quaint little town bordering the Thar desert which perfectly blended the hippiness into its culture. The town is mainly famous for its 14th-century Brahma temple (god of creation) and a sunset point from where one can spot the whole town shimmering under the evening sun. Here one can enjoy a free-spirited walk through a really impressive cultural diversity.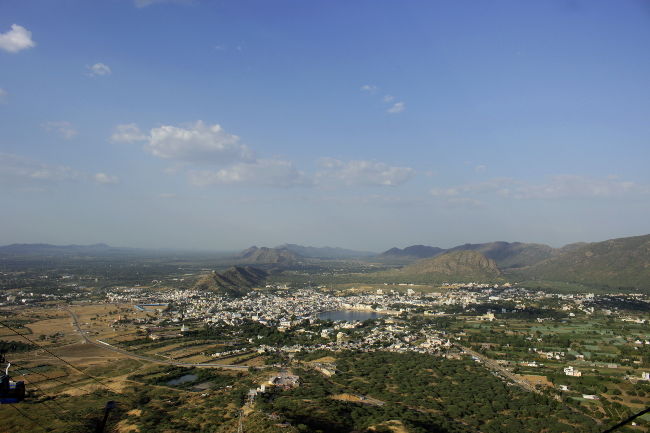 Hop In with me
Pushkar is a seven-hour drive away from Delhi and it was my first-ever ride to a hippie world. But at the end, I was disappointed because the place was worth more than a mere two-nights stay. Being a woman, I do find it difficult to come up with a place safe enough to travel around solo. But, this journey would always be my funny grab at the opportunity. In the midst of August, I was out on the balcony enjoying my evening coffee when I heard my mum's voice over the phone. Yeah, you can say I was eavesdropping! I heard about her plan to visit Jodhpur. Being a budget traveler, I am always on the lookout for opportunities like this one. A chance to get a free one-way ride to somewhere and enjoying the luxury afterward. Then, I begged her to drop me in Pushkar which was on their way.
Around 2:30 pm, my family waved adieu to me but before heading towards my hostel, I took another 10 minutes to get a hold of myself. This time I planned to stay in a hostel and open myself for more human interaction rather than just sitting idly in my hotel room. Zostel, a newly founded chain of youth hostel was where I booked myself in Pushkar. I stayed in a female dormitory with two bunk beds where I had only one companion and two empty beds. At times like this one, I always search my brains for ways to start off the conversation but my luck had it, she introduced herself first. I find it funny sometimes that I fidgeted when I had to initiate a conversation with new people, and I hardly managed to make any in all my earlier four travel journeys. But during my first stay in a hostel, I was happy how easily I open up with someone.
I had already planned my itinerary for two days. consequently, I picked first attraction with some miles of cultural-street walk the first day, and the other two attractions with local food tasting outing for the next day. My first stop was Pushkar lake – a sacred lake of the Hindus and which gives away a spectacular view in the evening sun. I watched in admiration the artistic street shop lined up one by one while I walked towards the lake. The town had the perfect walking passageway as permission of the entry of any type of vehicle was denied on the streets.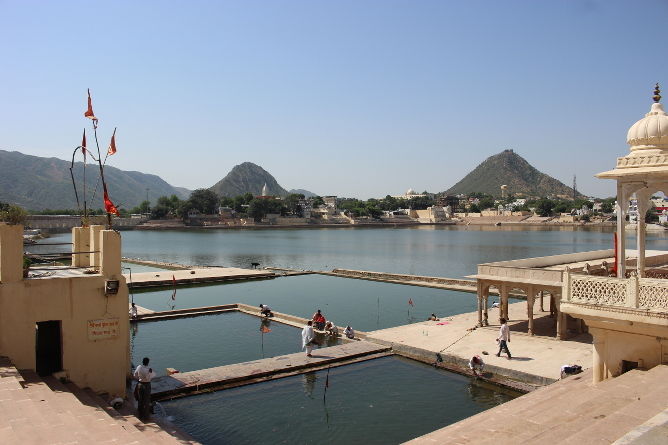 The lake was surrounded by many temples and bathing ghats. I arrived half an hour before the sunset, so the place did not give away much. But it still posed as a beautiful landscape to be captured inside my DSLR. From the far end, I heard a faint sound of people singing a folk song so I ran up some stairs to see that cultural small little fest. There was a folk singer singing a very old melodious tune while a foreign tourist was drawing the guitar tune simultaneously. I found an empty space tosit on and listened to it till the end. As the time went by, all the temples surrounding the lake lit up with the candles and enhanced the beauty of the lakes hundred times.

The next morning, I woke up with another adventure to walk through. Moreover, I was excited about shopping for souvenirs. Since I started traveling around, I always liked the moments when I would finally scout the place for souvenirs so I can cherish my journey in a meaningful way. The second attraction I picked was Brahma Temple. It was built around the 14th century and it had the four-headed Brahma sculpture. The temple is considered to be one and only kind of Brahma temple in whole India. I paid my homage to the almighty god and read the history carved on the marble wall.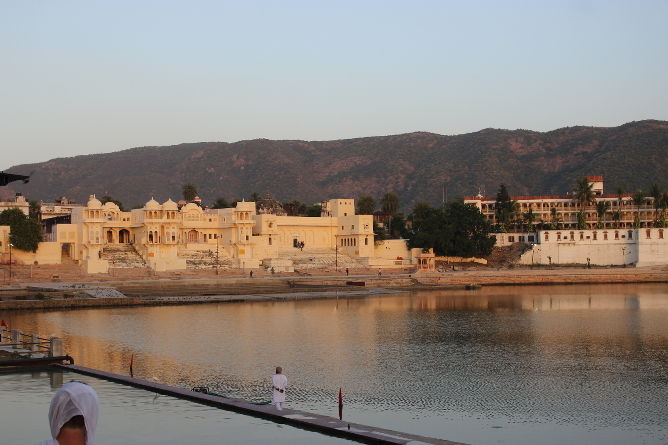 After strolling for like an hour on the streets of Puskar, I finally bought one hobo dress for myself, a bracelet as a souvenir and one hand-maiden purse for my mother. The town won't give you anything extraordinary but a free space to enjoy an entirely different culture. While working my up and down on a google page for best places to eat, the shopkeeper started talking to me. He seemed to be curious about where I came from. He mistook me for a foreigner because not many Indian females travel around solo. He then told me about the best time to visit the town was October. Every October, the town runs a camel fair and you would find many specialties around that time.
Ganga Laffa and Felafel Resturant Pushkar was the best place to enjoy the cultural mix in the town as suggested by the shopkeeper? went with the shopkeeper's recommendations as I wanted to try out something new and ordered falafel wrap for myself. After having a really tasty meal, I set my foot for my last attraction that I picked to see especially in the evening. I don't know what it is with me and the closing sun, that I always want to explore all those places which shimmers under the evening sun. There is a short hike for Savitri temple, but one can also take cable cars to reach that place. At Hilltop, a small temple was built which had an open field, some boulders were lying around there, and some benches were also fixed so one can enjoy the evening view.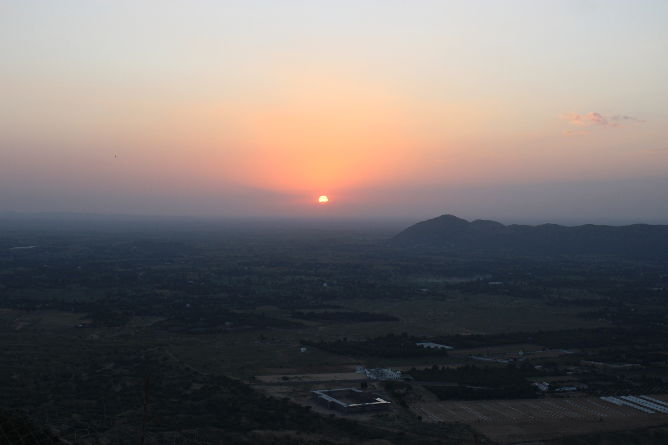 When the sun started to close in, it added an enhanced beauty to the whole town. The town sparkled with light red color under the sun and wrapped up my artistic journey. I would advise you to go to this place if you want to enjoy a hippie culture in India.