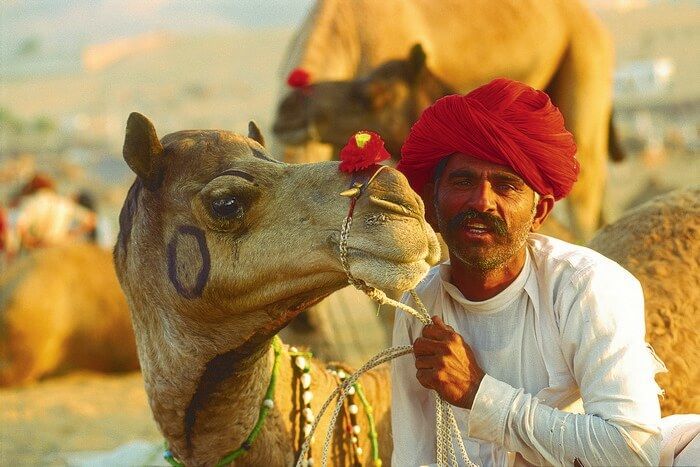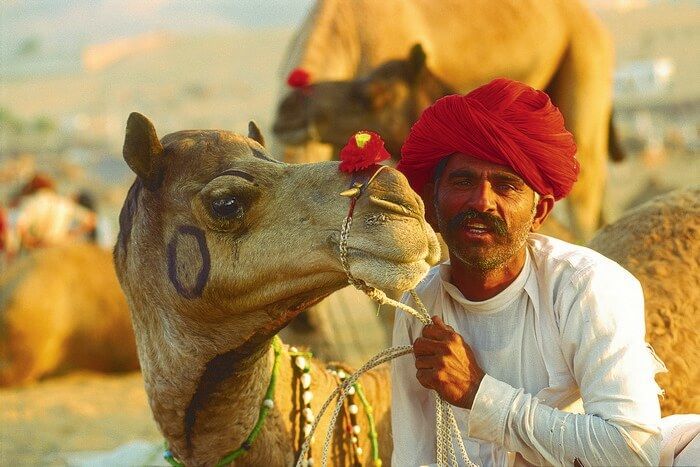 Pushkar does not need any introduction for the glory, history and culture that it exhibits. One of the ancient cities of the country, located in Ajmer, it has been largely known for its religious significance as the city boasts of one of the very rare temples of Lord Brahma(Hindu god). The annual cattle fair, the holy lake, a handful of adventure activities, and endless emotions to capture on camera — Pushkar has it all for any avid traveler. Just before we introduce you to an exclusive list of places to visit in Pushkar, here are a few essentials:
Best time to visit Pushkar: During the months of October – November. This is time when the famous Pushkar Camel Fair comes to town, and also the weather is nicer during these months.
How to reach Pushkar: Ajmer is the nearest railway station (11 km) — Pink City Express and Shatabdi Express are the best trains to opt for while traveling to Ajmer from Delhi and Jaipur. There are direct buses between Pushkar and Ajmer (30 minutes, INR 20), Jaipur (3 hours, INR 220-410), Udaipur (6 hours, INR 450), and night buses to Delhi (10 hours, INR 400-850). It is only 147 km by road from Jaipur.
Getting around in Pushkar: Not that large a city, Pushkar can be easily navigated on foot. The tour operators, here, organise walks and spiritual tours. One can also rent a bike and explore the areas around. Camel Safari is another good option to explore the holy city.
1. Banks of Pushkar Lake – To attend the famous Pushkar Camel Fair
Yes, the famous fair takes places at the banks of the Pushkar Lake. Colors, spectacle and a carnival — one of the last great traditional melas in India, Pushkar Fair brings livestock, farmers, traders and villagers from all over Rajasthan together. This fair is an excuse to experience the shades of rural India in its most organic form wherein one can interact with villagers, and buy Rajasthani handicrafts. The fair also organises a plethora of animal races, camel processions and cultural performances. Further, it has recently become a popular attraction among hippies and foreign tourists.
2. Temples in Pushkar – For a spiritual getaway
Pushkar is one of the prominent cities in India that is known for its amazing temples. The famous Brahma Temple, here, is one of the very few temples dedicated to Lord Brahma in the country. The temple is revered by Hindu devotees and people come here from far and wide to pay obeisance to the god of genesis. The city boasts of several other temples worth visiting — Savitri Temple, Old Rangji Temple, Apteshwar Temple, Paap Mochini Temple, Raghunath Temple, Atmeshwar Temple, Mahadeva Temple. These temples not only provide a spiritual getaway but also take one through the history lanes of this ancient city.

3. Pushkar Lake and Other Ghats – For quaint evenings and spiritual baths
Pushkar lake is closest to the temple of God Brahma. As per mythology, this place is where Brahma and Savitri offered their prayers. It is believed that a dip in this holy river is the harbinger of Moksha — freedom from birth. The lake has several ghats, designed especially for taking baths and offering prayers. Brahma Ghat is the most famous among many others like Varaha, Dadhich, Saptarishi, Gwalior, Kota, Gau, Yag, Jaipur, Karni and Gangaur Ghat.

4. Merta – The Meera Bai Connection
Merta is almost 400 years old and has been famous for Meera Temple — the Krishna devotee. Previously known as Medantak, this city happens to be the birthplace of Meera Bai and this connection has kept it among the pupular places to visit in Pushkar. Dadhimati Temple and Charbhuja Temple, located here, also attract a large number of devotees round the year. This city also holds a lot of historical significance owing to the large number of battles it has witnessed and hence, is among popular places to visit in Pushkar.

5. Naga Pahar – A mountain bound to disappear
Pushkar and Ajmer are divided by a hill — known as Naga Pahar. As per the legends, the hills at Naga Pahar continue to diminish till date and will eventually disappear totally. These hills are believed to be the residence of the famous Sage Agastya. The hills also house a lake called Nag Kund. Naga Pahar offers a spectacular view of Pushkar city from its top and has often been used as a vantage point for photographers.

6. Rose Garden – Live the magical evenings the soul yearns for
Surprisingly, Pushkar is also known for its rose farming. It is referred as the Rose Garden of Rajasthan. The farmers, here, grow rose extensively and the diversities of this flower grown here, are exported all over the world. There are acres of farm lands with beautiful red roses in different hues spreading the fragrance — enchanting enough to make one crave to sit and spend some rosy time .
Things to do: Sit, unwind and relax amidst the mesmerizing fragrance of roses