Antelope Canyon is one of the most photographed natural wonders of the world. Conceived by scampering and sturdy water, It was discovered by Navajo tribes hundreds of years ago. It has been given the name 'Antelope' by the tribe because herds of pronghorn antelope used to roam freely and graze here.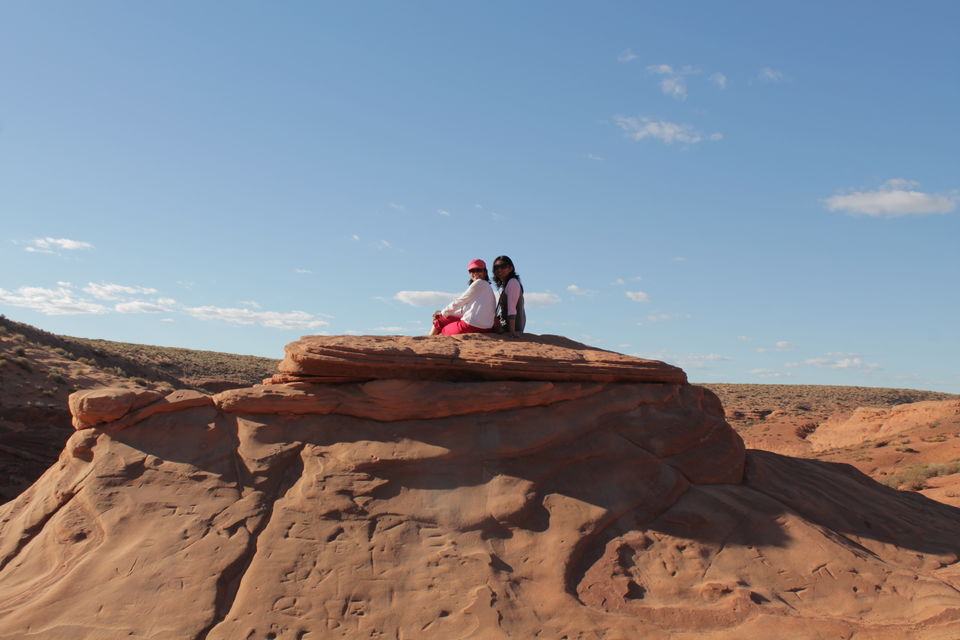 Antelope Canyon is situated in Page, Arizona. 
Lower Antelope Canyon appears just like usual ridges and normal rock patterns from outside until you climb down several flight of stairs. Once you descend, then comes the magical and miraculous alveolate canyon displaying diverse rock patterns and sculptures created by years of rushing water flowing through sandstone.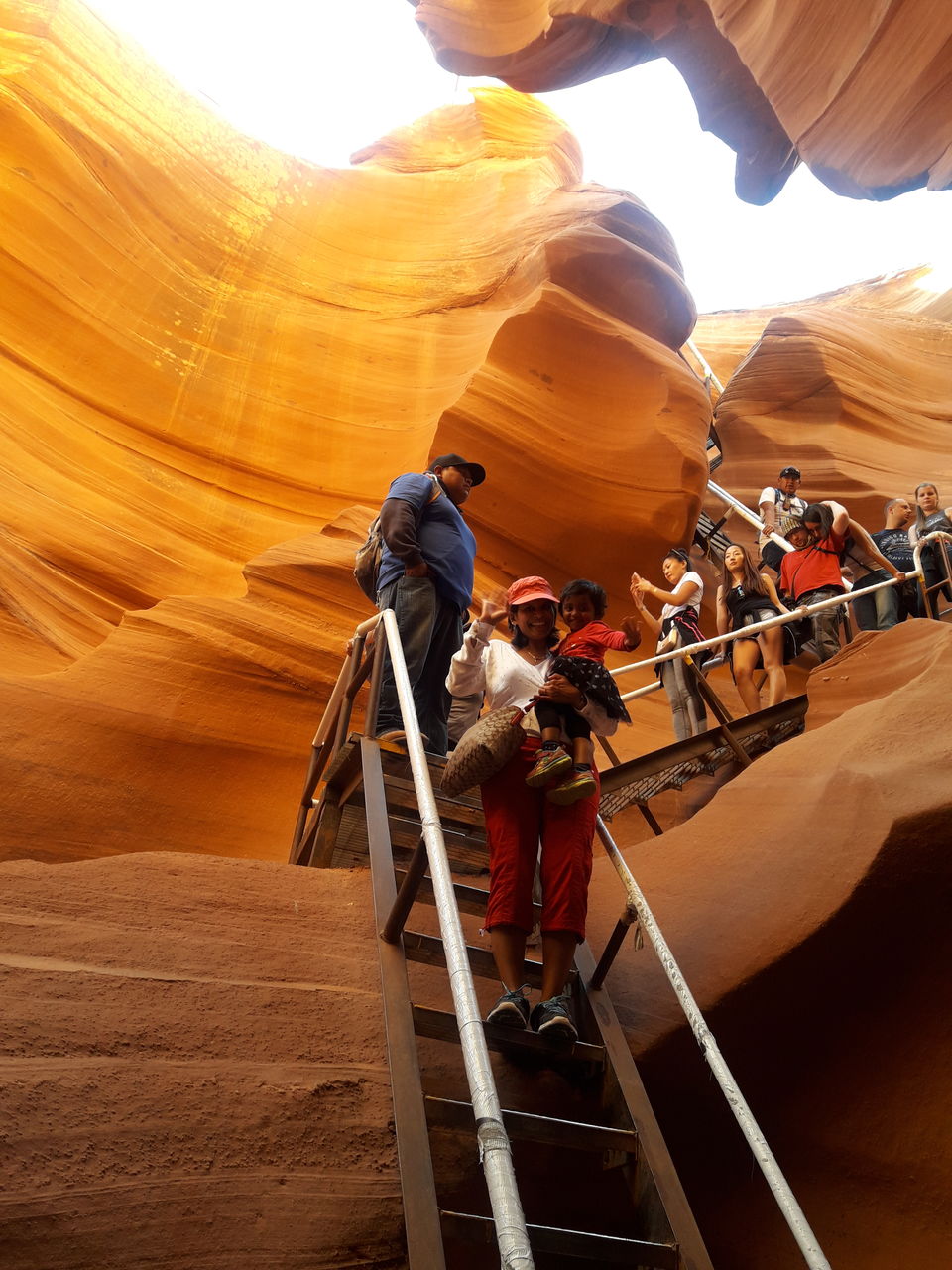 As magical as Lower canyon, Upper Antelope Canyon is more easily approachable. There is no climbing up and down ladders here. The light beams radiate when the sun shines through the slots in the canyon's gable. The guides pour sand from above to enhance the effect of light beams. It looks surreal.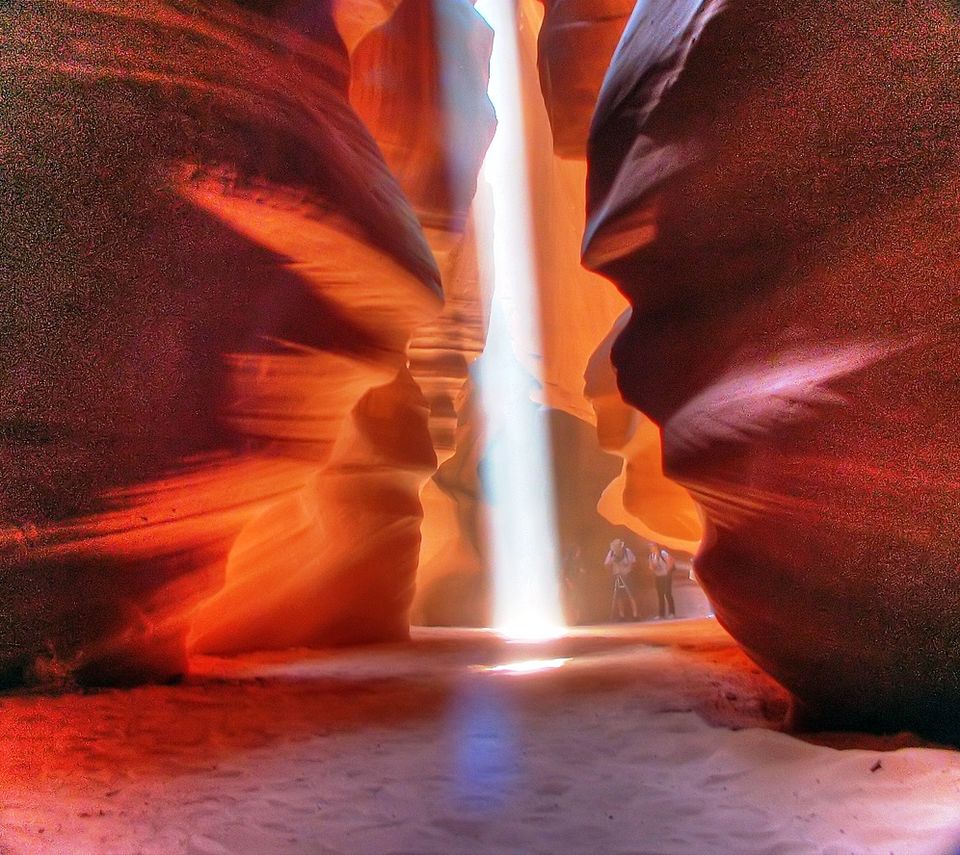 Which tour operator? To hire a guide or not? Guide is a must as It's prohibited to enter the canyon without hiring a native Navajo guide. Tours are provided by Navajo tribe natives. It's a major source of their earnings.
There are various tour operators viz. Navajo Tours, Ken's Tours, Dixie Ellis Tours etc. It's a good idea to research various tours and tour operators and choose the one that fits your priorities. 
We took Navajo Tours and our guide was cool. He helped us take a lot of pictures (even he clicked pictures for us using his experience of photography tour) and interestingly narrated the entire history of the tribe and canyon.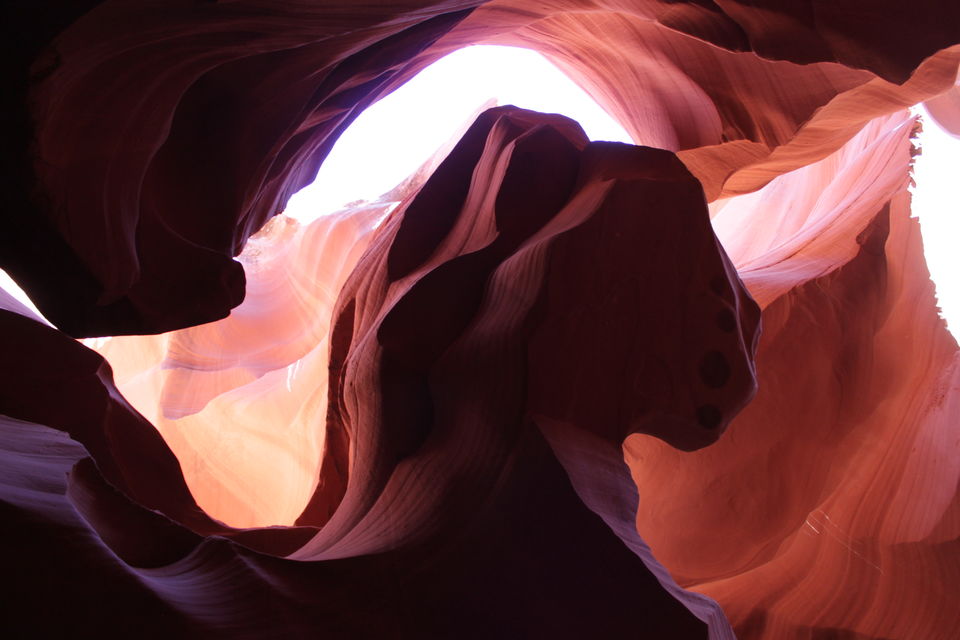 Book in advance for Upper Canyon. It's always better to book in advance because tours are sold out quite early for prime times.
The Lower Canyon does not accept prior bookings and works on first-come-first-serve basis only.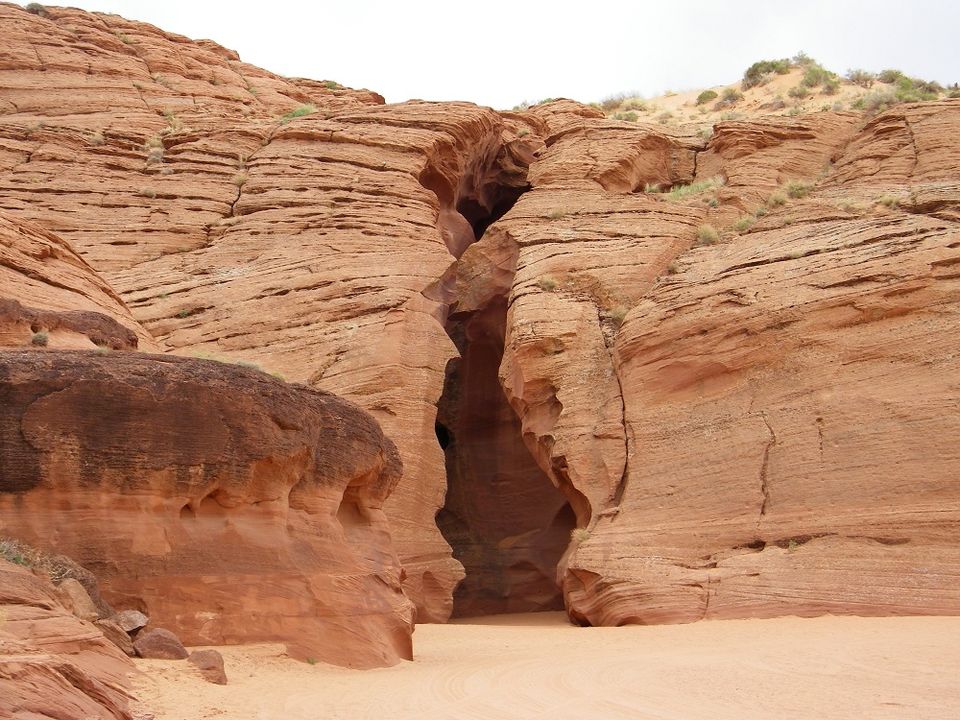 Lower or Upper? Which one is better for you? One thing is sure that both are going to amaze you endlessly and it's guaranteed that you can't go wrong with any of them. Still If you have to choose between two of them, consider your priorities.

Upper Canyon requires minimal climbing and beams of light scattering down from the slots is more common and dramatic as compare to Lower Canyon. Upper canyon has levelled ground and wide base with higher mobility and gives you more space to set up your tripod and take pictures easily but it gets really dark at times.
Lower Antelope canyon has an adventurous charm because of flight of stairs going down and cramped spaces with lesser mobility. Also it is lesser visited as compare to Upper canyon. So, less human presence makes it hassle free. 
The Lower Antelope Canyon is to the left off Arizona State Route 98 and The Upper Antelope Canyon is to the right.
As for my reco, I say one should experience both. But in case you can't do both then I'd say go with Upper Antelope if you prefer famous, crowded and more photographic experience. Go with Lower Antelope if you prefer more adventure, less crowd, and offbeat experience.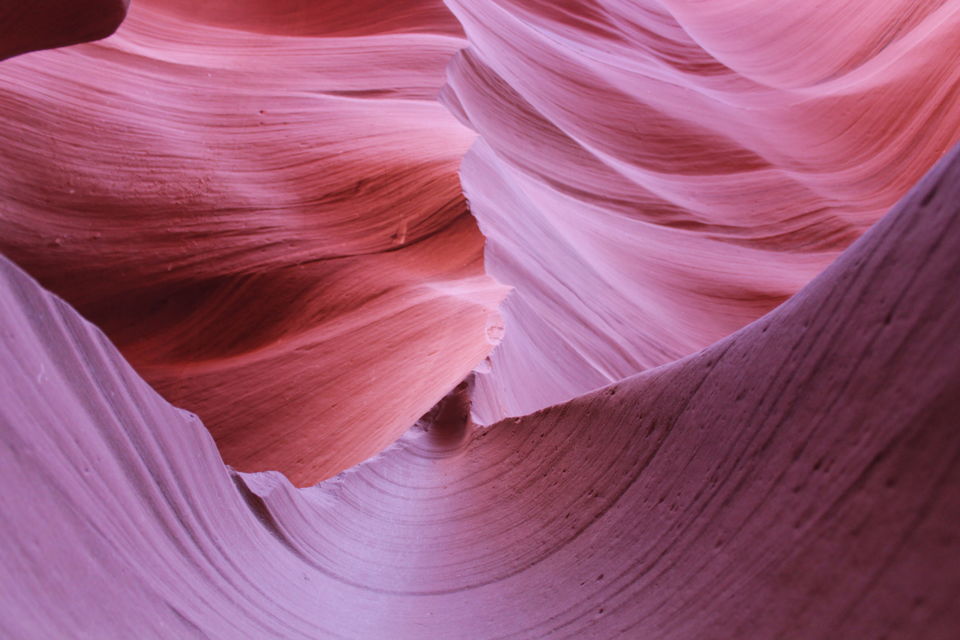 What to carry? Carry a small backpack stuffed with snacks and water bottle because being a desert area you don't find good food and water here. Make sure you carry a water bottle with you all the times because Arizona is hot and dry. Must carry a sun cap and handkerchief or scarf to save yourself from sand and heat. Needless to mention, wear comfortable hiking shoes. Don't forget to carry your CAMERA because you'll be at one of the most exquisite places in the world! Take lots and lots of photographs.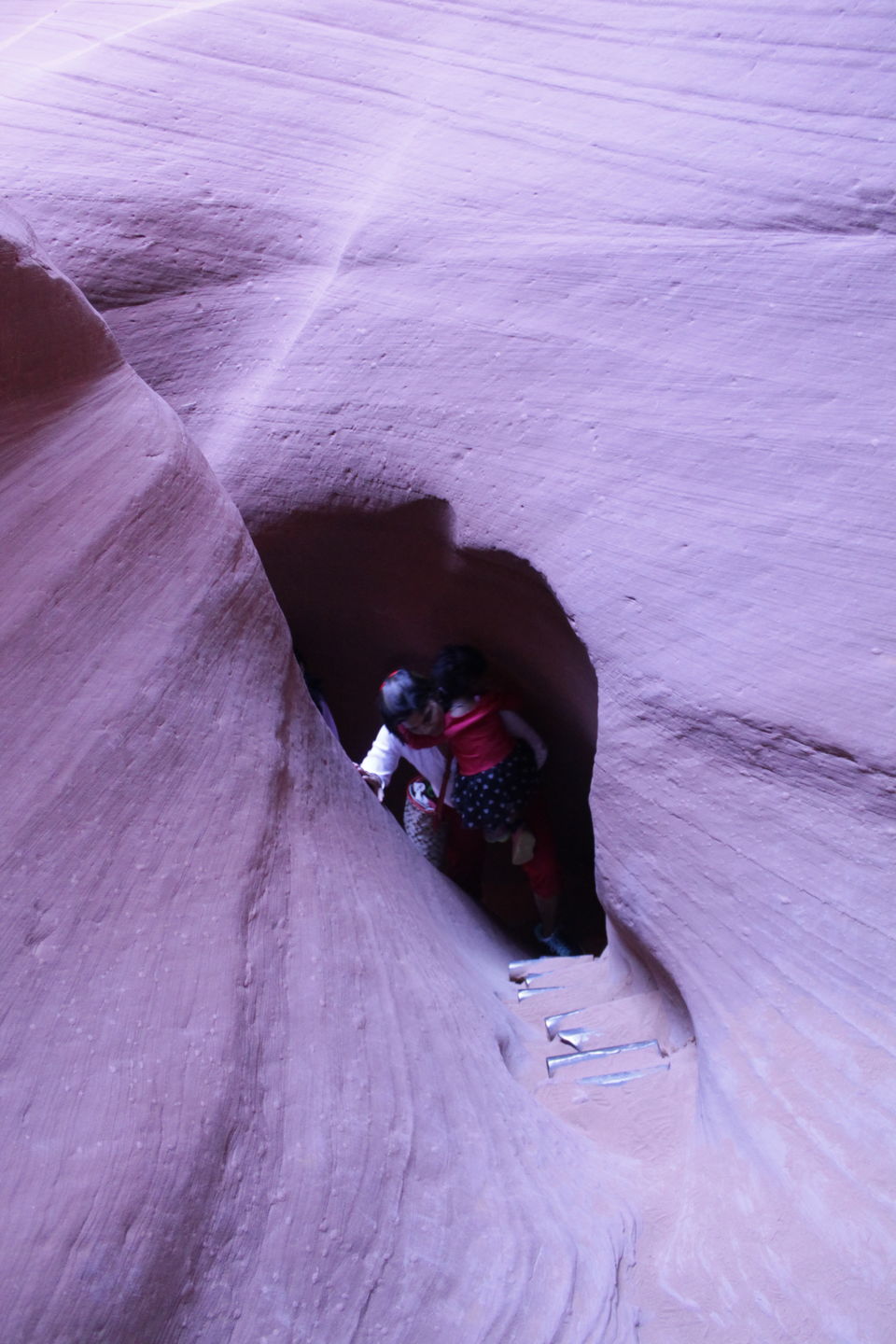 Timing is the key here. The best time to visit Lower canyon is early in the morning and it's 10 a.m. to 12 p.m. for Upper canyon. 
Do check for time-zones because Navajo county works on a different time-zone as compare to other areas in Arizona who don't endorse daylight savings.
I would highly reco the 10 a.m. (premium lighting tour) tour for great photos and awesome experience.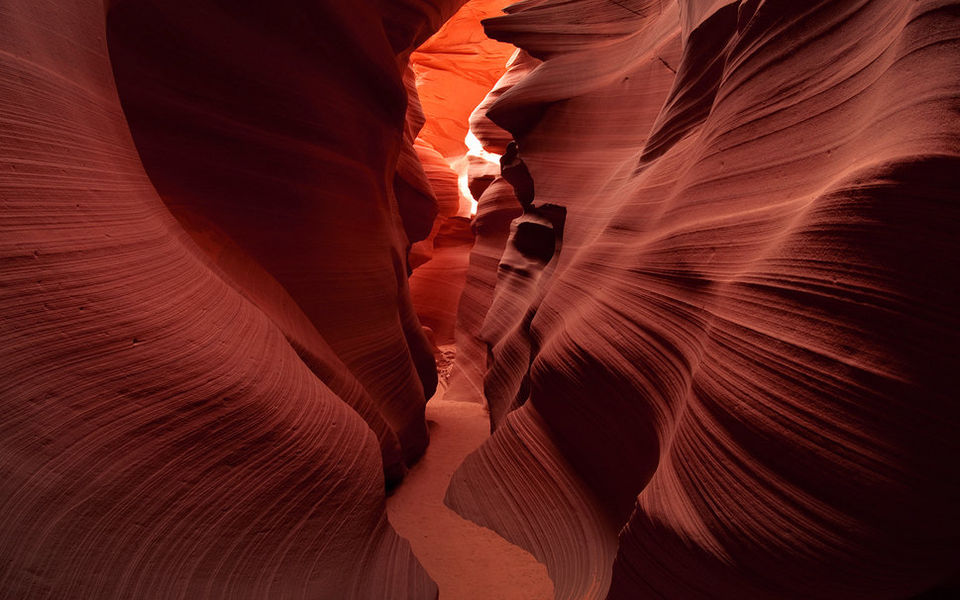 Best time to visit? It's undoubtedly the off-season as less tourists + perfect weather = great photographs and more fun!
Check weather before planning the trip to avoid the risk of flash floods though little but it's always better to be on the safer side. The place is known for flash floods, especially during the monsoon season. Though, tourists are accompanied by a trained guide who can easily access a route of escape but it's advisable to avoid the canyon during downpour. 
Tour charges and online booking? Since Antelope Canyon is situated on Navajo tribe land in Page, you need to pay $8 entry fee and you are required to pay additional price for the tour. Tour charges are according to the time slots and type of tour you choose.
In case, you want to visit during premium lighting Upper canyon tour (10 a.m.) which is considered to be the best time to take awesome photographs because light starts to spill through the apertures; you are desired to pay extra charges for that.
Adventurous Antelope Canyon Photo Tour (AACPT)
Arizona beyond Antelope Canyon. Staying in Page gives you an opportunity to visit nearby attractions. Lake Powell, Horseshoe Canyon (Arizona), Zion National Park (Utah), and Grand Canyon (Arizona) are some of the worth visiting sights quite close to Antelope Canyon.
Have you ever been to Antelope Canyon? What are the tips would you give to those who are planning to visit?