Kochi, a tiny little port city, is like a rose tucked in your favorite book. Simple,poignant but hauntingly beautiful- it somehow retains all the sweetness it's supposed to. Seeped in history and wonderfully cosmopolitan - this is one place which is a must visit for anyone planning a trip to southern India.
Kochi is really special; I started realizing this as early as during the Airport transfer. After our arrival at Cochin International Airport- which by the way, has a very royal look to it - we quickly boarded a pre-booked cab for transfer to Fort Kochi - where our Hotel was.
The cab driver, at the very onset - pointed, pretty proudly, to the huge solar panels on our left and told us that the entire airport is run by solar power. He was right, CIAL ( Cochin International Airport Ltd) is world's first Airport to be completely run by solar power. Now that's a step towards sustainability!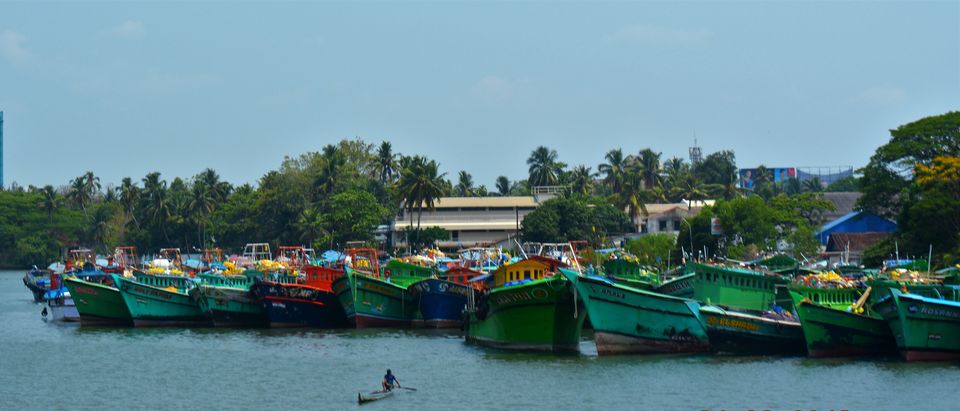 This beautiful shot - capturing the charming colorful chaos that the city is, was taken from a bridge on our way to Fort Kochi.
The drive is short,and it takes little over an hour to reach. We had booked our stay of just a day at a boutique hotel in Princess street, which is like the hub of beautiful arty cafes, shopping areas, little boutiques and wonderful street graffiti.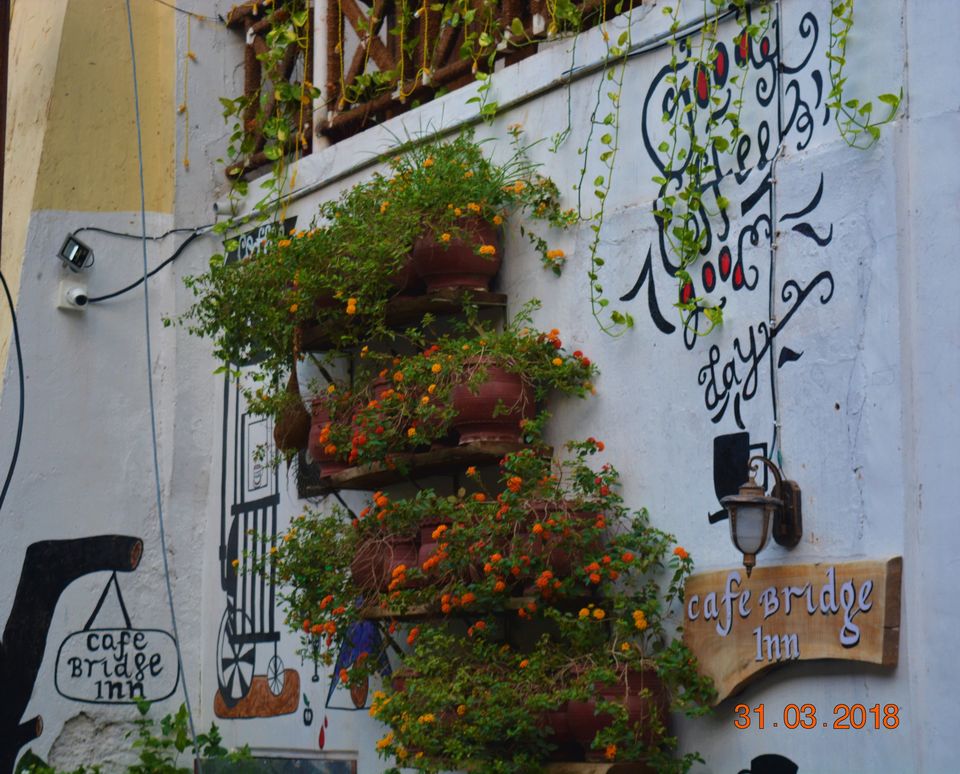 I was travelling with my parents, so while they enjoyed a short afternoon siesta - I immediately set out on foot to explore the place around.
Here its worth mentioning, that Kochi has a rich old history dating back centuries, and the city is a wonderful melting pot of colonial,dutch and Portuguese cultures beside the local ones.
Check out this absolutely gorgeous, rather colonial styled hotel right on the Fort Kochi beach.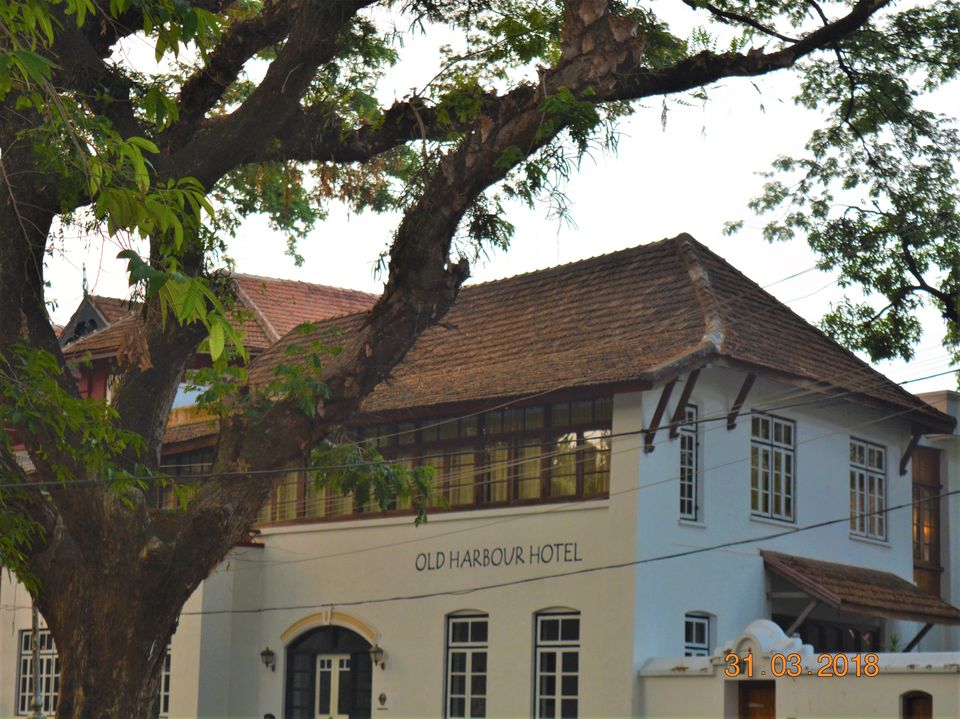 The streets are so colorful and beautiful, that before realizing my random strolling had become a photo-walk;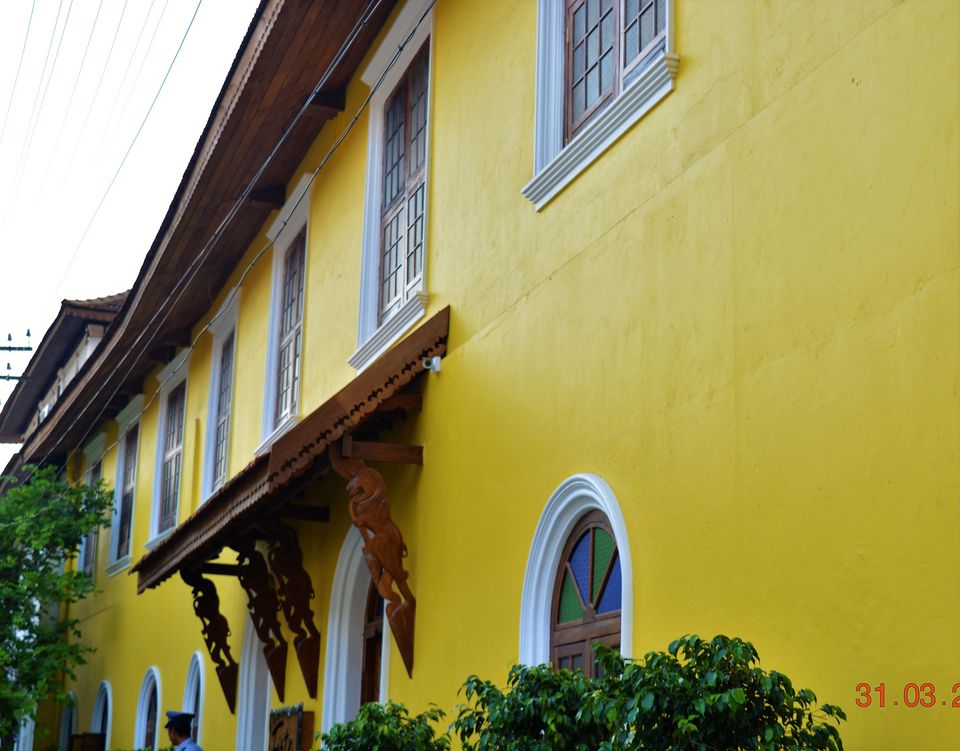 There are many interesting curio shops, pretty little cafes tucked about; and the holidaying crowd from world over has one quality in common - no one is in hurry. Like that freshly baked brownie - you savor slowly till the last crumb- people seemed to enjoy their surrounding.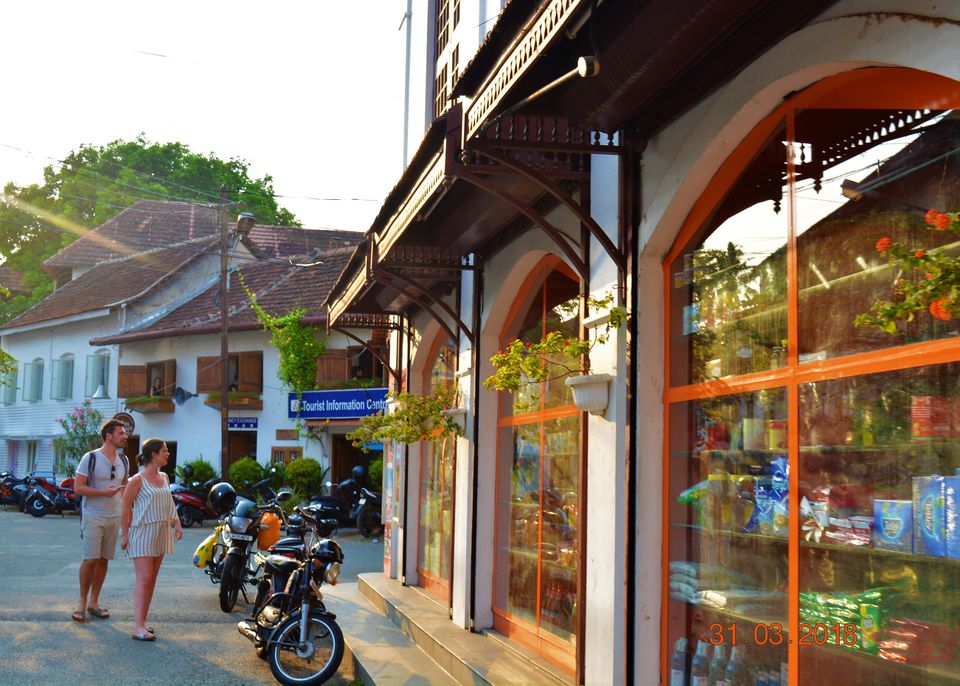 In my excitement I had not taken my wallet but only the camera bag; but there was a INR 500 tucked in it.(Pro traveler!) So when in a small souvenir shop I wanted to get some postcards and the owner could not provide change I was rather dejected.
But then, an elderly french lady - who was buying beautiful wooden carved figurines insisted she would cover for me. Despite my polite refusals, her warmth won over.
With a happy heart, I proceeded for a well earned cup of coffee; Kashi Art Cafe did justice to my research; With a beautiful wooden interior and a open courtyard and interesting art pieces - this place was buzzing with patrons even in the slow hours of late afternoon.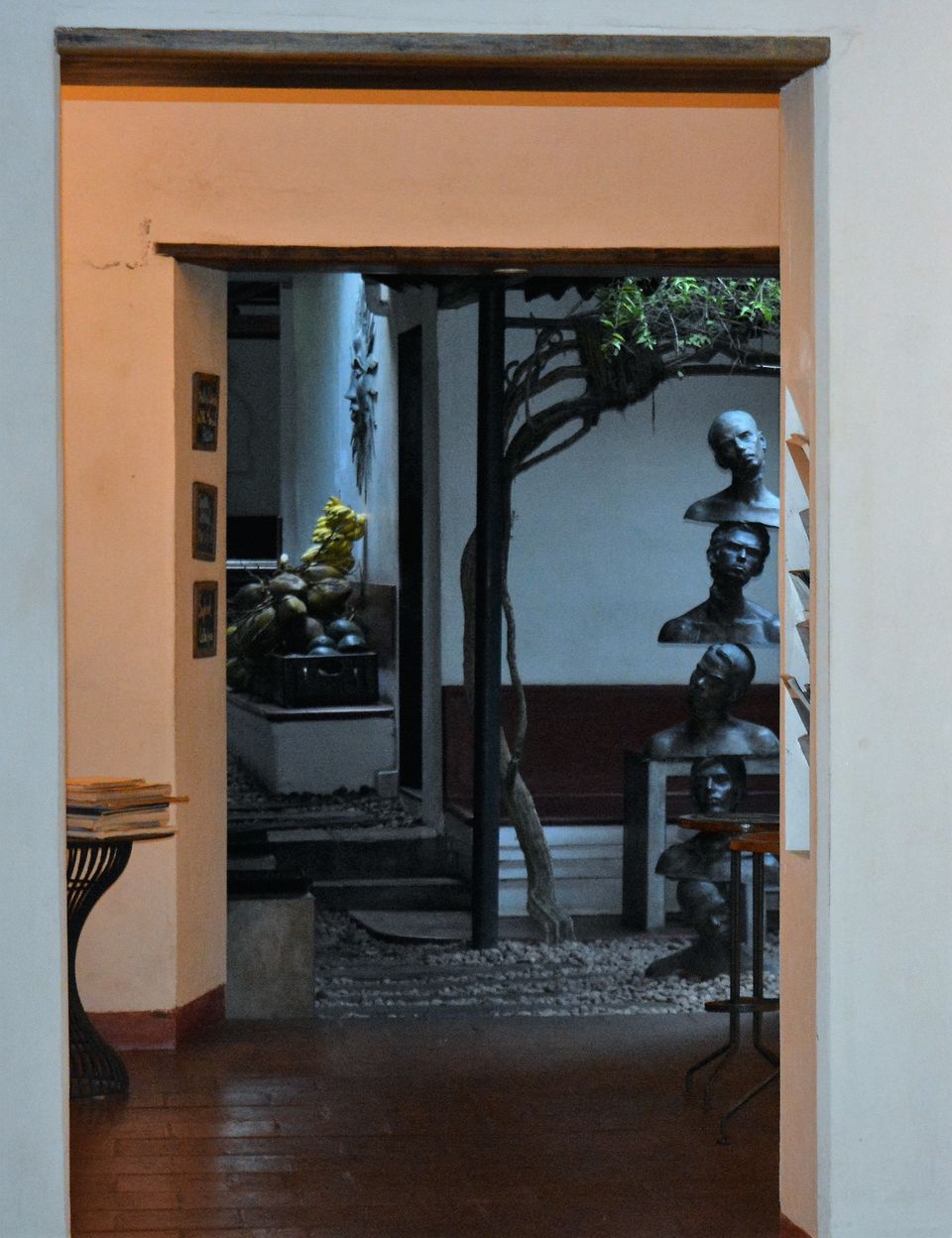 Totally up-beat after my first date with Kochi, Me along with my father started off for the Mattancherry Palace, or the Dutch Palace. It is almost a living example of the adage -" Don't judge a book by its cover";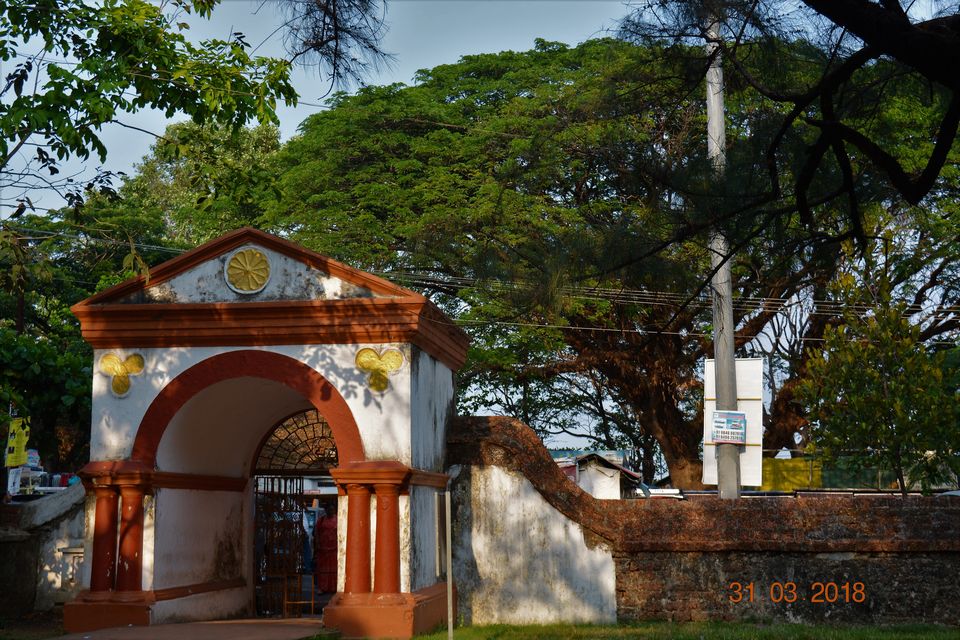 The simple facade, might not do justice to the fact that this was in fact the coronation seat of the Raja of Kochi,and built in the 15th century by the Portuguese and later renovated by the Dutch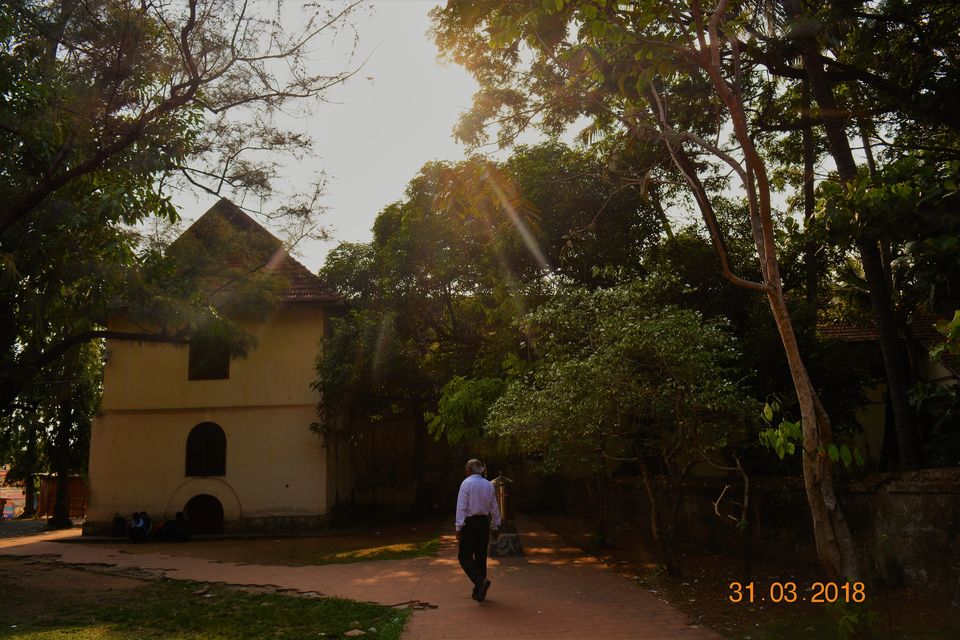 It might initially look unimpressive, but once you have stepped inside - its a different story all together.
The entry fees is a nominal INR 10/20 as far as I remember and photography post the corridor is not allowed.
Worth mentioning among the several artifacts and beautiful pieces are the murals - the quaint colors and excellent craftsmanship of that time - depicting scenes from Ramayana will make the day for any art lover.
We spent a couple of hours there and next in our tight schedule came a impromptu shopping stop-over, because the mirrored umbrellas were too pretty to be ignored.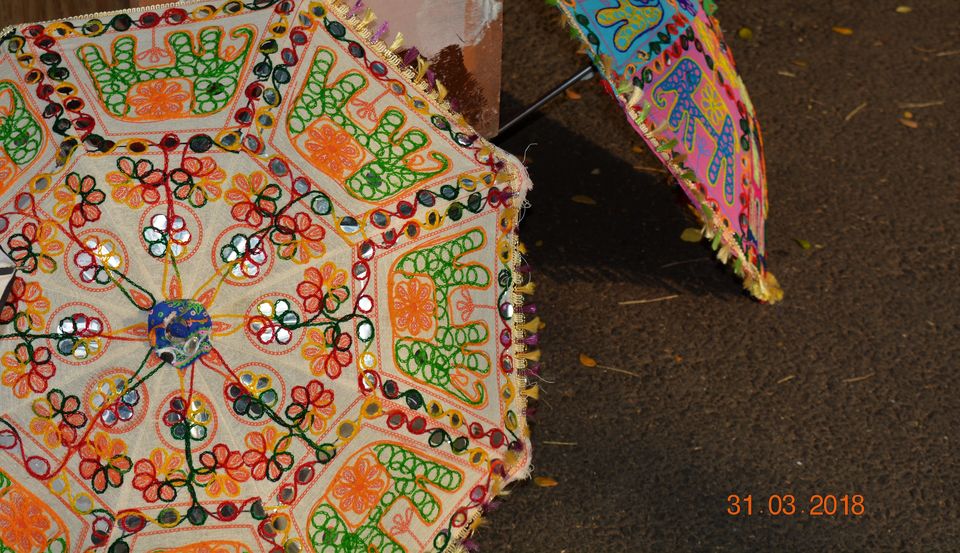 The second stop in our itinerary was the St Francis Church of Kochi; It is famous because, it is said to be the place where Legendary explorer Vasco da Gama was once laid to rest.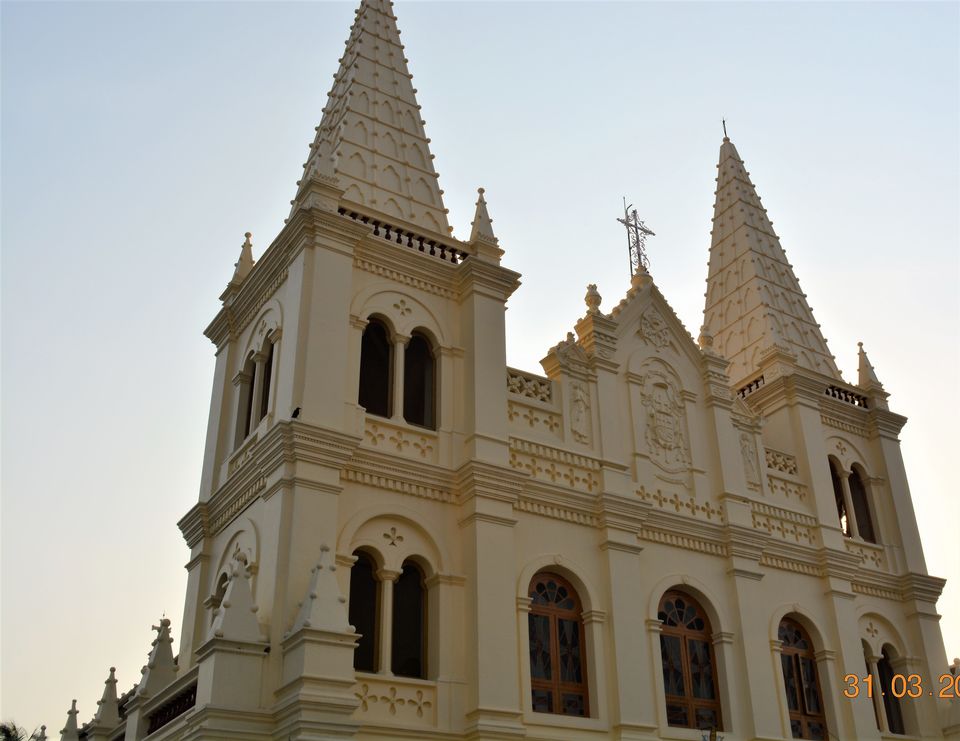 His remains were later said to be shipped to Lisbon, but the gravestone which remains in the church still attracts lot of tourists. With the last rays of the setting sun, and a strange tranquility we bidded a good bye to it.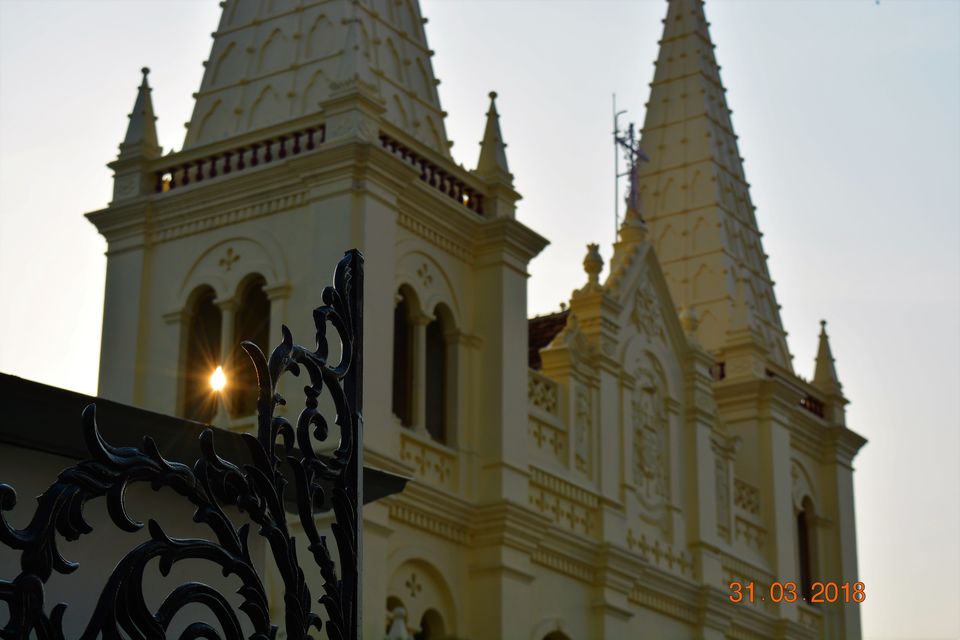 It was time to freshen up, and leave just in time to see the special Chinese fishing nets in action; but Kochi had charmed me totally already. In the warm glow of twilight, I promised to come back again,and soon, with more time in hand. 
The Chinese fishing nets is one of the most talked about attractions of Kochi; Unique shore fixed net like structures which are lowered and hauled up at specific times - these are indeed quite interesting,and also photogenic.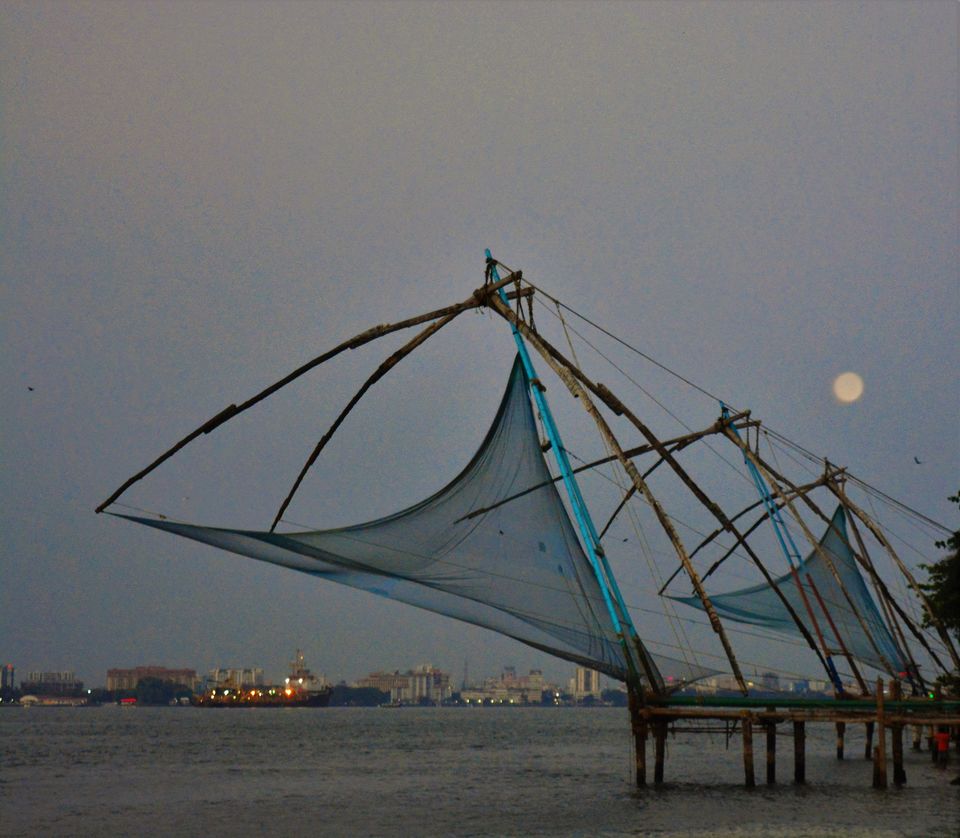 These nets are said to be introduced by chinese explorers back in the 14th century. Another interesting fact heard from a fellow tourist, is that the city's name"Co-chin" actually means "like China"!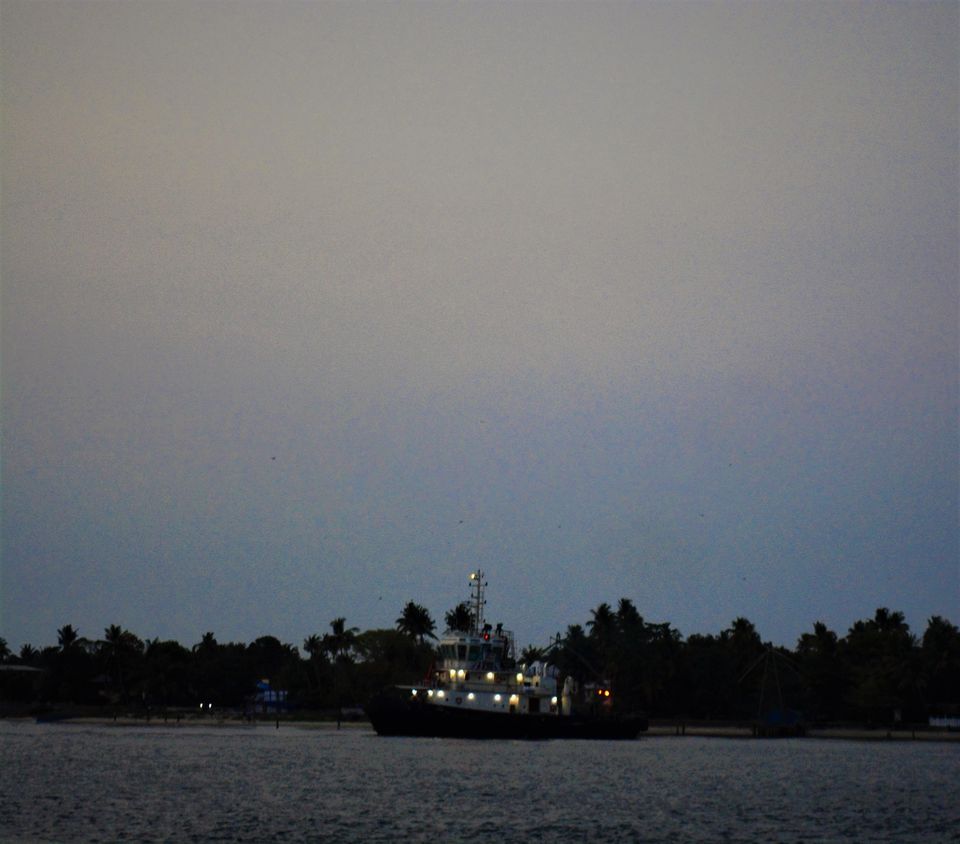 It was a full moon night, and the place was just magical, to say the least.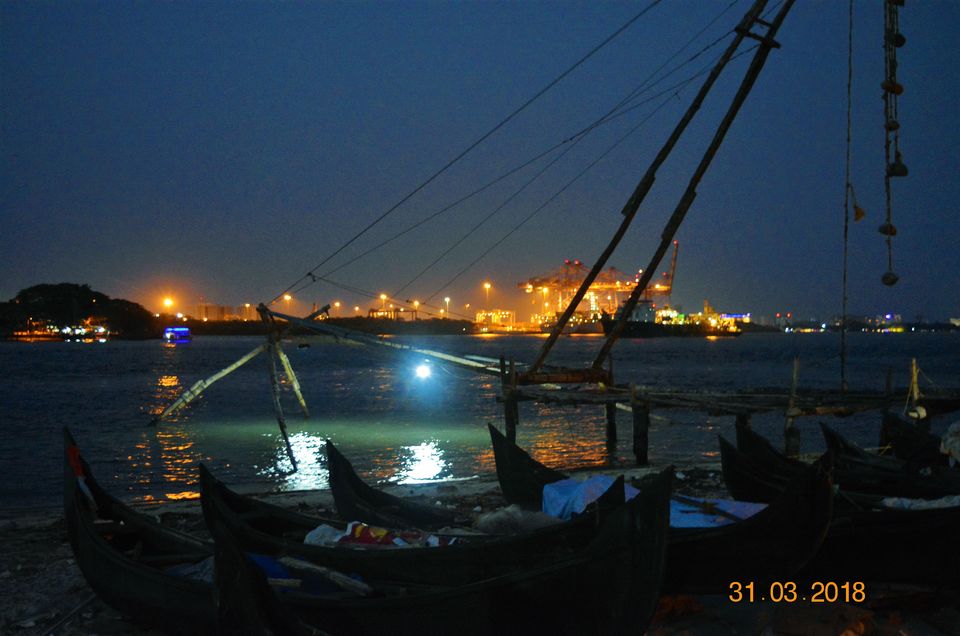 In case you want a real special date night; Kochi will spoil you for choices; freshly sourced sea-food, and wonderful ambiance - guaranteed that there are not many "Mills-n-boons" worthy setting like this;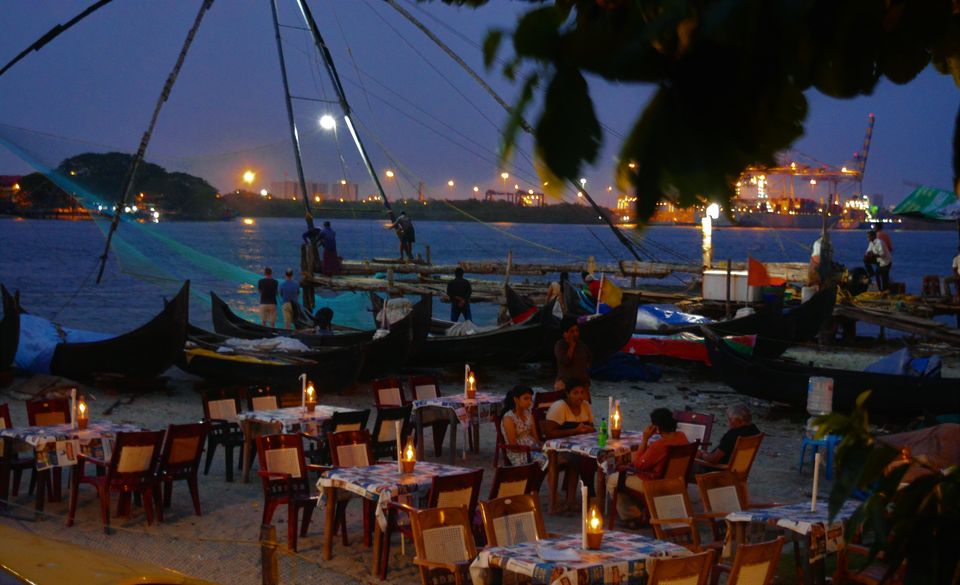 After a wonderful dinner with my parents, we retired soon as there was a early afternoon travel planned for next day. The biggest mistake I made was to think a day is enough for Kochi - before proceeding to Munnar.[ that's a story for another day :) ]
But to make up somewhat for that, I woke up really early for one last good look at this fort city, which had my full attention and adoration now. Decided to have a look at the Fort Kochi beach, which is a short walk off the Princess street.
Well, it would have been literally just a few steps away, had I not been consistently compelled to stop and click at every turn!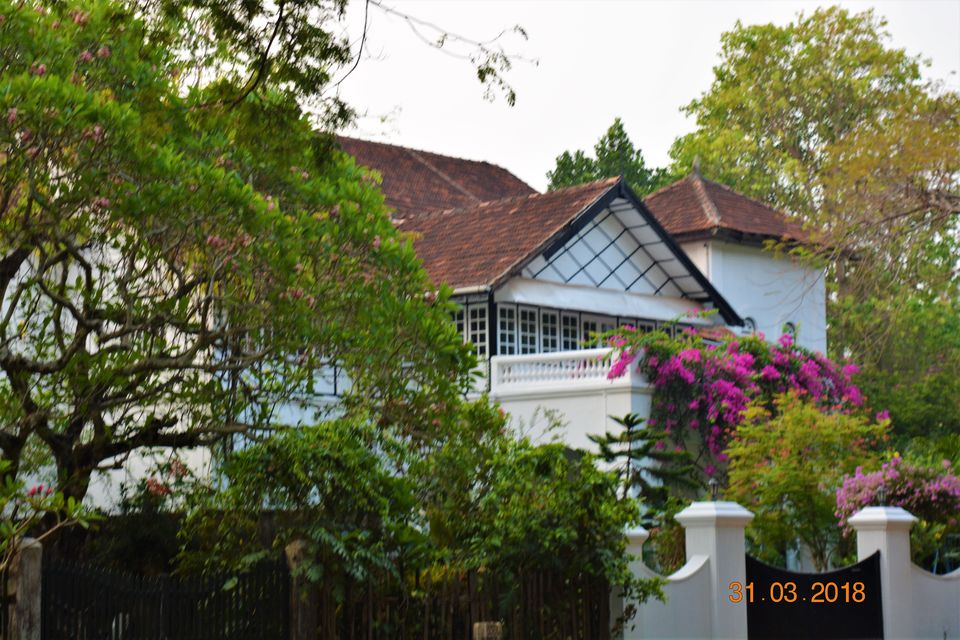 Land of Memories, truth hath been told!!!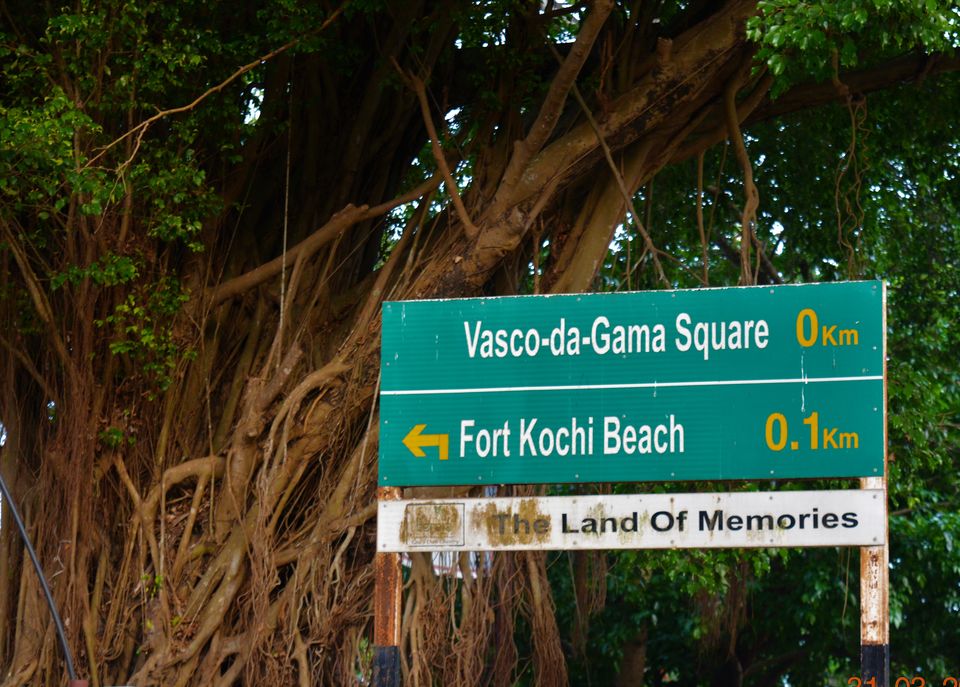 The beach was nice and refreshing; and the cool morning breeze felt great.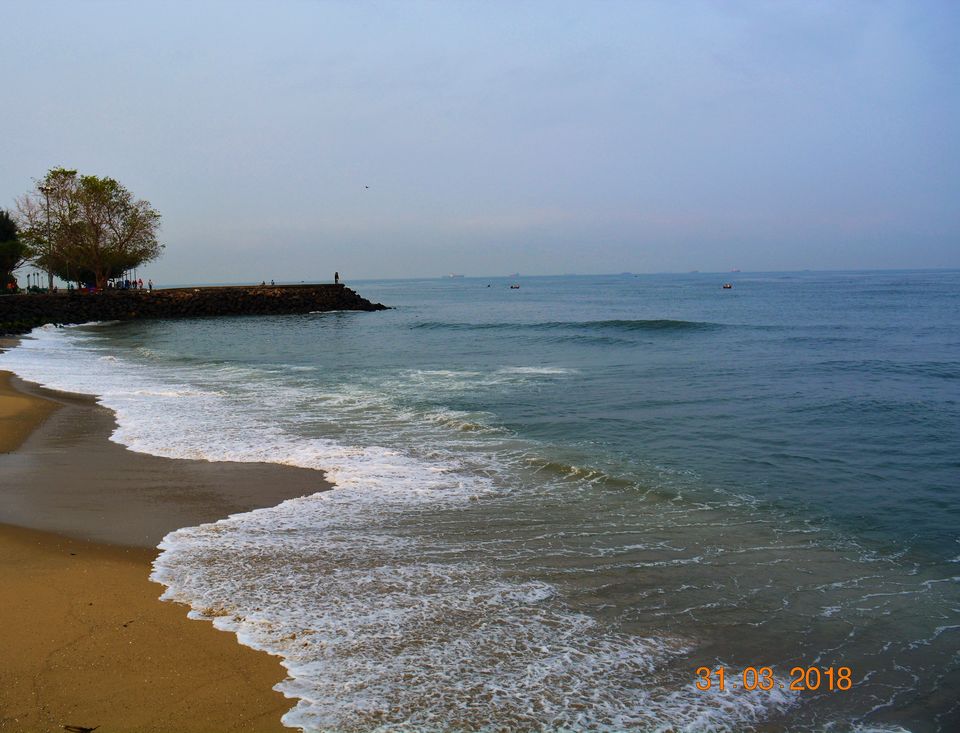 Long ago, I had read some verses- the loose translation of which is- Waves are the rapid heartbeats of the sea, on being kissed ardently by the sky. Like a incurable romantic, this would resonate at least once in my head every time I am near the sea, looking over the unending blue masses and a blurred horizon.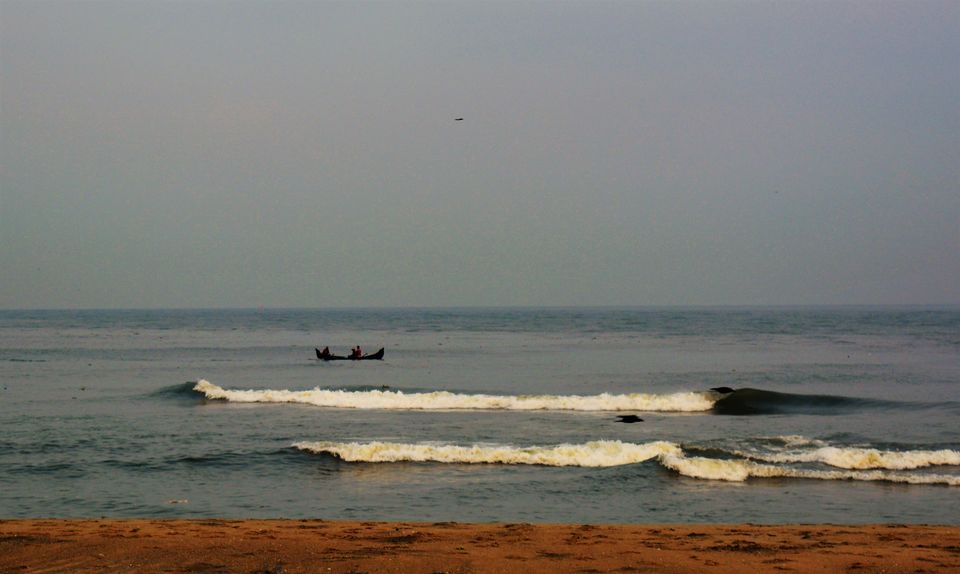 It was time for me to bid goodbye to the gorgeousness, and as I walked back - it was almost as if someone spoke back :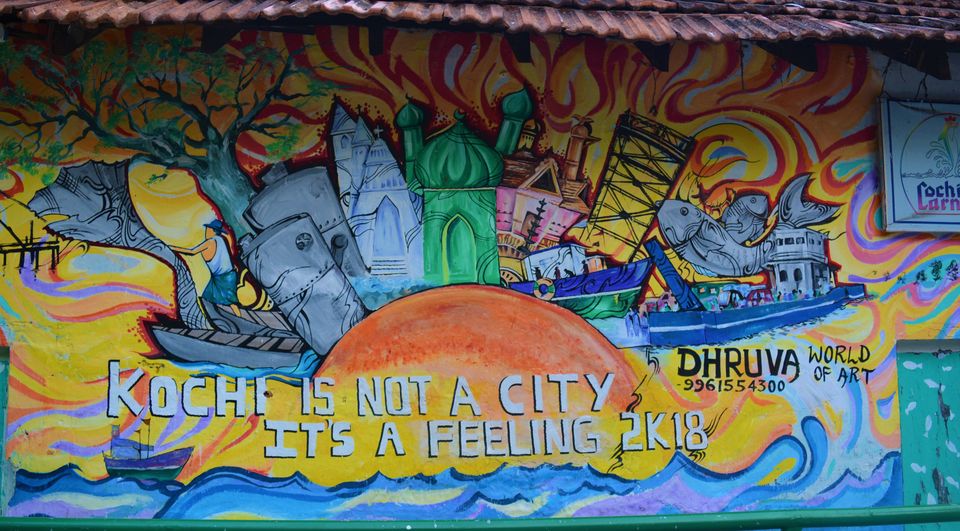 Kochi - indeed, is not just a city, its a feeling! Until next time, then.