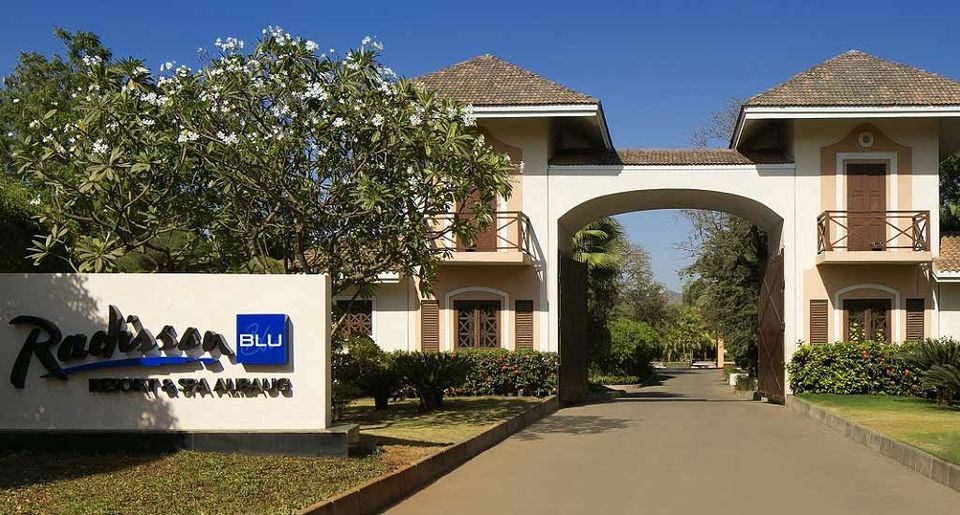 A weekend winter vacation is what my husband and I were looking for and this resort caught our eye. This is one of the luxury hotels in Alibaug to stay at. I must say it was at its best. You will realize it later once you read this completely.
This resort was 3hrs drive from Pune, we started early by 9.30am on a Saturday morning in mid Jan, it was quite cool weather and drove on Mumbai Pune Expressway. With the help of google maps we could take exact turns without missing them. The approach road is very small to this resort. But once you get in, its a different world altogether.
We reached there by 1pm and we had already asked for early check-in as usual check-in starts from 3pm. But that was subject to availability. I was impressed right from gate itself. Guards had already list of arriving guests for the day and they verified, checked our car & let us in with a big smile. The lush green gardens both the side until you reach the hotel entrance. Valet parking is available, they took our bags and asked us to get in to start check in process.

On entering the hotel we were welcomed and asked to be seated in the well maintained inviting ambiance of the reception area. There were already so may people queued up. We filled necessary forms and they told us to wait for a short while to get room. Meanwhile, we went inside to explore the property and the first glimpse was so charming and fascinating.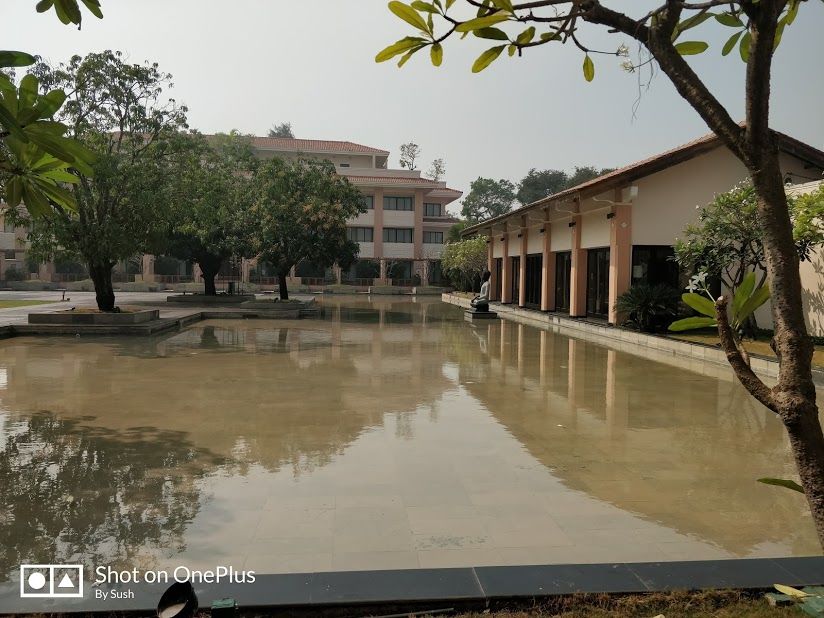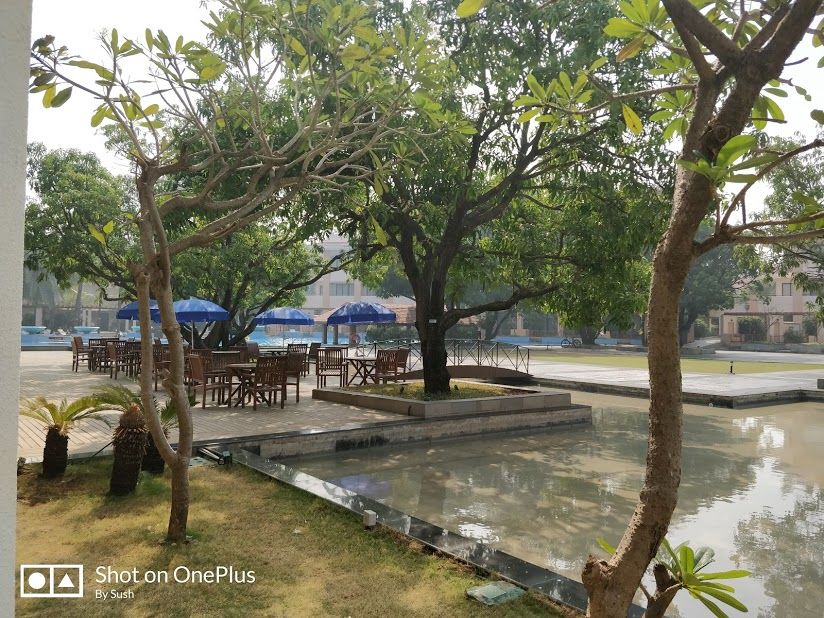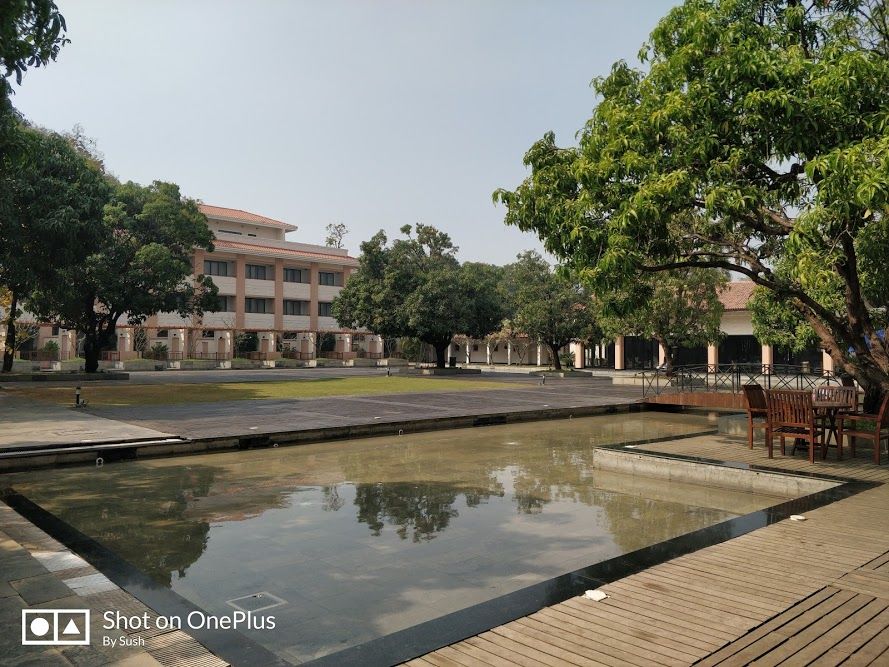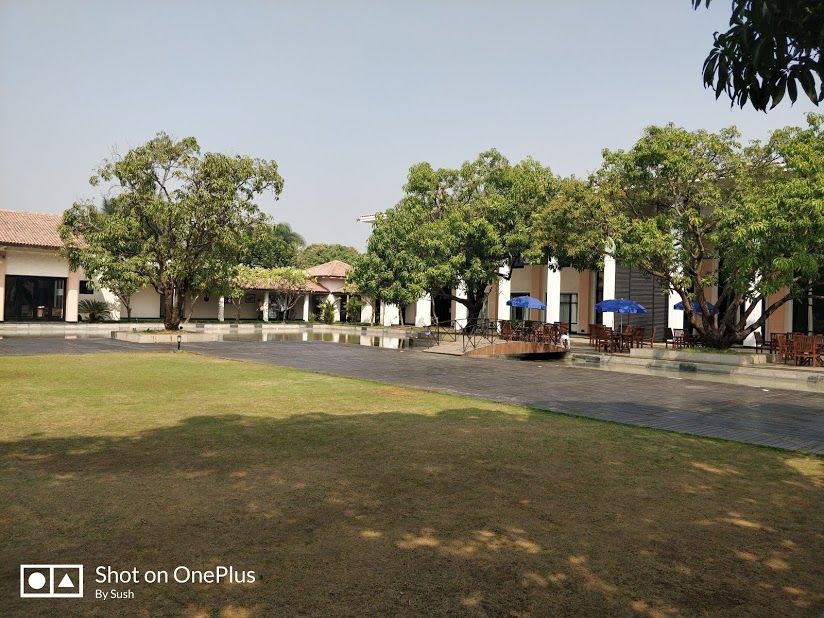 We could see a huge swimming pool, 2 restaurants, 1 lounge bar, 1 small antique shop, seating/relaxing area. While we were walking around, we got a call from reception saying that room is ready. After finishing all the formalities at the reception which was quite smooth, we headed to our booked Executive Suite which was on the 2nd floor of the hotel. I couldn't stop myself from taking a video of the room before we unpack our bags.
Its a lavish room with a living room with sofa set and 2 balconies on both the sides, a bedroom with one large double bed, attached bathroom with a big bath tub, mini bar, Safety Deposit Box, Telephone, Air conditioning, Desk, Flat screen TV with Satellite Channels in bedroom & living room too, Electric kettle, Wardrobe/Closets, so many side tables and a balcony with pool view attached to bedroom. I couldn't ask for anything more to spend a relaxing weekend there. Take a glimpse of this room.
Soon after enjoying the luxury of the room, it was time to have lunch. So we went to Aparenta restaurant, one of the 3 restaurants of the resort. That offered us Ala-Carte food and we quickly ordered some North Indian main course directly. Food was extremely tasty, well prepared, Staff were very polite and gave us all that we had ordered. Ambiance of the restaurant is quiet and beautiful.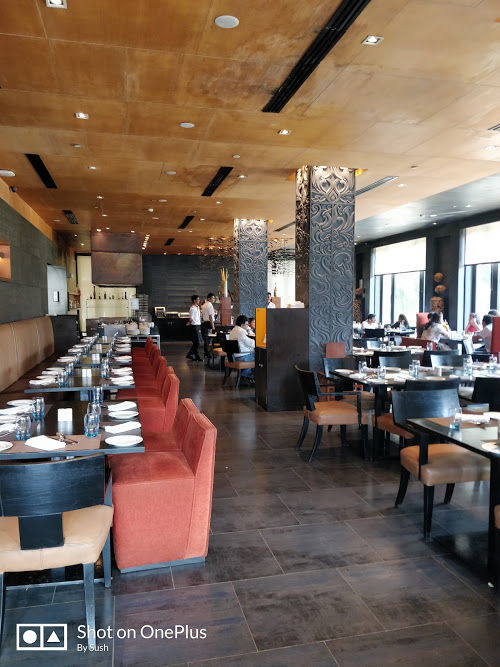 Varsoli beach is nearby to this resort and it is one of the famous Konkan beaches of Maharashtra. We planned to visit the beach for sunset. There is also rickshaw service to beach from resort if booked 15mins prior. We didn't take as we were getting late for sunset. Hence we drove by our car, roads were very narrow and somehow through GPS we reached beach parking. There were lot of crowd. We just missed the sunset by few minutes and we could only get a glimpse of orange skies.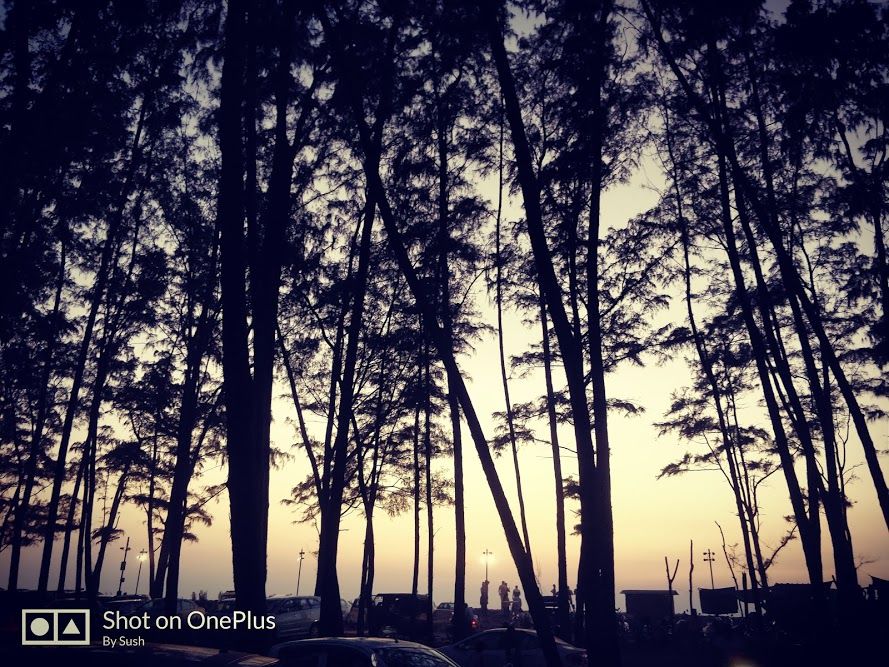 We spent some time on beach & drove back to resort. By then resort was lit by dim lights and it was such a soothing sight to behold.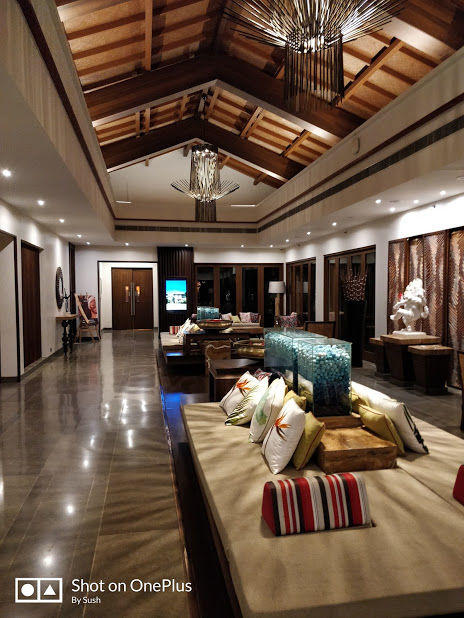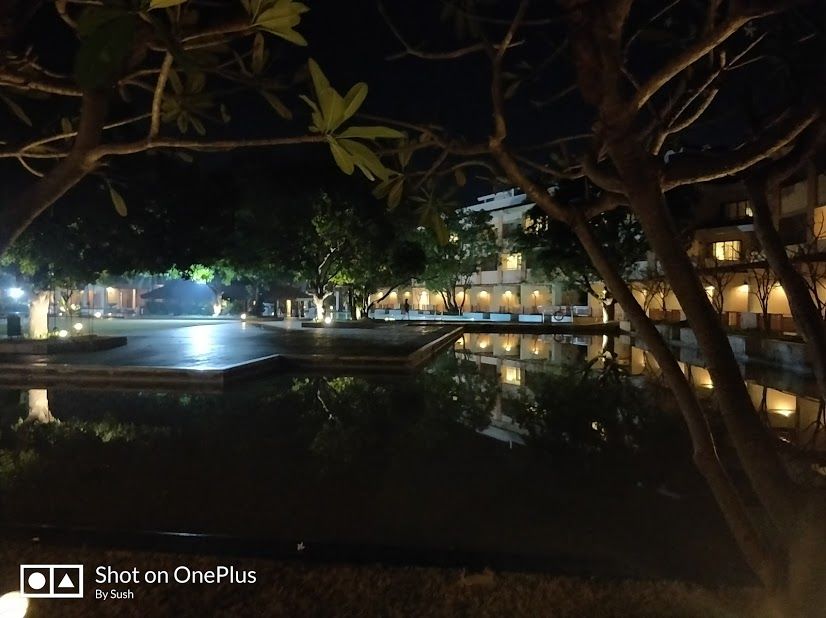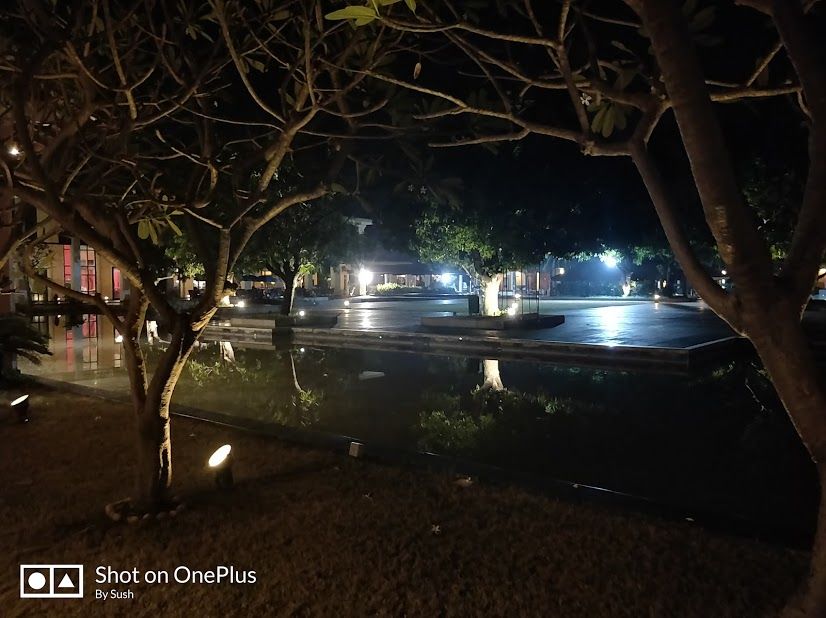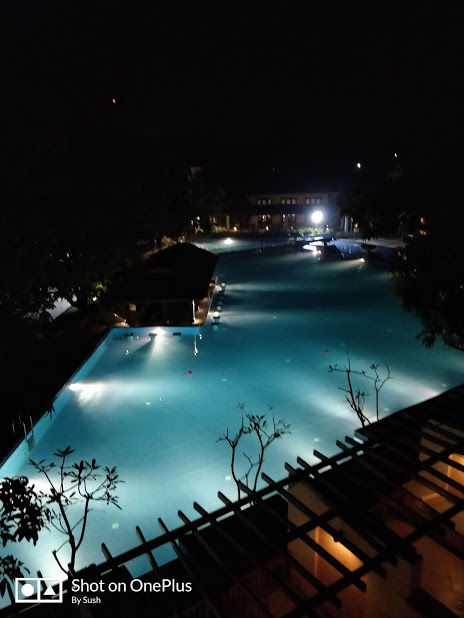 As we were bit tired, we ordered dinner using In-Room dining service. It arrived quickly, served hot, tasty and that made our day. It was a serene hotel experience, with all the amenities and services that include free Wi-Fi, a full-service spa, a well-equipped fitness center and a library. There is also a Piano Lounge that run in evenings with live music. Other 2 restaurants in resort were Kokum & Spice and Verandah which serves sea food & buffet meal respectively. We didn't get a chance to visit those 2 restaurants during our short stay. There is also a a dedicated kids section, a golf lawn, an outdoor games zone, a discotheque and a karaoke cafe, corporate banquets, state-of-the art gym and a meditation cave. Apart from all these, this resort also has a beautiful spa with variety of relaxing therapies and many more.
The next day buffet breakfast was available in Aparenta restaurant which was complimentary with the room booking. Needless to say, variety for breakfast was too good, wide spread, you will be spoilt for choices. We loved it. Once we came out of the restaurant, there were bicycles kept for guests. We both took 2 cycles and did cycling for sometime which gave us such a refreshing feeling. Later, we checked out at 12pm on Sunday morning and it was a quick process too.
Radisson Blu Resort & Spa, Alibaug is placed amidst acres of lushness with proximity to pristine beaches and waterfalls – making it an ideal weekend getaway. For those interested in the region's rich history, Kankeshwar Temple and Kolaba Fort, both located less than 13 kilometers away, offer a chance to walk through India's storied past.
Overall experience was great, stress-free retreat with green landscapes and gorgeous gardens around. We loved spending our leisurely time with each other with one thought in mind - this is what the real holiday means, luxury, eco-friendly and authentic !! Most importantly, best thing was 'us-time' is worth it here.