In the northern corner of Karnataka, in the Uttara Kannada district, sits the cozy settlement of Dandeli. This forested town is known for thrilling adventure sports in the heart of nature. A perfect mix of adventure and relaxation, the natural environment of Dandeli attracts national and international visitors equally, who indulge in the spectacular beauty of Karnataka's lush countryside and experience its wild side at the same time.
If you are someone who loves nature in all its form, then Dandeli is an ideal destination for you. The natural trails, river rapids, and dense forests make for a wide variety of adventure sports and outdoor activities like white water rafting, canoeing, camping, trail walking, boating, wildlife spotting, bird-watching, fishing, cycling and mountain biking.
How to reach
Dandeli is located about 132 Km from Goa (Panjim) and about 462 Km from Bengaluru. So, if you are in or around these regions, you can easily book a Hubli taxi. Alternatively, there are trains to the nearby railway stations of Londa, Dharwar, Hubli, and Alnavar. Since there are no train services all the way till Dandeli, you need to take a local bus from any of these stations or a direct bus from any major destination to Dandeli.
Dandeli Adventures
River Rafting
Dandeli is popular for being the home of rafting in Karnataka. The rugged terrain and the swift-flowing streams and rivers work as an ideal setting for river rafting and canoeing. The rafting trail extends for 12Kms across the Virnoli rapids and into the Kali River. The Grade 2 rapids are great for amateur and novice rafters while the Grade 3 rapids need a professional rafter who can easily maneuver the bumps and dips, and the winding water passages.
To experience the real thrill of rafting, join any of the local rafting groups where your journey is managed and conducted by an expert trainer. You might want to pay attention to all instructions while you are rafting, so you can safely enjoy the plunge down the gushing Kali River. Mind-numbing and heart pumping, but exciting nevertheless, the river rafting experience in Dandeli is something you would not have experienced before.
The entire activity usually starts early in the morning and lasts for about four hours. If you are on your own and without a trainer, it is advisable to wrap up your river activities before sundown, since the adjoining forests are frequented by wild animals. On the other hand, if you simply want to have a quiet rowing time, by yourself or with your travel companions, then canoeing on the river and the surrounding streams is a better option.
Other activities
When you have natural setting all around, there's an endless list of activities to do with your travel buddies and co-explorers. Find a tree house or jungle resort in the thickets of the Dandeli forests and spend a few days in the wild. Or go camping on the river banks (with proper precautions) and dine on the fresh catch from your first fishing experience. For bikers, the rugged terrains are great trails for mountain biking.
Wildlife of Dandeli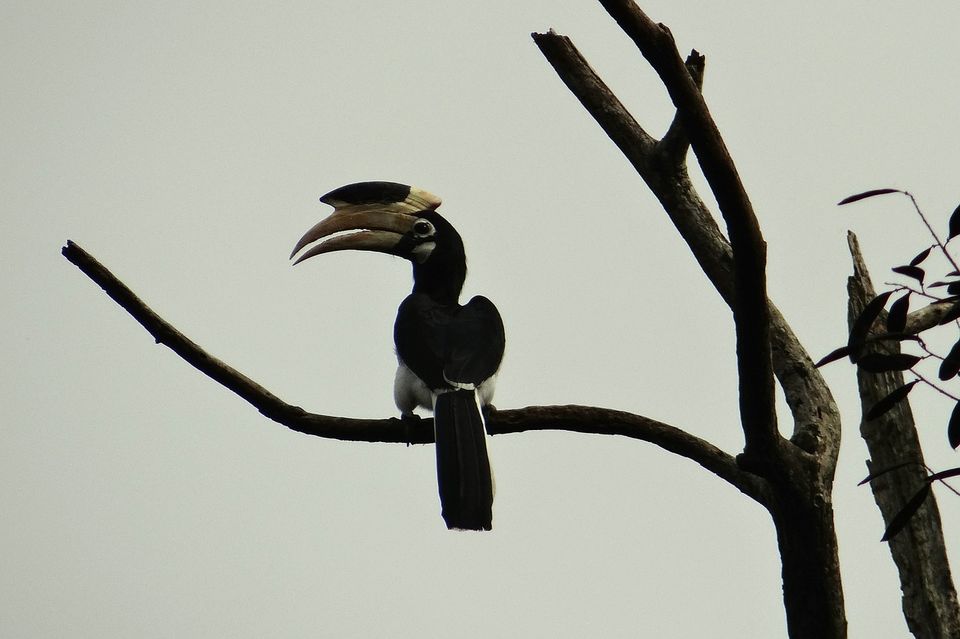 Dandeli is a boon for the nature lover. If you are a wildlife enthusiast and love to explore the forests, then definitely visit the Dandeli Wildlife Sanctuary. Spread across 866.41 sq. km. of dense foliage of deciduous trees, teak and bamboo plantations, the reserve is home to numerous plants and animals. Enjoy an occasional glimpse of the Black Panther, Sambar deer, bison, Malabar giant squirrels, iguana, gaur, pangolin, antelopes, bears and more wild species.
Dandeli Wildlife Sanctuary is the second largest in Karnataka and a designated tiger reserve since 2007. If you are lucky, you might catch a glimpse of this wild beast. For the avian lovers, the reserve forest houses exotic winged members like the Malabar pied hornbills, the great Indian hornbill, the orange-headed thrush and similar others.
You can book Bangalore to Dandeli cabs for an adventure filled vacation. Don't forget to sign up for a jungle safari with a local group, and explore the wilderness of Dandeli for an unforgettable experience and adventure of a lifetime!