Want to enjoy the mesmerizing and thrilling delight of the majestic state Rajasthan then you must require to go through a heritage trip in this state. Rajasthan heritage tour is one kind of trip which will take you to the infinite excitement and dreams of the different facets of Rajasthan heritage site and it consist of several natural of wildlife sanctuaries, beautiful deserts, gigantically splendid forts palaces, vast variety of flora and fauna which makes this state one of the most pleasurable tourist destination in India.
The beautiful historic state Rajasthan is a natural mean of ecstasy which offers ultimate delight to the visitors. A magnificent and historic past of Rajasthan will provide you splendidly lovely experience to the huge golden past of the state with lavish, rich and regal life of Rajasthan locales. As we know Rajasthan is one of the classy and royal travel destination in India which always feels proud for its rich cultural heritage. This rich cultural heritage impressively reflects in its fortified forts, opulent palaces, museum, wonderful monuments, Lavish havelis of former Raja Maharajas, unique and colorful fairs and festivals and its awesome creative handicrafts. The diversity naturally comes to the state Rajasthan where desert to lakes, hill stations and gardens are found. So plan a Rajasthan heritage tour and enjoy the beauty and royalty of this state.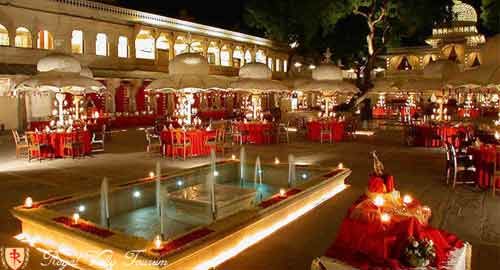 Rajasthan heritage tour will offer you some of the amazing attractions of this princely state where tourist will get mesmerized by visiting the amazing cities like Udaipur, Jaipur, Jaisalmer, Chittorgarh and Bikaner. These major cities of Rajasthan will definitely include within every kind of heritage tour. A trip towards these fascinating destinations will take you towards the era of Raja Maharajas. These major cities incorporate some of the famous royal structures which always defines the glorious history of Rajput's. Some of the famous tour attractions are Amber Fort, City Palace, Golden Fort, Mehrangarh Fort, Jaigarh Fort, Umaid Bhawan, Hawa Mahal, Kumbhalgarh Fort, Chittorgarh Fort, Jaisalmer Havelis and Jantar Mantar etc.
For having royal and kingly experience plan your stay in the famous heritage hotels of Rajasthan which are the central attraction of this state. These heritage hotels are the royal abodes of former Raja Maharajas which attracts huge number of tourists from all over the globe. Staying in the extra lavish apartments, enjoy traditional music performances and dance programs, taste regional delicious cuisines etc. will make your holiday more memorable. You will definitely love the experience you will get during your trip. The interior decorations of these heritage hotels are royal and traditional the ceiling and walls are adorned and painted with mirror work, paintings and period furniture's. The luxurious trains are also another fabulous attractions of Rajasthan heritage trip.