After slogging for weeks in the office , I thought that I should gift my self a long weekend trip to somewhere near Delhi . I began shortlisting the places and the first place that came to my mind was RAJASTHAN - THE LAND OF RAJPUTS . I was always fascinated by the bravery and the grandeur of the Rajputs and the way they had carved their name in the pages of history through their valour .
There was a long weekend coinciding with Diwali Holidays , so decided to go on Rajasthan Road trip . Did I mention that it was a solo trip on Activa ?
I rented an Activa from WHEELSTREET (bike renting platfform) well in advance for 5 days and and cost me 2300/- INR excluding fuel . The Activa was in good condition and it fared pretty well through out my journey .
To my bad luck , I received Activa 1 day late due to some issues with Wheelstreet and as a compliment they gave me 1 day extension .
And the trip begins ::
DAY 1
I was already behind my schedule as planned as I had recieved the scooty 1 day late . I left from Gurgaon at 2 pm in the afternoon and reached Neemrana Fort after 2.5 hours drive which included a half n hour pitstop for a quick snack . By the time I reached the fort was already closed for tourists (at that time I had no idea about the timings). The timing for the tourists are 9 AM to 3 PM . I reached there at 4.30 pm .
A bit dejected , I planned to continue my trip furthur to jaipur which is around 170 kms from Neemrana Fort .
I drove for around 3 hours without any pit stop and reached Jaipur at around 8 PM. There are plenty of good & budget hotels in Jaipur for a night stay to look out for . I had already booked one online for 693/- per night . I checked in for the night and got some rest because the next day The Pink City was as awaiting to be explored.
Day 2-3
I had already made a list of the places that I wanted to explore . The first and the nearest was Hawa Mahal . As the name suggests , it was indeed hawadaar owning to 953 windows or jharokhas(that's what a window is called in a native language) present on its walls . It took me around an hour to explore the whole palace . Since it was Diwali, the whole city of Jaipur was flooded with tourists both Indians & Foreigners . Hawa Mahal is located in the main local market of Jaipur , hence most of the time the traffic moves at snail's pace . If you wish to expplore the local market it would be better to park your vehicle and then proceed .
This palace looks like a bee-hive and is build in the shape of a crown.
Next stop on my list was Jantar Mantar . Jantar Mantar hosts plethora of astronomical devices which were used to measure the astronomical positions of planets , sun , moon , predict the one's sun-sign and to name only a few. Almost all these devices are work perfectly even today and provide the information for what they have been built for .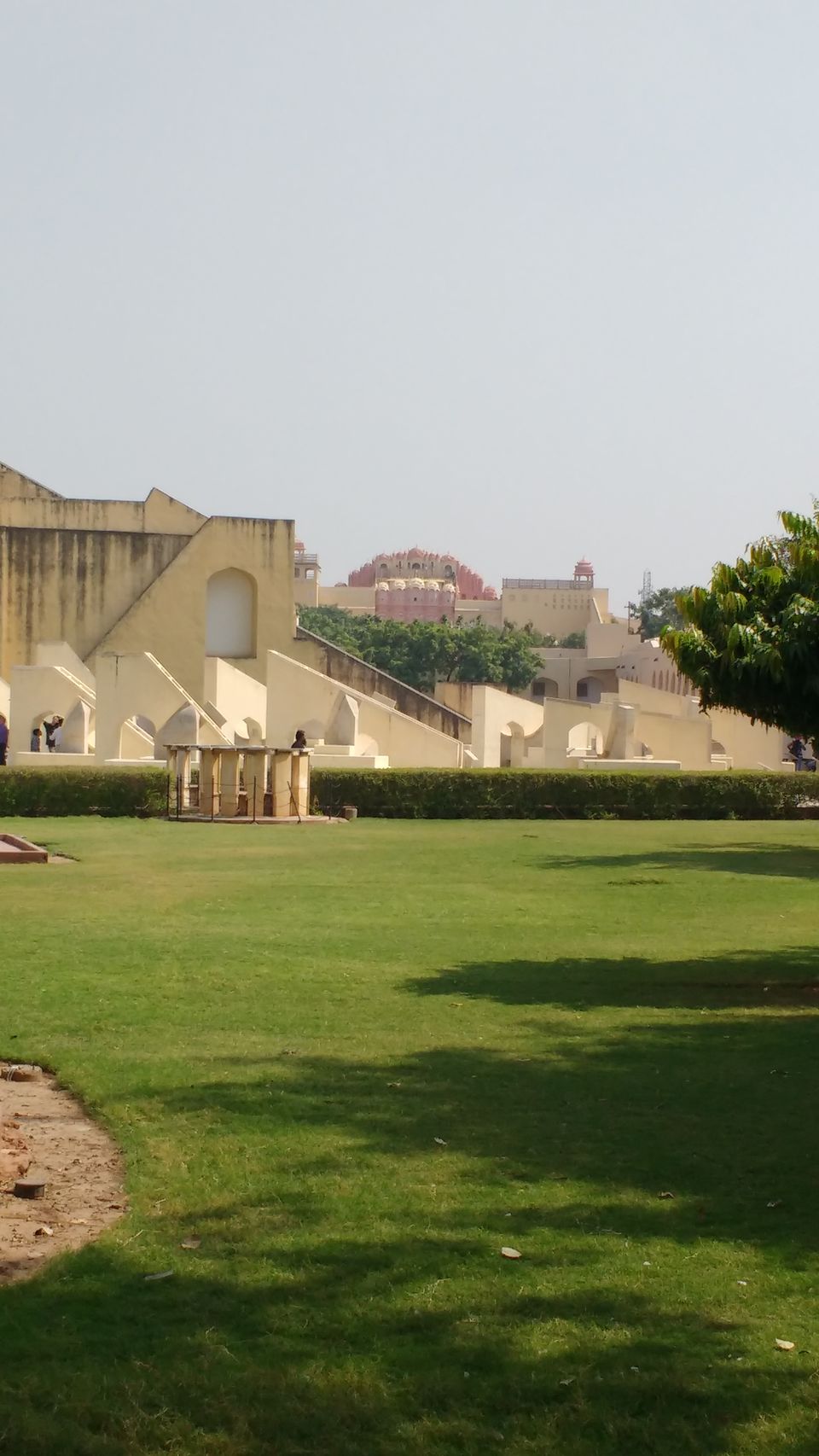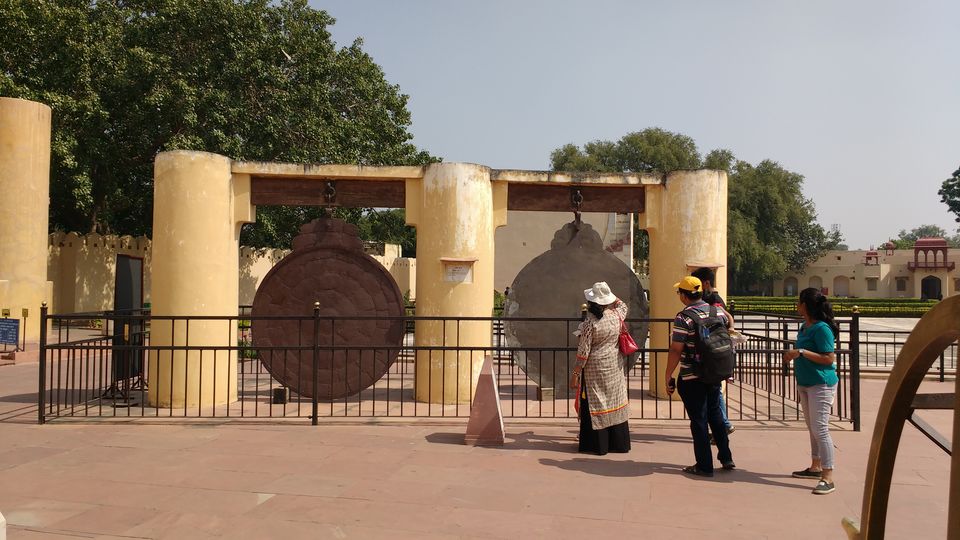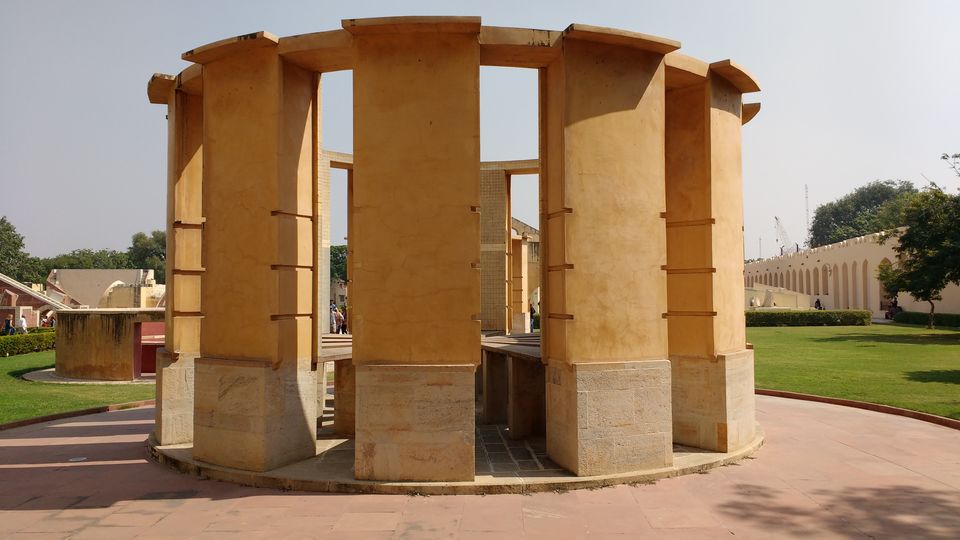 There are three places that can be visited at one go Hawa Mahal , Jantar Mantar , City Palace .All the 3 places are 5 min walk from each other .
Since CITY PALACE was nearby , I thought of giving it a visit too .This is a private property where the entry fees is slightly higher than other monuments . Most of the palace has restricted entry (being a private property) , all those open to public have been beautifully maintained .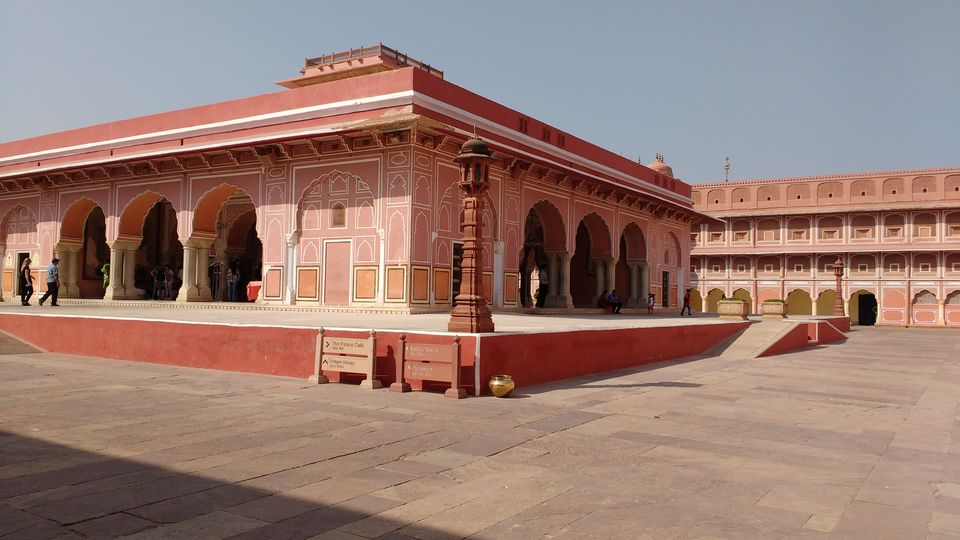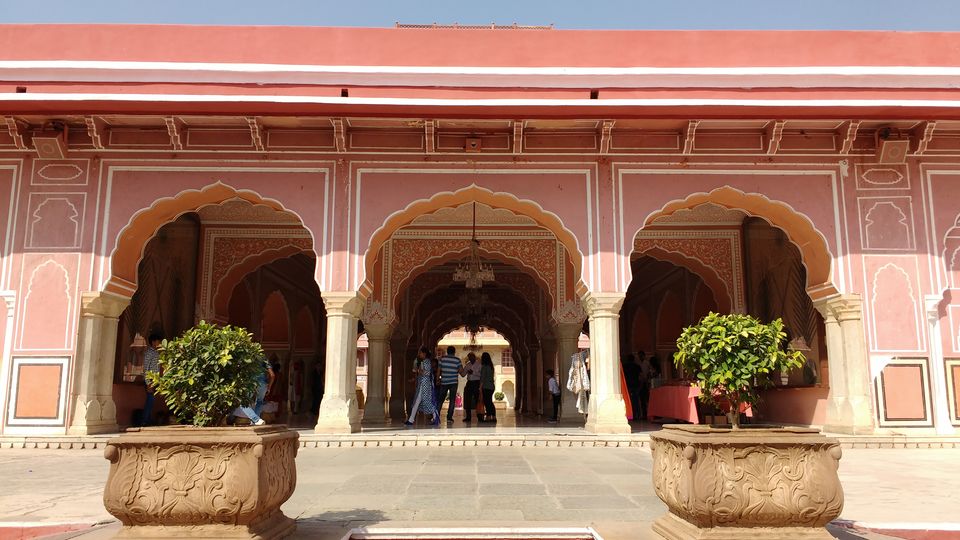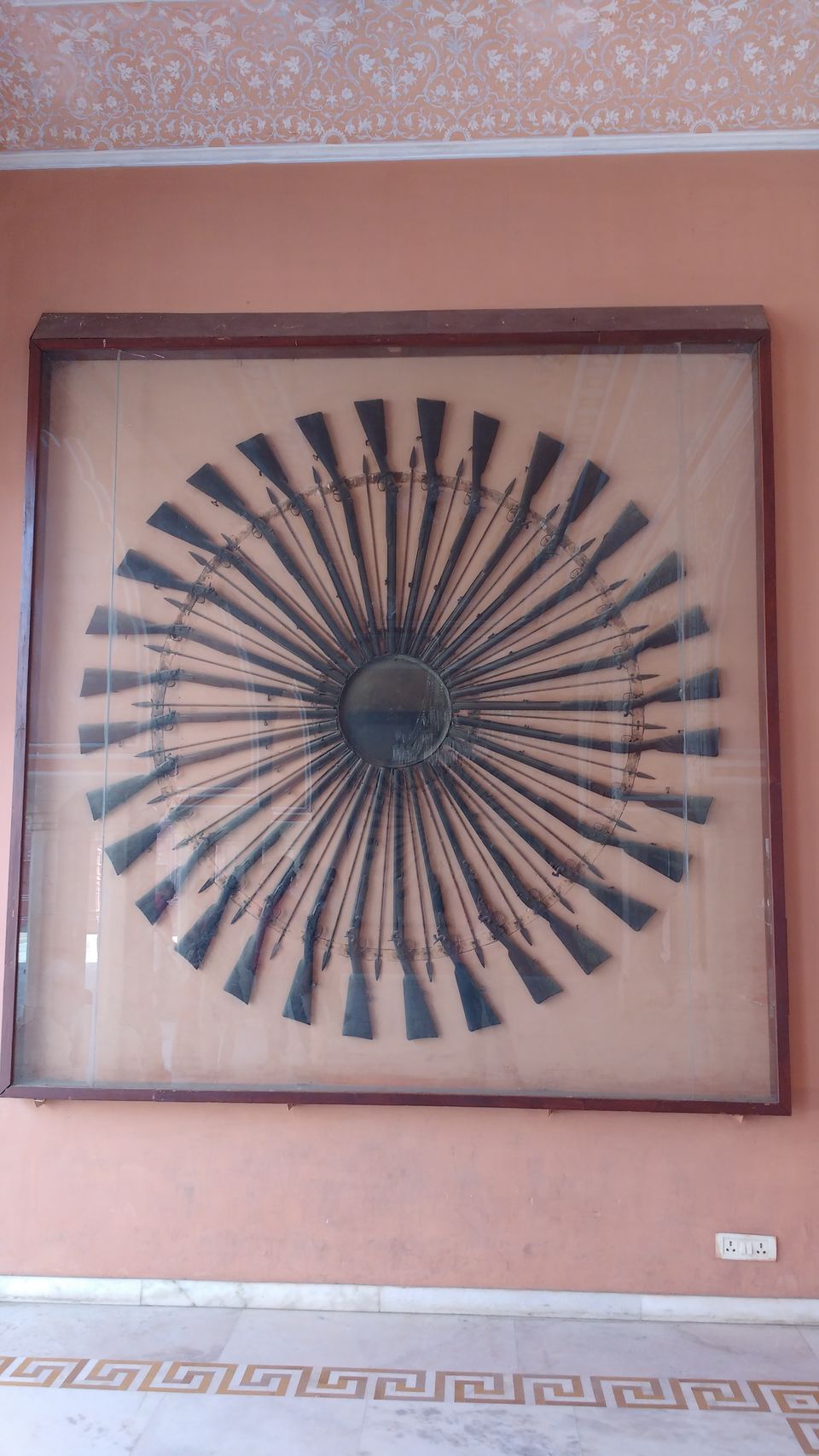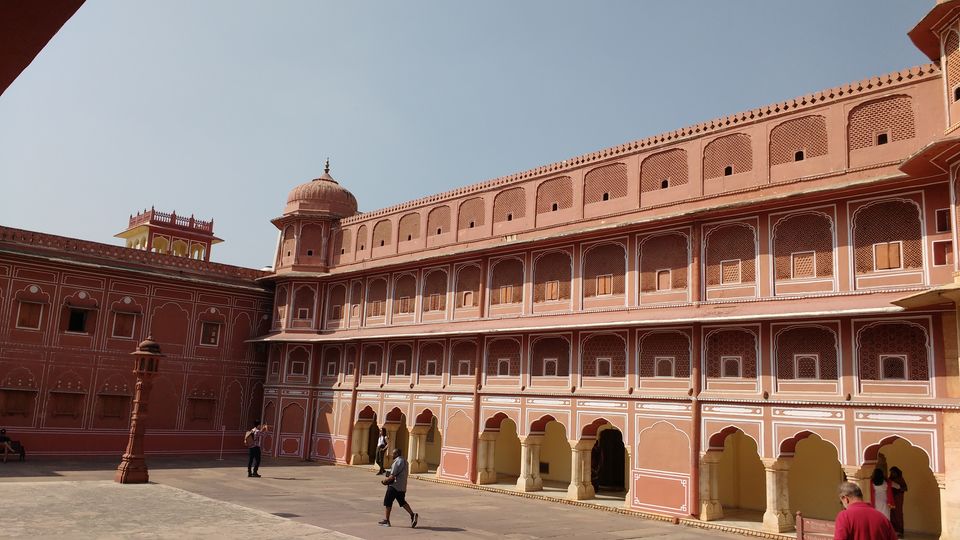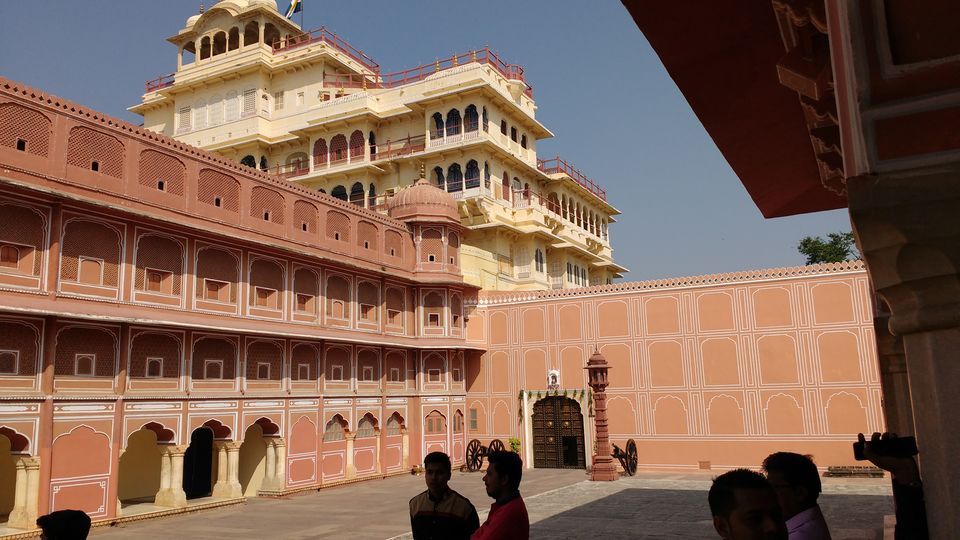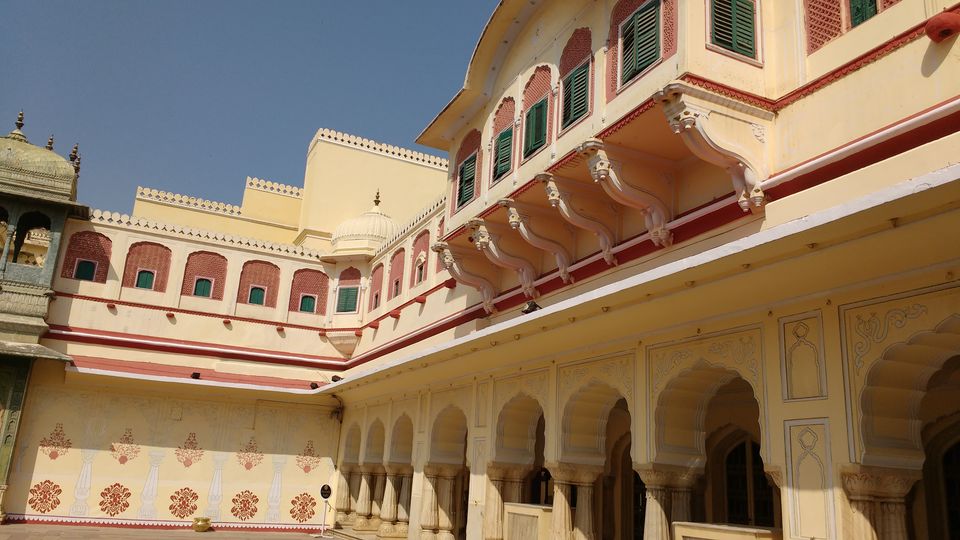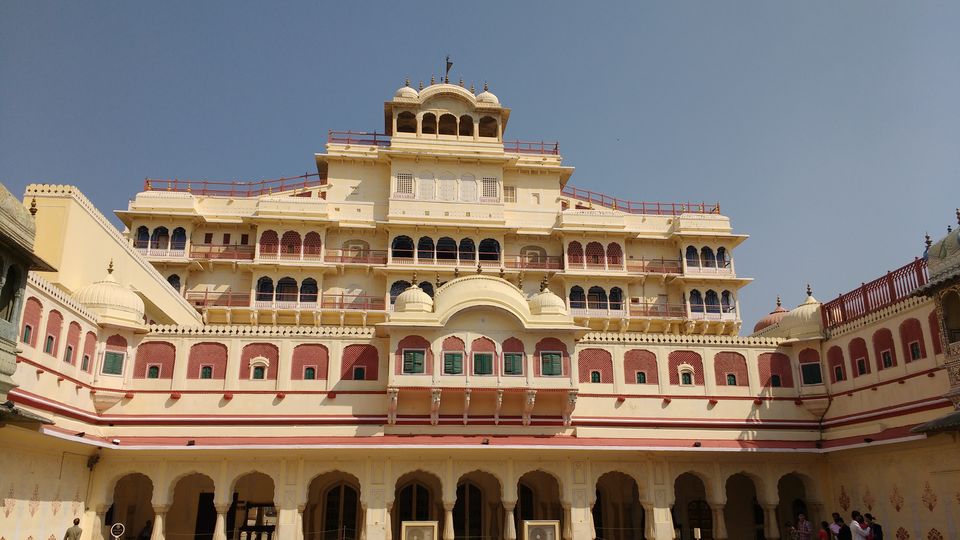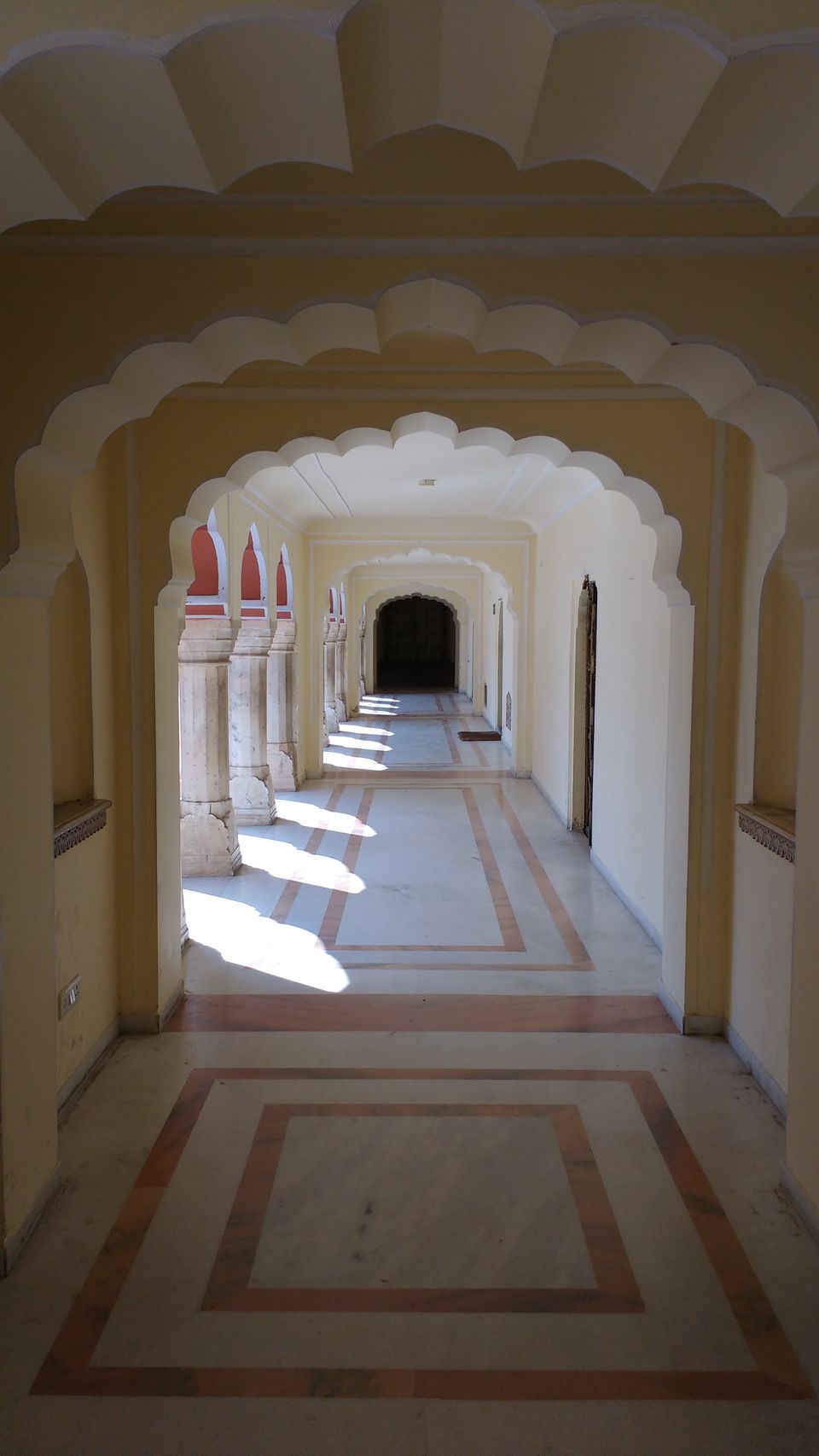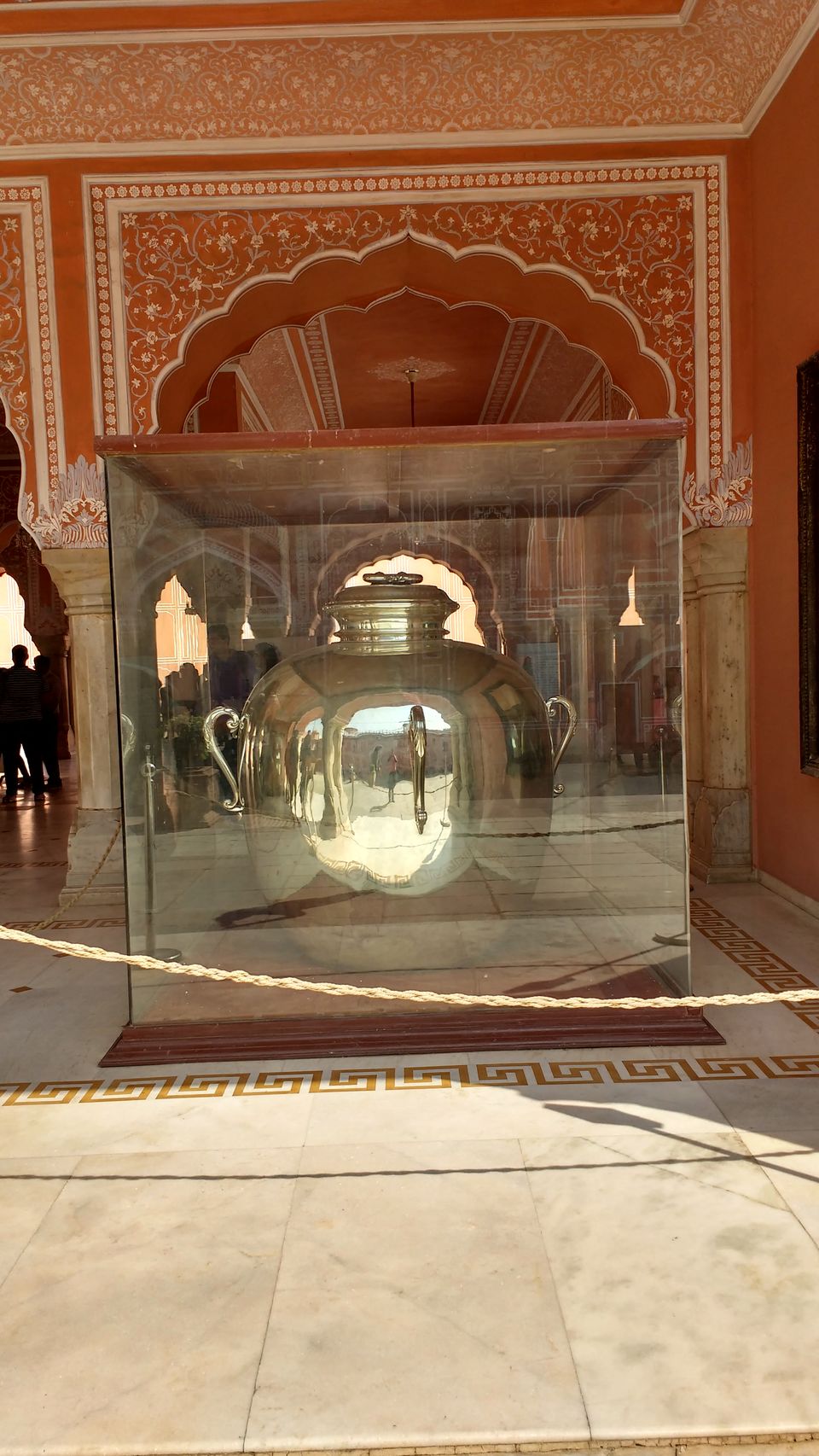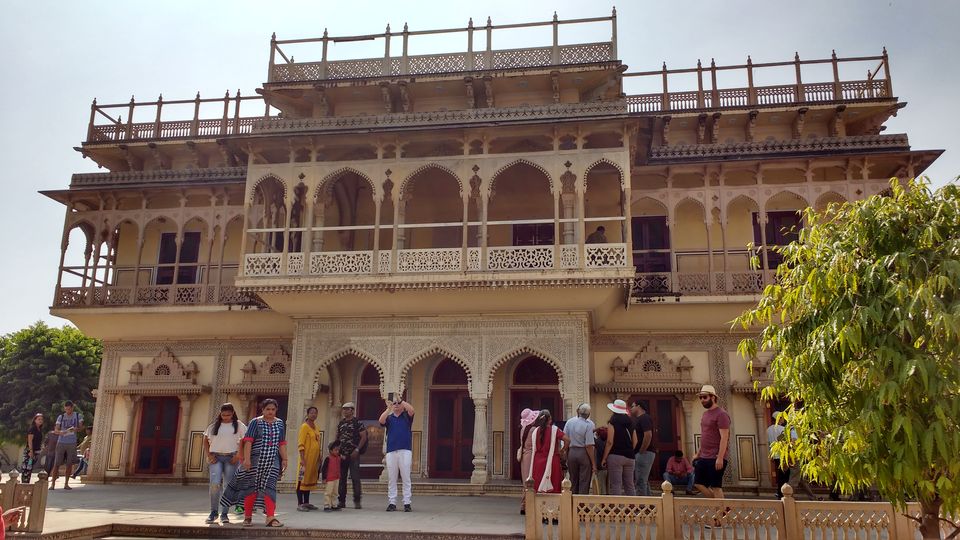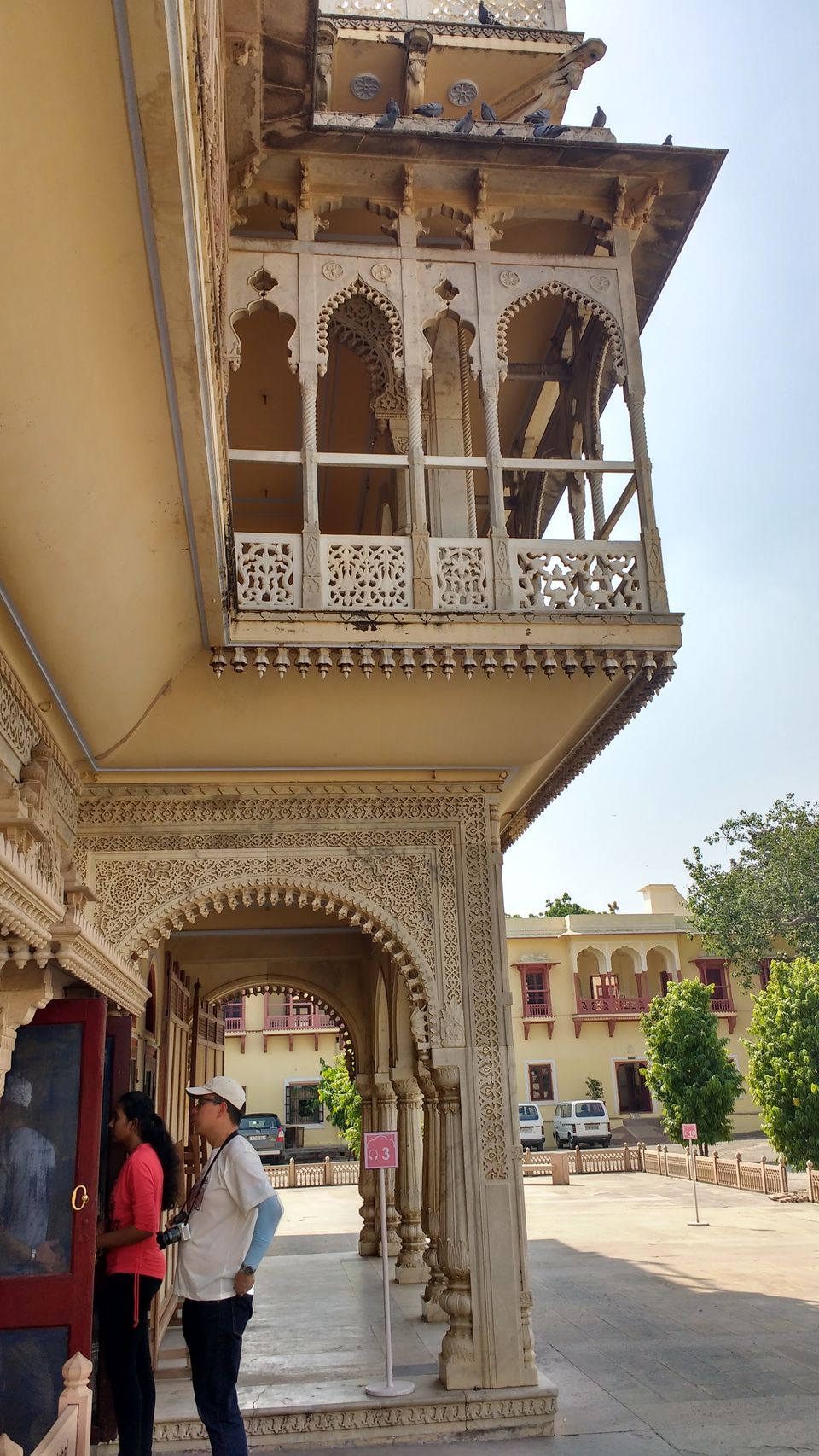 After having visited the CITY PALACE , I headed towards the Nahargarh Fort , one of the key attractions of Jaipur . On the way , I came across another palace(which was on my check-list but didn't expect to pop-up so soon).Populary know as Jal Mahal , this palace is situated at the center on a lake . Even though it was 2 o'clock in the afternoon, the cool and the serene breeze from the lake uplifted my mood .
From there I headed towards Nahargarh fort . Situated on a hill top , it took me around 15-20 mins to reach there . With spiralling roads and sharp corners , one should be are careful while driving in these roads . All the way to the top , every point on the road offers a magnificient view of the Pink City .
After 15-20 mins drive from the Jal Mahal , I reached Nahargarh Fort . This fort appeared to be appeared to be still standing majestic and tall even after so many years. For the film lovers fyi , this is the fort where RANG DE BASANTI was shot .
Since there was still time and energy left in me , I headed to towards the Jaigarh Fort . Known for housing the largest cannon in the world , Jaigarh overlooks the Amber Palace . Jaivan , world's largest cannon is kept here . It is said that it had a range of 22 miles .Jaigarh Fort was built as a battlement fort and it is here that various types of cannons were made .
After visiting Jaigarh , neither I had any time nor energy left to explore any more places , so I retired to my Hotel Room .
After a hotshower bath and an hour nap , I was rejuvinated . Since it was Diwali Night ,I decided to explore the city . I had heard some one saying that Diwali in Jaipur is very beautiful and that day the city lived upto my expectations.
It has been said a lot about the Rajasthani Thali and especially the Daal-Baati churma . So I went to a place called Chowki Dhani Village , which serves delicious Rajathani Thali & along with that you get a glimpse of Rajasthani Folk dance and culture (all included in the meal) . Believe me , it was delicious but a bit expensive .The lowest price per person is 700/- .
After having a hearty dinner I retired to my hotel room .Next morning , I checked out from the hotel . I still had three more places on my checklist in jaipur.
Next destination was the legendary Amber Fort , the hometown for princess JodhaBai . Situated between two hills , and overloooked by Jaigarh Fort , this palace served as the centre of power for many kings .This palace is so big that it will take 5-7 minutes just to reach its main entrance and atleast 45 minutes - 1 hour to explore the whole palace . If you are with a group of friend , do make sure to go to Jaigarh Fort via underground tunnel which connects Amber Palace & Jaigarh Fort .This tunnel is still functional today .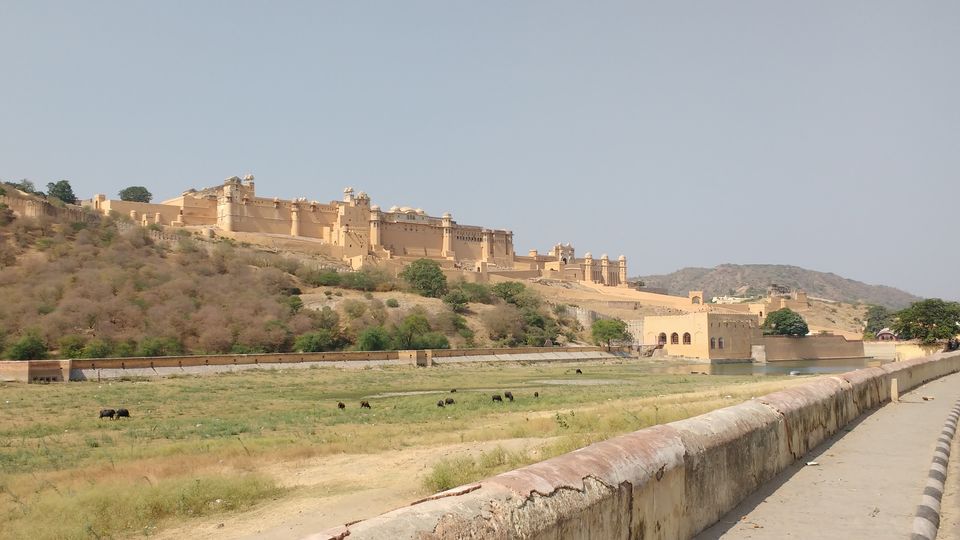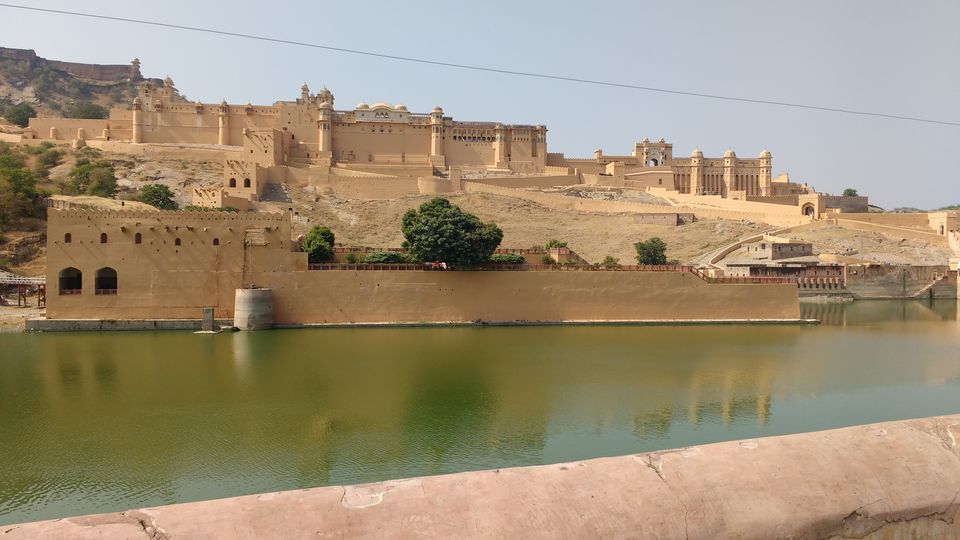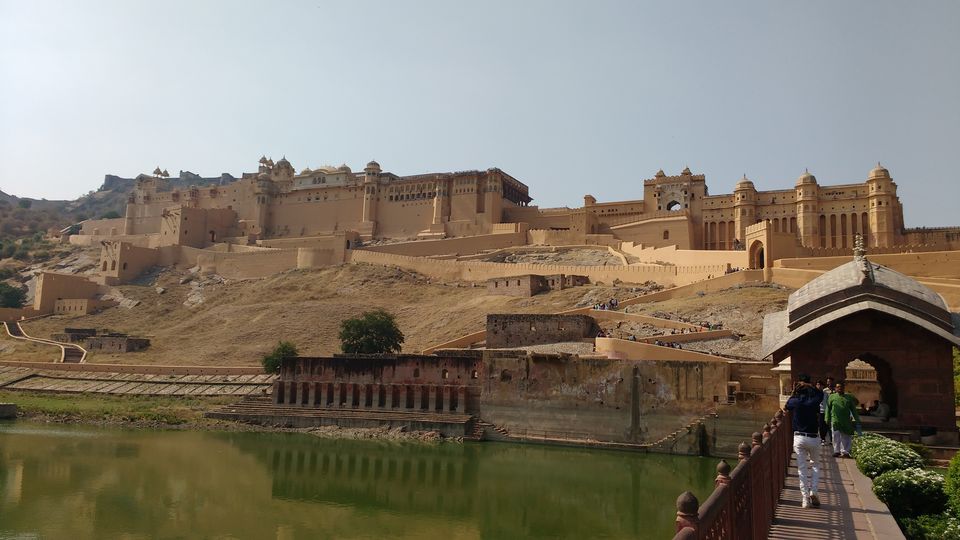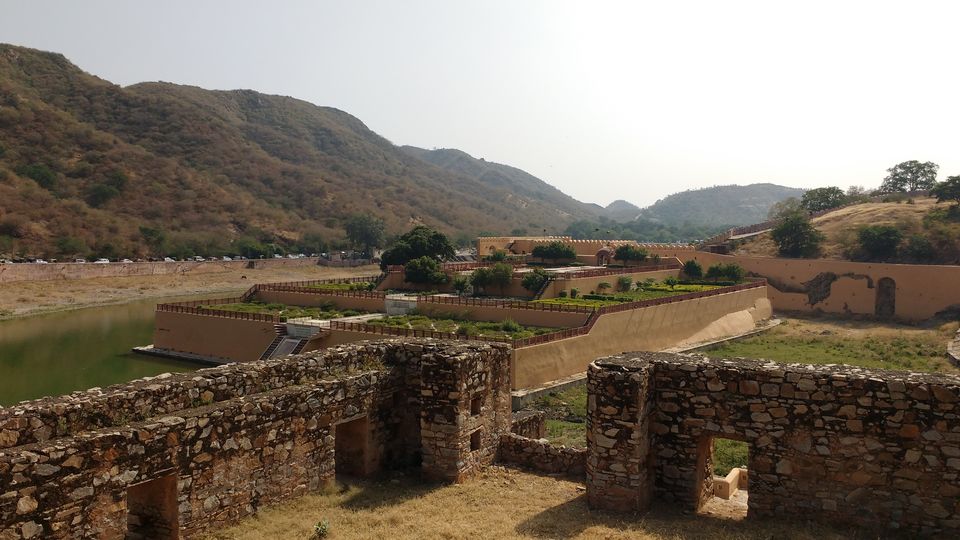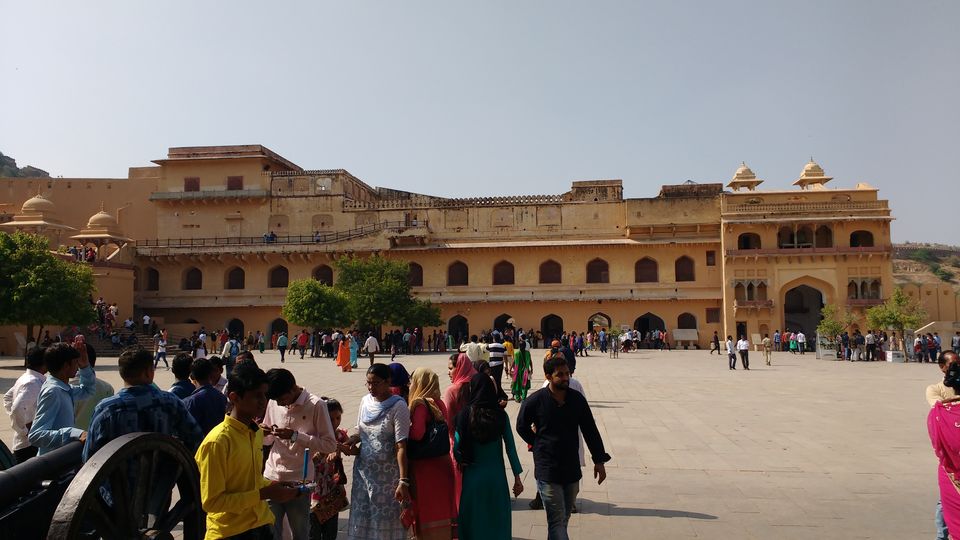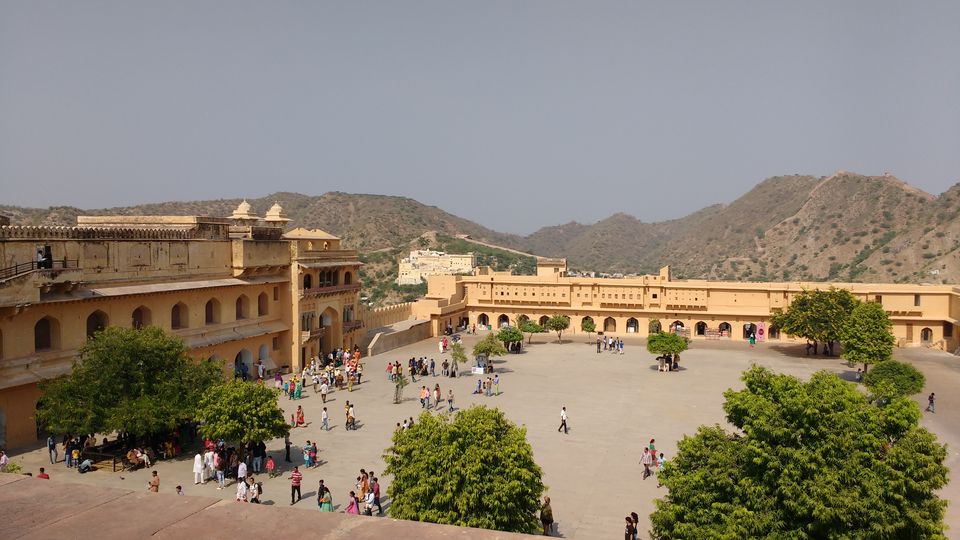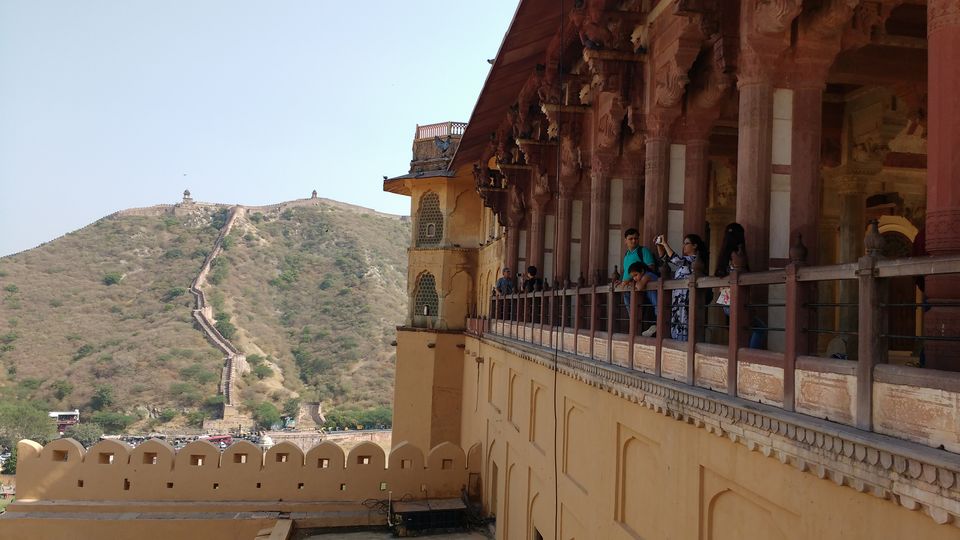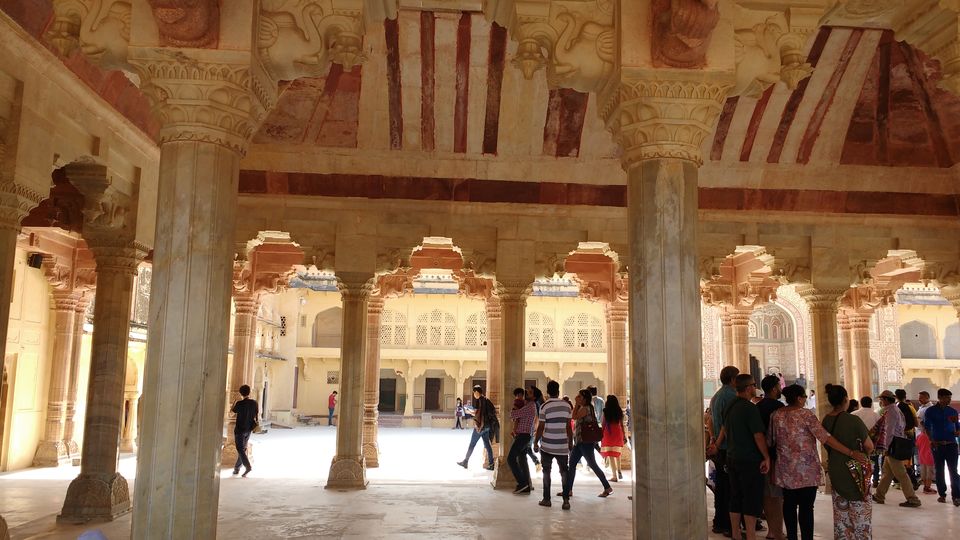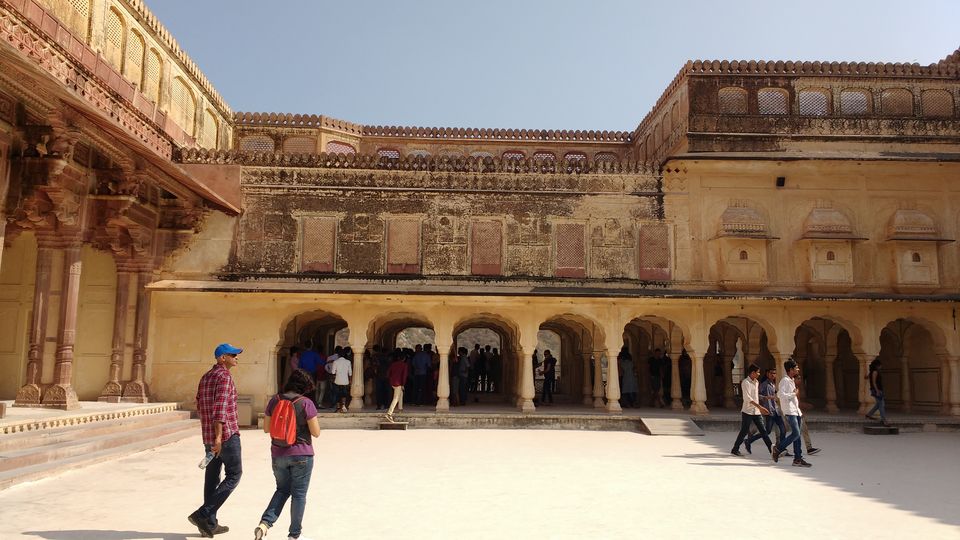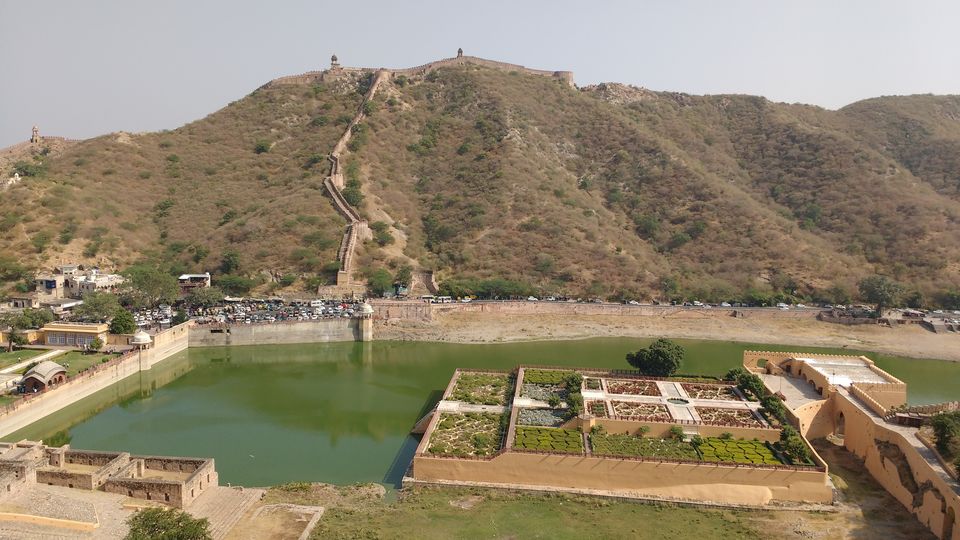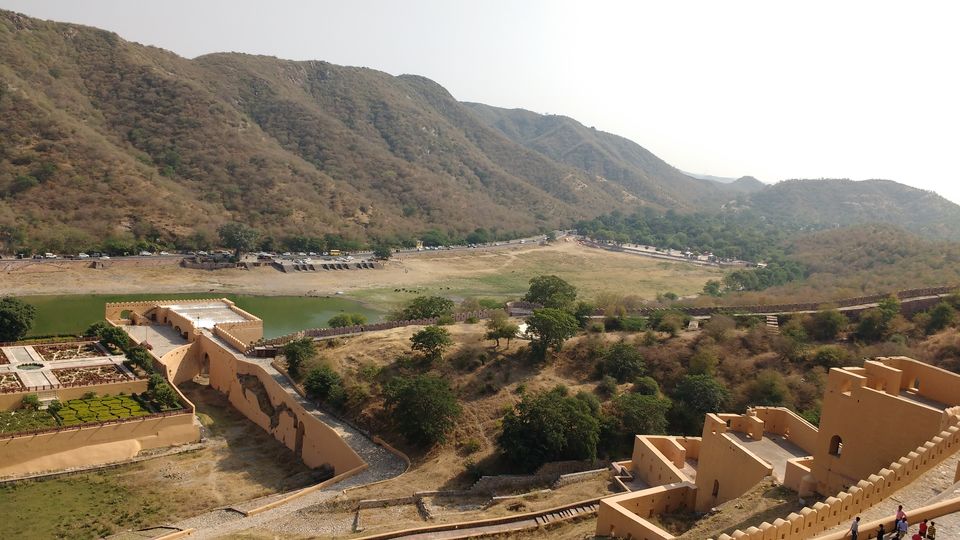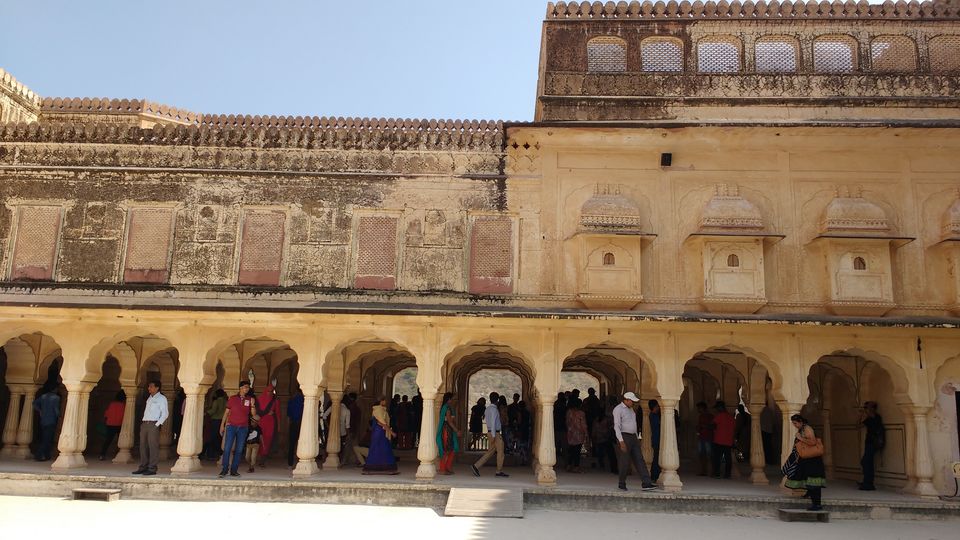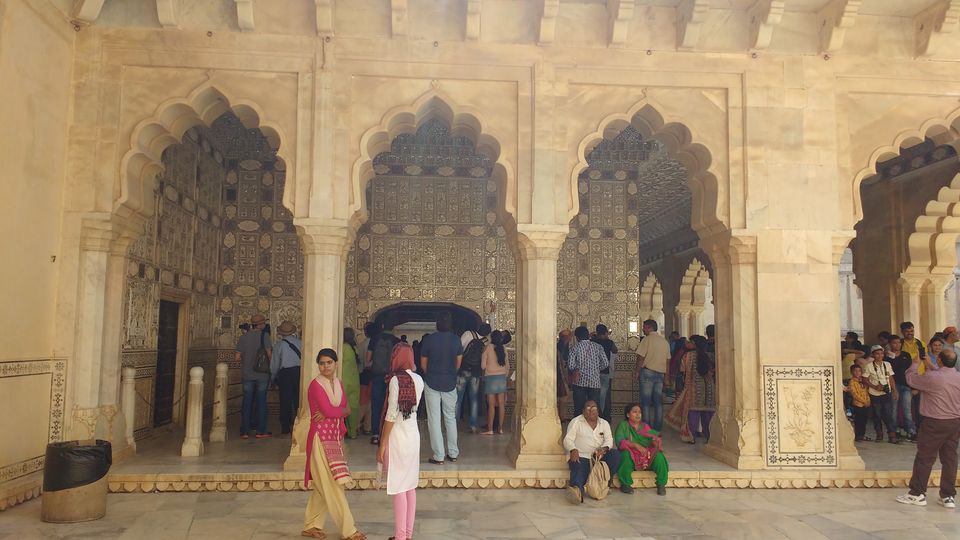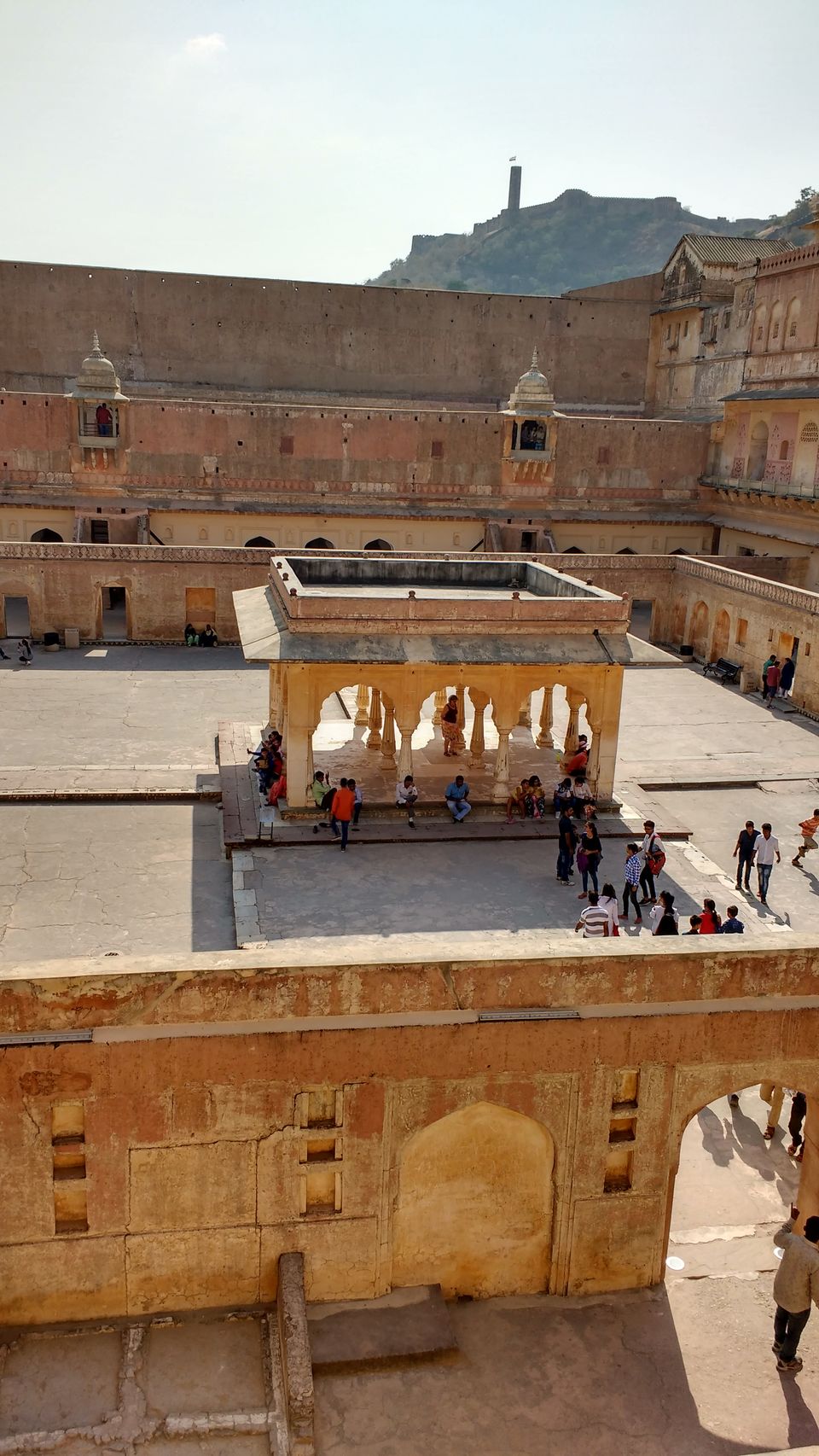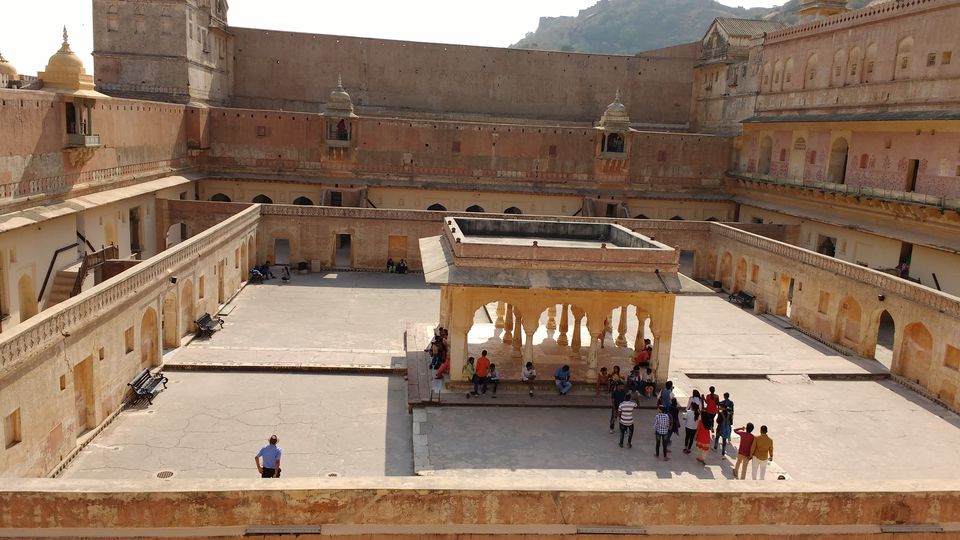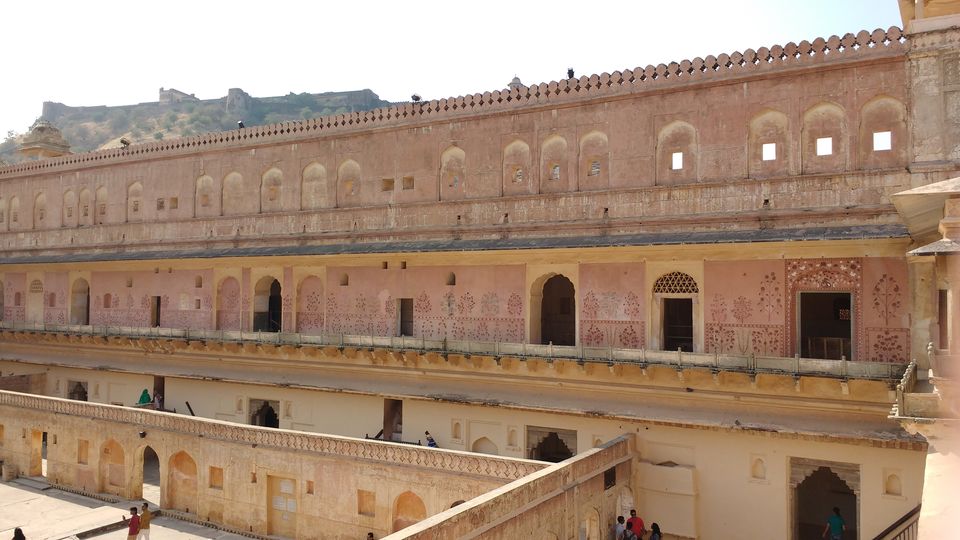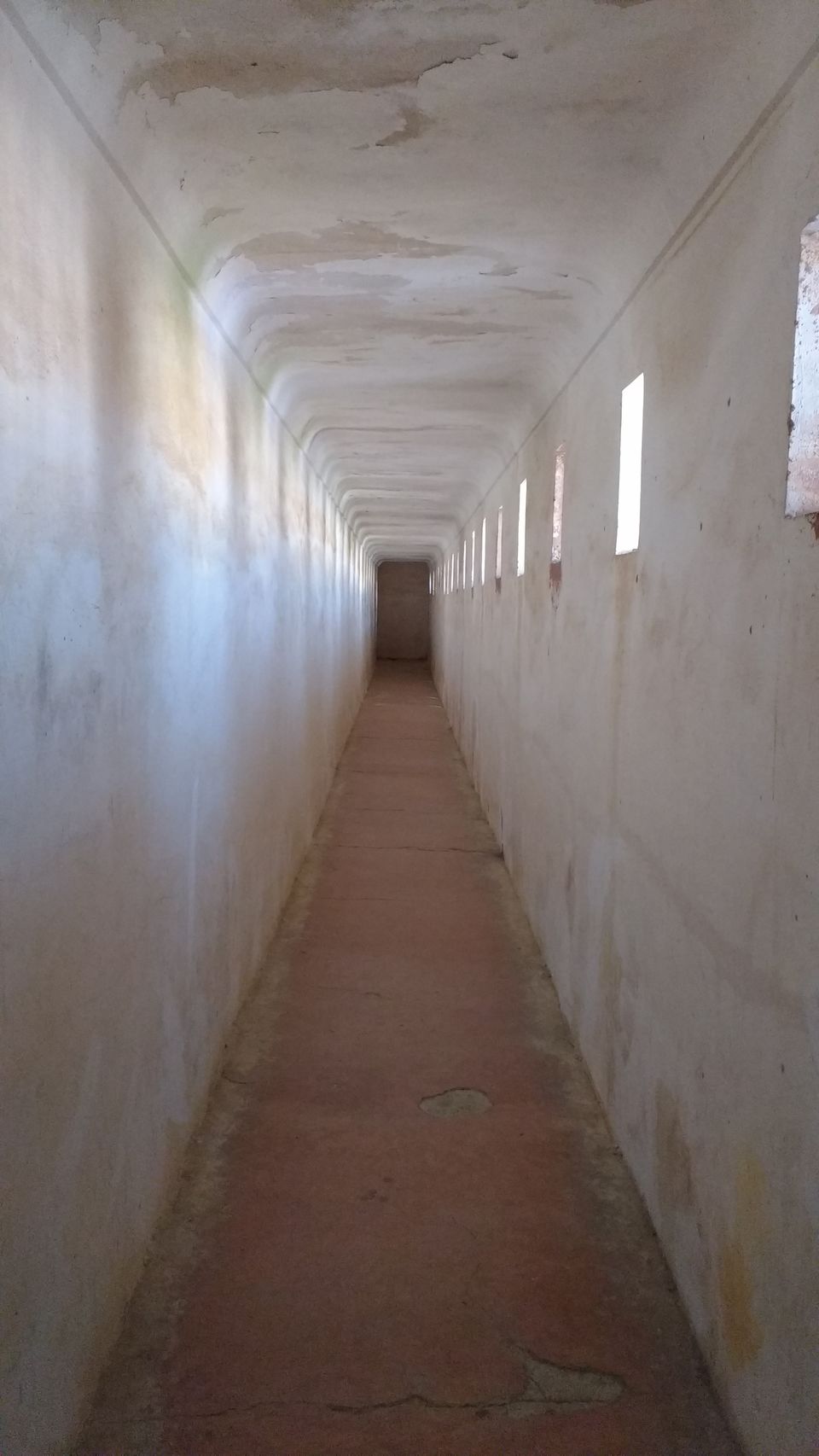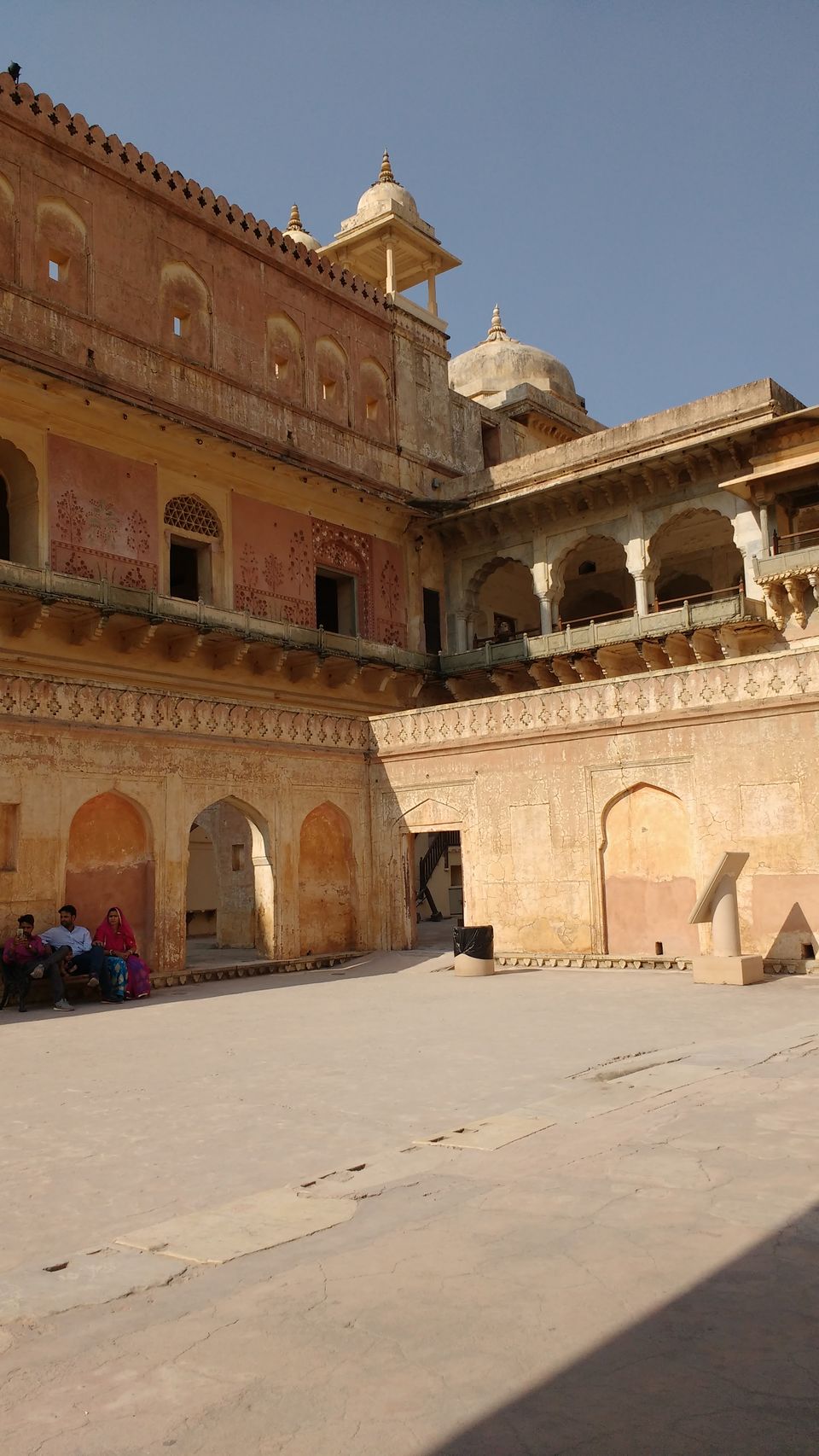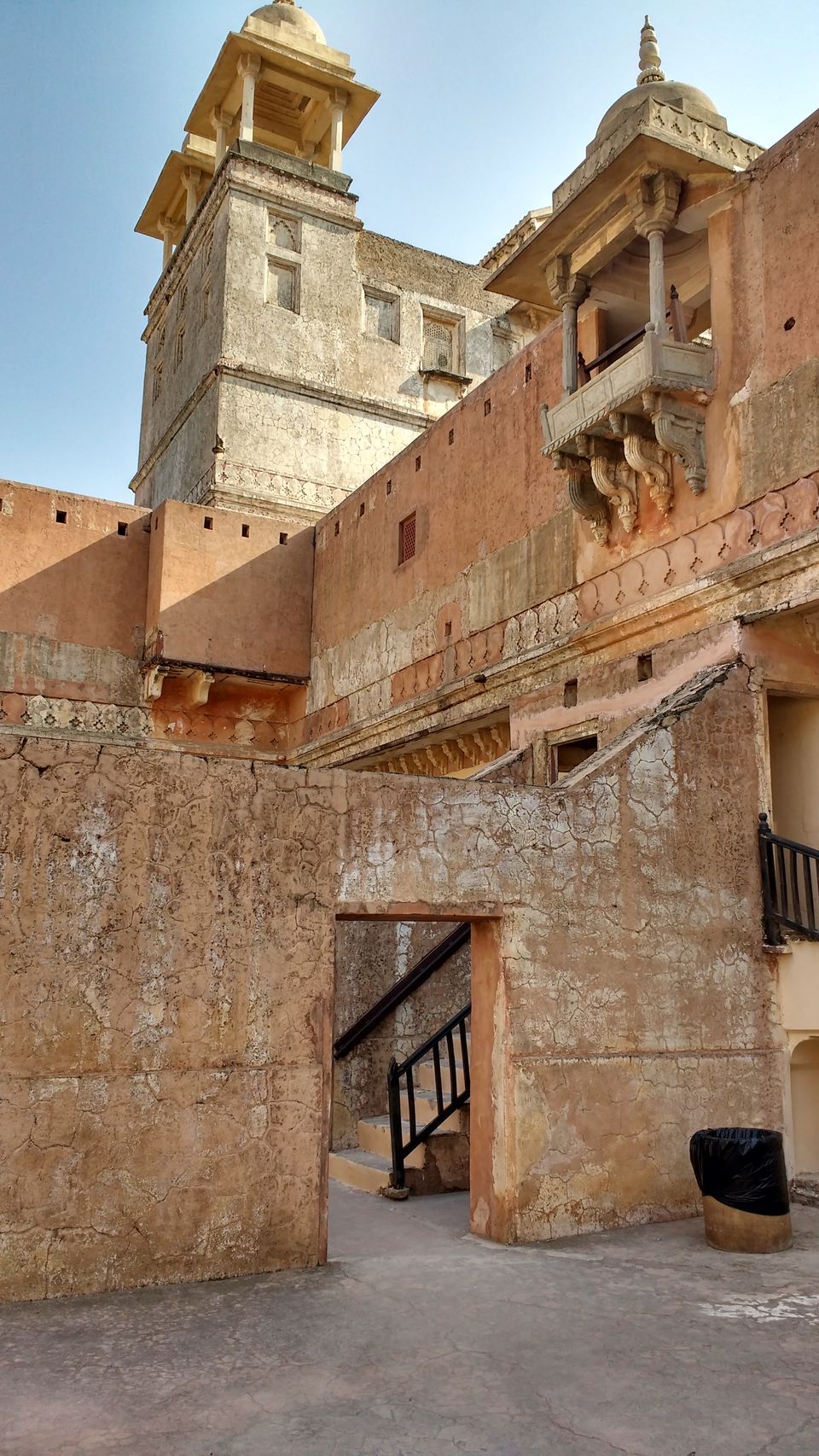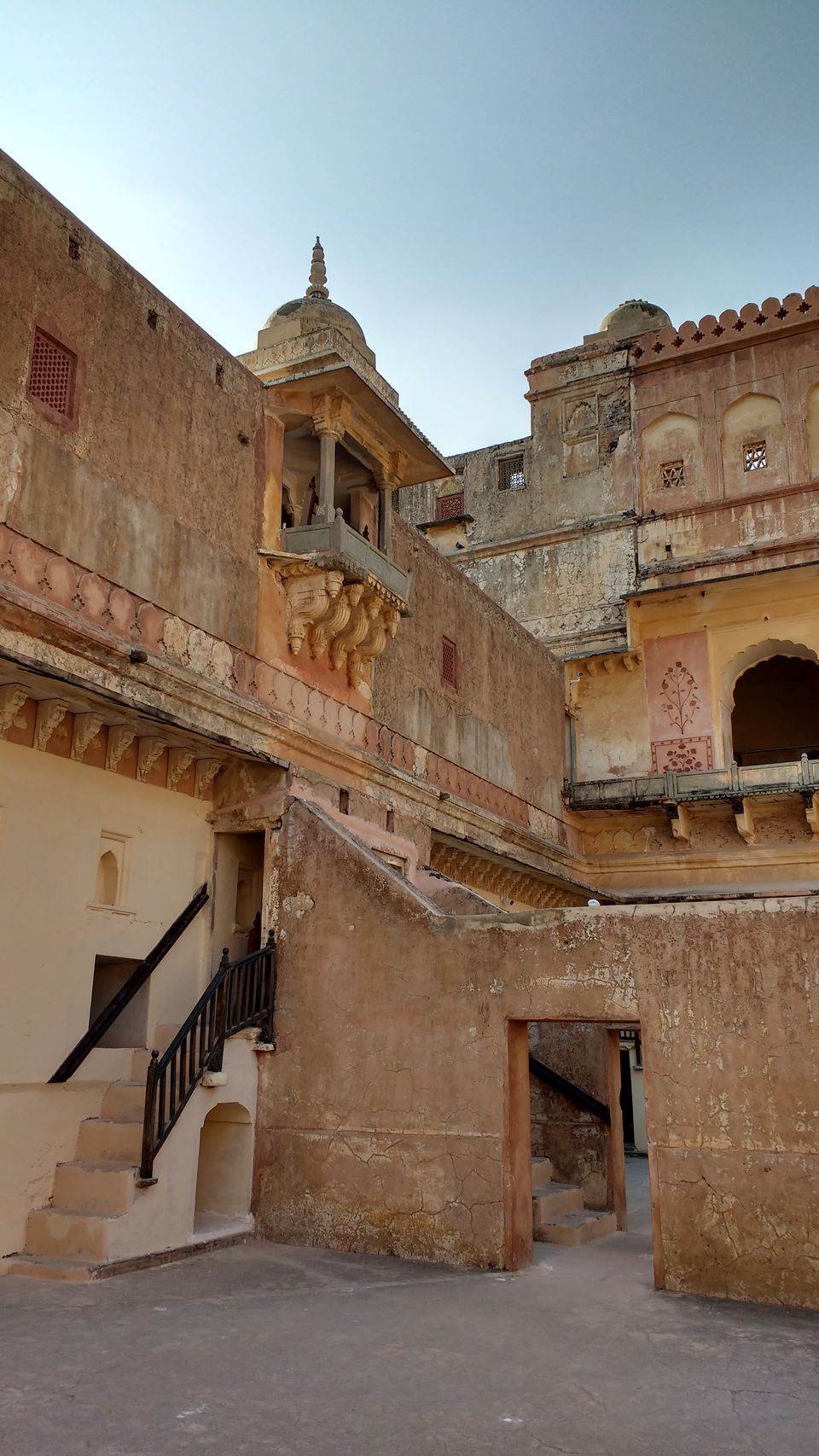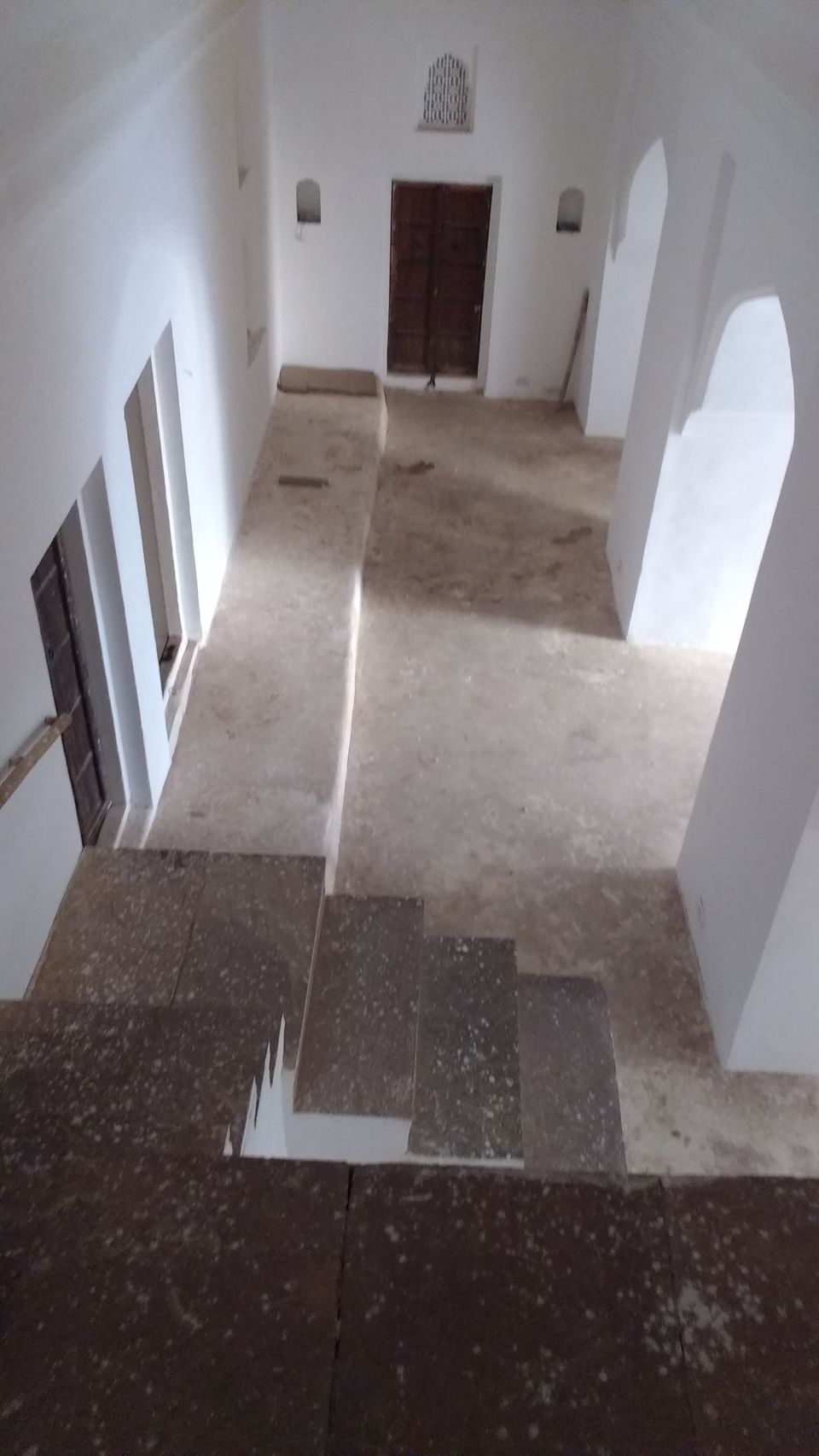 Two more places on my checklist were Sisodia Rani ka Bagh which is basically a beautiful garden and another is Panna Meena ka kund , step well used for storing water . Panna Meena Ka Kund is near Amber fort.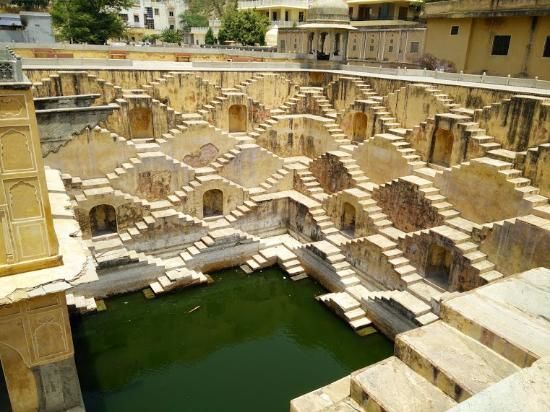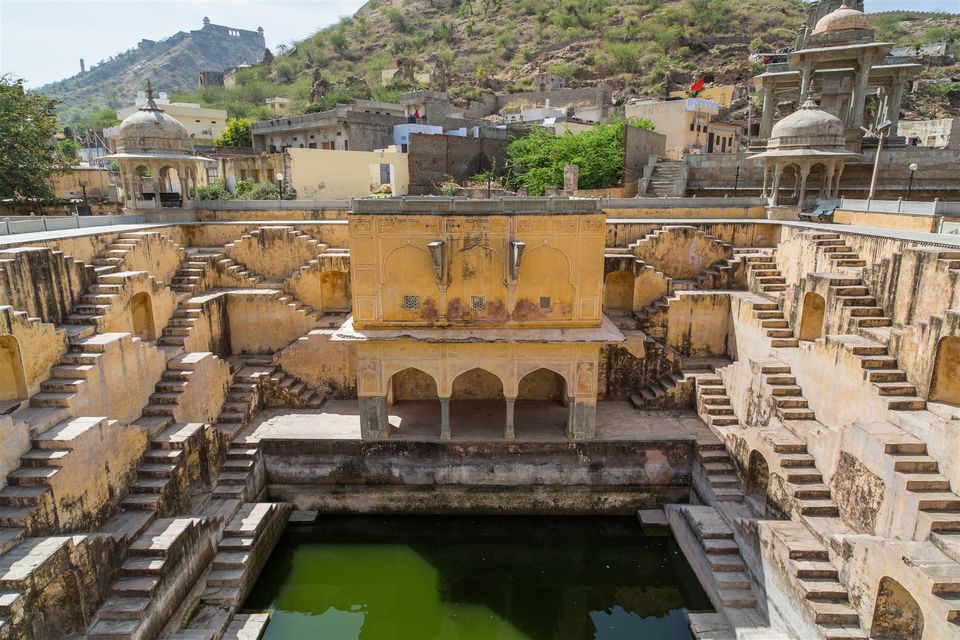 After having covered all the famous places in Jaipur , my next stop was Ajmer & Puskar.
It took me two n half hours to reach Ajmer . I reached Ajmer at around 7.30 pm and checked in a hotel which I had prebooked . As I was dead tired , I have had my dinner and retired for the day .
DAY-4
Next Morning , I check out from the hotel ,and headed towards Ajmer Sharif Dargah . The biggest mistake I did was to take my scooty there . I was caught in the crowd which was far more dense than a Mumbai local train . Somehow I navigated through the crowd and parked my scooty there . Unfortunately I could not take any pictures . It was hell of a crowd & there was not even a place to stand there . So if you go there , brace yourself and good luck !!
Beside Ajmer Sharif Dargah , there is Adhai Din ka Jhopra built by Qutubbudin Aibek .
Apart form these in Ajmer , i also visited Anasagar Lake .
From here I headed towards Pushkar , it was good 11 km drive .The weather was good and roads smooth .Anyone who likesto drive will definately love these spiralling roads . The view of the city from the hill-top was breathtaking . Total calm and serene.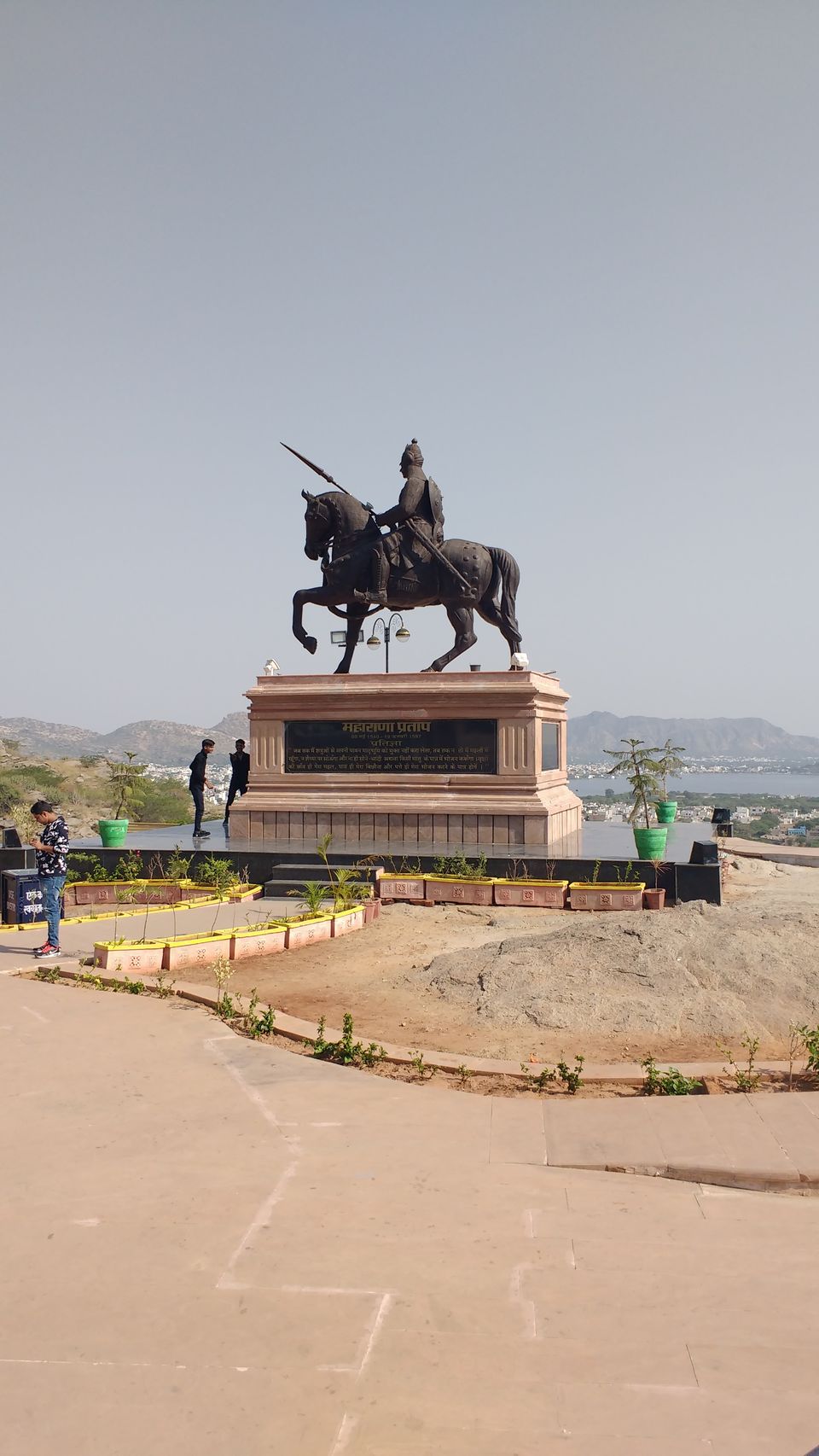 On reaching Pushkar , I parked the scooty 1 km way from Brahma Temple . For that 1 km , I came across various shops which were selling Rajasthani attires , colorful dresses & hand-made artifacts .Seeing those colorful dresses , one can never deny that Rajasthan is not a colourful state
Nearby is the Pushkar lake and Gau Ghat (ghat for cows)
Ph0tography is prohibited inside the BRAHMA Temple.
From Pushkar to Jaipur , it took me another 2.5 hours where I had a pit-stop for the night at a hotel in JAIPUR .
day 4
Next morning , I headed towards the Bhangarh fort after checking out which is around 90 kms from Jaipur . This fort is said to be cursed and is infamous for its paranormal activities . I stayed there for almost 1 hour .
It was time to wrap up the tour and headback to Gurgaon . It took me almost 3 hours to reach back to my place .
4 days-1000 kms-solo trip . it was totally a new experience .
If you like road trips , then the roads of Rajasthan are definitely for you . All the roads are well connected and well maintained . There was hardly any place or road where I could'nt find dhabhas or hotels serving delicious meals at a very reasonable price . Believe me , these roadside dhabhas served some of the delicious meals I ever had .
So if you get a chance to visit Rajasthan , do take a road trip .It will definetly boost your experience .