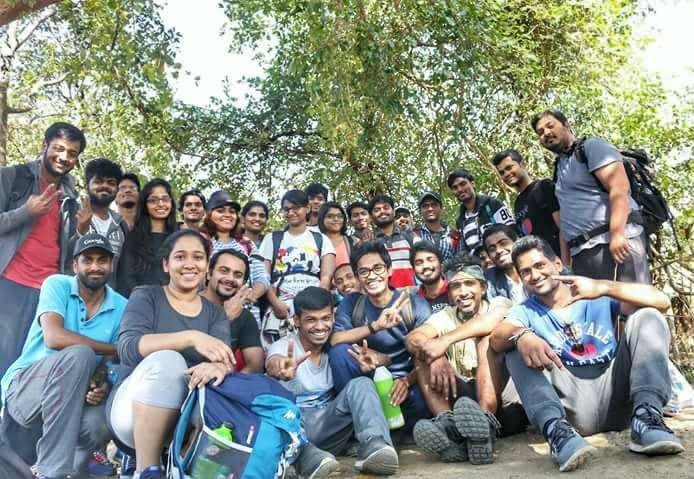 Trek: Rajmachi Fort
Location: Rajmachi Fort Via Kondana Caves
Team Size: 28
Club: Hyderabad Adventure Trekker's Club
 This was my trip#11 n trip#2 for rajmachi.
being a #member of trek is different and being a #organiser is different..
Learned so many skills with the previous treks but this time i learnt how to tackle the new trails.
1. New experiences inspired me:
firstly i know da 75% of da trail. Reaching base camp was easy thing. From base camp to fort was bit tuff coz of its complete dark n da trails look similar. we tuk a diversion to high peak point of rajmachi. then me n #sai went in search of a point n we tuk awl other ppl to dat point. Sunrise was awesome.
while downhill, sugar diverted me to new trail n there wer 18ppl following me.. trail was clear n it reaches to main poin but dat was thick thorned trail.. afta a few meters walk i got to know we are on da wrong trail n going away from da mountain. Here everyone gettin panic n scared. i stored maps route in my mind n exactly i tuk them to dat point n met oua remaining ppl.
Afta few miles 22ppl wer behind me n we were going in a smooth way n faster. Four ppl skipped me n went further n am waiting for awl other. i was keep on trackin ppl n stoping them.. somehow these four ppl skipped me n went further n they are at one point n i hear there voices.. unfortunatly theres another four missing in da trail. Now da me and 14ppl reached da start point faster dan other wid shortcuts before da time. the first four also came afta sumtym. next four ppl somehow reached a point n waiting for other 10ppl.
It was completly adventurous n Every member in da group made there minds strong n didnt loose there hopes.
2. New ppl wid full energitic:
In every trek i see diff kind of ppl so do i c in this trek also.. But here wat i observed dat not a single person got exhausted n afta reaching base camp we had some refreshments n everybody participated in Campfire. next day early mrng ppl didnt make any late.. wakeup call at 4 n got ready in 25mins n chalo..
This ppl r really awesome.
3. New views of rajmachi
I found lots of difference in present Rajamachi than wich i went in August Rajmachi.
full of sunny.. trails were clear.. campfire experience.. sharing da experiences.. reaching da high peak point.. searching for da trails..
For the complete iternary follow the below link
@https://www.tripoto.com/trip/rajmachi-trek-on-11-08-2016-59c36e7328a52