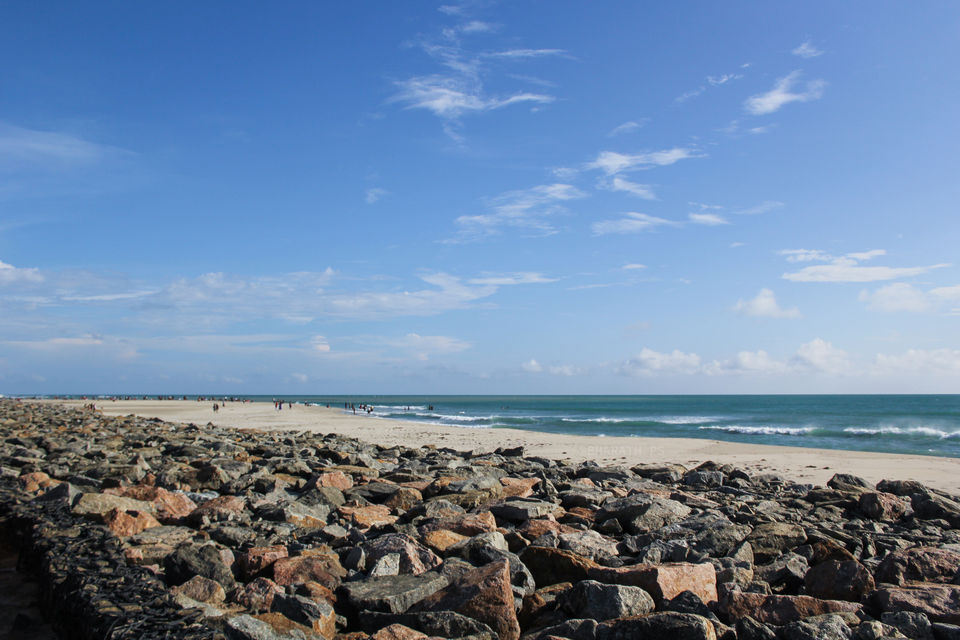 It was 12:30 in the middle of the day and I had just caught the bus to Rameswaram from Madurai. It was quite a hot day, and a big burly police officer took his seat next to me, almost squishing me to a pulp . I was hoping they'd start the bus soon.
In the spirit of travel, I started talking to him. He introduced himself as Mr. Ganesan. He was the sub-inspector of Paramakudi, a small town near Rameswaram. Two minutes into the conversation, we were already talking about Dhanushkodi, and the remains of a place that once had a huge economical impact to make on our state.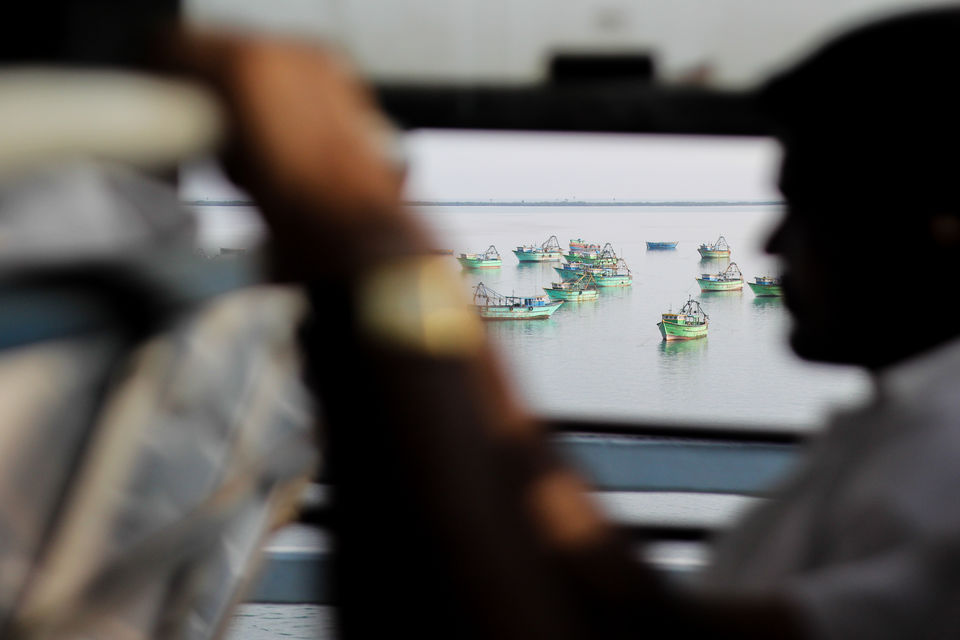 He said, "I lost both my grand-mother and my elder brother during the storm. They had literally been taken away by it, because their bodies were nowhere to be found."
But he shrugged it off casually. He explained how hard it is to identify bodies, after they drown in the sea for days. Finding bodies, tracking smugglers, human traffickers, and spotting illegal immigrants were just another Tuesday for Mr. Ganesan. He had even managed to seize 33kgs of gold that was illegally imported into our country.
He started asking me about my travel, and proceeded to link me to someone who could show me all the "must-see" places at a nominal rate.
​"Tell me how you liked our town", he said with a smile, before getting off at Paramakudi to resume his duty.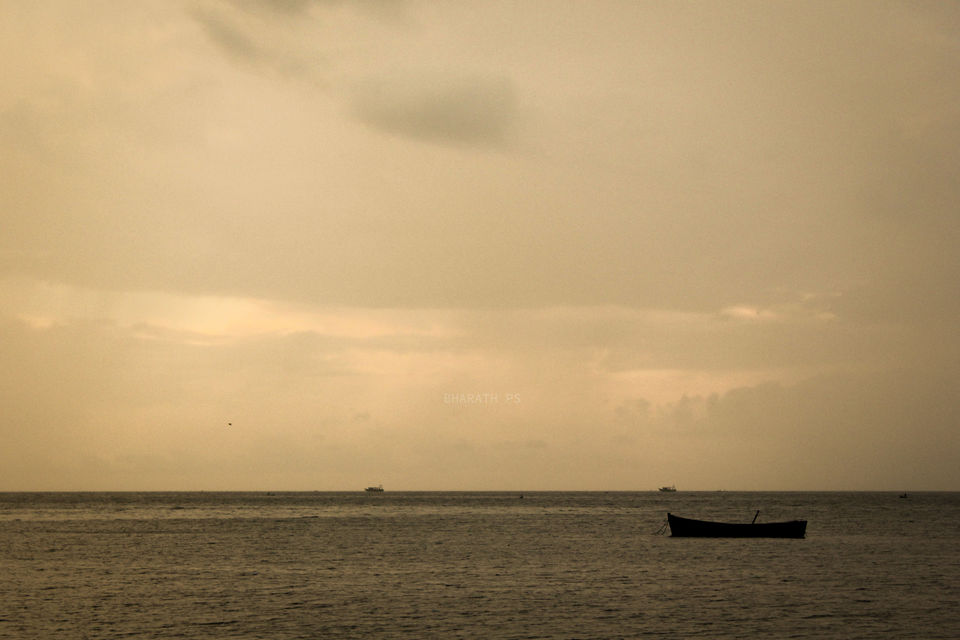 Kalanjiyam is a small-time fisherman from Rameswaram. He lives in the huts near the shoreline, along with his wife. I spotted them trying to get their fishing net ready for their next catch. I asked if I could take a photo of them — the early morning sunlight was brilliant. They smiled. We proceeded to have a small conversation about the types of fish they get, and howthey sell them. As we spoke, an old man set out to sail in the vast expanse of the sea behind us, sitting atop a large sheet and holding nothing but a set of paddles. I wondered where he was going.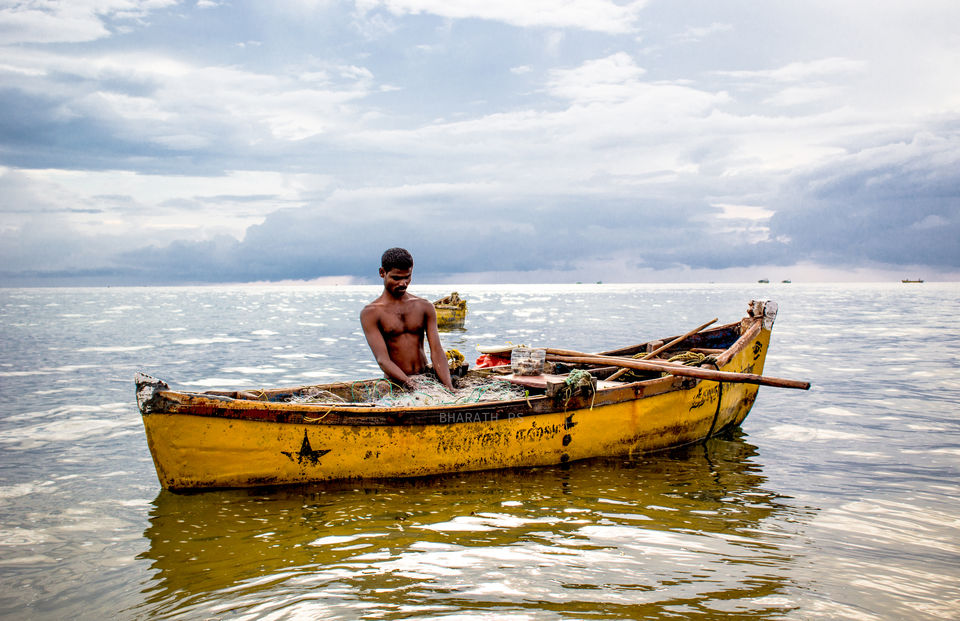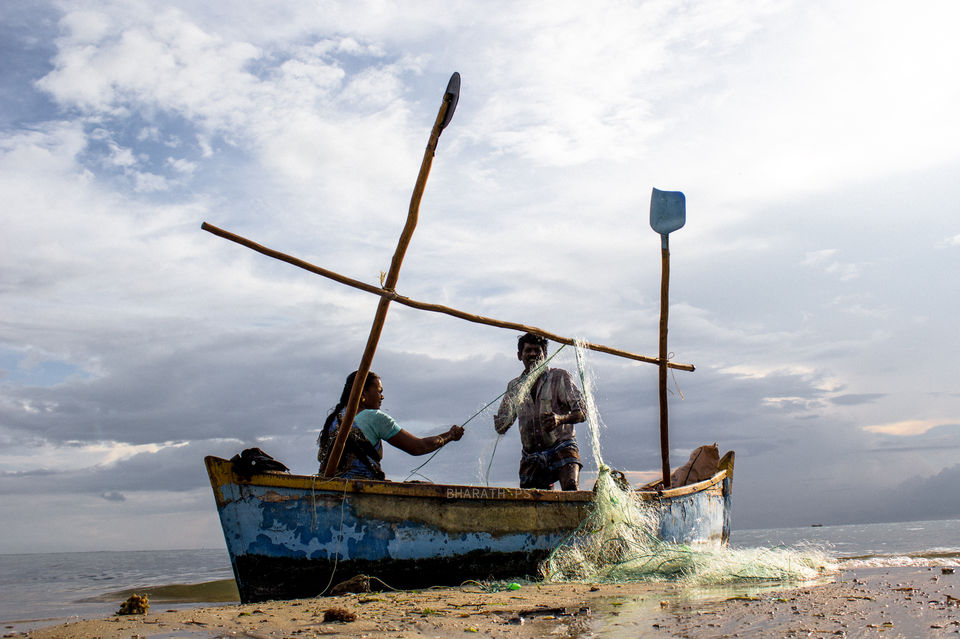 I let the couple to their business and proceeded to get a cup of tea at a shop nearby. It was then that I noticed that Kalanjiyam was not alone. A group of other local fishermen had also gathered there, waiting to see how they fare against the sea. Their lives depended on it. A poor catch meant that they had to skip meals.
"How far do they go for the fish?", I asked the lady at the shop.
"As far as it takes.", she said.
The fish only thrive near the islands of the Ram Sethu. Getting there and beyond meant that you were stepping into Sri Lankan territory, illegally. It took me a moment to realize that our Kalanjiyam might not even make it back. With this realization, I watched them prepare for their journey, amidst a light drizzle, and a group of eagles that kept flying over them.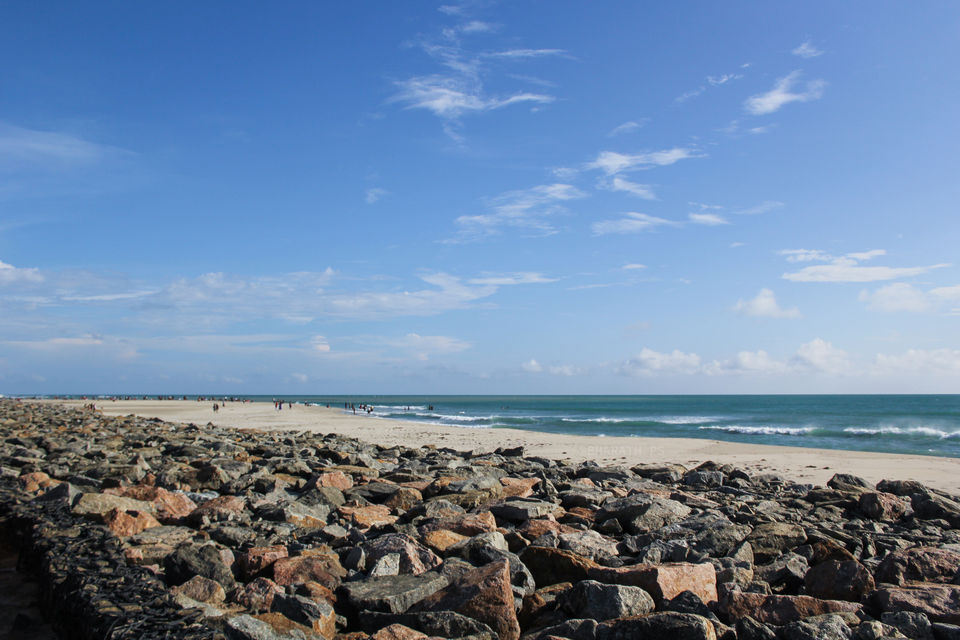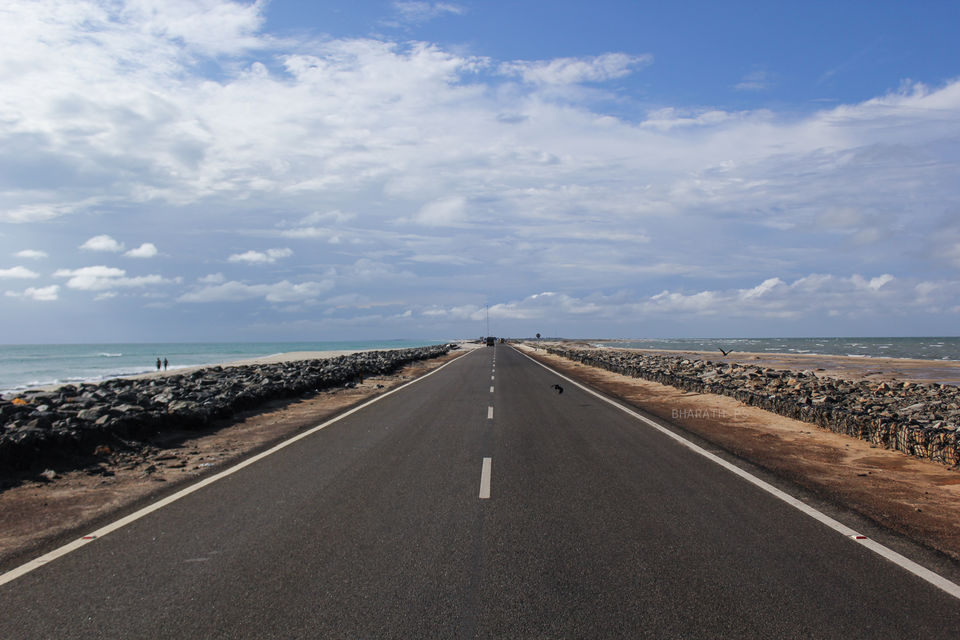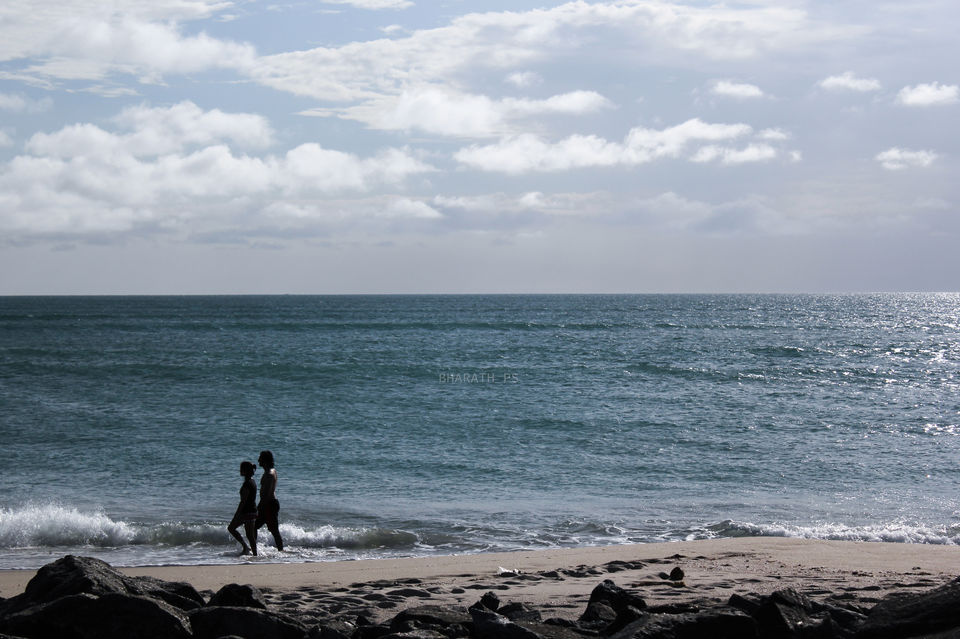 It was late afternoon when we had decided to walk back to the Dhanushkodi remains from the tip. What looked like a short walk seemed like one that was never going to end. We kept stopping every few minutes to take a look at the road — a straight stretch of tarmac surrounded by the cool blue of the Indian Ocean on one side, and the pale white of the Bay of Bengal on the other. After reaching the town, we spent a lot of time looking at the ruins. The feeling that the storm had actually swallowed a whole town, stretching many a mile, was starting to sink in. The remains of each standing building made us feel the gravity of the damage.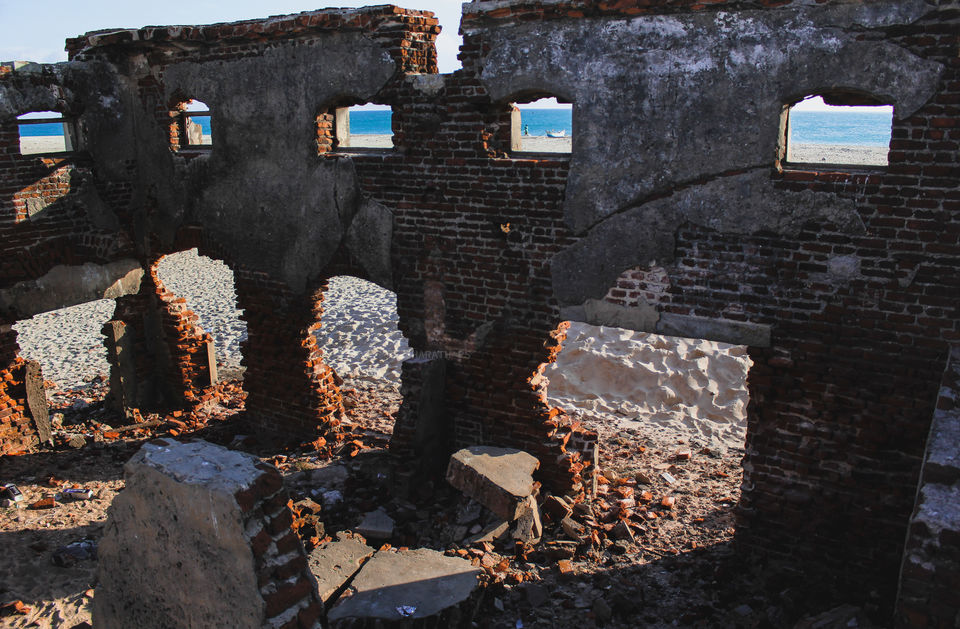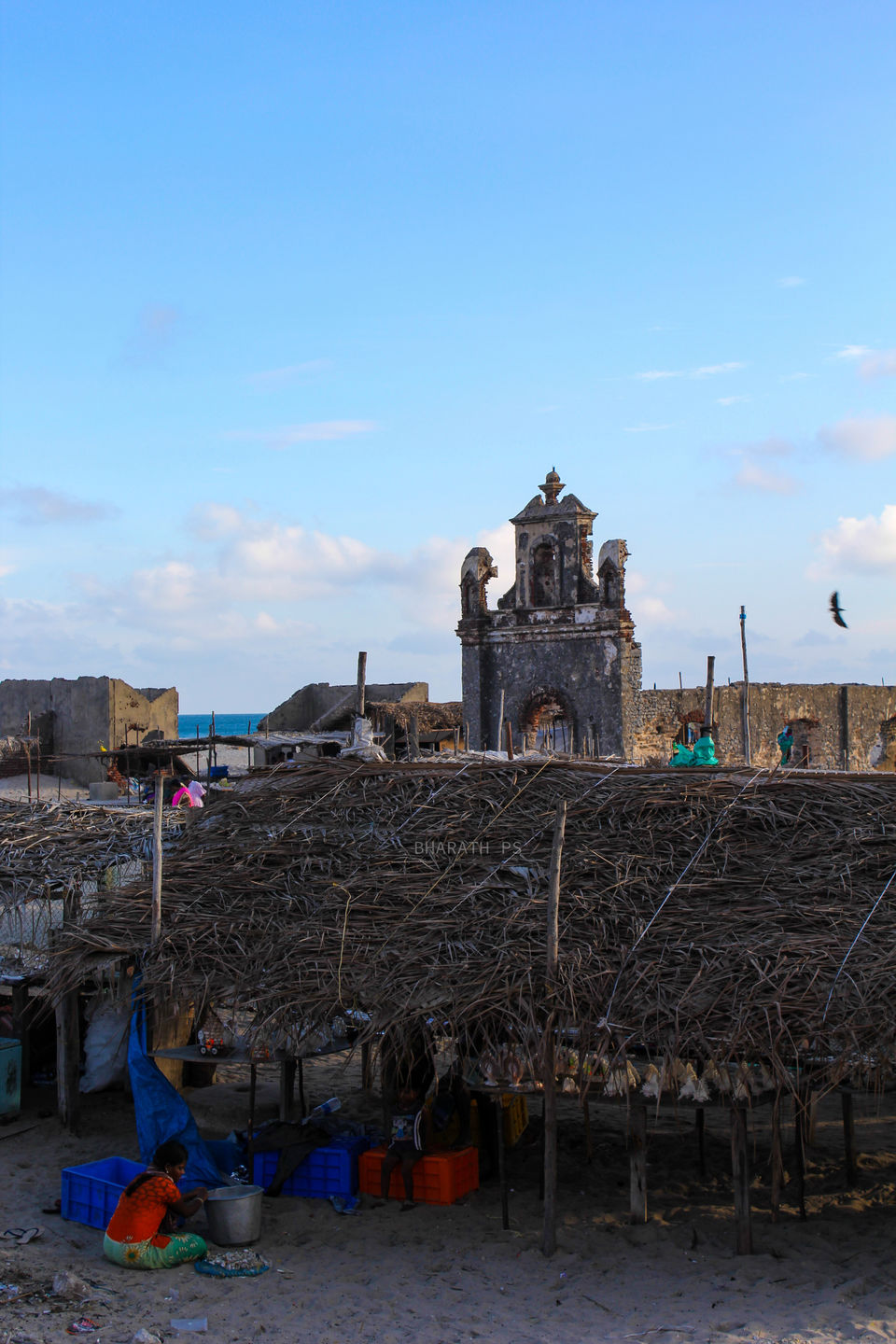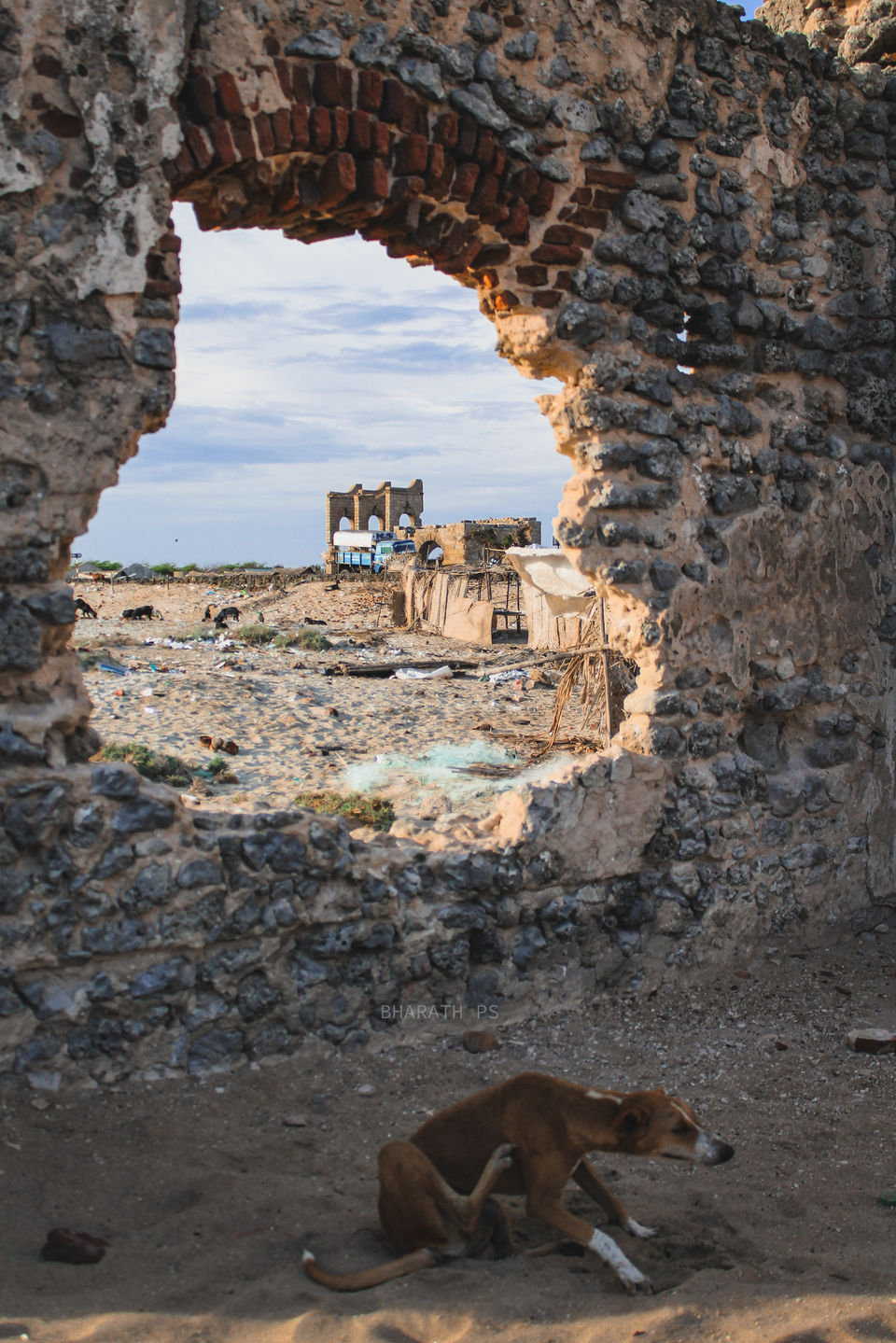 The church still stood, tourists jumping up and down around it taking photos. The altar that had hosted many a Sunday mass was now just a structure inside a damaged building.
Around 80 families are still staying in Dhanushkodi, despite the fact that they don't have power supply or even a brick-house. The government set up solar panels and DTH connections for them to use. But that's about it. The men spend the nights alone, braving the cold, and struggling against the winds, just so they can go fishing before sunrise. The women and children of these families go back every evening to the villages closer to Rameswaram. We joined a group as they started their trip back in a local share-auto.
"So where are you guys from?", asked the driver, as I was admiring the view through the windows. We told him about our trip and asked if he had a story to tell.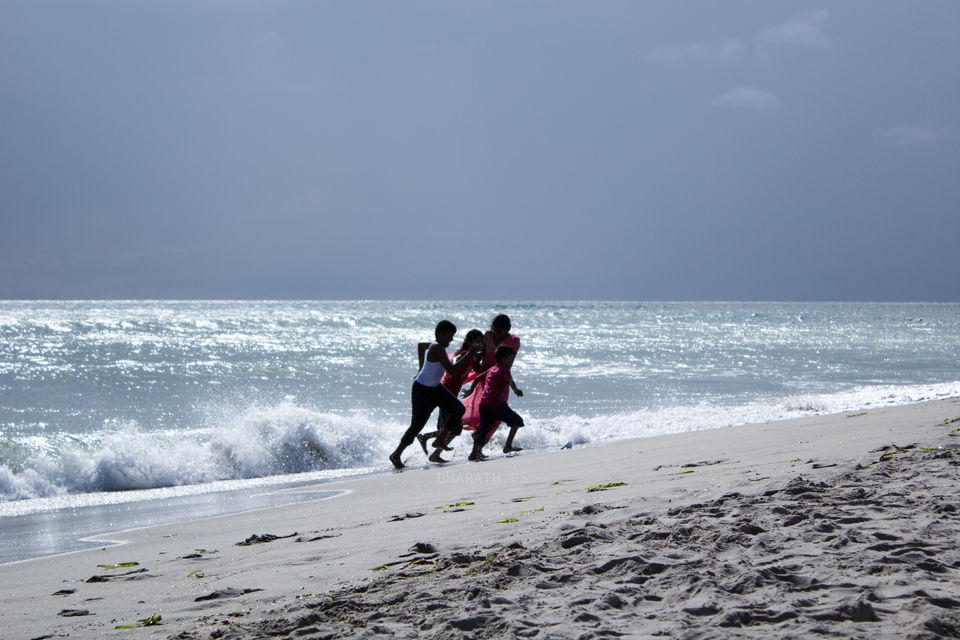 He was a once a fisherman at Dhanushkodi. But he was arrested by the Sri Lankan army on the grounds that he was involved in illegal trade between the countries. He was jailed in Sri Lanka for more than 3 years. We sensed the pain in his voice when he spoke about how the fellow prisoners discriminated the Tamils in jail. After he was granted bail, the prisoner transfer took place at the international border in the Ram Sethu. He became a local share-auto driver after he was back.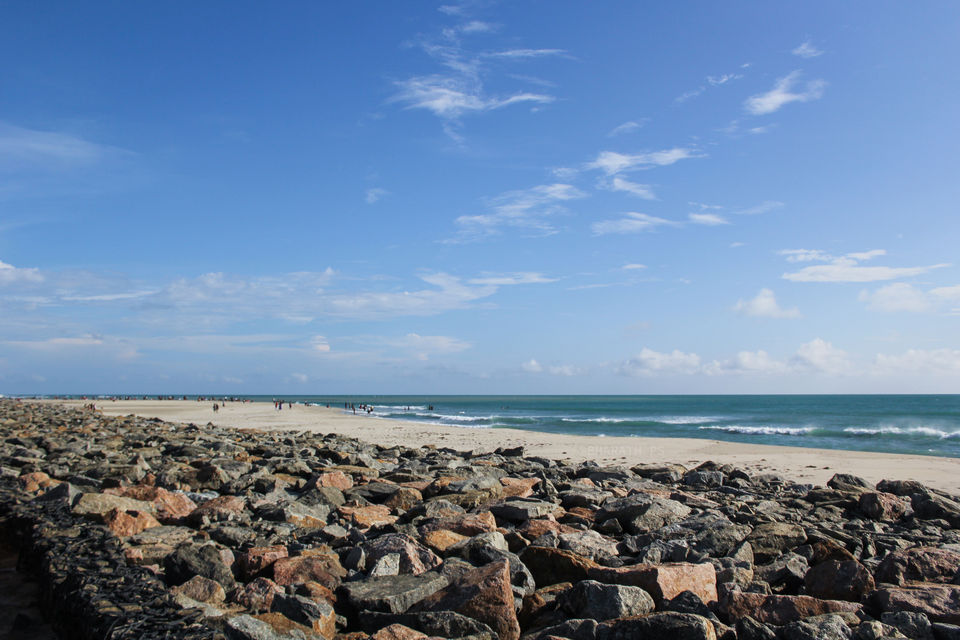 We prompted him to talk about the illegal affairs at Dhanushkodi. He spoke about the immigrants, drug trafficking, and about the connections the police have with the people of the town in helping them curb these. He even told us they had recently caught someone trying to smuggle 33kgs of gold into India. I was able to connect the dots.
"Thanks for telling us all these stories. Can we know your name?", I asked.
"My name is Kalanjiyam", he said, just as he dropped us at the Rameswaram railway station.