I had already been there before.. I knew what to expect and so had declined repeated requests for participation in the trip.
Even then, the second visit to Makalidurga happened- I was forcefully dragged out of bed on a cozy Sunday morning to guide the first timers so that they could go to that exact spot from where they could get that perfect glimpse of the train..
I knew the way to reach Makalidurga- but could not guide them any further to that exact spot from where they could get the photo they wanted.. Considering it was around 11.00.a.m, the sun had already reached a good position to suck the fluid in us..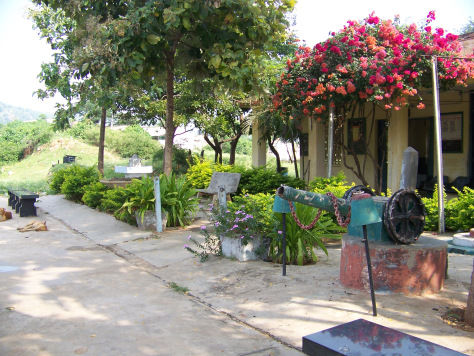 Alighting @ the Happy valley : Makalidurga railway station
Alighting @ the Happy valley : Makalidurga railway station
We could not find any hotel on our way where we thought we could stop for breakfast and pick up some water bottles.. Hard luck..!! We couldn't find either of that..!!
The Makalidurga railway crossing
The Makalidurga railway crossing
All of us reached a railway track finally.. And randomly climbed a hillock- climbed further up and further up- hoping to find some shade to sit and wait till our catch of the day appeared… But again, no luck- no water, no food, no shade – We just stopped on a considerably flat area without being able to proceed further under the ruthlessly shining sun and waited for the train..
After about half an hour- The smoke from the engine chimney appeared near the horizon- We all got excited.. As it neared, the engine emerged from behind a bush, then a bogie- Before our cameras reached our eyes and we pressed the click button- we saw the end of the train..???? It was a small train with just 1 engine and 4 bogies…
So, we continued our wait.. After a while again we spotted some smoke at the horizon: So we hoped that our tiring wait would end soon and we could get that perfect internet photo of a blue passenger passing across the frame… Hard luck once again- It was indeed a super long train with over 55 bogies: But, it was a goods loco???? It was not the one that we had waited for and moreover its colour did not match the background????
This means- We still had to wait. We were restless… We decided to walk further up hoping to find some shade atleast..!! And we, did find a small tree (or rather a bush)- Something better than nothing: All the five of us squeezed into that small patch of shade and continued to wait….
After a while's time, we heard the hooting of the train at a distance… This time we couldn't see any smoke rising up… The sound became louder and louder but still- there were no signs of the train. But, we knew for sure that the source was somewhere close-by. And suddenly a Nizamuddin-Ypr bound passenger came buzzing into our visibility: We all took our cameras out and started clicking… The train was real long and it stretched beyond the 2 ends of the frame: But, yet this was not the photo we wanted. The train was actually in the opposite direction. So, even if the engine is very much in the frame, it appears like it is gone beyond???? But, anyway it seemed like we could not hope for anything further because we would faint soon without water.. So, we had to be contended with what we got and return back to pavilion????