In March 2016, the first "Made in India" 'Royal Enfield Himalayan' adventure tour bike was launched. What makes it so unique for Himalaya Ride? Is its strong suspension with long travel, a torquey engine or its high ground clearance? Or is its ability to cross river-banks or to negotiate with dirt and rocky roads of Himalayas.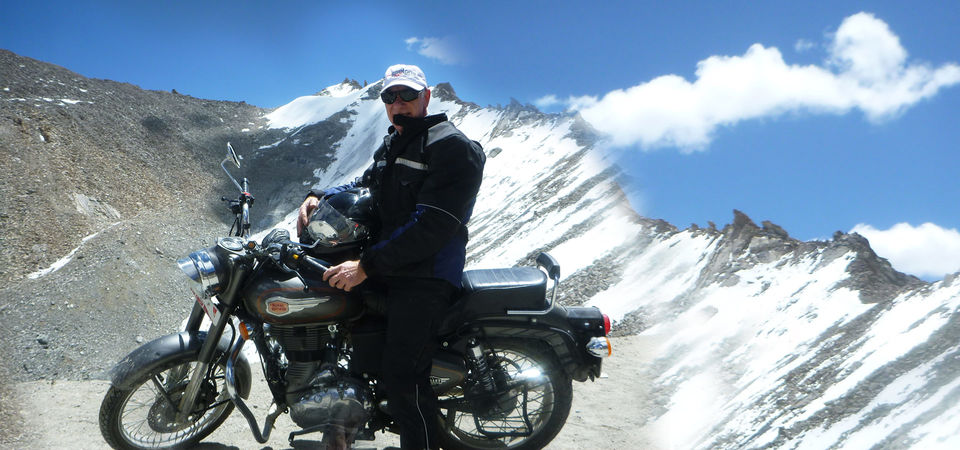 Let's see if you can guess the right answer. Here are the reasons why this bike is considered as the most powerful bike for the world's highest ride.
• The compromise between the ground clearance and height of the seat is up to the mark in RE Himalayan. The way they have adjusted the seats as low seating is most suitable for the short riders whereas the combination of 220mm ground clearance and 880mm seat height is a win-win situation. It ensures all riders can have their feet grounded all the time.
• The duration of servicing this bike is highly appreciated by all. For the oil change, the need to visit service centre appears only after 10,000 km and the spark plug changing needs after 25,000 km. 410 cc oiled cooled engine is also one of the best features.
• The introduction of free revving engine proves that RE engineers made a highly appreciable effort in understanding the needs of touring bike enthusiasts. Hence RE-Himalayan bike has the best-suited conditions for riding. It has low RPM ranging 4000-4500 having serious torque with 32 NM. This gives smooth ride at low speed with higher gears, which is useful while manoeuvring through traffic or climbing hills. It has got good power which is not designed to be aggressive. Peak power is 24.5 PS at 6500 RPM. It is perfectly suited for the adventurous Himalayan ride.
• RE Himalayan bike weighs 182 kg, which is much lighter than the Continental GT. It's a mid-light weight adventure tour bike. The capacity of 15 litres fuel tank is good for under 200 kg tour bikes.
• The high-intensity headlamps placed at the top of the fuel tank provides superior spread and right projection for everything you want to see through the journey.
• With all the features like tank bags, jerry cans, soft luggage, duffle bags and hard aluminium panniers, RE Himalayan is designed with mounting points at the back and front which lets the rider to set-off and strap-up anytime he wants.
• While other bikes give jitter to the rider during the Tour on Himalayan roads, RE Himalayan provides confidence to the riders. The 21 inches front wheel helps to negotiate the rough roads in throughout the journey instead of that 19 inches regular front wheel. Choosing the 90/90-21" front tyre and 120/90-17" rear tyres are best for off-roading. Superior traction is provided by the 17-inch rear tyre and these light tyres provide better handling. This bike is best suited for riders who are going to explore the world's highest ride for the very first time.

Along with all these good features, there are still some missing features in RE Himalayan bike:
• With no kick starter and mated to LS410 engine, a 5-speed gearbox with no fuel injection makes Himalayan a carburetted. Which in total is a bummer!
• Having power boosted to 36-38 bhp, RE Himalayan will become more beneficial to riders considering its 410-cc engine.
• Anti-Lock Braking System(ABS) and FI is missing.
• Going back to RE last roll out, Continental GT had built quality issues hence creating a question mark on the build quality of RE Himalayan, though we can hope for the best.
Conclusion
Royal Enfield Himalayan is a simple bike designed with attractive features for adventurous tour journeys. It's dominating the adventure touring bikes pedigree especially in India. In India, there is an enormously growing market of riders looking out for a versatile all-purpose touring bike. Hence, RE Himalayan fits the bill for India's first true off/on roader bike. With the decent specifications and great looking geometrical chassis, this bike is ruling the spot in the market. The entry level or freshers looking for adventure tour bikes will eventually end up choosing the RE Himalayan bike due to its highly comforting features and specifications. Go for RE Himalayan for having fun and jitter free adventurous journey of Himalaya.