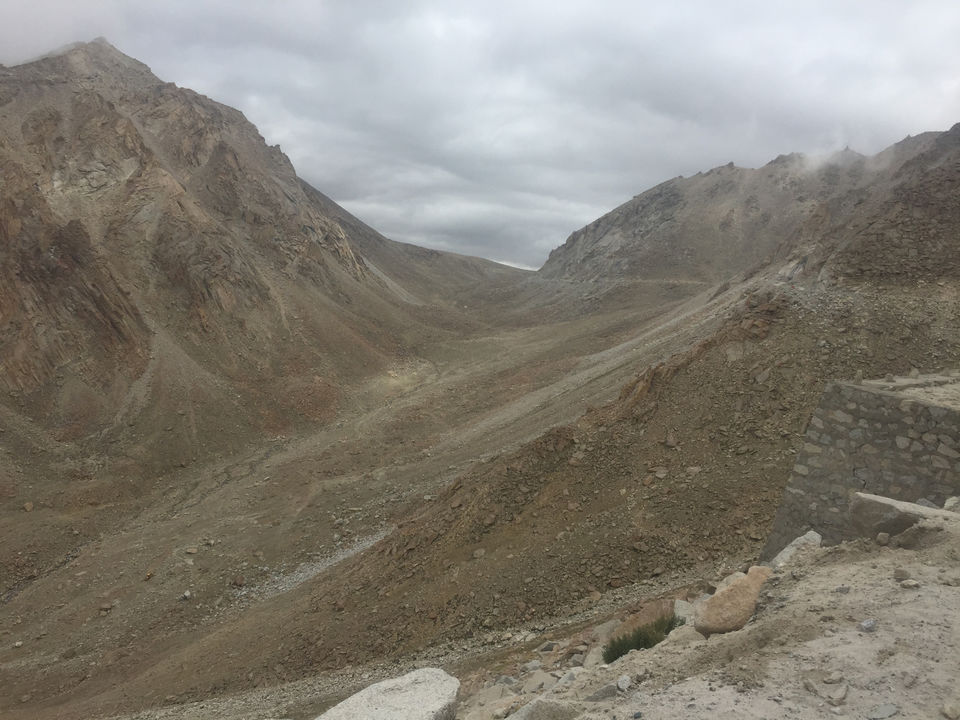 Best time to trek Annapurna Circuit
ICE LAKE TREK – ONE OF THE SIDE TREKS AT ANNAPURNA CIRCUIT
The best time to do Annapurna Circuit is October, November, March, April. There will be people trekking throughout the year. I've done Annapurna Circuit in September (low season) and I was very happy about this decision. Firstly, there are few tourists in September, so it feels like one on one with nature. Sometimes you don't see anyone for hours. Secondly, you can get great discounts and deals on accommodation and food which are, as a rule, not possible during the high season. Thirdly, it's not that cold at the higher altitudes (you will still need multilayers feather coat, sleeping bag, etc).
Annapurna Circuit by yourself – is it safe?
Nepal is one of the most tourist-friendly countries and Annapurna Circuit is one of the most well-developed and popular treks. If it is your first trekking experience, you might have started with the information about the area from Google. Several safety indicators:
Living conditions – it's not a trek, where you need a core equipment like tent, utensils, gas, etc. You will be staying in proper guest houses and hotels with all basic needs: from bed to Wifi even on high altitudes.
Route paths – on every confusing junction, there will be a sign or indicator where to go. A few samples further. Mostly, all the paths lead to the place you need. I took a wrong path twice because of my lack of attention, though I ended up in very scenic places at the end.
Entrance gate village
EACH VILLAGE HAS ITS OWN DESIGN OF HOUSES AND ENTRANCE GATES ????
People – every 2-3 km there will be a village with local people and guest houses ready to answer your questions. Depending on the month, you will be meeting other fellow travelers every now and then. Quite a lot during the high season, and some 20-50 people per day during low season months.
Medicine – in bigger villages there will be medical points, where you can consult a doctor in case of any need.
Setting right expectations
Despite you will have access to all the basic needs during the trek, it is important to prepare yourself emotionally for this experience. In my opinion, many people underestimate the importance of emotional preparation for this type of trek.
PIN ME ????
Initially, I didn't know what to expect and some of my acquaintances were setting me for a physical challenge. Somehow I was treating this trek as an endurance test for the first two days and, in my opinion, it's wrong. You will be passing some of the most picturesque villages, meeting interesting local people with their own culture and lifestyle, encountering some elements of flora and fauna for the first time in your life. It is a unique experience and you need to savor and enjoy it! A piece of advice:
It's true, that the first 2-3 days might be tougher than others if you are new to trekking. It will take time to get used to walking continuously every day on different mountainous terrains and carry your backpack, but it will become part of you after a while and you will enjoy it ????
Yes, you will sweat a lot and you might be not the most photogenic person during the day. You will be walking a lot and you might get blisters on some paths.
If you travel during monsoon months, you might face leeches trying to get into your shoes. It will be also quite humid on the lower elevations.
If you have never been at high altitudes, you have all chances to do it right for the first time and avoid mountain sickness if you do the proper acclimatization.
Try to avoid negativity by all means. You will have your own challenges to resolve so don't stick to people who often complain and try to put their problems and emotional burden on you.
There is an equal probability of good and bad experiences. Set yourself realistically, have a positive attitude and be ready to resolve eventual situations that might occur ????
Yes, you can do it!
Ghyaru, Nepal
WHATEVER SITUATIONS YOU FACE, THE VIEWS ARE TOTALLY WORTH IT!
Distance & time: how long does it take to hike the Annapurna circuit?
The classical Annapurna circuit distance is 240 km that starts in Besisahar and ends in Nayapul. You can make this trek as short as 10 days if you cut the walking distances by taking transport or expand the trek by adding a few sidewalks and experiences. I have cut the first 13 km and the last 6 km by taking a bus, because the path was going through the vehicle road which was dusty and under construction. Nevertheless, I've added a bunch of places on the higher altitudes, which I will talk about in the itinerary. Overall, it took me 16 days to complete full Annapurna circuit (13 days) and add a Tilicho lake(3 days).
Trekking yourself vs hiring a porter and/or guide or going through an agency
In my opinion, you CAN easily do Annapurna Circuit alone without any guide or porter, unless you have any medical contraindications (if you do, you need to consult a doctor if you can be part of this experience in general).
It was a first serious trek for me. I've read numerous guides, forums, articles about this trek and felt that was a good base for me. The key thing is to pack ONLY what you need. Your backpack should be around 6-10 kg, depending on the season and what you take. First two days might be a bit tougher till you get used to, however, afterward, your backpack will become an integral part of you.
As mentioned previously, the directions are quite clear and there is almost no possibility for you to get lost, unless you start exploring offbeat and alternative paths. If you want to explore the local culture of one village or another, connect to the hotel or shop owners, they are very happy to tell you more about their life.
I met a few local people on the trail from Pisang, they took me to a local school, where I could talk to kids and learn more what they study, meet their teachers, etc. Meeting locals will be one of the key experiences of this trek.
School in Himalayas
SCHOOL IN THE HIMALAYAS, ONE OF THE MOST MEMORABLE EXPERIENCES
Consider that guide will cost you somewhat 12-15 USD per day; porter – 10-12 USD. In case you go with the agency, you need to add an agency cut as well. After the altitude 3000m, you will meet people offering porter services. Many hotels and guest houses at this point will be offering porters as well. If by chance you feel you can't do it on the certain point, you will find the solution at the spot.
By the 4th day of the trek I got fit enough to move with local guides and porters of other people. As I do enjoy talking to locals, I have met quite a bunch of interesting people. If you decided you need an Annapurna Circuit guide or porter and you are limited in time, you can start here:
Kaji – he has been trekking different parts of Nepal numerous times and knows a lot about local culture and specialties of each trek. He can guide you and also connect to the porter.
Nalam – a guide with broad trekking experience around Nepal and knowledge of local specifics.
Kam Sarki Gurung – 0986-1477195 – porter – he speaks basic English and knows Hindi. He is a very polite and smiling person who've done many treks around Nepal.
Note, I haven't taken services from these people, however I've been walking with them for a few days and found them knowledgeable and interesting people to talk to. I'm not anyhow associated with them and I put all these contacts by my own initiative with their agreement.
When you are limited in time, you might end up going to the agency and pay double price. If you choose a guide yourself, ask how many times he has done this trek. You will be meeting guides and porters who've done the same trek 20-40 times.
Do I need to be fit for Annapurna Circuit?
Fitness level Annapurna Circuit
I GOT FIT DURING THE TREK ITSELF!
You don't need any special training for Annapurna Circuit, however the more fit you are the earlier you will start enjoying the trek. I was also doubting whether my physical condition will allow completing such a long trek. In daily life, I do prefer walking over taking transport whenever possible and do yoga 15 minutes daily, though it's not quite a preparation.
Don't worry, you will have minimum 5 days of preparation of trekking on the lower altitudes before climbing up. The trek is constructed in a way that anyone can do it. At the end of it, you will definitely feel a healthier and much fitter person than you were when you started.
Unless you have any medical contraindications, I highly recommend to put away your self-doubt and DO IT! You will see plenty of old people slowly moving through the mountainous paths and enjoying the stunning views and landscapes.
Trekking permits in Nepal
You need a special permit to trek in Nepal. There is a TIMS (Trekkers' Information Management System) card and trekking permit (for Annapurna area – ACAP – Annapurna Conservation Area Permit).
There are several ways to acquire these 2 documents:
Tourist Center in Pokhara (Coordinates: 28.198719, 83.969176)
Tourist Center in Kathmandu (Bhrikutimandap, Pradarshani Marg, ~20 min walk from Thamel)
Accredited trekking agency if you decide to go with an agency
At the beginning of the trek in TIMS offices
I've seen several trekkers buying permits in TIMS offices at the entrance to Annapurna Conservation Area. I prefer to do it in advance. You can get a free picture in tourist center in Pokhara. In other places, it's better to come with your pictures.
TIMS Card ensures trekkers safety in general. During the trek, there will be checkpoints in several villages (at least one checkpoint almost every day). This way, it will be easier to identify your location if something happens to you.
This year all the trekkers got a map of Annapurna Conservation area and detailed map of Annapurna Circuit with kilometers, hours and other information about different villages on the way.
What documents do you need for the permits?
A questionnaire (you will get it on spot). It's very generic – your contacts(from your country and Nepal), insurance details(optional), entry/exit dates(approximate) and destinations you intend to visit. If you have any questions, there will be people on the spot who will help you.
4 passport-size pictures
Passport
Visa
The fee depends on the area you intend to trek. For Annapurna area TIMS costs 2000 NPR (~20 USD) and ACAP permit 2000 NPR (~20 USD). This is the price for an individual trekker. Everest base camp costs a bit more. The overall cost for Mustang area is around 500 USD.
There are discounts for groups, for individual trekkers who register with a porter and for citizens of SAARC countries. The procedure is quite fast and if there are no queues, everything will be ready within 15-20 minutes.
Accommodation during the trek
Annapurna circuit accommodation
TYPICAL ROOM ON THE TREK
Annapurna Circuit Tea Houses and Hotels are the main types of accommodation on the trek. As a rule, the rooms are well lit, quite small (~3 sq.m) with 2 beds in the room and a common shower and toilet on the floor. You might get offers to stay for free if you buy dinner and breakfast at the guest house.
I strongly suggest starting your daily trek around 6-7 a.m. so you can reach the final destination around 3 p.m. max. Though it matters less in a low season, during the popular months you might be left without accommodation on the higher altitudes or in the smaller villages and you will have to move further or come back.
I suggest checking several options well beyond the first guesthouses. First ones are situated at the entrance to the village and target people who are tired/don't want to look around. There will be nice guest houses at the beginning, but you will be able to strike better deals with the ones in the second part of the village especially in the low season as quite a few people reach there.
Questions to clarify while choosing accommodation:
Rates. Check what the guest house takes money for. E.g.: shower, charging mobile, extra blanket, drinking water, WiFi, etc. During low season you will be getting most of the mentioned services for free. At the higher altitudes (4000+mts) you will be paying almost for everything. Agree about all the prices in the beginning, otherwise you will end up spending an unplanned amount of money at the end.
Hot water. Most of the Guest Houses will promise hot water. There can be solar/gas/boiler/bucket hot water. I recommend double checking it. E.g. If the house has a solar shower and it was raining the whole day, there will not be hot water there.
Charging points. If you have something to charge, look for the guest house accordingly. Till 4000 you will find charging points even inside the rooms.
Type of the guest house. I recommend staying in the wooden houses after the altitude 3000+m. There will be holes and wind will be blowing in any type of accommodation, however wood helps to maintain warmth way better than the stone.
Host Family nepal
ONE OF MY HOST FAMILIES <3
If you don't mind stepping outside your comfort zone for a while and living in a different ambiance, spend a night or more at a host family. There are plenty of villagers who can host you. They will charge much less as you will not get hot water, WiFi and other add-ons the guest houses offer.
You will be living just as a person from the village. Nevertheless, the money you pay will be much meaningful for them and a memorable experience for you. By staying in the comfy guesthouses with all the commodities we are missing out of the environment in which local people grow, go to school and live their whole life there. In one day in the host family you might learn more about the local culture than during the whole trek.
Food on the trek – Dal Bhat power 24 hour
Annapurna circuit food
RICE WITH VEGETABLES AND YAK CHEESE. A REGULAR TREK PORTION THAT I CAN'T EVER FINISH.
This phrase I've heard in every 2nd hotel on the way. Despite Dal Bhat is a really popular dish due to unlimited refills, I haven't ordered it even once on the trek. The food menus are controlled by the government. It means that the menus at the same altitudes will have same design and price. After Muktinath you will see cafes that don't go according to the system. Maybe, because those parts are visited separately by tourists apart from trekking. Hard to tell. Before Muktinath the food rule works everywhere.
Before trek several people were trying to scare me with small portions and quality of food on the trek. Maybe it was a low season or my expectations, but I can recommend almost every place I've stayed for the quality of food and accommodation there.
Though it's true, that from the 2nd day of the trek, a meal in Himalayan village costs more than in the good cafes of Pokhara and Kathmandu, I found quantities reasonable and all meals were freshly made and tasty. I've mentioned all the guest houses I've stayed in the itinerary.
After 3000m ask for YAK Cheese. This is the product that is not controlled by the government in all the villages. Sometimes it's missing in the menu, thus the prices will be regular.
Annapurna Circuit Packing list: what to take with you to trek in Nepal?
Below is the stuff I bought/borrowed for the trek and approximate prices in Nepal. I will write prices in NPR I found in Kathmandu. 1 USD ~ 100-101 NPR. What have I taken with me to the trek:
Money – you will need to carry sufficient amount of money for the whole trek. Though you will get ATMs in Manang and Jomson, I wouldn't put high hopes on them. Calculate how much you might need and exchange the cash accordingly. Read more in the cost section.
Sleeping bag – borrowed. You can buy in Kathmandu starting from 2000 NPR. You will be able to get additional blankets on higher altitudes, but they might not be the cleanest and freshest though.
Warm (feather) coat – 1400 NPR (I bought a second-hand coat. A new one is around 2000). You will need it mainly for evenings and sleeping on the higher altitudes. During walking, I needed it at Thorong La and during the stay at Tilicho lake.
Trekking pants – 1000 NPR
Synthetic T-shirt – 300 NPR
2 Cotton T-shirts – mine. Price in Kathmandu (250-400 NPR per piece). I slept in them.
Raincoat/windstop – borrowed. Price in Kathmandu (700-1200 NPR)
Raincover for backpack – got mine for 200 NPR in Kathmandu.
Fleece jumper – mine. Price in Kathmandu (~500-700 NPR)
Thermo full sleeve plus bottom base layer – mine. Price in Kathmandu – full-sleeve (500-800 NRP), bottom (500 NRP)
Warm hat – bought in Manang for 300 NPR. You can find starting with 150 NPR at the market. To be honest, it was more useful for sleeping at the higher altitudes, though I also wore it on Thorong La.
Gloves – mine. I've used them just at Thorong La. Price in Kathmandu 150-400 NPR depending on the type.
Hygiene: 100 ml shampoo, 100 ml shower gel, face gel, hydratating crème (it will be sunny, windy, dusty at times, your skin will need a good hydratation), suncream – 2(SPF30, SPF50); tooth paste, tooth brush, hydratating lip balm, a small pack of wet and dry wipes.
Glasses with protection – bought in Kathmandu UV400 for 500 NPR. I've used them just three times after Upper Pisang (~3700m). It was cloudy at times during trekking in September, but I guess glasses are the must during the season when there is sun and snow at the higher altitudes.
Baseball hat – bought in Kathmandu for 200 NPR. Common price 300-500 NPR. I've seen people walking without the hats, though I prefer to have one in higher temperatures.
Woolen socks – mine – for evenings and sleeping. 200-300 NPR in Kathmandu.
Trekking socks – 2 pairs – 200 NPR per pair. You will need 2 pairs because you will be changing them to avoid "smelly" shoes.
Synthetic scarf – mine. Starts with 300 NPR in Kathmandu. You need something that will cover your neck.
Cup – bought in Kathmandu for 120 NPR. I was taking hot water for my food.
Torch – I used the one on my phone. You will need it on the key ascends of the trek: e.g. Tilicho lake, Thorong La, Poon Hill as you will be starting around 4.30-5 a.m. You will need to light your path for an hour or so till the dawn, afterward it will be visible. You will also need a torch to go to the washroom at the higher altitudes.
Spoon – bought for 60 NPR
Microfiber towel – 500 NPR. It dries faster and it's very light.
Trekking shoes – borrowed. Prices start at 2000 NPR. I recommend buying trekking shoes in advance because you need to "break" them. Blisters are real. Try also to get boots that fix the ankles. On mountainous paths it's possible to twist your ankle. Alternatively, I've seen a few local people walking in sport shoes.
Flip-flops or sandals for the evening – every day you will be taking off your trekking shoes after walking, thus you will need to change to something. I would go for flip-flops or something similar that you can use for bathroom as well. You will be using public showers; on the higher altitudes, there might be no floor. I wouldn't take three pairs of shoes in total as every gram matters when you carry your luggage.
Food & snacks – I've taken 2.5 kg of food (12 snickers; 300g papaya dry fruit; 500g dates; 8 fast-made porridge portions; 6 packs maggie; 200 grams dry bread, lime pack(6 pieces); tea (25 bags). I wished I've taken more dry fruits rather than snickers. You will need glucose and extra energy while walking. If you like nuts and chocolates – go for snickers, otherwise, find the other ways to raise sugar in your blood. You can buy even a few sets of candies. In Kathmandu you will find plenty of supermarkets, in Pokhara, the biggest one is Bhat Bateni.
Medical kit for emergencies – this depends on your health. I took the core stuff: bandage and spirit, charcoal from food poisoning, painkiller, and powder from cold. I didn't need any to be honest, but this basic kit gives you a feeling of security in the middle of nowhere.
Trekking poles – I borrowed one and found a wooden stick on the way. To be honest, they were an extra load most of the time, but quite helpful while crossing some waterfalls (in September the rivers and waterfalls are increasing in size due to the monsoon season and the pole was helpful in checking stones to step on) and on steep descends to unload the knees.
It's also good to have a knife with you, though not compulsory. I've also had a nail-cutter. You need to keep your nails on feet short and within 2-3 weeks they do grow. IrecombuyingeverythiKathmandu, it will be overall cheaper than in Pokhara.
How to dress-up correctly?
Use many layers while dressing. I walked the first 2 days in the t-shirt, next 4 days in the base thermal full-sleeve (I was starting almost every day in fleece for the first half an hour till my body warms up), the days before Tilicho and Thorong La I was walking in thermal full-sleeve and fleece, on Tilicho and Thorong La I was wearing all the layers I had except the raincoat (T-shirt, full-sleeve base thermal, fleece, feather coat).
Though I haven't ever felt cold while walking as I was constantly moving, it is important to combine the layers correctly. Try to avoid cotton and natural fabrics, except woolen socks for sleeping. Synthetic wears keep the sweat outside, while cotton absorbs it.
You always need to keep yourself dry and warm. E.g. If you make a lunch stop or longer break (>10 minutes) while walking, don't wait till your body will cool down, put an extra layer to keep the warmth.
On higher altitudes, wear a scarf around your neck even if you don't feel cold. You don't feel mountain winds when your body is heated up.
Annapurna Circuit itinerary