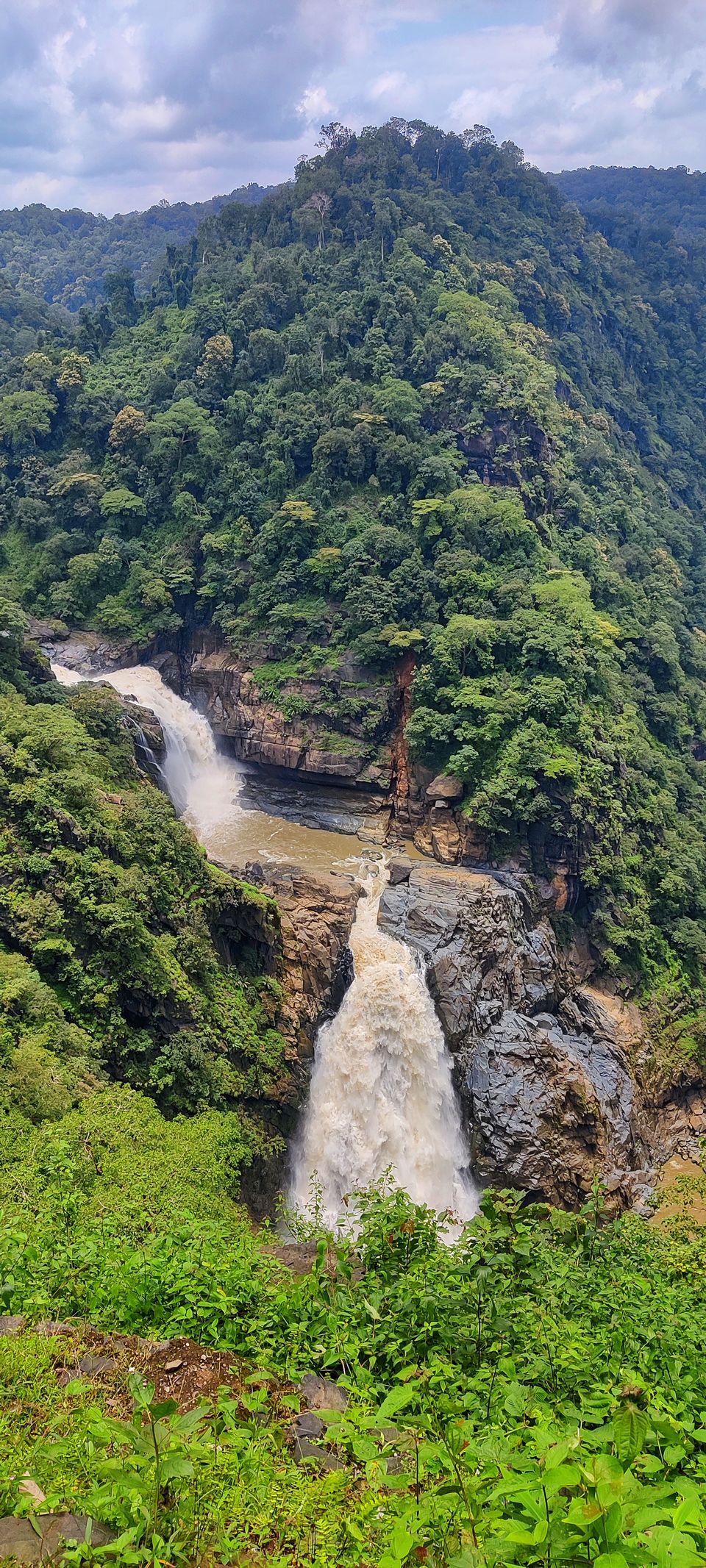 What a beautiful water fall it is!!! Indeed, no doubt. For the very first time I am witnessing the two step fall. It's mesmerizing and you will never forget the view. Let me tell you, in total the water fall is of 200mts and a wonderful .........
Read the story to see what is wonderful!!
After long long time I rode my beautiful bike "Tara". I am from Karwar and it is approximately 110kms. After long rainy days there comes a sunny shiny day on a weekend and we decide to ride to one of the magestic waterfall Magod.
There is only one way to ride, that is take Hubbali road, the curvy serpent Arbhail Ghat and the lush green forest all around makes you to go crazy.
Me and Ash started the ride at 8am from Karwar, the previous week it was raining non stop ,better to say the sky was pouring water. The Ghat was closed due to landslide and it was recently opened and still the construction was in progress.
You need to take right before you reach Yellapur.
Once u take right you enter into forest, literally forest . You have a tar road, no worries! But after few kms then starts off road. Mud slush gravell and what not, Casio would have shot their mudmaster ad here. Perfect for off road lovers. Prior to off road you get lot of deviations, better contact locals if your GPS doest work. You need to take a gate pass prior entering the off road trail and once you reach the falls you need to take another ticket for entering the water fall premises. You need to walk a bit for the water fall view. You have several steps to ascend nd descend, then you witness the majestic two step waterfall. There are many view points from where you can view the falls also you have few places to sit and have your refreshment.
The wonderful part is you can really go to the point were the water falls. You need to trek a lot and then you reach that point. To do this activity please take help of the locals. Caution! Don't be a solo trekker here. If you meet with accident s over here you can't be reached to any rescue team as there is no good mobile network here. You may feel it's a easy walk and it is an easy walk but if you slip or you get an sprain or twist or any mis happening, you will be stuck over there.
Check out my pics and below quick tips.
QUICK TIPS
Best time to visit this is water fall is in the month of August and September
Take Hubli road from Ankola
Need to take right deviation before Yellapur
Small refreshment shop is available near the water fall
Puncture shop is available in village which is 4 to 5kms
Primary health care is available in village
Nearby places:
Jenkal Gudda 5kms
Sathodi Fall 42kms
Shivampura Hanging Bridge 37kms
Distance between Sathodi and Shivampura 5kms