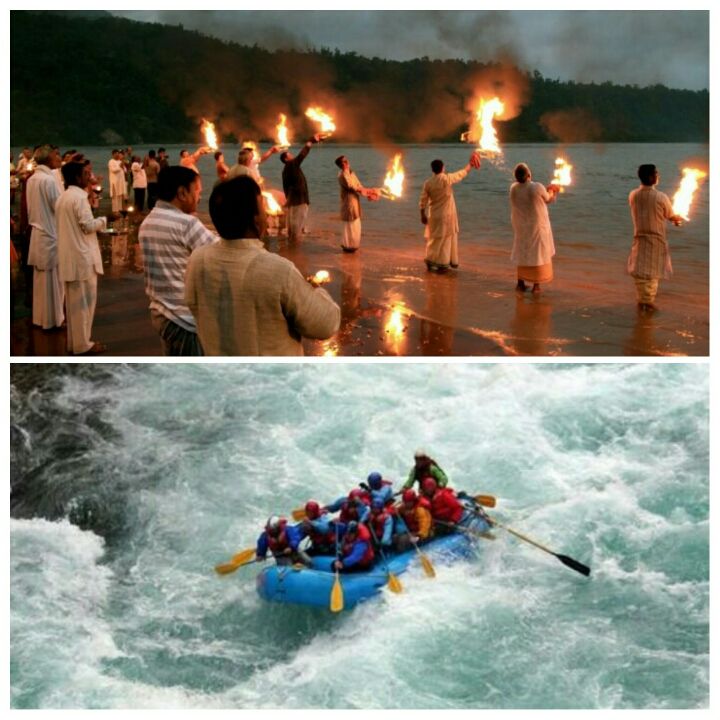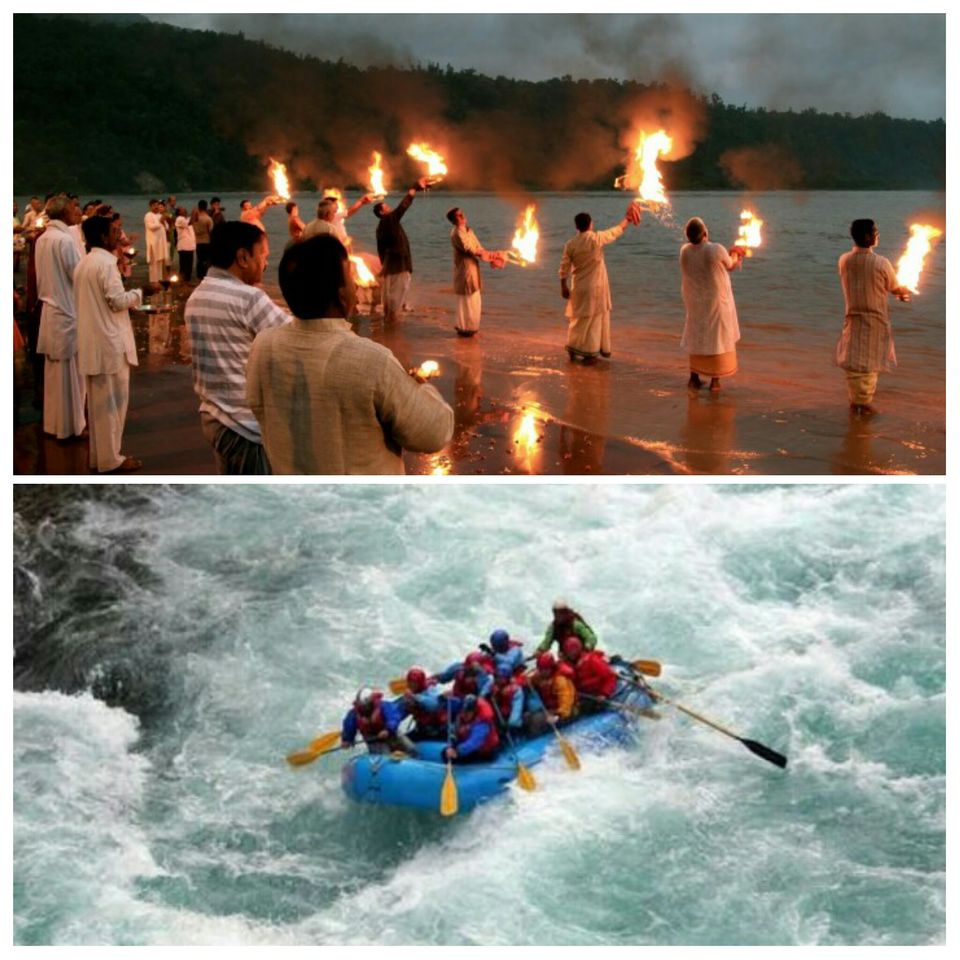 The Yoga capital, situated at the foothills of "The Himalaya" & is considered to be the starting point of the Chaar-dhaam yatra (Badrinath,Kedarnath,Gangotri and Yamnotri). The place with uncountable temples, pilgrimages, views of Ganga from different ghaats, saints and the echo-ing chants....This is what Rishikesh is!!
By law, Rishikesh is an alcohol free & vegetarian city, so better not to expect for non-veg food. Food like veg Chinese to South-Indian is easily available and for the pizza lovers ,there is low chance of disappointment as the city has its all new 'Dominos' there now.
Although, it was not the first time I went to Rishikesh but a road trip to a place which is at the same time spiritual, adventurous & known for its mountainous sight seeing..being explored with the people of same age group, same adventure love and same excitement makes the trip more happening and what could be better if all it could be covered in an upcoming weekend.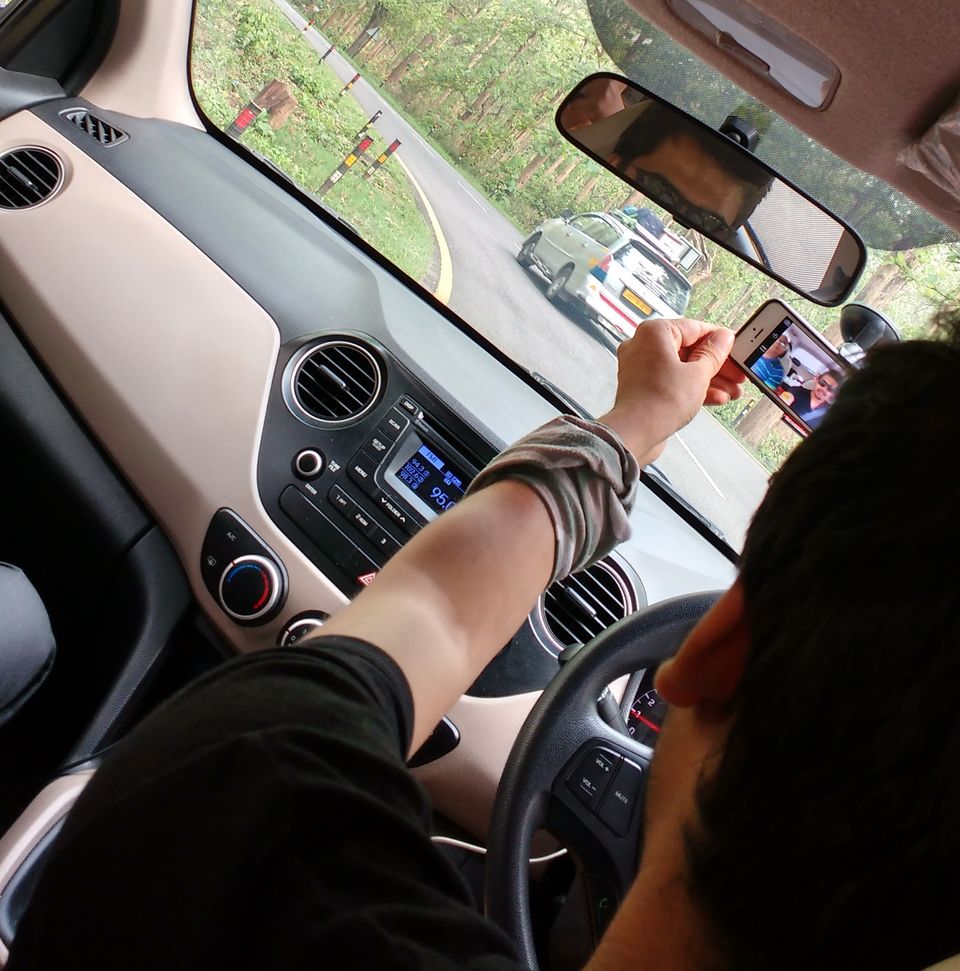 We started our cool getaway from Noida in the beginning of the very May summers at 3 am to avoid the morning traffic and reached there by 10 am. Since, we all were tired enough after such a long long drive, we checked into our pre-booked resort, threw our backpacks and relaxed for a couple of hours before heading anywhere.
If you are an adventure lover, then its more fun to stay in a resort providing with riverside camps facility with a perfect view of high tides, overlapping water along with the rafts from one's own camp. But if you are at Rishikesh not only for the adventure thing but also to relax yourself from your hectic schedules and day-life then better would it be to book & stay in some resort with spacious rooms or cottages to sit back and jus chill....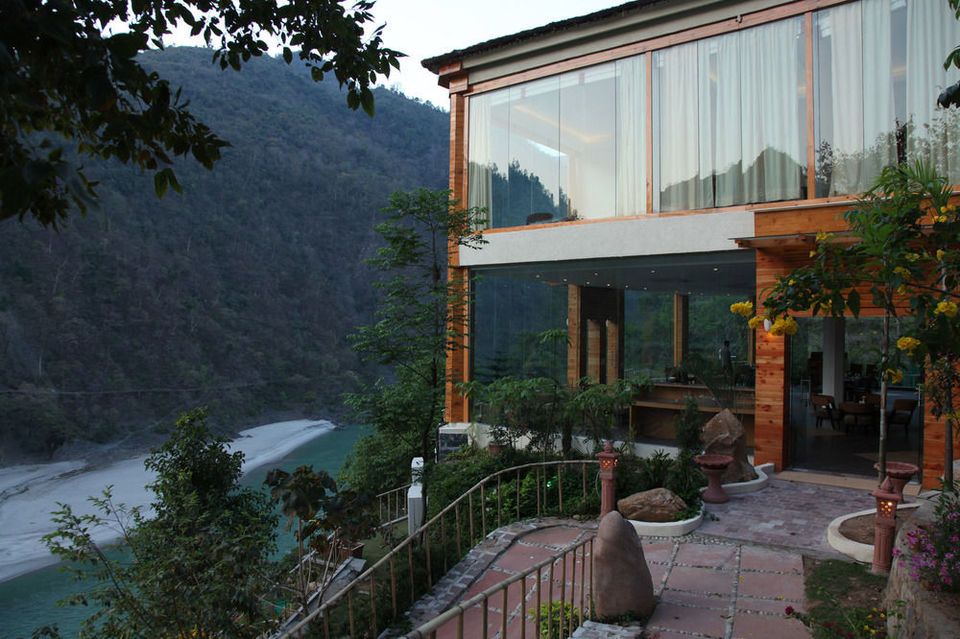 Since, we went there for both relaxing as well as adventure thing, we opted for the latter & booked "Raga On The Ganges", located on the outskirts of Rishikesh in Byasi (Garhwal) which offered swimming pool, badminton court, restaurant and the rooms which were pristine & the surroundings serene.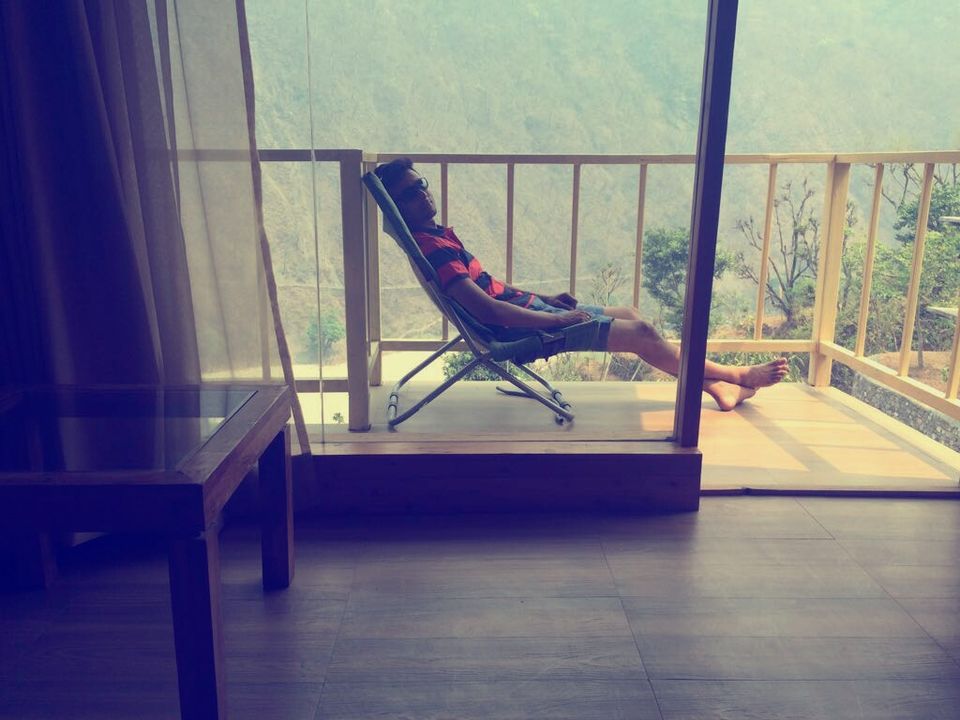 The backside of the resort's property is a long staircase downhill taking to the steadily flowing brook surrounded with high mountains all over, which proves to be a good place for photoshoots, strolling around and calling names loud, which gives echo-ing effect (Bollywood style)...But for late night,its a bit scary, dark and unsafe to go since the level of the tides rises and lighting facilities are not provided at the very place.
As we were there for two days,for day 1, we decided for Rafting. "White Water Rafting" is one of the major attaction among the other adventures of Rishikesh like Trekking, Bunjee Jumping, Cliff Jumping etc. There are a number of agents and dealers providing with the booking for adventures. For Rafting, we need to go to "Shivpuri" from where the rafting begins and ends at "Laxman Jhoola"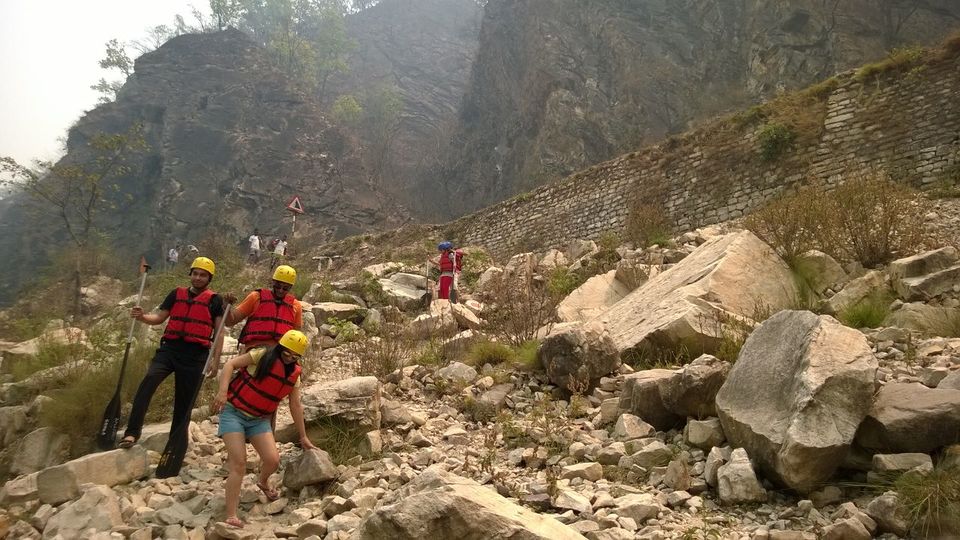 Before we were to enter our Raft, a self-declaration form was been filled as well as signed by us and the trainers guided us well, as to how the Rapids are to be handled, how to balance, how to save one self & each other, turn the Raft and how to lock ourself, if in emergency.
After all the instructions, we were allowed to enter the Raft with our life jackets & the first sound one could hear there was only of the gushing clear waters or the other of the people around hooting & screaming "GANGEY MAIYYAA KI JAI.." from their rafts.

The trainers gave all of us the direction to start away with rafting slowly and steadily and then instructed us at the points where the speed was supposed to be increased and after reaching a level which was almost the mid of the distance next to be covered, we were asked to jump into the water from our rafts....WHAT??..which at the first instance gave the very thought but then we quickly jumped, holding the safety rope and safety jacket around us (which is a real life saver) & floated over the water.
Believe me, Once you do River Rafting, the Aquaphobia....is ALL GONE!!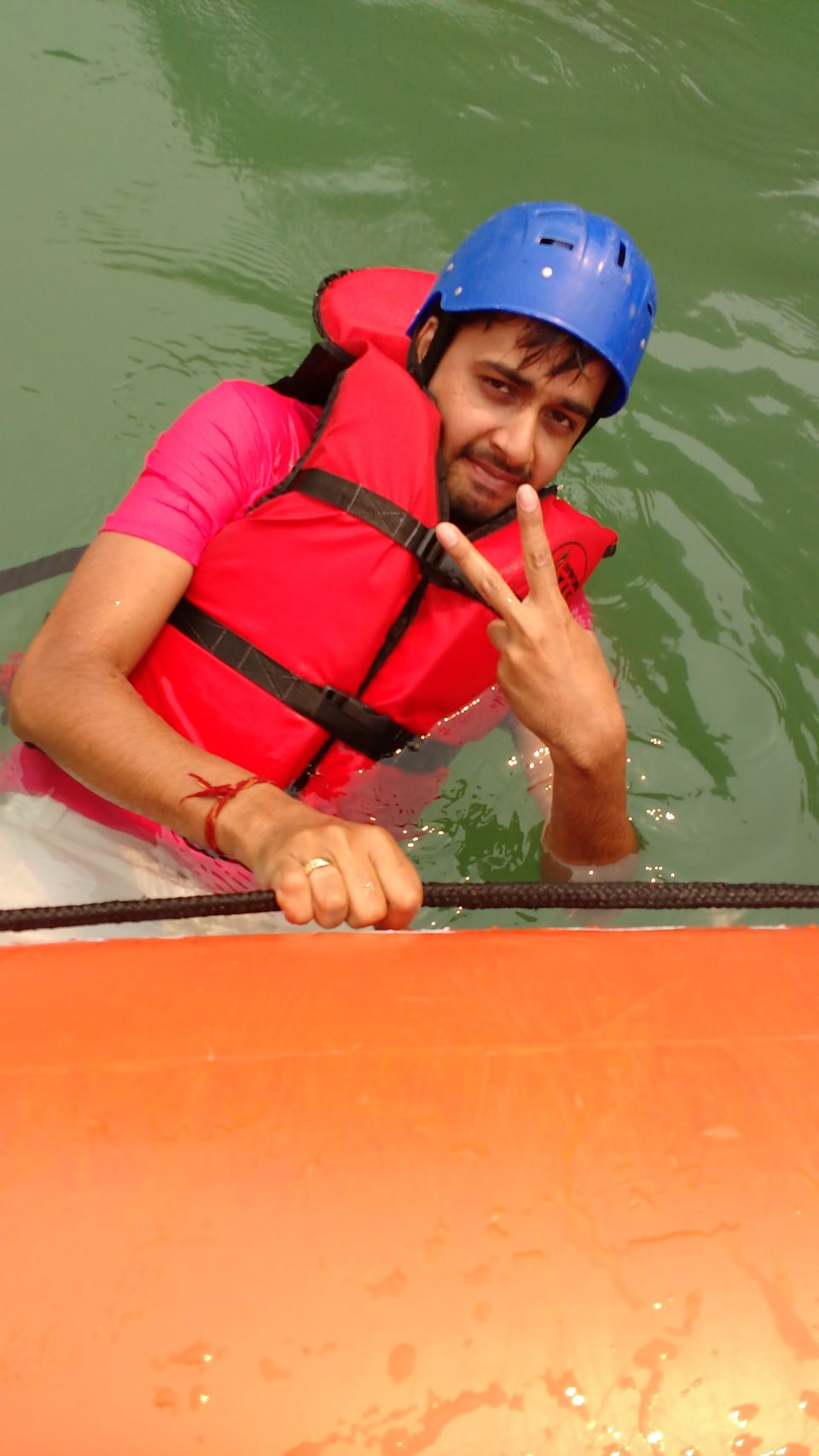 I also found that Rafting is not only an adventurous water sport but the thrilling experience of handling Rapids & those splashes of the chilled water of Ganga....Aaaaahhh!! makes it one of an unforgettable memories of your travel diaries. Rafting & other activities are closed during the monsoons for July & August, as the heavy rains prove to be dangerous for rafting as it may increase the level of the tides.
Tip: Do carry sunscreen to avoid severe tanning and sunburns.
Just after rafting, we all had Maggi which is most sold at almost every joint there and drived back to the resort.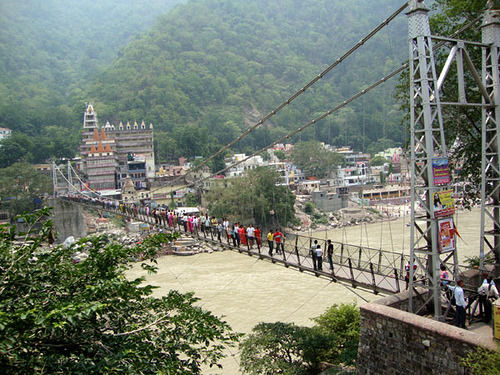 On the final day of our weekend, we reached "Laxman Jhoola" which is a long bridge joining the opposite banks of River Ganga with strong vibrations (to & fro) crossed by a variety of people per day either for dropping coin in water to make a wish or to breathe the fresh air enraptured with nature's beauty or otherwise just as means to cross the distance by their two-wheelers.
The one side of the bridge has number of temples situated whereas the other side offers with the roadside local market where there are many food joints, yoga classes, travel agencies, vendors selling bags, wooden items, religious books, clothes, keyrings, sphatick( glacier stone) jewellery.
After having our lunch around 3 pm at the resort we backpacked & reluctantly moved for Noida with a wish to visit again in next summers.. (Smiles)