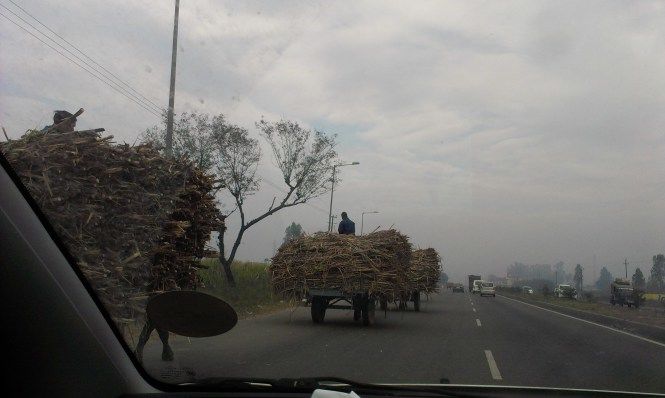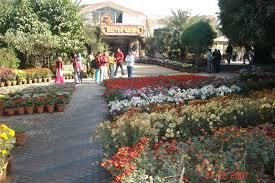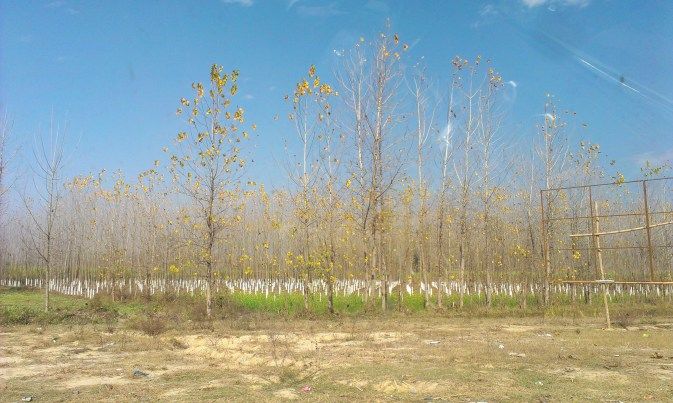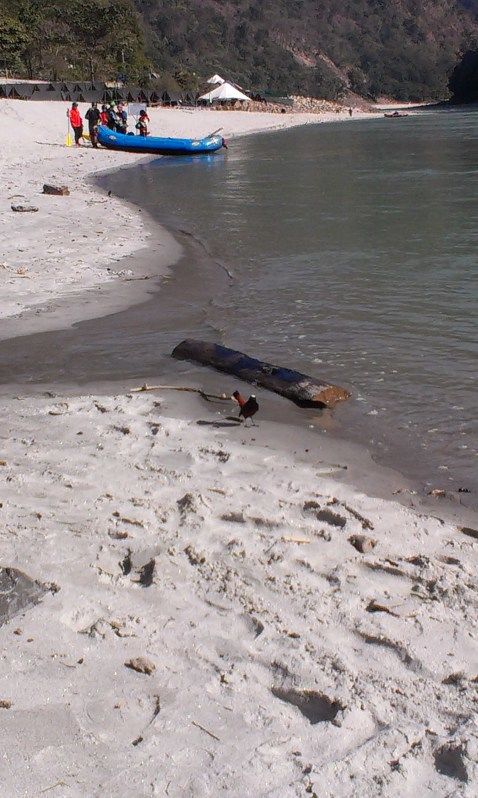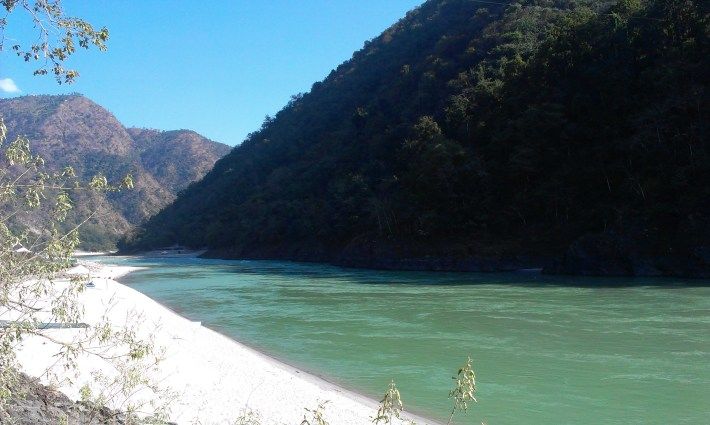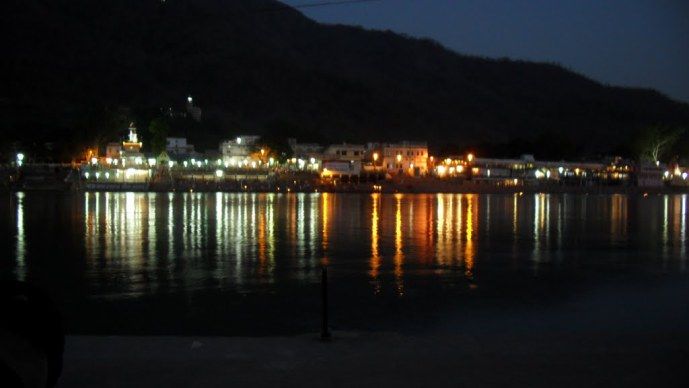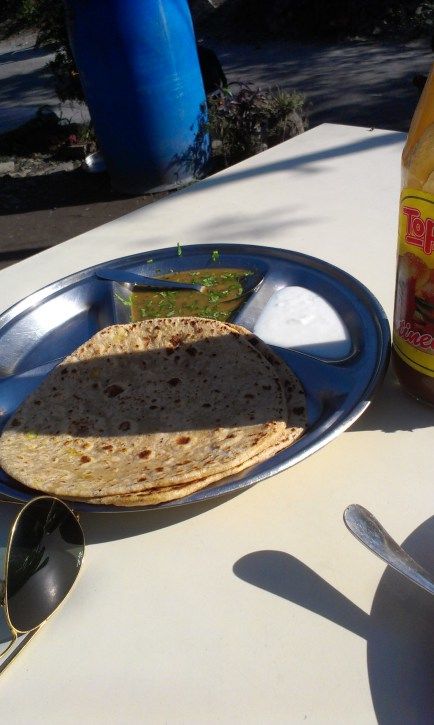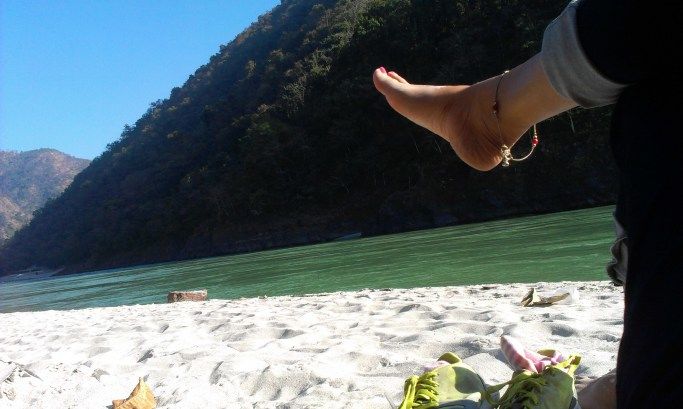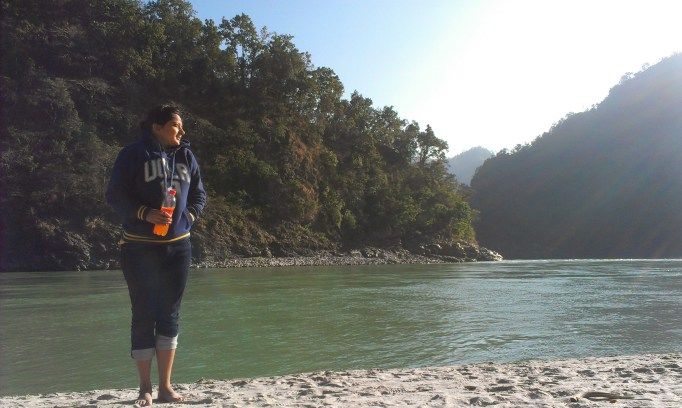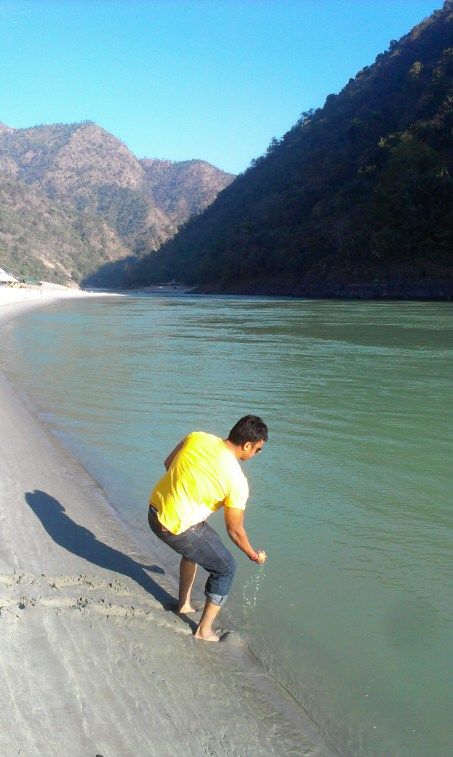 My last best memory of Rishikesh is myself 7 years old, trying to hold myself steady on the swaying Laxman Jhoola. We had gone on a family outing with a lot of cousins and relatives. With parents keen on visiting and offering prayers in all the known temples and at all the ghats, the trip was more of a rushed one, like a compulsory to do list to be completed. All along, the memories of Rishikesh became more and more hazy and all I could remember was lot of crowded temples, visitors donned in saffron sitting at the ghats and smoking chillams. I was never intrigued by this place and never did it occur to me to go back.
On the contrary, my husband has been a great fan of the place and has visited Rishikesh many times. During our annual shut down at office last Dec (when we were JUST FRIENDS) it doesn't came as a surprise when he suggested we go to the Devbhoomi. I was reluctant. After all I not a religious person, I do not worship idols. What would I do there? And I am too scared of water to be able to do white water rafting. Anyways after lots of arguments and counter arguments he won and we set out one chilly winter morning when it was pouring down cats and dogs. Having packed lots of sandwiches and omelets, I was cold and sullen and not looking forward to the trip. Adding to my agony was the grey weather in chilling winter of December.
We started at 7 in the morning and I lit up when I saw him and I forgot all my apprehensions. I had the best company and that was all that mattered. We left the Delhi traffic and entered U.P. through Ghaziabad, encountered ruthless traffic, chaos and although irritating, it was a welcome change from the Delhi Blues.
Soon our car was racing on the highway with lush green fields on the both sides. It was beautiful. We took a halt at Muzaffarnagar around 10:30 am at the Moolchand Resort. It is a nice resort with a beautiful garden and in December the flowers in all possible colors were in full bloom.
We spent half an hour warming ourselves with tea and pakoras and then resumed our journey. Soon the roads became less smooth with more pot holes and boulders than the road itself. It was a not so pleasant experience.  Then came Roorkee which is a small town and we breathed a sigh of relief as it is a part of Haridwar district. We decided not to enter Haridwar and pass it from the outside.
As we approached Haridwar around 1:30 pm, the sun shone down and we witnessed beautiful views  of fields of mustard, which I managed to capture.
Soon we entered Rishikesh and were moving along the Ganges. We wanted to get accommodation at the Geeta Bhawan as it is on the ghats and gives them most authentic spiritual experience but due to some national level religious confluence, there was no availability. In fact all of Rishikesh was booked. So we decided to push a little farther and found a nice hotel at Shivpuri for 1300 Rs per day. It was just after Rishikesh (10 kms ahead) and gave us all the peace and serenity we wanted. Room was plush and with a hillside view in a huge balcony. Since the room hunting took most of the day we showered and ordered food in the room itself. I anxiously waited for the next day and had a dreamless sound sleep as I was dead tired.
Next morning we decided to explore further towards Shivpuri. We found a small dhaba on a small hill and decided to give it a try. I had the world's best bun omelet and tea there. Right in front of the dhaba was a descent to the banks of the Ganges. The dhaba lady encouraged us to park the car and climb down. I was skeptical as it was a narrow dinghy passage with lots of monkeys with prying eyes ready to snatch our belongings. But suddenly the passage met an opening and woah!! The majestic Ganges in all its beauty welcomed me. The pristine white sand beach glistened in the sun. White sands, blue water, golden glaze of the warm sun on a winter morning, it all looked like a pretty picture from heaven.
We were so overwhelmed with the view that it took much time for the view to sink in. The Ganges was amazingly clear, very cold and swift, desperate to meet the plains. The river is like a young girl on the mountains, very chirpy, desperate to break the rules, the borders and set free. This is how poets and writers have described over the ages. And yes, Ganges to me was the personification of that young girl, fresh, swift, fragrant, fickle. The river was spraying mist all over the beach and it was most relaxing to sit under the sun with mist showering on us. We spent the afternoon there, lying down in the sand and looking at the river. A few 100 meters ahead we could see the rafting camps. Although in December most of these water-sports stop and we didn't see any rafting enthusiasts there, there were a few foreigners who I believe had come especially for such adventure sports and had received special permission.
We left the beautiful scenery around dusk and retired to the coziness warmth of our hotel. At night we went down to Rishikesh and strolled on the streets besides the river.  We had our dinner at Chotiwala, the most famous eatery in Rishikesh. They have all sorts of variety of vegetarian food with endless options. We zeroed down on a puri-sabzi and chole bhatoore. The food tasted even yummier in the cold Rishikesh night. I never enjoyed the flavors of such basic Indian food before this. We strolled in the market after that, fed some cows the biscuits we bought and sat by the Ganges. I could easily say it was the most divine experience of my life. The entire ghat was lit up with lamps and th reflection in dark water created a beautiful illusion. It felt like being in harmony with the divine. I felt spiritual and could feel the presence of the ultimate energy around me. It was like a spell being cast on us as we just sat there, sans thoughts, without talking for almost an hour. I grasped the view I my memory and we retired to the hotel.
Next morning we took a tour of Rishikesh, refreshing my memories of Laxman Jhoola, Ram Jhoola, and the view of the ghats. My last visit was in 1994 when the Ghats were surrounded by boulders and temporary boundaries with the hills in the backdrop. 20 years later now it was all a concrete jungle with names of various gurus and advertisements painted all over. There were permanent stone structures, stairs to the water and houses and hills looked like they had been hidden by the mesh of concrete. I was disappointed and then we decided to go back to our previous days spot near Shivpuri. Today we tried cutlets and parathas at the dhaba and they were equally tasty.
We spent a playful afternoon there splashing in the water and looking for pretty birds and decided not to go back to the town and rather decided to check out and push to Mussoorie.
With a heavy heart I bid adieu to the Ganges, promising to be back the next year.  The Ganges seemed to take away all my worries and inhibitions. Ganges helped me take big decisions of my life. Ganges assured me that all was going to be well in the end. She encouraged me to take the steps forward. She connected me with my inner self and my spiritual side. I felt more confident and sure as I left her side.