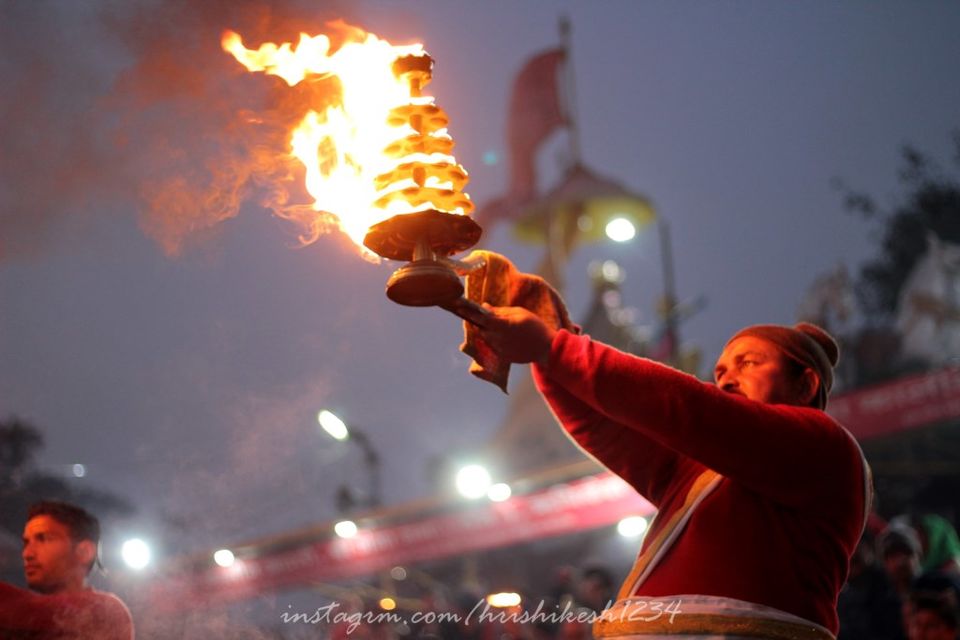 I have been to Rishikesh twice; once in Oct 2015 and then in Dec 2017. Both with the purpose of taking some time out to explore adventure and tranquility while majorly heading out to a Himalayan trek. Over there I arguably had some of my craziest moments ever in my life. Read on to know what!
It all started when we were planning our Rupin pass trek. Since it was the first time for Sourabha and Harsha I had an idea why not spend some time in Rishikesh before we head out for our trek. Apart, Bungy jumping and River rafting on river Ganga was something I always wanted to do, albeit I'm scared of both heights and water. The plan was set, tickets booked, and our excitement at peak.
From Delhi to Rishikesh
We took a early morning flight to Delhi from Bengaluru, and spent some quality time exploring and devouring (not a good idea though) some paranthas fried in oil in the famous paranthewali gali. Once done there we stepped inside the Lal Quila (Red Fort) which is placed bang opposite to Chandni Chowk. After admiring the Mughal architecture we left to Connaught place for some dinner, before heading out to NDLS (New Delhi Railway Station).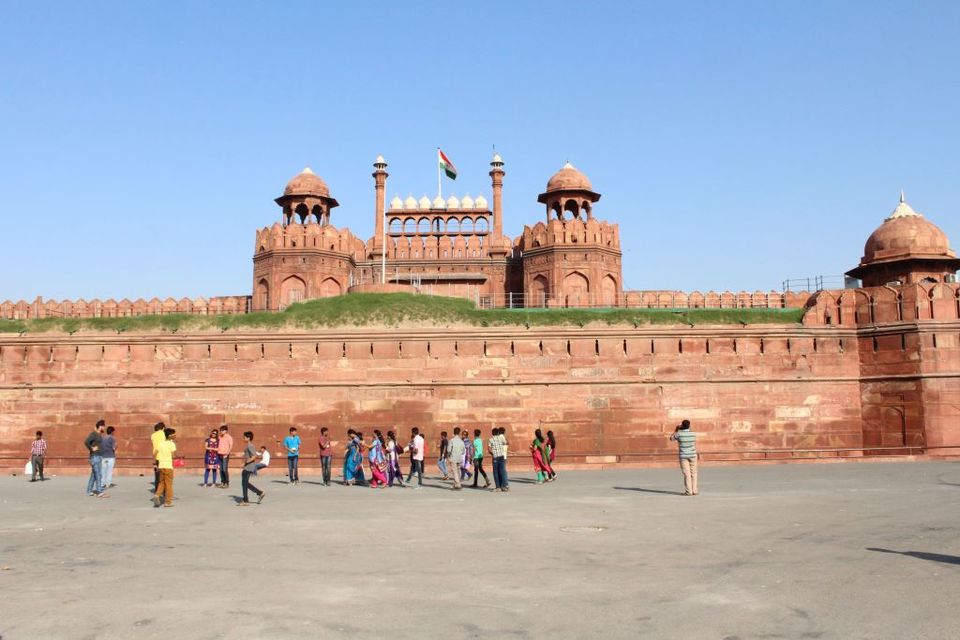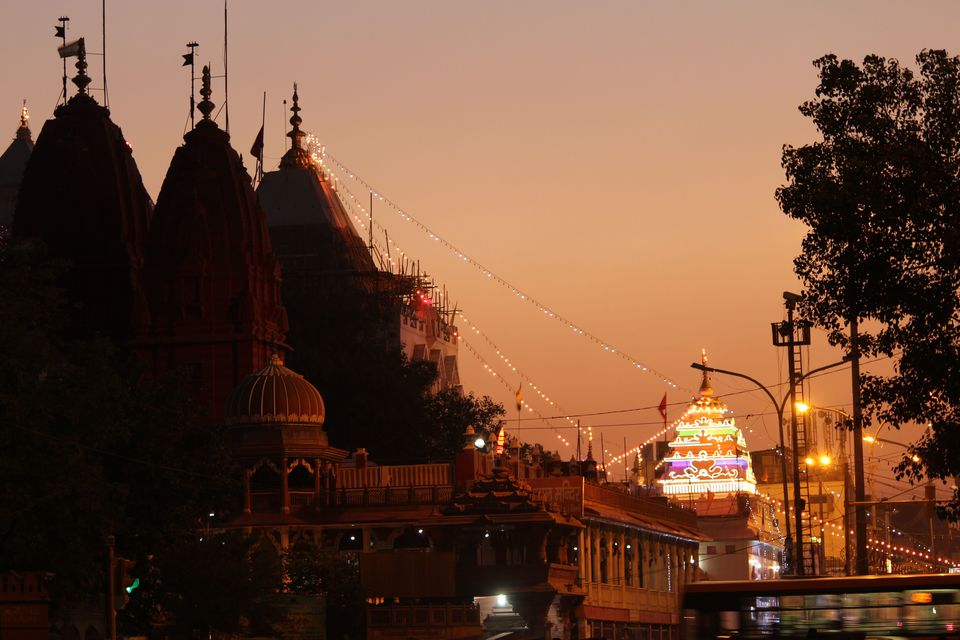 Rishikesh is conveniently connected with Delhi via Haridwar or Dehradun. We took the Nanda Devi express that leaves NDLS at around 11:45 pm and reaches Haridwar at around 4:00 am and Dehradun at 5:45 am. Ideal considering you sleep the whole night and reach your destination rejuvenated. From Dehradun or Haridwar it is less than an hours drive to Rishikesh, and plenty of cabs or public buses ply frequently.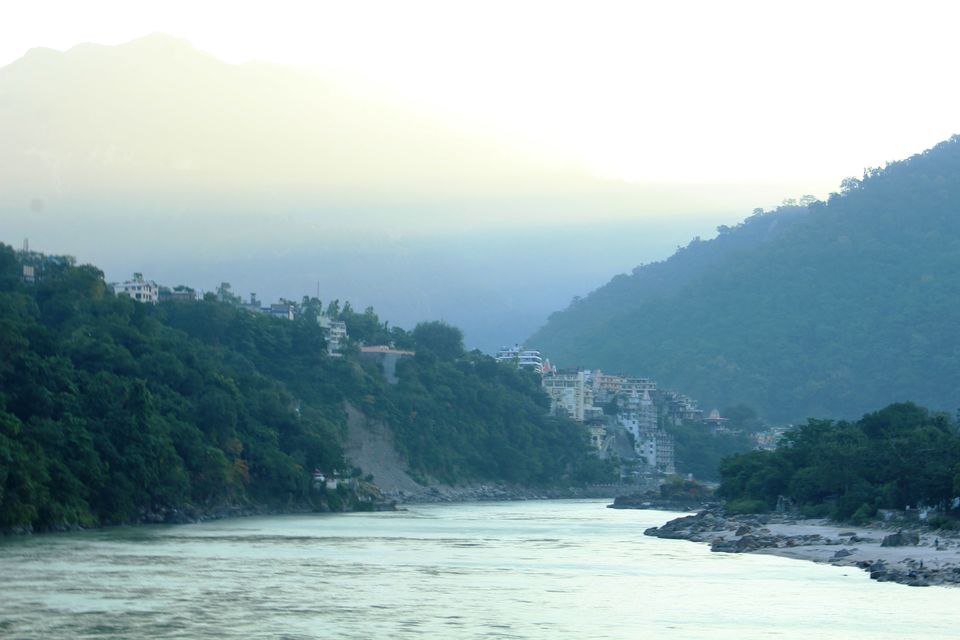 A word of advise: Rishikesh is pretty famous with tourists, considering it is only 6-7 hours ride from Delhi. As such it is best to avoid going there during weekends or long holidays. We were returning on a Sunday from there to Dehradun, and the crowd were just honking and littering around.
Jumpin Heights is the place to be for Bungi Jumping in India. In fact its the only place in India with a proper, fixed platform for Bungy jumping in India. Their office is on the Badrinath road, near the Lakshman Jhula Police station. But their jumping platform is made at a place called Mohan Chatti, which is quite far from Rishikesh. Once you have done your booking for your jumps they arrange buses to the action point on regular intervals. A word of advise here; better do your booking online in advance before reaching Rishikesh. If its a weekend or for any reason there are no slots then you'll miss out on the opportunity.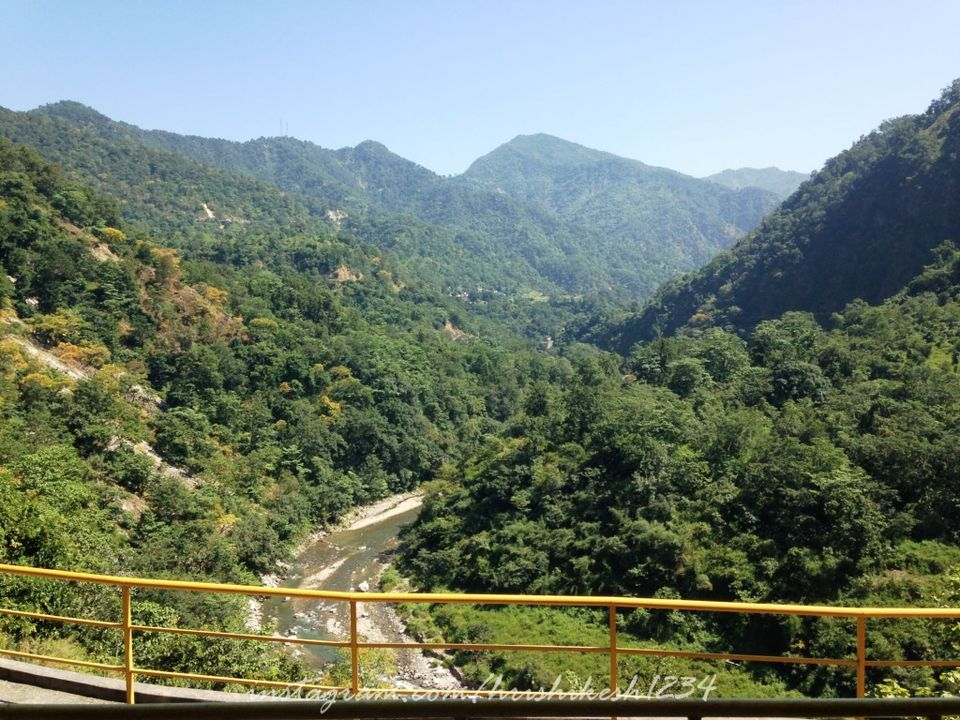 So the bus picks us up, and apparently its only the 3 of us going to Mohan Chatti village. The ride is rickety, and full of turns to say the least. It takes less than an hour to reach here. Once there just admire the endless greenery all around you (before you jump into it). Your details are filled in a form, along with a responsibility waiver form. Then your weight is measured. And the wait for your turn begins. With every passing minute you really ask yourself if its the right thing you're doing. In fact, are you even sure you wanna do it? I mean what if the cord snaps while in air? What if you get some kind of panic attack while airborne? What if the platform itself collapses due to an earthquake or landslide!!! Damn it, all the negative thoughts were creating a havoc in my mind.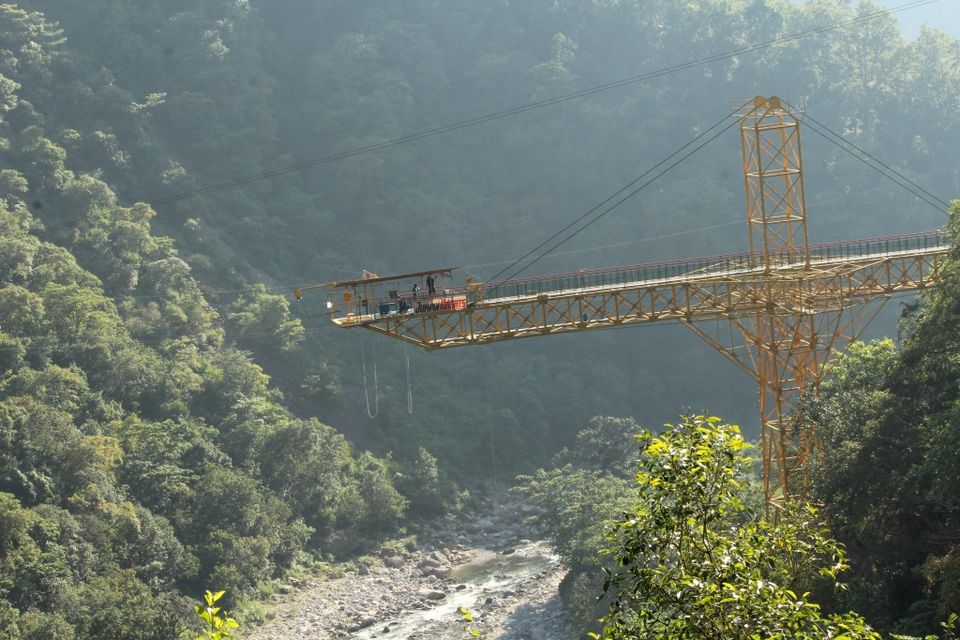 We were given the green light to walk up to the bungy platform post lunch. With every step towards the platform my heart would pound harder. Once on the platform the actual fun and excitement begins. Harsha was the first one to go, and so scared he was he took almost 10 mins before he could gather the courage to jump. Next was Sourabha who took the Giant Swing instead of the bungy. Giant Swing is a huge as$ pendulum I would say! And then it was my turn...
I walked up to the ledge, brimming with confidence. I mean you have the safety harness all over you, the rope seems strong, and the jump master an expert. What could possibly go wrong! The moment I took a peep what's below all my morale boost took a nosedive. I was literally panicking now! Although from outside I looked calm and confident, but from inside I was cursing myself to even think of attempting something like THIS! I took the courage, opened up my arms, said my prayers for 2 secs, and took the leap of faith! "Bungyyyyyyyy"!
The first 5 secs after the jump is the craziest; there's nothing beneath your feet anymore, you're in a free-fall, and your brain goes cuckoo! Trust me your mind stops thinking, till the point the rope stretches out completely and slings you back up. This is when the adrenaline really kicks in. Wooohhooooooooooo!!!!!!
Once you finally stop swinging around the crew below pulls you down and lays you down on a bed so that the brain can finally gain consciousness, and make peace on what the F you just did!
Apart, we also tried the Flying Fox. Its fun as well, but comes no way close to the nerve-wreck that Bungy offers.
After our Bungy adventure we returned to Rishikesh and strolled around at night. Not satisfied we decided to explore the town on foot early morning the next day.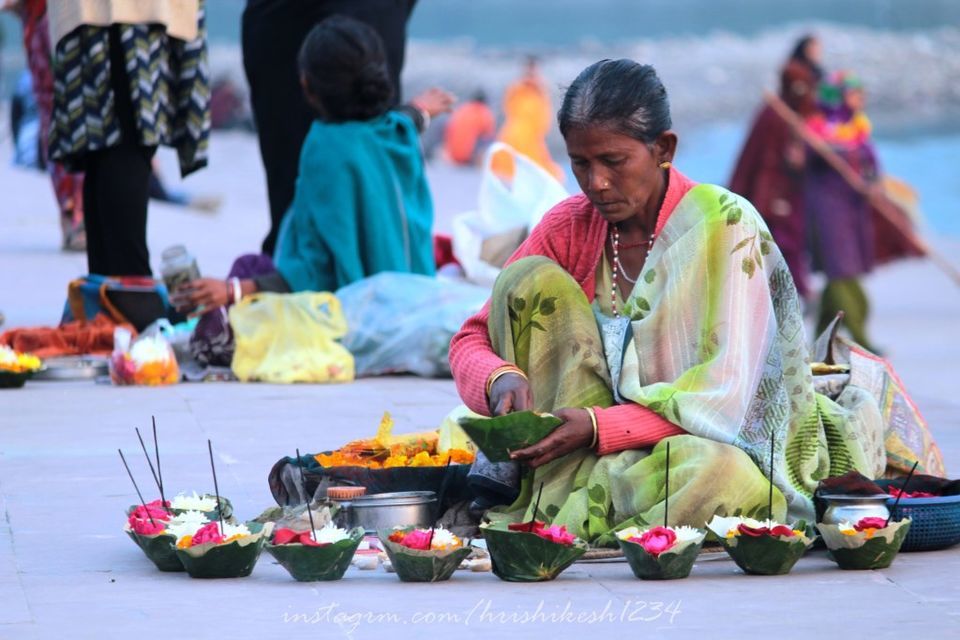 Get up early, take a stroll on the alleys of Rishikesh, enjoy the placidity around.
Situated on the shores of river Ganga Rishikesh is a major attraction for pilgrimage as well as for Yoga world over. We headed out at 6 am, and headed out to the other side of the river. Which means crossing the famous Lakshman Jhoola (swing). Well, just in case anonymous to this name Ram and Lakshman Jhoola are 2 twin iron suspension bridges over Ganga, and are synonymous to Rishikesh.
We sat on the bank of the river, watching people take a holy dip. Also saw few elderly people, just sitting there in a meditating pose, with content and bliss in their eyes. Early morning also means meditation and yoga sessions in the ashrams spread across the town. We walked past hurrying kids rushing to school and had breakfast in a cafe, watching the river make its way with its onward journey. We also numerous temples dedicated to different deities.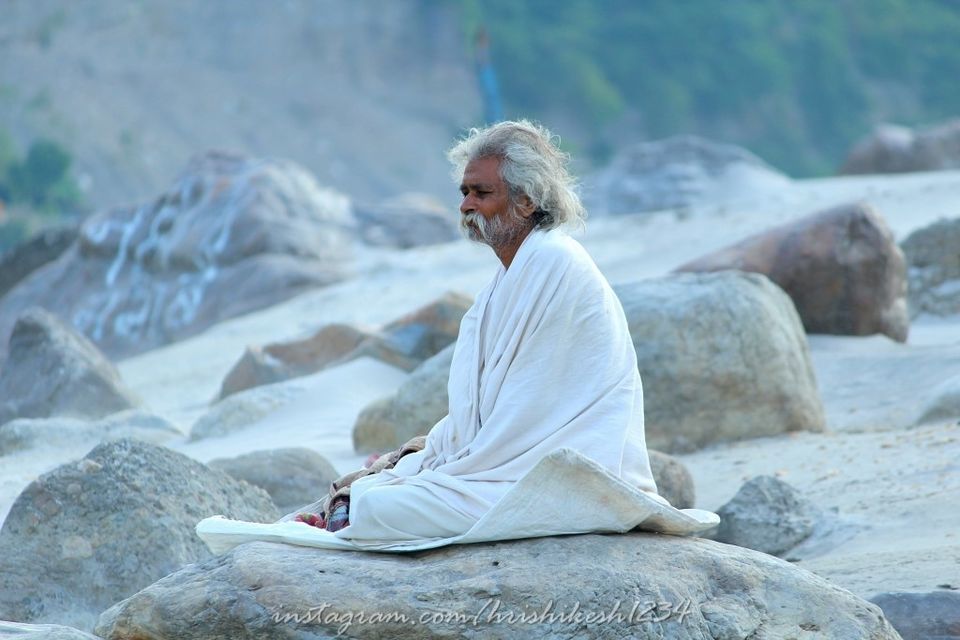 River Rafting
After spending the morning strolling around Rishikesh we had planned the remainder of the day for river rafting. Something I've been to wanting to do ever since I heard about it. And now was the perfect time to do so considering monsoon has just left and the water in the Ganga is not so cold yet pristine.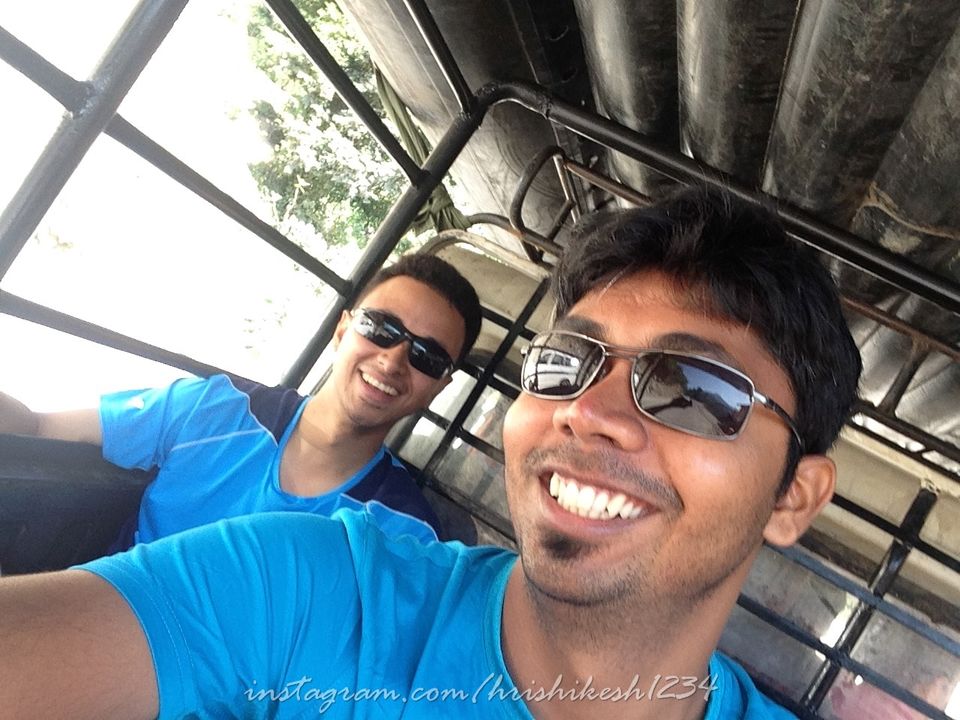 Now here's the thing; most people do the stretch from Shivpuri to Rishikesh which is 16 km long and is the most popular (and crowded). But we good souls decided to go further and try our luck from Marine Drive to Rishikesh, which is a good 24 kms long, and is Grade IV certified. Hell yeah! Our operator had arranged for a pickup van, but since it was already full we had the "luxury' of sitting in the back. That was indeed an exhilarating ride till the rafting start point.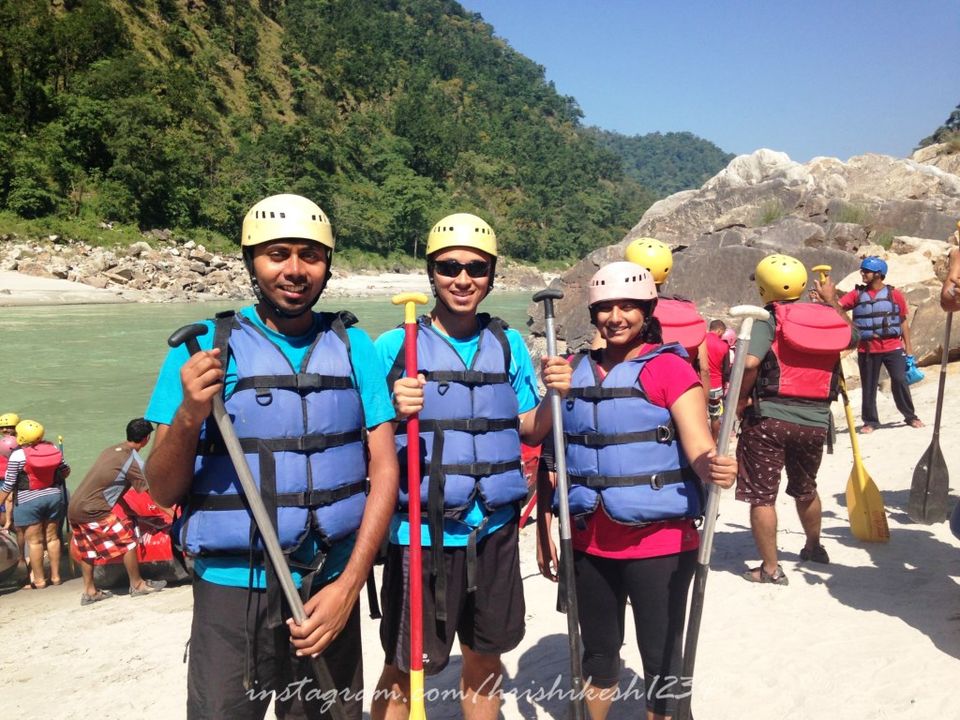 The rafting session starts with getting down the raft from the cab and placing it in the river. Before you can hop in and start paddling the tumultuous water one has to strictly follow the safety guidelines; life jacket and helmet a must, follow the rules of the captain on the raft, and if in water then do not panic. Unfortunately, we didn't have a waterproof or an action camera, so couldn't post the video of our epic rafting session here.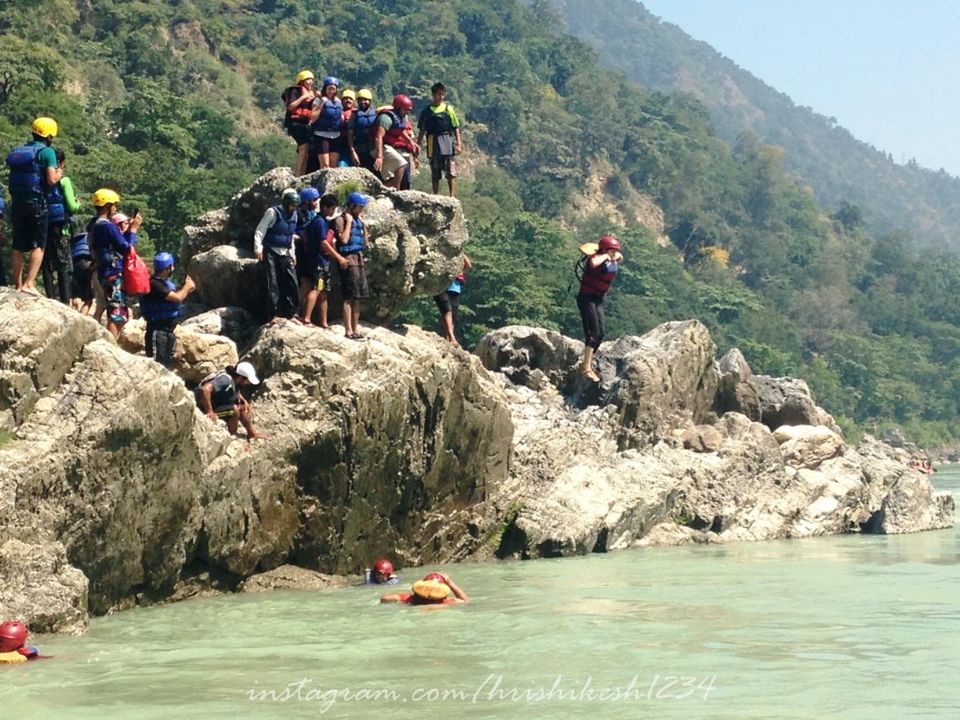 We jumped in, I along with another volunteered to be in the front so as to pedal harder. Not that I was not scared but rafting in Ganga is one helluva experience. We had an adventurous time battling the vicious rapids, and not a single time that our raft flipped. It was fascinating to see so many colorful rafts in the river, all battling it out. We reached the end point, but not before a cliff diving session.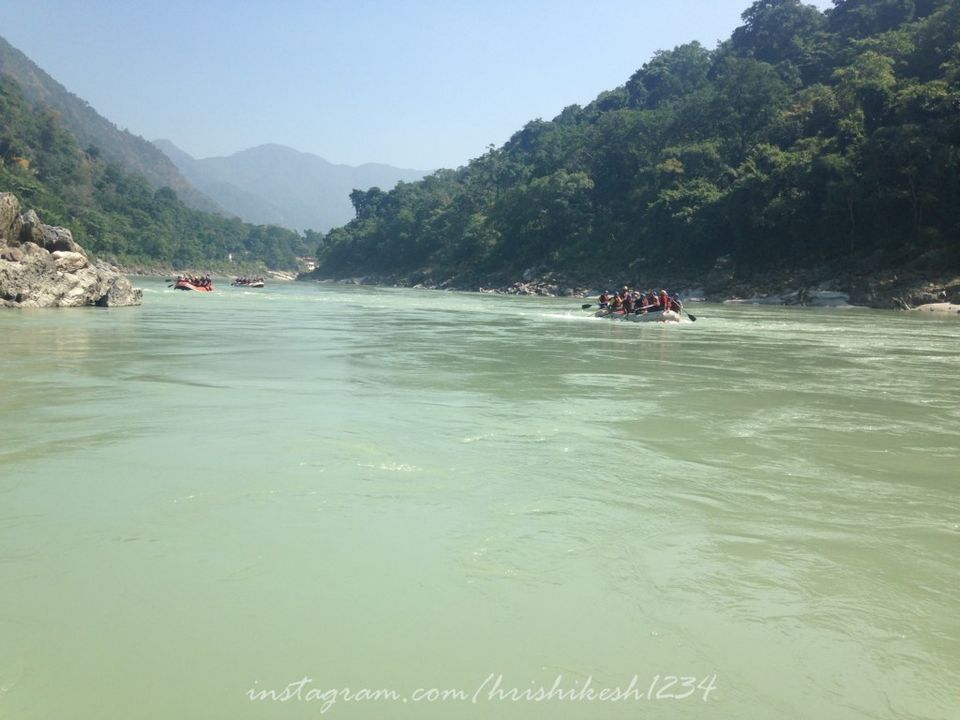 Evening Ganga Aarti
So you've seen Rishikesh all in all by now? There's still one more place you need to visit before saying your byes to this holy town. The evening Ganga Aarti at Triveni Ghat is an soulful affair. You shouldn't miss it, in fact. We went to the one at Triveni Ghat, but you can also go the one arranged by Parmarth Ashram.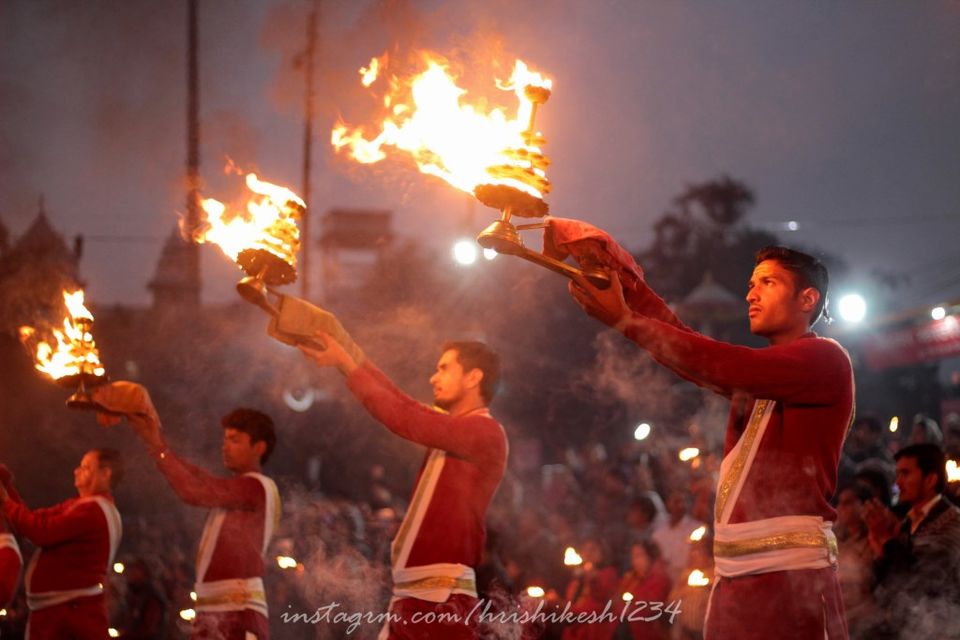 Fast-forward to Dec 2017 and I'm back at Rishikesh. This time we straightaway went to Triveni Ghat to witness the Ganga Aarti. During winter the aarti starts quite early, at around 5 pm. Ganga aarti is the worshiping of the river and goddess Ganga. If you want to have the best seats then advisable to reach early. Lot of foreign nationals could be seen, immersed in the aarti with soothing being songs performed in the back.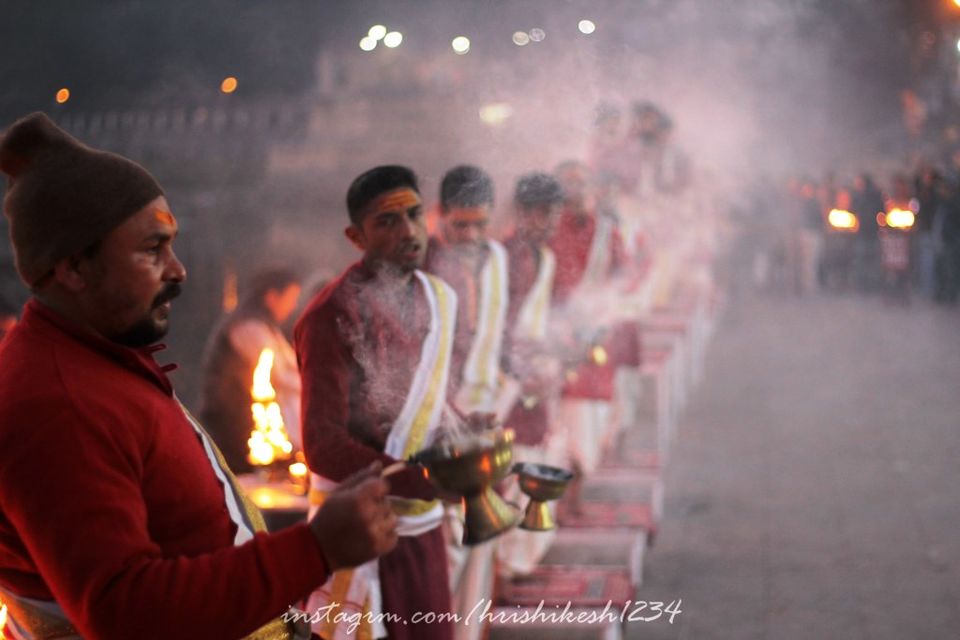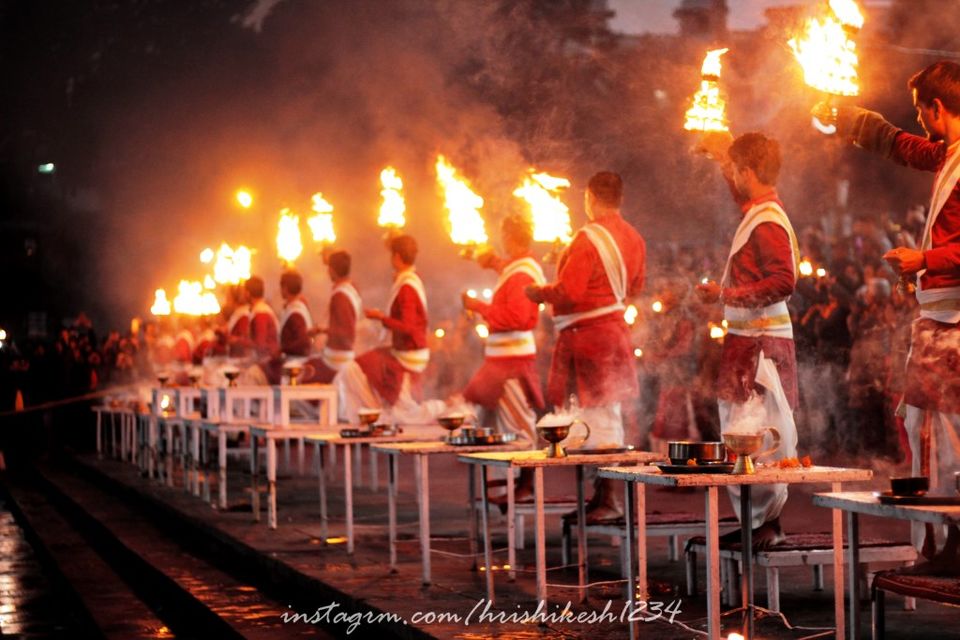 For photographers it is one moment they always aspired to capture. And I was no different. The smell of incense coupled with the bhajan songs creates a soothing magic in the surrounding. A must visit if you're planning to visit Rishikesh.
Where to Stay?
Well, this is a question which won't come up more often I guess. Rishikesh has plethora of options to rest for the night. That apart there are lot of backpacker hostels, like Zostel for the ones on a shoestring budget. Food you'll mostly find veg here, and no liquor shops I could see.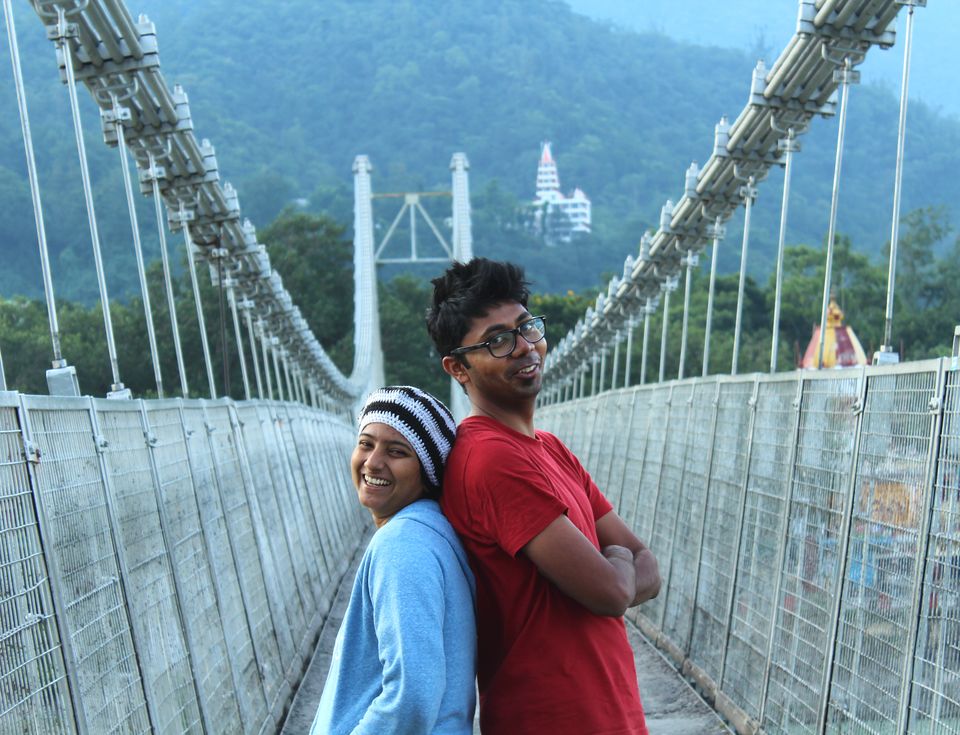 Frequent Searches Leading To This Page:-
holytrip to rishikesh with friends, weekend trip to rishikesh, 2 day trip to rishikesh, weekend travel to rishikesh, weekend holidays to rishikesh