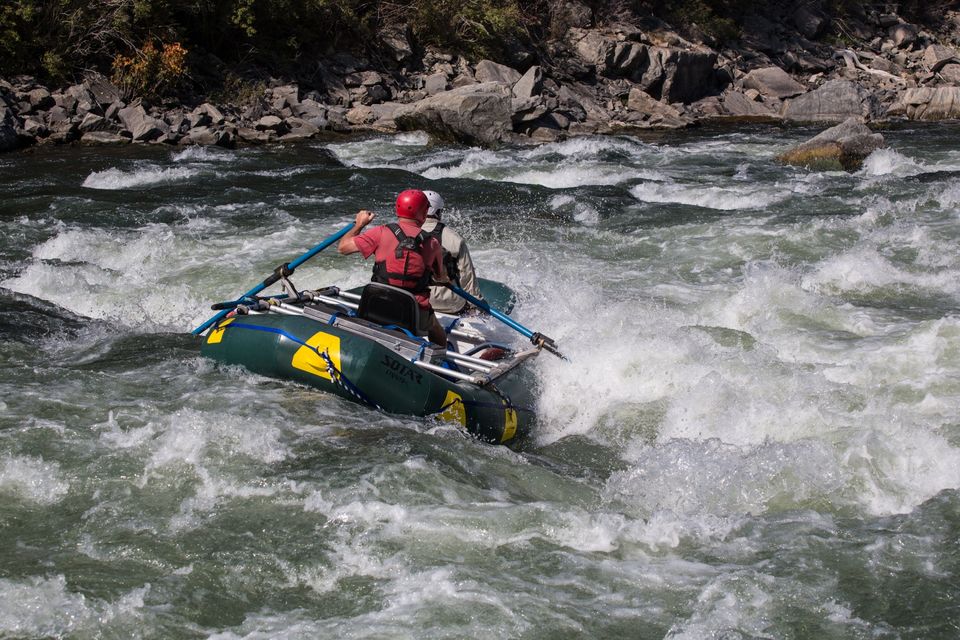 The water rockets in foamy splendour hurtling down the slopes. A group of men and women with safety jackets, helmets and other safety gear swivel their oars as they glide in the rapids, letting out shrieks of excitement. Some fall of the raft and pull themselves up again, others manage to hang on as the raft plunges on. These are the images of river rafting that are enough to set off the adrenaline traipsing merrily through one's veins. If you are looking for a thrill river rafting adventure, then you do not have to look far. Coorg, also known as Scotland of the East is an ideal locale to indulge in this adventurous sport. Coorg is a hilly district in the state of Karnataka and is located about 250 kilometres from the capital city of Bangalore. The place is well connected by road to Bangalore and is nestled in the midst of hills and embellished by Coffee plantations, gushing waterfalls, meandering rivers, and lush forests.
The terrain of Coorg district with steep gradients renders itself very well for river rafting. River rafting is a challenging adventure that tests ones skills of negotiating rough waters, usually in the rapids in a raft.
River Rafting on the Barapole River
The Barapole river in Coorg is indeed a river of opportunity for those looking for a slice of adventure in the rapids. The river rafting run in the river is for about 3 to 4 kilometres and the entire adventure takes about 3 hours which will include a short introductory and acclimatization session. Safety measures are taught and each rafter is given hands on experience of going overboard and rescuing as well.
Once you are ready and the excitement has built into a crescendo, the raft sets off in the rapids for its tryst with adventure amidst squeals of excitement. The rapids themselves have been very imaginatively named as Grasshopper, Morning Coffee, Wicked Witch, and Big Bang. The spray of water, the act of getting wet, falling into the water and getting onboard again all are part and parcel of the excitement and adventure of river rafting.
Who can participate in River Rafting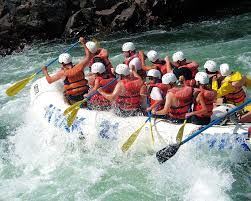 Anyone with moderate fitness levels and between the ages of 14 to 60 years can indulge in River rafting. One important point to note here is that contrary to common belief knowledge of swimming is not required to participate in this adventure. However what is mandatory is an unquenchable thirst for adventure.
River Rafting in Dubare
Another place to head to in Coorg for River rafting is Dubare. Though Dubare is more well known for its elephant camp, there is facility for river rafting as well on the river Cauvery. The river rafting in Dubare is quite sedate as compared to the one on the Barapole river. One has options of two different river rafting runs which are for 12 kilometres and 8.5 kilometres respectively. In the Dubare run there are are just a couple of rapids and hence it is more for people who are looking for a leisurely float on the river, slowly taking in the natural beauty and feasting their eyes on the flora and fauna of the region. Of course if it is only adrenaline pumping adventure that you are thirsting for, then the river Barapole is the place for you.
The sheer number of rivers in India and its topography offers a multitude of options for River rafting across the country. Of course Rishikesh is famous the world over for its exciting white water rafting which has attracted even the likes of Brad Pitt. However down south the place to head to for an adventurous experience of River rafting is Coorg. The rapids of Coorg are beckoning you to enter a haven of adventure. What are you waiting for? Grab your oars now!
If you loved this article, please follow our journey:
Blog: Voyager https://imvoyager.com/
Facebook: https://www.facebook.com/imvoyagerdiaries
Twitter: https://twitter.com/IMVoyager