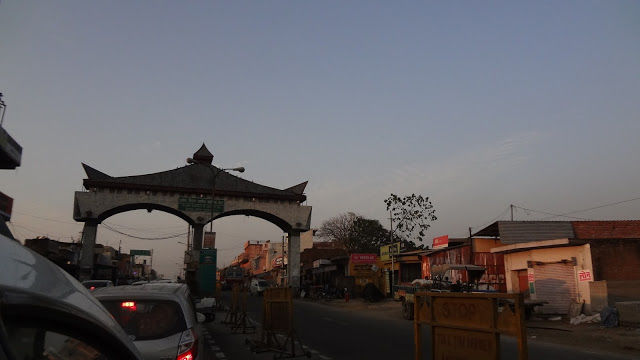 This road trip was surprise from by elder siblings to me. They just call me home immediately. On 30th December 2015. They told me to go Dharamshala for celebrating new year eve.
Next day, on 31st December, we started heading toward Muradabad in 5 o'clock. That was a foggy morning, Every thing was white. after 2 hours from Rurdrapur we reached Muradabad. and then our next stop was Gajraula, where we had our break fast.
We reached Chandigarh via Garh Mukteshwar-Meerut-Karnal. The road after Karnal was super awesome . Here are some snaps.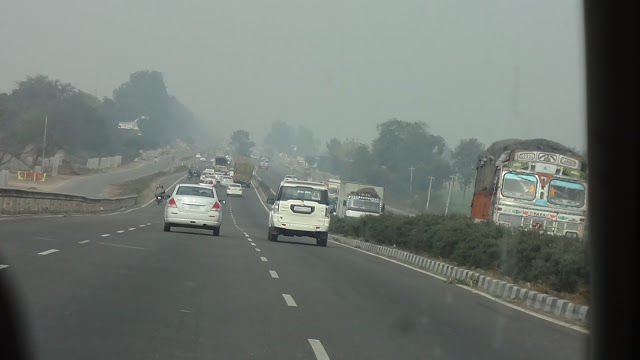 In the evening, around 5'o clock ,we entered in Himachal pradesh.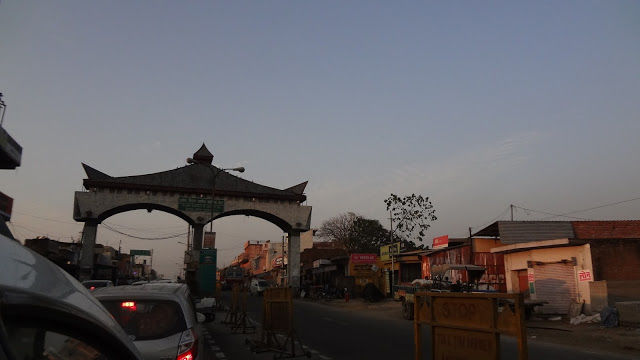 The weather was positive and roads were friendly. At a midway, we stop to capture the beauty of nature 'Sunset'.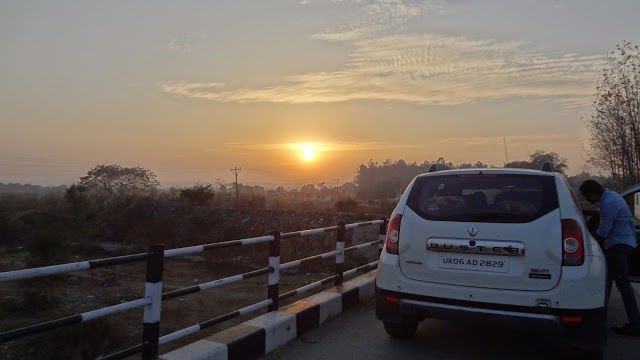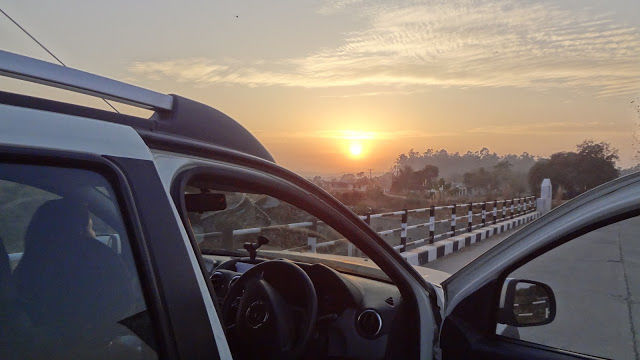 that night we reached Kangra. This place is just before Dharamshala. Here we booked hotel. Here hotels are pocket friendly than Dharamshala and Mcleodganj. Next morning we had leaved for Mcloadganj. We didn't know much about this place.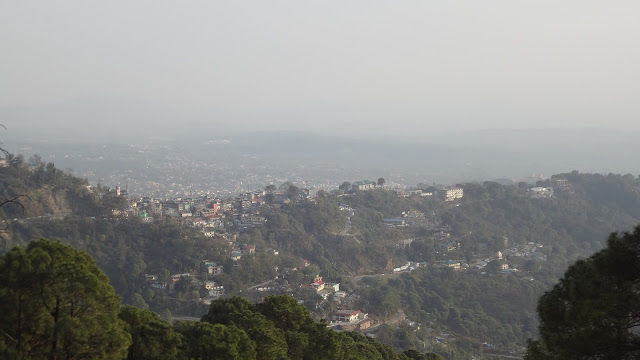 So we asked google Mata for nearby to explore. Bhansugnag Waterfalls seemed interesting place. So we followed google maps amd got stuck in traffic (terrific) jam before 2 kms our destination. Because its weekend and public holiday this trip was our most rushed trip. While me and my brother was trying to find escape route from that jam, my sister opened door and went to buy Jhalmuri.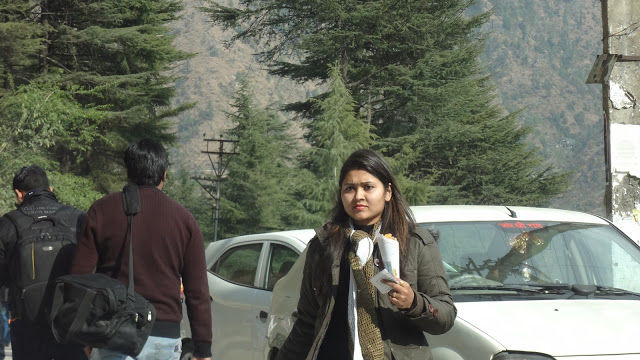 We parked our car road side and had Maggie as lunch and hiked to Bhansugnag Waterfalls.
We were vary happy because we were spending time together after a long time.
We walked for around 1 km and here it comes a monastery. And after more 1 km we reached Bhansugnag. As we reached there, that place is full of crazy crowd. May be them were stoned.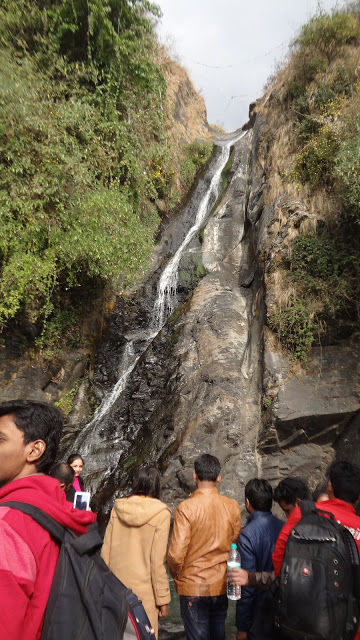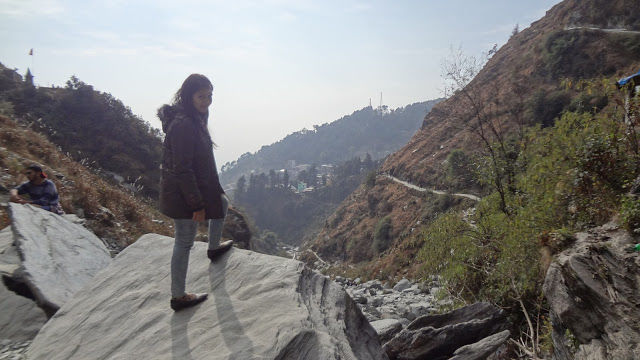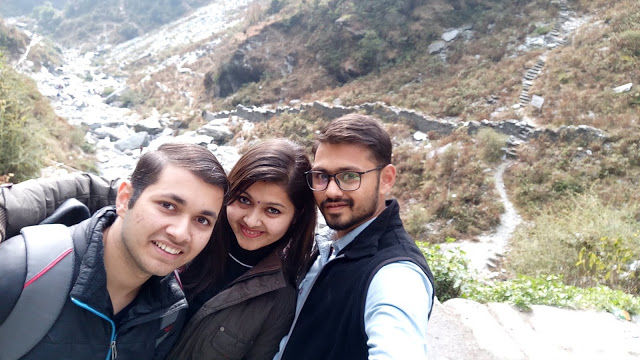 After taking so many pictures we were feeling hungry so we had universal food maggie and some pastries.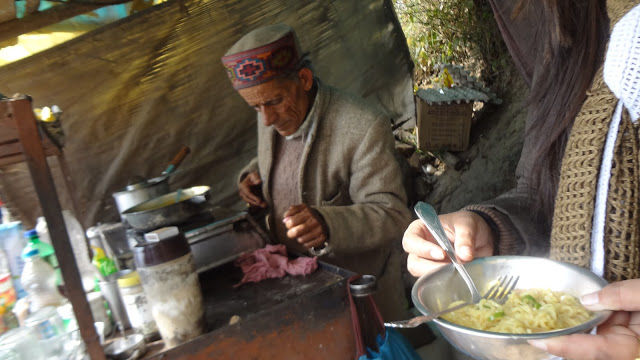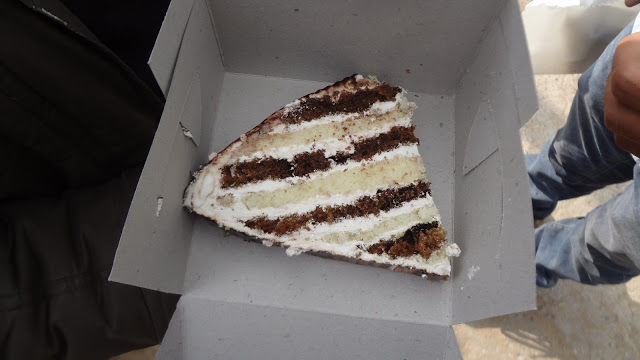 Then we started returning through shopping streets of Mcleodganj.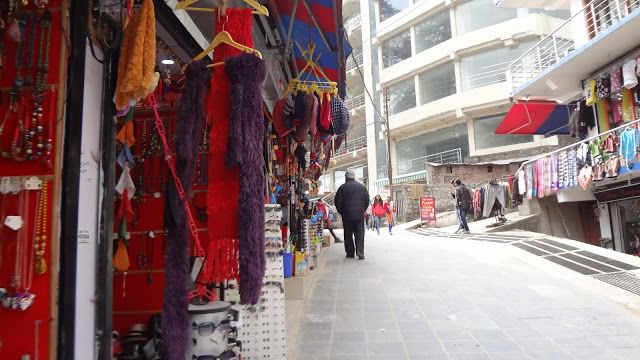 Spending 2 hours there we headed back to our car and drove it towards Kangra fort as next destination.
As we were taking the last turn to fort, some 2 local drunk guys on motorbike collapsed in our car and fallen down on road. as them were local they started blaming us. But my sister who was sleeping on the rear seat of car woke up and came like maa durga to save me and my brothers. Those drunk guys have to ran away. After accident our mood was upset. And our car's front wheel alignment was disturbed so we headed back to kangra for wheel balancing shop and found one. With the help of local mechanic we make the car drivable. And decided to go back to our home with overnight driving.
As we crossed Chandigarh, all of us were feeling hungry. We stopped for dinner and after having dinner my brother was feeling sleepy. As he is the only one who could drive that time we have to parked our car take the sleep because we can't afford over priced motels that time. We woke up in the morning at 5 am after taking 3 hours of sleep we started our journey to Rudrapur and reached home at 9 AM.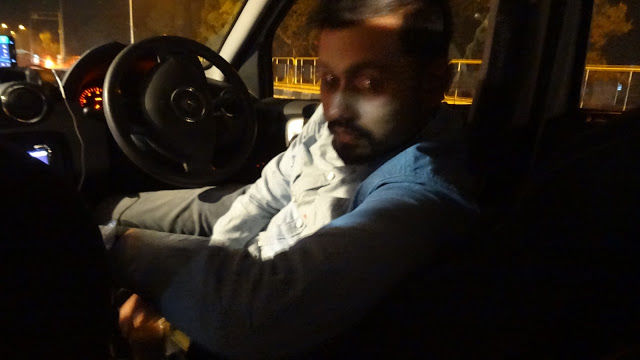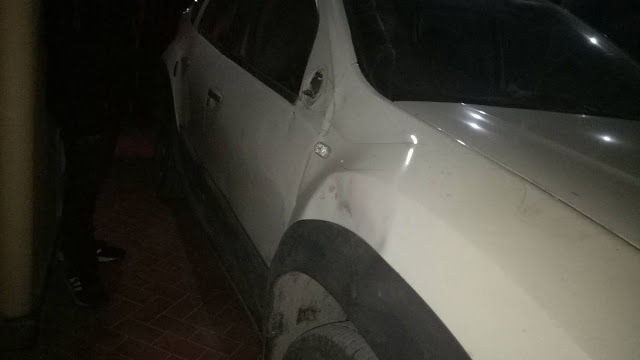 As we have the fear of not getting car in future from papa because of that accident we lied them that accident was happened in nearby city Kiccha while we were going to drop our sister to railwar station. We never told them the real truth. But last year when me and my brother were drinking beer with papa we told him about that incident and he was little bit of shocked and totally okay with our situation. This trip was one of the best trip of my life where i enjoyed the journey not the destination. But most importantly this trip costed me a good friend because i planned a road trip to Udaipur with him but i have to cancel it to go to Dharamshala. So i cancelled it. And had one of the best experience of life.
Regards, Tushar