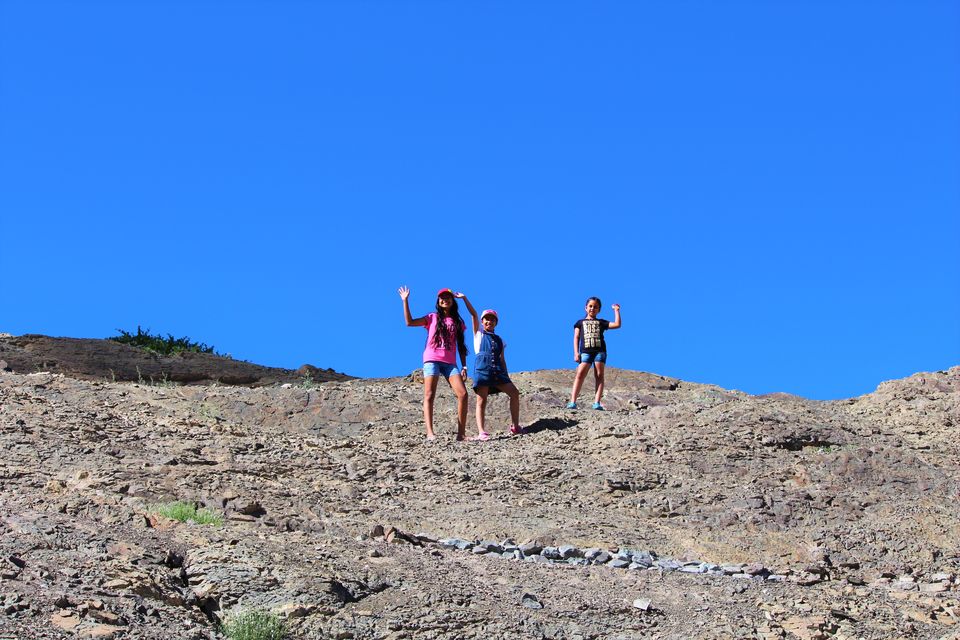 "Every perfect traveler always creates the country where he travels." ~ Nikos Kazantzakis
Ladakh has been written and talked about endlessly. And why not when it's known to be a traveler's delight! I'm not the first one to be writing about Ladakh. But then I'm the first one to be writing about The Ladakh I discovered. The Ladakh I created.
Traveling to Ladakh is one thing; traveling to Ladakh by road is another and traveling to Ladakh by road with kids is a whole new ball game. Leh-Manali Highway, they say, is the "riskiest in the world." We read and hear stories about road-tripping to Ladakh, adventurous ones, the ones that give us an adrenaline rush. Some of them scare us to the point of not even thinking about taking such trips. Leh-Srinagar Highway (NH1) which is known to be the lifeline of Ladakh, however, is not as treacherous as Leh-Manali Highway though crossing the scariest mountain pass called Zoji la certainly is tricky.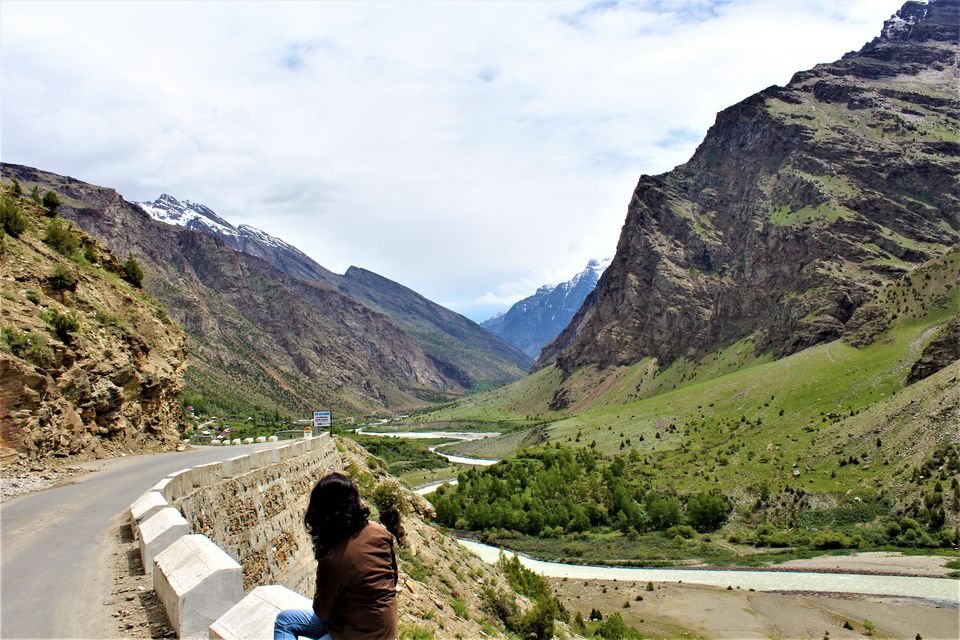 I as a traveler had my own doubts. They cautioned, driving on the deadliest highway with kid in your own humble car is a gloom and doom. My heart and soul, however, agreed on visiting this magical land called The Roof of the world.
"Bizarre travel plans are dancing lessons from God." ~ Kurt Vonnegut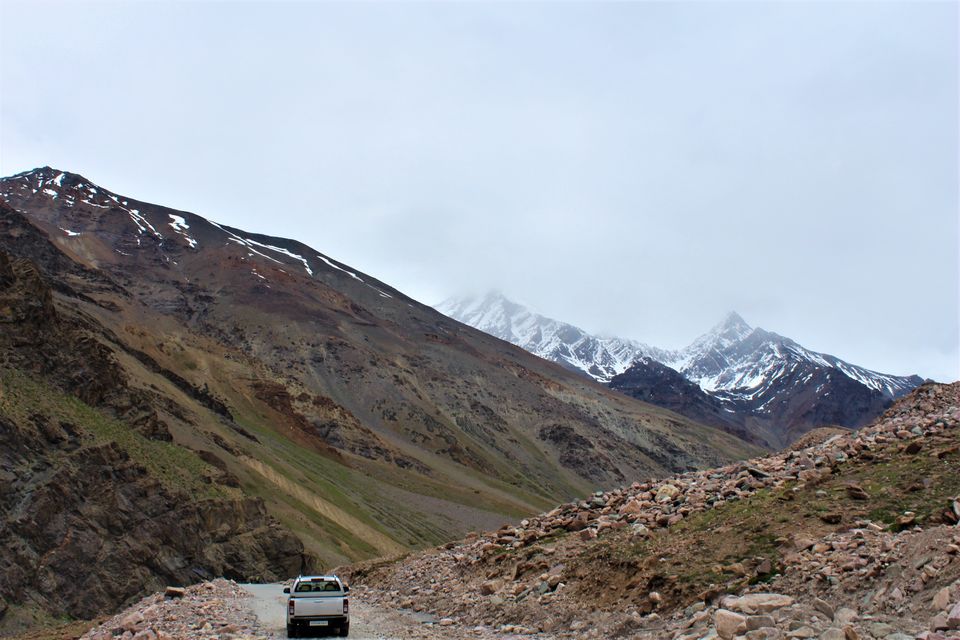 Every adventure starts with a decision
They said, "It's insane!" We argued, "Show us one sane person who's happy." They lifted their shoulders in offhand shrug.
When we made a decision to visit Ladakh by road (Delhi-Manali-Leh-Srinagar-Delhi) with our daughter, it was obvious to encounter raised eyebrows. But all those are-you-insane looks didn't deter us from doing the trip. My friend and her family from Chandigarh joined us on this adventurous journey. Determination to take this trip of lifetime was strong. We let go of all the inhibitions (it's dangerous, can't do it with kids, low oxygen makes you sick, it's practically a torture you're doing to your child and many other...)
After all, Life is all about losing inhibitions, taking risks and embracing the uncertainties that come with it. And what better way than this classic journey to teach our kids what life truly is and how they are supposed to face it.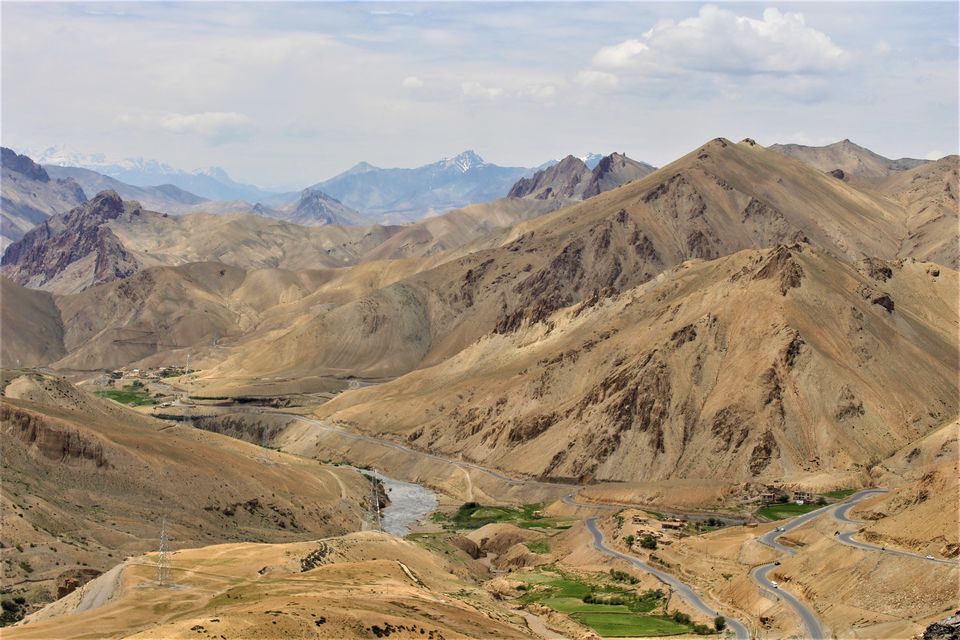 Adventure travel with kids - Mannerly preparation and right attitude
Our pediatrician prescribed key medicines (cough & cold, fever, antiemetic, antidiarrhoeal, altitude sickness, breathlessness, ORS), portable oxygen cylinder (handy and useful), and camphor (its smell helps minimise breathlessness) to be packed in the first aid medical kit while traveling to high altitude areas.
Fortunately, our daughter didn't need most of them except ORS and antiemetic. Actually, it took us more time to acclimatize than her. What we could figure by the end of the trip was that kids tend to adjust better than the adults and in most cases do just fine. But, as precaution is always better than cure; do carry all the medicines for safety.
We followed our doctor's recommendation of not making our daughter eat forcefully as low oxygen levels slow down the process of digestion making one feel sick. Staying hydrated (drinking plenty of water and consuming foods with high water content) is an important tip to survive and thrive high altitude travel.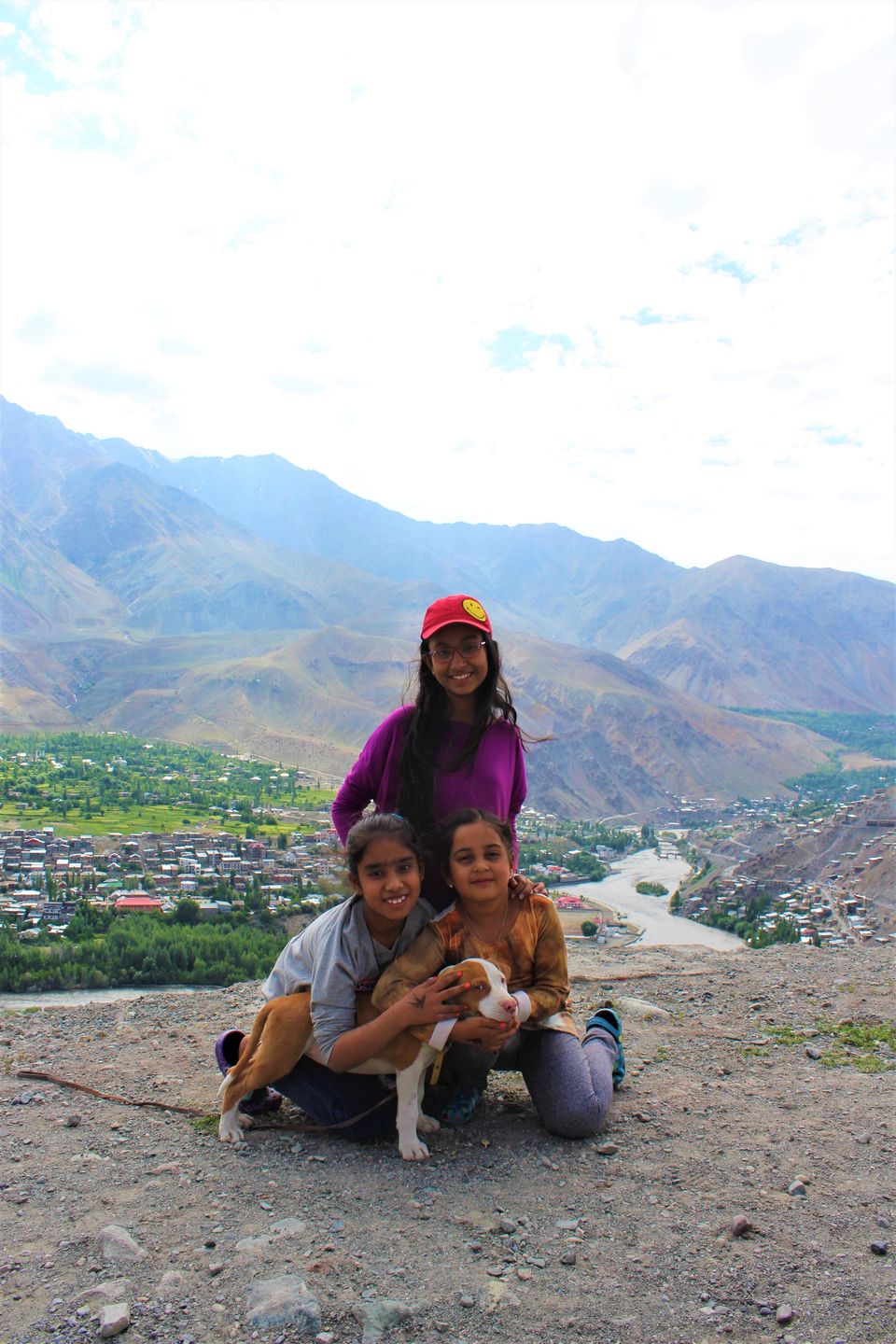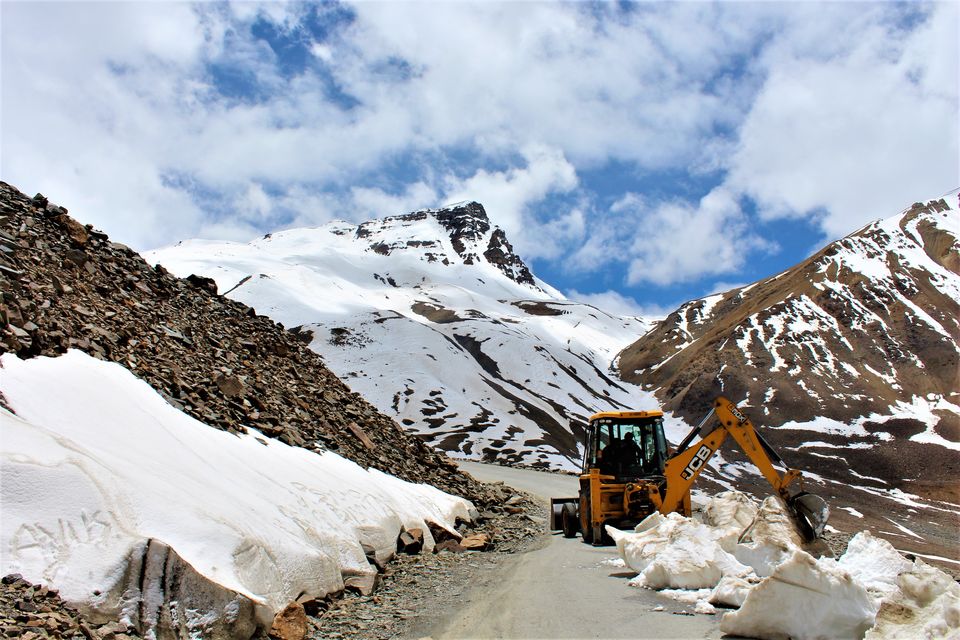 Dream drive - Manali-Leh Highway
Driving to Leh-Ladakh can be complicated and tricky even if you are an experienced driver. A month's research on the internet gave us a good perspective about the region. We were quite well aware of ups and downs of taking this trip. As a matter of fact, the road trip to Leh is a performance test for the car and the person too.
This is what you call a road less taken! Imagine this - the utter solitary roads, towering mountains all around, and a company of beautiful, nomadic river all through. Did you feel it? You got to see this to believe this!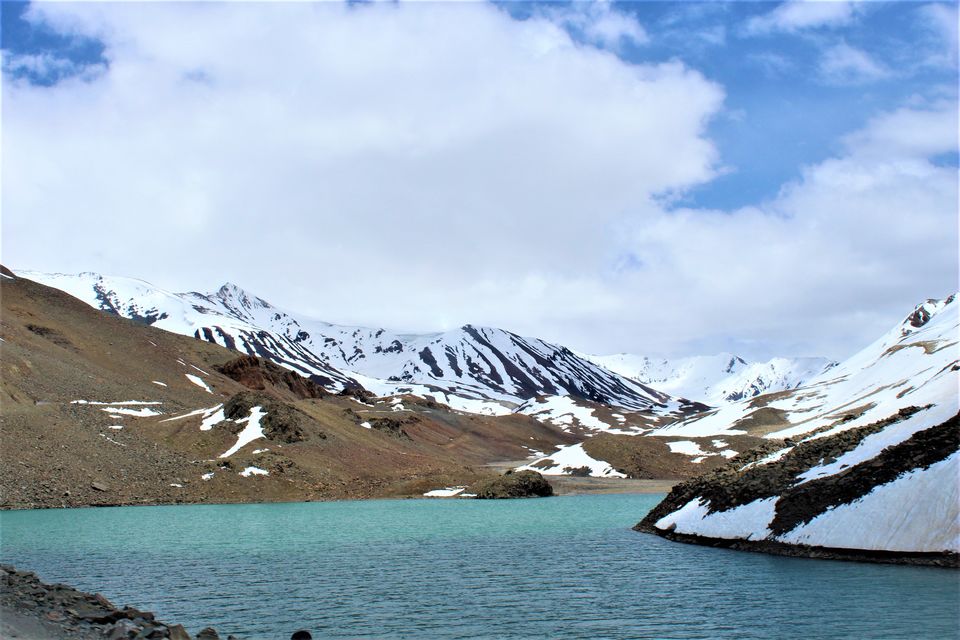 Whites, Golden Browns, Azures and Emeralds – Colors of Leh-Ladakh
Ladakh, a high altitude cold desert has lately become an ultimate destination for the adventure travelers. Nestled between imposing Himalayas and the Karakoram ranges, with a contrasting blend of austere landscapes and high altitude snow-covered passes (glaciers), antiquated (Buddhist-Tibetan culture) yet beautiful way of life, striking Buddhist monasteries; Ladakh casts a magic spell on visitors.
The place charms you so much so that you forget the breathlessness and discomfort of the journey and just want to capture its existence in your camera but alas! It's mind-boggling and crushing immensity leave you bemused.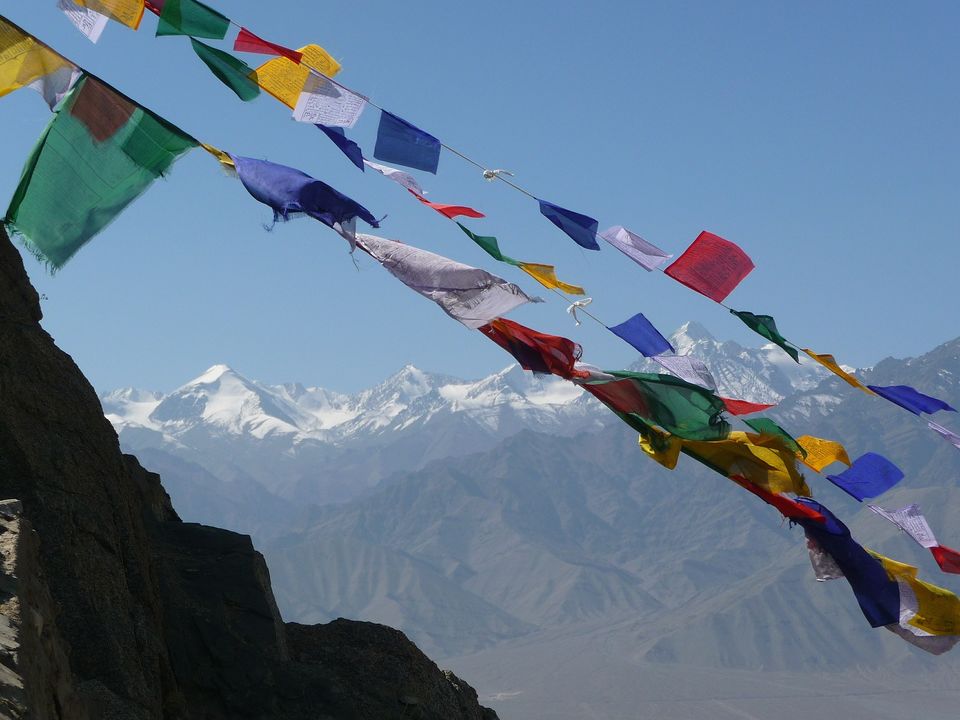 Chameleonesque and heart-stopping panoramas shove you to open your eyes when you close them because of dizziness. From barren mountains to turquoise lakes to snow-covered peaks to pale sand dunes, it never lets you blink! Dull greens of Keylong to chocolate browns of Sarchu to smooth stretch of Morey Plains to ultimate hairpin bends called Gata loops to white sparkling peaks of Tanglang la, where's the time to relax!
The landscapes unbelievably change the colors as if nature has put up a show for us earthly beings to enjoy.
When in Ladakh, even digital nomads and social media enthusiasts don't complain about poor network coverage because the place literally crawls up on them. And the best part about no mobile connectivity is that it inspires you to have worthwhile conversations with real people.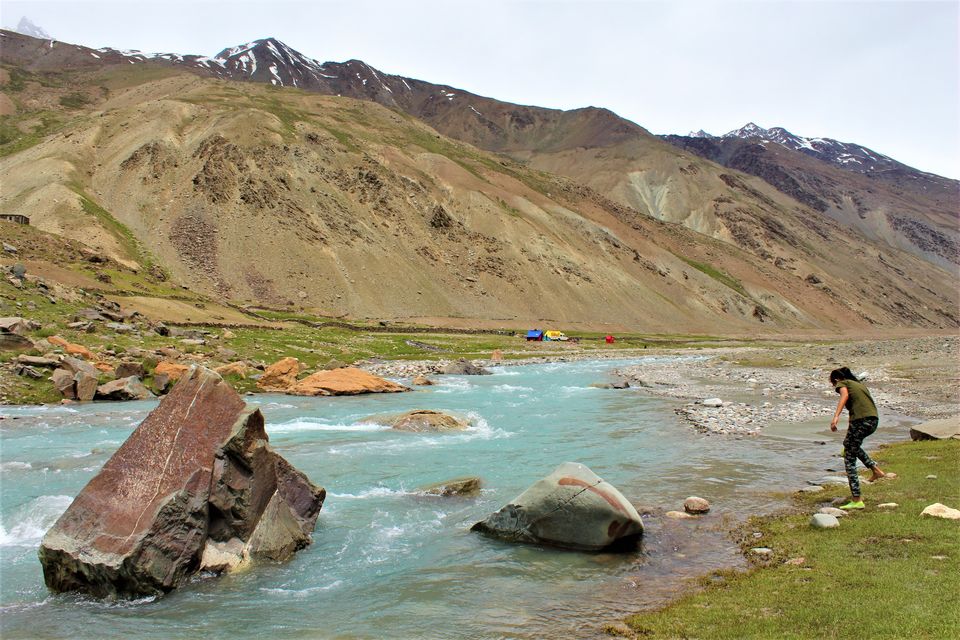 Journey back home - Leh-Srinagar Highway
Our Journey back home was equally beautiful. Leh-Srinagar Highway is no less than Leh-Manali highway in beauty but remains busy and trafficy as compare to the former. Crossing the mighty ZoJi La pass seemed like another chance to life. Drive through Kargil and Drass with Saru River flowing on one side is spellbinding.
Srinagar is perfect for night halt while coming from or going to Leh. One can spend a day and two here to witness the beauty of a Kashmir, a paradise which you can seek while you are alive.
Well, your definition of road trip changes once you've driven this route! If I could describe the trip in one phrase, it would be – Out of the World!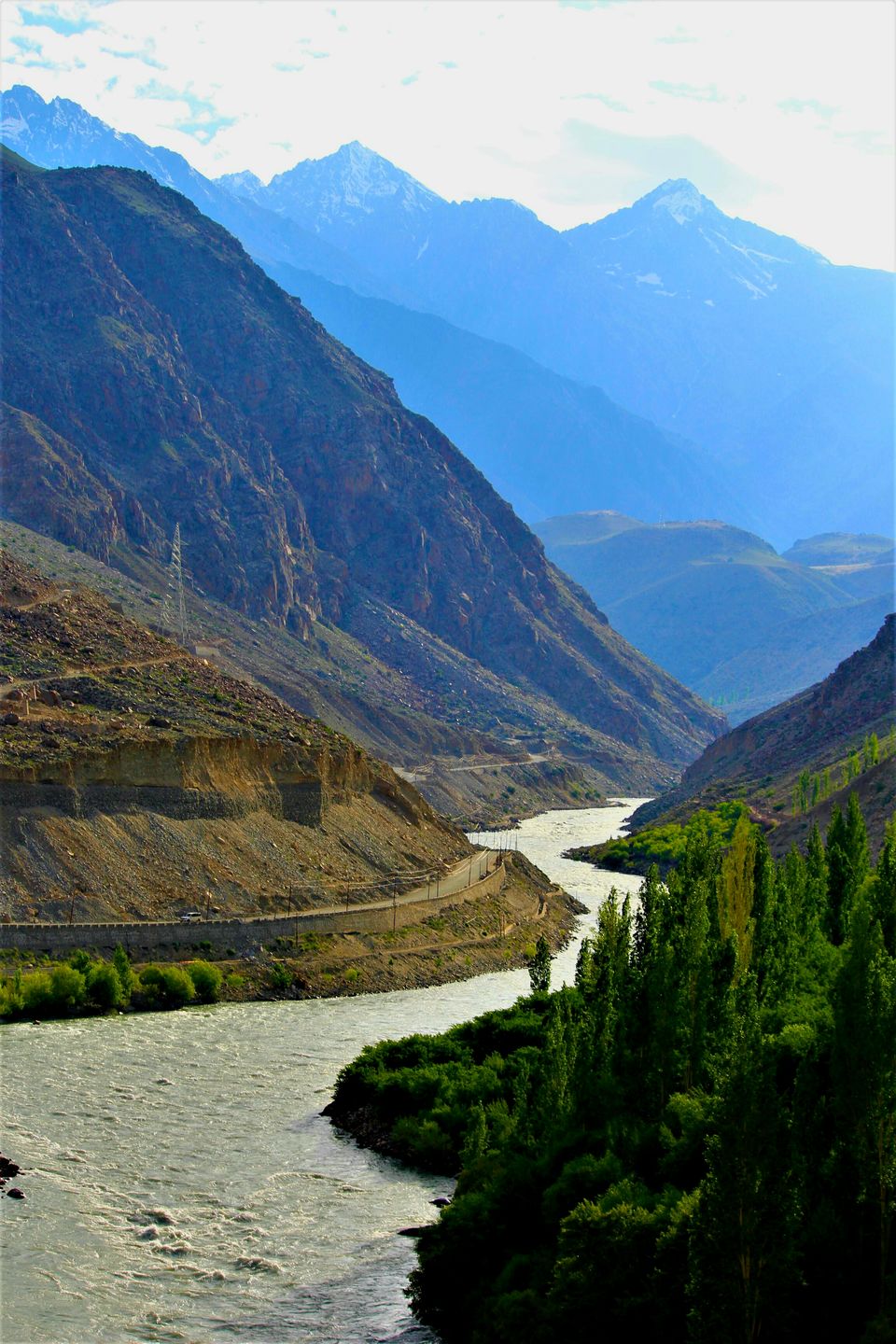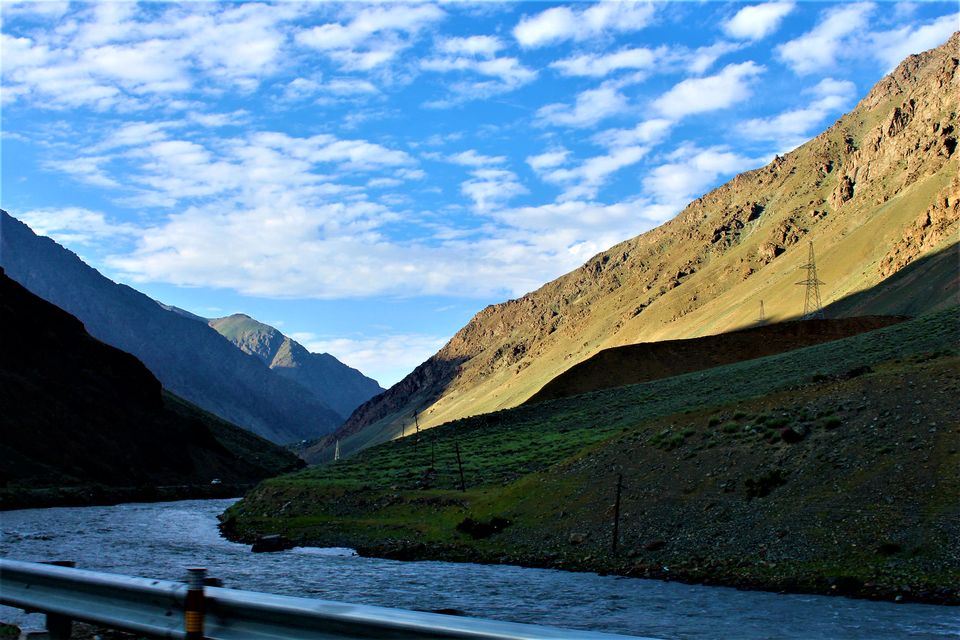 Our 12 days road trip itinerary for Leh-Ladakh
We reached Ladakh through Manali-Leh Highway and chose Leh-Srinagar Highway for the return journey.
All set for the Journey (Delhi to Leh):
Day 1: Delhi – Chandigarh - Manali
Overnight at Manali.
Day 2: Manali- Palchan - Kothi - Gulaba - Marhi - Rani Nala - Rohtang – Gramphu - Khoksar– Sissu - Tandi
We relished momos, rajma-rice and a hot cup of tea at a dhaba in Khoksar(Lahaul Valley), refuelled the cars at a petrol pump in Tandi (last on this route, so quite crucial) and stopped by to witness the beautiful confluence of Chandra and Bhaga rivers at Tandi.
Overnight at Tandi (camps).
Day 3: Tandi- Keylong – Jispa – Darcha – Sumdo - Patsio - Zingzing Bar - Baralacha La – Bharatpur – Sarchu
Savoring Maggi (literally, a lifesaver in mountain ranges) at Zingzing bar before ascending the mighty Baralacha La was a much-needed break. Crossing Baralacha La (second highest pass on Manali-Leh Highway) is an experience in itself. Don't rush, you don't visit places like these everyday. Deepak Tal and Suraj Tal are prefered stops on the way. These turquoise lakes are mesmerizing and each one has a story to tell!
Overnight at Sarchu (camps)
Day 4: Sarchu- Gata Loops – Nakee La – Lachulung La – Pang – More Plains – Tanglang La – Rumste - Upshi – Karu – Leh
Most of the places during our day 3 journey tempted us to get down from the car to enjoy the virgin nature.
Gata Loops ( 21 hairpin bends), Nakee La and Lachulung La (high mountain passes), Pang (this is where one starts feeling high altitude sickness and this is where colors of Ladakh become more conspicuous), More Plains (unceasing stretch of plains at such high altitude enveloped by mountain ranges comes as a surprise and seems unnatural and stunning), Tanglang La (second highest pass as claimed), and Upshi (police check point to mark your arrival to or departure from Leh); all the places need your attention.
Overnight at Leh. It's advisable to take rest for a day to better acclimatize to low oxygen environ.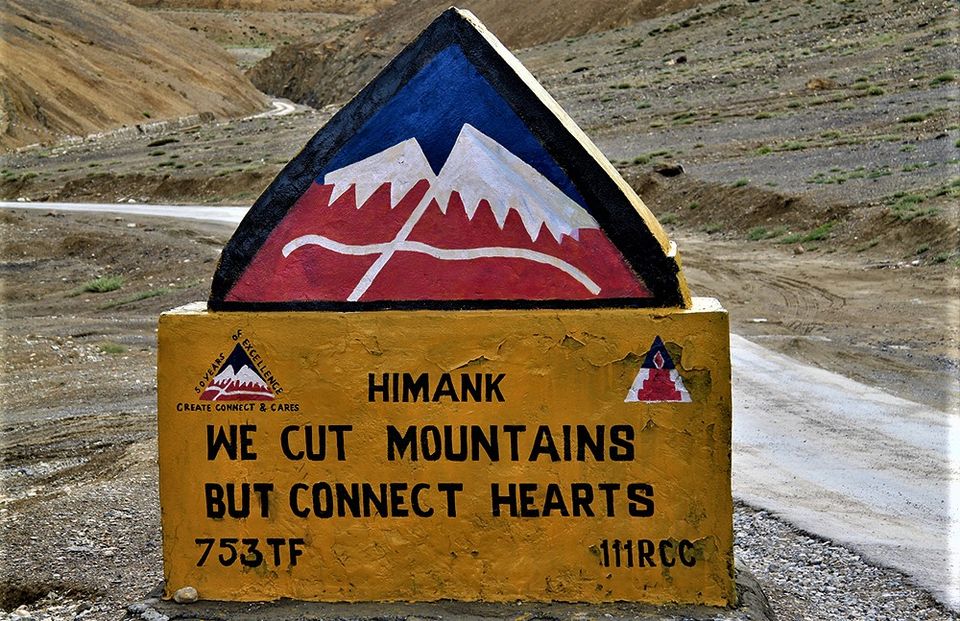 Day 5: Leh – Karu – Sakti – Chang La – Durbuk – Tangste – Lukung – Spangmik - Pangong Tso
Enjoyed the snowball fight ( why should kids have all the fun?) at the mighty Chang La Pass. Don't stay here for more than 10 minutes as low-level oxygen can make you feel sick.
One can plan a night stay at Pangong Tso to truly witness the breathtaking exquisiteness of the lake and watch the classic sunrise and sunset over the artistic landscape. We, because of kids, resisted the temptation and decided to come back to Leh the same day. Though we witnessed the beautiful sunset at Chang La.
Overnight at Leh.
Day 6: Leh - Khardung La- Diskit - Hunder (Nubra Valley) - Leh
Bacterial Camel Safari at Hunder (kids adore it) and visit to the gorgeous monastery with tallest Buddha statue at Diskit are must do activities. If you are on a laid back vacation, can choose to spend a night at Hunder/Diskit. We had to rush to cover maximum number of places in numbered days.
Overnight at Leh.
Day 7: Local Sightseeing and how can we forget shopping at Leh.
There's nothing like relishing the local culture of the place you are visiting. Some of the places worth visiting in Leh include - Thicksey Monastery, Leh Palace, Shanti Stupa, Hall of Fame, Stok palace (not for the museum but for the special momos prepared in the royal kitchen) and Shey Palace.
Overnight at Leh.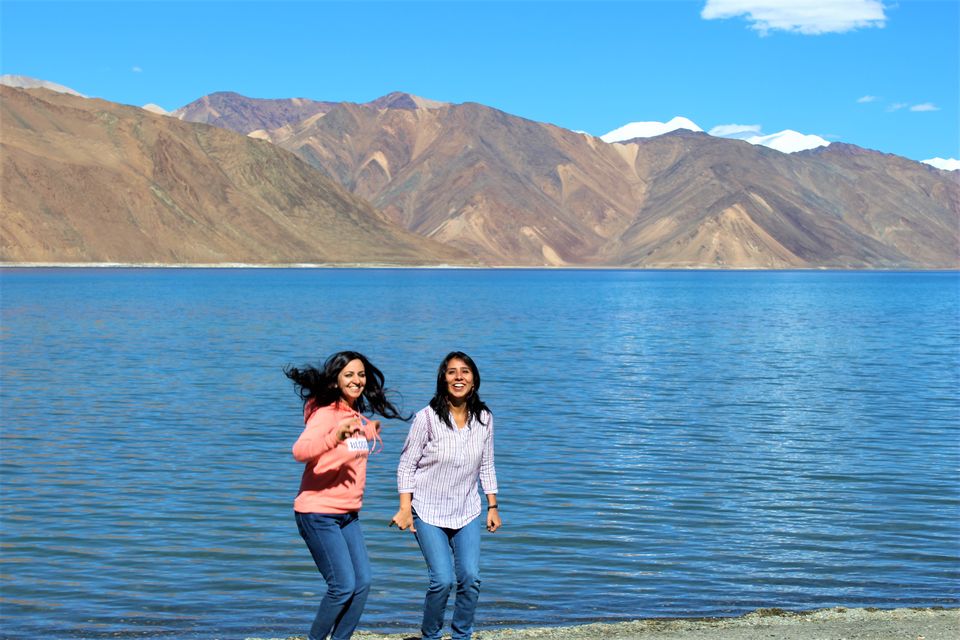 Return Journey (Leh to Delhi):
Day 8: Leh – Nimmu – Lamayuru – Khaltse – Kargil – Drass – Zoji La – Sonamarg
Confluence of Zanskar and Indus at Nimmu, Lamayuru Monastery, Lunar Landscapes, Gurudwara Pather Sahib, Magnetic Hills, and Kargil War Memorial (Vijaypath) are must see places in this route.
Enjoy the beautiful landscapes en route.
Night Stay at Sonmarg.
Day-9: Sonmarg - Srinagar
A day well-spent exploring Dal Lake, Mughal Gardens, Pari Mahal at Srinagar. We shopped for authentic Kashmiri handicrafts at J&K tourism art emporium. You can shop at Lal Chowk especially for dry fruits and try walnut fudge at Hazratbal bakery.
Day-10: Srinagar - Pahalgam
It was magical to Immerse in the beauty of Valley of Shepherds. Located on the bank of Lidder river, Pahalgam is a real treat for your eyes and soul. Beautiful spots like Baisaran, Aru Valley, Lidder Valley, Betaab Valley and many more spellbind you. Hiking on a horse to the magical highland vistas of a tiny village called Aru is something you shouldn't miss! Friendly horsemen with their lovely stories make the ride one of a kind.
Overnight at Pahalgam
Day-11: Pahalgam- Anantnag – Jammu
Overnight at Jammu
Day 12: Jammu - Jalandhar – Ludhiana – Ambala - Karnal – Panipat - Delhi
Back to home sweet home.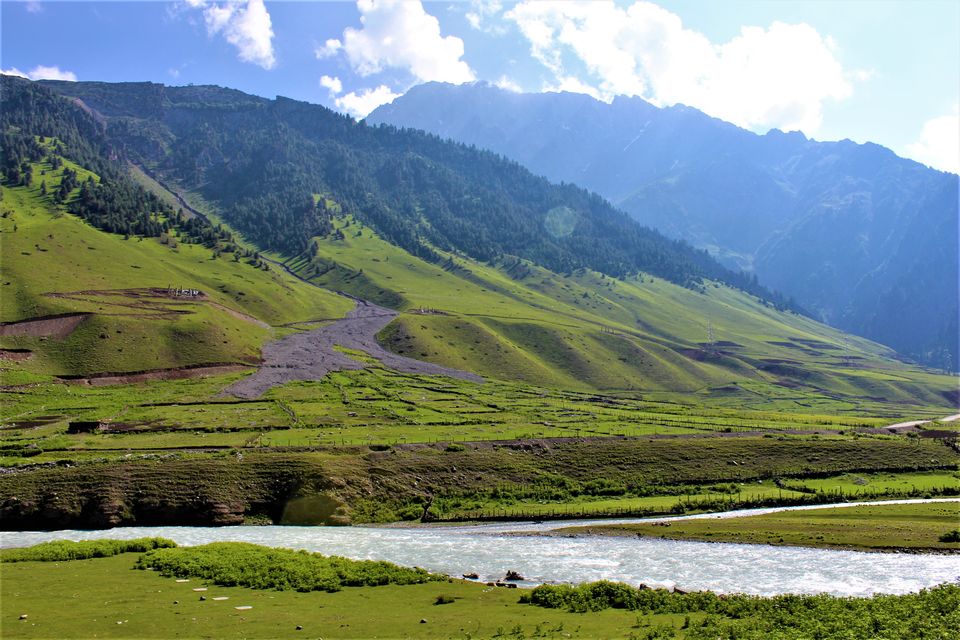 Our Mistakes - Takeaway for you!
* Based on my experience, I would recommend to start the journey from Srinagar (NH1) and take Leh-Manali highway while coming back. This way, body gets better acclimatised and there are minimal chances of Acute Mountain Sickness (AMS) which is the culprit that don't let you enjoy the beauty at high altitudes. Take this tip to make your journey to Ladakh more beautiful!
* Our plan to stay at Solang Valley couldn't materialise because of non-availability of accommodation. I would definitely advise to stay at Solang Valley (Book hotel in advance) which helps you in acclimatization and the beautiful vistas of the valley act as an add-on.
* Start as early as possible from Manali for Rohtang Pass to avoid the traffic mess. We started at 6:30 a.m. and still got stuck in traffic; it took us 5-6 hours just to reach Rohtang Pass (normally takes less than 2 hours.) Believe me, this way you can save a day. Our stay at Tandi camps was not included in the itinerary. Plan was to stay at Sarchu but traffic at Rohtang Pass wasted our day and we had no option but to stay at Tandi.
* To choose Sarchu camps as our night halt was a mistake (How and why in my next blog post.) I would strongly recommend to stay in a hotel/homestay/guesthouse at Keylong/Jispa/Bharatpur.
*Keep the portable oxygen cylinder handy. It's normally not available in the market but can be ordered online.
* Journey to Tso Moriri and Tso Kar lakes starts from Upshi via Chumathang which can be taken if you have inner line permits issued from DC office in Leh. Exploring these lakes is feasible if you take Leh-Manali route as a return journey.
* We wanted to visit Chushul to enjoy the scenic drive alongside Pangong Tso but came to know quite later that one needs to take inner line permit as the village is close to India-China Border, so missed it! It's advisable to make a list and take all the permits beforehand to avoid the disappointment.
* We visited the famous The Druk White Lotus School, popularly known as Rancho's School after it's featured in the movie "3 idiots" but were disappointed to see flock of people waiting in a line just to get a picture with a painted 3 idiots wall (where climax of the movie was shot) in the backdrop. You can plan to visit, if you have extra time on your hands, or else leave it.
* Crossing Zoji La at night was our terrible mistake. However, we had to because of unavoidable circumstances. Overnight stay at Kargil is the best bet. Head to Srinagar next day early in the morning.
* It's always wise to keep at least 2 buffer days as both the highways are prone to landslides and road closures are common here. As soon as we reached Jammu, hotel manager informed us that Leh-Srinagar Highway has been closed due to landslide. We had been lucky with the roads but the nature of both the highways is flighty.
* Take Diamox Tab (AMS medication) much before you hit the high altitude area; it helps. We forgot to take the medicine and faced the consequences in Sarchu.
* Last but not the least, while traveling with kids; slow travel is always a good idea. Kids are fortunate to have the privilege to completely disregard the time factor. Share that privilege, when with them. Let the natural explorers learn while enjoying and you can enjoy watching them enjoying :)
P.S. This is the first in the series of the posts that I'll write about this dream road journey because it's highly unjust to wrap the endless beauty of the road journey that covers Himachal Pradesh, Ladakh and Kashmir in just one post.
I feel that bizarre travel plans bring unparalleled levels of happiness. Don't they? Do you share my penchant for bizarre and unconventional? If yes, share your bizarre travel stories in the comments section. Thanks for reading!
This post was originally published on travelmelodies.

Picture Credits: Anjali Chawla