As the title says, this is a series of Road trips around United Kingdom and this one is the first I did. Since it was Summer, I and 2 of my friends decided to visit the coastal region along the South. The Itinerary was London-Stonehenge-Durdle Door-Dorchester-Brighton-London. Stonehenge was a last minute inclusion since it fell almost on the way from London to Durdle Door.
We rented a car through an online portal from Heathrow Airport since Airport rentals are open 24 hours and weekends. The rental was around £20 per day. It is always recommended you use a Credit Card (not specific to UK) for Car rental booking. Else you would have to pay Additional Damage cover charges of £70-100 depending on the car you book. This is because they hold a certain deposit in Credit card and release it once we return the car. Indian License is valid for 12 months from the date of your entry to the UK. I prefer booking from Hertz since their service is transparent and reliable.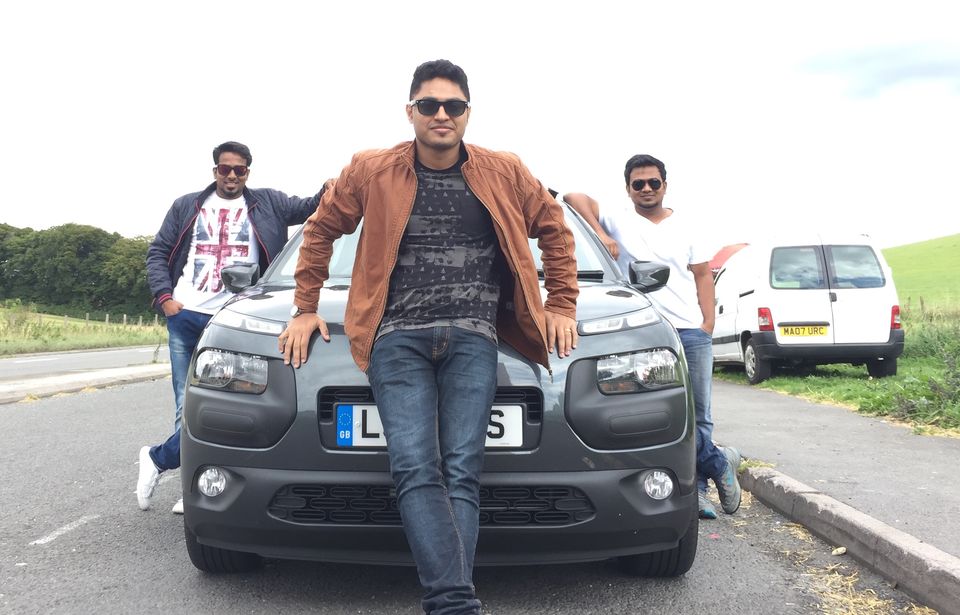 We began our trip after a heavy Bacon-Hashbrown breakfast from McDonalds and headed our way to Stonehenge. Stonehenge is 70 miles from Heathrow and we reached in less than 2 hours.
Ideally, one can see Stonehenge from the road itself and this makes us lose the suspense of seeing it close (since we spend £16 entry to go inside). But the sight is definitely worth spending and the history dating back to Neolithic age is definitely interesting.
Once we were in, we clicked some typical selfies and started exploring the barren lands and vast expanse of the moors. Come on, you really cannot miss the place you saw everyday in Windows Desktop backgrounds.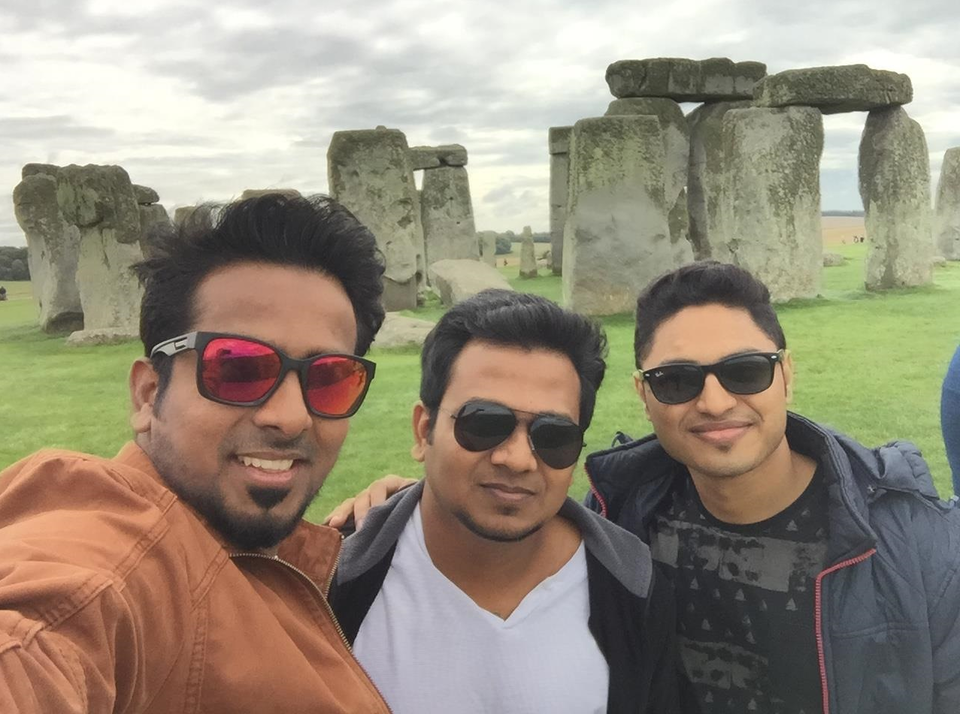 We spent around 1 hour at Stonehenge and resumed our journey towards Durdle Door. Because we did not want to miss the sunny day at the beach. The drive from Stonehenge to Durdle door takes roughly 1 hour and we took 2 as we stopped for lunch as well. There are Services on the Motorway for every 20-30 miles and there are some towns on the way where you can grab a bite.
Now this place is truly mind boggling. The view of the white Limestone arch along the blue sea and green mountains surrounding is definitely to die for. The beauty cannot get better and our day was made.
Now Durdle Door is not seen from the road and is well hidden inside the hills when you start walking from the Car park. But the path that unravels the beautiful mystery is breathtaking.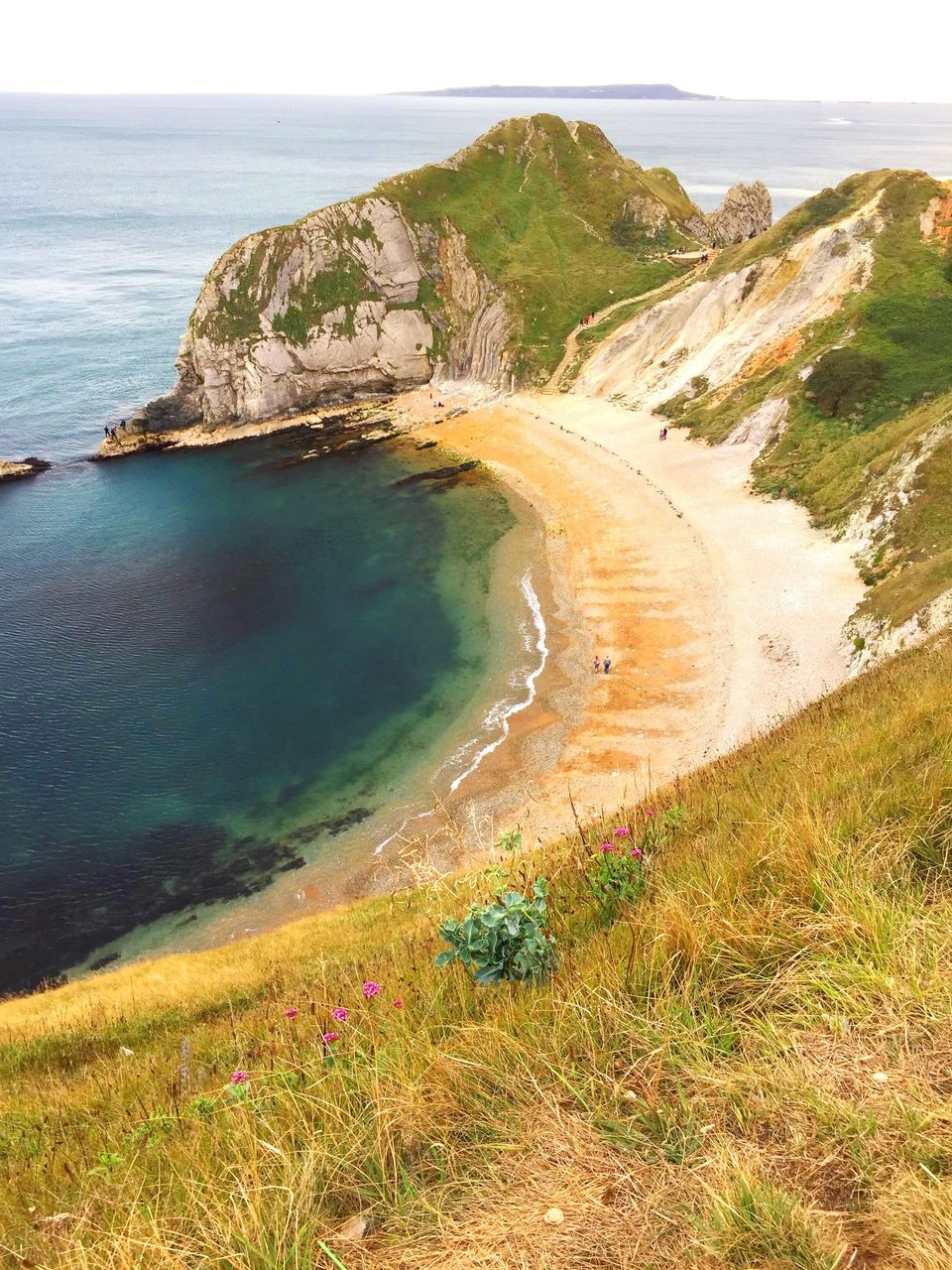 After a short hike (less than a mile), comes the magnificent Durdle Door limestone arch. Blue sky, Turquoise sea, lush green mountains, white limestone cliffs, serene pebble beach. Now this is vacation.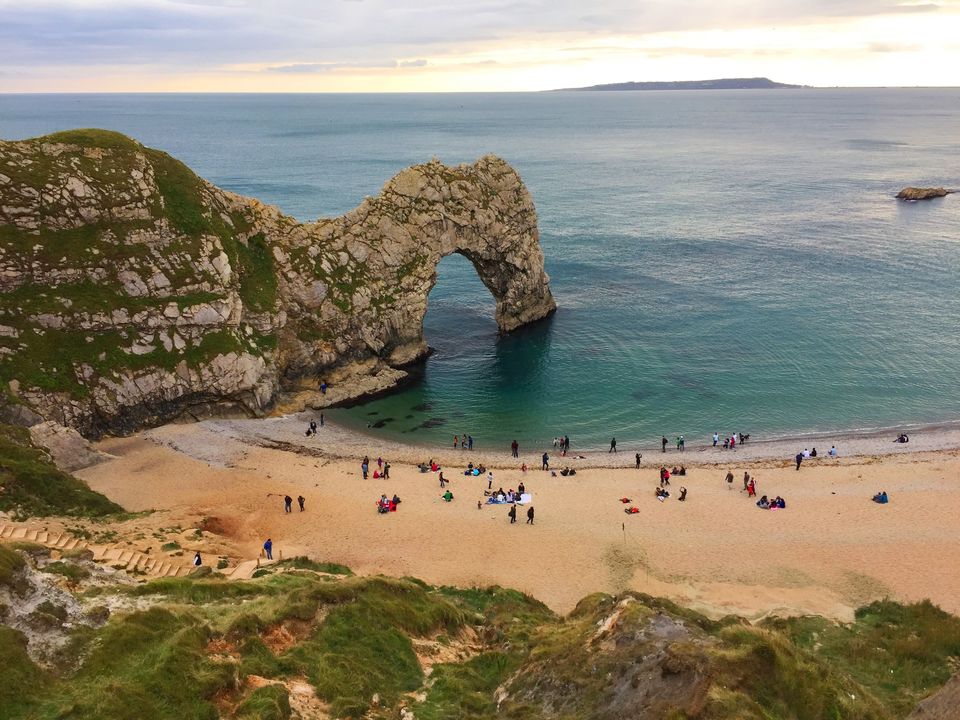 Durdle Door can eat up your whole day with so many activities to do. Inside the water - take a hot suit and go scuba diving or take a canoe and go kayaking or just go swimming. Outside the water - beautiful mountains to trek and clean pebble beach to sit and relax. The best part is, there is no one to disturb you while you enjoy nature. Since we were not ready to hit the water, we went on a small hike and napped for a while in beach.
And definitely more pictures were clicked.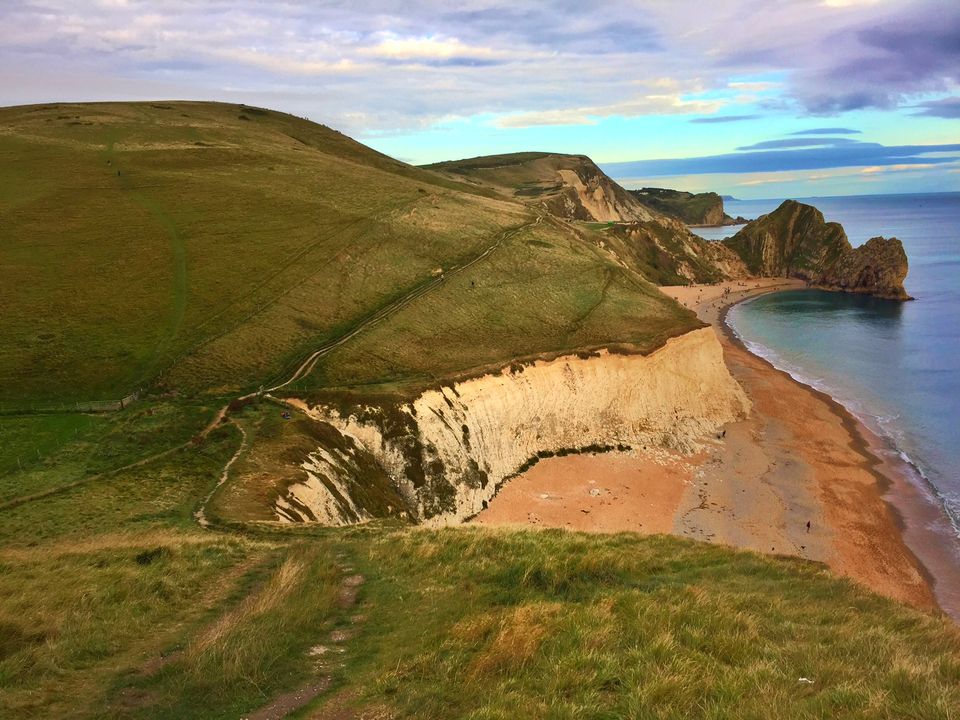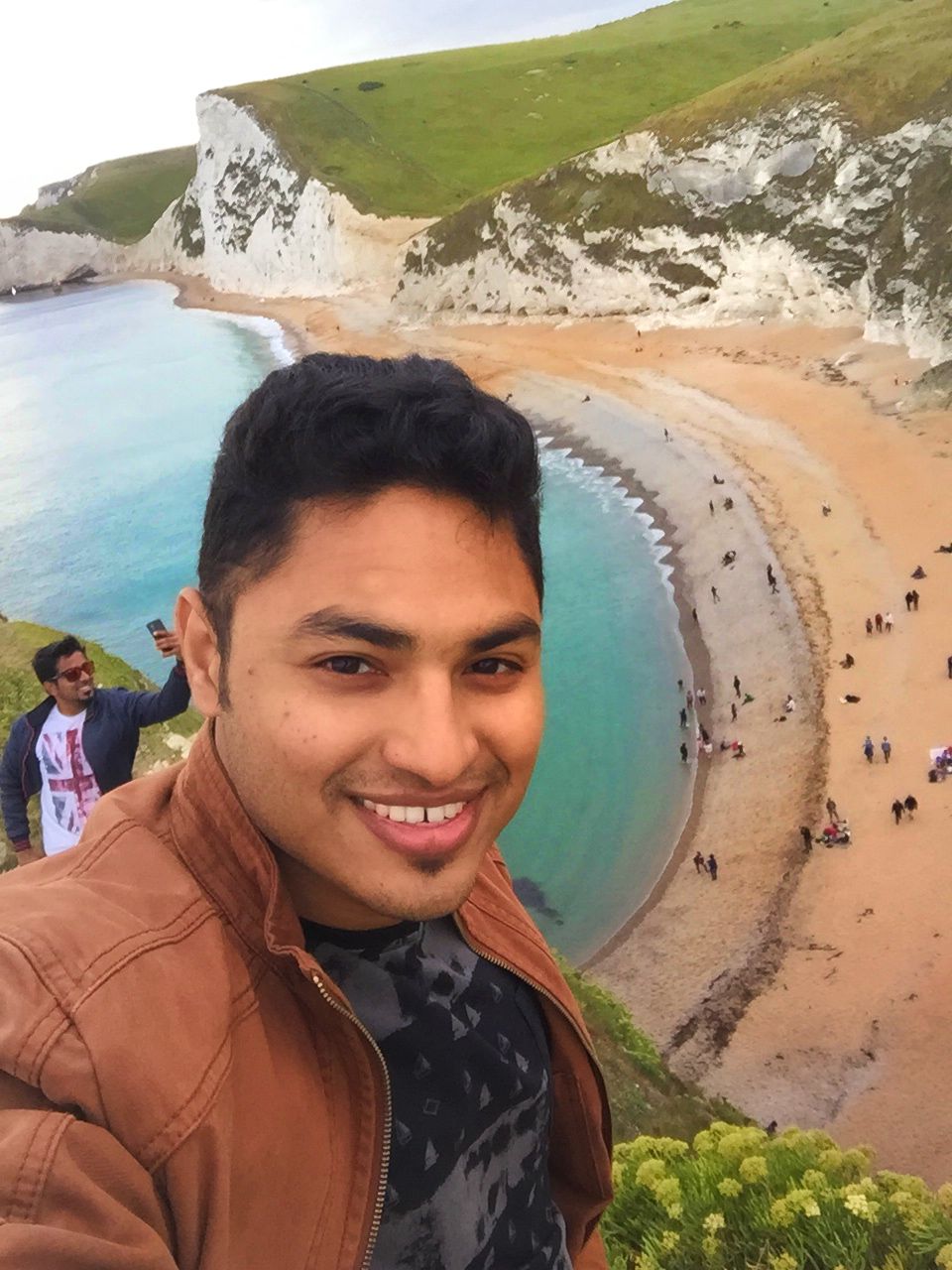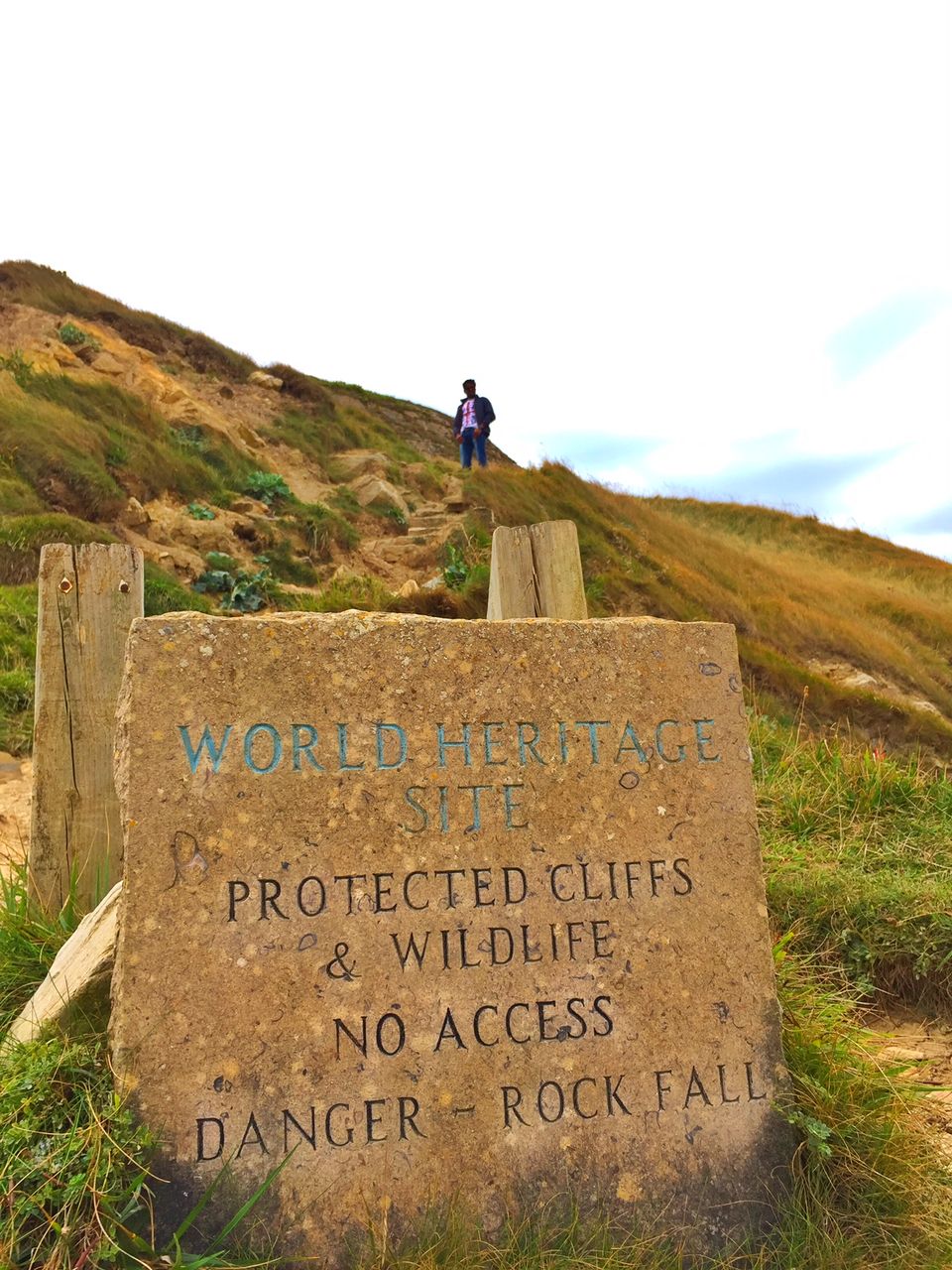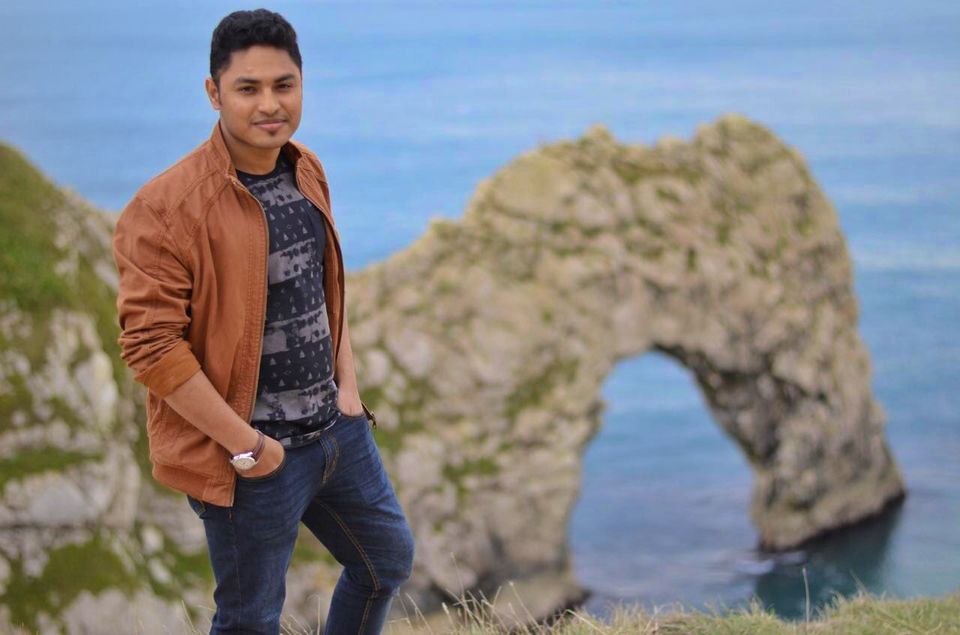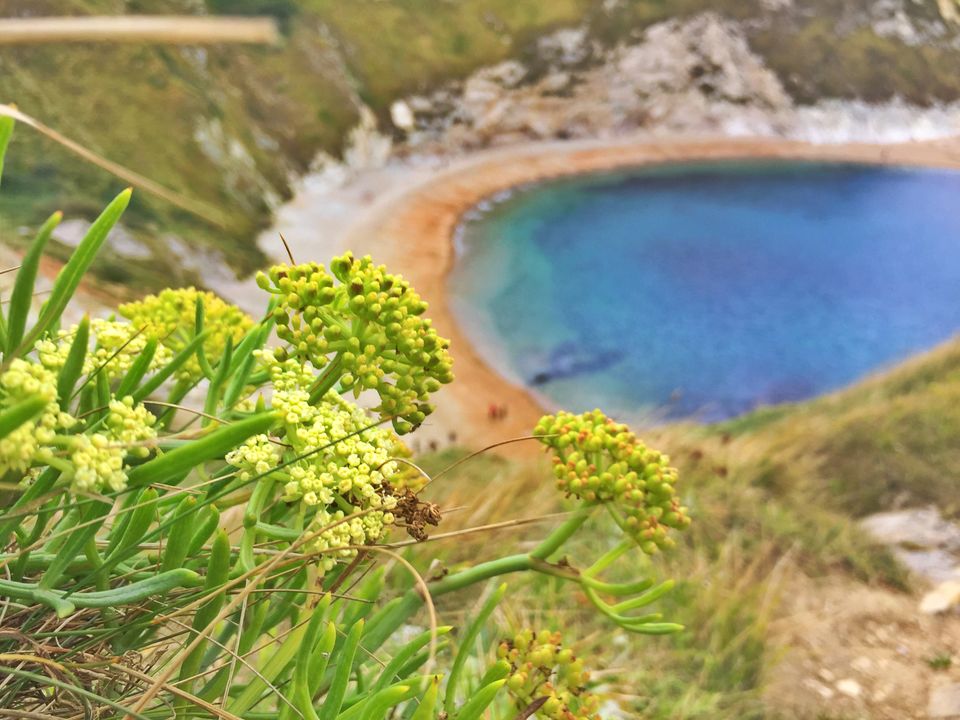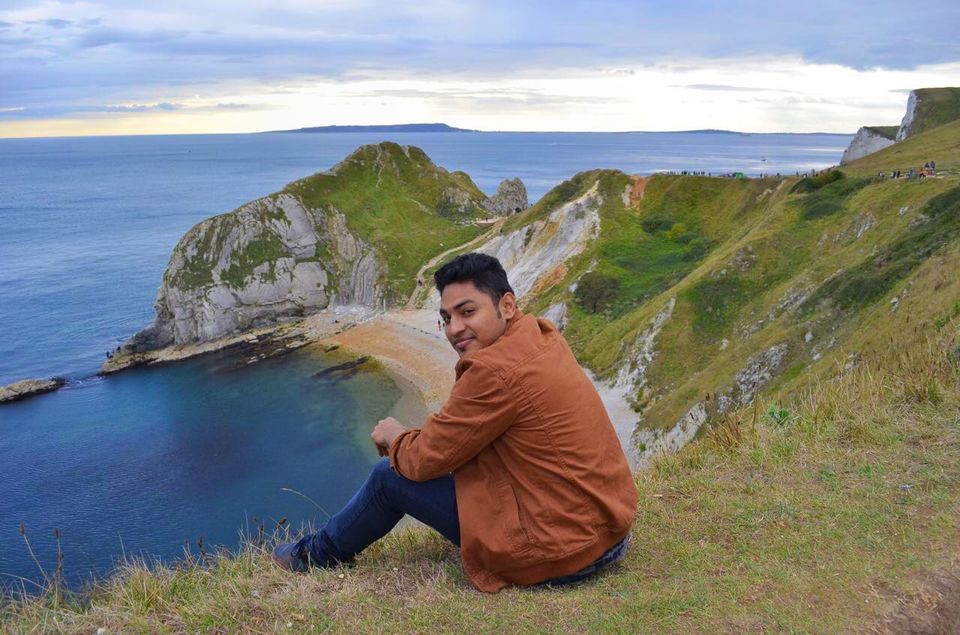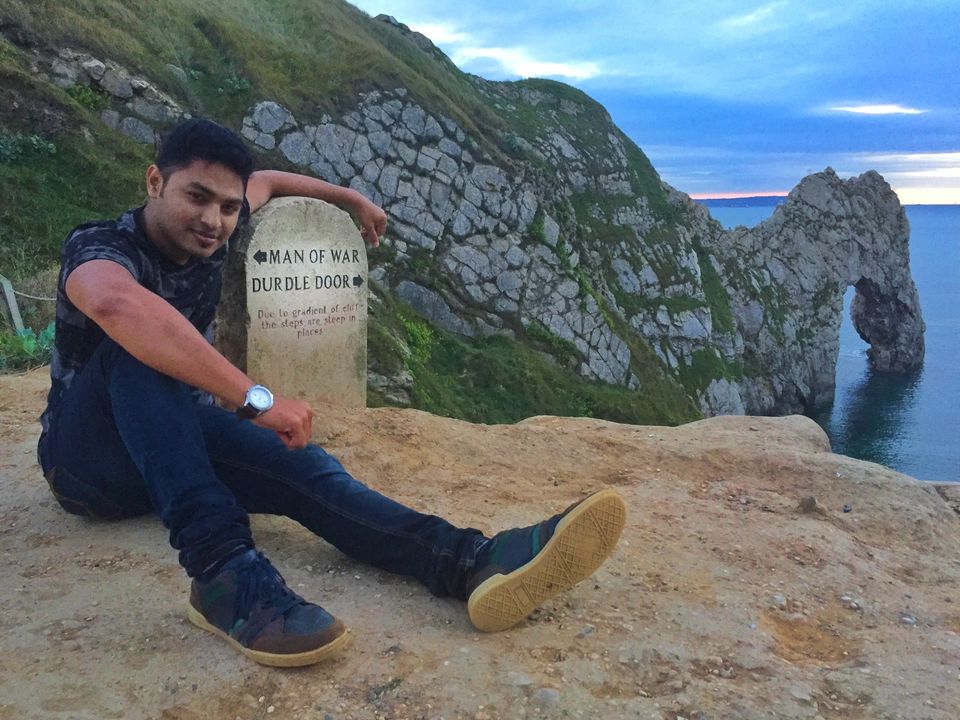 The sunset on the beach is just another beauty. Golden sun rays beaming over the pristine gravel shore is simple awesome.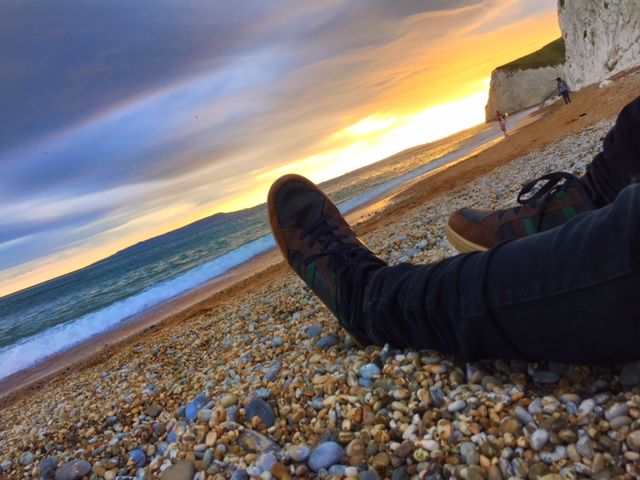 Only after the sun completely set, we set foot off the beach and went to Dorchester, a nearby town. After a quick search, we found a room in a decent hotel - Old Ship Inn right around the Town centre. This Inn is a typical British pub and quite famous in the neighbourhood. We were told by the Manager that club gets noisy and if we were okay with it. Well, if you get a room and a busy nightclub right under your room, would you say NO ? We didn't either :)
Since it was just around 8PM, we took a stroll and came to know about an event at the Borough Gardens nearby. It was the Dorchester Cider festival with ample beer/cider selections and foot tapping music.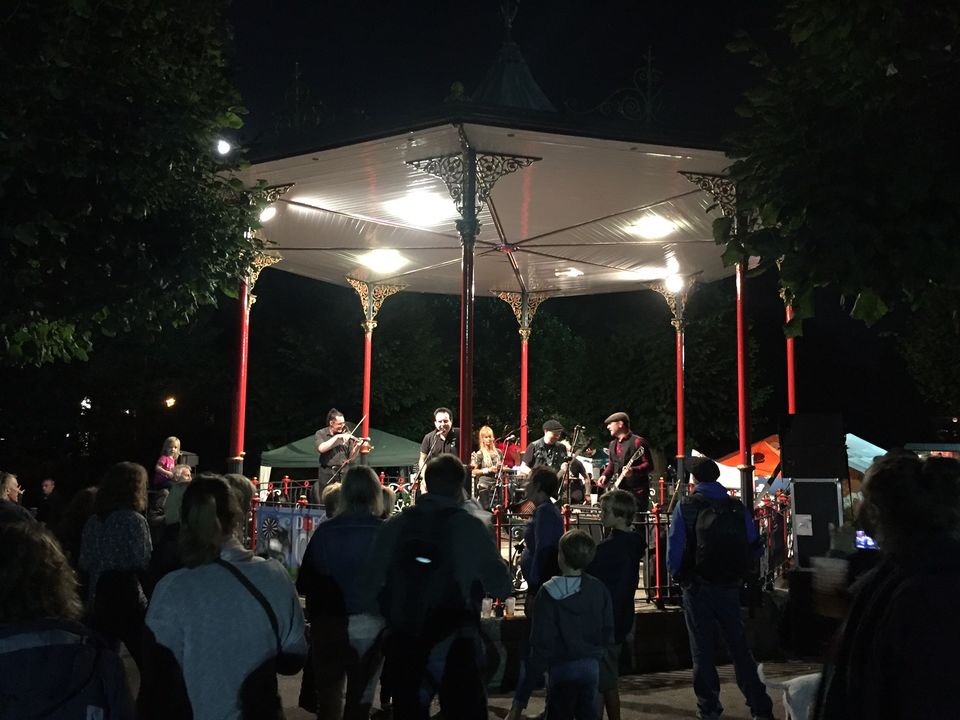 Our tummies were grumbling by the end of this and we rushed to a nearby Kebab place and got some quick Doner wraps and headed back to our Nightclub home. We were surprised to see that the pub was filled and the dance floor was buzzing with people. And the DJ was quite familiar, wait it is the Manager who's scratching the turntable - quite talented old man. Went to our rooms, got changed and headed to the dance floor. After we were literally tired form the long day, we hit the bed.
The next morning was a late riser and we got some sandwiches as brunch from nearby shops and headed towards Brighton. Brighton is a vibrant seaside town with ample attractions and activities to keep you busy and amazed for the weekend.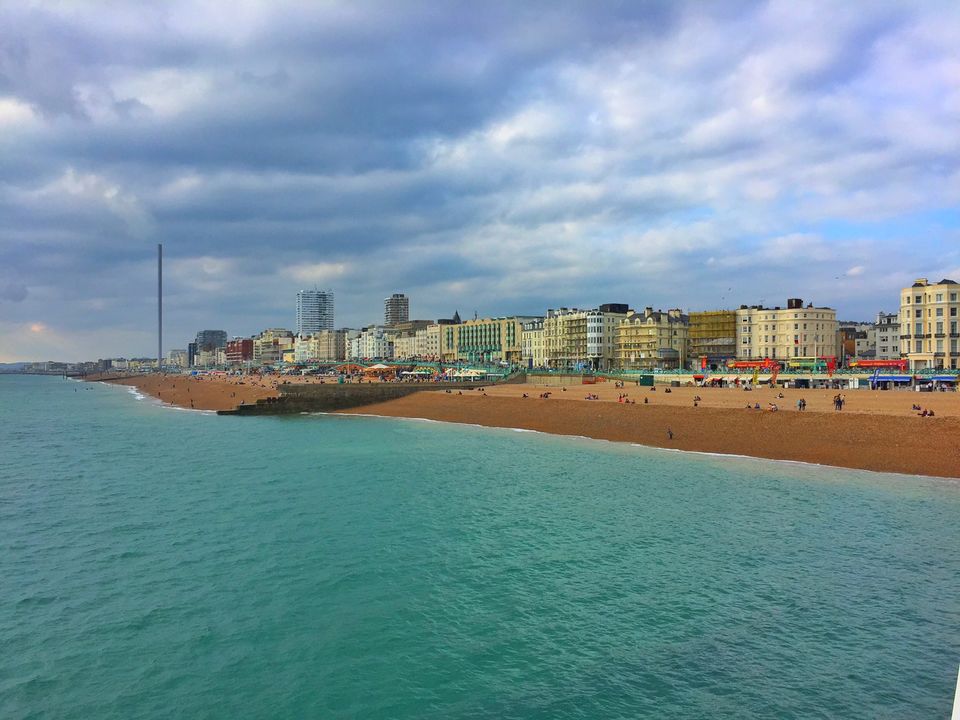 Brighton overlooks the English Channel and on a good Sunny day, you can see parts of France if you have a telescope. The long stretch of blue water beach, shacks and busy pubs dotted along the road make it quite happening.
The British Airways i360 is the most famous attraction here. It is a moving observatory mounted a tower that is 138 foot tall. The treatment you get while entering the i360 is just like taking a flight with Departure Lounges, Security Checks, Boarding passes, Air hostess et al.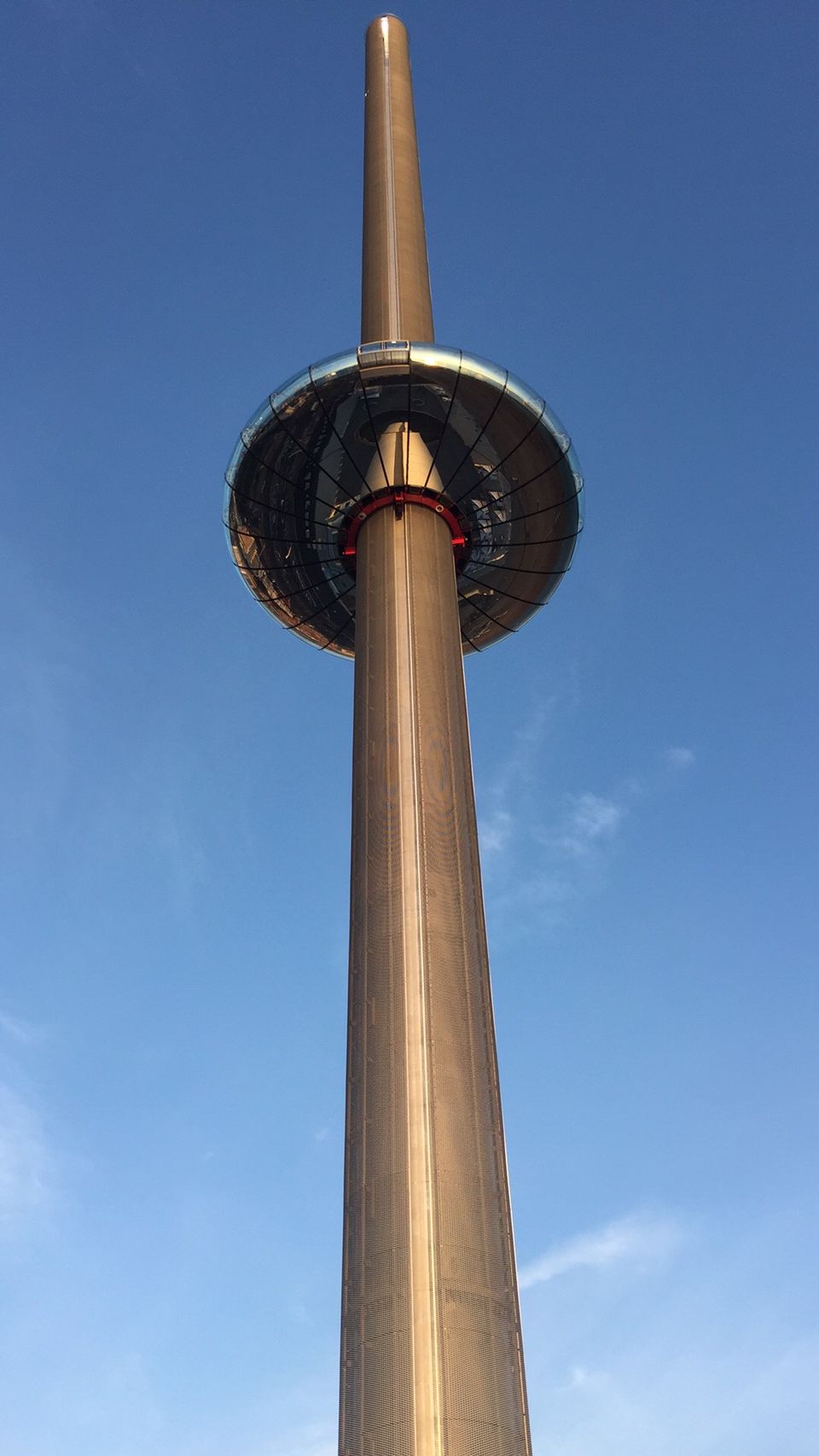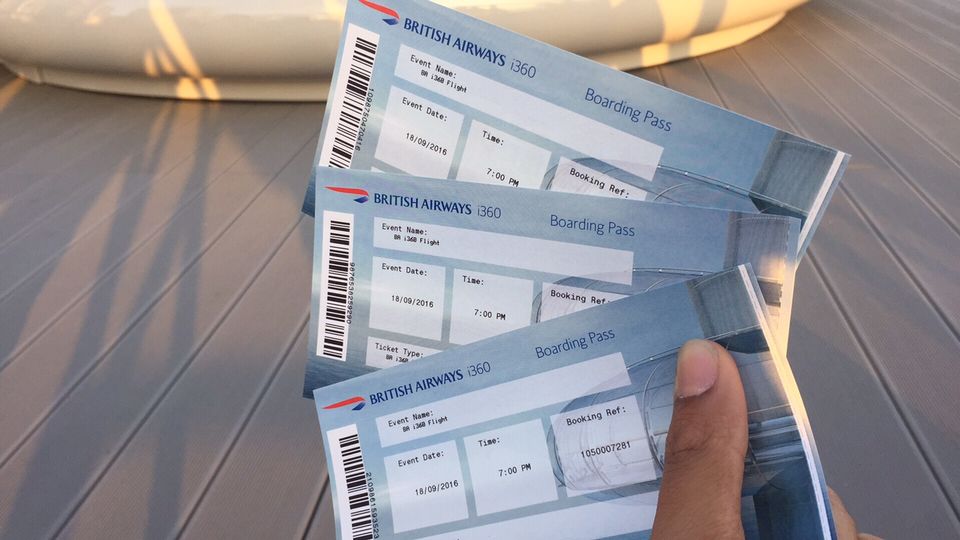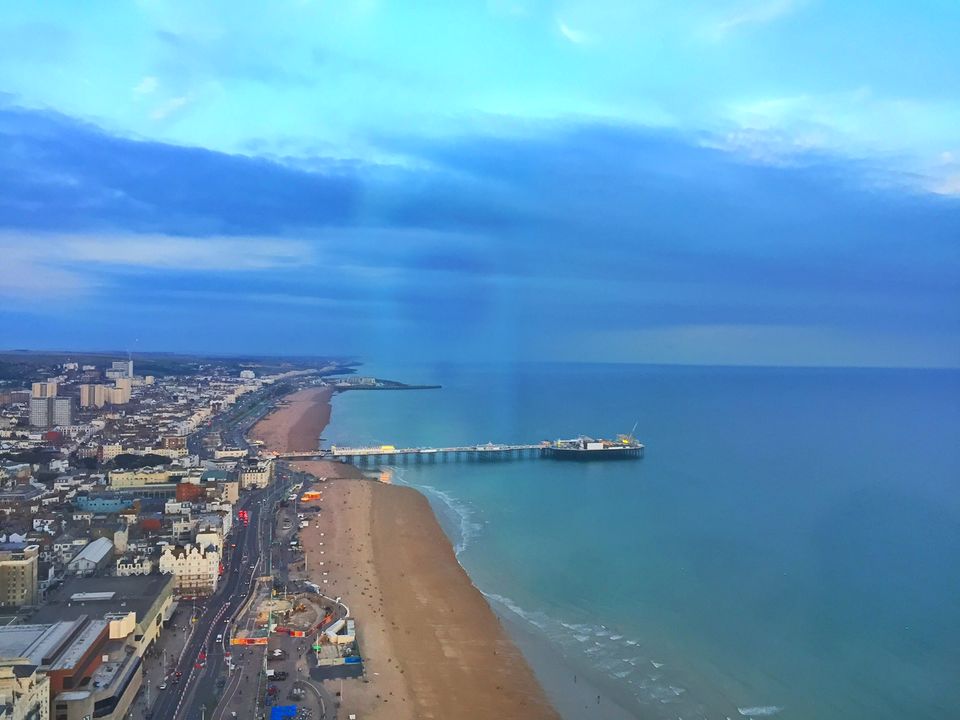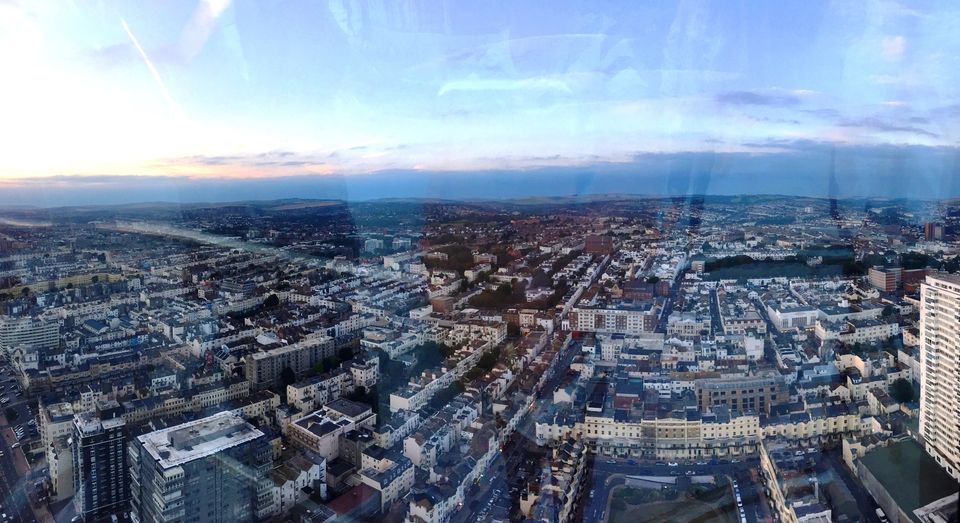 We headed to the Brighton Pier which is the family Entertainment park which you see in every seaside town of British soil. It has Casinos, Restaurants, Pubs and a lot of Churros/Fish n Chips parlours. We hit one of the pubs with a good sea view for filling our tummies and memory cards with pictures.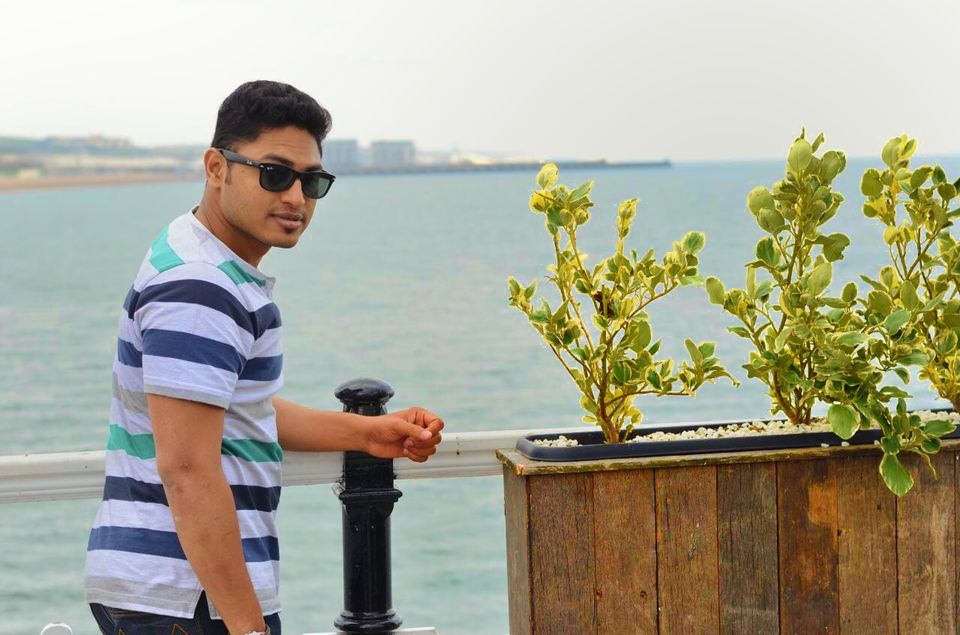 Once the sunset was in sight, we packed our bags and hit the road towards London. The traffic was high along the M23 and M25 since it was a Sunday evening and it took us less than 2 hours to reach London.
Stay Tuned ! More to come in this space :)
#travel4life