The city of Xi'an was on our itinerary solely because it is the site of the Terracotta army. We also included a city tour but I didn't have any great expectations from the city.
But Xi'an just blew me away in every way possible. Here are some reasons why Xi'an was such an enjoyable time.
University town
Xi'an is the ancient capital of China no doubt, but these days it seems to be the center of education. What this meant is that the vibe was really chill. Lots of youngsters, lot of options for food (more on that later), and generally very lively.
Because of the high number of colleges, most of the people we spoke to were able to converse in English. Well, maybe not all that much, but the level of understanding that I could have was much higher than in Beijing or Shanghai.
While going around Beijing, I found our tour guide incomprehensible, and the locals even more so. So, being able to converse (to some extent) with the locals, and understand the tour guide's talk was a huge plus in Xi'an.
The Food
I also had the best food in Xi'an. The cuisine here is slightly spicy - lot of food fried in chili oil, and came closest to the Schezwan chinese food we get here in India.
In Xi'an, we wandered into the Muslim quarter curious to find all the exotic street foods that so many Indian tourists had told me about.
The Muslim quarter was so lively and buzzing with activity!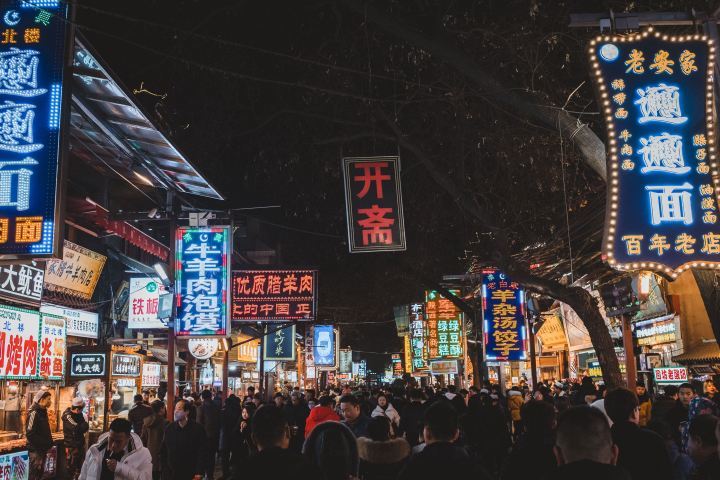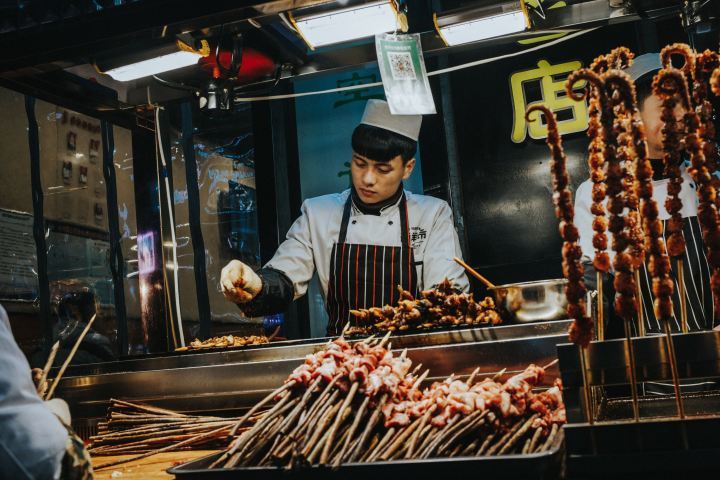 We originally intended to just walk through and enjoy the sights and sounds of the street. Since I am vegetarian, I didn't actually expect to find anything to eat there. Again, I was surprised!
First up, the exotic meats. Disclaimer. I have no idea what these are - I am guessing squid or octopus, and something else.
But we were able to gorge on the sweets and nuts. And the people were very helpful giving us samples to taste before we buy. I can't say I knew the names of everything we sampled. But mostly, everything was tasty. I am not a huge fan of street food (delicate tummy), but all the stalls were very neat and clean, and I felt very comfortable eating from there.
And then there was the seriously delicious ice-cream. If you ever visit the Muslim quarter, you have to go to the corner ice-cream shop and try their walnut ice cream. Heavenly!
I could talk and post more about the food, but there's so much more to talk about, I"ll just leave this right there and move on to the next.
Sightseeing
So, of course the main attraction is the Terracotta warriors, but there were also so many other places to see within the city. I loved our time at the Big Wild Goose Pagoda and temple, and roaming around on the city walls.
Xi'an City walls
Surrounding the old part of Xi'an are the original fortified city walls, which date back to the 14 th century. They were constructed under the Ming Dynasty to protect the city from invaders. Later, they were reinforced and extended by the Tang Dynasty.
These walls are easy to climb up and not very high (only 70 steps, I counted). So, we could spend more time walking on the walls and enjoying the views around us. The walls are also very wide and well-maintained.
In olden days, the purpose of this wall was to watch over the city walls and defend against attackers. Nowadays most of these buildings (at least the ones we went into) are empty, or they house museums or souvenir shops.
We spent a pleasant couple of hours strolling along the walls. We could have also rented bicycles and made a circle of the entire city on the wall. We were just coming off a heavy lunch though, so a leisurely stroll was more our style ???? .
That's all we did in Xi'an. But there is plenty more to do.
Day trips
One of the most popular and adventurous day trips from Xi'an is to visit Huashan mountain. It's called the world's deadliest trail. And it definitely looks that if this stock photo is anything to go by.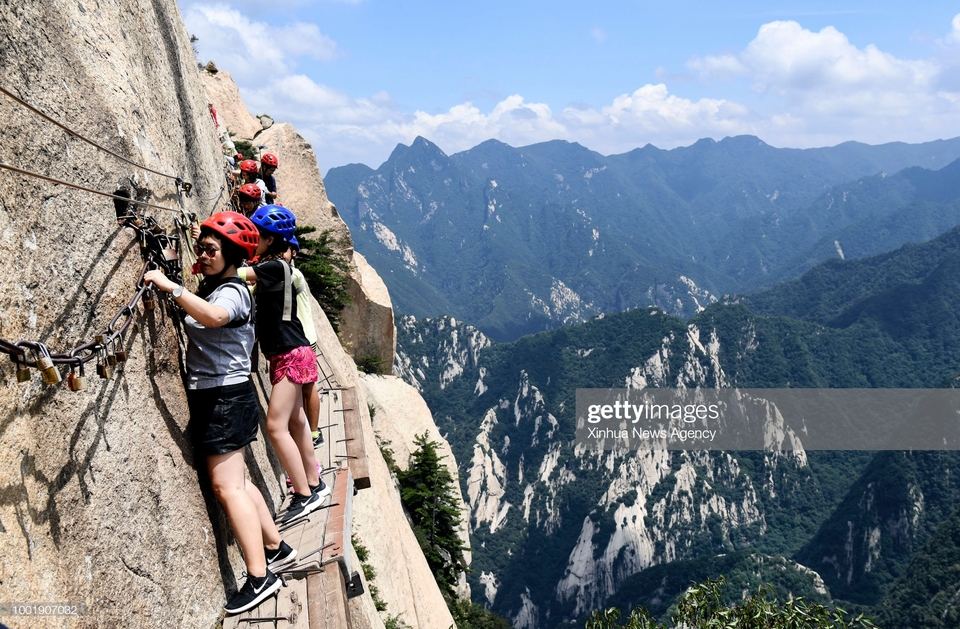 I shuddered the moment I saw these pics, this was definitely not for me. But it is a most popular hike, and I saw lot of tourists from my hotel going for it. Something to consider if you are looking for some thrills.
Overall, Xi'an was a lovely eye-opening experience. I loved the small-town feel of the place, the friendly people, and most important - the food!
Hope you enjoyed this post. Stay-tuned for more travel experience posts, tips and our detailed itinerary!
Nish
Voracious reader, vegetarian foodie, mostly armchair traveler, and frequent online shopper. I love to talk about all these passions (and other things happening in my life) in this blog.