Roopkund is one of the oldest treks in India and definitely the most popular trek. Hundreds of trekkers of all ages and size flock to Roopkund each year and climb a total of about 9000 ft from Lohajung (7000 ft) to Roopkund lake (15750 ft.) or to Junargali (16000 ft.) just to see that lake which is 'mysteriously' surrounded by about 300 skeletons. The journey takes about 7 days for a round trip from base camp to base camp (Lohajung).
Day 1
The day starts from reaching Kathgodam, a small city in Uttarakhand and ends with stay at the Roopkund base camp, Lohajung at 7000 ft. we reached Kathgodam at 6 in the morning via Ranikhet express then a long 11 hr taxi ride to the base camp with other fellow trekkers and finally reached Lohajung around 5 in the evening.
Lohajung is a small village in Chamoli district in Uttarakhand and our base camp for the Roopkund trek. We stayed in a guest house overlooking the valley. When we reached Lohajung we were served hot tea and got ready for a health checkup. For me, health checkup is the scariest part in any trek because anything can go wrong during the checkup. To my surprise it did went wrong, my Blood pressure came out to be so high that all I need was a little more stress to become Hulk. It was more than freaking 160/100. That, way...way more than it should for a boy of 21. We also got to know there are afternoon showers daily throughout the trek and this news freaked me out because this is my second attempt for Roopkund as my first one was canceled due to cloud burst.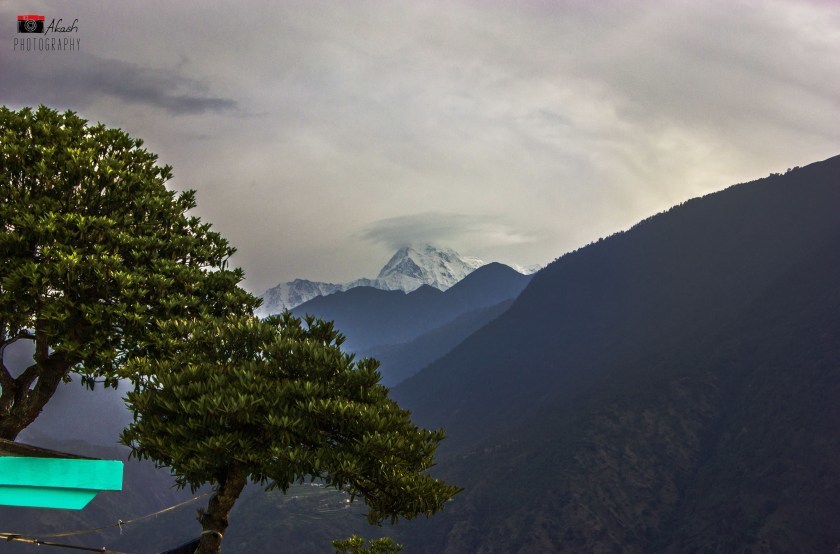 That evening before dinner we got briefed up about the trek, the company, IndiaHikes, their vision, mission and projects like green trail. Then we rested our remaining hours out.
Day 2
We followed 6-7-8 routine throughout the trek. 6 O'clock tea, 7 O'clock breakfast and 8 O'clock we leave for the trek.
The trek starts from a small village Wan, about 1 hour drive from Lohajung at an altitude of about 8000 ft. and the trail start with steep cemented ascent and took us from dense, beautiful oak and rhododendron forest till Rankadhar. Rankadhar is a small resting point for the trek. It lies at the top of the hill and has an incredible view of the peaks all around. It was our first long halt and I tell you when you sit at a top of the hill and look deep into the valley it makes you think. It makes you feel extremely small in this beautiful world, it kills the evil in you, and makes you realize you are not as big as what you think you are.
From Rankadhar we descend back into the forest till Neel Ganga and then we make a continuous and intense ascent to our first campsite, Gairoli Patal. During the trek we get the view of magnificent Mt. Trishul, which marks the sign of our approaching campsite.
Gairoli Patal at 10,000 ft is a small clearing in the dense forest. It's a small patch of grass among the oak and rhododendron. All it has is a small dhaba, 2 forest department's shelter huts, one big shed, a small temple, a kitchen tent, our small sleeping tents and most importantly 2 small toilet tents.
We reached Gairoli Patal round noon and then we spent the whole day exploring the campsite but mostly under the big shed because as predicted we had afternoon showers.
Day 3
Today we were to advance on our trail. We were going to Bedni Bugyal via Ali Bugyal, which together are considered to be one of the largest meadows in Asia. Bedni Bugyal is situated at an altitude of 11700 ft. So, we are going to climb a strenuous 1700 ft. It wasn't as difficult as the climb from Wan to Gairoli on day 2 but still it beats the hell out of you at least till Ali Bugyal. After Ali Bugyal it almost a horizontal walk, nice and easy.
We again followed the 6-7-8 routine (tea-breakfast-leave). The food served on a trek is always plain and simple and nothing fancy with less spices and vibrancy. But, that's the best type of food you should have on such altitude. The lower oxygen level really messes with your body, everything gets slow, your metabolism and even digestion gets slow. Due to this reason we eat simple and easy to digest food on such treks and also it's difficult to cook extravagant cuisine in the wilderness.
After breakfast, we were out for our trek. There are two ways to reach Bedni Bugyal, one direct shortcut way and other via Ali Bugyal. The route via Ali Bugyal is longer but more beautiful, it really shows you the glimpse what makes them the largest meadows in Asia. The trail goes through the thick oak and rhododendron forest with less than steep ascent and is partly slush and partly a carpet of dry leaves. As we approach Ali Bugyal the inclination increases and just 50 meters before it becomes so steep that we had to Zig-Zag out way into the Ali Bugyal. When we enter the Ali Bugyal the forest abruptly vanishes and you see a parallel line across the mountains of the forest. We have left the forest behind for rest of our trek. Beyond that are the vast meadows of Ali and Bedni Bugyal. It's like every hill is shaved off from its trees and all is left is grass and moss.
When we Reached Ali Bugyal We took a fairly long break and clicked several pictures of the landscape and of each other. In my opinion that the second place from where we can feel the vastness of the mighty Himalayas after Rankadhar otherwise till now we were traversing through the forest and couldn't actually perceive where we were heading. This is the first time left the forest behind for good and now all we'll see is peaks after peaks in several layers going far into the horizon. But, it not the last place to admire the Himalayan splendour instead it's just the beginning because what coming ahead and it's truly breath-taking.
From Ali to Bedni Bugyal is a cake walk. It's almost like walking on plains, the slope is very easy on legs. It took us about an hour to reach Bedni in which we experienced a small hailstorm.
Bedni is one of the most beautiful campsite on the trek. The camp lies in the middle of the meadows with Mt. Trishul and Mt. Nanda Ghunti in the north, a small hill called Bedni top in the east, endless meadows in the south and valley in the west. The view of Trishul is breathtaking and it is impossible to resist pointing your camera at it. The snow covered Trishul changes colour with the sun and it's so pretty that I can stare at it for hours. There is also a small man-made lake in Bedni and a small temple of Nanda Devi. The lake is basically to store rain water.
Day 4
This was acclimatization day, we were to stay at Bedni and make our body accustomed to the high altitude and to give some perspective why it is important I gained more than 11000 ft in past 3 days. I have to let my body deal with increasing altitude and the decreasing oxygen.
Today we are going to Bedni top. It's supposedly the highest peak in Bedni Bugyal and is at about 12500 ft i.e. about 1000 ft from our camp. I know what you are thinking, this doesn't sound much, it's just 300 meters, what so tough about it. Even when you look at it from the camp it doesn't look challenging, it feels like you can reach the top in like 15 min hike but let me tell you it isn't. 'Don't judge a book by its cover', this peak is one and half hours of excruciating climb. Within few minutes you'll find yourself catching breath and heart thumping against your chest.
When you reach Bedni top it's one of the most beautiful sites you will see on Roopkund. Standing at the top and looking below are dozens of dots, those are your camps, and looking straight you will find several 7000+ meter peaks like Mt. Neelkanth at the horizon. Turning 90ᵒ to your right you will find Mt. Trishul and Mt. Nanda Ghunti watching us with several other snow covered peaks and now on the right and behind you are the entire Bedni and Ali bugyal.
When you are at the top you feel like you are at the top. You look around and take a minute to let that feeling sink in and for me the best thing one should do is sit and feel. Feel the fresh air in your lungs, the cool breeze drying up your sweat, the view of the mighty Himalayas soothing your eyes. You get disconnected to the urban cities and your mind, body and soul becomes one with the nature. That is the Power of Himalayas.
That evening something unexpected happened, we celebrated a birthday with a cake. You might be thinking what so 'unexpected' about it, if someone has a birthday you celebrate it. Well something 'unexpected' was the cake, you don't get a cake at such high altitude. You live in bare minimum necessities (food, water and shelter), you don't expect that someone will make a cake for you. It's not a brand endorsement but IndiaHikes does made it happen, the cooking staff actually made a cake. Of course it wasn't a cake off a German bakery but it was a pretty damn enjoyable. I'm sure he (Vijay) won't forget this B'day celebration.
That was my day at Bedni or better yet the best day of my Roopkund journey. It was my last day at Bedni and tomorrow we'll be heading forward to Patar Nachauni or so I thought. But what awaits for me the next day is something that I feared from the very first day of my trek.