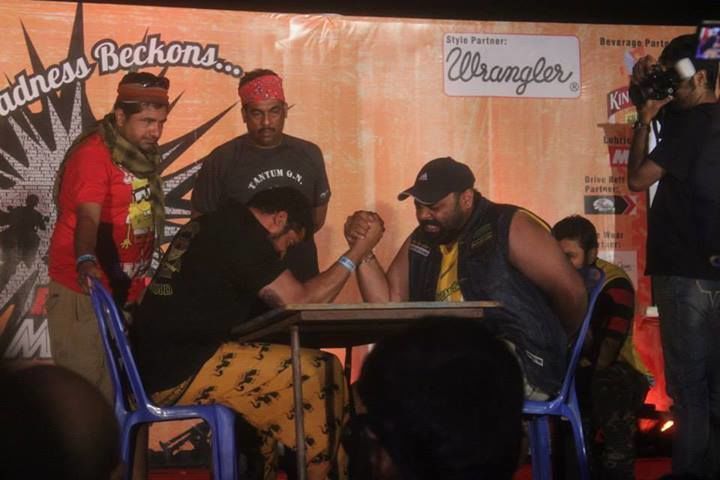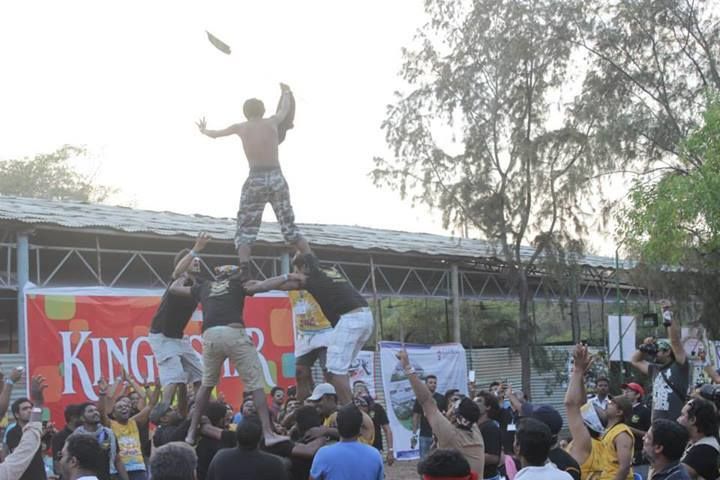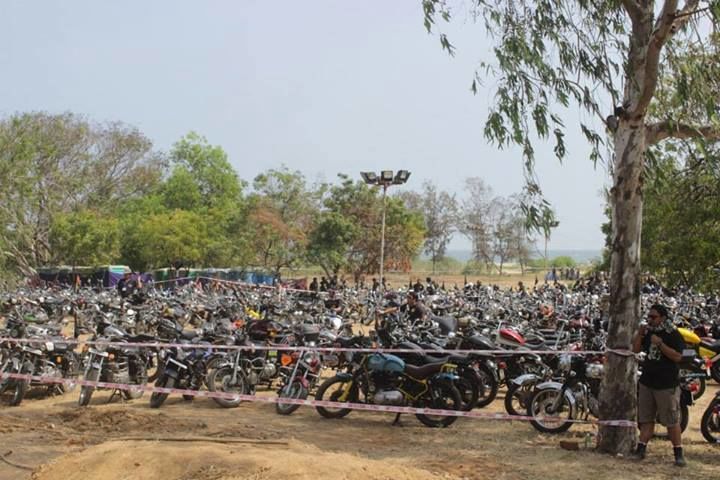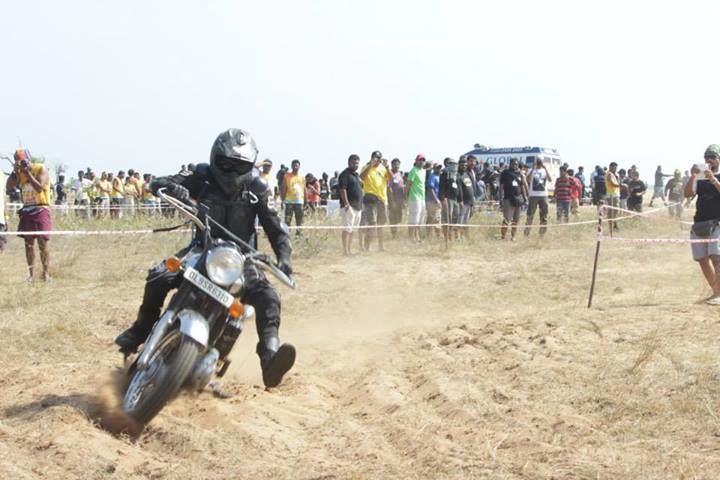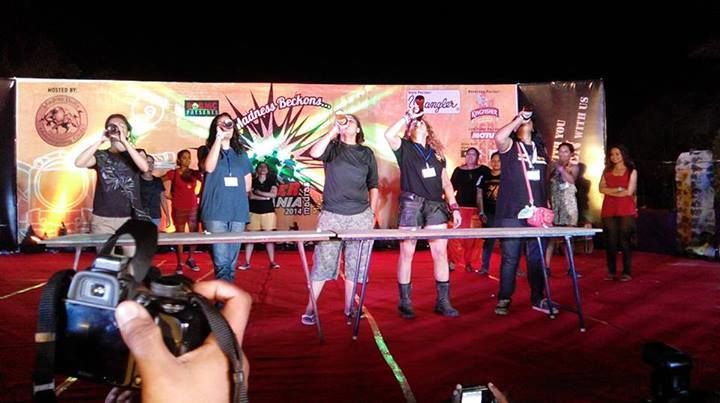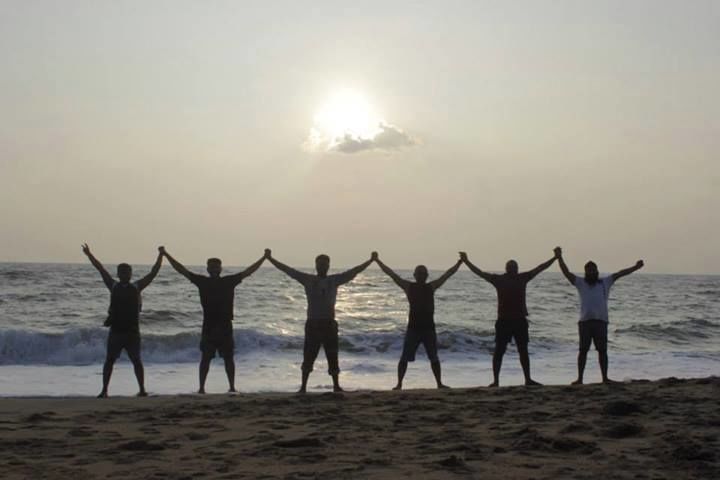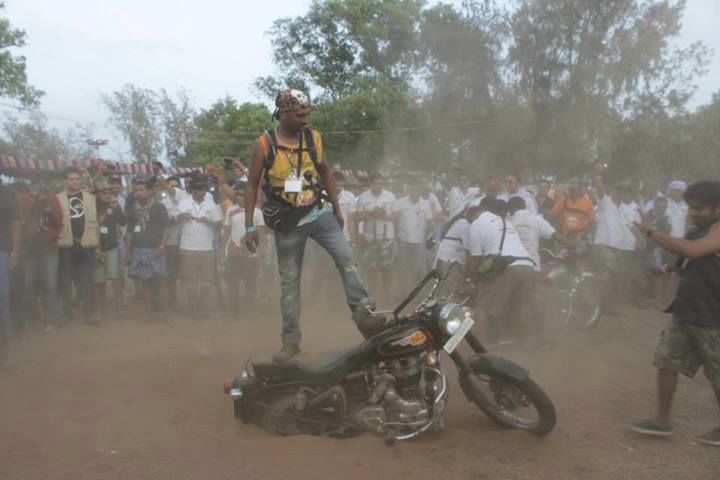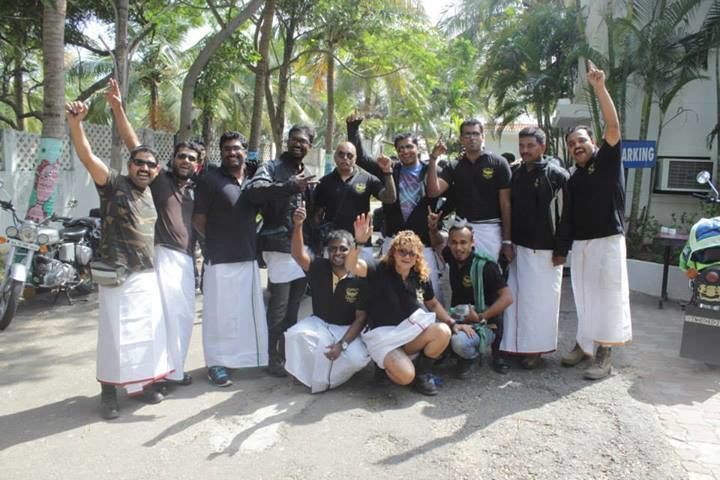 BOBMC Rider Mania 2014, (Not the Royal Enfield Rider mania, which happens every year in Goa) Yes it is!! Yes We did!! We were there at the maddest, biggest and loudest biking event in India, where more than 1200 bulleteers and 107 IBRs all over India came home to Madras to behold and celebrate the brotherhood with pomp and grandeur.
7:30 A.M 17th Jan: 35 IBRs from Bangalore chapter, spirits high, lined up at silk board, getting charged for the ride.
On the way every bullet group and rider on the Hosur road were heading Mahab. Reached our breakfast point A2B in no time. Four riders stayed in between due to an issue with Biju Bhaai's bike break down.
A2B: Riders from Delhi and Mumbai join us here. The entry to a2B they did and the way they carry themselves is something I never saw before. You need to see and ride with them to know what biking and bikers are all about. We and our bikes are dwarfed in front of the riders with their huge carriages and built. Rock steady in the two file formations at 85-90, it was a memorable meet and ride.
After lunch in Vellore, we Bangalore riders started our way of 94 kms to Mahab. On this ride Hari, Abhijeet and Arun Bhaai tactically made me sweep may be to put brakes on mine and Iniyan sir's speed ;-). We were just entering Sriperembadur, where our dear heavy weight rider Mr.Siddarth, Saravanan Sir and friend greeted and guided us to the resort around 17 kms before the RM venue.
Resort in Mahab: 7:30 P.M: It's an amazing place with the decent rooms by the sea shore where you hear the beach making its waving sounds, gentle breeze, calm waters, full moon with no others on that private beach is a delight to your eyes, mind and soul. Though it was a dry day we had our own private party in our room thanks to Pradeep, Ravi and others for carrying some drinks :D After dinner we went back to the beach to have a nice campfire and ride experiences with our Delhi, Mumbai and Hyd brothers.
Next day started with pics again at the beach and also capturing the lungi riders :-) The youngest IBR Sajeesh's Kid was a Choco pie!! With a briefing about our entry and some rehearsels we are ready to enter RM 14 with a bang and we did it.
18th Jan 11:30 A.M, Entering the Venue: It was the craziest entry or noise I ever made or watched. Stretch from the resort to Mahab RM venue was did in a two line formation with the chapter heads in the lead and our dear Robbie Gosh and other pillion riders standing all the way. Entered the gates and there we are making a circle formation with honks and loud thumps, dust, whistles, dances and shouts IBR IBR IBR raising all over. It was awesome!! The Madness Beckons!!
RM Venue: It was again set on the beach side, with spaces for tents, super structure (With 5 partitions and around 100 beds in each), vintage bike space, dirt track, Stage, Beer zone, stalls, etc etc Best thing here is the pricing of a beer at rs. 20 (though increased to 40 on 2nd day), thanks for having Kf as one of the sponsors. Our riders turned the swimming pool into a hooka zone as well.
Events: Beer guzzling - IBR dominated this completely with our Chief Sajeesh and Elaine (Delhi Chapter) winning the event. You could only hear IBR IBR IBR all over the place. This is how we got a new definition for IBR, International Beer republic ;-) Its also seen at our tent structure no. 3 entrance, where our riders decorated a bike with beer bottles. Along with this you have Arm Wrestling, Off-roading, Figure of 8 for 50+ year riders, Assempbly wars (Mechanic Bhaskar from Hyd and other Delhi Riders were our men) Raffle tickets for 100 rs each were sold out, for first prize of a bullet standard 350 cc and 20 + other prizes. A rider from Meghalaya was the lucky one to get it.
Night Party was excellent with the DJ mixing good tunes of pop, jazz, Punjabi, Tamil, everything making everyone there swing to his muzic.None could stop the Hyderabadis at the dance. I guess they didn't even had food. How can I miss the IBR kabaddi by the beach (My had is still paining). It was fun. I will also add the stage dive by Elaine after winning the beer guzzling event. Seeing her, our dear Shashi did a stage dive right on me and broke my specs.
I missed the 2nd day morning as I rode to Chennai to meet few friends and was back only for lunch. I see some good photo shoots at the beach happened that time. Second Night Mad bulls thanked their volunteers who put in lot of efforts and time with some nice goodies and few other riders like the Nepal club who travelled the longest, RTMC chief for being part in all the RMs till date, etc Each club played their videos on rides, experiences, travelogues, etc.
Though there are a few bike brake downs, a crash, small issue on stage, etc, such things were handled very sportively and only added more colors to the memories.  Finally a big thanks to Mad bulls for the time, effort and arrangements in making this event a huge success.Most of the Bangalore chapter started at 5:00 A.M on Monday and were back to Bangalore by 3:00 P.M.
See you next year in RM 2015 Chandigarh!! Till then we shall meet and ride again and again and again!!
Logging off,
Jacinth.