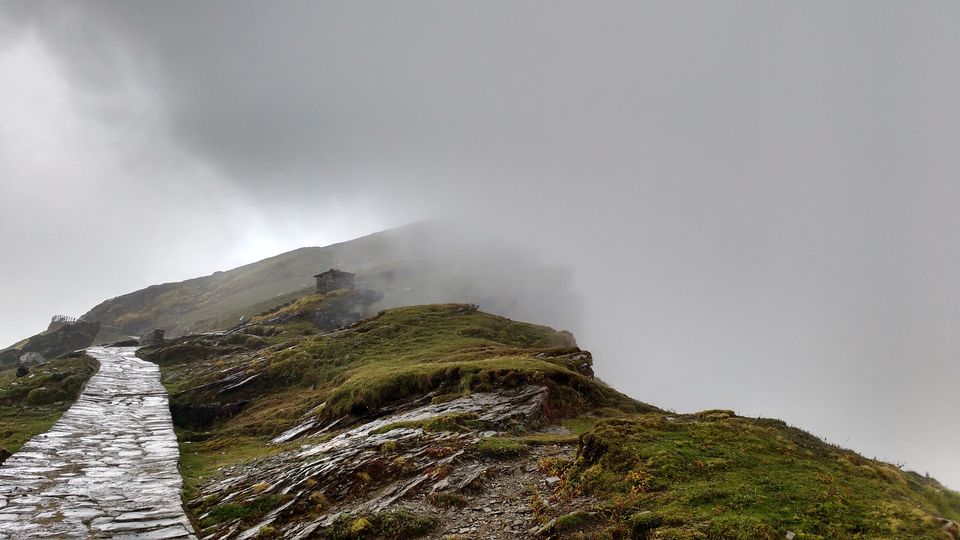 I can write a whole book on this Trip To Individuality. It was like a movie which God had played and we were the characters in it. This journey was Adventurous, Spiritual, Humorous and also includes Meditation. This is a Trip to Tungnath and Badrinath.

In mid September, 2016 we (me and my roomie) planned for our next trekking destination. We checked out for many destinations and at last went for Tungnath and Madhmaheshwar (Uttarakhand). Both are the parts of Panch Kedars. October first week were the dates, we decided. 7 days earlier of our start, we made a list of things to collect and to buy. We completed the list and done with our packing.
On 30th Sept. night, we left our room and boarded 23:30 bus from Anand Vihar to Haridwar. Just for a brief description of the itinerary we decided, I am adding this:
Day 1 - Sat 1st Oct- Arrive Chopta in evening. Rest.
Day 2 - Sun 2nd Oct- Trek to Tungnath and Chandrashila - Ukhimath by Bus
Day 3 - Mon 3rd Oct- Trek to Madhmaheshwar
Day 4 - Tue 4th Oct- Day at Madhmaheshwar - Covering Budha Madmaheshwar
Day 5 - Wed 5th Oct- Trek downwards to Ukhimath
Day 6- Thurs 6th Oct- Back to Delhi
Now, as the Director of this movie is God and we are only the characters in it, real story is very much different from the planned one. We both reached Haridwar early morning and took an auto to Rishikesh (INR 40 each). From Rishikesh we changed the vehicle which was going till Srinagar (INR 200 each). As that was a local Sumo, the driver was playing Uttarakhand 's local tracks. We were trying to understand the songs while enjoying hills and scenic roads.
We reached Srinagar at 10:00 and enjoyed our breakfast. We took a walk through the city too, as it is a very good place to hangout (had some earlier experiences there). We found a bus going towards Kedarnath, hence, boarded it to reach till Kund (INR 110 each). We reached Kund in afternoon 14:00 from where we again changed a local bus to Ukhimath (INR 10 each).
We were at Ukhimath at 15:00, but there was no vehicle for Chopta from there. Hence, we bargained with a cab driver and hired a taxi for INR 800. His name was Santosh and believe me, he was a very humble person (which most of the mountain people are).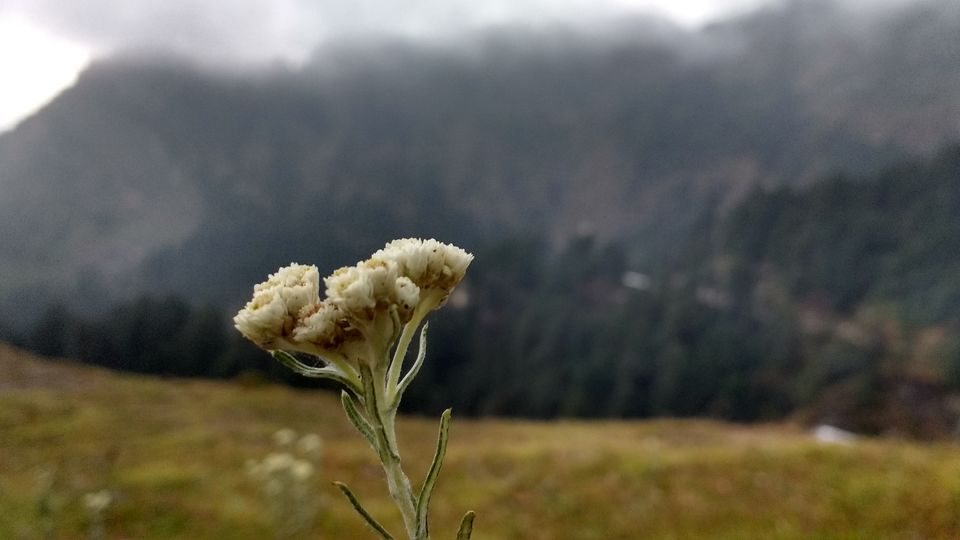 After an hour drive through the forest and beautiful Bugyals (meadows) we reached Chopta, rent a lodge and freshened up ourselves. Chopta is not a place to have a comfortable stay and hotels with good amenities (as we were expecting). There is no ATM, no electricity and local transport there. Our lodge was only a small room with a very small bathroom. In addition, the LED's there were running on Solar Light. We paid INR 400 for one night for the room.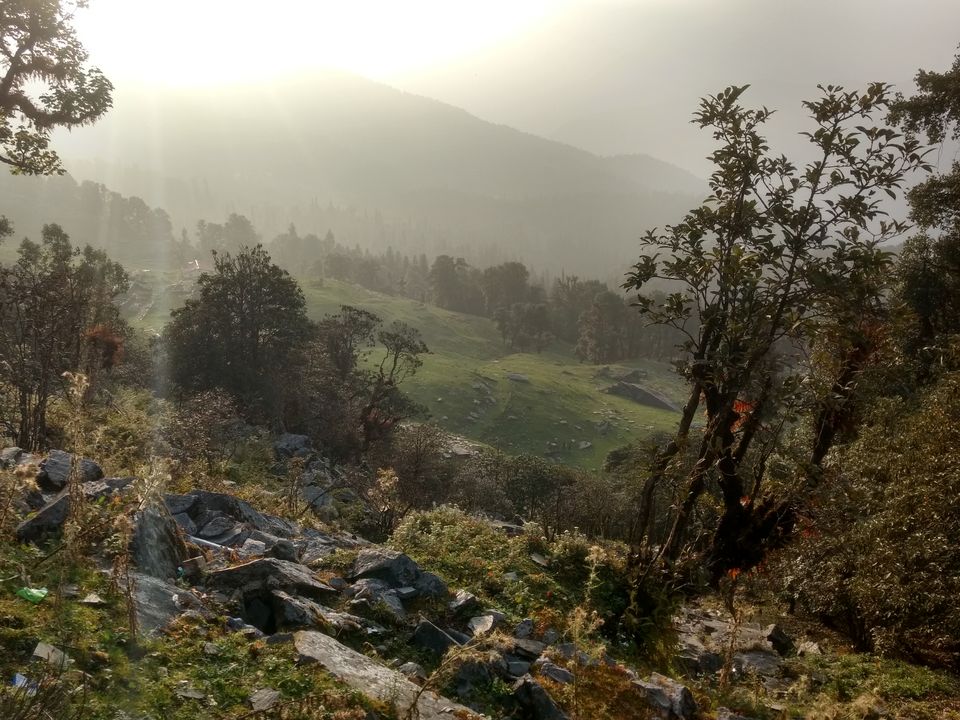 At 17:30 we had tea and came out for a walk. We walked to a village nearby. The views were sensational as it was a sunset time. We found a waterfall and spend some time there. This area is full of flora and fauna and comes under Kedarnath Musk Deer Sanctuary. You can find a healthy variety of wild flowers with unusual weather conditions. We came back and just laid down early till 19:30 , as we were very tired. Also we had to do trekking next day.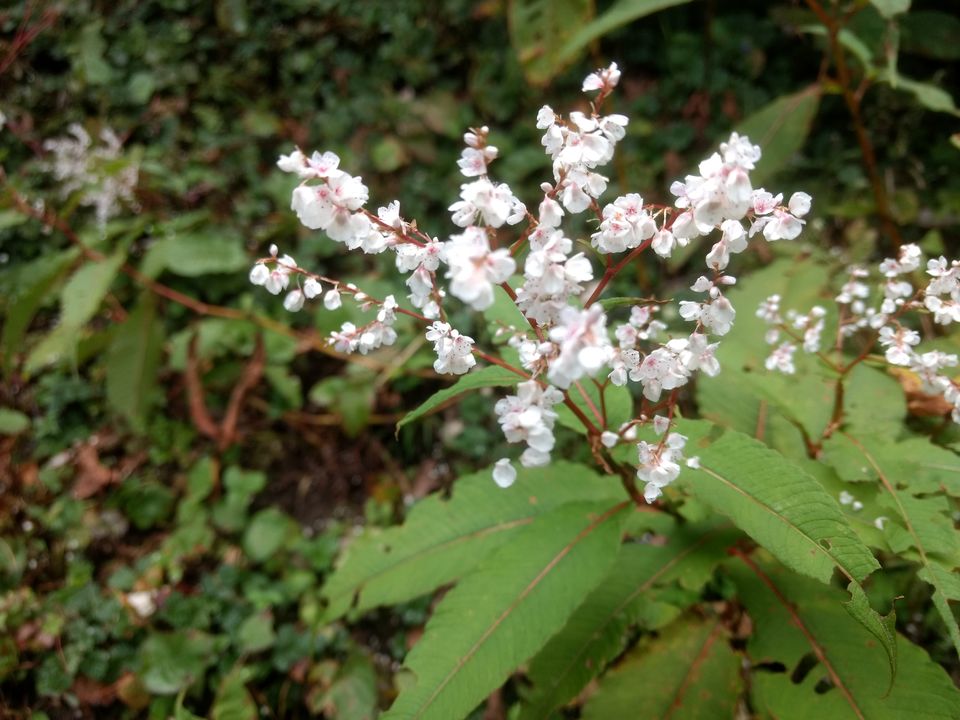 On 2nd Oct, early morning (06:40) after a tea session, we started our trek to Tungnath. We started at a good pace and gained a good altitude within 10-15 minutes. We stopped at some places for rest and covered 2.5 kms in an hour. Just before 1 km from the Temple, heavy rain started. Although we took our rain ponchos, we had to stop due to heavy rain. Luckily we found a shelter, which was a small Hut. We kept our bags and stayed there for 45 minutes. It was a selfie time and we clicked a lot of pics there. We heard some thunder and lightning below ourselves (as we were on good altitude). In a drizzling atmosphere, we stepped forward and reached the Temple. From the Temple entrance only we saw Double Rainbow Phenomenon and it was terrific.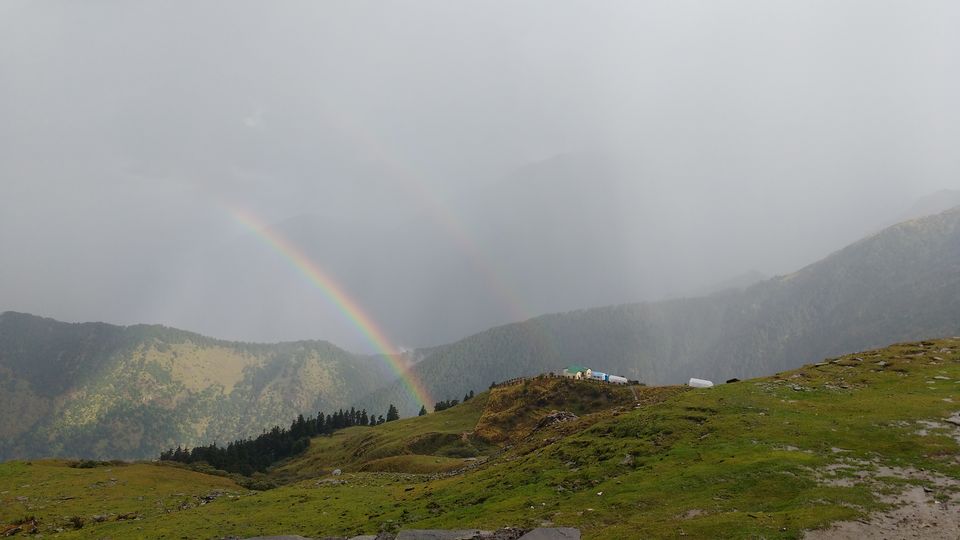 We went inside the Temple and roamed around its campus. Tungnath is a very old structure, which was built by Pandavas and also the highest Lord Shiva Temple in the world (3700 mt). After 30 minutes of Tungnath time, we headed towards Chandrashila at 09:15.
Path to Chandrashila is steep, but easy. One can feel the deficiency of Oxygen here because of height. We found many good variety of flora midway. Reaching destination is always a happy experience for all that to when you are trekking above 4000 mt. altitude. We reached Chandrashila exactly at 10:30. There was a small temple along with some rocks to sit and enjoy 360 degree view of snow capped mountains. Due to rain and clouds, view was not clear and peaks were not visible. We took rest and enjoyed the calmness of 4100 mt. There was no sound, no third person (nor second person indeed, as you lost within you in such places). After some time, we saw some glimpses of Chukhamba and Kedar Peaks.
After having some snacks, we started to descend. We reached Chopta at 12:30 noon. Mid way only we came to know that weather at Madhmaheshawar was not good and there were chances of heavy rainfall. We had our Lunch and decided not to go towards Madhmaheshwar. Till this time everything was going as per our plan but now God made His own plans and we had to play the roles as per his script.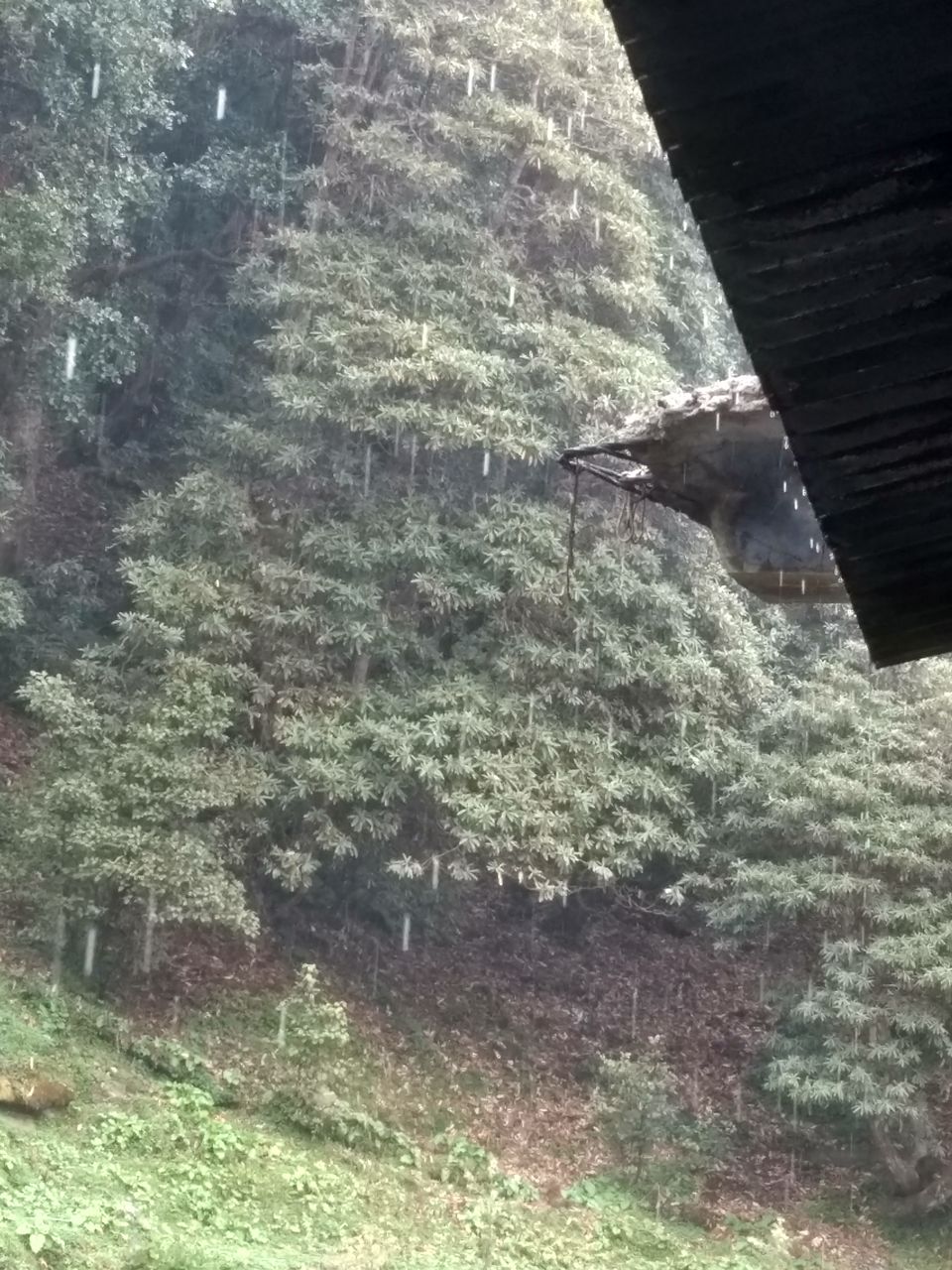 We checked out Uttarakhand Map (always carry map of the area you are traveling) and opted for Badrinath, as there was a road connecting Chopta to Chamoli. The last bus to Ukhimath (15:00) was departing in front of us and we had the chance to return, but we refused and started looking for some vehicle to Chamoli.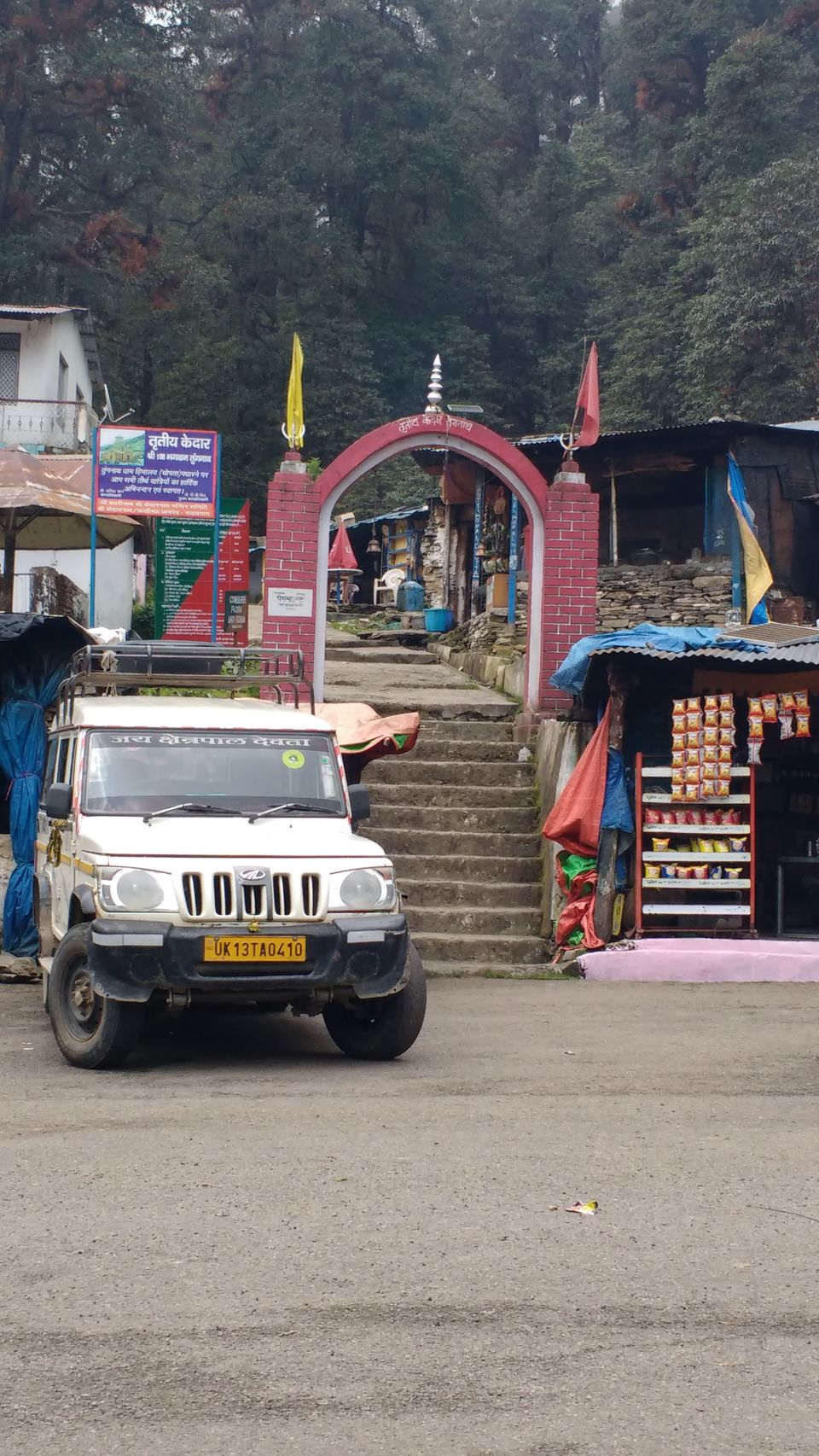 We tried for 15 minutes, but there was no vehicle for that route. It started raining again and we thought that we had made a mistake now. Suddenly, a man came and asked us that what are we looking for. We told him that we need to go towards Chamoli to reach our next destination - Badrinath.
He told us that he was going to same route, however, his cab was booked. If we could convince the family, we can join them till Peepalkoti (a town 80 kms before Badrinath). We had no option but to wait for the family, as they were at Tungnath Temple that time. We waited for an hour and at 16:30 they came. Driver Lalit was helpful and requested the Head of family for us. He looked at us and agreed for the same within a second. He was an old man with long beard and hairs. They were 3 couples and all were oldies. We sat on the back seat of his Sumo with a Pandit Ji.
After a 30 minutes drive, we reached Dhotidhar, a small village famous for a tea shop. We all went to the shop and there were some people already sitting inside. Everyone, stood up and started touching the feet of that Old Man. We got surprised with the incident. Everyone was calling him- Swami Ji. Shopkeeper told us that he is a very famous personality in that area. Now, he made tea for all of us and when I had the first sip, I understood why that shop was famous. That was marvelous.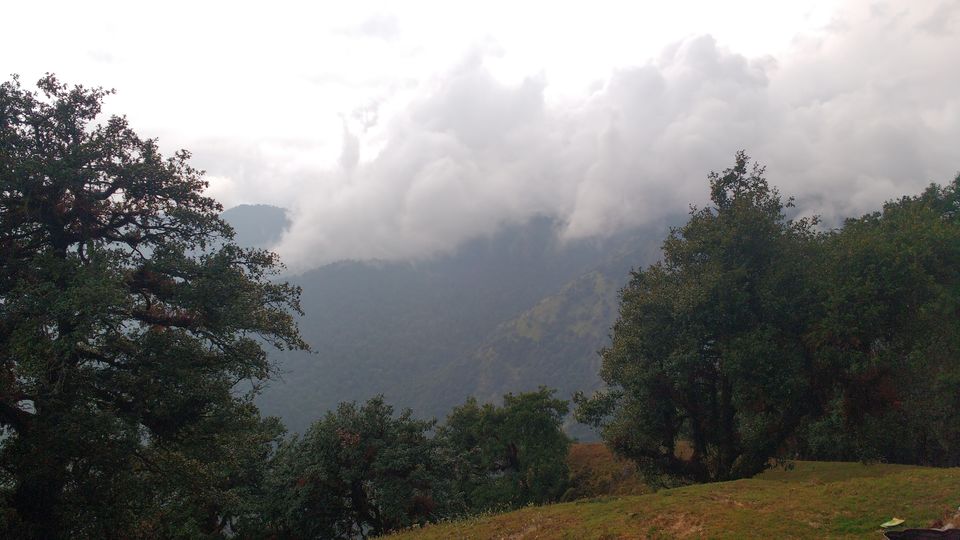 We started for Peepalkoti at 18:00. Now it was Pandit Ji time. He started the converstaion that where were we heading towards. That conversation was soon converted into mythological talk and with a lot of Sanskrit words he tried explaining us that everything is written by God.
As it was dusk, there was very less light. Me and my friend were resisting our laughs. We were tired and because of his talks we were sleepy then. Thanks to God, he left us in Chamoli and we went to Peepalkoti. Swami Ji asked us to stay in same hotel where his family was staying. We gave INR 1000 to Lalit for the drive and Checked In Hotel Shaurya with Swami Ji. Our room was just beside Swami Ji room. We had dinner in hotel only and cook made a local dish which was very tasty.
Next morning, we started early from our Hotel and luckily got a taxi (INR 50 each) till Joshimath within no time. We had our breakfast and started looking for our forward journey to Badrinath. There was only one taxi for Badrinath, which only moves when it gets full. It took 2 hours for the driver to get the taxi full. Because of Navratra, there were no tourist for that route. However, he drove fast and played some good Punjabi songs (INR 100 each). The road condition was not good but the Mighty Himalayas and Alaknanda River were grabbing all our attention.
We reached Badrinath at 11:30 and only had 30 minutes for Darshan as the doors remain closed from 12:00 - 15:00. We rash towards the Temple and as there was no big line, we entered the campus in time. After the Darshan we had our Lunch. Badrinath Temple (3300 mt.) is one of the Chardham of Uttarakhand and also a Dham among Chardham in India. We came to know that the last shared taxi leave at 16:00 to Joshimath, so accordingly we decided to go to Mana- Last Village Of India, which was just 3 km from there.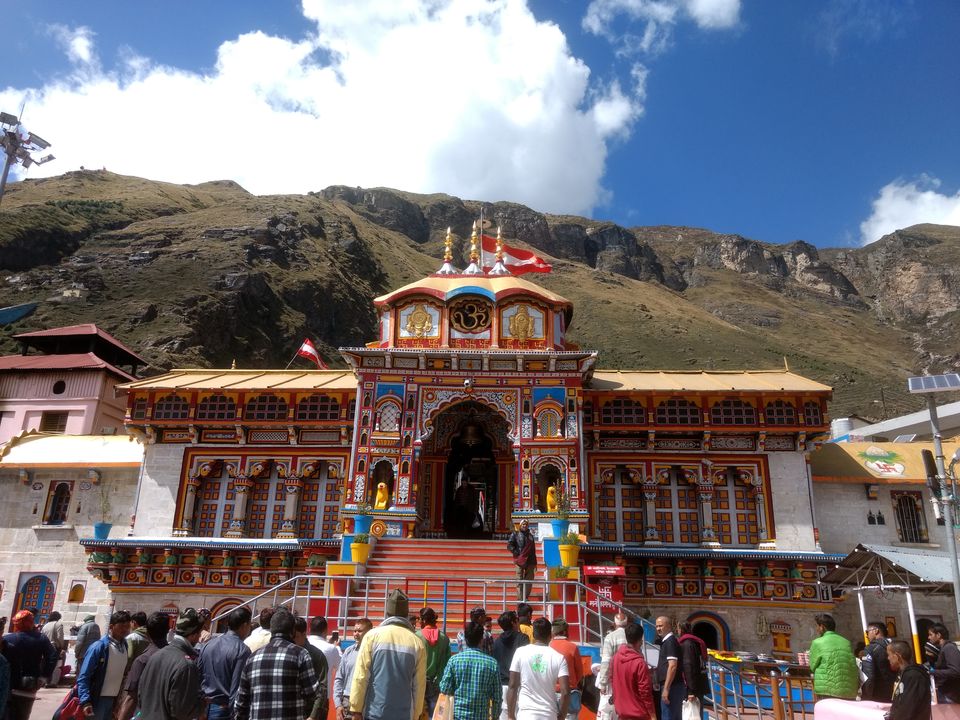 We walked to Mana and saw some Military Camps. There is an old cave of Rishi Vyas at the end. It is a small village and is easy accessible which is just 24 km from Tibet. We returned Badrinath at exactly 16:00. Now, again there was no taxi going downwards and a driver asked us 3000 bucks for hiring a cab.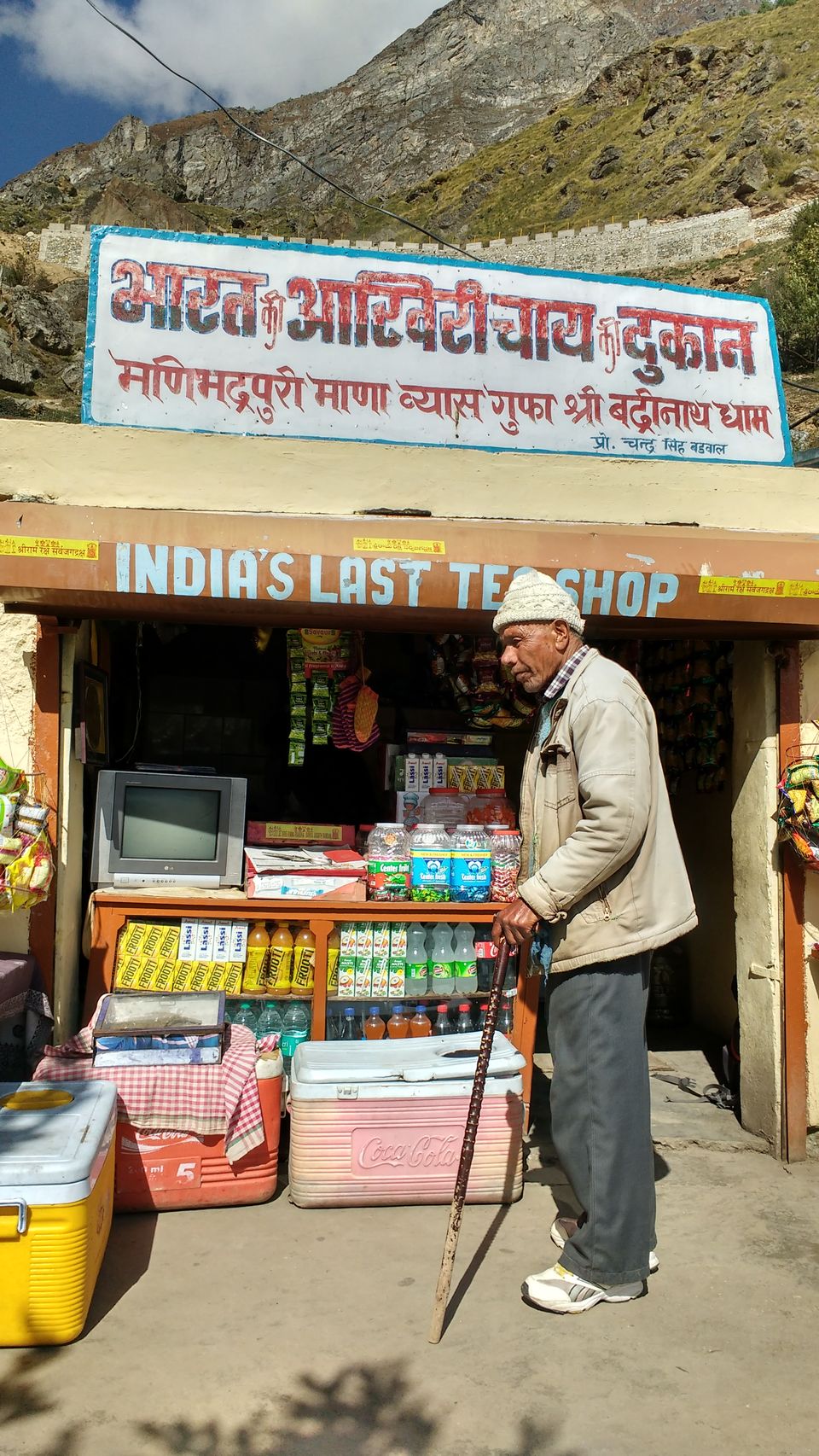 Some locals advised us to stay there only for the night and to leave in early morning. But we had to reach our hotel in Peepalkoti, which is 3 hours drive away from here. There were two buses standing, which were going to Haridwar and guess what, those were booked. My friend is very good in dealing people. He cleverly talked with the passengers and then drivers. They agreed to take us till Peepalkoti and we boarded the bus. As it was full, we sat on doorsteps only. Then got to know it is not a bad idea to sit at bus doorsteps, just to enjoy the fresh breeze and better views. We saw a landslide midway which wasted our 20 minutes. At Hanuman Chatti, our driver stopped and went to a Temple for 2 minutes. Now a passenger suddenly stepped out of the bus and started vomiting. One person followed him to check. Within those two minutes, all passengers came out of the bus and not to check the man, but to check out the temple. There was a complete chaos and incident again wasted our 10 minutes.
We gave INR 300 to driver before reaching Peepalkoti at 20:00 (with our tired bodies). We were planning for Auli or Hemkund Sahib for the last day of our trip. Now, God turns the page and a new chapter starts. Swami Ji called us to his room just before the dinner. He told that Hotel Shaurya is financed by Osho Committee and people around the nation come there for Meditation to attain peace. He asked for our plan of our last day. We told him that we were confused between Auli and Hemkund Sahib. Then he requested us, if we could give our last day to him and the hotel. He told us that he could see some positive energy inside us who can attain peace with meditation. We could not say No to a person who was very helpful, humble and also a respected personality. We agreed and were pretty much excited for our first meditation session ever.
The property is located near the river at the joints of two huge green mountains. We got to know that there was a 5 days Meditation Camp going on and that was its final day. The conductor name was Sagar and he was also a very good human. The first session - Dynamic started sharp at 07:00 in a room. We had to take deep and fast breadth, followed by some body exercise, followed by a relaxation part. We enjoyed our breakfast with some oats and some fruits. That time Swami Ji announced that we were his guests for the day and he will pay for us for Hotel and meals. We thought that there would be maximum two sessions in a day and then we will be free for the day.
In the next session of 11:15 we have to enhance our friendship with others members present in room. And what's a better to do friendship than dancing together. We did some unusual steps there and tried to communicate with each other through dance. After that, there was Chit Chat part, in which we had to explain our feelings in a language which is not from this planet. That was a unique concept according to me, because you are speaking a language which no one knows in room, even you do not know it and this creates a lot of humor. But after sometime we felt that we can understand exactly what other was trying to tell.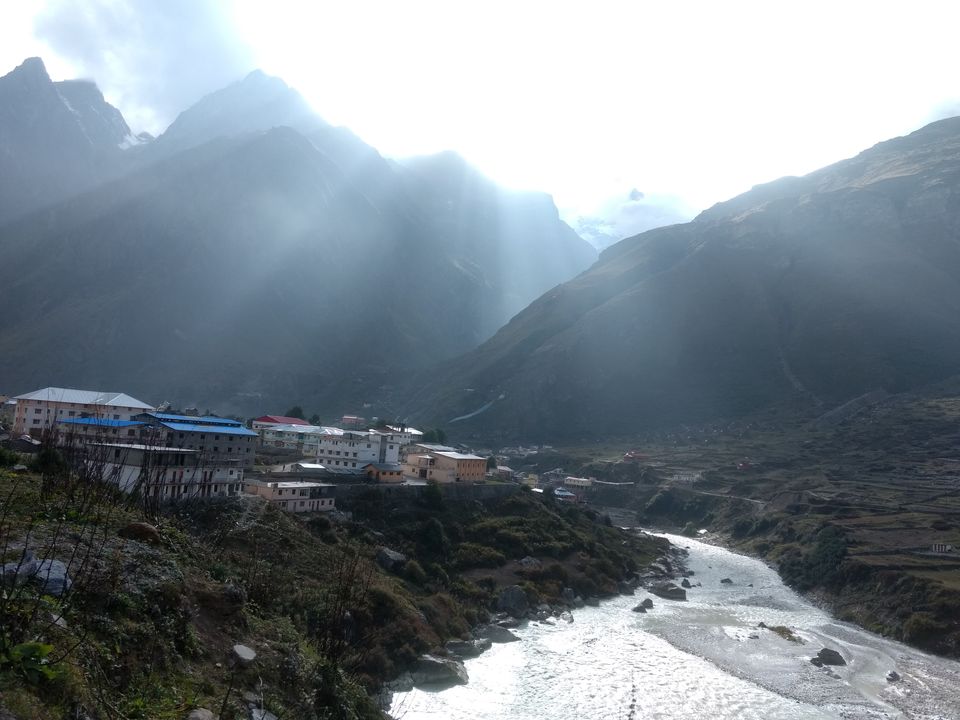 After our Lunch, we went for our next session of 15:45 , in which each one introduced himself who are they exactly and about their professions. It was a good session as it was very relaxing (without any physical activity). After a tea break we were called for 4th session in which according to them a time to meet Osho. They all were dancing out of excitement as Osho was between us (as per them).
In the next evening session of 19:30 we were asked to calmly sit down and meditate. We had to forgot all the things and to keep our minds at peace. I do not know exactly where I was. I was lost somewhere within 10 min of that session. I could feel my breadth, my internal body and at last my soul. When I opened my eyes, I was a different person who had just returned from another world. And then I replied to Pandit Ji in my mind (Yes, everything is written by God).
Swami Ji told us that very few people can attain this point within such time period as it needs a lot of energy, calmness and concentration. He told us that we were then became Swami too and we were given respect by everyone in the room.
Last session was an added one, as it was the final day of Camp and hence, that was a celebration time. Sagar played some terrific Bollywood dance numbers and believe me we danced like hell and did not able to understand where that energy came from even after a busy day. That last session was named as Nataraj.
We paid INR 1400 to hotelier for our two nights stay including meals and enjoyed our last dinner there. Everyone was happy and in the mood of celebration. Next morning we found a cab going to Rishikesh. The driver was going to Dehradun with his family but because of money he allowed us to sit. He had some good collection of 90's and made our journey awesome. We landed to Rishikesh by paying INR 900 and then we enjoyed our Lunch at famous Rajasthani Restaurant. Meanwhile we booked an evening train from Haridwar to New Delhi. We went to Triveni Ghat and had a photo shoot session there. We returned to Haridwar and straight away went to Mathura Walon Ki Purani Dukaan. Near Thanda Kuan for its famous Malai Ke Samose and Pende.
We reached New Delhi exactly at 00:30, on 6th October. Always remember, every place you make a halt or you eat something while trekking or traveling, do not leave the waste there. Kindly carry them in a zip bag and try to throw it in a dustbin later. One can easily find the difference between water color of a River from its source and 200 - 300 kms afterwards, due to pollution.
This trip was a movie which we wanted to watch more and to be a never ending one. This is one of my best trips as I found myself in it, hence naming it as - Safarnama- A Trip To Individuality.
Also- Everything Is Written By God.
Looking forward for your feedback and suggestions.