We must travel! To learn, to experience, to know where we belong!
There's nothing quite like traveling. Exploring new cities, villages, observing people, their culture, and simply getting out of the daily routine to view what else the world has to offer.After traveling to around 15 countries, I am beginning to develop a sense of belonging to the places I travel. It's a brilliant feeling - an emotional attachment, an innocent joy, an everlasting happiness.
Japan is a country I have long wanted to visit. A country more diverse than what I expected - from ancient history of culture and tradition to modern technology, picturesque mountains to blooming cherry trees, ancient temples to towering skylines, authentic sushi to incredible cuisine, Japan is a high-tech world mixed with politeness and respect of their past.
On 28th March 2019, I along with 2 of my friends embarked upon this beautiful journey to experience Japan, the way Japanese do. With so much on the list, it was not an easy exercise to shortlist the things we wanted to cover. What we indeed covered laid out some everlasting memories that I wanted to share.
Must to have : Japan Rail pass - We purchased a 7-day JR Pass that gave access to JR Shinkansen, JR Metro lines and JR buses. JR pass is not valid on 2 bullet trains - Nizomi and Mizuho Shinkansen. For travels other than those on JR (other metro lines and subways), we used Suica - smart card that one can top up as they travel around in Tokyo and other cities of Japan.
Must to keep in Mind : Google Maps is GOD !!

Day 1 – Tokyo:
The apartment we stayed at, though small and cozy, was located in the heart of Shinjuku and most of the tourist spots were at walking distance or 2-3 stations away.
We started our day with Tokyo Metropolitan building which is crowded with tourists for its free observation decks which provide good panoramic views of Tokyo and Mount Fuji.
Finding Piece in Meiji : From there we went to the famous shrine, the Meiji Jingu Shrine.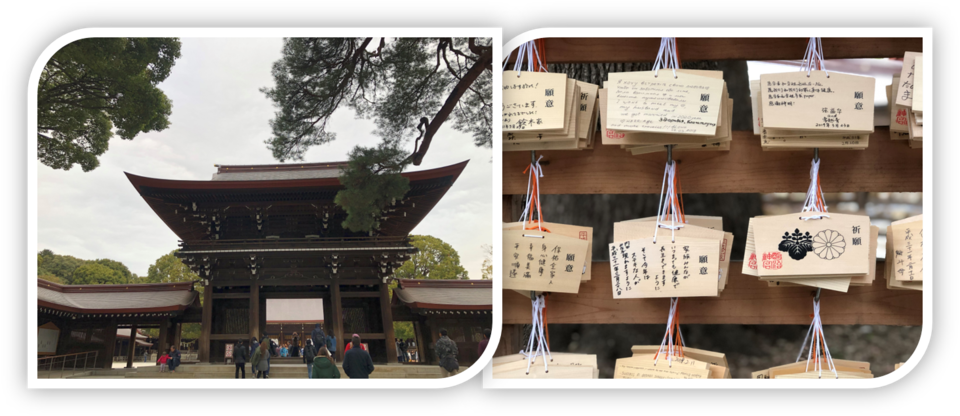 The Shrine is surrounded by a tranquil forest with numerous lush green trees and is a very calm and peaceful place right in the middle of a busy metropolis. Inside the Shrine you will find many prayer boards loaded with small wooden tablets called ema, used by worshippers to write down their prayers or wishes. The tablets are left in a designated area at the shrine, a traditional way of sending their prayers to the gods. Ema are sold for various purposes such as good health and happiness, success in life and good wishes for family and friends and can be bought at counters inside the Shrine.
Mouthwatering desserts in Takeshita: Next, we headed to Takeshita street in Harajuku which was at a walking distance from the Shrine.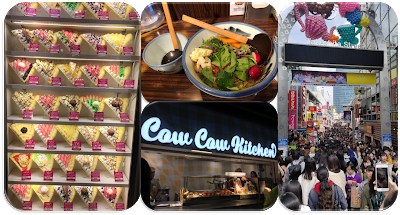 It is a very crowded street, famous for many things - youth culture and over-the-top street fashion, souvenir shops, Japanese desserts. It's also the place to go for Japanese crepes, a treat that anyone with a sweet tooth must try when visiting Japan.
Yummy Ramen: The beginning is incomplete without tasting ramen, one of the top Japanese dishes. Japan has lots of restaurants serving vegan Japanese dishes and we were lucky to find one at Afuri, great little place to for a quick feed just near Takeshita-dori in Harajuku. We tried their famous Vegan Rainbow ramen and that was the first time I fell in love with the food in japan. Little did I know that this was just a beginning to exploring a rich variety of their cuisines.
Day 2 – Tokyo:
The much-awaited SAKURA: The Shinjuku Gyoen National Garden is one of the largest and most popular parks in Tokyo and one of the best places to see Cherry Blossoms.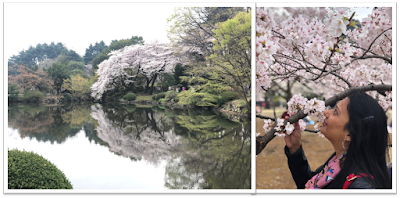 The garden is home to many cherry trees and you will find all shades of Sakura - white, pink, green inside the park. The walk in the park will take you around little ponds, green houses and as you walk by every spot in the garden will look better than before.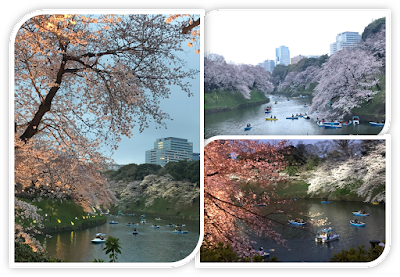 Next we headed to Chidorigafuchi park, another place to witness stunning cherry blossoms. The view of Sakura in the park is phenomenal and what makes it different is the scenery around it. It runs along a small river and one can closely experience the blooming trees while taking a ride on a boat.
Japanese Tempura @ Mominoki House:

It's a great place for vegetarians to try varieties of Japanese food. Shibuya branch is the most famous for serving Vegetarian Sushi. We went to a different branch but were lucky to be surrounded by loads of vegan options - vegetable tempura, Brown rice, Grilled tofu & vegetable, miso soup.
Busy streets of Shibuya and Center Gai: Shibuya Center Gai, the iconic street in Shibuya, is one of the most visited tourist sites in Shibuya. For those who love shopping, Center Gai is the place you must drop by in Shibuya. One of the most famous tourist sites in Shibuya and Tokyo is Shibuya Crossing, which is located at the entrance of Center Gai. Shibuya Crossing is perfect to take an amazing photo of Tokyo, where thousands of people pass at once.
Day 3 – Tokyo:
One can't get over Sakura:
The significance of the cherry blossom tree in Japanese culture goes back hundreds of years. In their country, the cherry blossom represents the fragility and the beauty of life. It's a reminder that life is almost overwhelmingly beautiful but that it is also tragically short.
Today, we headed to other famous parks to spot Cherry blossom surrounded by a different scenery. Yoyogi park is a famous hanami spot where you will find locals relaxing and enjoying the Sakura. There are beautiful ponds and over bridges in the park that give it a picturesque view.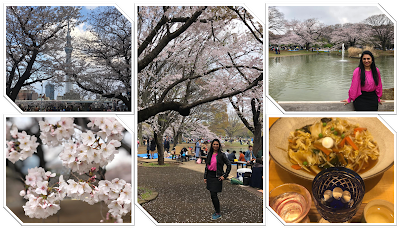 From Yoyogi we headed to Senso-ji temple, located in Asakusa. It is the oldest yet one of 's most colorful and popular temples. Adjacent to the temple is a five-story pagoda and we were lucky to see couples in full traditional Japanese dress going in to the shrine to get married or having their pre-bridal shoots. Adjacent to the temple is the famous Nakamise street, a shopping street that has been providing temple visitors with a variety of traditional, local snacks and tourist souvenirs for centuries.
Our next stops were Sumida park which stretches along the Sumida River with views of the Tokyo Skytree and Ueno park which is open round the clock and is another famous hanami spot.
An evening in Golden Gai: While the city offers an endless range of flashy clubs, bars and lounges, Golden Gai is just a couple of blocks packed with tiny, slightly ramshackle but buzzing bars. The number of people who can squeeze into each establishment ranges from about five to ten. It is a fascinating area to explore at any time of day - but it only really comes alive late at night, as most of the bars aren't even open before 9 or 10p.m. We couldn't resist but say "Kanpai" !
Shades of Spring & Winter:
One of the highlights of our trip was the visit to Shirakawa-go. You cannot see the combination of majestic nature and serene historical village anywhere else in Japan, except Shirakawago.Shirakawa is a quiet mountain village located in Gifu Prefecture, Japan. It is best known for being traditional village showcasing a building style known as gassho - zukuri The thick thatched roof of the houses is something you very rarely see in any other parts of Japan. The village still has some 114 houses of these wooden style houses.
We took a tour of the village visiting traditional houses, walking down the street, hiked to the observatory to see an altogether different view of the village.
After visiting sights in Shirakawa-Go, we got the bus to Ainokura a remote village in the Gokayama region, located 25 km away from Shirakawa. We couldn't believe how peaceful and beautiful the village was. We stayed at Yomoshiro, Ryokam which was a walk away from the bus station. By the time we reached there it had started snowing and we were covered in thick particles of snow. Till now, it had always been in my imaginations, but couldn't believe this was happening, that too in spring. What more we could have asked for !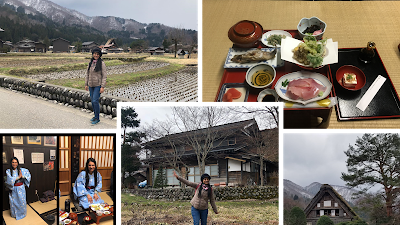 The hosts were lovely, kind and generous. They were really excited to see us and welcomed us with hot Japanese tea and dessert. We were served dinner in Japanese style and loved listening to the detailed description of our meal and explanation of the Gassho-Zukuri, as well as a demonstration of local instruments. We also had people from Srilanka and Taipei in the house and it was an evening well spent listening to their travel stories and experiences in Japan.
By night time, the village was covered with snow and we decided to go out for a walk. It turned out to be one of the most hilarious nights with snow structures looking like giant monsters in the dark and Japanese hoardings appearing as creepy messages. We sang songs, danced on our way, had deep conversations before crashing in our warm futon beds.
Next morning, we hiked to the viewpoint from where you can see the whole village covered in snow. Everything, every moment felt like a dream come true, a fairytale, even more so when blanketed in snow.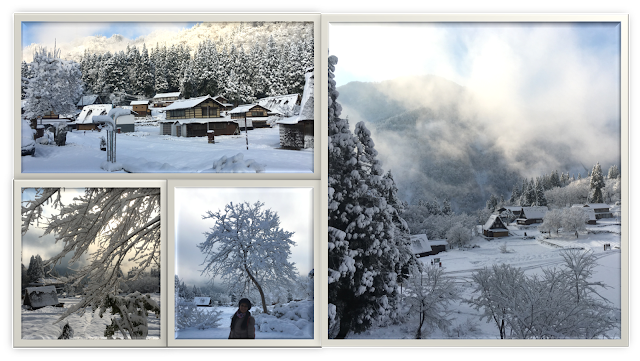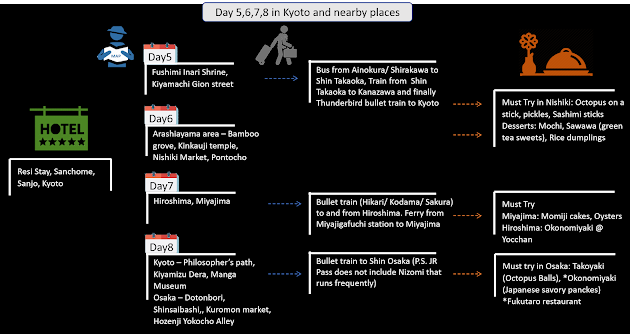 Visiting the Shrine: We arrived in Kyoto around afternoon and the apartment we stayed in was located in the heart of Kyoto. A must recommended stay with all the facilities and ample space. Post check in visited Fushimi Inari Shrine, famous for its thousands of vermilion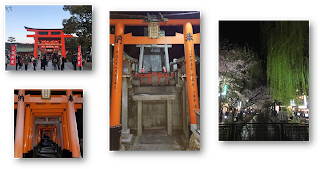 The trail along the gates lead into the wooded forest of the sacred Mount Inari, which stands at 233 meters and belongs to the shrine grounds. The hike to the summit of the mountain and back takes about 2-3 hour. Along the trail, you will thousands of shrines dedicated to Inari, the God of rice. Foxes are thought to be Inari's messengers, resulting in many fox statues across the shrine grounds.
Next, we headed to the Kiyamachi Street, a picturesque street area with a river running alongside. Kiyamachi is an area where you can find all kinds of things to eat. Because the river in the middle is lined with cherry trees on both sides that lit up in night, this is a great place to have some refreshments while you enjoy the cherry blossoms.
Day 6– Kyoto:
Lush green Arashiyama: We started our day with exploring the Arashiyama district.
Arashiyama is the second-most important sightseeing district in Kyoto after Inari. It's filled with temples and shrines, but the star attraction is the famed Arashiyama Bamboo Grove. Standing amid these soaring stalks of bamboo is like being in another world. You can explore a network of walking trails that cut through the serene forest as the pale-green bamboo stalks seem to extend endlessly on either side of your path. There is a unique atmosphere to this place to which no photo can do complete justice.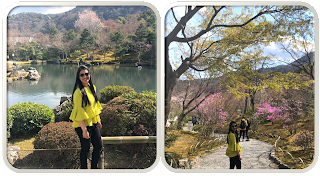 As you walk in the area, you will find bridges, shrines and one of the most popular is the Tenryu-ji Temple, a sprawling Zen temple with one of the finest gardens in Kyoto and wonderful mountain views. We walked around the garden admiring the blossoms and taking some beautiful pictures.
The Golden Temple: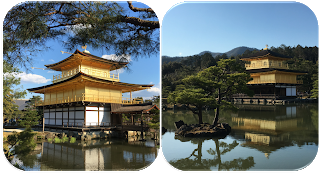 We grabbed some food from Arashiyama Station market, local market filled with souvenir shops and eating joints, and headed to Kinkauji temple, popularly known as the Golden temple. Kinkakuji is an impressive golden structure built overlooking a large pond and is one of the beautiful temples in Kyoto.
Stroll along the street:
After the temple visit, we took the bus to Nishiki market, famous for local food. It is a narrow street, often crowded with tourists but is a great place to find seasonal foods and Kyoto specialties, such as Japanese sweets, pickles, dried seafood and sushi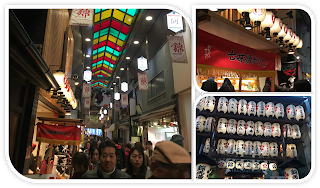 Day 7– Kyoto to Hiroshima & Miyajima:
Historical city of Hiroshima:
Today, we took a day trip to Hiroshima. There are two World Heritage Sites in Hiroshima. One is Itsukushima Shrine on Miyajima and the other is the Hiroshima Peace Memorial - known around the world as the Atomic Bomb Dome.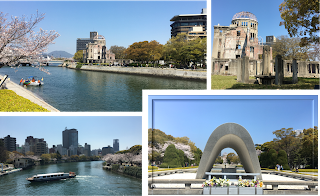 The Atomic Bomb Dome is the most symbolic building in Hiroshima City, standing only meters away from the hypocenter of the atomic bomb blast. When the bomb exploded, it was one of the few buildings to remain standing and remains so today. A UNESCO World Heritage Site, the A-Bomb Dome is a tangible link to Hiroshima's unique past. It has become a beacon for the world's prayers for peace and an end to nuclear weapons.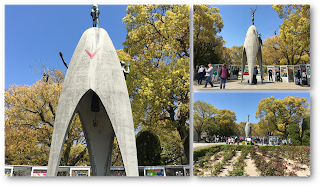 The Children's Peace Monument was built to commemorate Sadako Sasaki and the thousands of other innocent children who died due to the atomic bombing of Hiroshima. The statue is of a girl with outstretched arms with a folded paper crane rising above her. The statue is based on the true story of Sadako Sasaki who was exposed to the radiation of the blast at the age of two and died ten years later from leukemia. She believed that if she folded 1,000 paper cranes she would be cured. To this day, people (mostly children) from around the world fold cranes and send them to Hiroshima where they are placed near the statue. These paper cranes come originally from the ancient Japanese tradition of origami or paper folding, but today they are known as a symbol of peace. They are folded as a wish for peace in many countries around the world.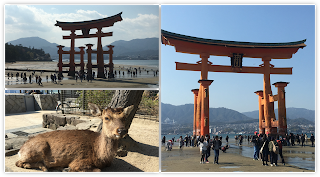 Next, we took a ferry to Miyajima to witness another World Heritage site - Itsukushima Shrine.It is one of the most significant shrines in Japan and the only shrine in the world built on top of the water. Miyajima's most prominent landmark is the torii gate in the Itsukushima Shrine that floats in the sea during high tide. The view of Itsukushima Shrine has long been considered one of the three finest views in Japan. Another fascinating thing about the island is that it is home to more than a thousand Sika deer and they're really friendly. As you walk along the island, you will see hundreds of tourists feeding and taking pictures with them.
The Manga Day:
With just one day left in Kyoto we wanted to cover few remaining sites without giving up on the lively city of Osaka. So, we started our day early and our first stop was Kiyomizu Dera temple known as the Pure Water temple.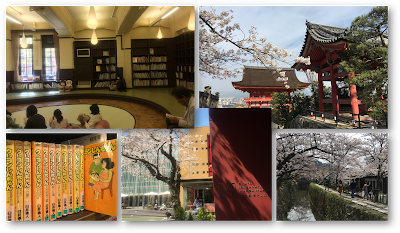 It is a beautiful hillside location offering spectacular views of the city and valley below. Next, we headed to Philosopher's path, a popular cherry blossom site. The path follows a canal which is lined by hundreds of cherry trees. Restaurants , cafes, and boutiques can be found along the path, as well as a number of smaller temples and shrines which are a short walk from the canal. Next, we headed to the International Manga museum, which is a must visit for all the Manga fans. It is basically a three-floor library and a small section of the books is dedicated to foreign and translated manga, but the vast majority is in Japanese . One of my friend, who was a trek enthusiast, did Kibune kurama hike followed by Onsen instead of Kiyomizu and Philosopher's path. On this hike, you walk from Kurama to Kibune via Kurama-dera Temple , a temple located atop the mountain between the two villages. If you want to get out of the city for a while and enjoy some beautiful hiking in the woods, this is the perfect trip.
Relishing Food in Osaka: Next, we took the bullet train to Shin Osaka, second largest metropolitan area after Tokyo.
It is one of the most popular tourist destinations and there are a lot of attractions in Osaka that fascinates tourists from all around the world such as the vibrant cityscape with neon lights at night, delicious local food, modern and trendy shopping streets, the world's greatest amusement park, and more. After reaching Osaka we walked along Shinsaibashi, the busy shopping street with all the popular brands, and headed straight to Dotonbori and Kuromon street for a food crawl.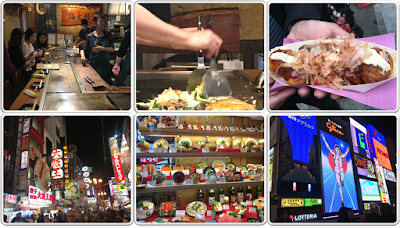 Local food is definitely a top attraction in Osaka. Osaka's local food includes some of nation's favourite dishes, such as Takoyaki (Octopus Balls), Okonomiyaki (Japanese savory panckes), Kobe beef etc. You can find many food stalls on the street of Osaka offering real taste of local with inexpensive prices. Keep an eye on Osaka chocolates and desserts along the way because you can't afford to miss them. We also got to experience Osaka night life at Hozenji Yokocho Alley , the old-fashioned drink alley near Dotonbori area.
Day 9 - Shopping in Tokyo

Next day morning we took a bullet train to Tokyo and reached Tokyo around noon. Our apartment in Tokyo turned out to be a luxury apartment given we got used to small cozy places in Japan. After dropping our bags, we straight away headed to the famous Ginza street. The trip remains incomplete without indulging in shopping at the famous Ginza street and grabbing some lovely gifts and souvenirs for friends and family.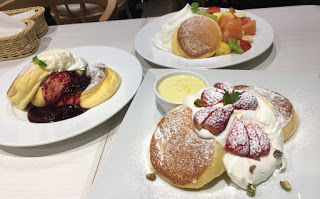 At Ginza, first we crashed into a famous restaurant - Happy Pancakes, popular for serving Japanese sweet pancakes. After an appetizing meal, we were all geared up for shopping at Uniqlo, Gu (Japanese fashion) and Itoya. Japan's flagship Uniqlo in Ginza fills 12 floors with quality, cheap clothing for men, women, and children and "Ultra Light Down Jacket" is a must buy here. Itoya, a famous Japanese stationery store, is another flagship store in Ginza with 12 floors filled with beautiful stationary and craft items. It is difficult to leave empty handed from this store for sure.
The MEGA DONKI Shibuya Honten is another must visit place that offers wide variety of products. As the district is vibrant for all night long, MEGA DONKI is also open for 24 hours every day for everyone to shop at their convenience. The complex building has 7 floors in total and each floor offers different types of products. The store offers an amazing selection of Japanese souvenirs, variety of food & snacks from all over the world, latest electronic gadgets; there is pretty much nothing that you can't find in this place.
After a long tiring day, it was time to crash but none of us wanted to, for today was our last day in this beautiful country.
There remains a lot many things that are unseen, unexplored but what remains unforgettable and memorable is the 9 days journey that we did together exploring this dynamic country, experiencing its vibrant culture, relishing its delicious authentic food.
As I always say, Journey is incomplete without the right people with whom you can share those incredible moments. A special thanks to my fellow travelers without whom the experience wouldn't have been the way it was meant to be !