Hi! This is about my one day tour to Agra from Delhi with my best friend Kirti. I booked Same Day Agra Tour from DelhiTajMahalTours.com. These guys were really amazing and arranged for a private taxi for us (Tata Innova). It was a very comfortable ride.

Delhi to Agra - Day 1
2:30:00 PM
Day 1, 28th March 2016
I started from Rajouri Garden at 7:00 a.m. with Kirti. The cab sent by Delhi Taj Mahal Tours Agency was waiting for us. Driver Sakha Das gave us a sweet sunny smile and opened the gate for us. He was a nice man.
Sikandra Tomb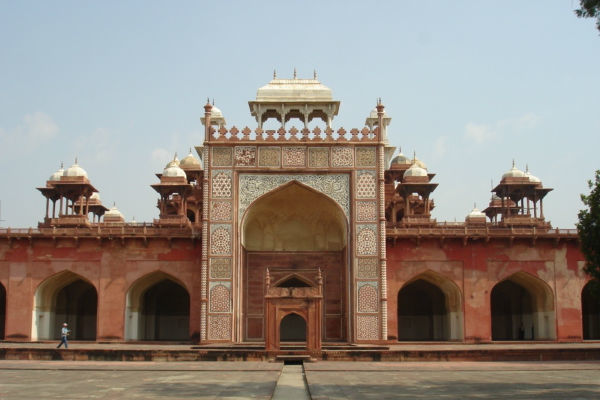 It took us around 40 minutes to reach NH2. It connects Delhi with Agra. So the cab crossed Faridabad, Palwal, Aurangabad and Mathura. After travelling for around three and a half hours, we came to our first stop – Sikandra.
This is the tomb of emperor Akbar located at the outskirts of Agra. The mausoleum is an impressive, magnificent structure surrounded with exquisite gardens, constructed by Akbar himself. It is interesting how he actually planned a mausoleum of his own while he was still alive! It was completed by Jahangir after his death.
The tomb has four gateways that leads to an entry. The Southern gate facing NH2 is the main entrance.
The tour company had arranged for a guide who welcomed us when we reached Agra. We were impressed by the exquisitely carved inlay work inside the tomb.
Sakha Das parked the car and informed us about reaching the destination. The guide helped us enter through the main entrance of the Sikandra complex into an area styled as charbagh. The central portion of this place houses the tomb of the great emperor.
Sikandra Tomb stands on an elevated stone platform. It has a doorway leading to the cenotaph of Akbar the Great. It is the false tomb. Interestingly, the actual tomb is located at the basement inside the burial chamber.
The guide directed us to pass through a partially dark vestibule. This helped us enter Akbar's burial chamber comprising of a very plain white marble sarcophagi. We spent some time in the gardens. Kirti was quite happy to feed the monkeys.
Lunch
We were taken to a nice restaurant for lunch. The place was spacious, very hygienic, and clean. Right from the staff to food quality and taste, everything was up to the mark. We ordered a chicken biryani, kebabs, roti and mutton barra (we're foodies you see!). Salad and curd came for free.
Agra Fort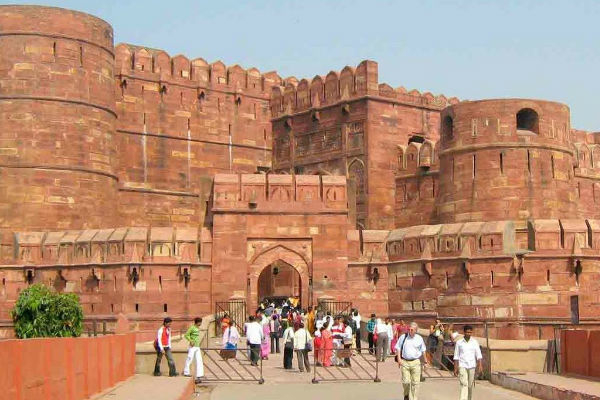 Post lunch, we were taken to Agra Fort. One of the 28 UNESCO World Heritage Sites of India.
This is also an amazing place to be. There are two gates to enter the fort. The guide (Punit Maan) was with us throughout. On the west, it is Delhi Gate and Amar Singh Gate on the south.
Entry through the Delhi Gate is restricted. This is due to the region surrounding that gate under the military. Amar Singh Gate was earlier known as the Akbar Darwaza during Akbar's reign. It is open for tourists. The British renamed it as Rajput Amar Singh Rathore.
The entire fort is encircled by a moat. Hence, one requires crossing an entire drawbridge to enter it. We bought entrance tickets (INR 20 for Indian nationals) at a counter. Thereafter, we passed through a long, narrow inclined path which led us to the Jahangiri Mahal. Akbar built this palace and it served as the residence of Jahangir.
The picturesque structure is made from red sandstone. An arched gateway leads to a central courtyard encircled by spacious halls, rooms and corridors. We went to the whispering gallery located on the second floor. It encloses two octagonal towers on either side. Jahangir's Hauz (a large bath tub) is places in front of Jahangiri Mahal. This bath tub has stairs on both of its interior and exterior sides. Our tour guide said that this bath tub was a gift to Noor Jahan by Jahangir. Ruins of Akbari Mahal that once served as the residence of Akbar.
Khas Mahal was built by Shah Jahan for two of his daughters. Constructed in white marble, this exquisite palace is covered with golden roofed pavilions on either side. The steps from Musamman Burj courtyard led us to the Diwan-e-Khas located on the upper storey. This is a hall where the Emperor addressed the dignitaries. It houses a black and a white throne. The black one is referred to as the Takht-e-Jahangir and belonged to Jehangir. The white throne was an extra addition, during the rule of Shah Jahan.
Fatehpur Sikri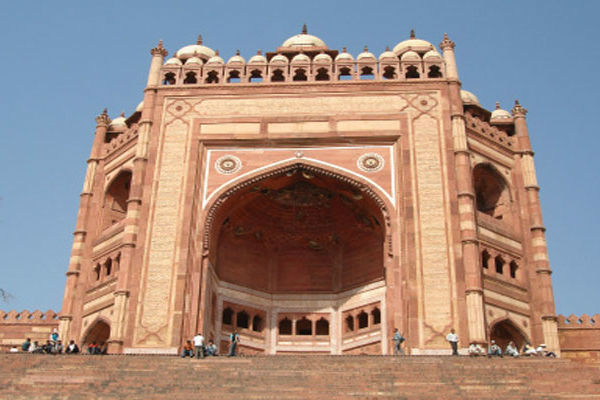 Sikri is an extension of the upper Vindhyan ranges located on the bank of a gigantic natural lake that has mostly dried up. We were taken to this amazing place, a pre-historic site that still held the old world charm. Indian visitors and citizen of SAARC and BIMSTEC countries are charged INR 40.00 an entry fee.
Sikri is ranked as the first planned city of the Mughals. Terraces served as links to sloping levels of the city. These terraces were used for varied complexes including:
- Jami Masjid
- Buland-Darwazah
- Tomb of Sheikh Salim Chishti
- Khass Mahal
- Shahi-Bazar
- Mina-Bazar
- Panch-Mahal
- Khwabgah
- Diwan-i-Khas
- Anup-Talao
- Chaupar
- Diwan-i-Am
All of these palaces were constructed of red sandstone.
Tea Break
We enjoyed a tea break at a sweet shop. The snacks and sweet range of the shop was delectable!
Taj Mahal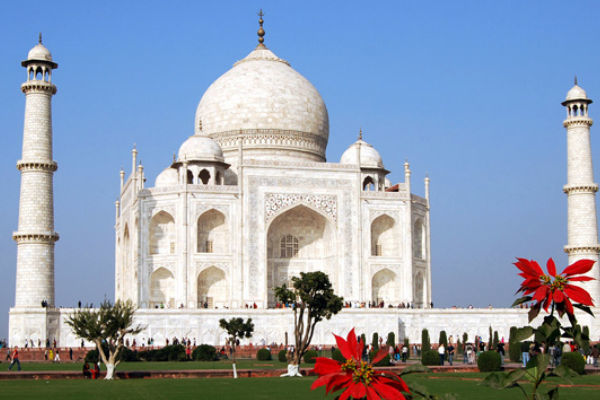 We reached Taj Mahal, the iconic structure that attracts millions of tourists from across the globe. A breathtakingly beautiful monument constructed by an emperor for his beloved wife, Taj Mahal is not a place. It is an experience. Far away from what I had been seeing in pictures and watching in movies, I was dumbstruck by its matchless beauty. It looked like a live painting.

A staircase leads to the platform where the Taj stands. Ascending it will let you have a clear view of this splendid mausoleum. The interior of the tomb is dark. Cenotaph of Mumtaz Mahal stands right at the center, enclosed by intricately carved marble Jali screens. Shah Jahan's cenotaph stands right beside it on a higher platform.
We were supposed to leave the complex at 7.30 p.m. However, by 8.00 we returned to the eastern gate to experience night viewing. Our guide said it was a compulsory session. So we went through a security check once again and entered the Taj complex at around 8.30 p.m.
I must say that 'Taj at night' was a different view entirely. It is enigmatic, magical, soul soothing, incredibly beautiful and romantic. It is a must for every tourist to have a look at the magical Taj on full moon night (Guide said). Unfortunately, we were there sans full moon. Still, I fell for the view.
After spending a considerable amount of time, we were asked to leave. This was to allow the next lot of visitors. We made our way back to Delhi with some beautiful memories.
To Sum Up
Same day Agra tour is an experience – one that you would want to cherish forever. A tour to remember!