Taj Mahal is a famous monument of love that built not by an Emporer, but by a loving husband for his beloved wife. Taj Mahal known is one of the Seven Wonders of the World. The history of Taj Mahal that adds a psyche to its magnificence: a psyche that is fulfilled with love, lesion, repentance and love again. Because it was not for love, the world has been ransacked of a good example upon which people base their relationships. An example of how deeply a man loved his wife, that even after she remained but a memory, he made sure that this memory would never fade away. This man was the Mughal emperor shah Jahan, who was mad in love with his dear wife Mumtaj Mahal. Taj Mahal is the symbol of love of Shahjahan and Mumtaj Mahal that is telling a story of love of two hearts. This is an attraction point for Indian and foreign tourists. After the death of Mumtaj Mahal, Shahjahan was very sad and he built the Taj Mahal in the remembrance of his beloved wife Mumtaj Mahal. To build Taj Mahal, used white marble and worked 20000 laborers.
Agra is known as a famous tourist destination of India that situated at the bank of Yamuna River in Uttar Pradesh of Northern India. The symbol of love and famous world wonder "Taj Mahal" is here. Taj Mahal is a beautiful monument and famous attractive point of Agra was made by Mughal Emperor Shah Jahan in memory of his beloved wife Mumtaj Mahal. Every year, millions of people from all world visit here to witness the beauty lying on stones. Experience Tour Delhi is a trusted and reputed travel agency in the field of Tour and Travel in India and based in Delhi that provides Same Day Agra Tour Package by Toyota Innova Car. We never compromise with our Tour package service and always tried to provide best service according requirements of tourist who visits India from all over world. Our main motto is to provide our respectable customers hassle free journey in the most pervasive and economic way. Because of to provide a best service, we make us one of leading Travel agencies of India. You can feel a best moment of your life during our travel service and you can collect some beautiful memories of your life. You never forget our travel experience because it would be best travel journey of your life.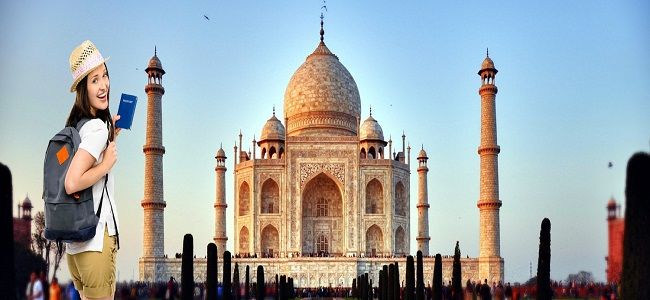 About Taj Mahal - Agra Tour Package from Delhi
Distance between Agra Fort and Taj Mahal is about to 3 km. The verses of the Qur'an are written on white stones on either side of its vast gate. After this there is a small museum in which the weapons and pictures of Mughal emperors are preserved. On both sides of the main building, there are rows of beautiful trees and watercolors decorated with water fountains. The splendor of the Taj Mahal's white patio and the walls around it is diploid from 275 ft high giant and small other dome. Under the big domes of the Taj Mahal there are the tombs of these two lovers, but they are not considered to be real. The actual tomb is in the basement below. The beautiful stones covered these mausoleums. There are beautiful marbles of around both mausoleums. The coffins are shown with the help of candle light. The atmosphere is excavated with aromatic incense. Verses are written on the mausoleum of Mumtaj Mahal but not on the mausoleum of Shah Jahan. The beauty of this Taj Mahal becomes unique during Sharad Purnima's moonlight night. Its image is seen in Yamuna's water. Taj Mahal still remains the center of attraction for the audience. Foreign tourists along with Indians also come to see it. These nine worlds of beauty, the unique image of Shah Jahan's love, is an object of great surprise.