If you've been generous enough to let me occupy some space in your Facebook wall feed, you probably have an inking that I went to some deserted mountains and clicked a few pictures for instagram.
Here is an account of what else I did there presented informatively so in case you're persuaded of visiting the beautiful place yourself, it's easier to plan. It took me a while to make sure I am making no mistakes, but let my experience be a lesson here.
So five of the musketeers, Myself, Sabyasachi Dutta & Aritra Basu was in charge of planning the entire tour (later Basu was promoted to the post of Cashier), Gopal Shah aka the Marwari holster acted as the last minute soldier, and the almighty Partha Da was the versatile non-working Waziir, though formerly he did actually nothing but without him the trip would have been an incomplete one.
Our journey had begun on 1st January 2016, boarding the Darjeeling Mail from Sealdah (a.k.a. SDAH). It was difficult sleeping in the train, the excitement of climbing the highest peak of West Bengal had already engulfed us. Thankfully, the train was late enough to let us make up for the time. The journey was a total of 11 hours.
January 2, 2016 - Tumling
Our journey was supposed to start from Maneybhanjang; also known as the Gateway of the Singalila National Park. Getting off at NJP station and finding a direct transport to Maneybhanjang was quiet a difficult task due to the presence of touts outside the station road, and the non-bargainable price demanded. But as they say the locals serve as the best friend of trekkers, we were suggested to board an auto to nearby Junction Station by one of the Rikshaw-puller uncle. From Junction Station we reserved a car to Maneybhanjang at 1/3rd of the price demanded at NJP Station.
We reached Maneybhanjang by 12:3opm, not wasting a second booked a Landrover to Tumling,our first night stay, and met our guide cum friend Mohan bhai from Highlander Guide & Porter Welfare Association.
We left for Tumling by 2pm. The road was not so pleasant but the scenic beauty all around was worth to make it up. But on ascending further a dense array of fog gulped the entire surrounding making it harder to eye anything on the way.
Our land rover halted at Lamaydhura for lunch, and I was literally cursing our driver for halting at such an isolated place until I noticed a small home-stay after taking not more than five steps. The fog was so dense that one could hardly notice anything even at the closest distance. While the others were busy ordering the lunch, we (Me & Sabyasachi) climbed a nearby meadow to get a better view, but Alas! It was worse than Delhi's smog xD.
We reached Tumling by 4pm and checked in to the trekker's hut of Mountain Lodge we made an advanced booking on from Gorkhaland Territorial Administration Office (situated opposite to City Centre 1 Kolkata).
I was amazed to spend a night with my friends in a timber lodge. By 9pm we were done with dinner. And by 10 it seemed we five are the only awakened soul in this entire mountain village, the watch displayed 5 degree.
And in no time Aritra and Gopal went hibernating in their cozy beds, while Me Sabyasachi and Partha da; the three of us were having a short meeting on the next day plan that was interrupted with an unfamiliar sound, Partha da was lazy enough to come out of his warm blanket, so Me and Sabyasachi decided to give it a check. On opening the door we looked at each others face, a warm smile propagated our lips, it was snowing outside.
Sabyasachi gave the first call, "Partha da! its snowing".
Partha da exclaimed in joy, "Ki! borof porche?" ( what! it's snowing? ) as he jumped out off the bed divorcing his cozy blanket.
I went inside to call Aritra, at first he hesitated but on hearing the alarming news of Snowfall he too got aroused. We decided to take a walk outside.
The entire village was found to be covered with a blanket of snow. It was about 1am of the night, the frozen hands indicated its almost 3-4 degrees. Four of us standing on an unknown mountain village at about 3000m, far from the chaos of the city, realised, "It was worth the wait".
January 3, 2016 - Kalapokhri
I've had always a wish to wake up in the morning in a place far away amidst the mountains. We took our toothbrush and went for a walk outside, as I stepped outside I was like haww! The amazing view of the Kanchenjunga mesmerized me, I didn't expect such a clear view on the very first morning, seems mother nature is in our favor.
After breakfast bid farewell to Tumling, boarded our Land rover for Kalapokhri. After a ride of almost half an hour we reached the entrance of the Singalila National Park where permits were to be accessed.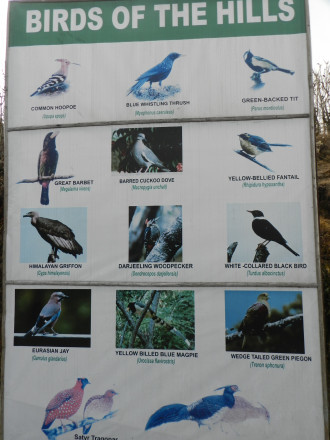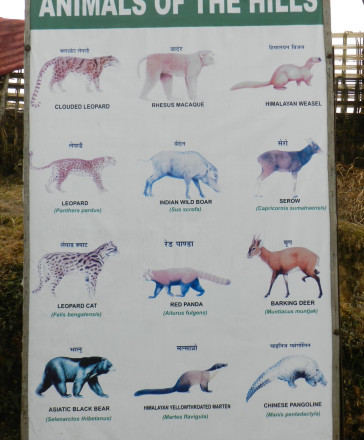 The journey for the next one hour amidst the jungle was a mesmerizing one, with frozen waterfalls and chirping of unknown mountain birds through out the trail.
We took a small coffee break at Gairibas.
After Gairibas the trail for 7-8kms was quite steep and bumpy, but the beauty of mother nature and sudden commencement of Snowfall surpassed the adversity of graveled road. It wasn't much of a gain in altitude but a descent to Gairibas and then an ascent to Kalapokhri. Most of the times we were weaving our way in and out of Nepal. Some residences and tea houses dotted the route. It's a nice feeling to have such a friendly country as a neighbor where one can just stroll in. No questions asked! Many a tea-house where we had our refreshments were in Nepal. How many times during the trek I wished that it could be the same with Pakistan!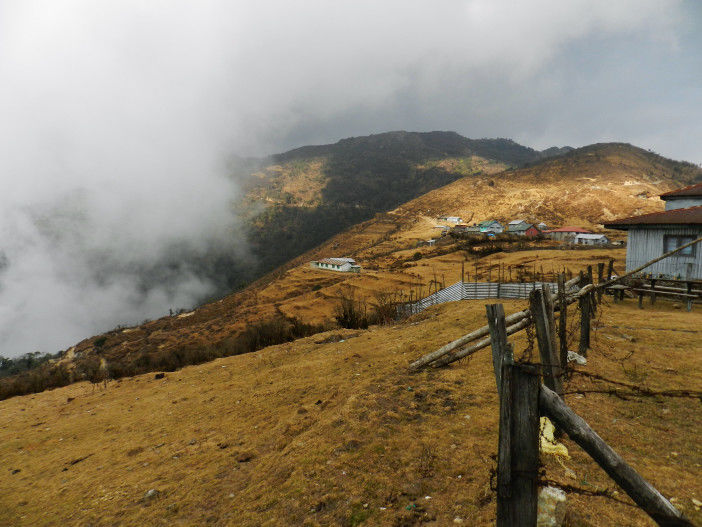 We reached Kalapokhri by 3pm, bid goodbye to the Land rover, stashed our rucksacks and rushed to the lake in no time.
The place got its name from this lake; Kala meaning Black and Pokhri meaning Lake, its a small lake with water blackish in color on one end of the village. This lake is considered sacred by the locals and the waters of this lake, believed to have medicinal value, never freeze, even in the winter. Around the lake were signs of small murals.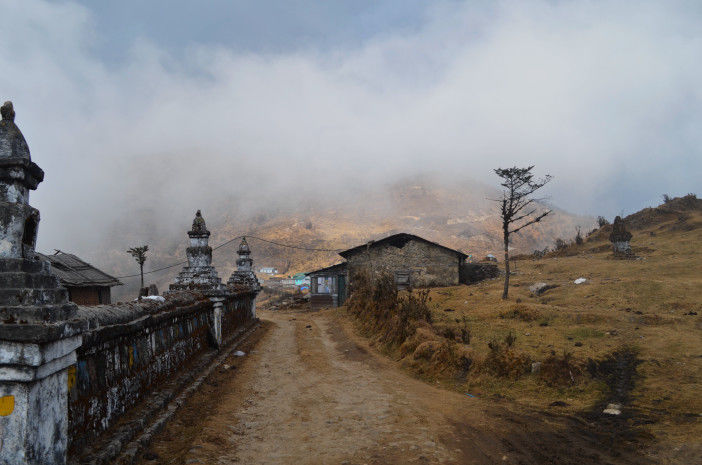 Sandakphu peak, that was visible when we entered the village in the late afternoon was by now covered with clouds and mist, came into view indistinctly over the village on the other edge.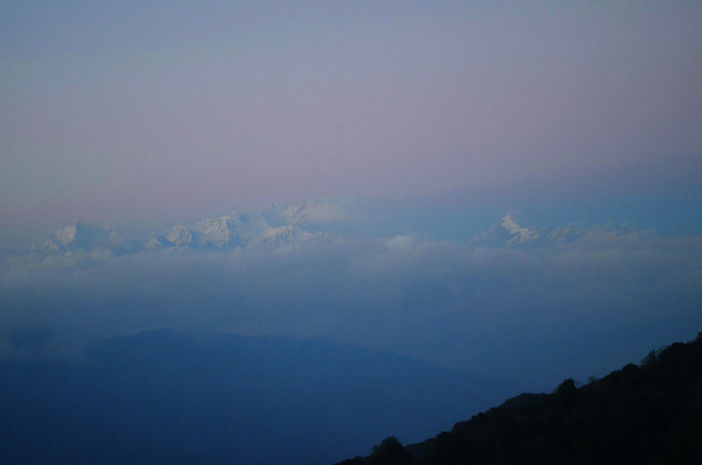 As we looked at the peak, the altitude and the clouds covering it provided a mere tensity, we murmured to ourselves:
"Wonder how much time and strength it will take to climb tomorrow".
"Hope mother nature stay in our favor and the weather is good enough to get a clear view from the peak, after all this is why we came for this trek".
By 7pm Myself, Sabyasachi and Partha Da was out for a walk, it was biting cold outside so we decided to lit a small fire, but Alas! It was wet all around. I was dictating Sabya how Bear Grylls lit fire on any terrain, millions of stars witnessed our giggles and felicity that evening, and in no time we realized that we were lost, our trekker's hut can be seen nowhere xD. A puppy barking at a distance got our attention, previously I've heard of numerous stories on how dogs guide way in the mountains, so we decided to follow him and finally reached the trekker's hut.
Dinner was served by 8pm, it was simple and delicious. Rice, daal, sabji, and pickle. Nothing fancy, simple dishes made with elaborate care. Loads of ghee on top and warm water on the side.
Partho da, Aritra and Gopal was soon found to be nestling in their blankets in no time, while Me and Sabyasachi was having a small discussion on the next day's trek with a mug of Tungba, a mild alcoholic beverage made with fermented millet.
It's the boozy libation of choice for Nepali sherpas, the nearby old uncle was kind enough to inform we can add water to extract flavor from the seeds as many time as we wish to until the flavour is gone completely.
January 4, 2016 - Sandakphu
So the day was finally here, the day we had been longing for. What doesn't kill you makes you stronger. With this thought, I was ready to climb the highest peak of West Bengal. It was 6:30 in the morning, the whistling cold breeze of the morning didn't allow me to sleep further. I moved to the window to check if mother nature was in our favor, as I unfastened the window pane I witnessed the most beautiful morning of my life.
For a few minutes, I sat there sinking in the beauty and thinking how lucky I was to be experiencing this serenity.
After a light breakfast fastened our Rucksacks, and we were all geared up to start our trek to Sandakphu. It was cold but sunny in the morning, the sky was vivid and clear, perfect for a trek. After an easy walk of almost an hour halted at a place called Bikeybhanjan for a cup of black strong tea to do away with the biting cold.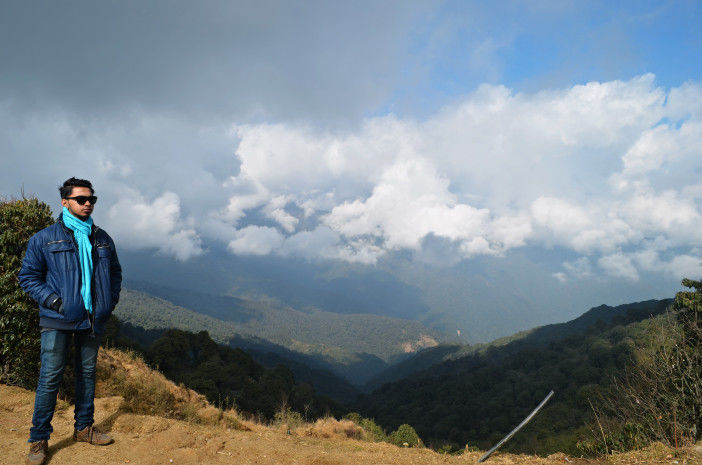 Resting on a bamboo bench sipping the dark tea at an altitude of 10225 ft I wondered "If this was all I had been longing for, If this was what provokes me to come back to the mountains again and again, the resplendency of the mountains, the aura of the wind, icicles of greenery beyond the blue horizon, elicits the meretricious kinship between human and mountains".
Okay excuse for getting carried by. :p
From Bikeybhanjan the trail started getting steeper, and in no time the kind and gentle mother nature turned her back towards us, the entire valley got blackened with clouds and fog.
And as we started cursing our luck it was sunny once again, As they say, 'you cant predict weather in the mountains'.
After trekking 4kms uphill the ascent got intriguing, and it was now a road full of hair-pin bends.
After climbing a few bends I realized that the good way to tackle is build a pace, say rest after walking every 15 mins. With every bend of 45 degrees the trail was gaining altitude of almost 50 meters. I was feeling dizzy and most of the fellow trekkers were in the dyspneic condition of breathlessness. We started inhaling camphor rubbed in handkerchiefs followed by the consumption of Coca 30, Camphor is believed to provide temporary relief from breathlessness. Thanks to Sabyasachi & Partha Da for carrying them.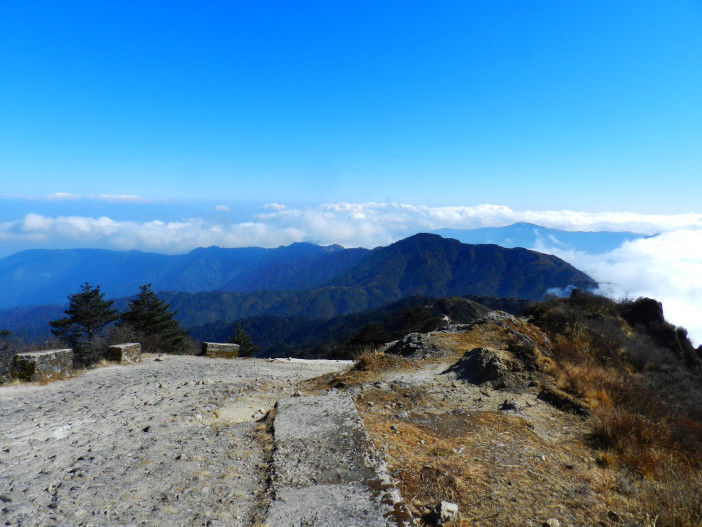 And then the majestic Kanchenjunga herself came to the rescue,
The majestic view of the mountain squelched every possible sign of fatigue and we were again full of energy. For the next 3 km she was by our side.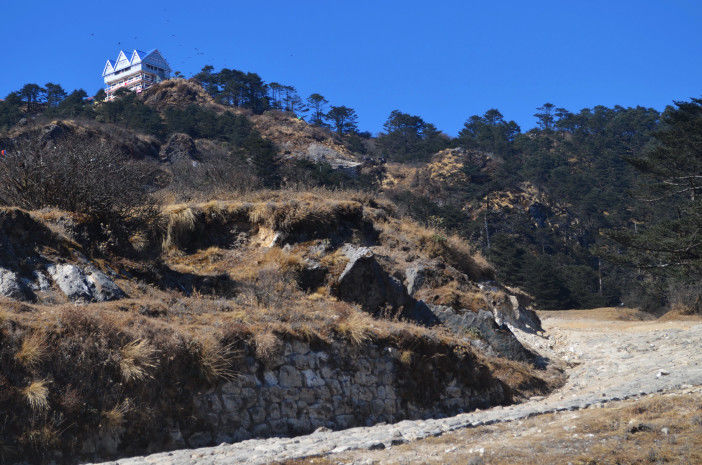 Somewhere during the trail the house in the clouds in Sandakphu appeared.
My wrist watch displayed 1:30 pm, a signboard at the front read "Leave nothing but footprints, take nothing but memories". Our guide Mohan bhai shouted "bhailog Sandakphu mein swagat hain" ( brothers! Welcome to Sandakphu).
After lunch it was time to relish the beauty of Sandakphu. The view from Sandakphu was quite good, but the overcrowd disappointed us, debarring the crowd was the only reason to plan this trek in the chills of January.
But our guide Mohan bhai was wise enough to notice the frowning faces and gested to follow his trail, after a walk of 10mins or so we reached Goat.
And the best thing about Goat is one gets a clear 180 degree view of the entire mountain range including Mt. Everest, Kanchenjunga, peak of Three Sisters in between them, Mt. Lhotse, Mt. Makalu and Mt. Chamlang.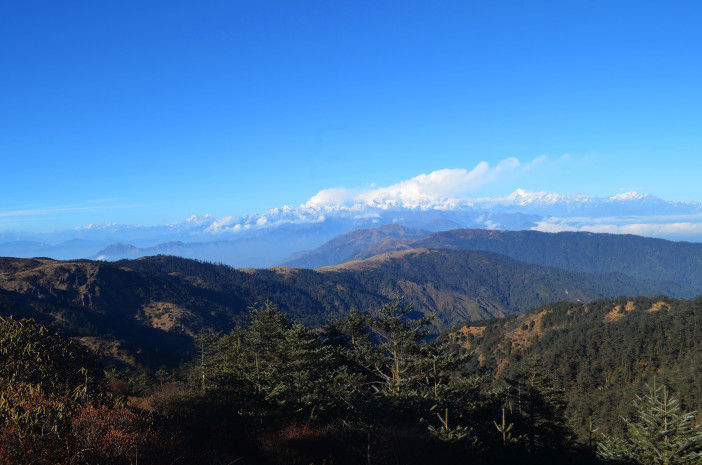 Mohan bhai asked to climb up a relatively higher valley to get a better view, and what I watched can't be described in writing. I'd just add some of my favorite snaps for people to envisage.
Sitting on a bench near the border stone marker, trying to spot the difference between Indian and Nepal soil, amidst the mountain ranges, I wondered If this was what they call heaven, by bringing myself over the edge and back, I discovered a passion to live my days fully, a conviction that will sustain me like sweet water on the periodically barren plain of our short lives. When the wind calls, you know, that somewhere in the mountains, it has found the answers that you were looking for. The pull of the horizon overcomes the inertia of reason...And you just have to go. Somewhere in between preparing for this trek and enjoying the breathtaking canvas I found the answer to my question that troubled me the morning at Bikeybhanjan. Yes! This was all I had been longing for. This gypsy heart just needs to wander, Wander to undiscovered mountains and cliffs that guard the mysteries of this world. Reminds me of the beautiful lines by Chrissie Pinney in the penguin classic I went through last week :
"I will unturn every stone, I will walk every unpaved path, I will dive through the darkest sea, Just to discover the secrets that were only meant for me".
Gulping the last peg of Raksi (drink preferred by locals to raise body temperature) with the delicious Yak meat I rushed to see the sunset.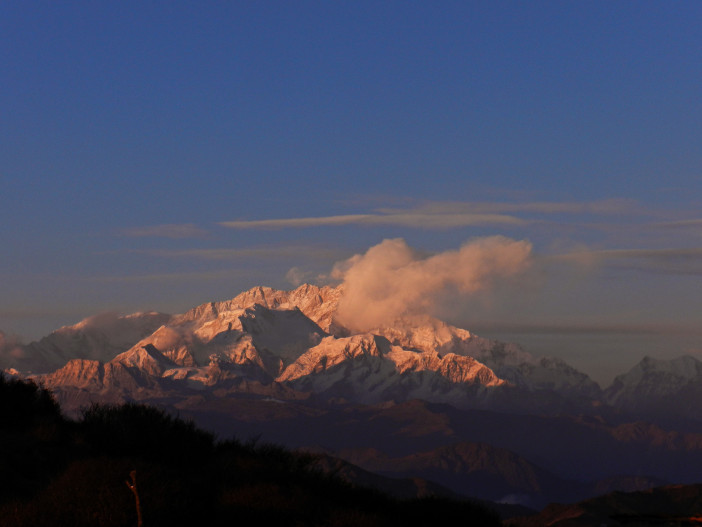 The sky was a canvas awash with all possible hues of red and orange. I wondered if any artist ever could prepare so many hues of one color. The mountain ranges below with the clouds between them welcomed the sinking sun as it slowly melted into them, leaving behind a myriad of glowing red.
In silence the five of them looked at the sunset and thought about God.
I pinched myself twice. No! I wasn't dreaming. I tried to recall the moments I just went through. A large drop of sun lingered on the horizon and then dripped over and was gone, and the sky was brilliant over the spot where it had gone, and a torn cloud, like a bloody rag, hung over the spot of its going. And dusk crept over the sky from the western horizon, and darkness crept over the land from the east. I wish it could last more.
It got dark soon. The pale stars were sliding into their places. The whispering of the leaves was almost hushed. All about them it was still and shadowy and sweet. It was that wonderful moment when, for lack of a visible horizon, the not yet darkened world seems infinitely greater-a moment when anything can happen, anything be believed in. Sunset that evening in Sandakphu, was the most coveted, an intense desire and a romantic thought.
January 5, 2016 - Phalut
Last night the mountain at 11,941 ft awarded me with a severe headache, also known as AMS (Acute Mountain Sickness), as a result of which I missed the Sunrise. But by morning I was fit and ready for the trek to Phalut.
Phalut from Sandakphu, is 21 km away. By 8 am the team was all set to go.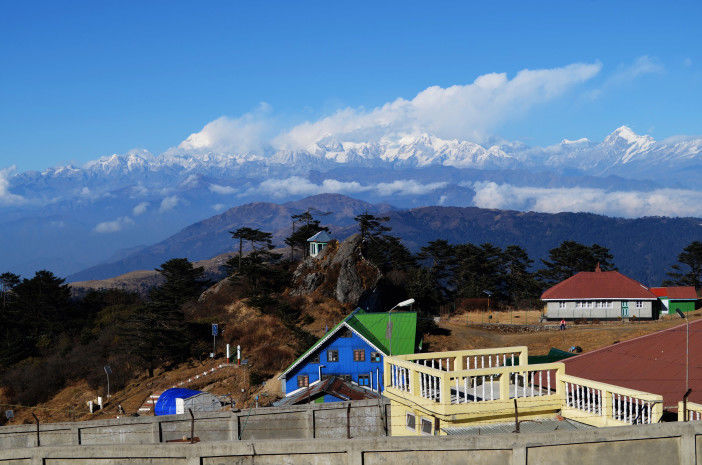 Though I was upset to miss the sunrise but the clear view of The Sleeping Buddha appeared much convincing to make up the loss.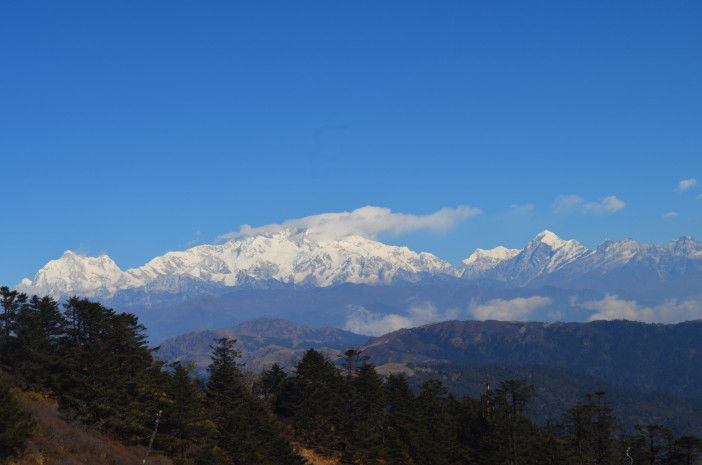 After having the breakfast at Goate we were all set to groove.
Phalut from Sandakphu is 20kms, stretched among the trail of never ending meadows, and once you're halfway the trek you find no sign of civilization within a couple of kilometers.The last stretch to Phalut is actually quite barren. This is quite a contrast to the dense forests that are so common at the lower levels. But from Sandakphu for a long way you will pass through unabated beauty of the nature before you reach Phalut.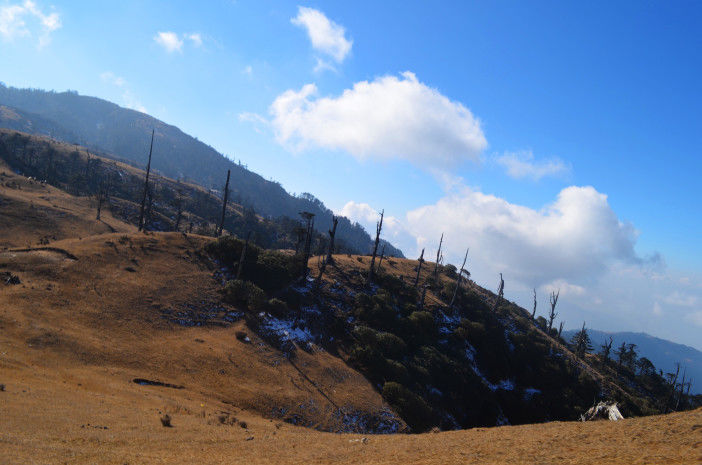 It's a pleasant trail through wide-open meadows unlike the previous days when most of the trails were narrow and rocky. The mountains seemed to watch our every step. And the panoramic view of the Himalayas continued for a large part of the walk to Phalut.
After a walk of about 15 km we found ourselves again in the not so well curved trail with views blocked by unkind clouds.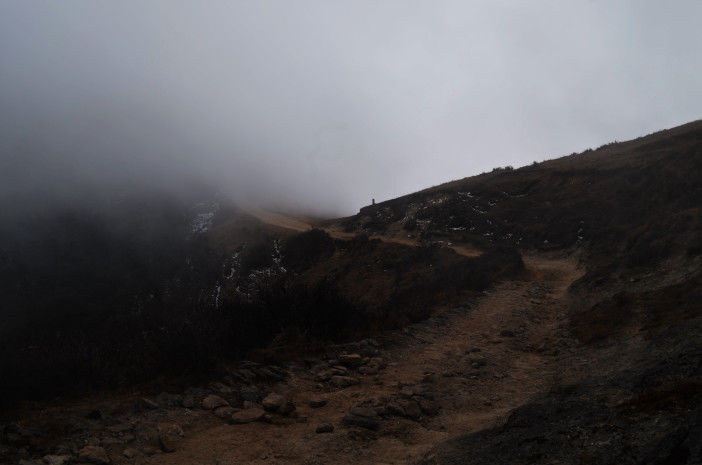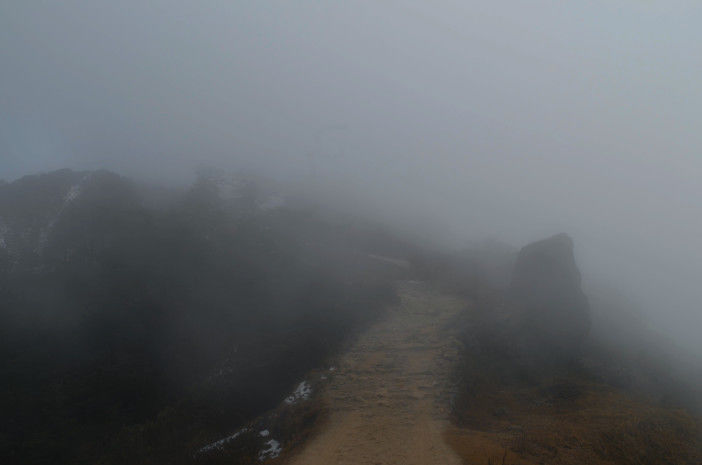 We reached our destination, which was partly surrounded by snow late in the evening. Phalut in local language means wind and this place lived up to its reputation. To add to the wind, unlike the previous evenings it had started becoming misty again, I don't know whether its misty or cloudy. It seemed as if the veil was falling again on the mountain peaks. The show was probably coming to an end. The peaks were no longer visible. To see them again in the morning I would have to climb a mountain just behind our tea-house at 5 in the morning, said our guide. In that chilly and windy evening that thought was not very welcoming, nevertheless as I retired for the day I was determined to give it a shot the next morning.
Dinner was served by 8 of the evening, simple yet delicious again. Since being a Bengali its quiet a practice or habit to ask your fellow partners if they had taken their meal. I asked the four of them and was happy with the answer. Lastly, I went to our guide Mohan bhai to ensure if he was done with dinner, and the answer pricked me like a turbulent. According to him, We (the trekkers) were guests to them, and they can't eat until each and every one of us are well fed, the Guides are provided with the remnants once the guests are done eating. But that night the tea-house was overcrowded and He wasn't sure if he would get a meal. I still remember his words "Agar aap logo k khaane k baad khaana bachta hai to hi humlog ko khaana milta hai, warna...".
Not out of compassion but anger we ordered a meal for him. Guides, the people without whom hiking the trail of the mountains would have been next to impossible are given the remnants of the food of people like us who ahead the mountain in mere search of adventure. That's how things work in the mountains. ????
That night I promised Him if someday I write a blog on this tour of ours I'll surely mention his name and this specific night.
January 6, 2016 - Srikhola
I woke up at 4: 30 am to find the window of our room covered with a layer of snow. Gained enough courage to step out from the tea-house to be greeted by an icy darkness and the barking of stray mountain dogs. Wrist watch says -12 degree c, facial muscles not responding, fingers numbed, still braved my way up the mountain, camera in hand to witness the last sunrise of this trek. I reached the top well in time to see the day break as the Kanchenjunga slowly started turning orange followed by the other surrounding peaks and then it spread to Makalu and then Everest and Lhotse.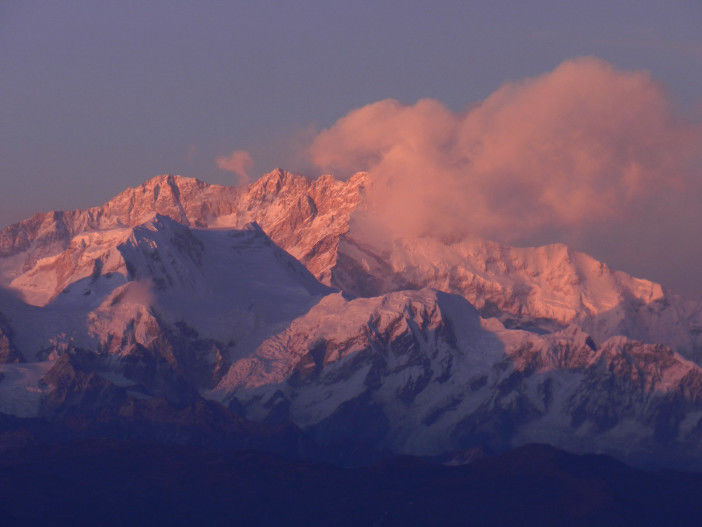 The beautiful sun in the east flushed pale streaks of light and then a deeper run of color like blood seeping up in sudden reaches flaring plane wise and where the earth drained up into the sky at the edge of creation the top of the sun rose out of nothing like the head of a great red phallus until it cleared the unseen rim and sat squat and pulsing and malevolent behind them. The peaks seemed like icebergs floating in an ocean of clouds, the view was surreal.
That morning far from the cacophony of the city, loud traffic, mobile network and branches of wi-fi I realized the meaning of life, tear drops came rolling down my face and I had no intention of wiping 'em. We spent more than an hour there taking in that beautiful vista, embedding it in our minds and making sure that it lasts for a lifetime.
This was the last day of visualizing the tallest peaks of the Himalayas. I bet no other place in the world can promise such majestic view.
After breakfast we began our descent to Srikhola, a 32 km beautiful trek formerly amidst the mountains and later through the dense forest of the Singalila National Park. It was a pleasant morning with plenteous amount of snow all around, the snowy trail didn't provide much trouble though.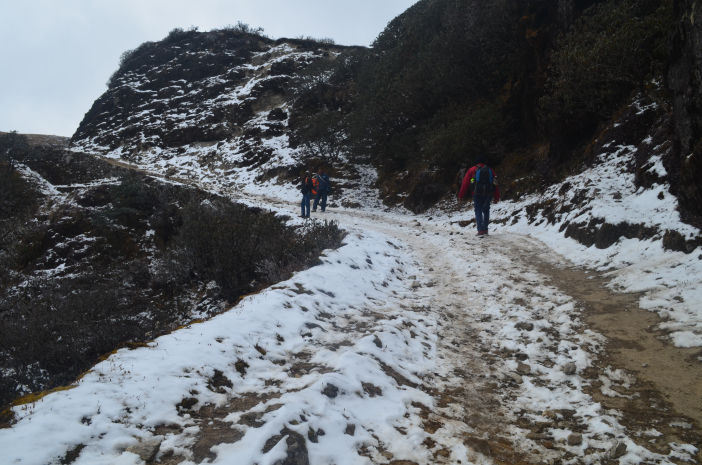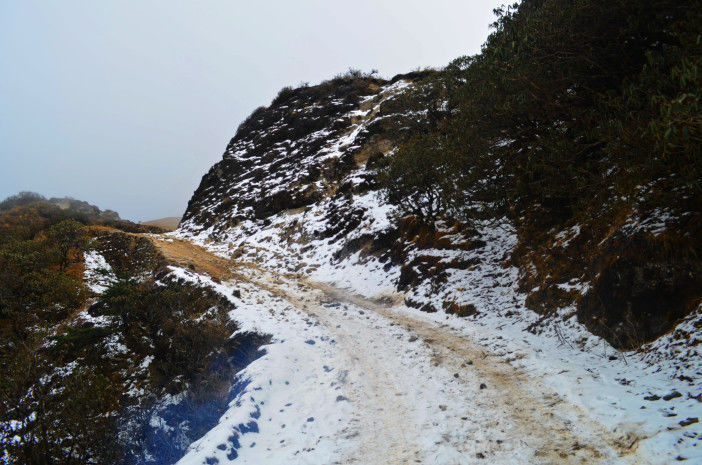 The air being less thinner as compared to that of Sandakphu was easy to breathe in, but the picturesque canvas all around is sure to steal one's breath.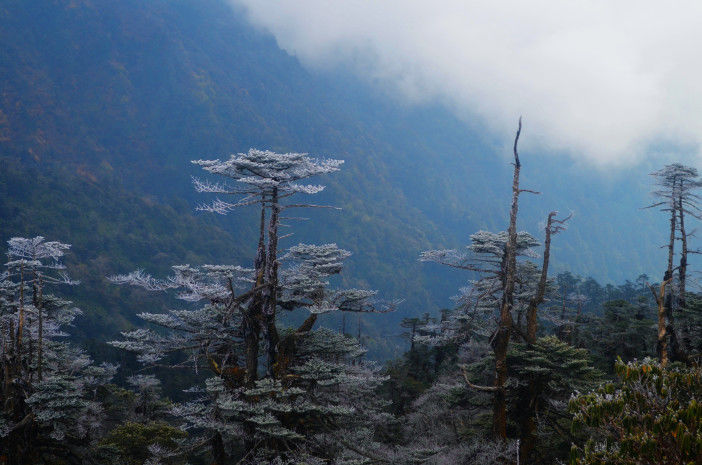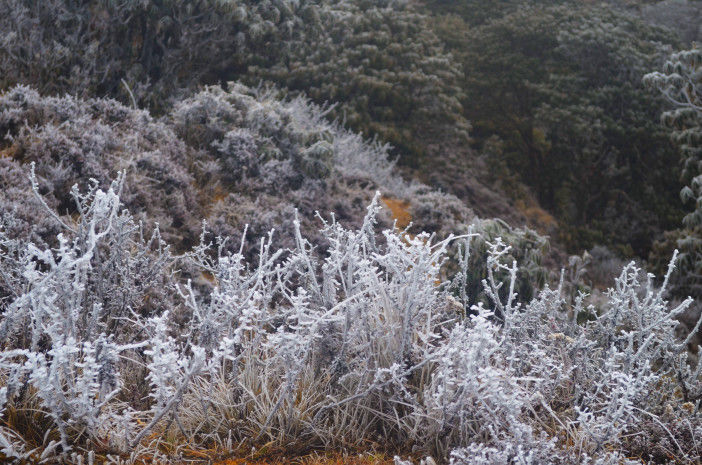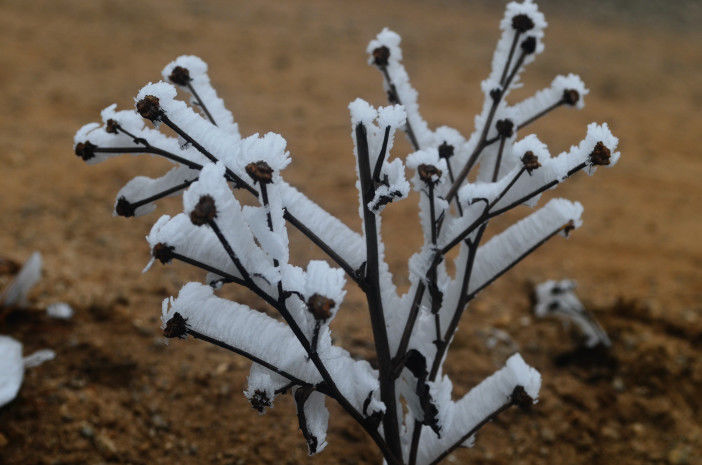 The snow trail lasted till Molley SSB check-post, 9 km from Phalut.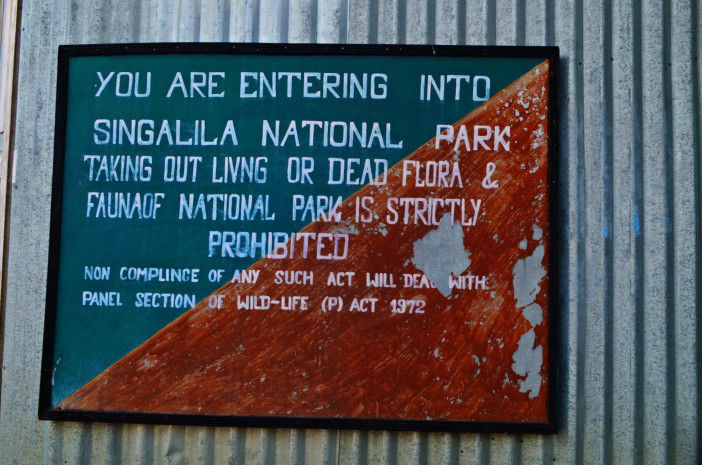 After lunch we were set for the trail to Srikhola, amidst the dense jungle of the Singalila National Park.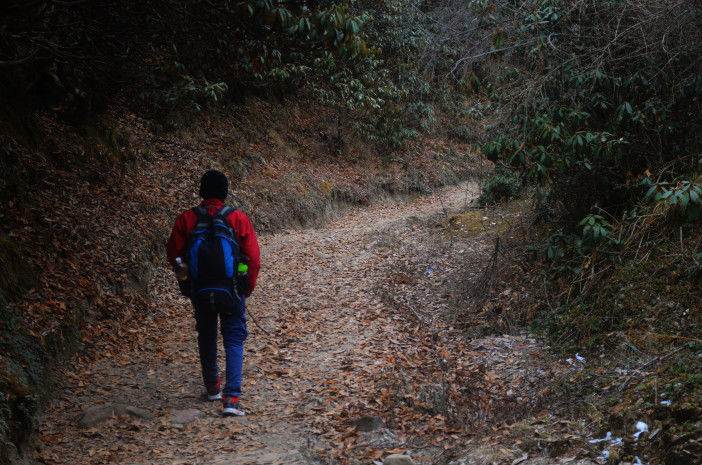 Mohan bhai already warned us about the presence of wild animals, but we hardly gave a damn until we came across a clod of fur and blood on the ground.
As this Singalila forest is vast & dense, people avoid crossing the jungle after sunset due to presence of wild animals, in case of any emergency they prefer a group than an individual. One of our team mate was severely injured at his legs, Okay that was me :3 . So altogether even after the sun set, we were late.
Its around 6 PM of January 06, 2016 - five fatigued human beings were approaching slowly down towards Srikhola. They were returning from Phalut trek. Three days of continuous walking made them extreme slower, untidy & tired. It was dark all around, we lighted up flash lights & were making our way. A ripple from a short distance can be heard & no doubt it was Srikhola river at a further distance, we confirmed.
Once the river is in view one has to climb thousand stairs downward to reach the campsite, Yes I repeat thousand stairs. And after climbing thousand stairs downward with a sprained knee we finally reached Srikhola.
The shallow darkness, river sound, freezing cold wind was completely unbearable. A murky, blur vision was covering my entire eyesight, only the river was appearing clear with its silvery path, on the other hand some lighted windows, having candles inside the room. It was unpleasantly cold, mystifying, even the Moon was sheltered by the looming clouds. But the roar of the Srikhola river accompanied by the chirping of crickets made it a night worth to be remembered.
On the drive back to Darjeeling, I reminisced. This trek was all about sunrises and sunsets. Though cliché, in the mountains they were extraordinary, each more remarkable than the other. What has been happening for probably millions of years will continue. I just happened to witness that celestial spectacle. The sun will continue to rise and set whether anyone sees it or not.I had come along this trek with lots of expectations and a blank SD card in my camera. I was going back after meeting wonderful people, making good friends, a mind full of memories, a heart full of adventure and an SD card filled with emotions. Every time, I travel to the Himalayas ; I count my blessings of having been privy to yet another aspect of the mysticism of these mountains. who seem to reveal themselves to their chosen ones. I return home yearning for more secretly expanding my list of places to explore within the mountains.
Till then,
Adieu... ????
P.S. Thanks to Sabyasachi Dutta, Aritra Basu, Partha Da, Gopal Shah and our guide Mohan bhai. Without them the tour would have never been possible.
Thanks for visiting.
This trip was originally published by Sameer Chandra