I really don't remember when the ardor for trekking grew. But the final push was from a very dear friend cum guide cum teacher of mine –Dr. Rajlakshmi Guha. As it was my stepping stone so we decided to go to Sandakphu as it's considered as beginners trek and beside that Rajlakshmi di is very well informed and experienced about the place and routes.
Day 1: 19th March, 2016 (Kolkata to Siliguri)
As we were too fortunate to get 2 tickets of a Volvo bus for shiliguri from Dharmatala. Excess crowded road due to India Pakistan T20 World cup match at Eden Gardens accompanied by heavy rain and mini storm wished us goodbye and we finally started for the much awaited first trek of mine.
Day 2 : 20th March, 2016 (Siliguri to Chitrey)
After a very roller coaster ride we reached Siliguri at around 9:00 am. Took a room near siliguri bus stand to freshen up and for breakfast and then started for Manebhanjan.
We took a shared cab and had to wait for almost half an hour so that the cab get filled, and at around 11:30 am we left for Ghoom from where we took another cab for Sukheayapokri and then to Manebhanjan.
It was bit cloudy as we reached Manebhanjan, Nima (our friend cum guide for the trek) greeted us very warmly with some hot momo and tea at his home .
We did all the paper works required in the potters association in Manebhanjan and now officially Nima will be our mentor for the next 5 days stay in the lap of the Himalayas.
We did some repacking of our rucksacks and opened our working sticks and started for chitrey. The 1st 3kms from Manebhanjan to Chitrey was a real challenge for me because of dense cloud, and quite steep route.After almost 1 hrs 45 mins we reached our homestay, recharge our body with some hot soup & dinner for the next day journey towards tumbling.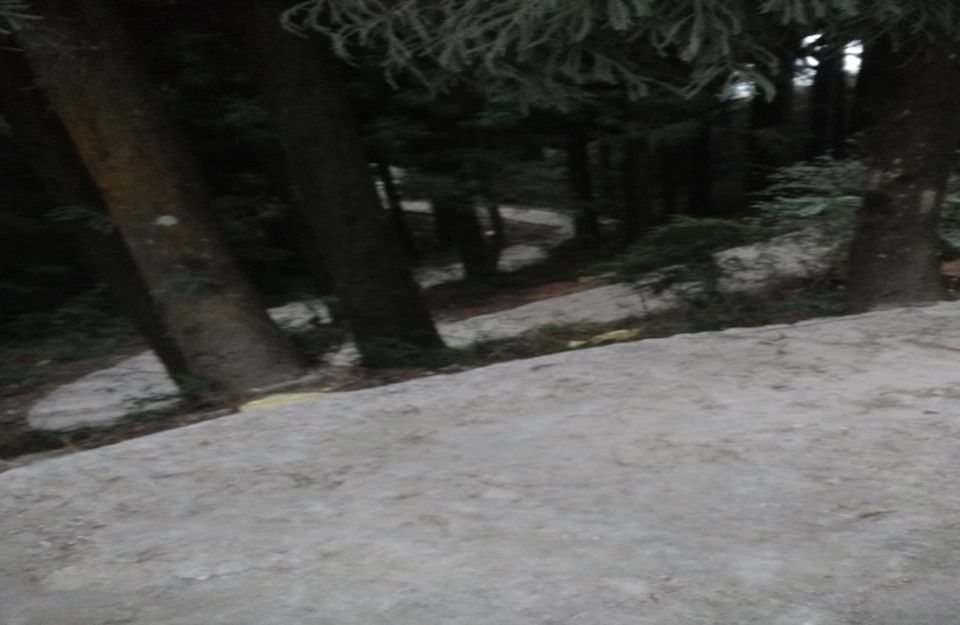 Day 3: 21st March , 2016 ( Chitrey to Tumbling)
We woke up at around 5am, it was a bright day, went for a work around the homestay. We were hoping to get a glimpse of kanchanjanga, though we were not that lucky.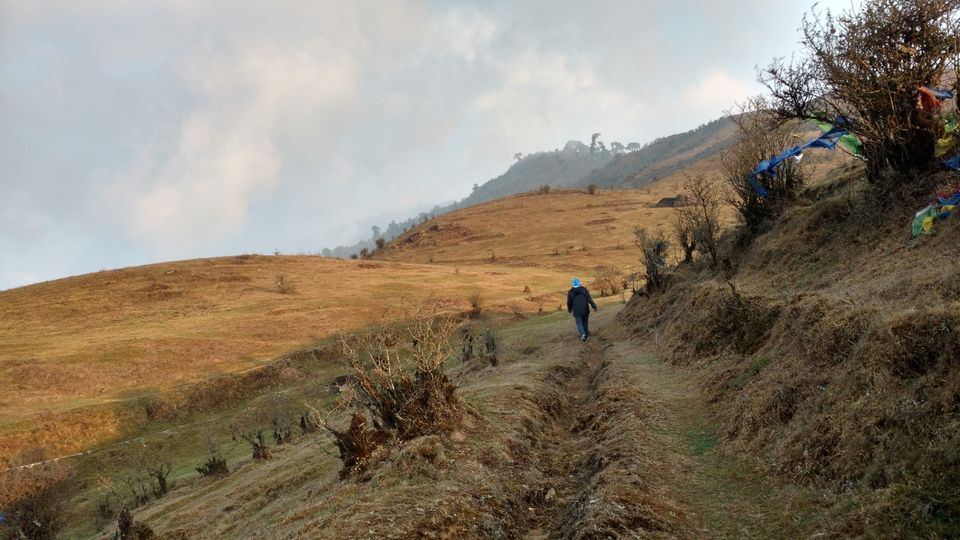 With a cup of hot tea we said goodbye to chitrey and started for Tumbling.
By taking some of Nima's Shortcut we covered 3km and reached Lamedura for our breakfast. One small shop and 2 to 3 other small huts that's what Lamedura constitute of. A Hot bowl of Wi-wi and a hot cup of tea recharged us for the next 7kms trek.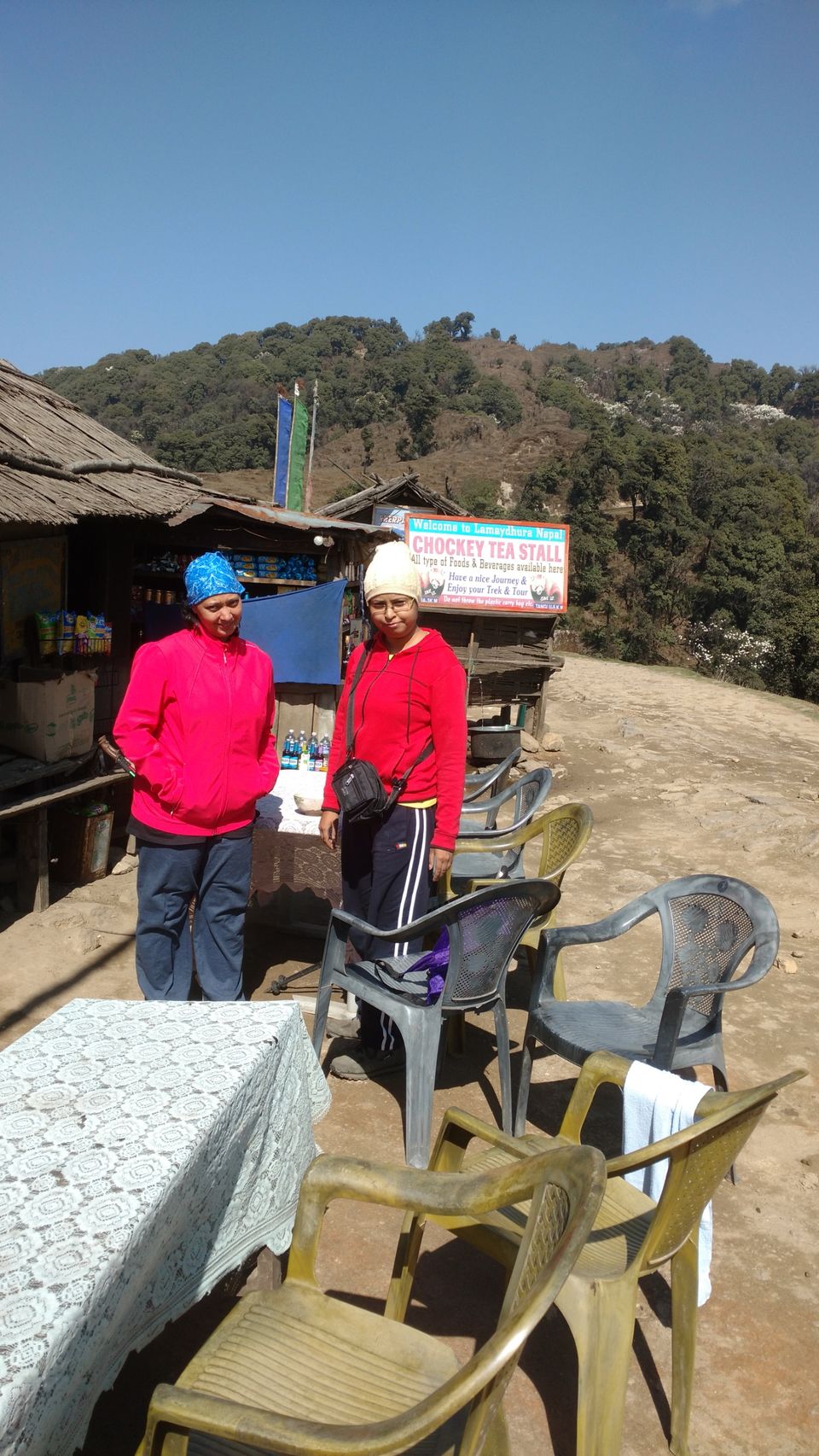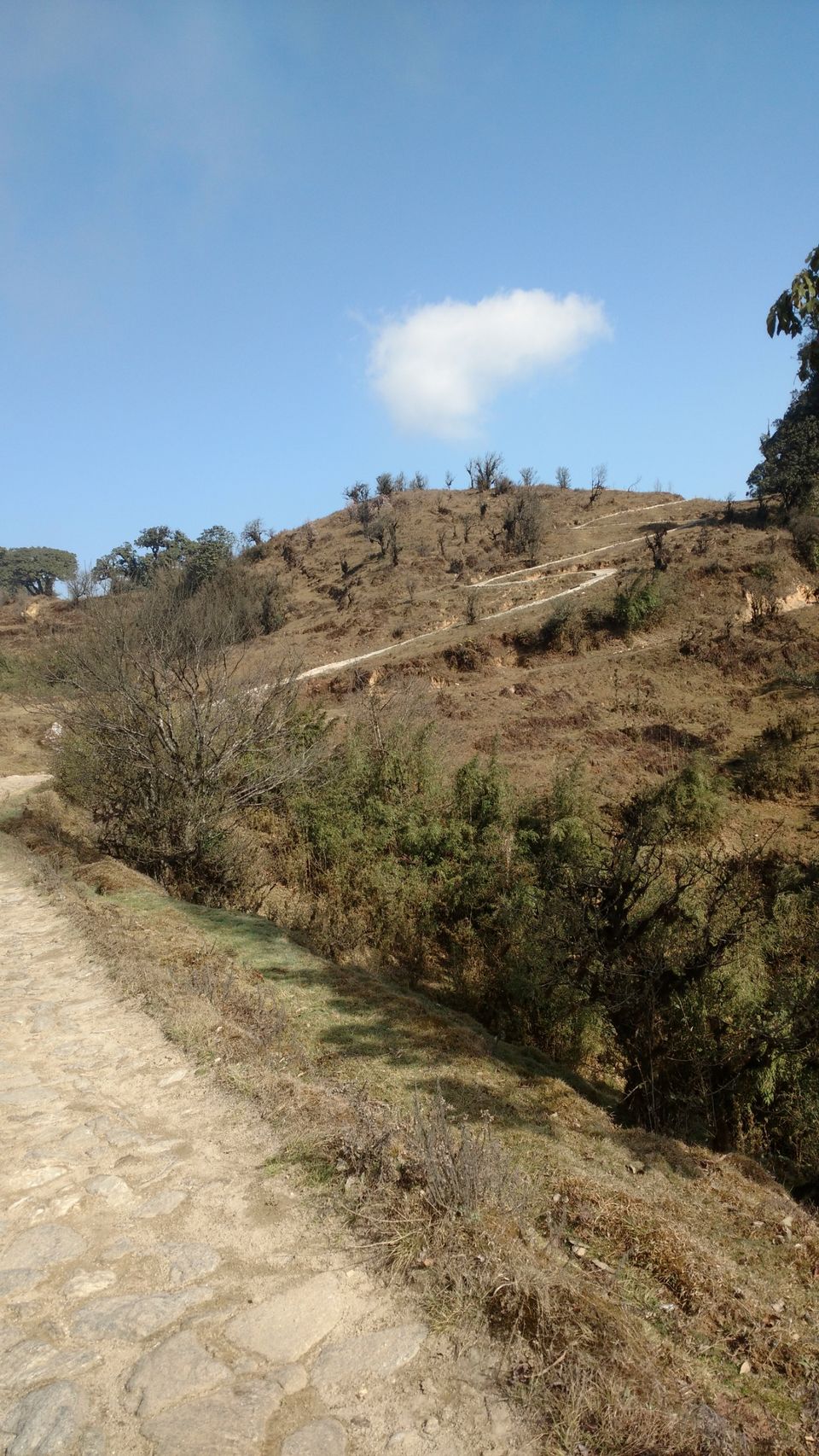 As we reached tumbling we were amazed by the landscape of that place. There we met four other people in a group of two, just like us. So we all decided to take a small work till tumbling check post. But all of a suddent huge cloud surrounded us we all rushed back to our hotel.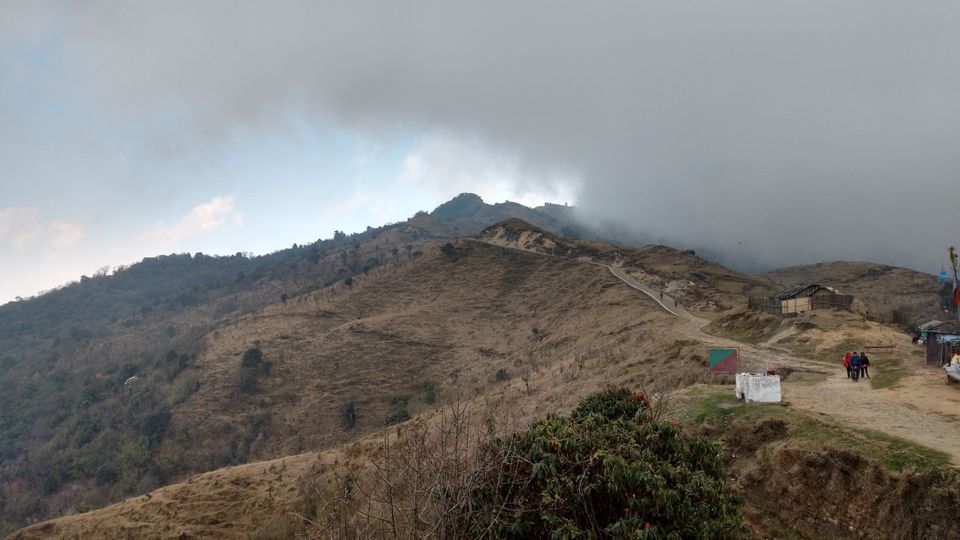 Had our lunch and decided to go back to our room and after a hour or so heavy hailstorm started.

Then we had a very entertaining chat over some hot tea with all 6 of us  and lastly after dinner we asked Nima to knock us as early as possible to get a view of sleeping Kanchanjhanga.
Day 4: 22nd March , 2016 (Tumbling to kalepokhri )
At around 4:30am we almost packed ourselves airtight and rushed out to view the golden kanchanjhanga. Though it was not that clear still we got quit a good view.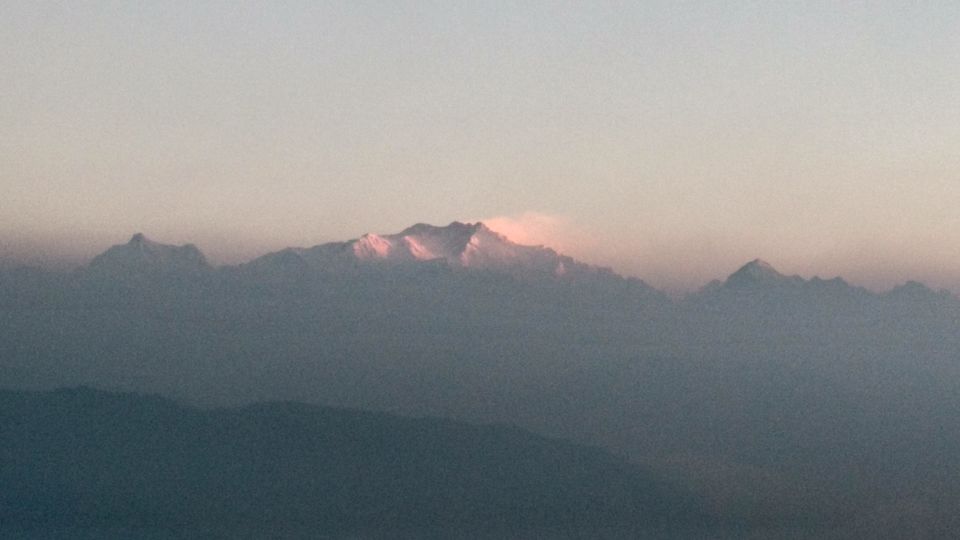 We had a hot cup of tea and charged ourselves for the next 13km to reach 2nd last destination of the trek - kalepokhri.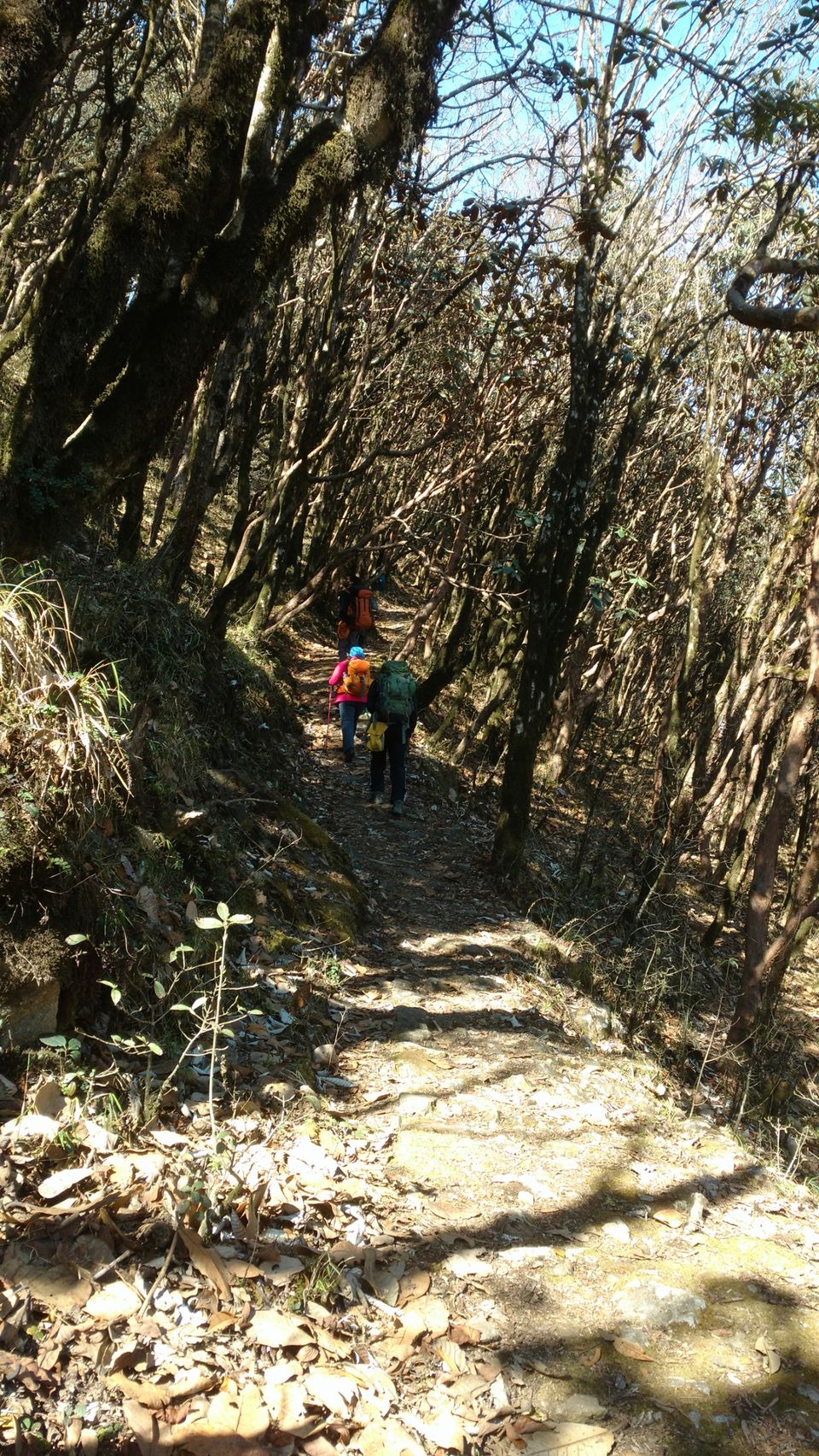 At around 8:00am we started for Gairibus 6km away. Nima showed us some shortcut in between the woods (though it didn't actually turned out to be a shortcut as it took a lot more time) but still the scenic beauty of that route was just mind blowing.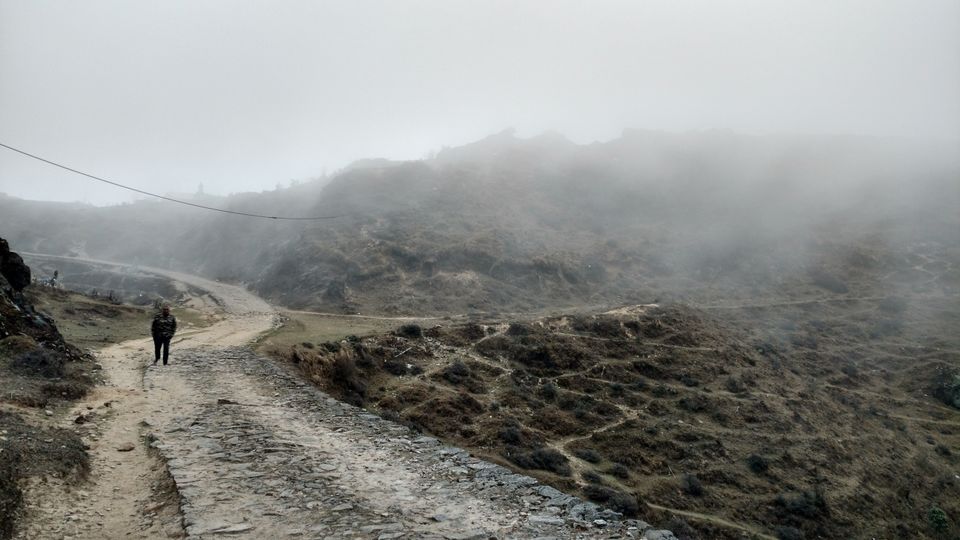 We reached Gairibus at around 10:30 am. Had a hot plate of momo and tea and then prepared ourselves for the toughest part of the whole trek "KAIYAKATA" that's the next 2km uphill.
As usual we again took the shortcut trekkers route, which I felt is much steep. After Kaiyakata it's another 7km that was almost a gradual plain path .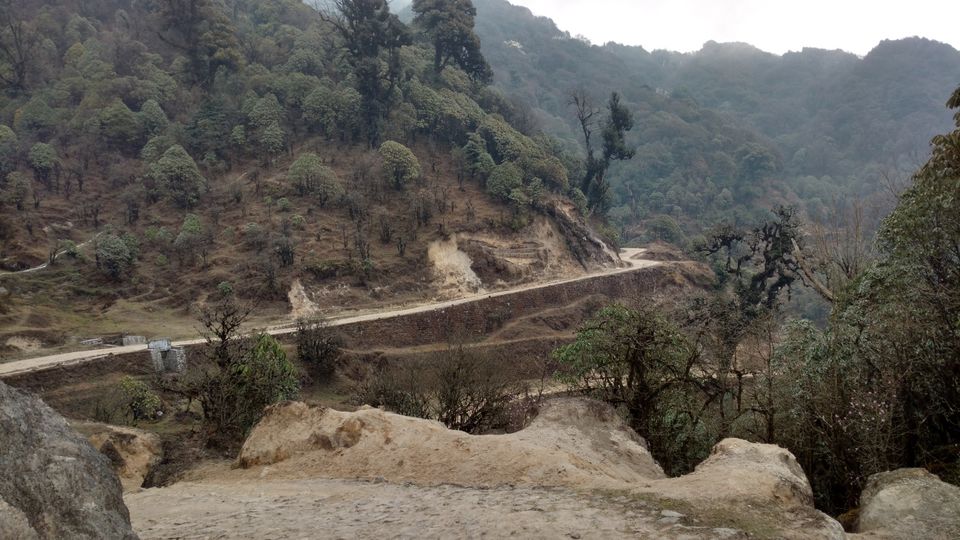 By 1:55pm reached Kalepokhri and by that time dense cloud was almost swallowing that place.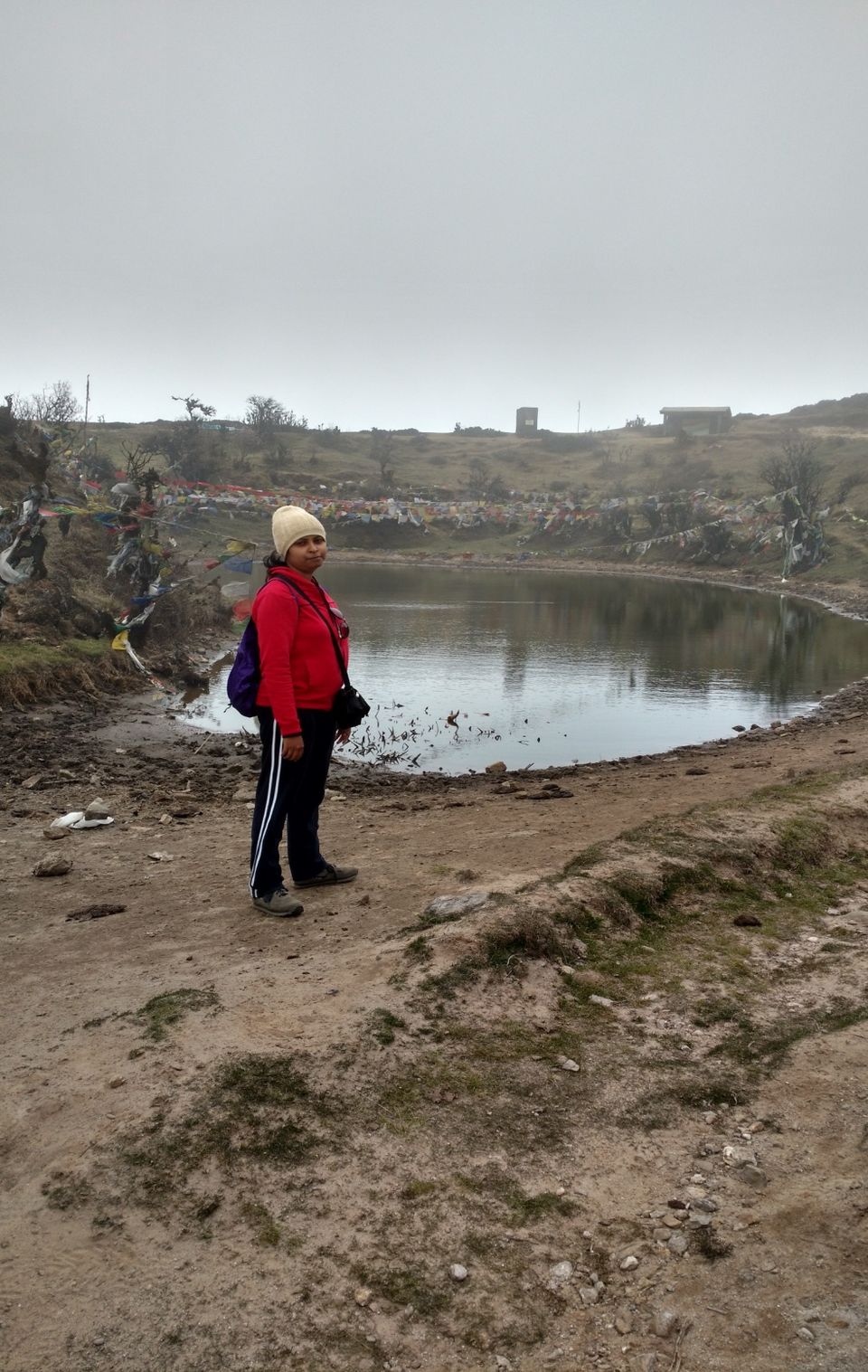 Quickly had our lunch then we went for a short walk near the kale pokri (the black pond) but extreme windy and cloudy weather didn't permit us much. Came back had good chat with some local people and planed for our next day schedule.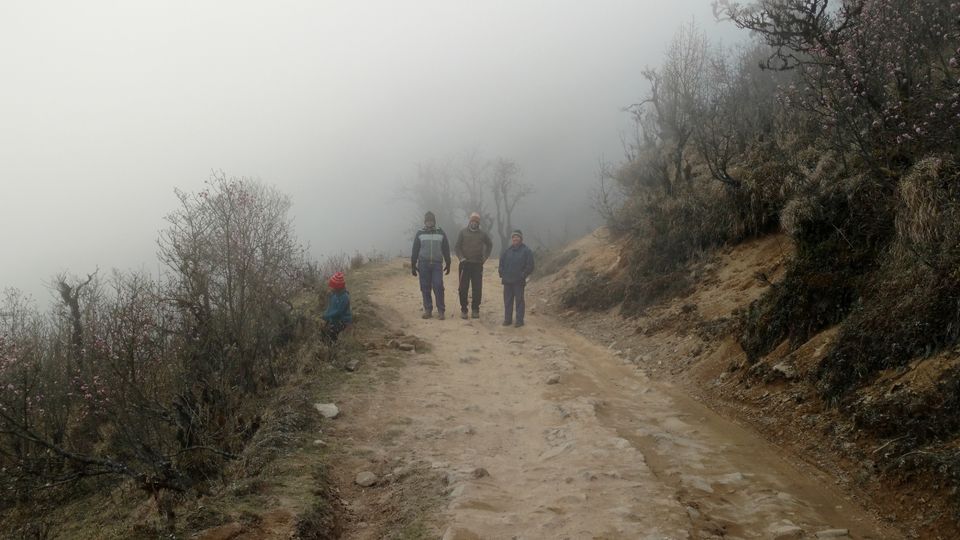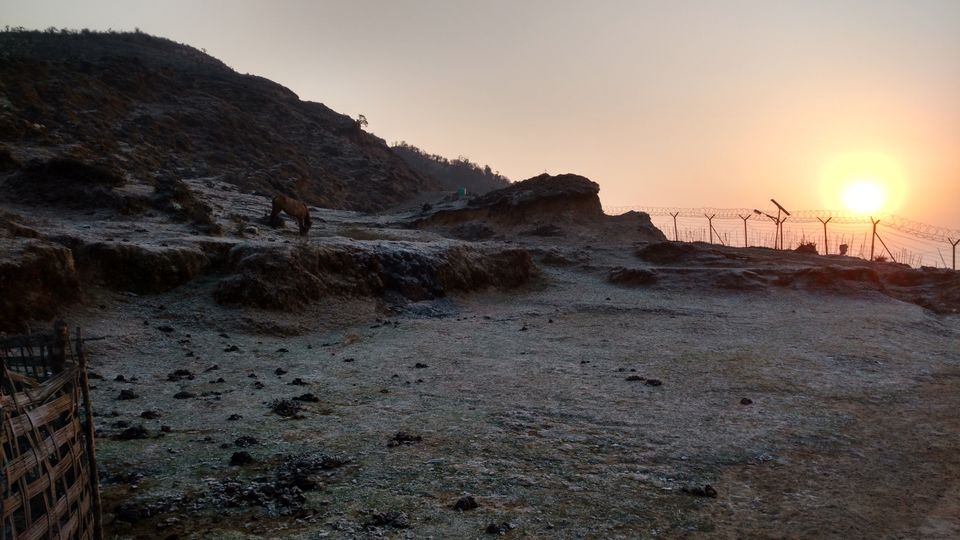 Day 5: 23rd March , 2016 (Kalepokhri to Sandakphu )
We left Kalepokhri at 7:30am and started for Bikeybhanjan , by 8:15 am we reached there almost after 15min Nima were there with our breakfast ( Tibetian bread ,Jam and Omelette) and that ever shining smile on his face.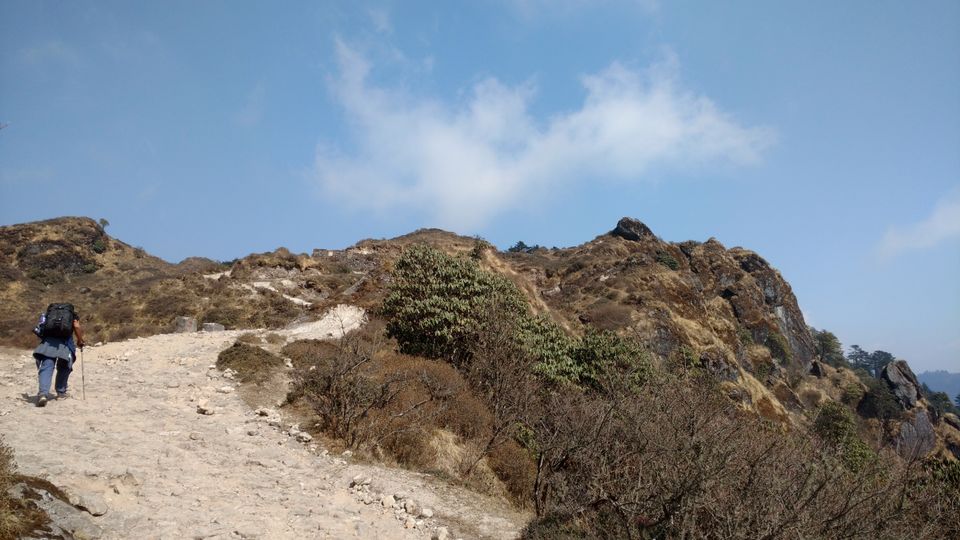 After 1 hour of rest we started for the final destination 'The Sandakphu top' .Then the next 4km were quite tough but road becomes easier when you are with good people to accompany your tough steps ahead.
At 10:45am we finally reached Sandakphu . That feeling of accomplishment and happiness of acheiving the goal was just priceless.
We had our lunch and started walking towards a place called 'alle' thats the place where people can pitch their tents.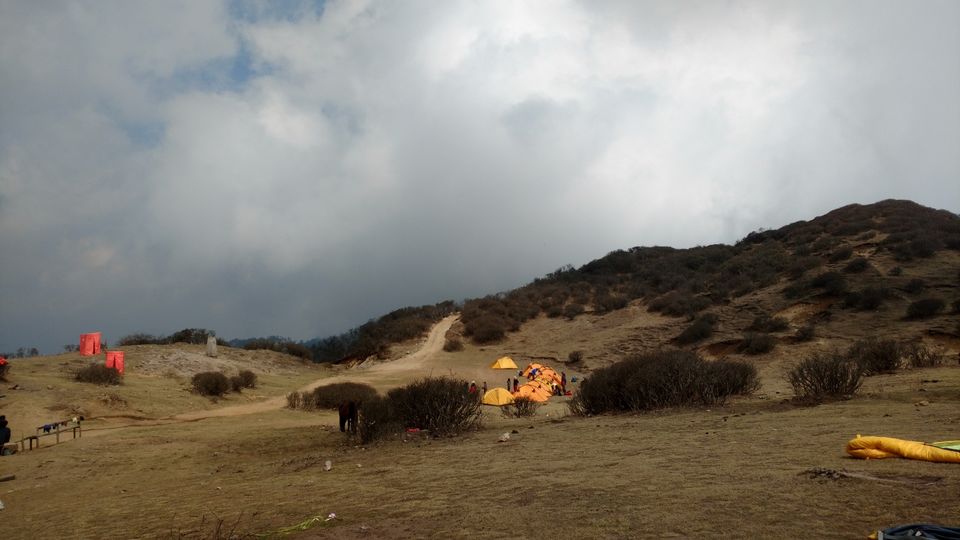 Then Nima came and told that he would like to take us to a new place . We very enthusiastically and eagerly followed him. He showed us a nearby local temple and then took us to a place from where the view was just mind-blowing. It was like we were standing on the top of a layer of clouds. And on the other side the sun was about to say us goodbye for today.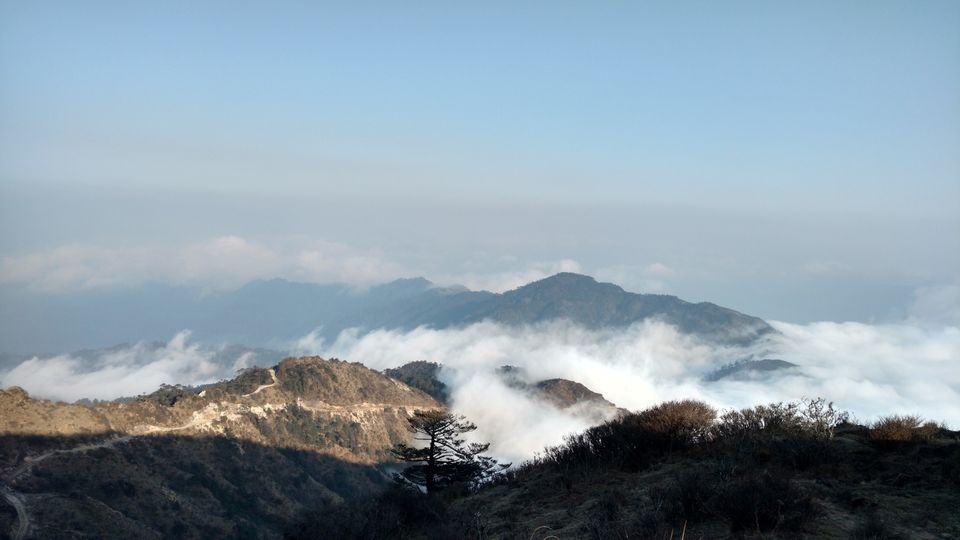 We got a glimpse of Sleeping Buddha too . It was a dol purnima (Holi) so sandakphu was shinning bright under the moon light and a sky full of stars.
Day 6: 24th March , 2016 ( Sandakphu to Tumbling)
Finally the most awaited morning ,the majestic view of Sleeping Buddha along with Everest, Lotse,Makalu. That magnificent view made us forget the morning chill .
We even had our breakfast and morning tea outside so that we don't miss a single moment of that wonderful view.
At 8:00 am we booked a shared land rover to go back to tumbling.
That ride on Land Rover was another experience to remember , I must say hats off to those super skilled drivers.
By around 10:30am we reached tumbling. Then we decided to go to Tonglu top which is about 2.5 km away from tumbling.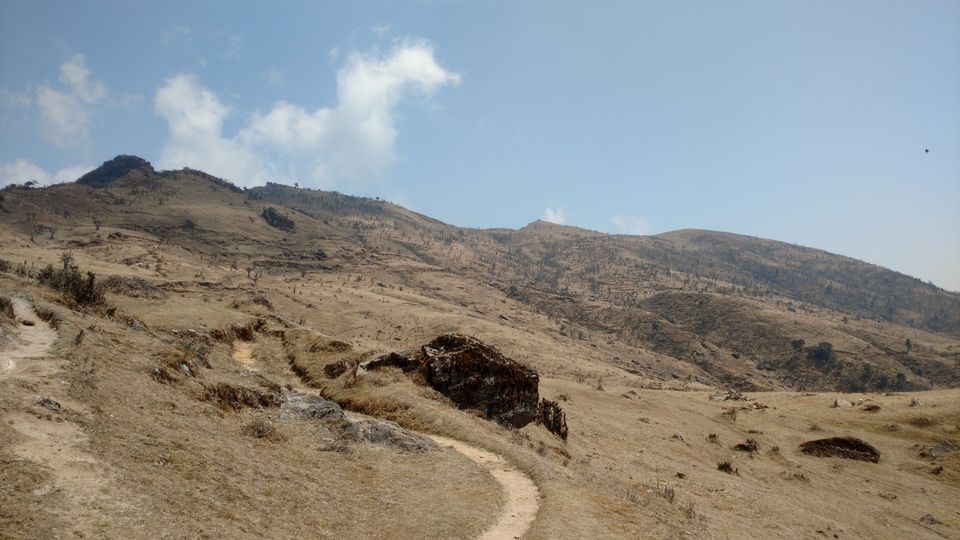 It was a very relaxing uphill walk of about an hour or so. We had our lunch there.Tonglu is a very small place comprising of 2 to 3 hotels only,a very nice and quite place.Next time when I go there I will certainly make a point to stay at Tonglu..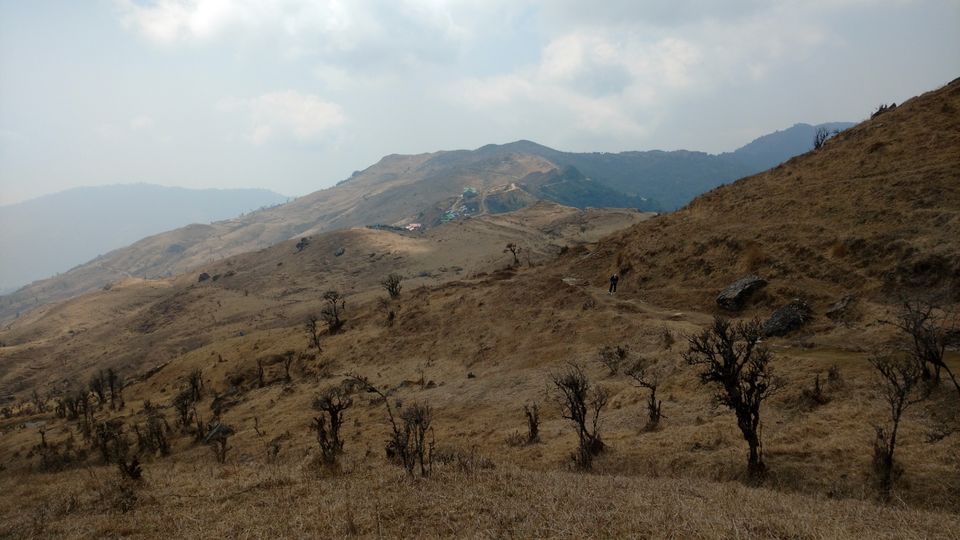 Nima enlightened and educated us with different types of trees and their utilities, different types of birds etc (Which we could hardly remember any of it). Till late afternoon we stayed there eventually returned back to tumbling. After some evening strolling around we had our last dinner (chawal,dal sabji and achar) of the trip and went back to our room with a very mixed feeling of happiness for such wonderful experiences and sadness of going back and saying goodbye to 'pahar'(mountain).
Day 7: 25th March , 2016 (Tumbling to Siliguri)
Despite being quite cloudy Kanchanjhangha showed up to say goodbye to us.
After having our breakfast we waited for our cab to arrive and which took us to manebhanjan. From there we took a cab for Sukheayapokri .Then from sukheayapokri we took another cab for Siliguri.
At around 5:00 pm we reached siliguri had some food in a restaurant near the bus stand.And at 7:00 pm we finally boarded our bus for Kolkata.
Day 8: 26th March , 2016 ( Siliguri to Kolkata)
Bus was on time ,we reached Dharmatala bus stand at around 7:30 am thus ending our trip with heart full of satisfaction , happiness and hope.