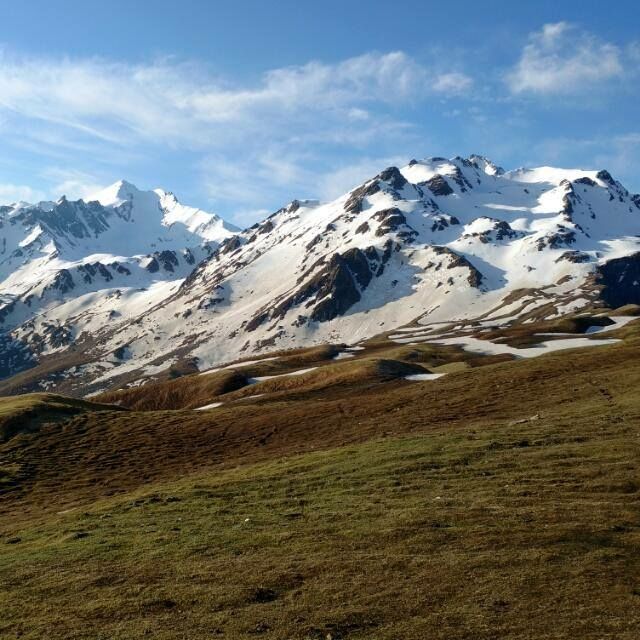 Grahan village: By now everyone in the group was comfortable with each other and most of us had already created a mental image of what to expect during the entire week. Many were there for the thrill, many for the beauty and many wanted to use it as a topic of discussion over a drink with friends. I still don't know why I visit the hills so often, when most of my friends would rather be happy sipping beer from a pint in some costal area.
Anyhow, I kept myself free of all illusions and decided to take each day as it comes. After having spent a few days acclimatizing, and hiking a few trails, we were finally ready to hit the trail which began from Kasol. Our first camp site was the beautiful and mystical Grahan village. It is considered to be one of the holiest villages in the entire kullu district. I was happy to start off with a village I had never visited before. It just took an hour for us to leave most of the civilization behind us. Now we were mere commoners living the life of a typical villager (by that I mean no network). Mostly, it was just us during the entire trek, but we would run into a few Hebrews now and then. We also ran into some school children, coming back from an excursion. They were proudly carrying their school name along with them and eagerly allowed us to get a picture clicked.
I believe that the first day defines your entire trek. The first day defined my rhythm, my pace and gave me a general understanding of what the altitude had in store for me. I was glad that YHAI had made the best arrangements to make the trek an experience. We got packed lunch (simple vegetarian food) which we took at some designated lunch point. By now the first-timers had slowed down and everyone was feeling the weight of their back packs. My back pack weighed 9 kilos and I was pretty happy about it. Most of the people were rather lightly packed.
Now a few hours into the trek, I could look back and see the beautiful valleys Parvati is known for. I had this feeling the entire way that Grahan would be a peaceful and beautiful village. After 6 hours of hiking (the last two hours being uphill all the way) we finally reached. It was like a village you see on some Google landscape wallpaper. It was the most beautiful village in the entire Parvati Valley. I met a few villagers, visited the temple and had some tea and dinner. We also met some children from the village who demanded candy. We obliged.
We spent the entire evening looking at the beautiful skyline and the setting sun. It was a clear night and yes the whole constellation was clearly visible (unlike light polluted cities). Lying down on the floor and gossiping for some hours we ended our first night.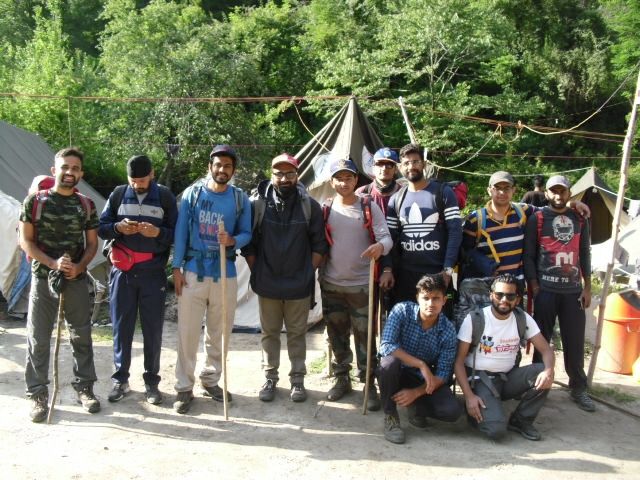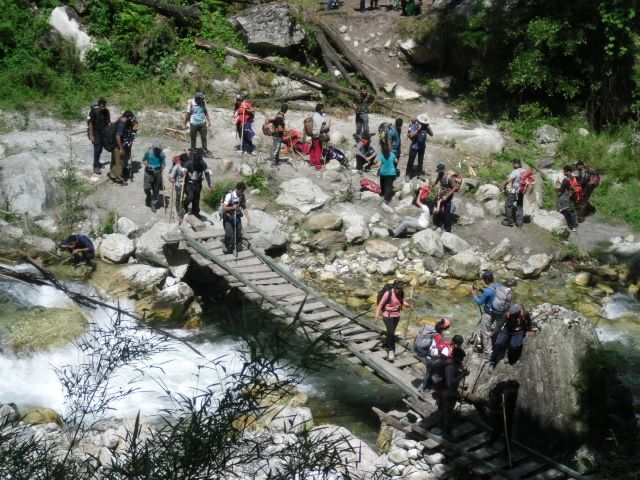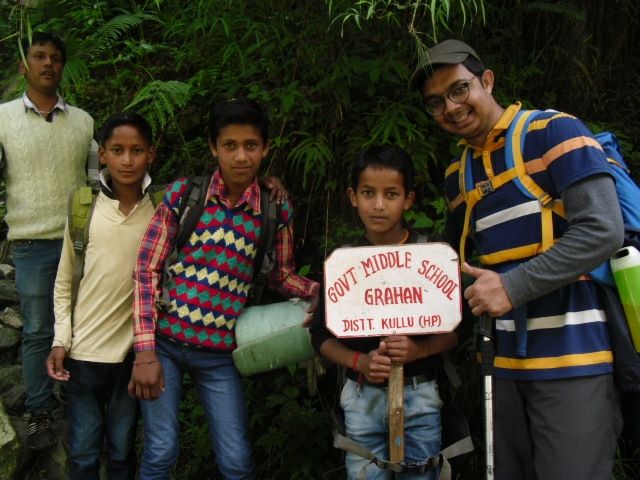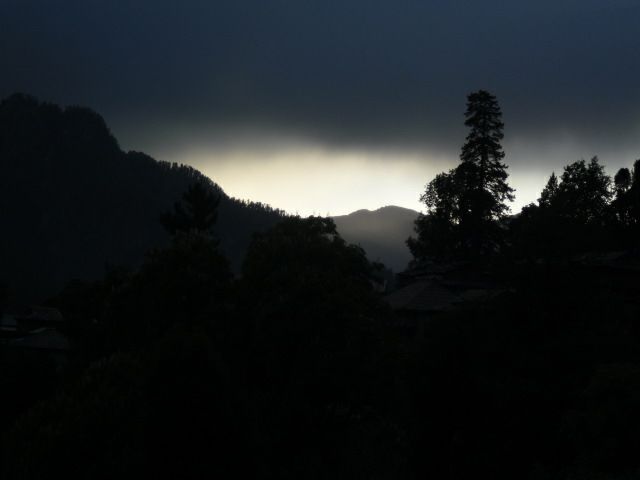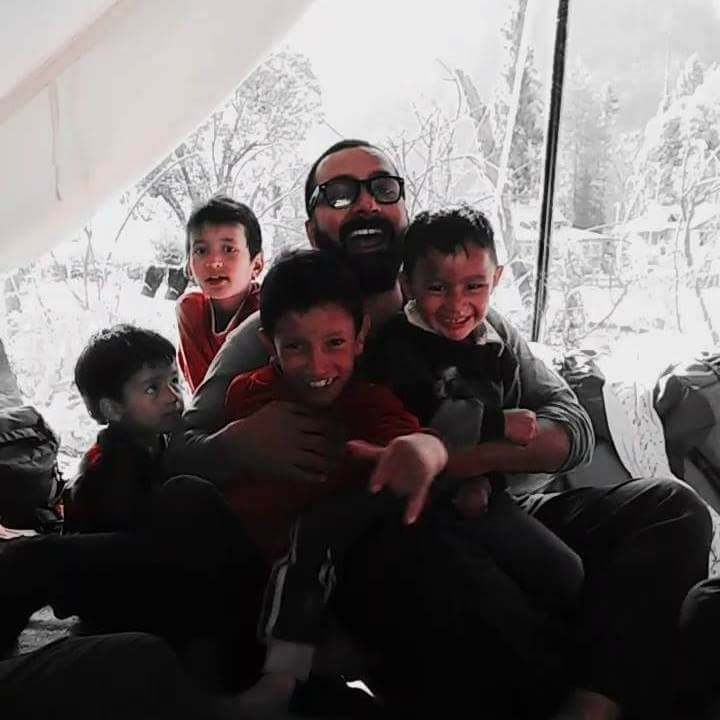 Padri: My eyes opened up at 5 AM. The birds were calling out to the sun to rise. It was a clear and chilly morning. You could see the villagers up and ready for business. The best part about Parvati Valley is that you only see women doing the work men would do. You could see women in the fields, you could see them lifting logs and when I visited Malana last year it was clear that women had the decision making power in a family as well. One might think these villages are primitive but they are in reality very progressive (also they are ancestors of Alexander the great. Greeks if I may call them). I ran into a didi who was offering to carry the bags of the members in our group till sar pass for a mere ₹500 per day. Yes you got that right, women porters as well. I refused her offer but conveyed the message to the group leader. They did end up getting quite a few backpacks to carry.
Anyhow, with packed lunch ready and the bags packed, we headed to our next camp, Padri. Padri (generally used to refer to flat lands) is a small hike of about 5 hours from Grahan village. When you talk distance in the hills you talk in hours and not in kms. Now we were going right into the interiors of the Himalayas. Declared as wild life sanctuary the flat lands are popular destinations for mules, horses and buffaloes. And yes you also have the bear. But we were happy to not run into one.
The hike which was downhill for the first half hour, was uphill for the next 5 hours. Most of the people had transferred their backpacks to didi. Didi also got her sister along so that they could make the extra buck and stock pile food for the next winters. I was quite astounded to see her and her sister carry so much weight with such ease. I hiked the entire trail with Didi. Didi told me about how when she is not carrying backpacks for trekkers, she looks after her farm, milks the cow and cooks food at home. It was good to interact with the folks from Grahan village. It is true, the heart of Himalayas belongs to its people. Their generosity, their resilience and their ability to thrive in higher altitudes is beyond anyone's wildest imagination.
After crossing a big stretch of forest we reached our destination which was a big open field, filled with buffaloes and horses. Padri is located right behind another popular hiking destination called kheerganga. Kheerganga leads to the most advanced trek in Paravti valley, the Pin Parvati glacier (5500 meters+) which is the source of Parvati river. Padri was a quite and peaceful place. The snow capped hills were so close but yet so far. There was just one issue about the cows trying to poke at your food, but then the fittest survives, right?
We spent the evening playing card games, and cracking a few jokes. The weather was quite nippy and you could hear the Nepali bhaiya signing some songs and teasing the Himachali's. It was a fun evening.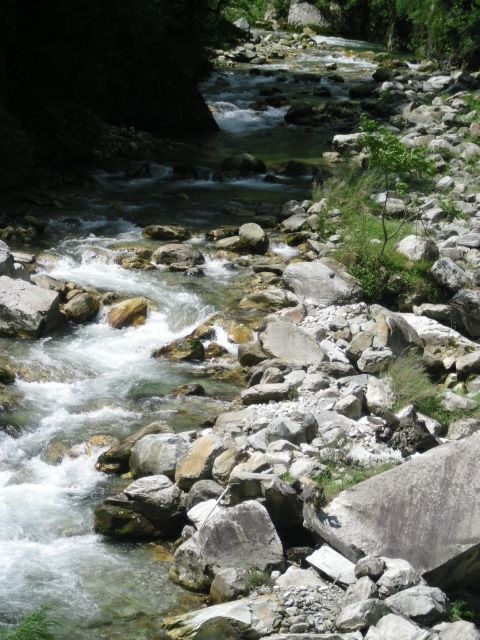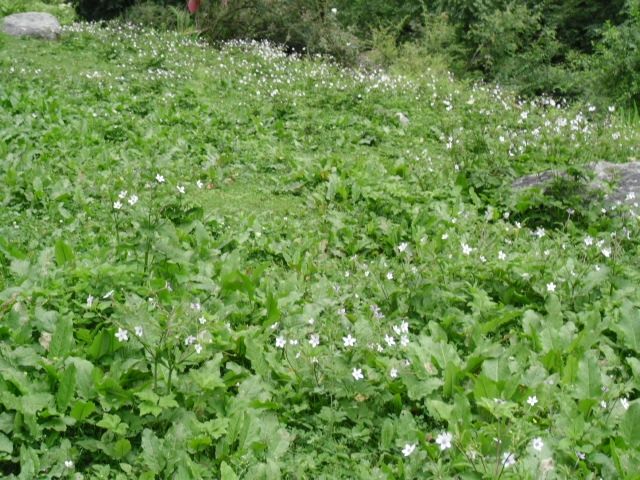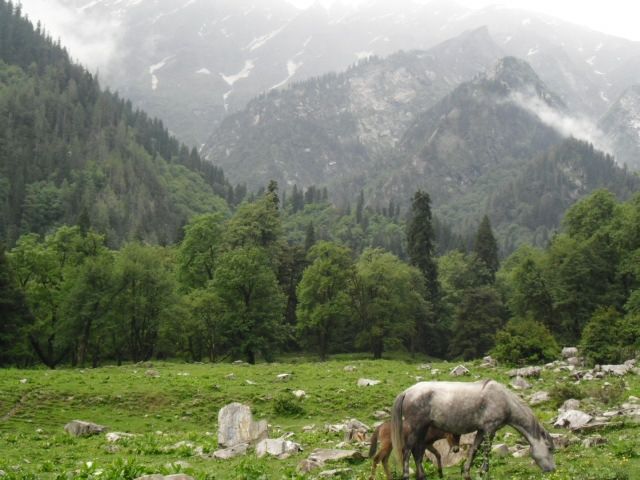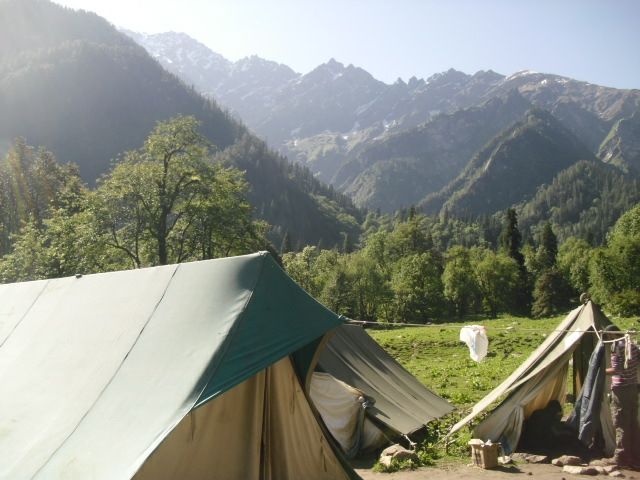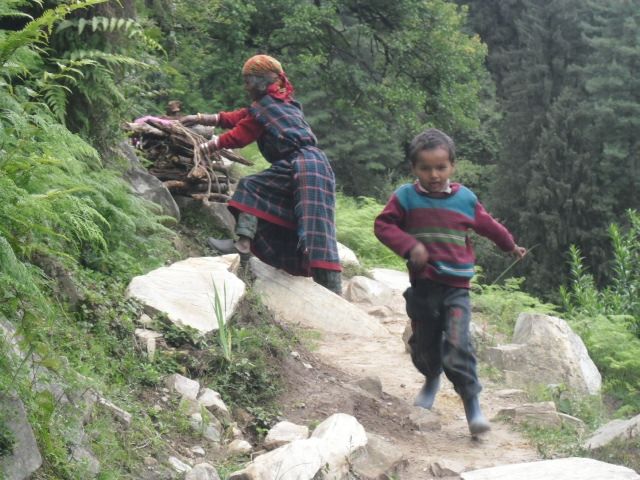 Ming Thatch: As per our guides and the villagers at Grahan, the hike to Ming Thatch was supposed to be the most difficult. It was a straight up hill and 8 hour long hike. We had no dillusions and were ready for the trail. I got up felling properly rested and fresh. We had some tea followed by breakfast, got packed lunch and set out to hit the trail once again bidding farewell to padri.
Now we were gaining some serious altitude. During a hike we constantly cross from one hill to another. As usual the first 20 minutes were downhill and then the real test began. My new found friends and me had a good pace given the heavy backpacks we were carrying. We were neither the quickest nor the last of the lot. We had a steady pace and found ourselves right in the middle with less commotion and distraction. The air was fresh. There was pin drop silence and then there was the sound of the ever rushing parvati and the beautiful snow capped hills. The trek to Ming Thatch (a form of grazing ground, where ming is a form of grass) was treacherous and yet beautiful. Only the strong minded could pull it off with some sense of satisfaction. The dense forests covered with pine trees covered most of our vision, but when we arrived at the open fields we finally realized how high we had come. We took a lunch break, absorbed the entire snowcapped kullu skyline, had a sip of water and left for the final ascent.
After climbing some difficult rock sections we finally reached our third camp site. We were greeted by our camp leader who hailed from Hampi, Karnataka. We had a hot cup of soup and some pakoras and sat down to watch the sun set. It was getting cold and dark. The skyline with the our galaxy  was once again a visual treat for the feeble eyes from Delhi. We had dinner played a few games of "Show" and ended the night.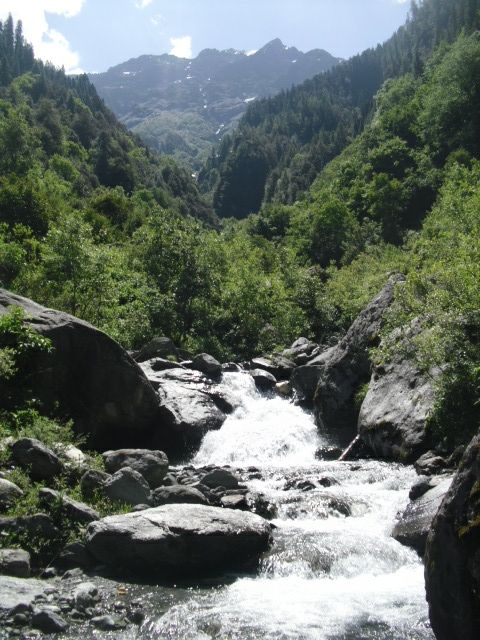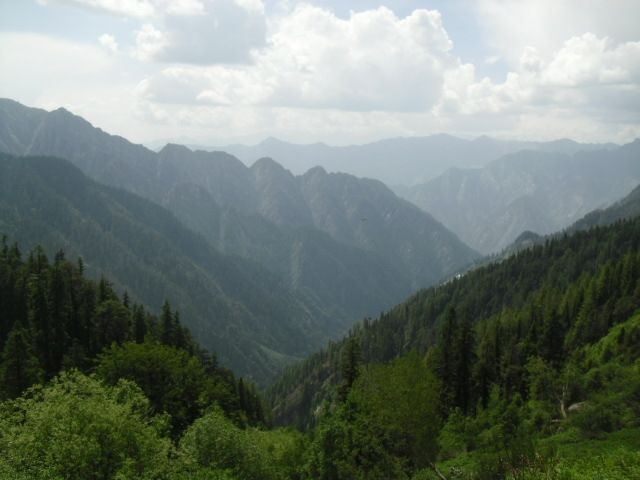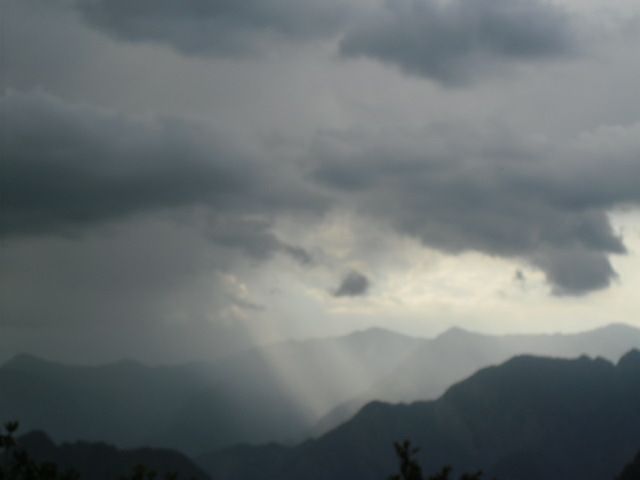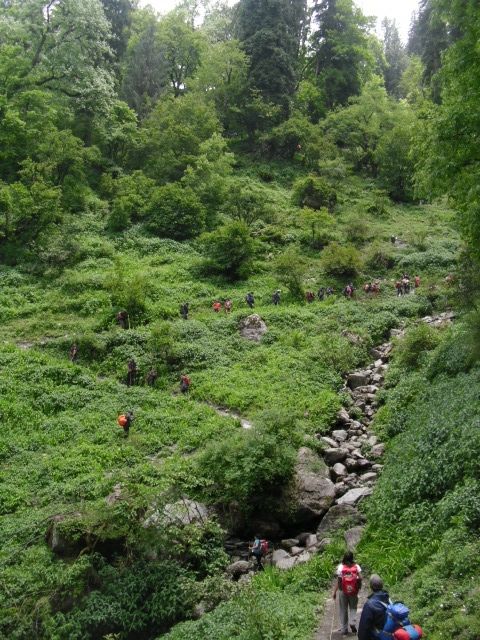 Nagaru: Nagaru was a holy place. The land of Nagaru Devta. One could spot the Nagaru camp from Ming Thatch. After a treacherous hike the previous day, Nagaru was only a 4 hour hike from Ming Thatch. Yes, just 4 hours. Everyone had a good night's sleep, attended to all of nature's calls and left the camp only by afternoon because the next camp was just a halting camp enroute the final ascent to Sar Pass. To my luck I ran into a villager selling hand woven sheep wool socks. INR 100 rupees. Me and my friend bought a pair.
By 12 we had bid farewell to our camp site and left for Nagaru. The entire stretch to Nagaru was covered with loose rocks which was a little slippery at times. But with an eye on the target the hike was completed as per schedule. We were warned by our guides to quickly complete the last stretch of the Nagaru hike as grazing animals tend to kick the loose rocks which might end up hitting our head. All the way I kept thinking about the absence of life in any form at such an altitude. But to my surprise, when we reached the camp, we were sorrouded by around two thousand sheep grazing the open grounds around and near Nagaru. We had soup as usual, clicked a few pictures and sat and gazed at the magnanimous beauty; that is Himachal.
For the first time we somehow had network. I called my family, told them I was safe and watched the sun set once again during the fifth day of our trek. We were supposed to start our hike at 3 AM the next morning. So we ended the day early. The facilities at Nagaru were commendable. At such an high altitude to have an up and running camp filled with energy, was something to be amazed at. YHAI had surpassed my expectations.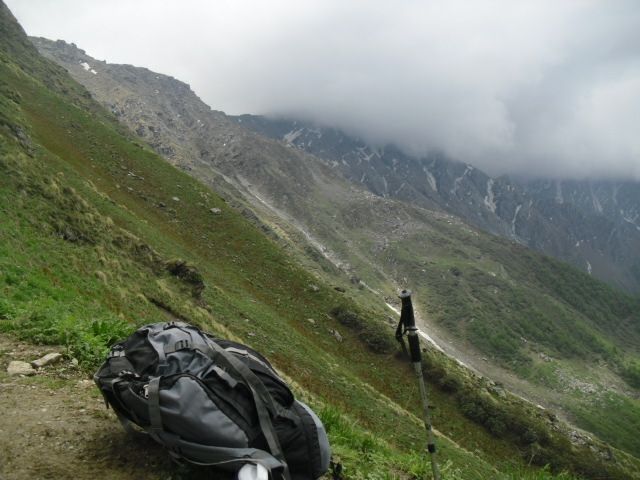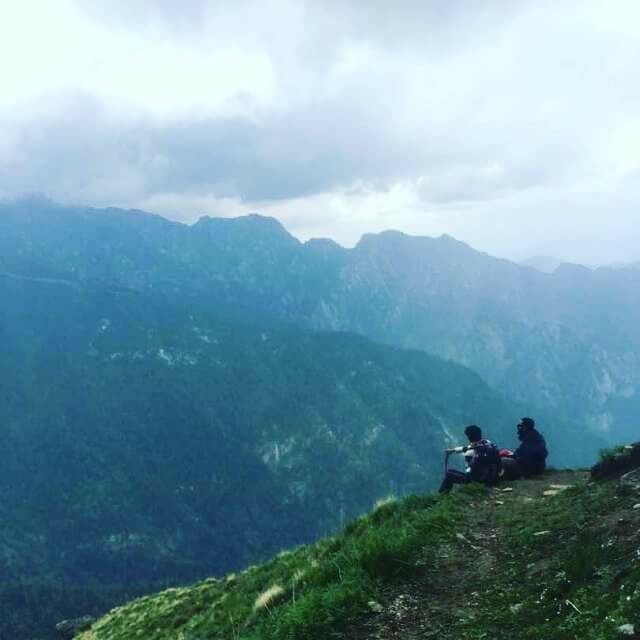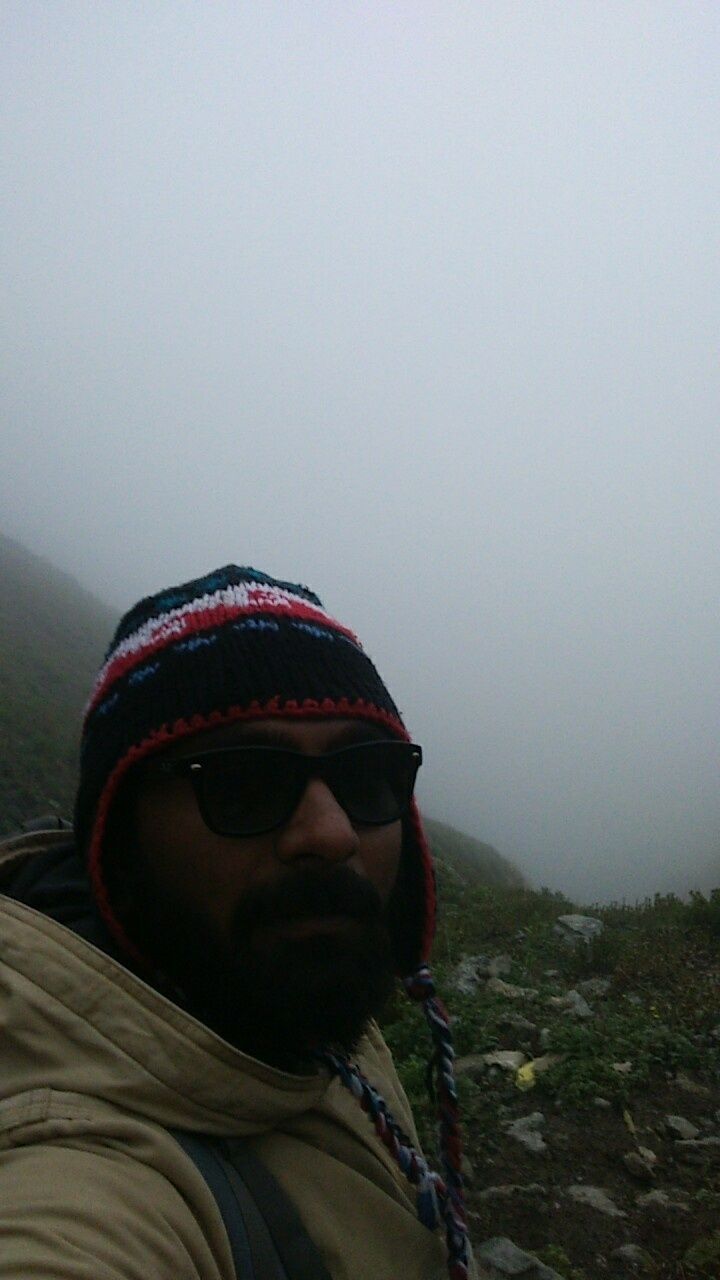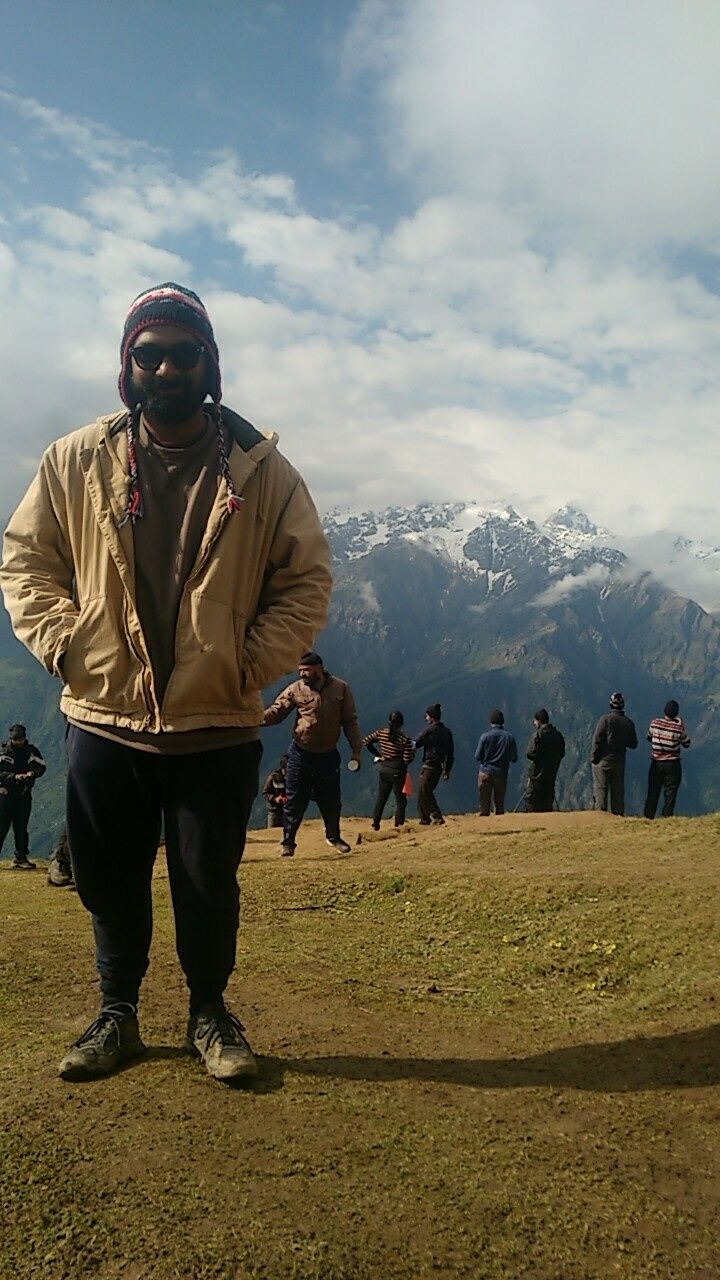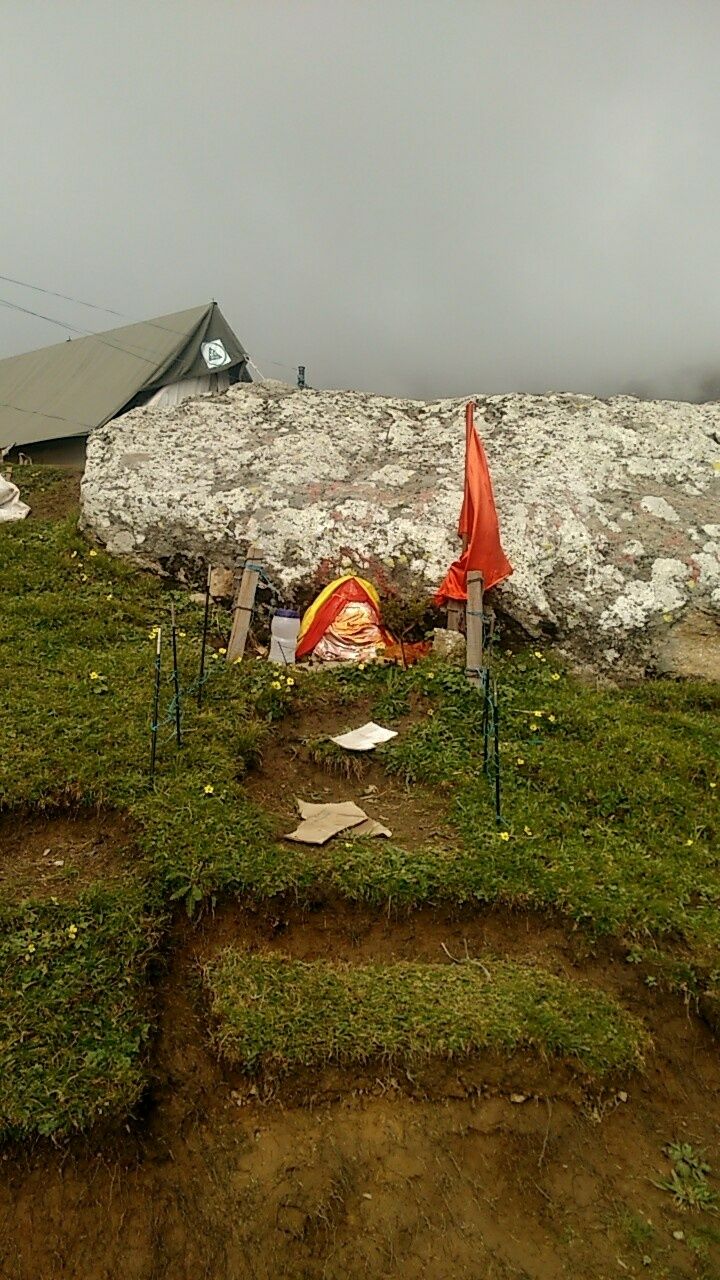 SAR PASS/ BISKERI: D-day had finally arrived. Our camp site was a bit slanted, hence even a few hours of sleep was hard to come by. The camp leader woke us up at 2 AM. By 3 everyone was ready with packed lunch (I packed a lot of cheese slices).
That night so clear that one couldn't even sight a single cloud. The moon was brimming it's light on the entire skyline in the valley. The snow was shining with a bluish hue. For the first time I was overwhelmed by the notion of reaching Sar Pass.
At around 4 AM we started hiking slowly to the top of the hill. It was a cold morning. I was tired but still full of energy. Sipping water at regular intervals and keeping an eye on the snow capped mountain I kept hiking. By 6 AM we were almost at the top and sun had started to rise. We came across a few stretches of ice. It was mid June and ice melts quickly even at this altitude. It was a slippery slope. From such an altitude a fall could have been fatal.
But after all the hikes and all the camps, we were finally there. We came around the Nagaru hill and to the top in 3 hours. And there it was. The barren and cold yet mesmerizing "SAR PASS" . There was a small lake (also referred to as sar from where it gets its name), which was mostly covered in ice.
Once could easily spot every single peak and trails in the parvati valley from Sar Pass. I could spot the Victory peak, Chandarkhani Pass and the big glaciers of Pin Parvati. It was an amazing feeling to be standing there, right at the top. At that moment nothing mattered. I was happy. I hugged my friends clicked a few pictures and started the long walk across the Sar Pass to Biskeri Top.
The trail to Biskeri was a rocky pass. Being June, there was no snow for us to slide on. A trail which generally takes 30 minutes to cover with some sliding on the snow, took us 3 hours by foot. I felt a bit of the altitude for the first time. My head was a bit heavy. We reached our lunch point and I had bid farewell to Sar Pass promising to come visit again. We were still at 12000 ft and sorrouded by glaciers. Sipping water directly from melting glaciers at the top of the peaks was a feeling words couldn't describe.
Tired and exhausted and after hiking for almost 10 hours we reached our next camp site Biskeri, a beautiful camp site sorrouded by GLACIERS AT 11500ft. We had rasana, soup and then some chai. The camp leader gave us a verbal tour of the entire landscape around us. We ended the day after some dinner to get the rest we deserved.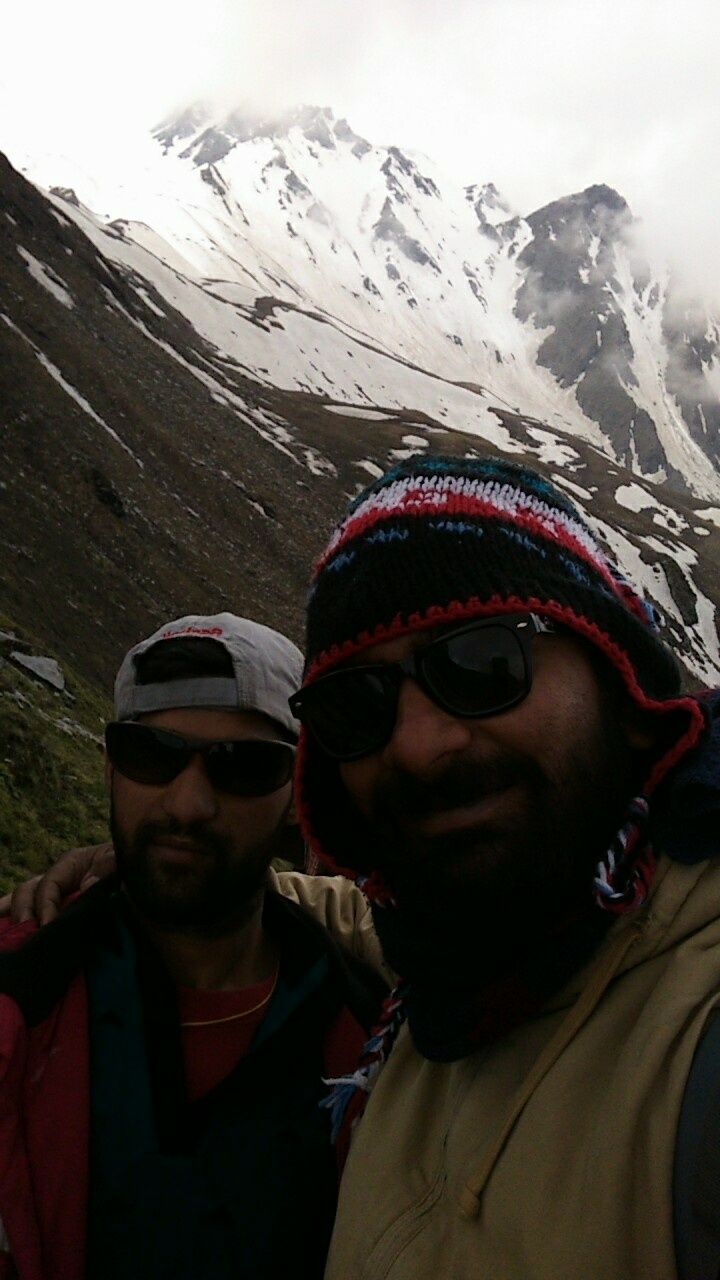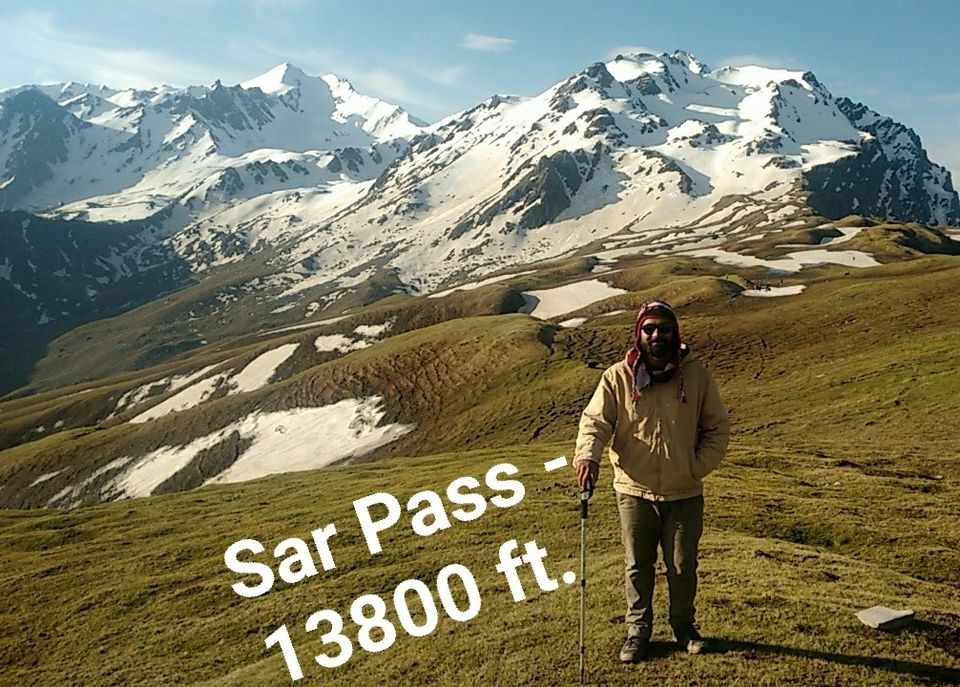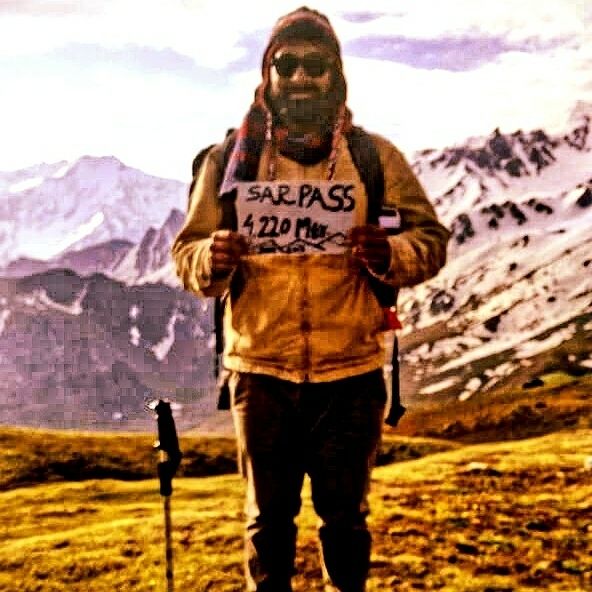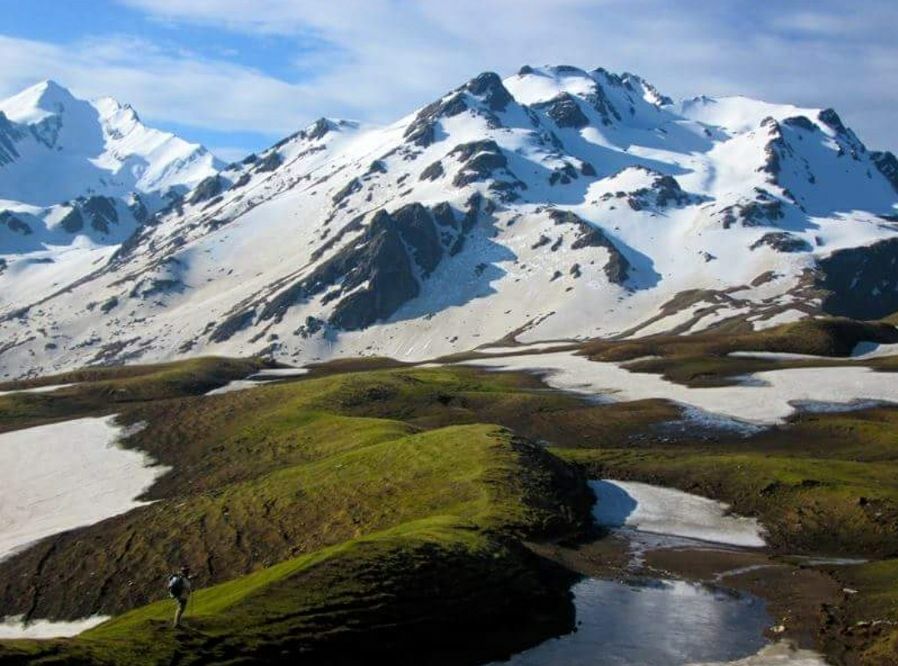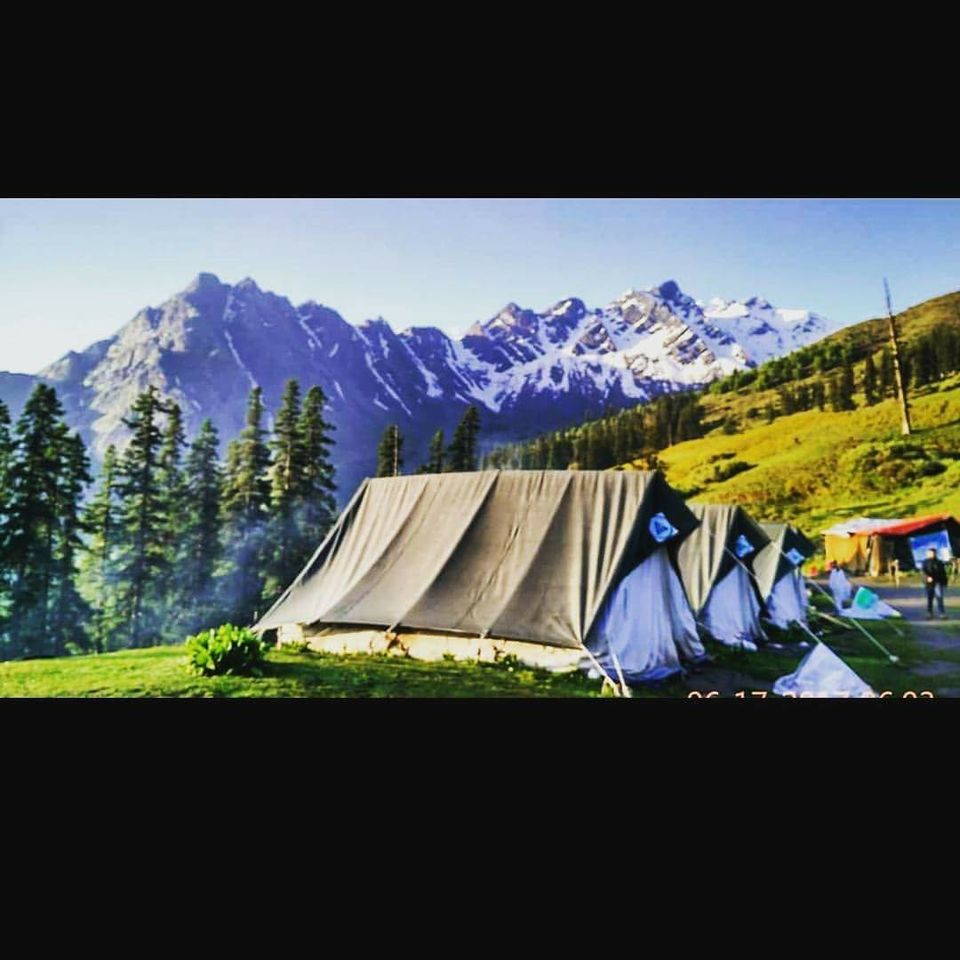 Kasol Base Camp: Day 1 is always the best day. Filled with expectations, energy and a lot to look forward to. You get on a bus in a crowded city (New Delhi in my case) and the next morning you wake up in a distant land. Parvati Valley, Kullu, Himachal has been like a second home to me for the past four years. I have visited most of the villages in Parvati Valley , interacted with different locals and tried to lead a life they normally would (even back at home). But little could have I imagined that life blossoms even above 4000 meters. So there I was at the base camp of one of the most prestigious treks conducted by YHAI: Sar Pass. I checked in to the camp and walked around the busy Kasol village that evening. The base camp was located right next to the beautiful Parvati river, splashing and making acoustical noises soothing to the ears. Day one ended with a few introductions and some insights on what kind of a trail we were up for.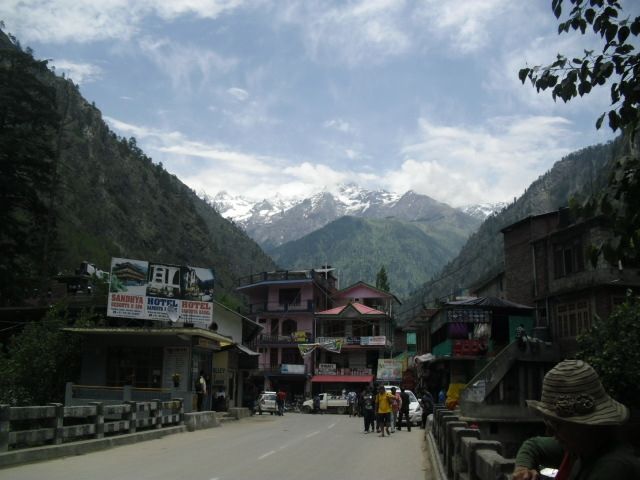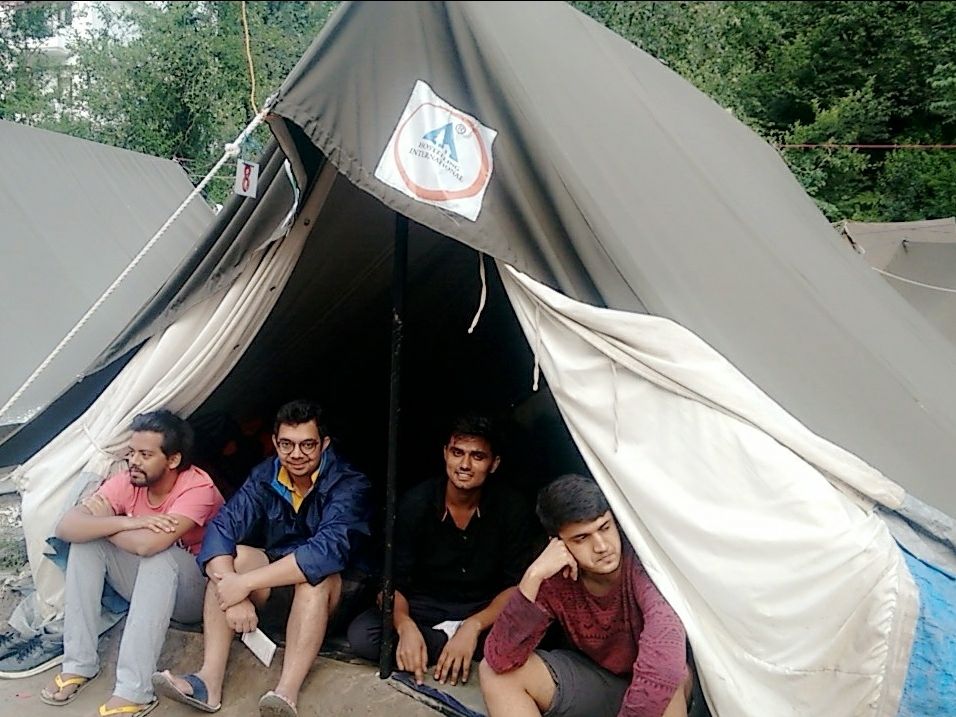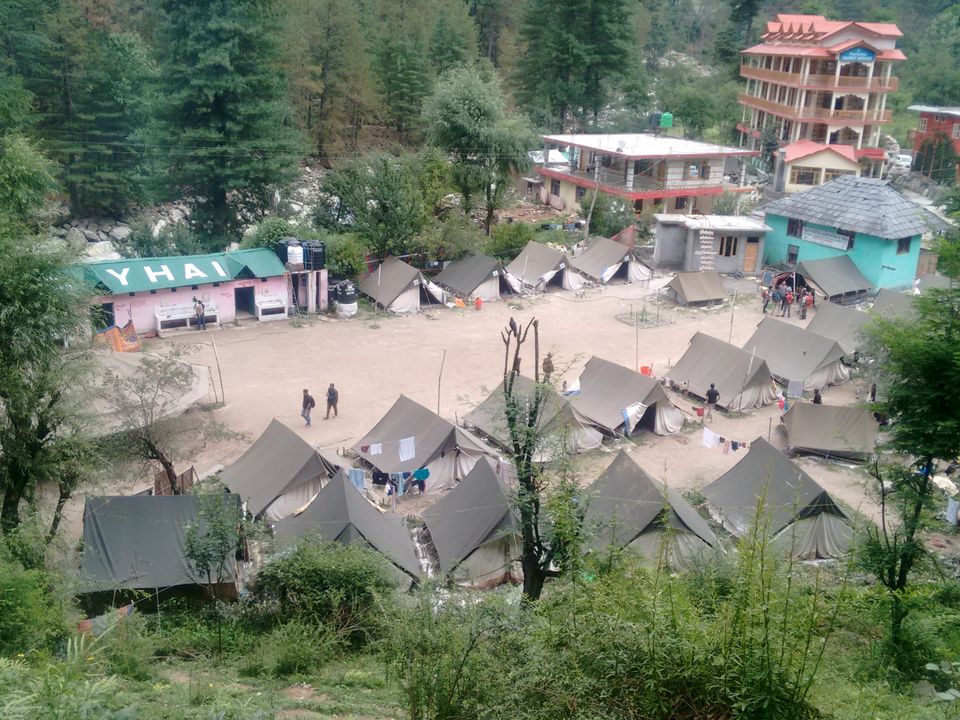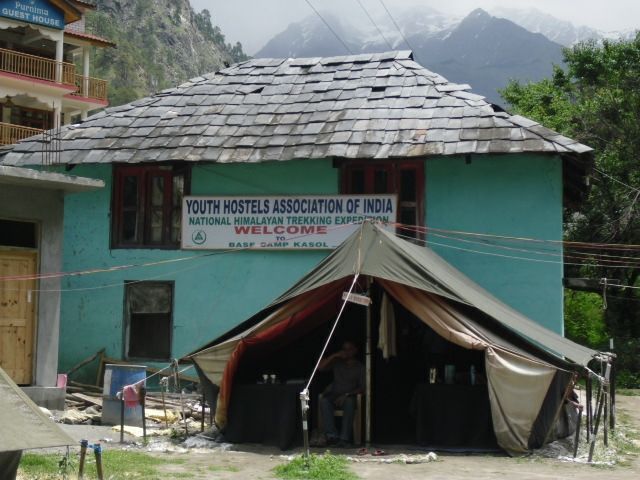 KASOL BASE CAMP AND DELHI: The day had come to be back to the real world. From Biskeri we had moved to another camp Bandak Thatch. It was referred to as Switzerland because of the close proximity to the glaciers. We spent a relaxing evening there and were back at the Kasol Base Camp by next day afternoon. Me and my friend thanked all the YHAI volunteers who made this trek possible, bid farewell to our fellow trekkers, collected our certificates and boarded the bus back to Delhi.
For everyone willing to be up close to the hills and willing to challenge themselves, one needs to experience this trek. It is a moderately difficult trek and requires good physical fitness. The best association to do it with would be YHAI but there are also locals who conduct this trek. The best time to do this trek is in May as there is a lot of snow cover, but it goes on till June end as well.
As an introduction my name is Abhishek Krishna (also know as IYER). I have been travelling many parts of India for the past few years. This is my first write up covering my experiences during the sar pass trek. For any further queries or discussions please feel free to get in touch with me. My email id and my Instagram id is mentioned below. Cheers!
Instagram: iyer66
Email: krishnaa66@gmail.com