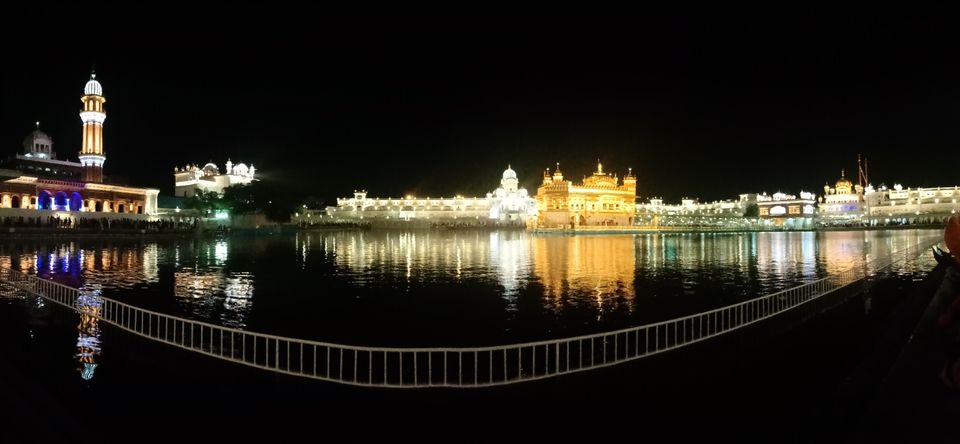 One of the most spiritual city near Delhi is Amritsar. We started our journey from Delhi by shatabdi exp. in morning and reached Amritsar around 1pm.
Places to visit in Amritsar
Golden Temple, wagah border, Mata vaishno Devi temple, jallianwalan Bagh, gobindgarh fort
1. Golden Temple
It is the main attraction of the city. It's always open and you have to cover your head. Photos are allowed in premises but prohibited inside the main temple.
Do visit the temple both in night and Day.
2. Jallianwalan Bagh
Another historical place just near the golden temple. It's just a walking distance from the temple. It's closed in night.
3. Amritsar Heritage Walk
This is outside the golden temple and jallianwalan Bagh. An around 1km walking distance with lot of small statues.
4. Gobindgarh fort
This is one of the underrated place in Amritsar. There is a museum, 7D show, horse riding etc. 7D show is on maharaja Ranjeet Singh. This is must watch.
5. Mata vaishno Devi Mandir
This place is near Amritsar railway station. Here you can find the idols of all Hindu gods.
6. Wagah border
One cannot complete Amritsar without going to wagah border. Although the evening beating retreat starts around 5.30pm, but for getting seats in front row and near the border you have to go very early around 3pm. Bags and baggages are not allowed. You can take camera. There is no place to keep it.
We stayed in Treebo Amritsar. It is a budget hotel with a walkable distance from golden temple.
Travel tips
1. Stay in a hotel which is near to golden temple. so that you can spend more time in enjoying rather than travelling.
2. do watch maharaja ranjeet singh 7d show in gobindgarh fort.
3. dine in the famous bhrawan da dhaba