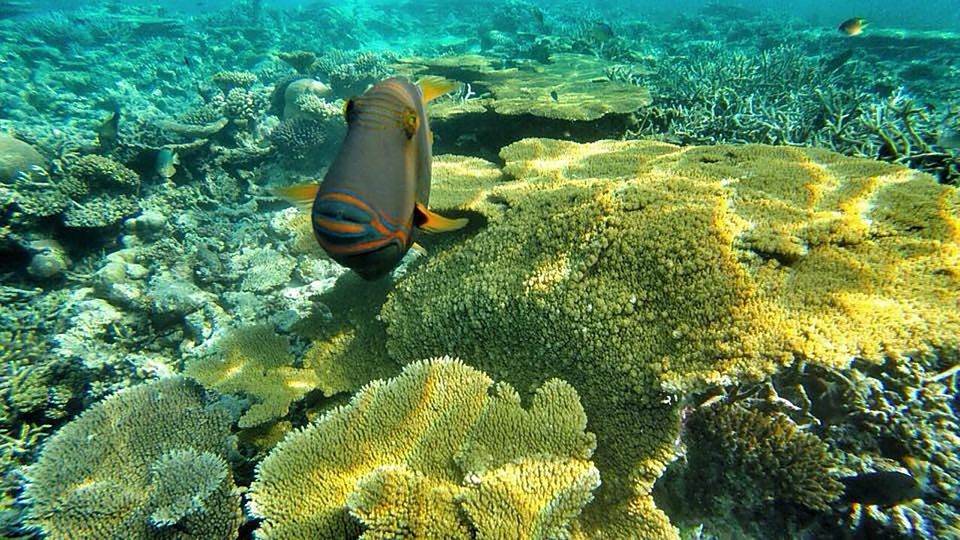 It was day 3 of our Andamans trip. We were staying at Symphony Palms. It seemed like a perfect morning to do something legendary! And the last I checked, Scuba Dive totally qualifies for that! I don't know to swim and to top that I am a hydrophobic. My partner in crime, my sister, is claustrophobic and the idea of having a mask tied around her face with all the other oxygen tank jingbang was probably killing her! But we still decided to go for it.
We were at ocean dive center in Havelock – we filled out an extensive form (that kept saying IF YOU DIE, IT WON'T BE OUR RESPONSIBILITY a multiple times) and watched a short informative video that walked us through the actions for communication under water.
Our instructor, Mr. Sajan walked us through the actions again and other members of the team helped us get ready. We had a weight belt tied around our waist – I think there were 7 blocks of 1 kg each. The ocean was calm and it was low tide. The dive site, abundant with marine life, is almost always calm with good visibility (we were told). The maximum depth is around 12 metres but we were to go 6 metres deep.
With our instructor's guidance, we explored the mesmerizing marine life and experienced an unparalleled sense of adventure. The fishes were of all shape and colours – red, purple, yellow, transparent with a neon glow and what not! We also found Nemo! (Yay!) My sister spotted a wrecked bike at the bottom. We were instructed not to touch anything since some of the corals could be poisonous. We swam across colorful corals, beautifully patterned fishes, and seabed gardens in silent-as-night waters – the experience was completely unreal.
In the video above, you will see that I had issues with my mask and my instructor had to help me blow out the water.