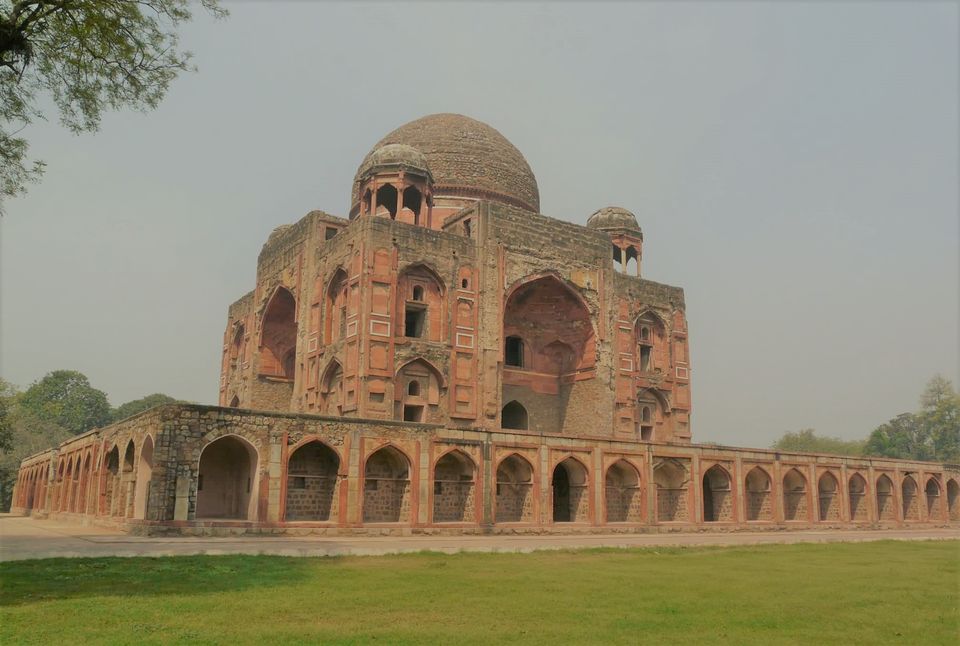 Remember "Rahim ke Dohe"? Shove your memory to recall those dohe!
"Rahiman Dhaga Prem Ka, Mat Todo Chatkaya,
Toote Se Phir Na Jude, Jude Gaanth Pari Jaaye"
How can we forget softly reciting dohe in our Hindi class? Kabir ke aur Rahim ke dohe?
Rahim was son of Bairam Khan and Sultana Begum. Bairam Khan was Akbar's caretaker and one of his friends. He gave the responsibility of his son to Akbar after his death. Akbar married Bairam Khan's widow (Bairam Khan's second wife and Akbar's first cousin, Salima Begum) and bestowed the title of 'Mirza Khan' upon Rahim.
Khanzada Mirza Khan Abdul Rahim Khan-e-Khana, famously referred to as Rahim was one of the Navratnas (Nine Gems) in Mughal Emperor Akbar's court.
The tomb is majorly made up of Red sandstone. The stonework on the outer side of tomb is in quite a dilapidated condition (material was stripped off for use in Safdarjung's Tomb), however, pathways and lawns are beautifully manicured.
The tomb was built by Khan-i-Khana's (Rahim's) wife (1598) and the poet as well as administrator in Akbar's court was buried here after his death in 1627.
The mausoleum is serene and quite airy appropriate for a poet's sepulchre. It was said to be adorned with precious stones which were later stripped off. There is an underground room which seems to be locked all the time. The patterns and designs resemble those of Humayun's Tomb nearby. Even in its dilapidated state, the tomb looks glorious with Mughal architecture features.
It's located on Mathura Road in Nizamuddin's east residential area.
History is quite intriguing at times. Like how could a son of a scandalous Mughal general turned out to be a poet!