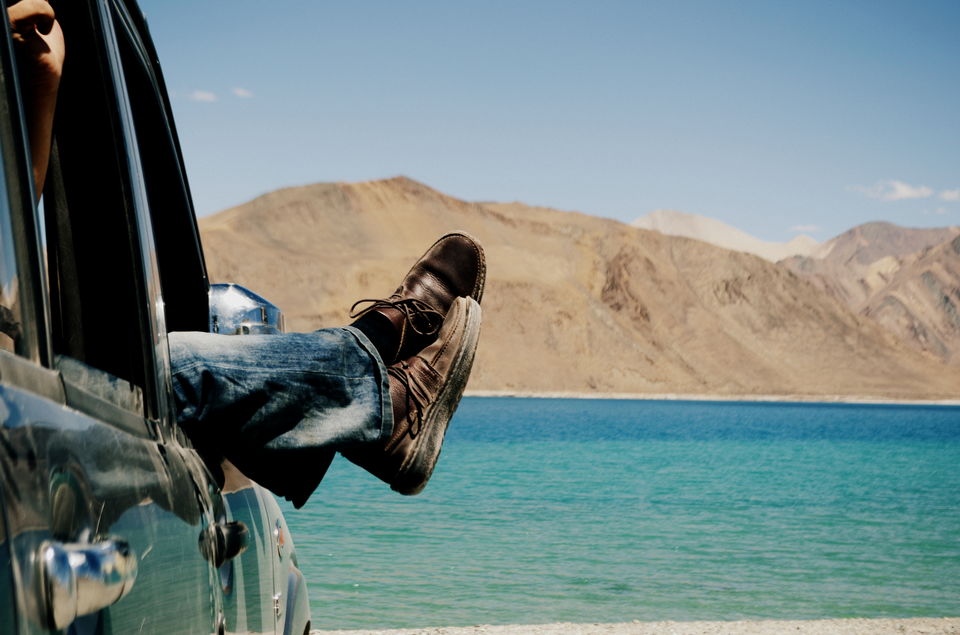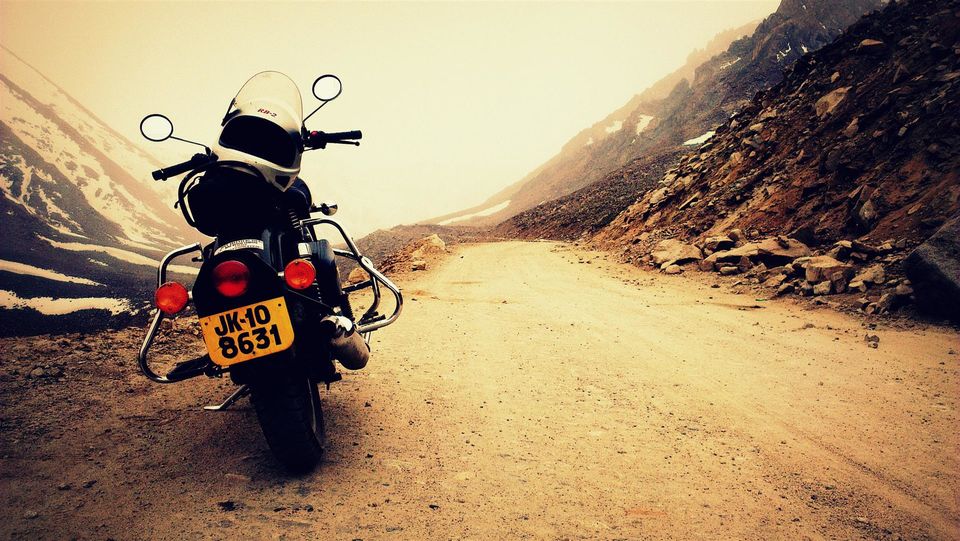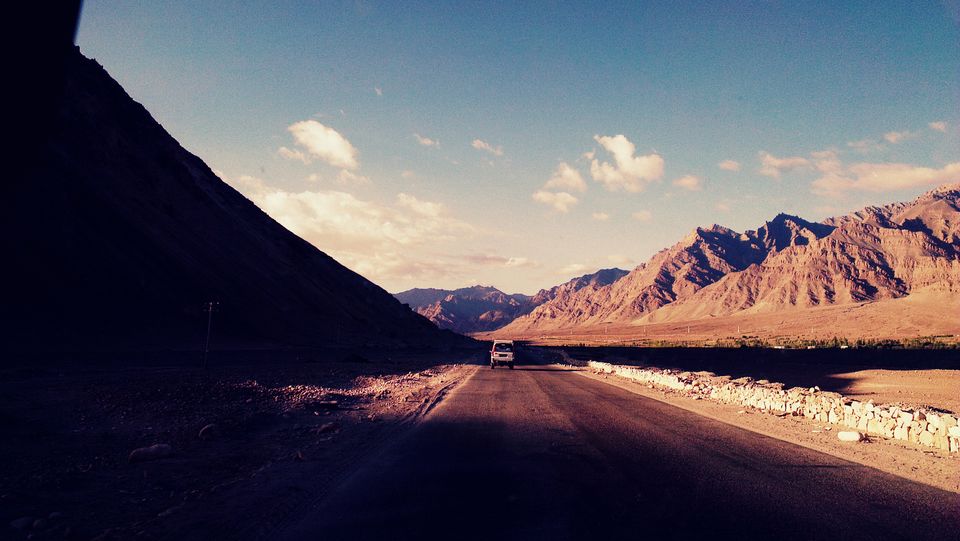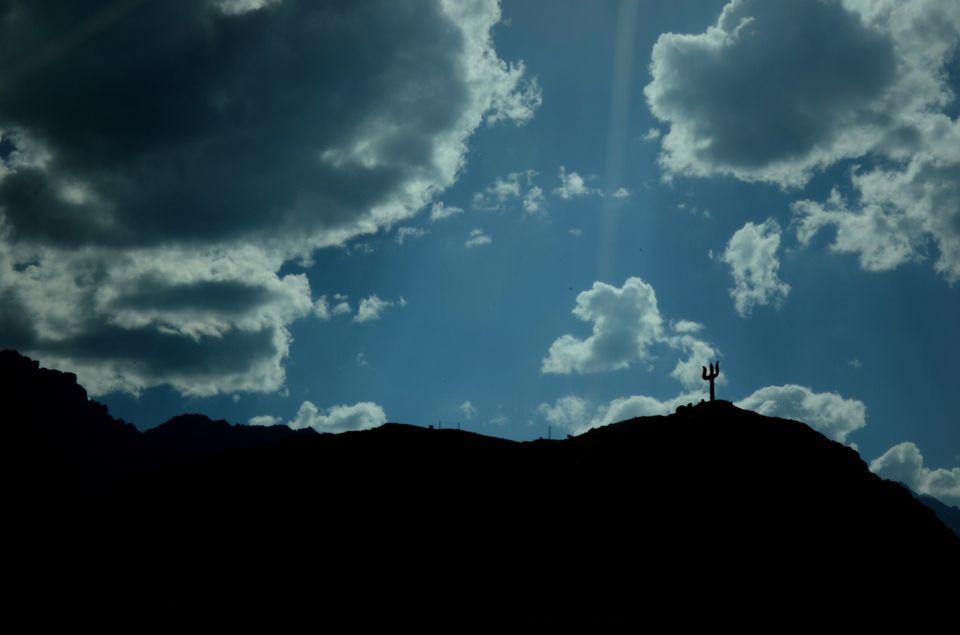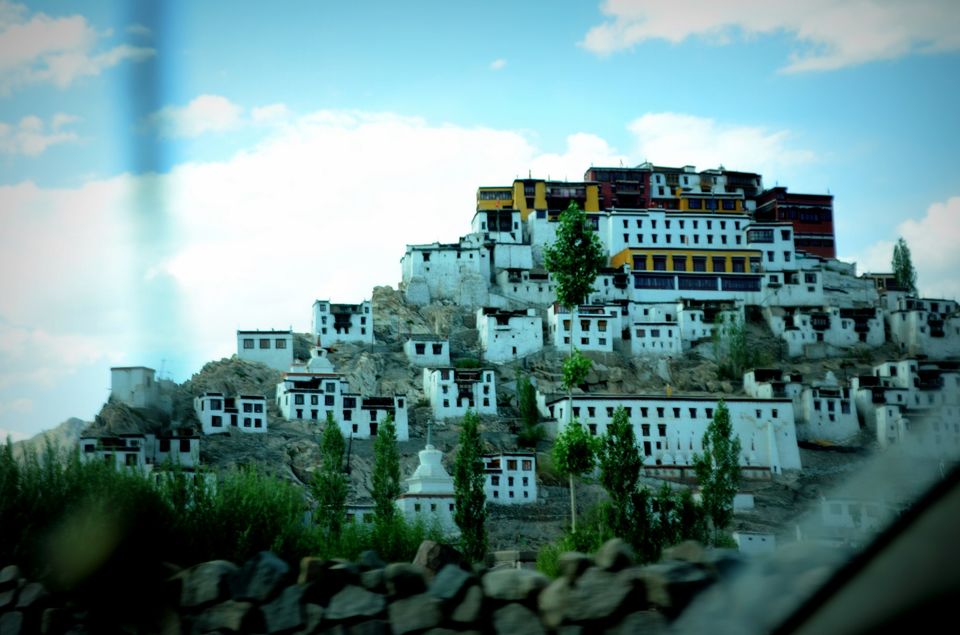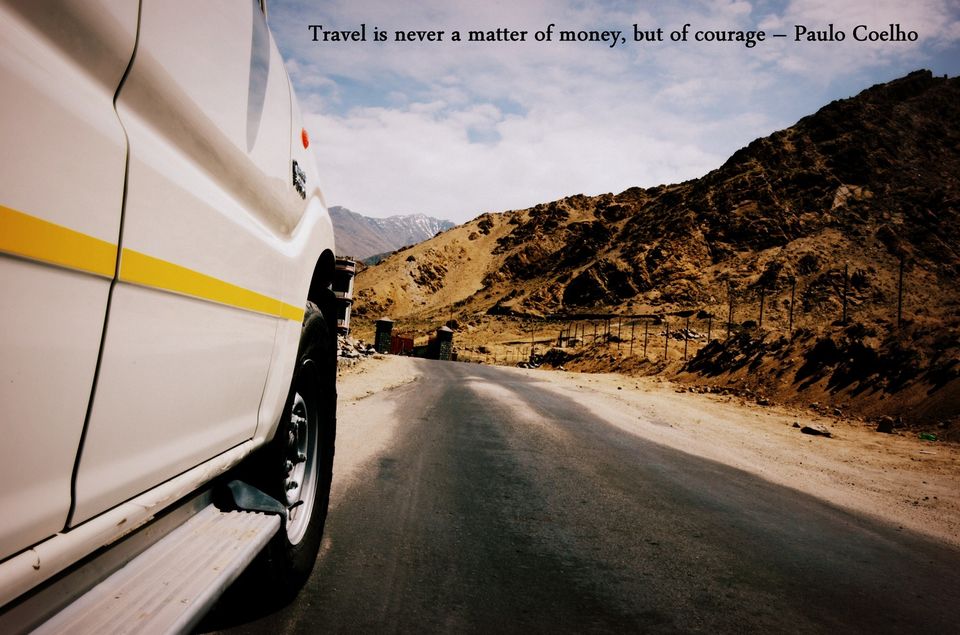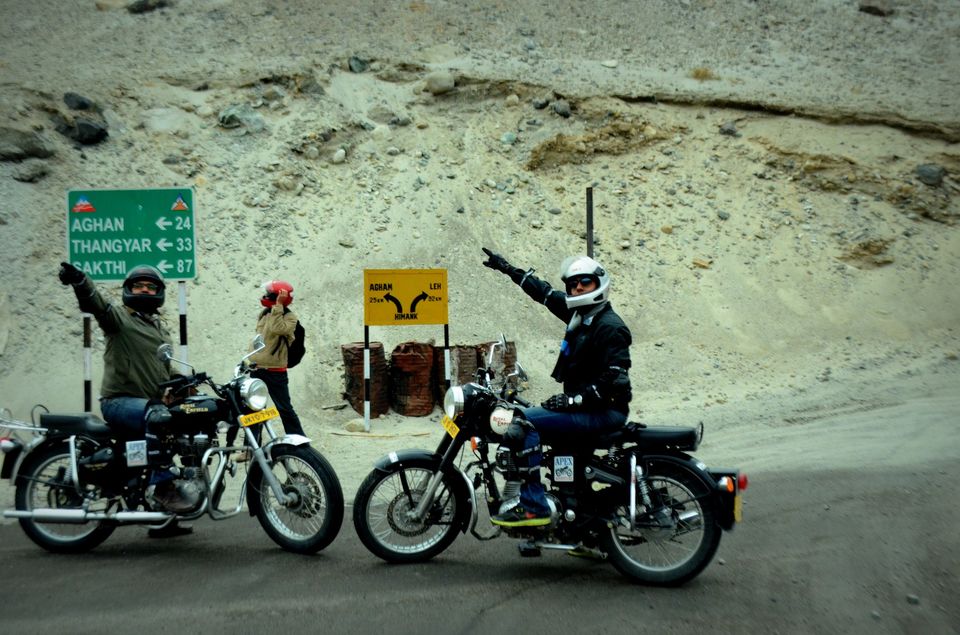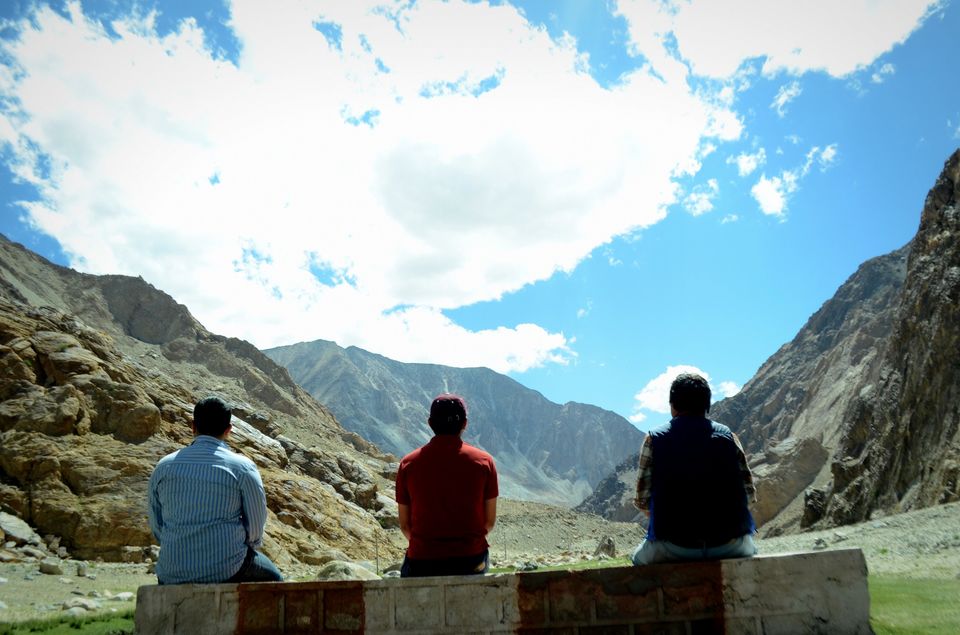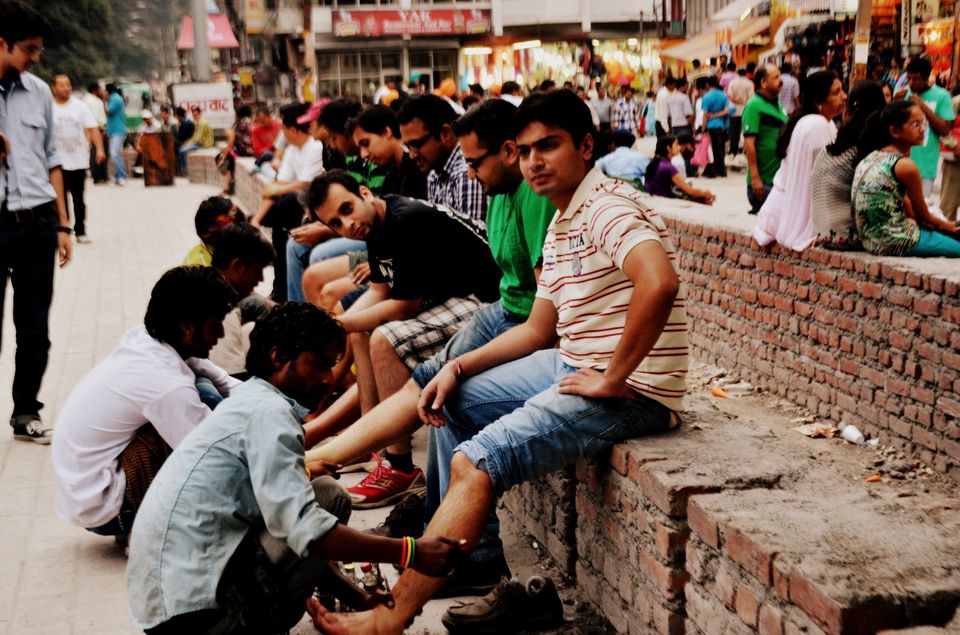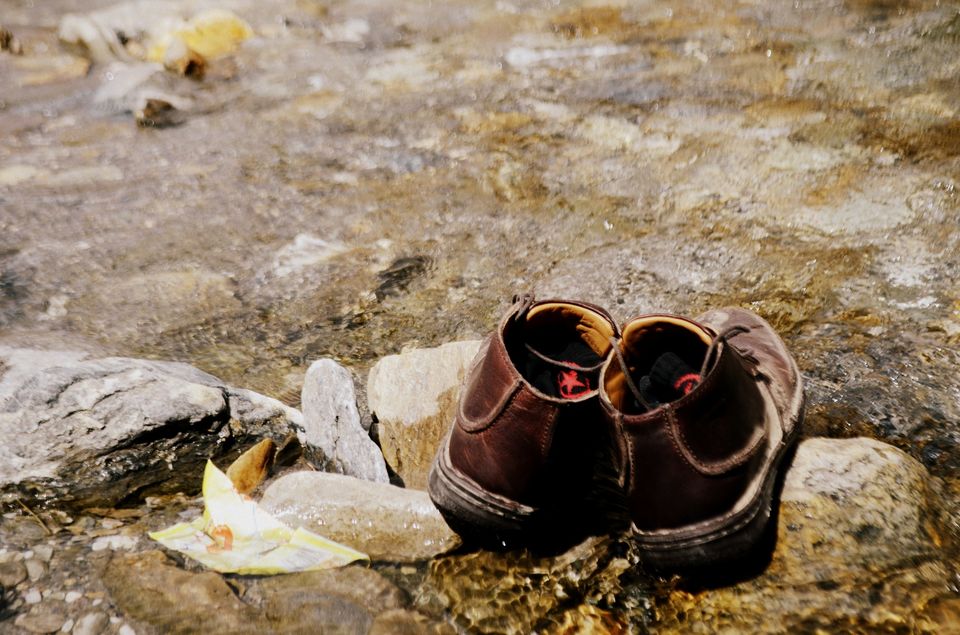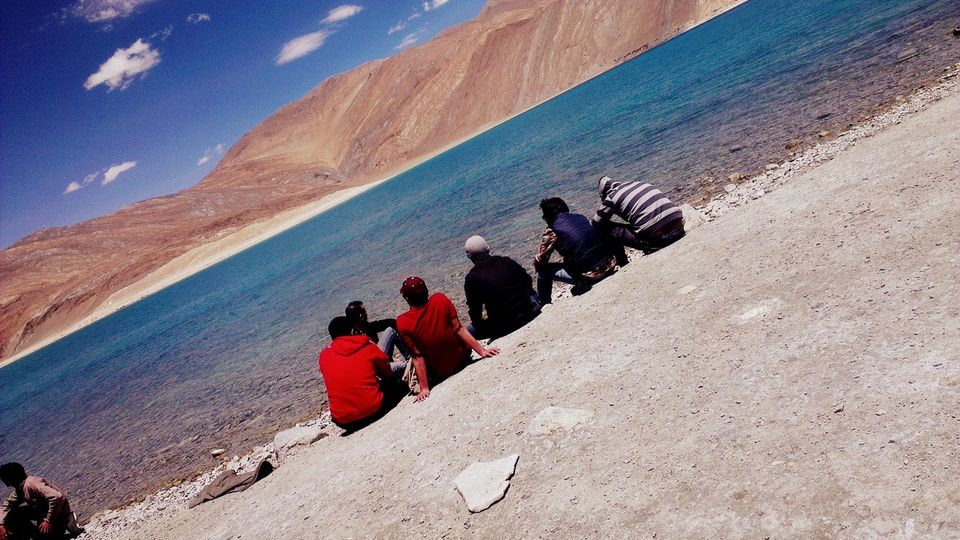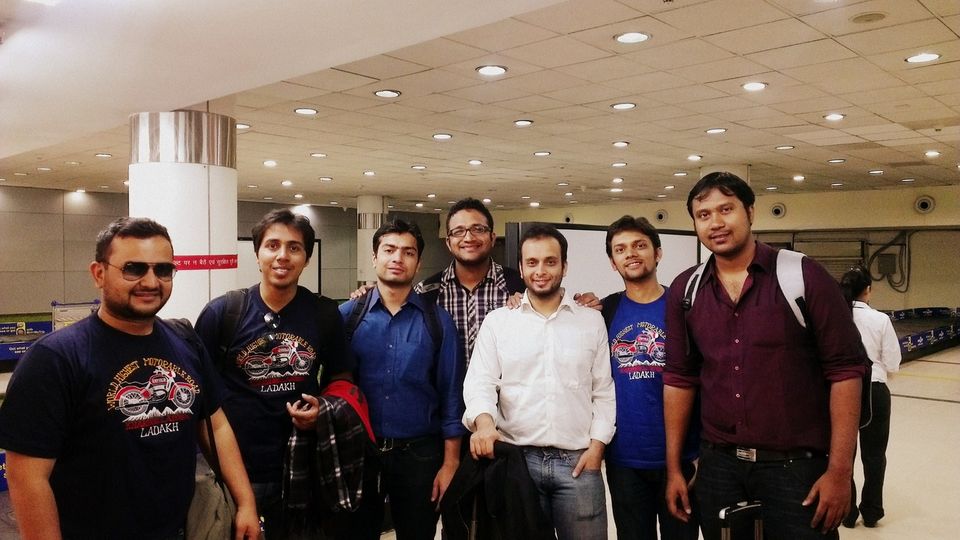 "Nubra kahan hai?" Whereis Nubra?
"Chalees kilometre se Nubra hi chal raha hai." Nubra started since 40 kilometres.
We were eight friends, traveling in Laddakh. Four of us,the more adventurous ones decided to take on the Laddakh-ian roads on Bullet.The other four took a Scorpio. We were going to Nubra Valley.
After several kilograms of Maggi and numerous litres of tea, we realized we were nowhere close to our actual plan.
When we started from Leh, we thought Nubra Valley was a point where our camps were laid, and we would assemble there. Khardung La was last where we met our friends, and that was several hours ago. We decided to continue our journey.
Till that fateful junction, there was only one straight road. T-point is not good for traveler. We stopped there to decide which direction was the right direction. After a 30-minutes discussion, we decided to take the road which showed "Agham – 24 km". Like a T-point, assumption also is not good for traveler. We assumed that Agham was a town where we would find our camps and be reunited with our friends. I never missed them more.
As we drove towards Agham, we came across the best views of our trip – and lives. The nature was a little too much for us to absorb. We were awestruck – hills all around, running stream, lush green jungle, horses grazing, Laddakh-azure sky and clouds casting shadows on the hills. It was beautiful – surreal and frightening – like a witch.
What kept us going was the good condition of the road –we figured that the condition of the road was good only because of regularusage. After 10 km we saw first milestone – "Agham – 14 km". Post that,milestones started raining:
Agham – 12 km
Agham – 9 km
Agham – 4 km
Agham – 1 km
At "Agham – 0 km" we saw exactly ONE house. If the word "perplexed"has a superlative, we were it. We rode few more kilometers to check if there was any mode of communication. But that was like chasing a goose which was wild and non-existent.
We entered the exactly-one-house. It was a government rest-house. There were four residents: two children, one lady in mid-thirties and an old lady who wore sun-glasses even when there was no sun and was bent like the letter 'L' – upside-down.
"Room milega?" Can we get a room?
"600 per person" the lady told us in her broken English.
600? We would have given our right arm in exchange of that stay. 600 included endless cups of tea and delicious food.
After fixing our food and shelter, our minds wandered towards our friends:
"Wo soch rahe honge ki mar gaye hum." They might think that we are dead.
"Baap ko bata diya to?" What if they inform our fathers?
This was a scary – very scary thought. There was no way that we could contact them. Signals had vanished from our cell phones. We couldn't return either because it was getting dark.
"Bhaad me jaan de. Jo hoga dekha jaega." To hell with it. We'll see whatever happens.
With that intention we ordered another cup of tea and continued the banter, with nothing but sound of stream in background.
We were uneasy and apprehensive about all the things that happened in last few hours. We found no traces of civilization at a stretch of 60 km barring this house. There was absolutely no reason for its presence there. The idea, howsoever far-fetched, that the place where we were staying was not a place at all was unsettling.
"Abbe soch agar hum Agham ko Google Karen aur Google bole 'No such place exists', tab?Imagine if we Google Agham, and it says 'No such place exists', then?
"Snow leopard agaya to?" What if a snow leopard comes?
This conversation had dual purpose: one was to release the tension that we could taste all around, and the second was to take our friend's case who was scared next to death. As the chit-chat went on, we pondered over the next day's agenda.
The next morning we rode towards Leh. We encountered land-slides, and the vans which were crushed by them. It took us long to cross the roads which had land-movers, trucks and rocks along with us. Then snowfall started – out of the sunny sky. And sun left us and hid behind what once looked like innocent clouds. Gloves did little to keep the fingers warm, and driving got difficult. The friends on the other Bullet got separated, and didn't come for more than half an hour. The notion that they were lost – again – gave us jitters, and we started laughing – nervously.
"Wasn't this supposed to be a fun trip?" we asked HIM.
By late afternoon we saw Leh – from a distance. Suddenly everything became rosy. Suddenly last one day became the most happening day of our lives. Suddenly we were thankful to the almighty that we witnessed such things. And we felt safe: the familiarity returned. The last 24 hours felt like a tale which was but to be told.
We met our friends at the Guest House. The silence was broken – badly by loud laughter and cheering, and then by louder discussion about what happened. Everyone had to tell their stories. When one started,others added. Then the other party intervened with theirs. It stopped only when the Guest House owner requested us to leave for our rooms lest he would kick usout. We all sat in one room – eight eager and excited people to share the experiences they had – good and bad, exciting and scary. That turned out to be THE moment of our trip, the best memory.