Off I go, to the place I've never been
Through the curvy roads, in the shadow of trees, the dark nights too shall pass,I crave for the cold breeze hitting my face, it gives me a different high..
I ask myself a question, why didn't I do it before; why o why ohh why !!
As I begin my journey back home, all I'm left with, is bundles of memories of my first ever solo trip. I sit back and start reminiscing on how it all started…
It took me over a fortnight of building up of courage to prepare myself mentally for this five day event. My friends were as surprised as I was, when I told them about my decision of travelling solo. Especially so, that I had chosen to spend New Years by myself. Considering the fact that I love being around people, my dear ones had a tough time believing that I would go through with the plan.
Eventually, the planning began. Since the ticket price usually hikes during the holidays, I thought I'll give myself an extra edge, by making my bookings advance. Let me tell you this; More often than not, Kasol turns into a hub for party goers, hash lovers, LSD worshippers, even so during the New Years. After some research and comparing ticketing prices, I finally made my bookings and a fairly reasonable rate. Delh-Bhuntar trip costed me Rs.1400.
The day of travel final descended upon me. I packed a few essentials and left for the pick-up point; The Delhi-Karnal bypass.
My habit of being on time, resulted in me reaching earlier than the bus. A part of this was the excitement to commence the journey that I just couldn't contain.
An hour later, as the journey began, my mind began painting beautiful pictures of the scenarios that I would see. The hills, the flowing rivers, the country side, filled my mind and gave me a different kind of high. The contemplation of what I was about to witness, the eagerness to see it all, to soak it all in a limited amount of time, thrilled me to a level I hadn't known I possessed. With those happy images, I welcomed sleep with open arms, only to be jolted awake in an hour, in front of a Dhaba in Karnal. We still had quite a while to go. Smoking a couple of cigarettes, and a few coffees later, we resumed our journey.
After a couple of more stops, we finally reached our final destination, Bhuntar. From Bhuntar, I boarded my bus for Kasol. Aah! The real joys of public transport were yet to be experienced!
As soon I reached the final destination, I rang a friend who was already there. And what he did was set me up to meet a guy, who would later take me to a café called Bhoj. That's where all the "steamy" people like to be at. Not the kind of place that captivated my interest but I gave it a shot. I sat with some strangers who were busying smoking up.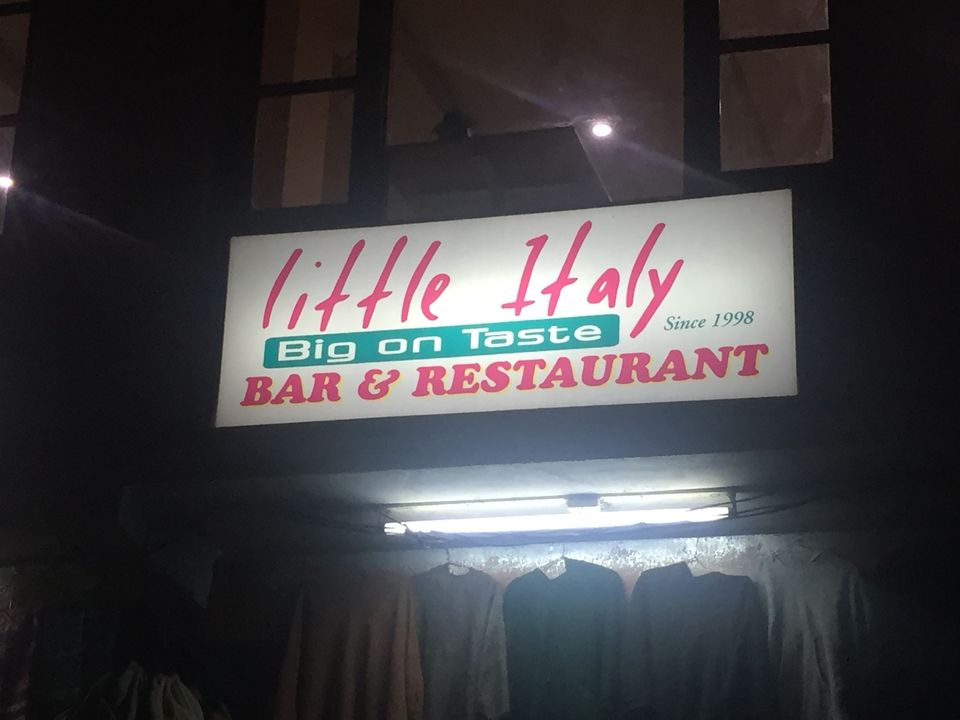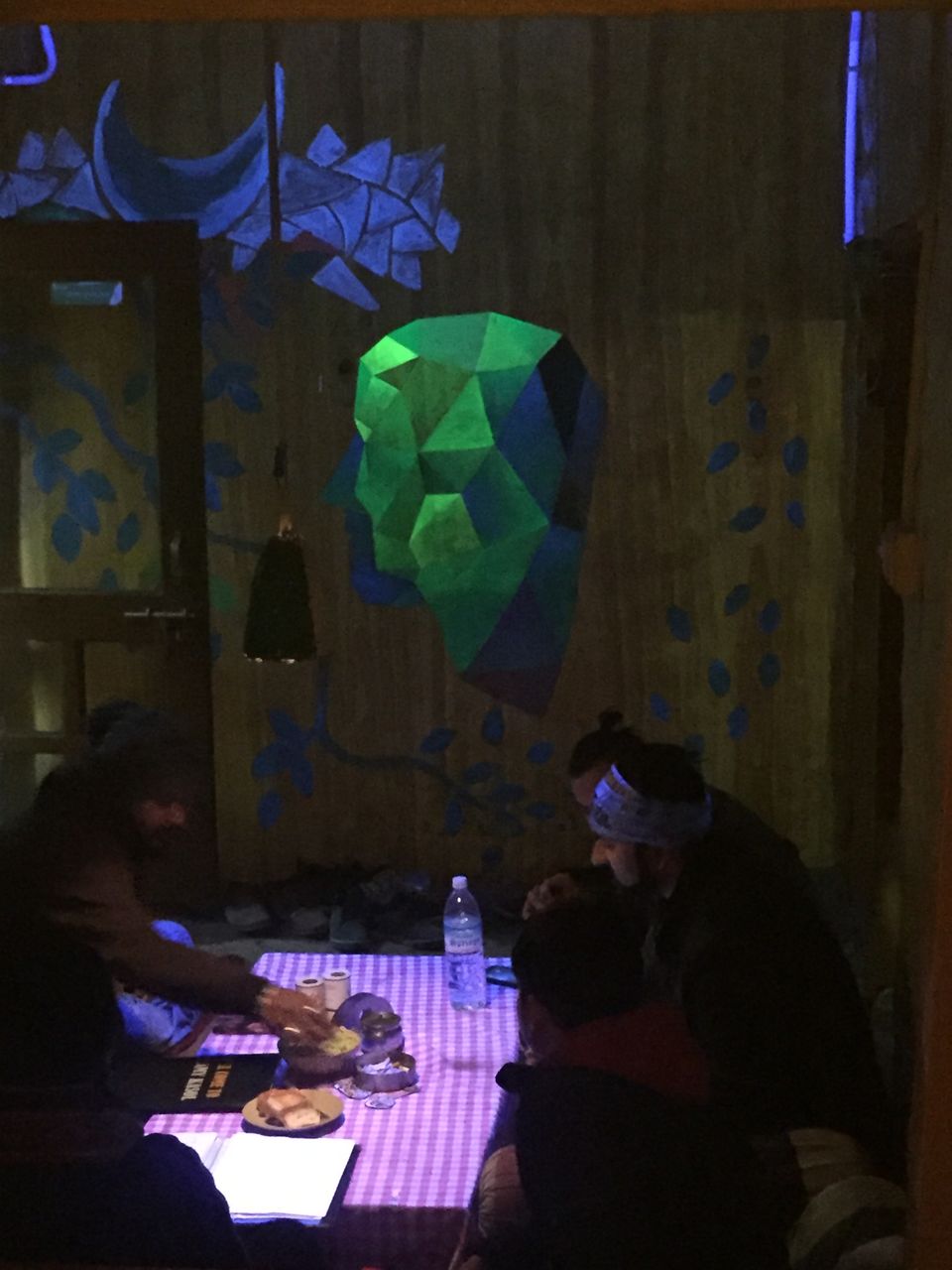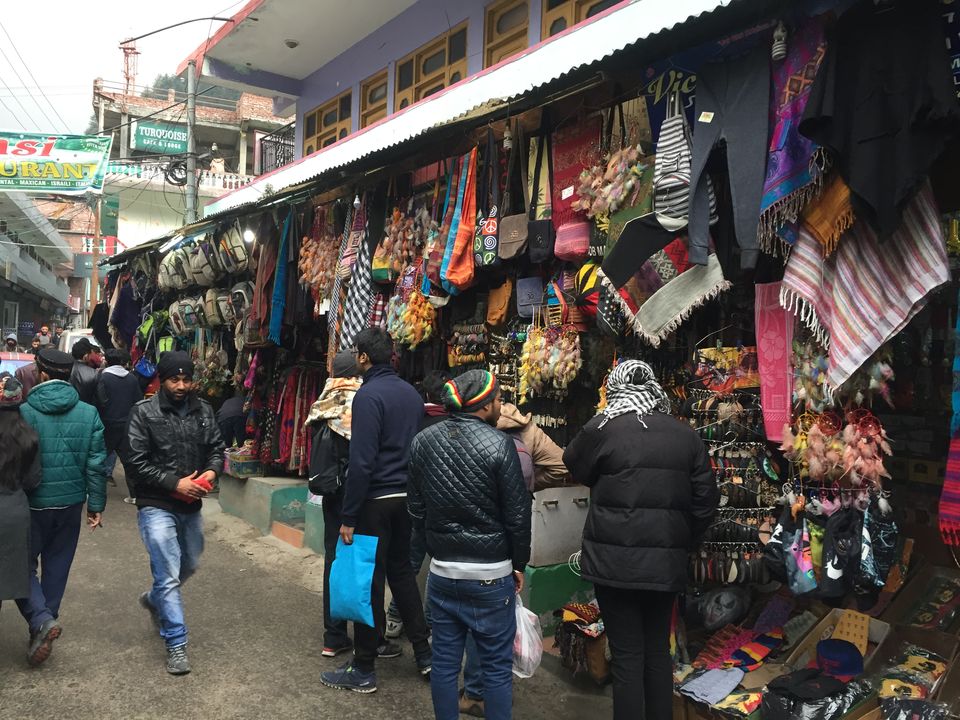 All that travel made me hungry. So by the time my friend eventually arrived, I had gulped down an omelet and a few cups of coffee.
After a quick tour of the café and its significance, the hunt for a room began. Since I had turned up late, the room booked for me, was given up. My friend was kind enough to let me bunk the room with him since all the other hotels were either full or far too expensive for a solo's person's trip. Finally this friend decided to accommodate me in his tiny room. After making a few accommodations, we made our way back to Bhoj café. This time the environment was warm and cozy; with the tandoor lit and people 'lit' around it.
For someone, who likes to do everything at a fast pace, Bhoj Café's service could really test your patience. A simple cup of chai could take as long as thirty minutes and the food could easily take over an hour. Tipping the waiter well in advance would bump up your order to a minimum thirty minutes but expect nothing sooner than that. But if you're friends with the owner (Or manage to befriend him really quickly) you're free to go to the kitchen and cook up a storm yourself, and yet pay for it.
As the food reached our table, the year 2016 reached its final end. The year of struggles, hopes, failures, experiences, all came to a happy end. We bid adieu to the year gone by and welcomed 2017 with a big hug. In that particular moment, everyone was so happy, so content. I could see a ray of hope in each and everyone's eyes. A hope for a better tomorrow, a better future.
After an hour, we bid our farewell to the lot and called it a night. I had a blissful night, unaware of the fact that what would be in store for me tomorrow.
The next day, due to major traffic congestion, I decided to trek my way up to Manikaran; The place known for its hot water springs & Gurudwara Shri Manikaran Sahib.
After finding myself a room, I decided to take a dip in the hot water springs but I couldn't because of the high temperatures of it! So I just followed the suite; I took a little water in my palms, just like everyone else and did whatever best I could.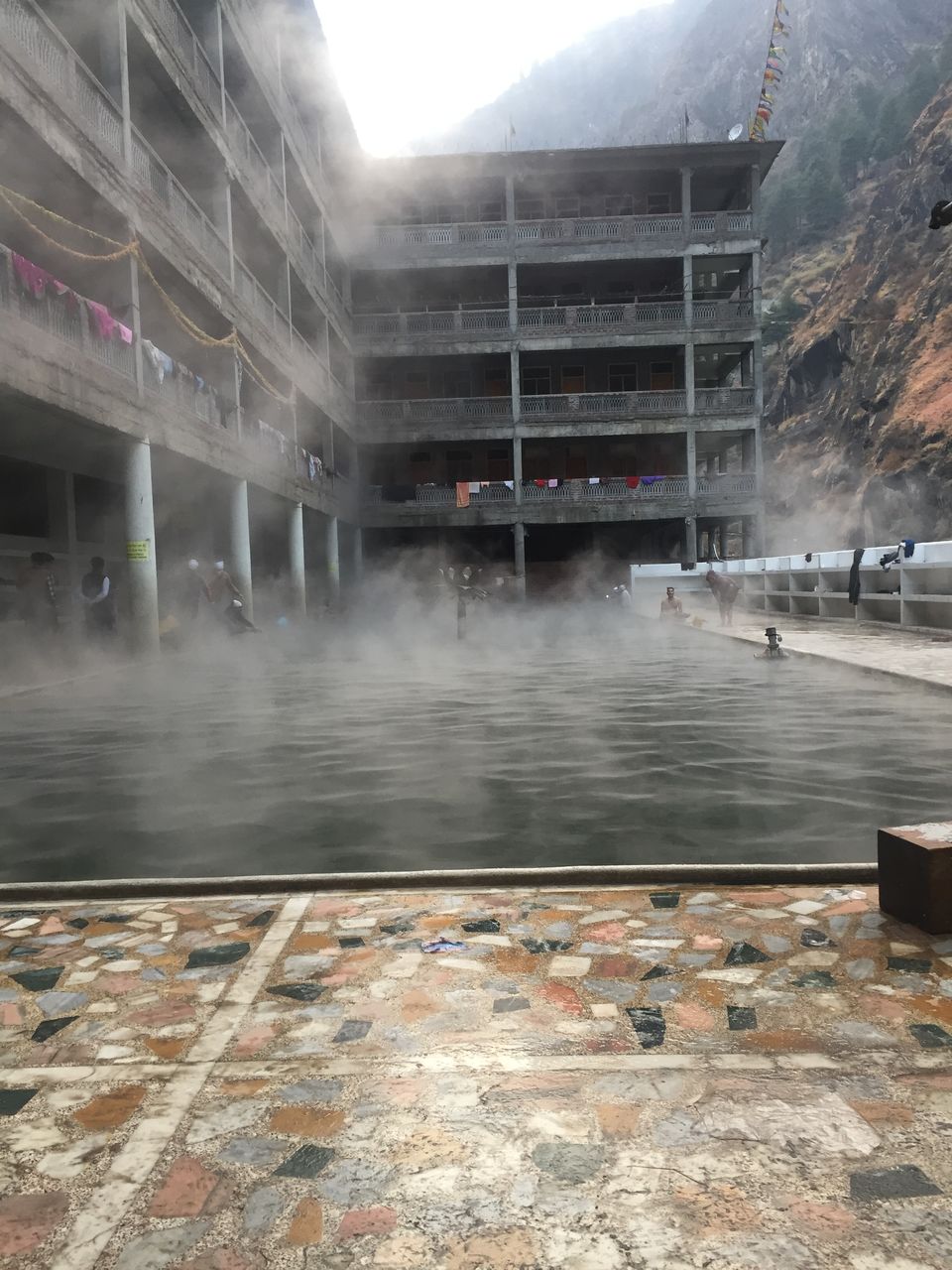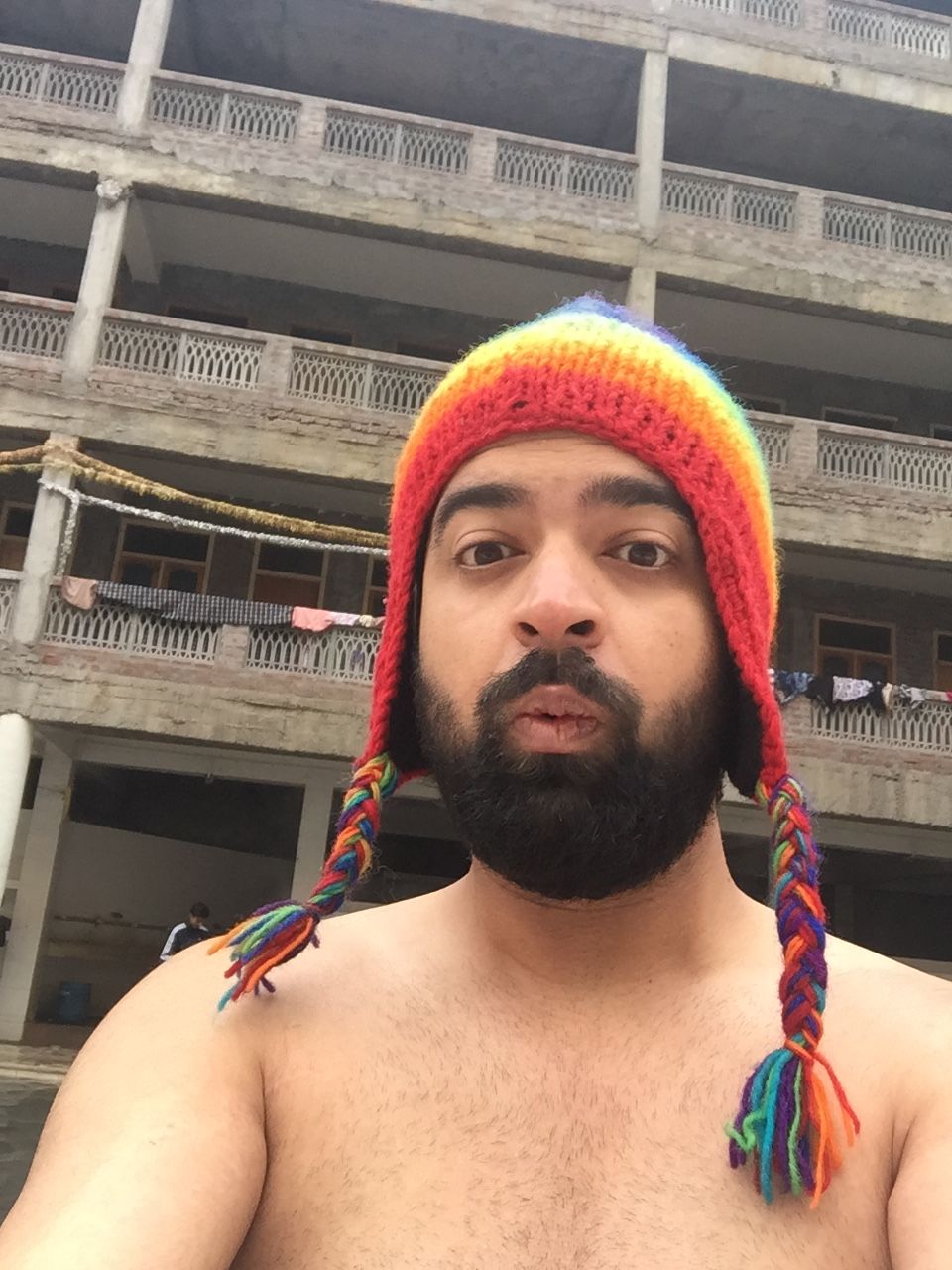 Due to the high temperatures of the springs, one wasn't able to decipher the actual weather conditions. Once out, the cold hit me in the face and I realized it still very much was winter! Curiosity got a better hold of me and I asked around, the one question that had been on my mind since I read about Manikaran; Why was the water so hot in this spring and where did it come from? But unfortunately, no one could help me. So I gave up, went to the gurudwara, paid my respects, ate langar to my heart's content and returned to my room.
I was looking forward to spending the first day of the New Year by myself. I bought an Old Monk and was ready to settle down but as luck would have it, I received a text. Your best friends, somehow know the deepest of your emotions, no matter how near or far you are. So there I was, in Manikaran, having a video conference with two of my closest friends, one in Dubai, while the other was in Canada. Times like these, I truly bless the boon called Technology! They found it hard to believe that I actually made it to the solo trip! We talked for a bit, our usual banters ringing through our ears, wishing everyone were together, we eventually said our byes and I hit the sack as soon as the call was cut.
I woke up early the next day and tried to take a dip in the hot water springs before leaving the place. This time I succeeded and how! I managed to sit in the hot waters for about thirty minutes and I felt as though all my sins were beings washed away. With a peaceful mind, I headed to the Gurudwara, ate the langar and left for my next destination; Tosh.
Since the number of buses going to Tosh were less, I decided to wait on the road. As luck would have it, a mini van driver offered to take me up. Since he was the owner of the lorry, he said, more the people, lesser would the trip cost. So as soon as a bus, came to a screeching halt and a few passengers got down, I tried convincing them about the scenario. And soon, I had a bunch of people ready to go to Tosh in a minivan !!As the journey commenced, I was left to gaze at this beauty of nature. The cold winds hit my face and oh! How welcomed I felt! As we got uphill, the roads got narrower and the scenic views got better. It took us almost an hour to reach the top and Tosh was another kilometer away. So I began my journey by trek again. As I reached the top, I was welcomed by a bunch of people dancing, whilst listening to extremely loud music from their cars. Clearly, Delhi-ites find their way to bring their Delhi-ness anywhere and everywhere. I enquired around about the hotel my friend had recommended and was told it's yet another kilometer, uphill. Heaving, panting, through the tiny wooden houses and shops, I finally made way to the hotel. Once on top, every muscle ache, every heavy breathe was worth the view that I got to witness! It was breathtaking.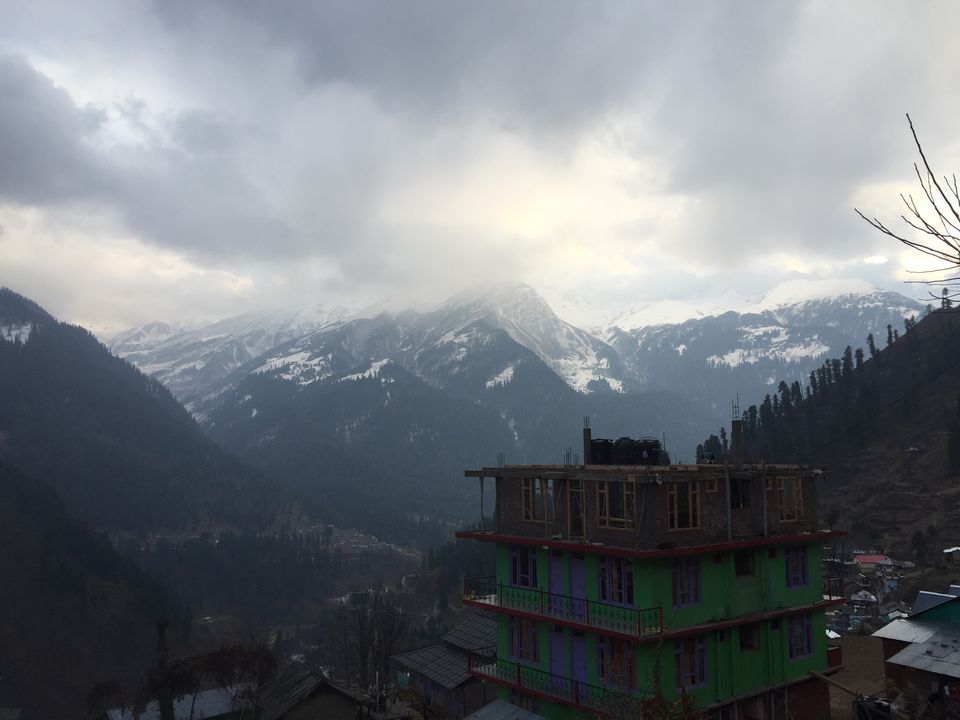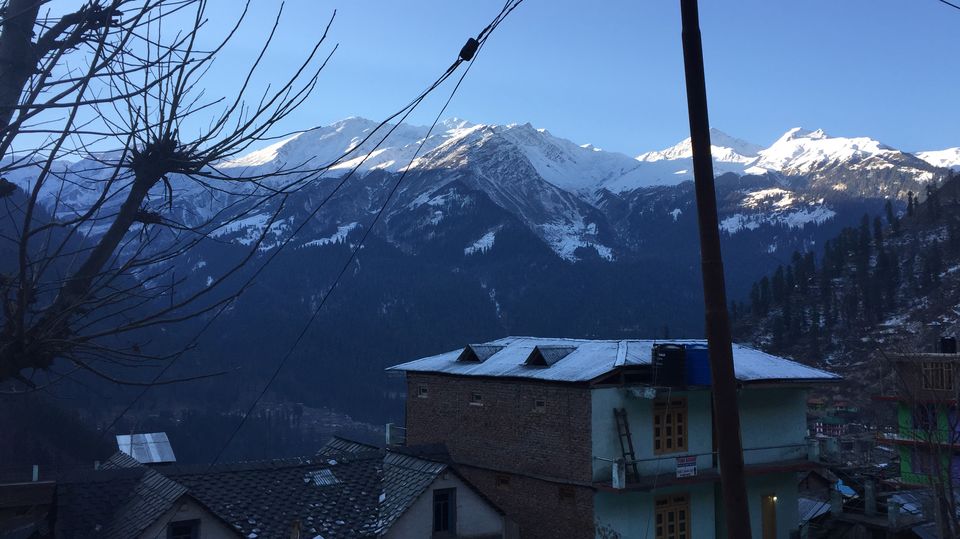 I quickly checked-in the hotel. It was a pretty decent one. I threw my bag in the room and wasted no time in coming out! The hotel was situated on a plain patch on a mountain. I quickly checked into a hotel my friend had suggested. It was a decent hotel. I got to know a little about the hotel and the owners. They had cafes with wood fires in the middle, surrounded by mattresses. Since it was daytime, I decided to sit out in the open. I ordered a cup of coffee, lit my cigarette and sat in peace by myself. Apart from myself, there was just another table of five. It may be a pahadi (mountain) ritual but even now the coffee took twenty five minutes! This time I was well prepared. By the time, my order was served, I decided to ask for another one.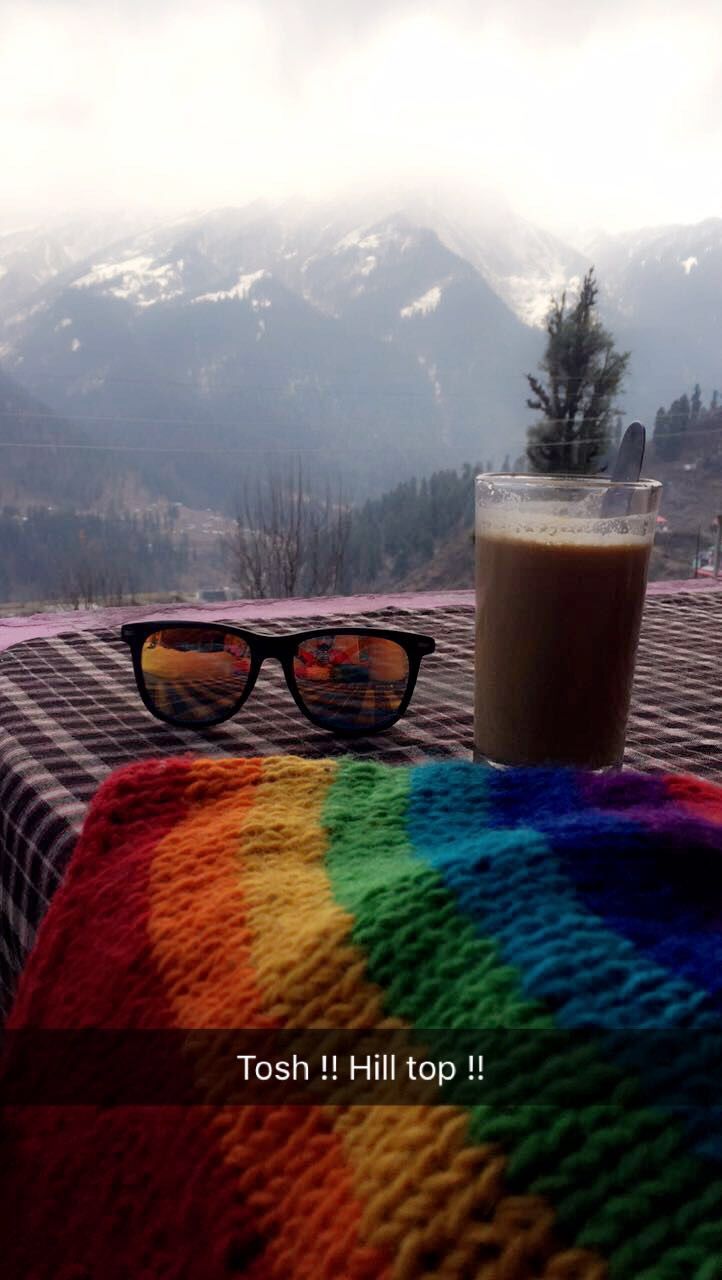 While sitting there, I observed a gentleman making gestures while in a serious conversation on call. He soon spotted me, lit a cigarette and we started conversing. Since it was day I decided to sit outside for a while and ordered a cup of coffee and lit a cigarette. He then asked me to join and his friends. Maybe this is what travelling solo does to to you. Here I was, in the middle of nowhere, sharing cigarettes and conversations with complete strangers. It helps you open up a lot of barriers that remained shut within yourself for a very long time. Here I was, in a beautiful place, interacting, laughing with absolute strangers as if they were some long lost friends. We were so busy having a good time, that it took us a while to realize that it had begun snowing! Oh the glee on my face! I rushed outside and felt those flakes on my face. The feeling was surreal. With that happy high, I left for a walk. Just me and my thoughts. After having a while, I returned to them, played a round of uno, made merry, had dinner and bid them goodbye and fell asleep as soon as I hit the sack.
Next morning, I woke up early, hoping to catch a glimpse of that snow again but it had melted away. I got ready and headed out. The sun was shining bright and for once, I soaked in all that energy it could offer me. I felt calm and composed.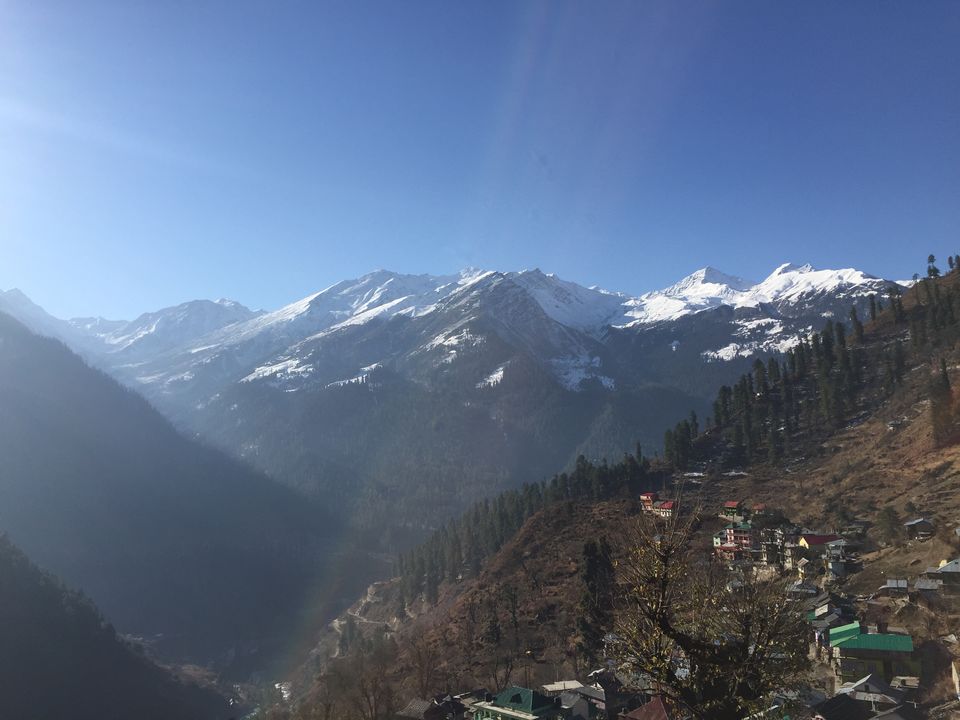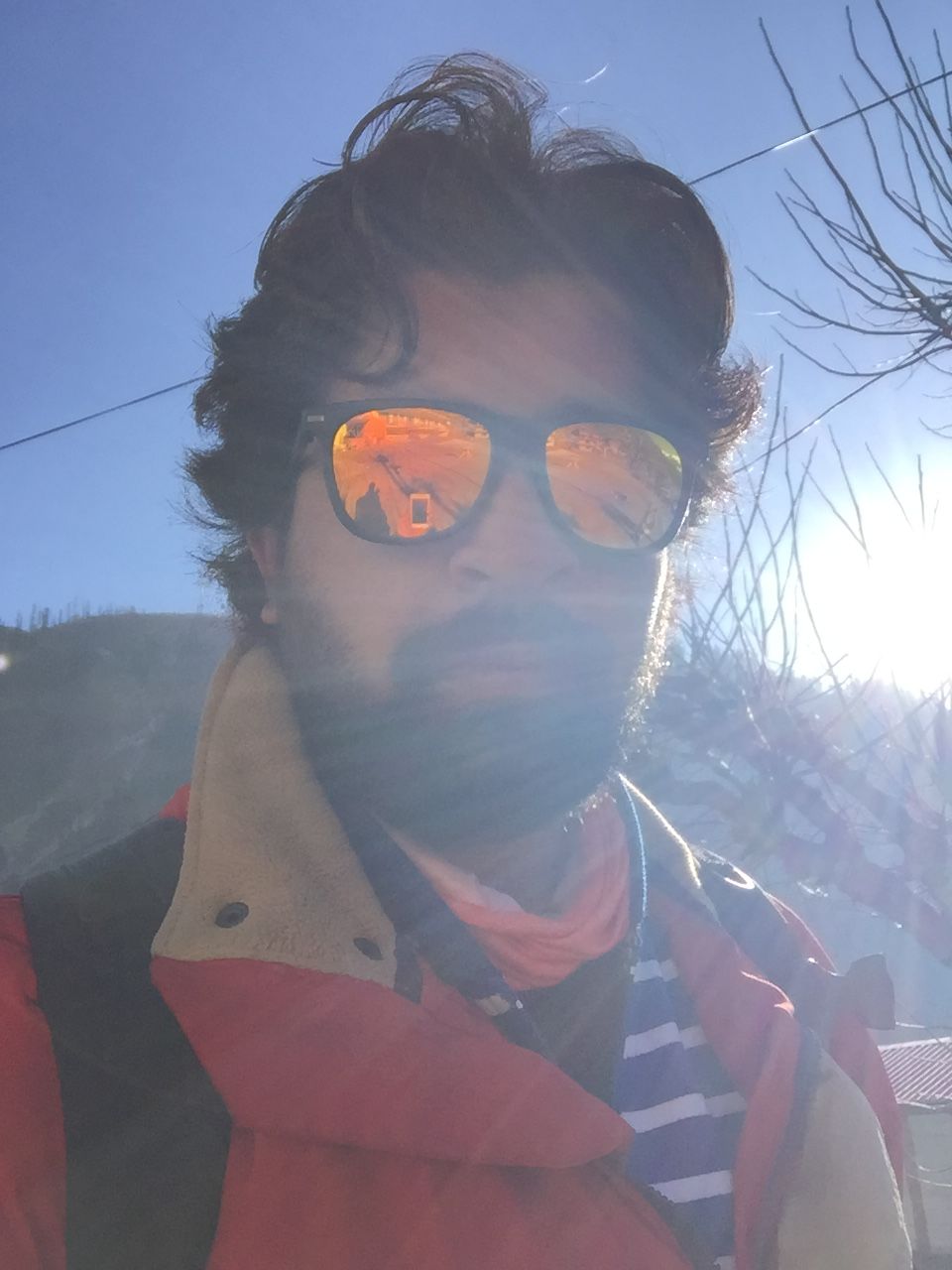 Soon it was time, to start my journey back home. After a tiny battle within myself, the logical side won. I paid my bills and began the journey down. I trekked my way to a place from where I could board the bus. During the trek, I fell a couple of times but I was far too busy taking pictures, admiring the beauty around me, than to notice my steps. The trek down flooded my mind with a gazillion thoughts. I couldn't help but think about how peaceful the few days were. Just to be by myself. To forget about the worldly problems and just learn to enjoy nothing but your own company. We get so busy in the day to day life, in that hustle bustle that we forget to stop for a moment to admire what's around us, what truly makes us happy.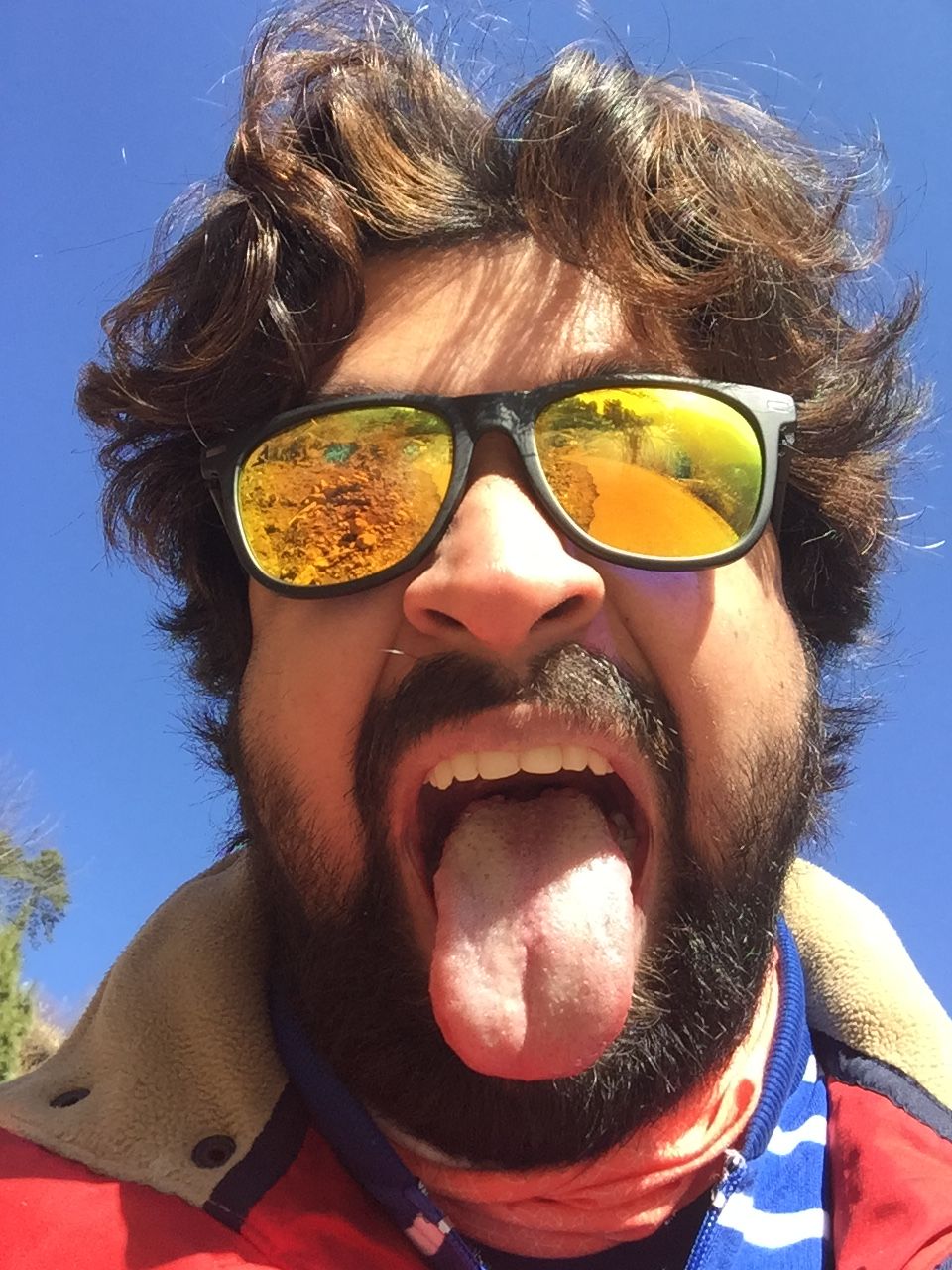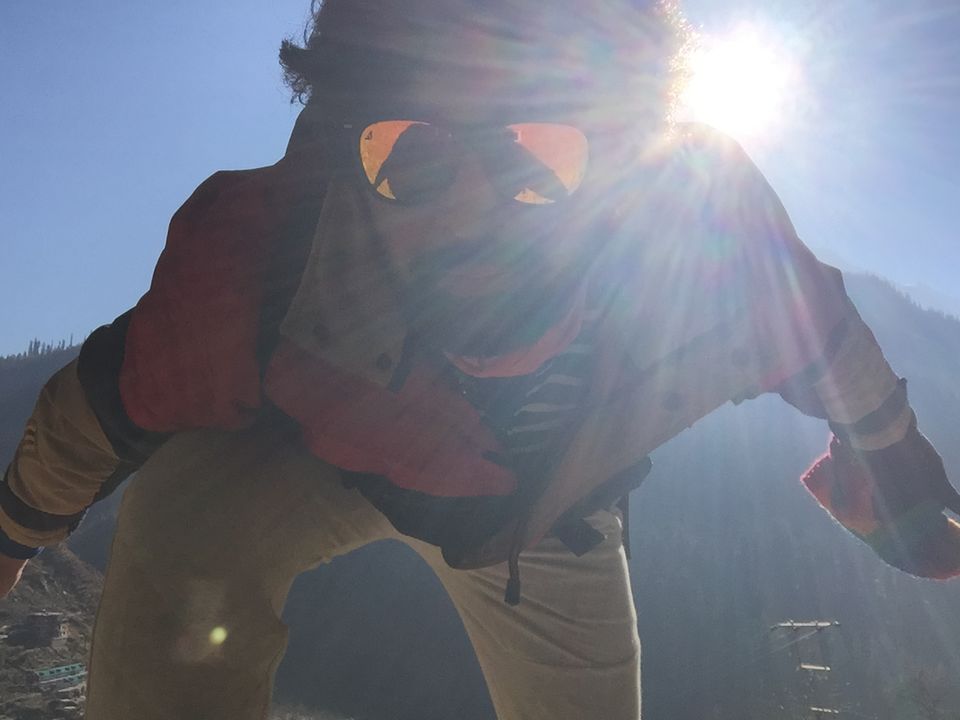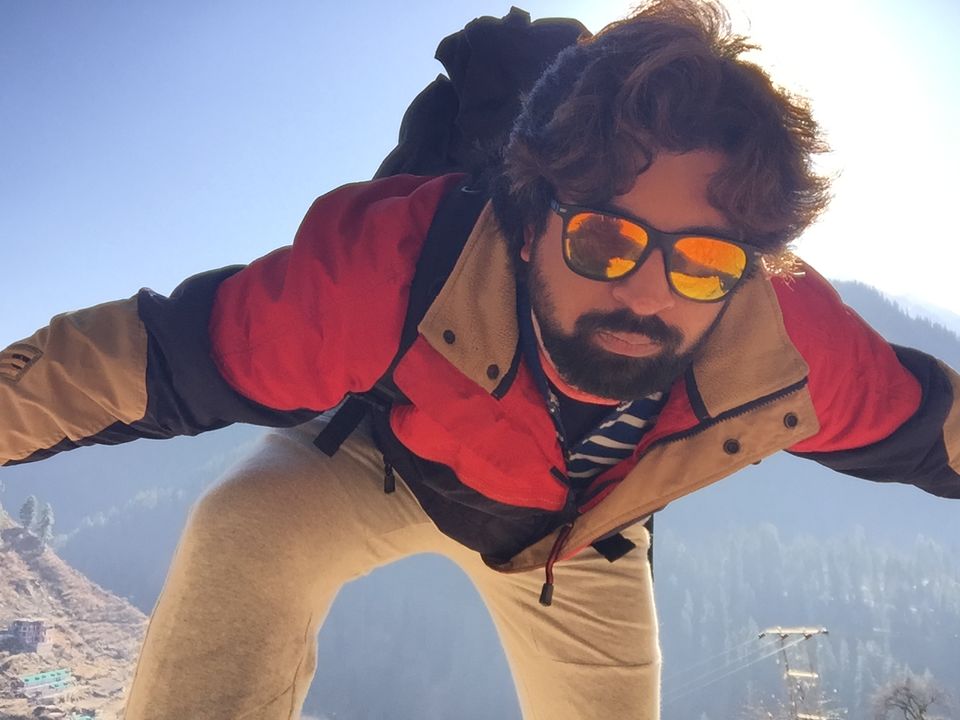 My solo trip made me realize that it is so crucial yet not emphasized enough to spend time and enjoy our own company. We often get so mesmerized and lost in the world outside, that we're often label people who like being by themselves as "loners". We judge them for wanting to find joy within themselves rather than being surrounded by people. I realized that being by yourself, you may or may not find yourself but what you do find is the capability of enjoying nothing but your company. Try it sometime. You owe it to yourself.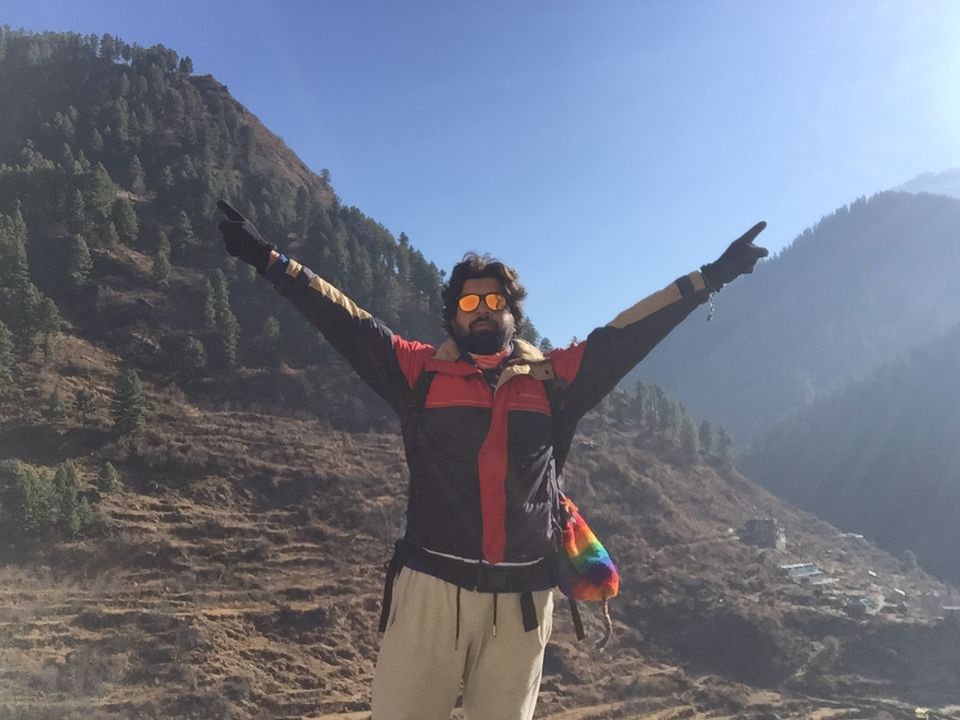 P.S.: I have posted a little video of the travel , it'll tell you how much fun it could be to just be by yourself.. Watch it till the end you will love it. And it definitely will make you want to travel alone !!!
And lastly a special thank you to jayybhasin , a foodie and a traveler herself, for helping me publish this..