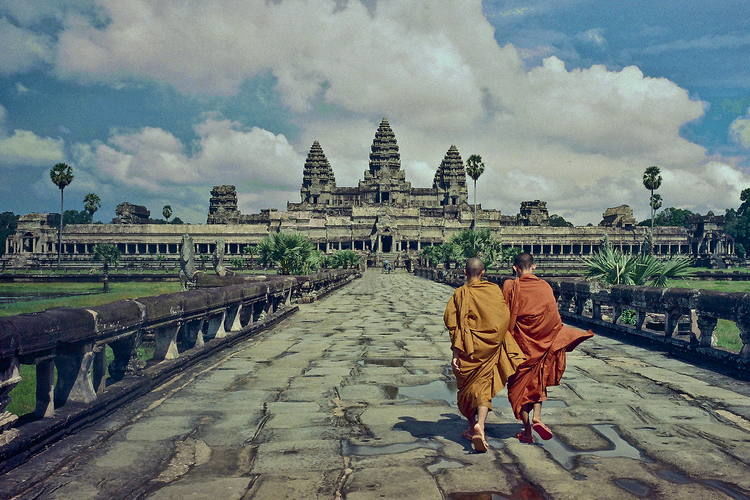 Seeing Angkor wat was on my bucket list for long time.Ever since i heard a tamil king built a temple in Cambodia,i marked Cambodia in my travel list.Siem reap is the place name where all the temples located including Angkor Wat,Bayon temple etc.I could devote only 2 days out of my 10 days trip including Vietnam so my friend and I wanted to see just Angkor wat to satisfy our soul.
We flew from Da Nang,Vietnam to Siem reap,Cambodia in the evening flight.Siem reap is more tourist friendly and english is widely spoken.There is a misconception that Cambodia is not safe for travellers but as per my experience only in Siem reap i can vouch that it is very safe and secure for anybody.
We opted for a day's trip to cover 4 temples including sunrise at Angkor wat through a guide who was recommended by our hotel staff.After a night's stay at the hotel (reserved earlier through Booking.com)we started our next day at 4 am.
Since siem reap is filled with all sort of temples, ruins and architectural marvels Cambodian government collects some sort of fee for seeing all the sites.There is a package like 12$ for 24 hrs,1 week etc.We are limited with just 24hrs so bought a ticket which has your photo and information about the package type.
By 5.45 am we were in Angkor wat to capture sunrise.A large set of people from all over the world is waiting to see the same.In front of the Angkor wat Crowd is thronged around the pond.Lot of lillies were also ready to bloom on mere sunlight. Don't let google images fool you, it is very difficult to see the whole site without any disturbance let alone taking a good picture.Anyways this is pretty common for any tourists place.The day we went was gloomy so we could not see proper sunrise over there.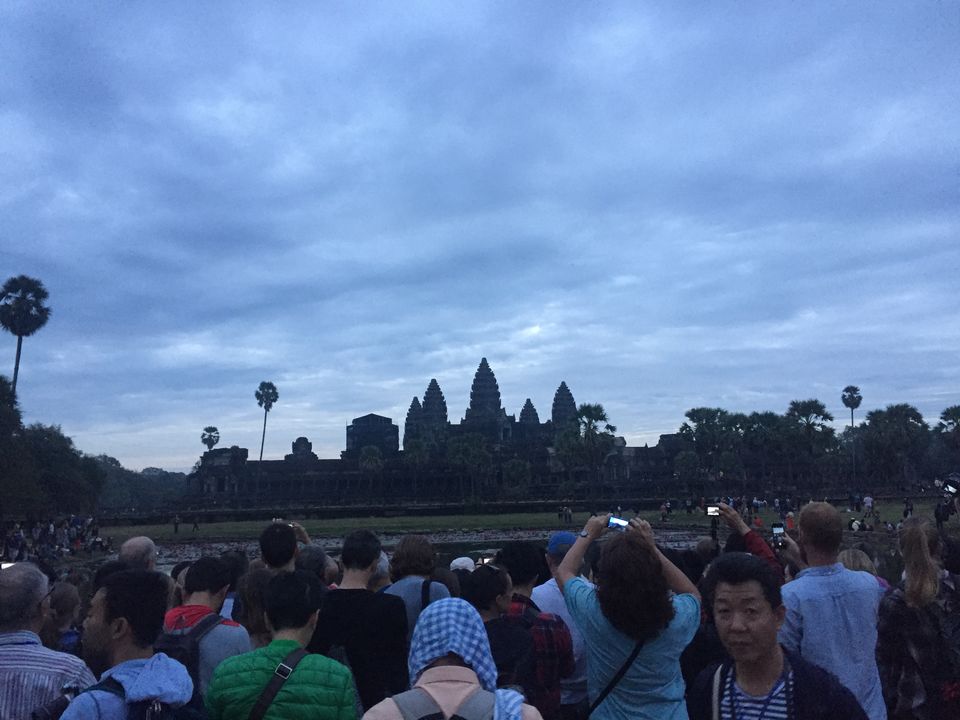 This temple is pretty huge complex and the walls are carved with reliefs of Mahabharata story.Earlier this temple was dedicated to Vishnu later it is transformed to Buddhist temple.It was built by Suryavarman II
Though it was abandoned after king's death, it got restoration after Cambodian civil wat and functioning as buddhist temple.There are so many corridors in the temple complex.No words can justify its beauty and one needs to stay inside the temple complex at least for 6 hrs.