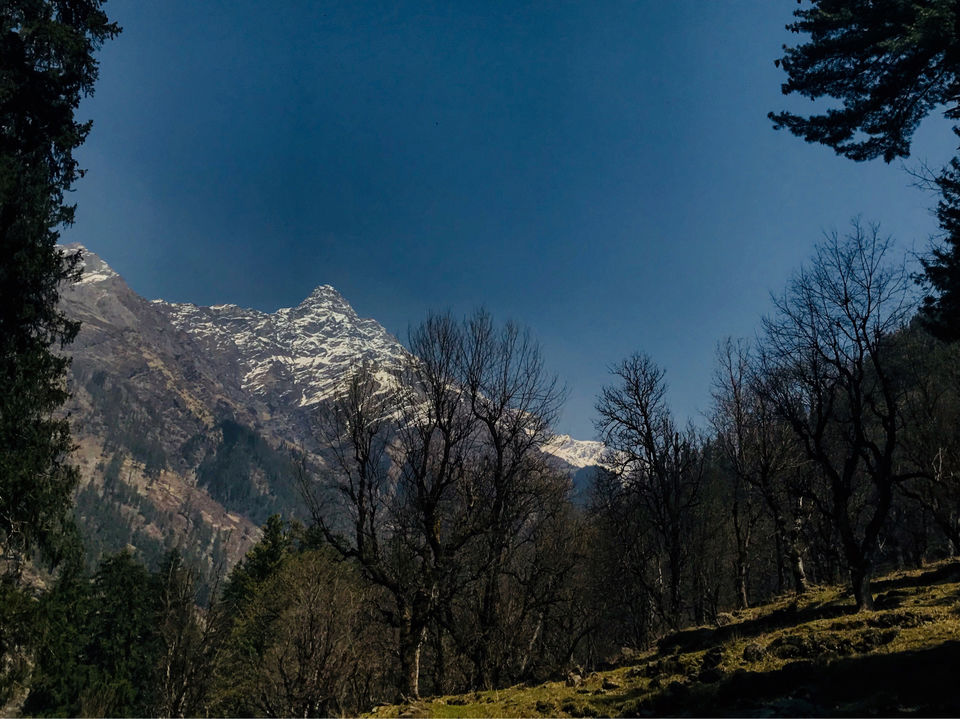 Date 29-03-2018 Thursday Time 1730 hours : All of us met near RK Ashram metro pillar no 9. We waited for almost an hour until the bus arrived around 1830. We finally boarded our bus and left around 1900 hrs. The bus ride was a bumpy one with lots of stops but we enjoyed it whatsoever. At around 2300 hrs we halted for dinner at Panipat. The Dhaba was an expensive one and we could tell that just by the look of it, but we got freshened up and looked around when we found another dhaba nearby that served paratha's only for 40 bucks. We knew we hit the jackpot as we all were on a tight budget, so we had our fill. Our bus left around 2345hrs and I went into a deep slumber only to find myself on another bumpy track.
Day 2
Date 30-03-2018 Friday : Around 0430 hrs we reached Nalagarh where the bus halted for another half an hour as we got tea and other refreshments for ourselves.The moon was shining brightly but many buses passed through the dusty road leaving us in clouds of dust. I managed to get a hazy picture of the moon but it didn't work out much.
Picture 1-
After another half an hour or so I woke up to one of the most beautiful sights of my life. We were in Bilaspur at around 0500-0520 hrs, it was dusk and the sky was filled with several layer of colours, just too many to count. The bus was moving at high speed so I couldn't capture a picture of this epic view but who cares, I was witnessing one of the most beautiful view nature offered to us.
Picture 2-
Finally we reached Bhunter at 1300 hrs. We were supposed to reach earlier but the bus stopped many times for refreshments which could have been avoided. In Bhunter, we waited for a local bus but as there were too many of us, we decided to take a taxi which almost cost us the same as the bus tickets. We were about to reach Kasol, when we witnessed huge traffic. As it was a long weekend a lot of people came and there was a huge queue of cars and buses. We were fed up of such a long wait and decided to walk to our guesthouse. We walked for almost 2 kms and figured out the location of our stay. We took the suspension bridge across the Parvati river and after another half an hour of uphill trekking, reached Shanti Guesthouse, where we learnt that we took the wrong way up. Nevertheless, we freshened up and instead of having food in our guesthouse, I decided to go out and have a cup of tea as there is nothing more refreshing than a good cup of tea after a long tiresome journey. I sipped tea on the banks of the Parvati river when my friends joined me. We decided to trek up hill to the Jim Morrison Cafe but discovered midway that it didn't serve non-vegetarian food. We were a bit disappointed and started downhill towards Kasol (town), but I managed to get some decent photos on our way back.
Picture 3-4:
We reached Kasol town and went to Yerpa restaurant which was suggested by a friend of ours. We had pasta and some Israeli food but it was delicious. We roamed on the streets of Kasol for some time but it was too crowded. We left at around 1900hrs as it was getting dark and the way up to our guesthouse was confusing. We reached and ordered our dinner which I must accept was delicious and at around 2200 hrs we called it a day as we had a long trek to Kheerganga the next day.
Day 3
Date 31-03-2018 Saturday : I woke up around 0630hrs and as I removed the curtains I saw the sunlight falling on the mountain top. I watched as the birds took their first flight of the day and the sun rays advancing over the mountains until it was a bright day.
Picture 5-
As I watched the mountains from my window I noticed a Himachali women cleaning her porch. She carefully gathered whatever waste she found, lit a small fire and burnt it down. I watched as the flames rosed until it was in sharp contrast to the sunlight falling in the mountains.
Picture 6-
I realised it was time for us to leave so we had a hearty breakfast, took leave of our hosts and started our trek to Manikaran which was around 3-4kms from where we put up. We reached Manikaran at around 1030hrs and took a stroll in the Market. Then we took a cab to Kalga from where we were about to start our trek. We passed through curvy roads and busy streets and reached Kalga at 1200hrs. We started our trek with high hopes but I must tell you that it did test us. Slippery tracks, stones, trees, mules, horses and what not posed as hurdles but the only inspiration was the beautiful views of the mountains and the waterfall kept us going.
Picture 7-
We were very hungry so we stopped a couple of times and had Maggie. Even though the cafes charged 50-60 bucks per plate, it was worth it. There were a lot of people trekking to Kheerganga and one can never have some alone time but in a way it was good too as there is high risk of slipping or taking a wrong way. It took us almost 5-6 hours and we reached Kheerganga around1800 hrs. I was dead tired and hungry but was relieved when I witnessed the most beautiful sunset ever. The sky turned from blue to pink to orange and one can never bring to words the beauty of this transition. I attempted to capture this but leave it for you to decide it's worth.
Picture 8-9
We booked camps for ourselves and went straight for a cup of tea. Sipping hot tea as the sun went down behind the mountains was a beautiful experience. I roamed around the camps and spotted a bonfire. There was this local guy who was tending the fire and I went and sat beside him. He talked about the myths that enveloped these mountains and suddenly turned the discussion toward the death of Sridevi and Tigers Shroff's new movie and I could only smile with satisfaction at the frank and unsophisticated nature of these people. As I was sitting near the bon-fire as the chilling wind blew and I was cold to my bones, even though the fire blazed it wasn't enough as I was shivering, I scanned the horizon and it was then that I saw the moon rise behind the mountains and believe me it was one of the most beautiful thing I ever saw. I realised I never saw the moon up so close and so clear and it's beauty bemused me to such an extent that I sat another hour just staring at it. The tiresome 14 kilometre long trek, the bone chilling cold was all worth it because of this particular moment and I can walk a hundred more miles for such a splendid view.
Picture 10
Picture 11
Later that night we had a humble dinner of two rotis and rajma rice but it costs us 200bucks but that how life is up there in Kheerganga. We didn't argue about the high price because we saw people carrying goods on their backs to the top and we can only imagine how hard it is to get anything to such heights. I slept around 0030 hrs but the strong wind kept blowing and I felt our tent was about to be blown away.
Day 4
Date 01-04-2018 Sunday: Next morning I woke up around 0730hrs and I heard someone calling out my name. I went out and realised it was dawn and I asked my friend to wake me up so that I can see the sun rise. It was still dark but the sun rose slowly beneath the mountains and in no time it was a bright day again. We decided to visit the hot water spring and started trekking. I took another wrong turn and ended up between wild flowers and bushes, I followed my friend's call and joined them again but I got some of these shots.
Picture 12-
Picture 13-
The hot water pool was full of people. I was abit embarrassed but then I joined in and it was very refreshing. The natural hot water just washed away all the fatigue of two days of continuous travel and we were good to go again. At around 1100 hrs we left after having our breakfast. We reached Kalga at around 1600hrs and were lucky enough to catch the last bus to Bhunter. The bus was full and it took us another 3 hours to reach Bhunter. As we reached Bhunter we realised our mistake of not booking our return tickets as there we a lot of people waiting for the local bus to Delhi. Even though there are buses after every half hour from Kullu to Delhi, we weren't lucky enough as we didn't manage to get into any of those. I could feel the tension among my friends and it was legit because we were low on cash and didn't expect our stay to get extended, but this was just the beginning of our misers after which a series of unfortunate events took place and landed us in another city. That night we waited till 2300 hrs for the last bus and than decided to check into a hotel.
Day 5
Date 02-04-2018 Monday 0330hrs we checked out and caught the first bus to Mandi ISBT, it was there that we came to know about the Bharat Bandh, still we bought tickets to Delhi and our bus left at around 0730hrs. We reached Bilaspur at around 0940 when our bus broke down, and we were left in the middle of no where. I sat on the road which had the stench of cow dung but I didn't mind because it's not a new thing for someone who belongs to Assam. People watched me as I sat (almost lied down) on the road and that is when I saw these horses pass which made my day since I always had a fascination for these beast of speed. P.S: This local bus ride made me experience the real India which I never experienced behind the glasses of a Volvo
Picture 14-15
Finally we reached Chandigarh at around 1300hrs, but the bus stopped abruptly in the middle of the city and the driver explained that there was a Bharat Bandh and a lot of places including Punjab, Haryana, U.P , M.P , witnessed large scale violence, hence we were stranded as the bus dropped us at ISBT Chandigarh. By now our only concern was to reach home but now our main concern was to be safe for the day as news of mass violence was all around. Thankfully our friend's mother arranged a guesthouse for us and we were relieved at the thought that we have shelter for the night. We were escorted to the guesthouse where we freshened up and that is when we came up with the plan of exploring Chandigarh and this is one thing I am never going to regret. We booked a cab and moved around the highly ordered lanes of the city beautiful. Chandigarh is a place with vibrant colours and a beauty unique to its own.
Picture 16-
We visited the Sukhna Lake and I was stunned by its beauty and sheer size, the only spoiler was the huge number of people present there.
Picture 17-
We returned at around 2030hrs and ordered food for ourselves after which we retired for the day.
Day 6
Date 03-04-2018 Tuesday: At around 0830hrs we left for ISBT Sector 17 Chandigarh and boarded our bus to Delhi. It was hot and bumpy ride, there were several halts which extended the travel time and we finally reached Delhi at around 1500 hrs.
It was a tiresome trip which unintentionally got extend but left us a lot of memories and adventures to talk about. Traveling is such an wonderful experience. It teaches us so many things which is not available in any book or library but can only be cultivated through experience.
At the end of this piece I just want to thank my friends and all the people from our bus-drivers to all our host who did an amazing job and helped us through out this journey. You guys are amazing!!
P.S. Pictures are arranged in sequence.