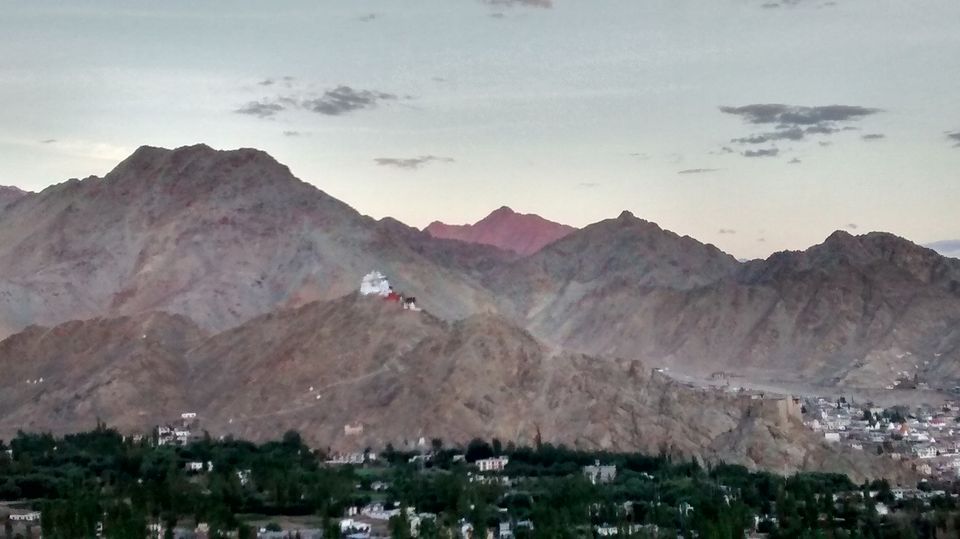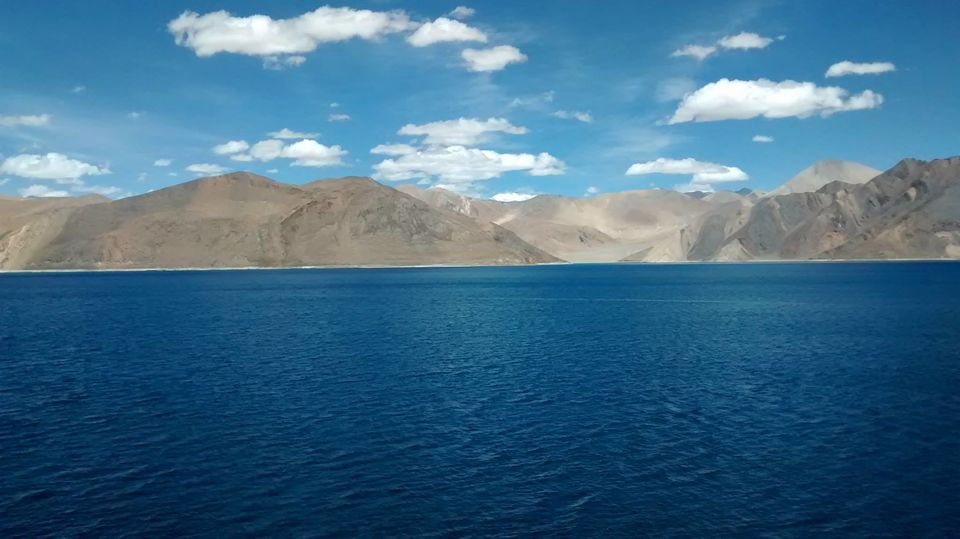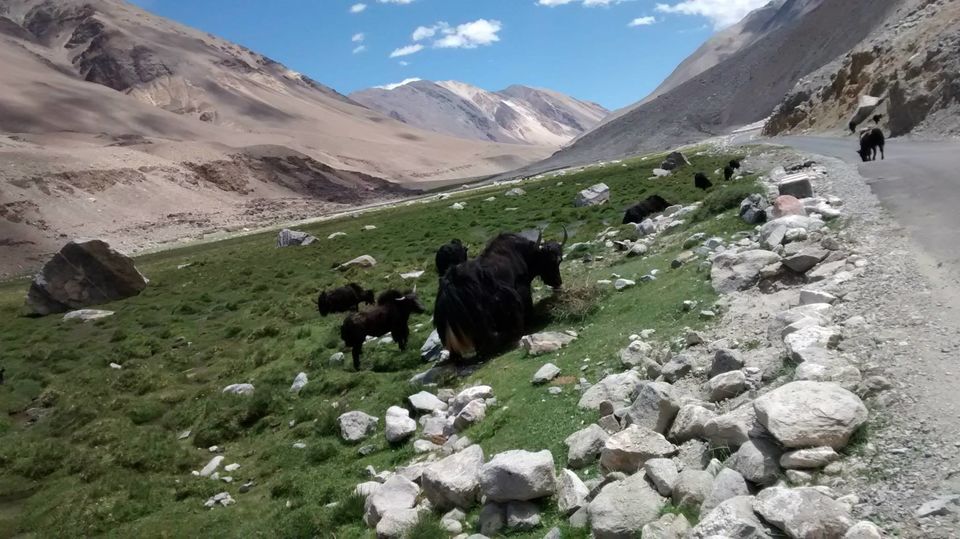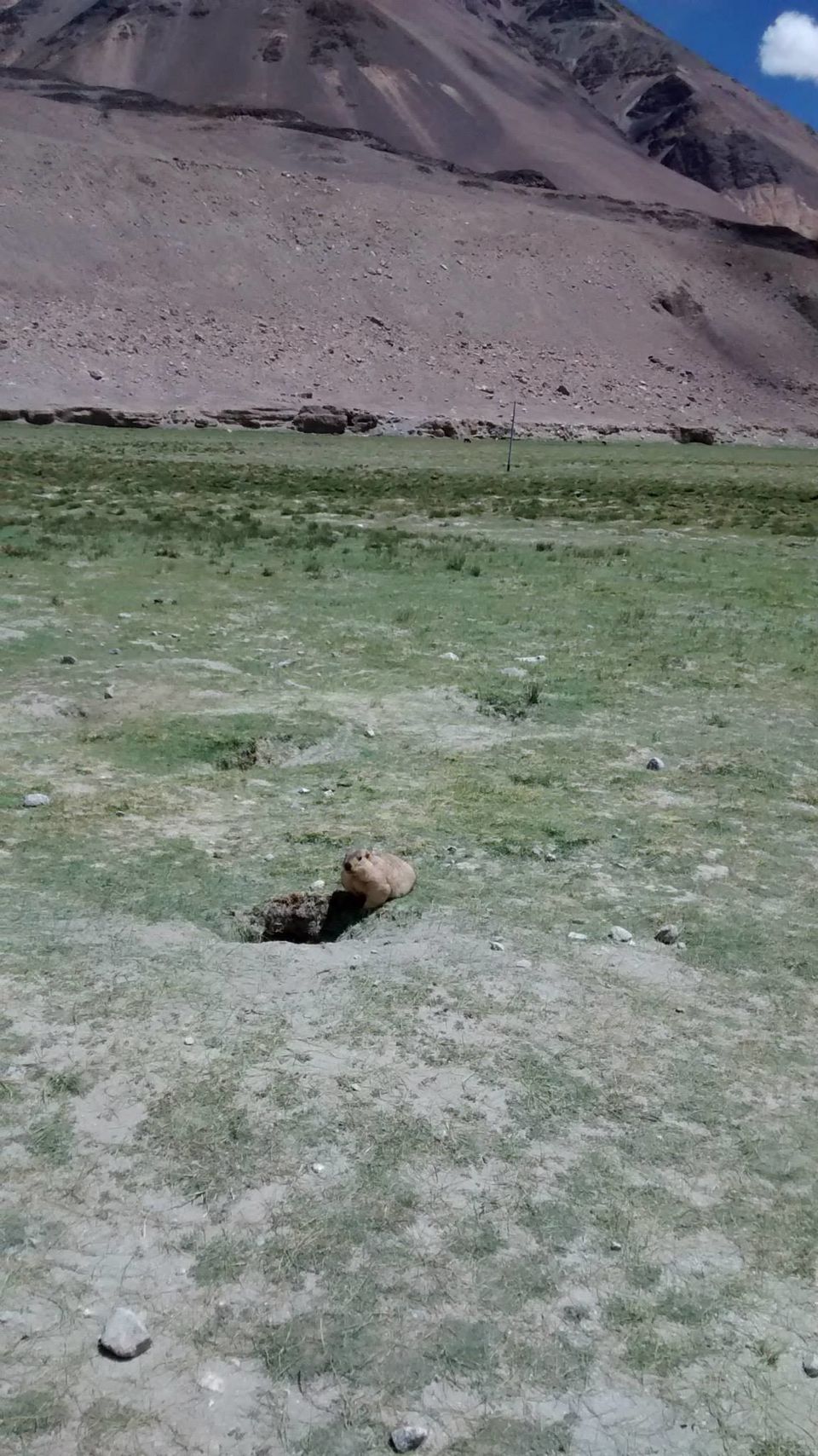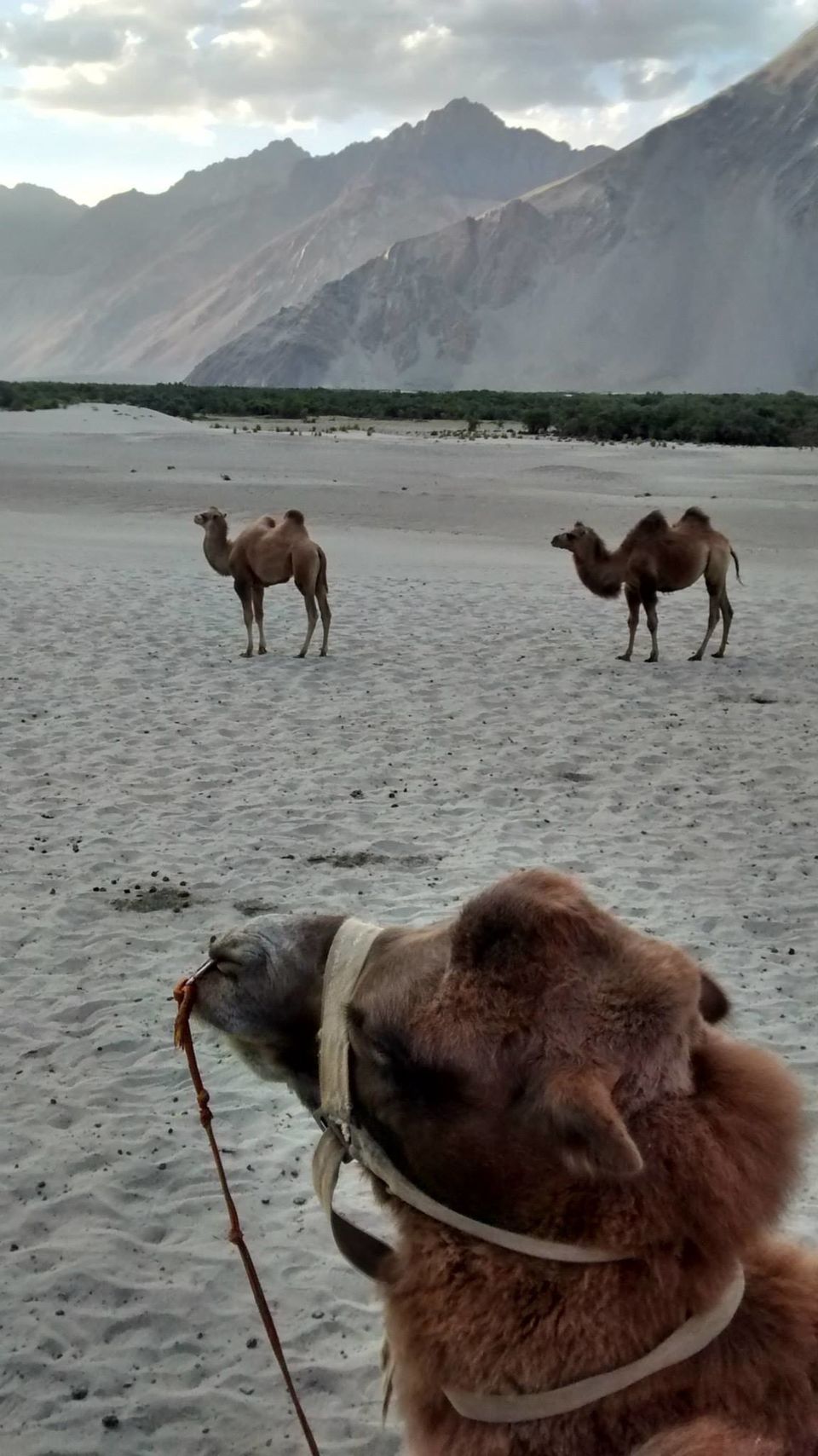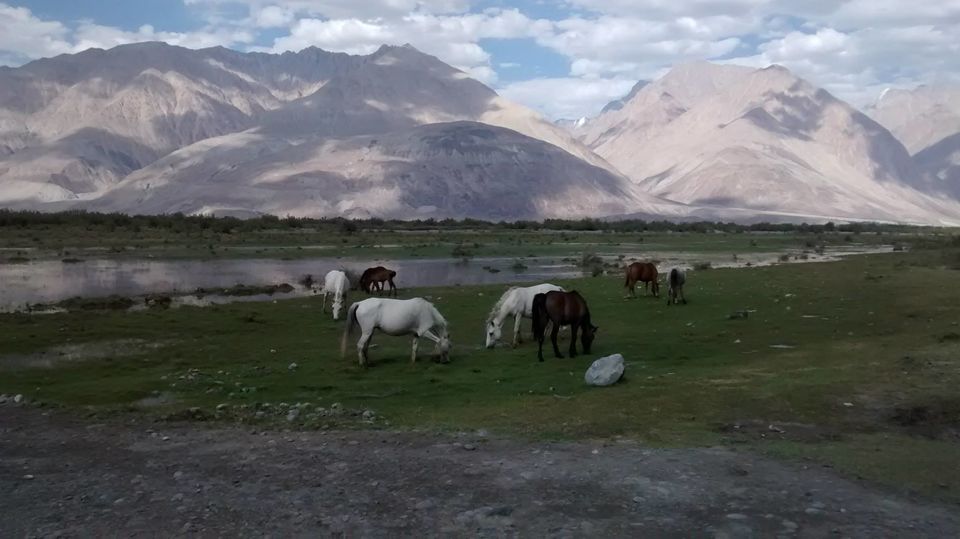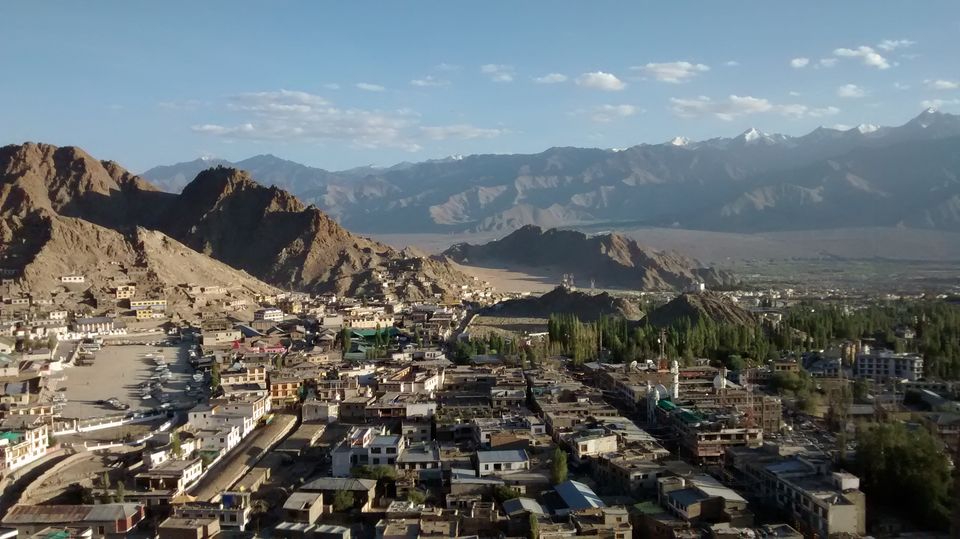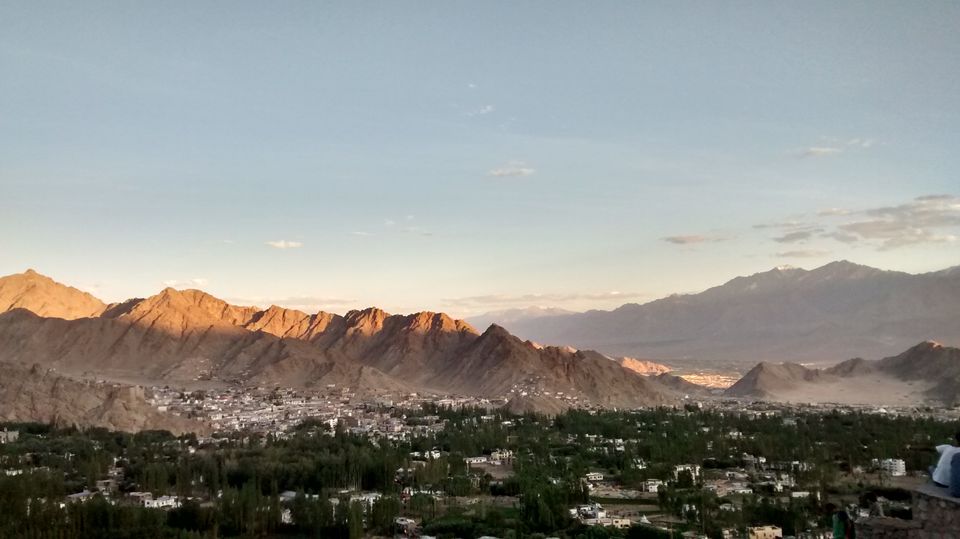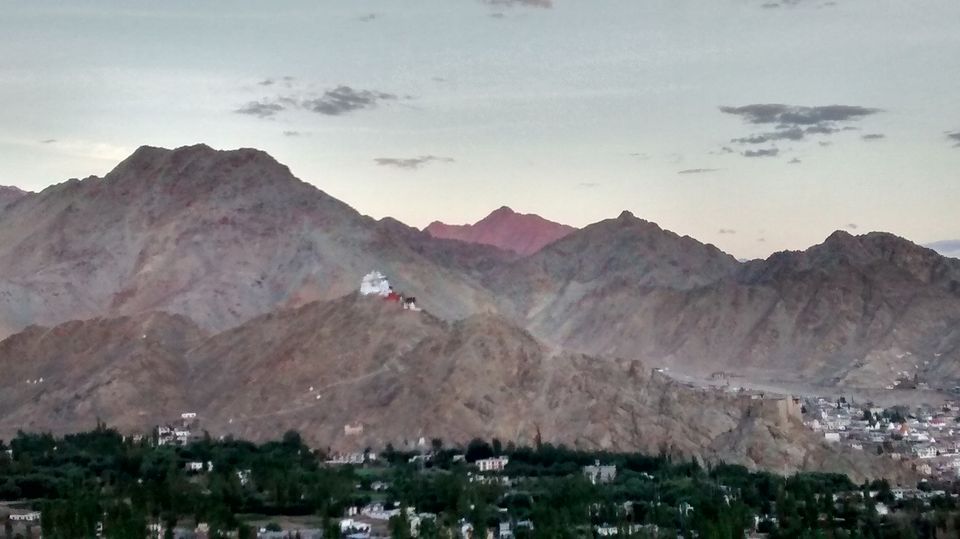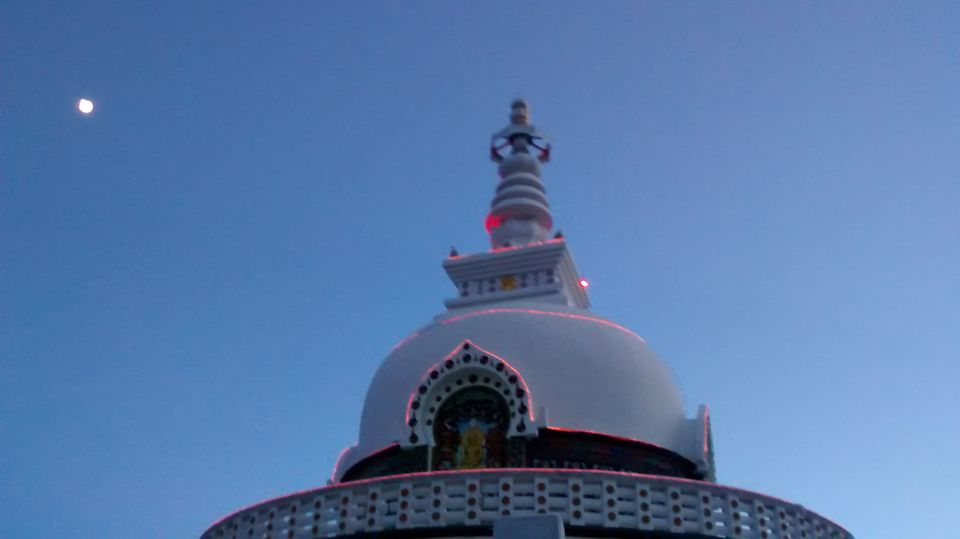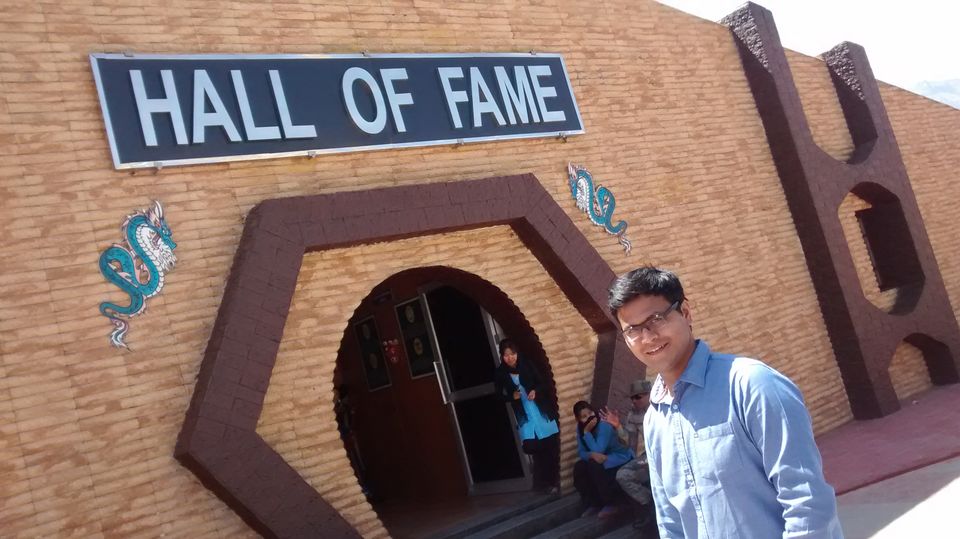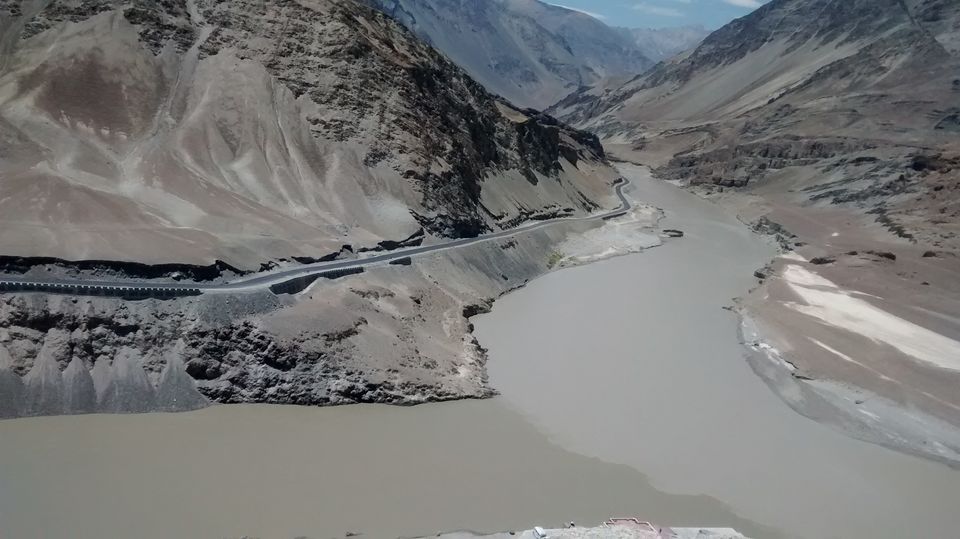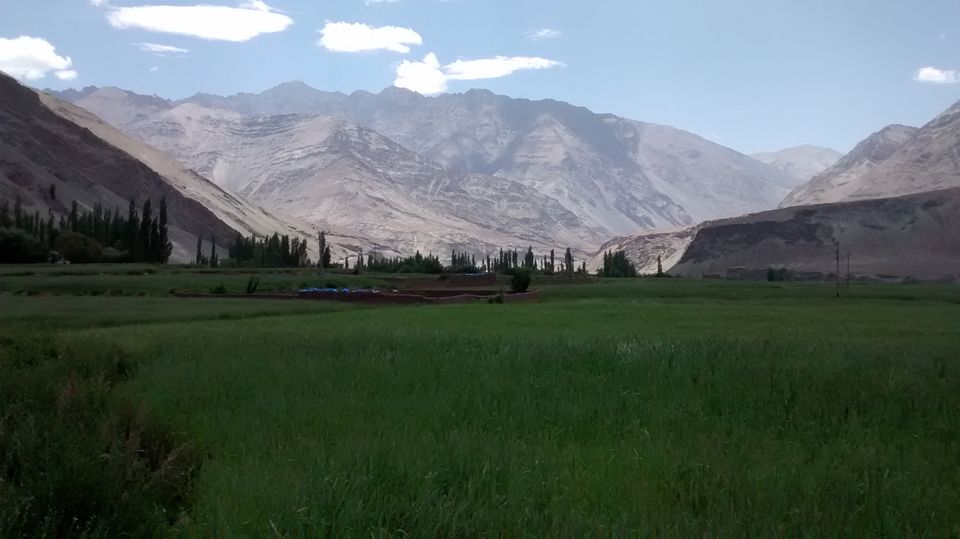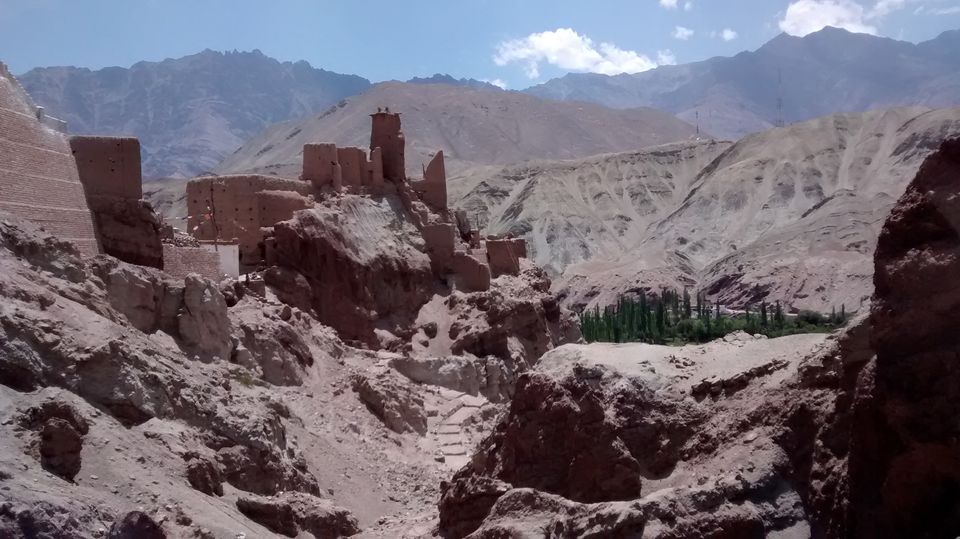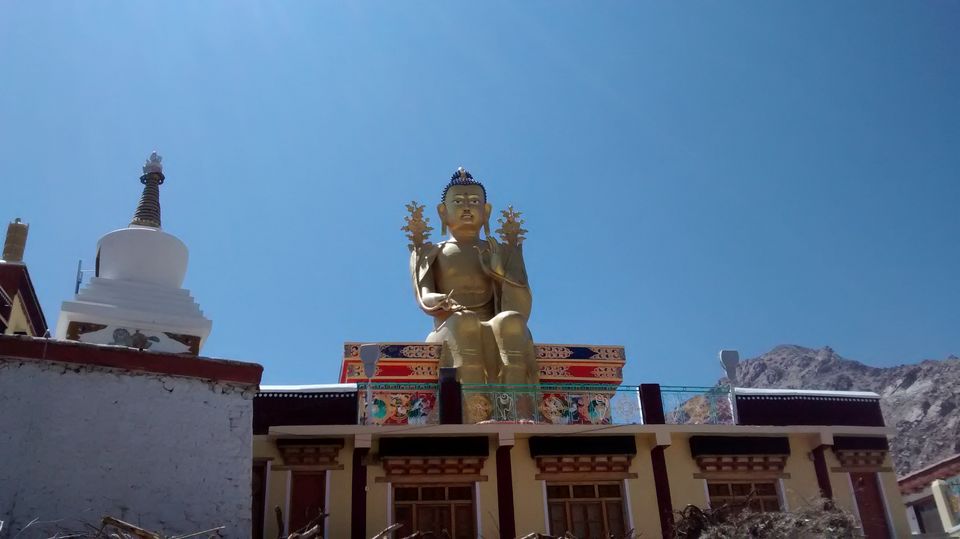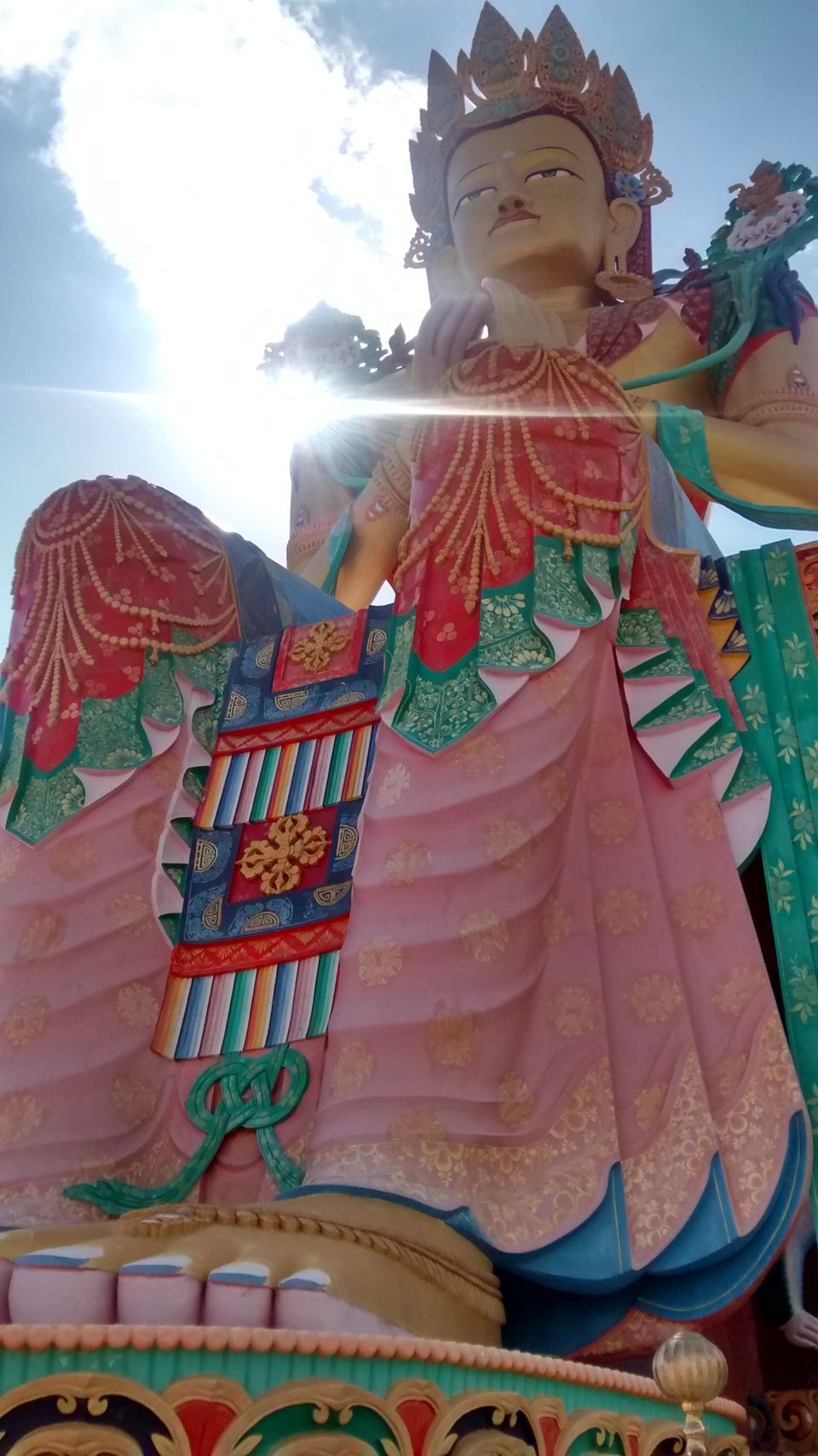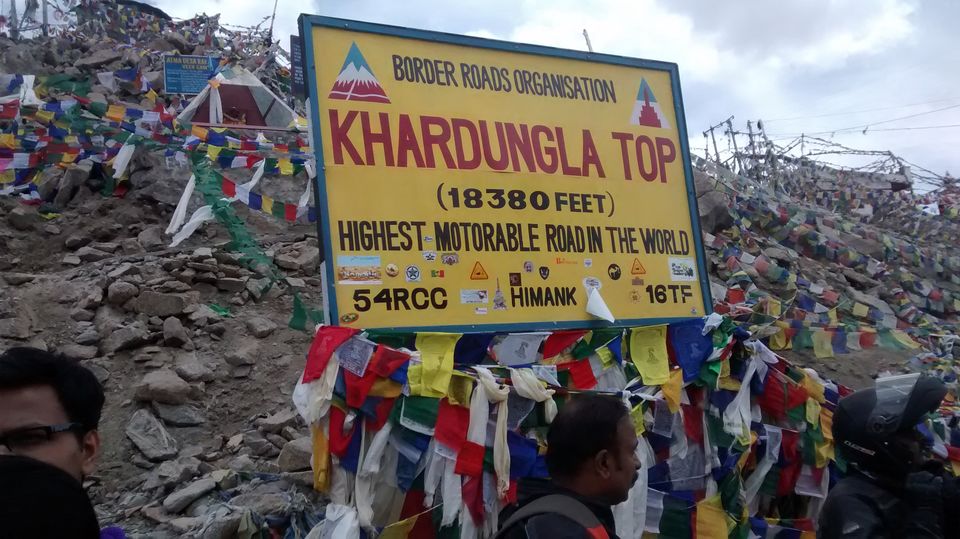 Day 1
Touring the City
I was sitting right in the middle of my sisters when my eyes fell on the handsome mountains covered with a blanket of snow on their tops. I began to jump and almost sat over my sister (who was next to the window) to capture the fascinating scene with my camera. The heavenly scenes were ever changing as the plane moved closer to Leh (headquarters of Ladakh district). The green and lively mountains gave way to the barren and dusty landscape of Ladakh. There was also a green patch amidst the dry rocks that resembled an oasis in a vast sultry desert. The landscape was interspersed by pristine blue and turquoise lakes apparently formed from the melting of glaciers nearby. When our plane was about to touch down, I could see another oasis just below me which would be our home for the whole week. The plane safely landed at the KBR airport in Leh where we were greeted with a broad welcome smile from our driver cum guide who would be there for us during the entire trip. Captain would be a more appropriate salutation for him as he drove us around throughout the trip while navigating across a sea of desert in a robust ship like SUV. If plains are like a floor, then Leh is the top of a large table kept on that floor, except that this table is not flat but mountainous. Leh is 3500 metres above sea level and demands a good fitness level and sufficient acclimatization before one could roam around effortlessly in the city. For this reason, the resort staff advised us to rest and spend some time walking around the well manicured lawns before heading off for city sightseeing. There were three places of interest in our city tour itinerary namely the Leh Palace, Main market along with Tibetan market and the Shanti Stupa. Every traveller just has to visit the 9-storeyed Palace when in Leh as it reflects the look and feel of the famous Potala Palace in Lhasa, Tibet. It is a formidable structure on the roof of the mountain and overlooks the beautiful and green city of Leh. To get still better bird's eye view of the entire city, one visits the Shanti Stupa. One really feels peace and solace while being at Shanti Stupa which is also a meditation and yoga centre for tourists and locals alike. By the time we reached Shanti Stupa, sun had already set and there was a sweet chill in the breeze compelling us to produce woollen jackets from our backpacks. The view of the snow clad mountains behind the golden rocky hills was nothing less than spectacular. As the time was passing by, colours were playing their own game on and around the gigantic mountains. The snow on the far mountain reflected stark white which gradually changed to smoky blue and eventually red before it almost vanished into the night. Just when it became completely dark and I thought of stop staring at the vanishing beauty of the valley vistas, my eyes again fell on the mountain range and I could clearly see the white snow atop the dark silhouette of the hills. As I began to reason about what we were witnessing, my mom pointed upwards away from the mountains without saying a word. Just as I followed her lead, I got my answer. The splendid moon was here to cheer us up and to dispel the darkness in the land of high passes. The landscape of Ladakh bears a surreal quality with the moonlight, clouds and snow clad mountains playing a game of shadows in the darkness of the night. After nightfall, we retreated to our resort to rejuvenate, sleep and energize our bodies for next day's adventure.
Day 2
Around Leh
After a sound sleep and lavish breakfast, we were raring to go on yet another tour and could almost hear the mountains and the gorgeous river Indus beckoning us to visit the outskirts of Leh. We excitedly set off in our comfortable vehicle on NH1 leading to Kargil and Srinagar. However, our journey was to cover all those unique places of interest that fall on NH1 on the way to Srinagar. The first magical place was Magnetic Hill which was a hill with peculiar magnetic properties standing on one side of the highway. It has such a strong ferromagnetic material inside that our SUV (turned off and left in neutral) was driven upslope as if by some kind of invisible force. I have been a science student but this mystical event left me with a gaping mouth. Kargil Hall of Fame and Pathar Sahib Gurudwara were two other touristy spots that fell on our way. After some time, we could see the bluish white waters of the Indus congregating with the murky greyish waters of the Zanskar. The confluence of the two big Himalayan rivers forms an even bigger Indus river that continues its journey downhill towards Pakistan. As we continued our journey forward, the ruins of the Bakso Palace came into view some distance away from the highway. The entire palace is no longer standing but its fortified golden facade against the yellow silhouette of the mountain can still be seen. This is just the kind of stuff one sees in historical movies which create such sets in studios, except that the Bakso Palace is for real. After Bakso came the turn of two magnificent monasteries namely Likir and Alchi which made us realize the importance of compassion among people especially when the surrounding environment is harsh and uninviting. The evening had set in and we were soon retracing the path towards our resort, thinking and preparing ourselves for next day's sojourn.
Day 3 & 4
Nubra Valley via Khardung La
We got up late, exhausted as we were from the exertions of the last trip. After delighting our taste buds and bellies alike, we headed off to Nubra Valley via Khardung La which is apparently the world's highest pass accessible by a motor able road. We reached Khardung La in no time as the road was smooth and the scenes from the window never allowed us to get bored. At 5359 metres, Kardung La demands a very high fitness level; nose bleeding, vomiting and headache are common among travellers as signs of altitude sickness and oxygen deprivation. However, it is a destination worth visiting and experience worth keeping alive in memory for a lifetime. We bid adieu to the highest pass and continued towards Nubra. On our way came heavenly vistas of woolly Yaks grazing in green meadows and handsome horses busy having their quiet meal with a pretty white water stream flowing behind them. As we came closer to our final destination, the rocky terrain made way for inexplicably beautiful silver desert sand. Vast stretches of true desert spanned for as far as our eyes could see. Sand dunes were clearly visible in the distance with pug marks on them- a clear sign of flourishing life even in the most inclement of cold deserts in the world. Himalayan rabbits, mountain dogs and Bactrian camels are among many other living creatures inhabiting this ecosystem. We eventually reached Hunder in Nubra Valley where pure silver hued sand dunes could be stood and walked upon either on foot or by riding on the soft back of the double humped Bactrian camels. These camels are very woolly with golden fur all over their body and heavy black fur covering their sturdy legs. They were brought over from Mongolia and were the primary carriers of goods and people during the silk route. Since many centuries, they have been living in Nubra and can be rightfully called the natives of Ladakh now. A ride on their backs while being comfortably cushioned between their humps is an unforgettable experience which no traveller should miss. Once we were there, we just got lost in a totally different world and wanted to take everything in and spend as much time as we could. Even after it was dark, moonlight shone brightly on the sand and there was no excuse to go back. Nubra Valley had transformed into a magical playground with the sand now reflecting white and the sandy wind touching us with cold yet warm hugs. We stayed overnight in Hunder and the next day was spent relaxing in our tents and returning to Leh in the evening. Tired as we were of all the travelling and camel riding, we preferred to stay and unwind in our resort that evening. After all, we had to re-energize ourselves for next day's adrenaline rush adventure.
Day 5
Pangong Tso Lake via Chang La
As soon as we got up early in the morning, we had a light breakfast and hit the roads leading to Pangong Tso Lake via Chang La. This time, the road was very bumpy and it actually felt like climbing a 5000 metre high mountain peak. Chang La at 5360 metres is no less daunting in comparison to Khardung La. In fact, we found it colder and was surrounded by stark white mountains from all sides. We had some piping hot black tea at the Chang La Cafeteria to soothe our aching heads and comfort our cold bodies. Once we felt refreshed, we were ready to undertake the enduring ride to the lake. The route was long and arduous but we felt little because of the out of this world views from our windows. When we entered the Changthang wildlife region, we were all very excited in anticipation of beholding some exotic Ladakhi wildlife. We did spot some cute little Ladakhi Marmots who were fortunately out of their burrows, a few hundred metres away from the main road. Marmots are playful creatures with their face resembling a Beaver and body similar to a squirrel. In fact, they are large brown squirrels living in a cold desert. On the way to the lake, there were many meadows, flower valleys, mountain passes, rapid rivers and some spectacular views complete with teeming wildlife including Horses, Yaks and Marmots. The lake is on the mind of almost every visitor to Ladakh because of its ethereal beauty and the different shades of blue that are clearly visible in the crystal clear waters of the lake. We were surprised to see so many vehicles as well as a large number of eateries for tourists. Many of the restaurants sported names like Rancho's Cafe and 3 Idiots Corner with several others carrying boards having actor Aamir Khan's picture. A few metres away from the parking was 3 Idiots Point where the actual shooting of a scene of the movie titled 3 Idiots apparently took place. The lake is one of the largest salt water lakes in Asia and is more than 130 km long with around two thirds portion falling in Tibet. We could spot several migratory water birds and gulls having a good time at the lake. At 4400 metres, it is almost as pristine as Lake Mansarover in Tibet. The massive expanse of the pure azure waters is beyond belief so much so that the lake could easily pass for a gigantic sea trapped between mountains. In obeisance to the great lake, we all touched its cold water and greeted it in our own way. I could feel the heaviness in the pure water obviously due to its high salt content but I truly felt blessed and happy when the lake responded with a cold touch. The experience of walking along the lake with cold breeze caressing my hair was very fulfilling and rewarding. Once we had taken in all that we could, we had some freshly made Momos along with tea at one of the funnily named restaurants and then headed back to Leh.
Day 6
Trading in High Market
­­­­­We were totally exhausted from our arduous yet exhilarating day trip to Pangong Tso which left us in the beds till as late as ten in the morning on the sixth day. There was nothing much planned for that day except a walk in the Main Market and the Tibetan Market. We quickly readied ourselves, had brunch and headed straight to the market in the beautiful city of Leh. We first went to Moti Market- a market lesser known to tourists- because we wanted to buy a Momo steamer that is fondly called Moktu in the local language. Afterwards, we walked along a long list of seasonal shops that were tempting the tourists with best possible strategies they could muster. We walked through this market but not without burning a hole in the pocket, which is expected when your family consists of three extravagant ladies. Before we knew it, we were at the Main Market bustling with all kinds of emporiums selling products ranging from Kashmiri Pashminas to Ladakhi jewellery mostly made of special turquoise stones. Some very inviting restaurants and cafes are also lined up in the market which offer multiple cuisines including Italian, Israeli, Korean, Tibetan and of course Indian. The food in Ladakh is cooked with lots of love and the compassion among people is palpable enough. Tibetans have been living in Ladakh since ages now and they also have their markets at several locations albeit selling the same stuff everywhere. Brass and bronze statues of different forms of Buddha, colourful prayer wheels of varying sizes, traditional necklaces made of precious stones were some of the unique items on display that caught my attention. After some intense shopping and sightseeing in the markets, we were worn out and got back to our resort.
Day 7
Good Bye Ladakh
We had a flight to catch early in the morning, so we had to leave rather reluctantly lest we miss our flight. It was hard to say bye to the beautiful land of Ladakh and its magnanimous people but all things come to an end and so did our memorable trip. As we boarded the flight bound for Delhi and left behind the heavenly green patch of earth that had become a second home for us, we began to wonder how Ladakh had infused us with so much life and energy that we began to appreciate even the simplest things of nature by becoming a real part of it.