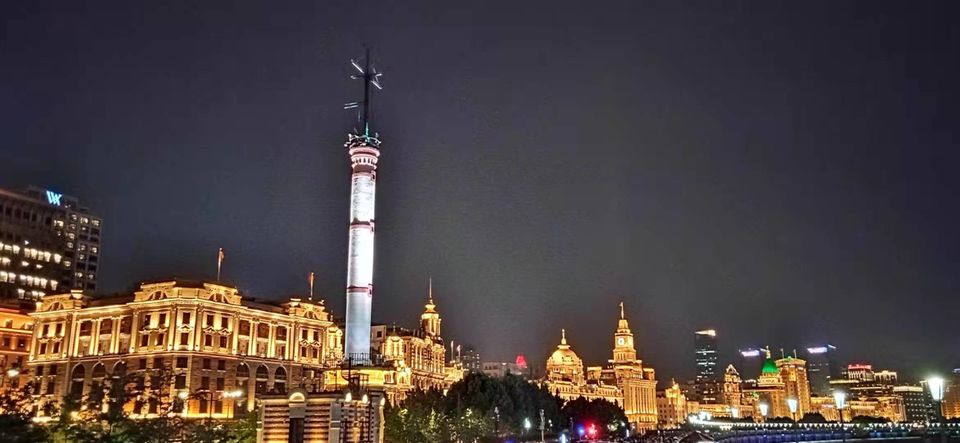 Day 1: Making a grand entry at Hongqiao railway station via the super-efficient High-speed train (Journey time around 4hrs 23 minutes) from Changsha felt like entering a different world altogether. Mobs of human beings hustling & bustling, jostling into each other, barely taking eyes off their phones, made me lost in this colossal grandeur of a station.
As I figured my way out of this labyrinth via metro, I glided my way with ease and convinced myself to be a local. My destination was Fish Inn Bund hotel, the closest metro Nanjing East road. After checking in, I wasted no time heading to see what most visitors in Shanghai never visit- The French Concession. Yes, all right, I got it; I should have seen "The Bund", so I gave it a miss, well, only for the time being. History is my weakest link, so I was not aware that after China lost the Opium war in 1842, this part of Shanghai was handed over to the French consulate in 1849, and I guess the French built it with specific characteristics. The neatly trimmed tree lines, cobbled pavements, systematically designed cycle paths, and surplus trendy boutiques, cafes, and restaurants with an abundance of ex-pats resemble much of Europe.
I was ravenous, so I headed to a funky bar to munch on some very authentic touristy food gulping it down with a local brew. After consuming about a million calories, it was time to burn it off by cycling (Welcome Hello bike); I headed in no particular direction weaving through the traffic, at times, risking my life with highly manoeuvred U-turns giving me an adrenaline rush.
The next stop was Huxi Mosque, situated in Putuo district, arriving there having taken enough risks for a year. As it was the sacred month of Ramadan, I entered the mosque with no restrictions. It was almost time to break fast, and men were rushing to perform their ablutions and attend the evening prayers. At the same time, I found refuge on a table in the corner of the foyer listening to the soothing "Adhan" recited by a Muezzin, a call for the prayers. In the meantime, I was offered a small plastic bag with 3 dates (traditionally eaten to break fast) and a piece of bread which I thankfully accepted by one of the devotees. Once the prayers concluded, I gratefully devoured the "Iftaari", thanked my NEW mate who had offered me the packet and continued my bike safari meandering through the immaculately glowing back streets infiltrating through evening joggers, lovers, young parents, gazillionaires, dreamers, suburbanites, swerving and dodging delivery drivers finally we made it to the Jiǔdiàn in one piece, me and the bike.
Day 2: Yu Yuan & M50 Creative park
Found a coffee shop (which happened to be Starbucks); I ordered my double shot cappuccino and headed to Yu Gardens. Apparently, a must-see sight in Shanghai; however, due to the pandemic, the gardens were closed, so I erratically wandered around in the neighbouring alleys passing through some traditional architecture, plenty of shops & restaurants. There is an adjoining bazaar, where you can find fancy memorabilia, where I spent a couple of hours strolling, enjoying the foliage & the serene atmosphere. With an empty stomach & a light drizzle, I headed to M50- Creative park, a contemporary art district in Shanghai's Putuo district. Littered with some fascinating galleries and a costly Art Deco furniture shop, and a few hip restaurants. As the downpour got heavier, I munched on my healthy lunch, relishing light jazz music in the background, even dozing off while the rain gushed off the ceiling. As I came out of my Torpor, my final destination of the day was "The Bund", AKA "The Billion Dollar Skyline". This just over a mile and a half long extravaganza of the skyline, eclipsed by "The Shanghai Tower", which at a paltry height of 632 metres, sits as the tallest building in China is a must-watch, and the best view is from the east side of Huangpu River. Engrossed by these breath taking views, with million other globe trotters grappling for selfies, I called it a day.
Day 3: Shanghai Science & Technology Museum

It would be fair to say, I am not a museum fan, and only a handful I have visited tickles my fancy, and SSTM is one of them. Highly recommended by my hotel receptionist, I hesitantly made my way through the massive entrance and straight away was impressed by its colossal size. Something to please everyone, it is a must visit even you can spare few minutes, although I ended up being there for 6 hours or so. As I enhanced years worth of knowledge, I headed back to the metro station, which unusually passes through a market. In the mood of practising my haggling skills, which would make my mother proud, I acquired 2 fake original "The North Face" jackets for a paltry 200 Yuan, with a little help from Google translator, uncanny charm and my hilarious body language. On that high, I advanced to my next destination. Pudong district- pedalling along (Hello Bike again!) stretching my neck like a giraffe soaking up the ambience of this colosseum of modern architecture and enjoying the sunset on the horizon I felt petit. My last mode of transport to cross the river was through The Bund underground tunnel, which is 650 metres long, and I was cruising in an unmanned capsule surrounded by over exaggerated multimedia effects which cost me Yuan 50/one way for a 3 minute journey. On that feeling of being ripped off, I bid farewell one last time to one of the most iconic skyline in the world, I departed through the ever busy Nanjing road into the darkness of the quiet back streets.