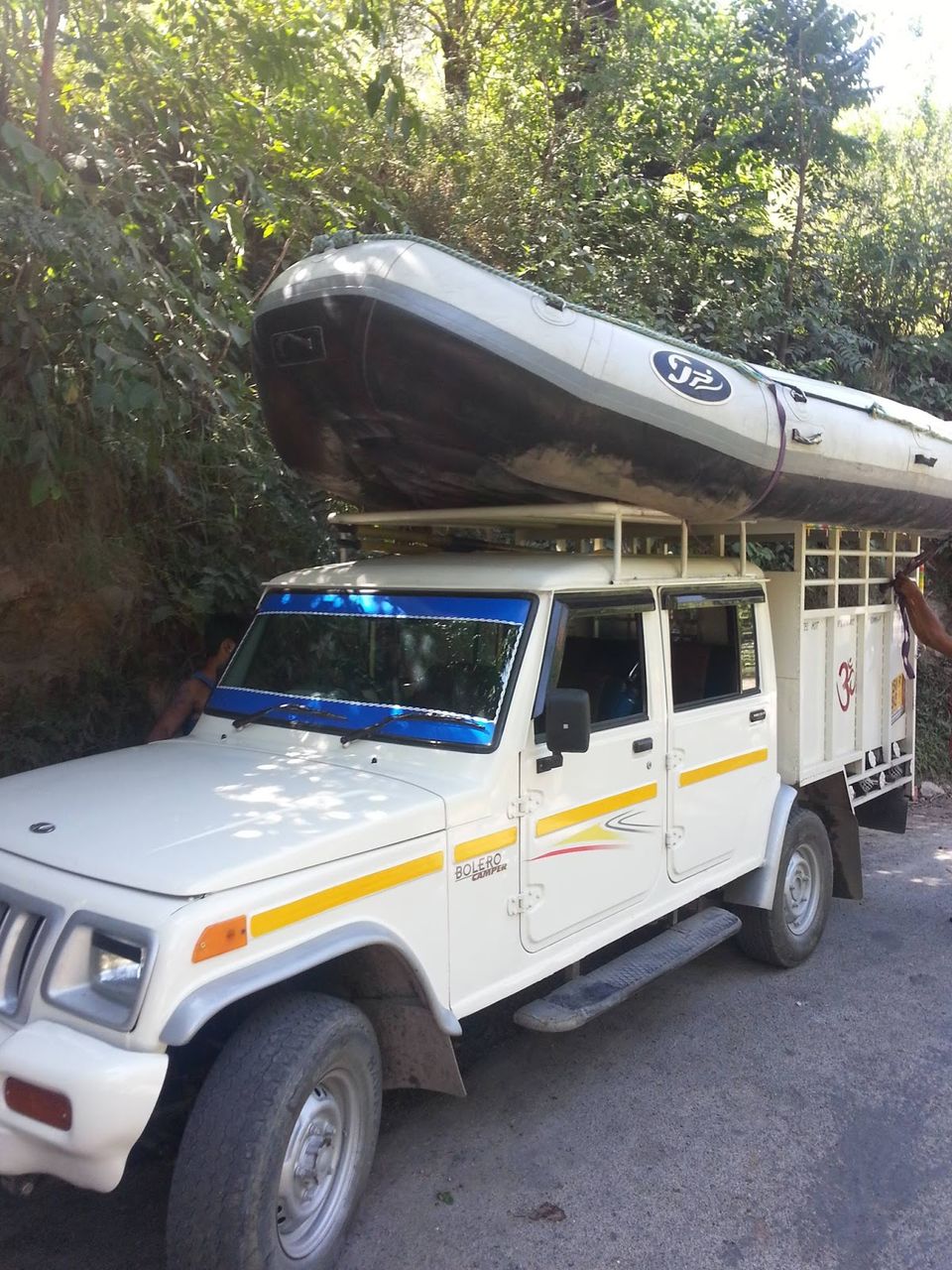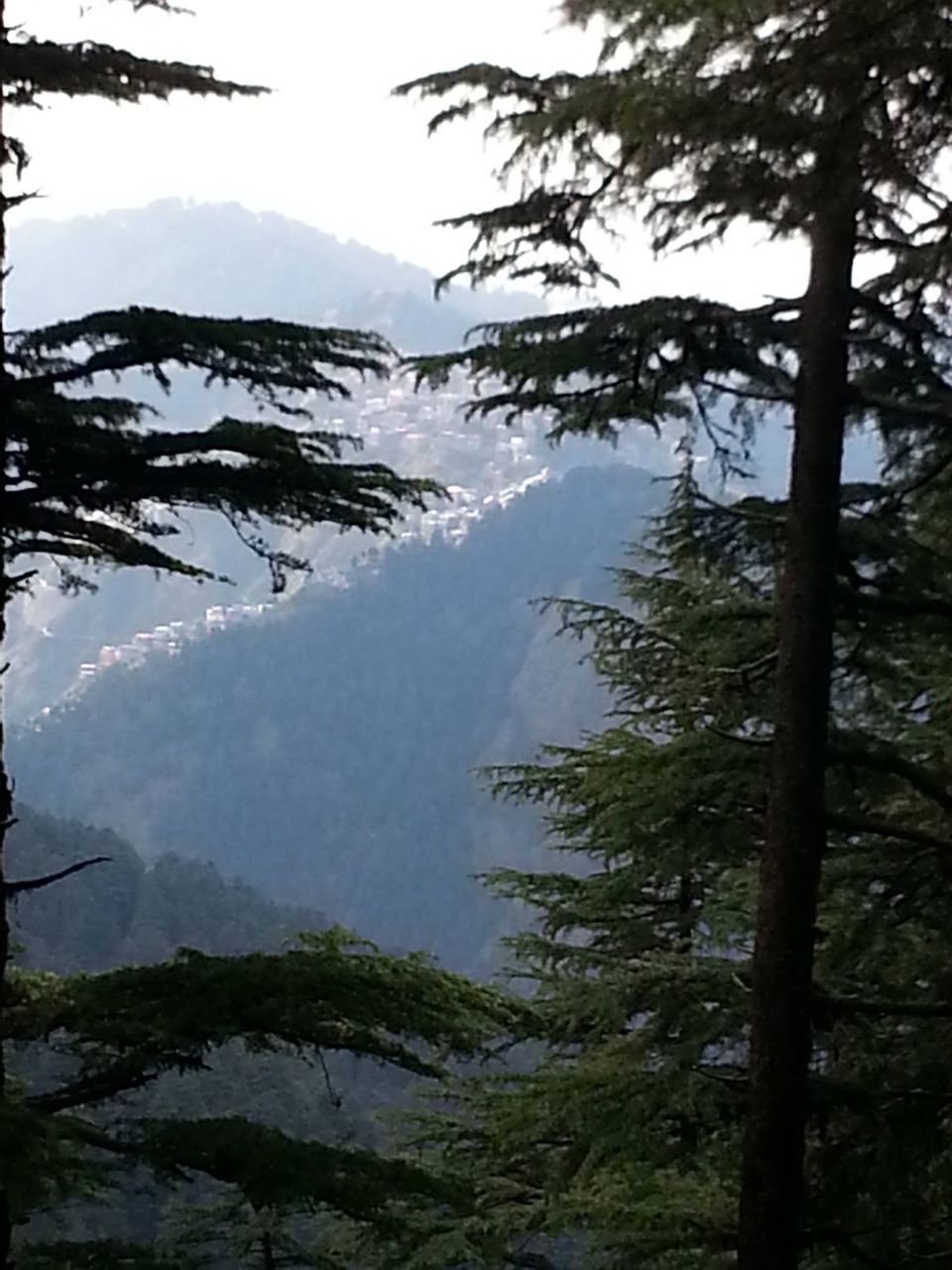 "Let's go someplace in India this time, I haven't seen much of it like you have" said my wife to me, when I told her that the two of us should take off on a short break.
We narrowed down our choices to a few places and picked Shimla as the place to go. Actually, it was more the hotel "The Wildflower Hall" rather than the destination that we selected. It was a 3 night - 4 day trip, of which, 2 would be spent commuting to fro from the hotel to the nearest airport (Chandigarh), and with just 2 days on hand, the hotel had to be really spectacular. QED.

Air Tickets were booked on Indigo. Fortunately, there was a fare war going on, and Indigo had a pretty good deal going on the direct BOM-IXC (Mumbai to Chandigarh) flight at the time. The selected dates were officially the last 3 days of the supposed off season for the hotel. Even so, the rate worked out to USD 350/- a night inclusive of tax and kind of breakfast for a mountain view room.
A week before departure, the trip became a talking point to garner the statutory free advice from friends on the hotel and or the destination. "The hotel was fab when i visited some 13 years back. Don't know how it is now. Must be good. It is an Oberoi hotel after all," said one. "Do visit the Mall road in Shimla. It's an absolute must see," said another. "Are you crazy thinking of wasting time on that Mall road? Such a waste of time, unless being harassed by men and monkeys is your thing," a view point from the third. "Since you are a foodie, eat the tandoori paranthas (stuffed and oven baked Indian flat bread) at 'Giani's Dhaba' on the way in or out of Shimla," were the wise words that I penned in my list. So much to do or not to do, and such little time.
27th Morning. Terminal 1B. Mumbai International Airport. With pre-printed  boarding cards in hand, stood in line for the baggage drop. While this queue was being serviced by some 10 counters, the line for normal check in was much shorter. No wonder Indigo requires passengers to report at least 90 minutes before departure time. At this rate, it looked like touch and go to the gate for a flight that was going to fly on time. "Anyone for Chandigarh? Anyone for Chandigarh?" A ground agent yelled. I raised my hand, and was asked by her to head to the first available counter, where I was greeted by a counter officer called 'Clive'. "Good morning Sir. I see you have blocked seats on row 28. May I offer you seats in row 1. Better leg room, and on this two and a half hour flight, you will like the extra space." Even before I could smile, Clive let me know that the move would cost me Rs. 800 per seat. I told him that I would pass. So he cut a deal to give me 2 seats for the price of one. Deal struck, we were now on row 1. As he wrote the receipt, he asked if I would like to block the same seats on the return leg as well. I looked at my watch and told him that I would decide that on my return. He smiled a smile which said "you are making a big mistake not listening to me. But, it's your life." Enough face reading, had to contend with the security line and then grab a coffee before queuing up again to board.
I cannot understand why frequent travelers behave like it's their very first time. Security check in India requires all laptops and large screen equipment to be placed out of the bag, and all mobile phones inside the bag switched on. Yet, it dawns on most passengers to perform that ritual at the screening conveyor belt, holding up the line unnecessarily. Time, there was a line for people with no bags and no lap tops. Stamping of boarding cards and cabin bag tags was something that the airport has been trying hard to eliminate for months. But the practice exists and walking away with either unstamped would mean going through the entire process all over again.
My adrenaline was already up, so I skipped the coffee, but my calm and composed wife did not. We were on a break she reminded me. Yes we were, and the ride from Chandigarh to Shimla booked on www.chandigarhtaxiwala.com  had not yet called me with driver and car details among the million other things that were bothering me that morning. The world was not going to stop for me and neither was time. What the heck. Enjoy the break. (The hotel charges Rs 6700 from Chandigarh to Shimla in an Innova (MPV) and the local service in the same type of vehicle costs Rs 3,400, with an optional full route air condition service at an extra Rs. 500). Two minutes prior to boarding, I get a SMS with the car and driver details. The flight was packed and the seat move option was suddenly the 'worth it' one. We had 3 seats to ourselves.
Flight arrived a few minutes before schedule. Being an aviation buff, I was excited to catch sights of some air force jets at this military airfield. (No photography allowed). No Sukhois or MIGs - but a lot of medium and heavy lift crafts including the mighty C-130 Hercules. Chandigarh at 11.30 am was already at 35 degrees Celsius. Bags collected, driver called, driver greets, and moments later we are ready to leave. The ride to Shimla would take at least 4 hours to cover the 130 kms,  and Mr. Rinku our driver and I got into multiple conversations including his most recent 14 day drive to Leh-Ladhak, something that I have on my adventure list. I asked him about places in Himachal that we would not visit, and got a pretty good idea of what we would and would not be missing out on. An hour into the journey, on a great quality road, we hit a traffic jam. We learnt that the traffic was backed up for a couple of miles. It was a Sunday and the end of a long weekend, so the road was surely full of cars, some being driven by accident prone hungover guys (and possible gals). The drive for the next couple of hours was a painful crawl. We reached Dharampur by 3.00pm  covering just about 15 kms in 2 hours, still some 70 kms and 2 hours away, already an hour behind schedule. But, the body needed some food and 'Giani's dhaba' was where we would eat.

I have traveled a lot by car and have eaten at some of the best 'dhabas' in Rajasthan, Punjab and Haryana. Had to try this one out. The number of cars outside gave me reason to believe that this was a right choice too. It was a mad house inside. Packed. The owner got us to wait next to a table that he thought would be vacated in a couple of minutes, which is exactly what happened. We ordered a chicken curry suggested by the waiter and some tandoor baked stuffed paranthas. We were hungry, and normally in hunger anything tastes good. Sorry, the food was just average. We should have tried the "Chole kulche" being sold by highway vendors instead. My wife was not too excited with that idea. City folk have this belief that anything inexpensive is bad for the stomach. A further 30 minutes drive, and we could feel the weather changing. We asked the driver to switch off the air-con unit. The road had become more scenic too, and the sound of the crickets outside louder in the background of silence.
We crossed Shimla at 5.45pm, still some 10 kms to reach the 'Wildflower Hall' at Chharabra, and thirty minutes later, we were there. We could sense that the temperature outside was down to single digits.
As soon as we entered the lobby, we felt less tired then we actually were. It was cozy and welcoming, as was the reception committee that greeted us. The Front Office Manager introduced us to some key members of the staff, following which we were introduced to the room we would call home for the next 3 days. There was still some light to see the great Himalayan mountain range. The Floor to ceiling windows were designed to enjoy their magnificence. We were warned not to keep the windows open though, unless we fancied wild monkeys in the room for company. But, going a bit wild was something that we had on our minds too, and we decided to check with the activity desk on what it could plan out for us.
Treks in the wilderness or a picnic at a secluded spot, a pony ride or some mountain biking. Then, how about some white water rafting? Yes, that's what we wanted to do. The hotel rate with transport was quite high and I thought better to check with Mr. Rinku, now my unofficial informer. he got me a quote that was exactly half of what was quoted by the hotel. I was told that yes, the rates are half but then the run was only about 6 kms on grade 1 and 2 rapids (From Chaba to Sunni) whereas the hotel contractor had a 18 kms run (From Malgi to Chaba) with some serious grade 3 and 4 challenges. The idea of a 3 hour road trip plus a 3 hour row on the rapids and a 3 hour return journey though more exciting was not really as enthusing after having spent a whole day of travel from Mumbai to Shimla. The alternative was half of everything - cost - distance - time and excitement, but acceptable.
28th Morning. We were ready for our mini adventure at 10 am. The ride to Tattapani some 51 kms away took about 2 hours. The temperature was about 15 degrees C when we left, and by the time we had descended the hills, the temperature would have been around 30 degrees C or so. At Sunni, some 5 kms from Tattapani, we transferred to the rafting operator's pick up to drive up to our starting point. We thought we would have a crew of 3 in the raft, but realized that included 2 of us as well. Life vests were strapped but no helmet. Guess, the experience would not require it. The raft was being commandeered by a Nepali boy named 'Nakli' (which could mean either fake of great mimic). The experience was more a lazy river boat trip with a couple of brief run ins with mild rapids. If one was looking for an adrenaline rush; guess it was the wrong boat. We were not disappointed though. I got to work my arms rowing and enjoy some fab hillscapes. Next time though, I would go for the real thing. I was told that the river Sutlej that we were rafting on, starts in China, passes through India and ends up in Pakistan. The rapids were much wilder earlier (even on the placid stretch we did) before the dam was built to generate electricity and provide water for agriculture. Now here is a tip to help one avoid the rafting trap.
White water rafting can be done from Chabba (12 Kms) or Sunni ( about 5 Kms before Tattapani) to Tattapani. Located about 50 Kms form Shimla on the banks of the river Sutlej Tattapani is an ideal place to enjoy the river as well as the sulphur springs sprouting out on its banks. The Hindu temples as well as the Shiv Goofa (Shiva Caves) located at Saraur at a distance of four kilometers from there are also places of utmost interest. Fishing can be an exciting activity in the place.
Shimla's Tattapani has become a spot of big tourist attraction. The time taken for this is about one and a half hour This activity is done on sunny days during the daytime only. They provide all the equipment, dress and shoes along with well trained and professional staff.
Activity Strength Distance No. of Packs Price Above 15 Pcks
Rafting Chaba to Tatapani 12 KM 4 650 per person 400 per person
Malgi to Chaba 18 KM 4 1250 per person
Distance: 51 Kms from Shimla on the Shimla Naldehra Mandi road
Travel time: two hours
Travel mode: By road only, preferable in a car
We were back at Sunni at half past two. Hunger pangs were quelled at a local eating house that served simple home food. Back at the hotel by 5 pm, we were exhausted. A soak in the heated jacuzzi that overlooked the valley was exactly what the doctor ordered. It was followed by a bottle of wine and a fab romantic dinner while toasting ourselves next to a bonfire on a full moon night, temperature some 6 degrees C.
29th Morning.  Fully refreshed, it was a day to enjoy the hotel. Breakfast on the terrace was followed by a visit to the spa (her) gym (me). It was nearing noon and we thought of taking a hour and a half long 6 km trek in the forest just behind the hotel. It's a beautiful walk with mild to steep gradients, shaded by the tree cover and made serene by the ambient quiet. The sound of insects playing their symphony was heart filling. The only wild things we came across was a cow, a couple of monkeys and some school kids using the path. This is what we came here for, some space from mankind and we got it, even if it was for a very short time.
We contemplated paying a visit to the proverbial "Mall" road in Shimla, but decided against it. A dip in the hot Jacuzzi (again) followed by a walk in the gardens and a visit to a charming temple.  The books we had carried were never read. Enjoying nature and each others company took precedence.

30th Morning. Time to go home. It was warm today. On the way back, we saw the extended runway of the airport that would open up to air traffic sometime end October. Once open, the Jabarhatti airport just 22Kms away from Shimla may shave off some 3 hours of hair pin winding bends on the mountains. The trip down was thankfully devoid of much traffic this time and the scenery looked very different in bright sunlight. We picked up some apples that the region is famous for as souvieners. Giani's Dhaba looked empty this time around and we not hungry. Clive's wicked smile was not without reason. The counter agent at Chandigarh airport was not one to be bothered about upselling seats. Nor were we interested in the extra comfort seat.  Home was calling us and that was all we had on our mind.
This post was originally published on 'Trip It'.